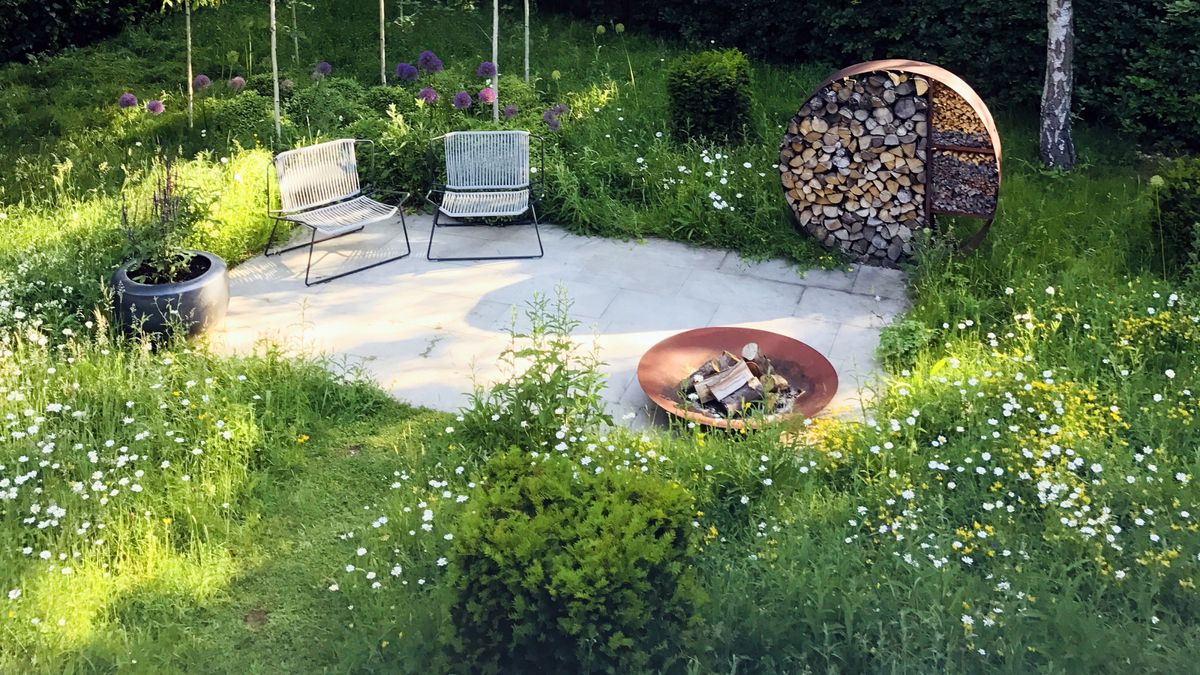 Wildflower garden ideas: 10 ways to grow meadow flowers
There is something enchanting about wildflower garden ideas and the thought of embracing natural planting schemes. Even the names of the flowers sound magical, from the more unusual meadow cranesbill, wild mignonette, bee orchids and ragged robin, to everyone's favorites like foxgloves, daisies, cornflowers and poppies. 
You don't have to have an estate in the country to include wildflower garden ideas in your own space. Everyone can have wildflowers in their backyard as they can be accommodated in even the smallest of spaces, such as a corner you don't usually cultivate or even a container if need be.
It's also good to know you're doing your bit for biodiversity by helping to attract dwindling butterfly and bee populations to your yard. Plant a wildflower meadow or just a few containers and they will act as a magnet for wildlife, especially if you choose purple ones (a color they love). 
Wildflower garden ideas look so pretty too. By this point you've probably guessed that we're big fans of this look, so here's our expert advice on how to do it.
10 expert ways to add wildflowers to your garden
When it comes to choosing wildflower garden ideas, start by looking at what's growing locally. 'By allowing a patch of the garden to go wild, the species that grow should indicate what is endemic to your area,' says Darren Topps, head gardener at Duchy of Cornwall Nursery (opens in new tab). 'A walk around your local neighborhood observing what's growing in the verges and hedgerows will show what's most suited to your area's soil and climate.'
It's important to segue wildflowers into the rest of your scheme too. Plants like wild carrot, knapweed, foxgloves and campion are a good link between the cultivated and wilder areas of your garden. 'Don't be too tidy, wildlife thrives in scrappy untouched areas,' says Darren. 'So if you can dedicate an area of the garden to this you will be rewarded with a much richer diversity in your garden.'
With these suggestions in mind, now find a look you'll love for your own space with our expert guide.
1. Try a wildflower meadow look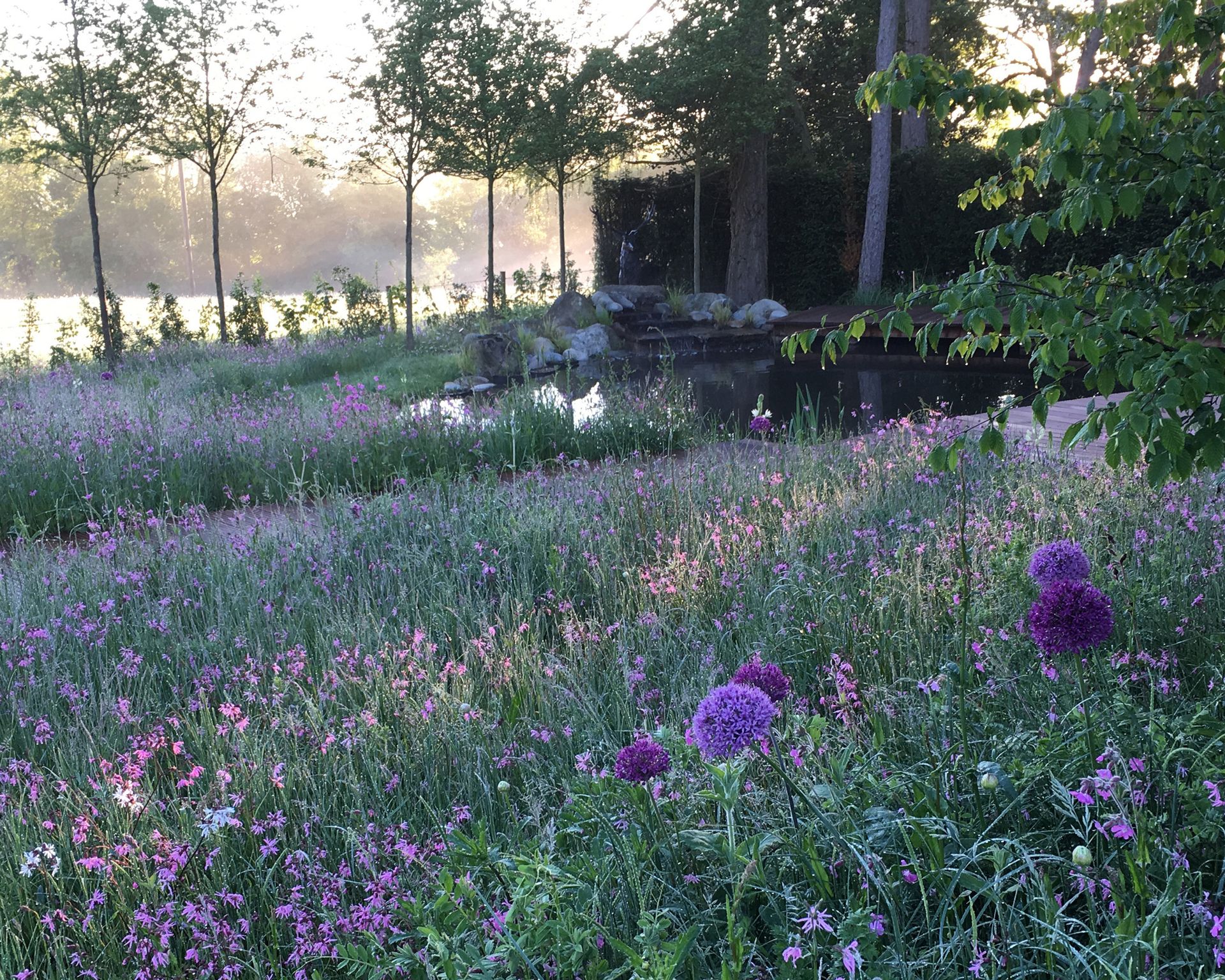 'Wildflower meadows and naturalistic planting are very much a cornerstone of our designs,' says Jennie Herrington of Green Room Garden Design (opens in new tab). 'Not only do we like the look of natural landscapes rather than too many hard edges but we love what they bring to a garden. Wildlife, pollinators, movement and year-round interest, when so many more formal plants have such short seasons.  
'We keep things looking manicured by cutting paths through meadows and introducing what we call anchor points such as topiary, trees, wild roses and climbers. These elements contain the wildness and ensure the space retains that essence of being a garden.'
If you're planning a wildflower meadow look, try adding woven willow fencing along the boundaries to give focus and movement to the design, as well as plenty of places to linger and enjoy the planting.
2. Replace sections of lawn with wildflowers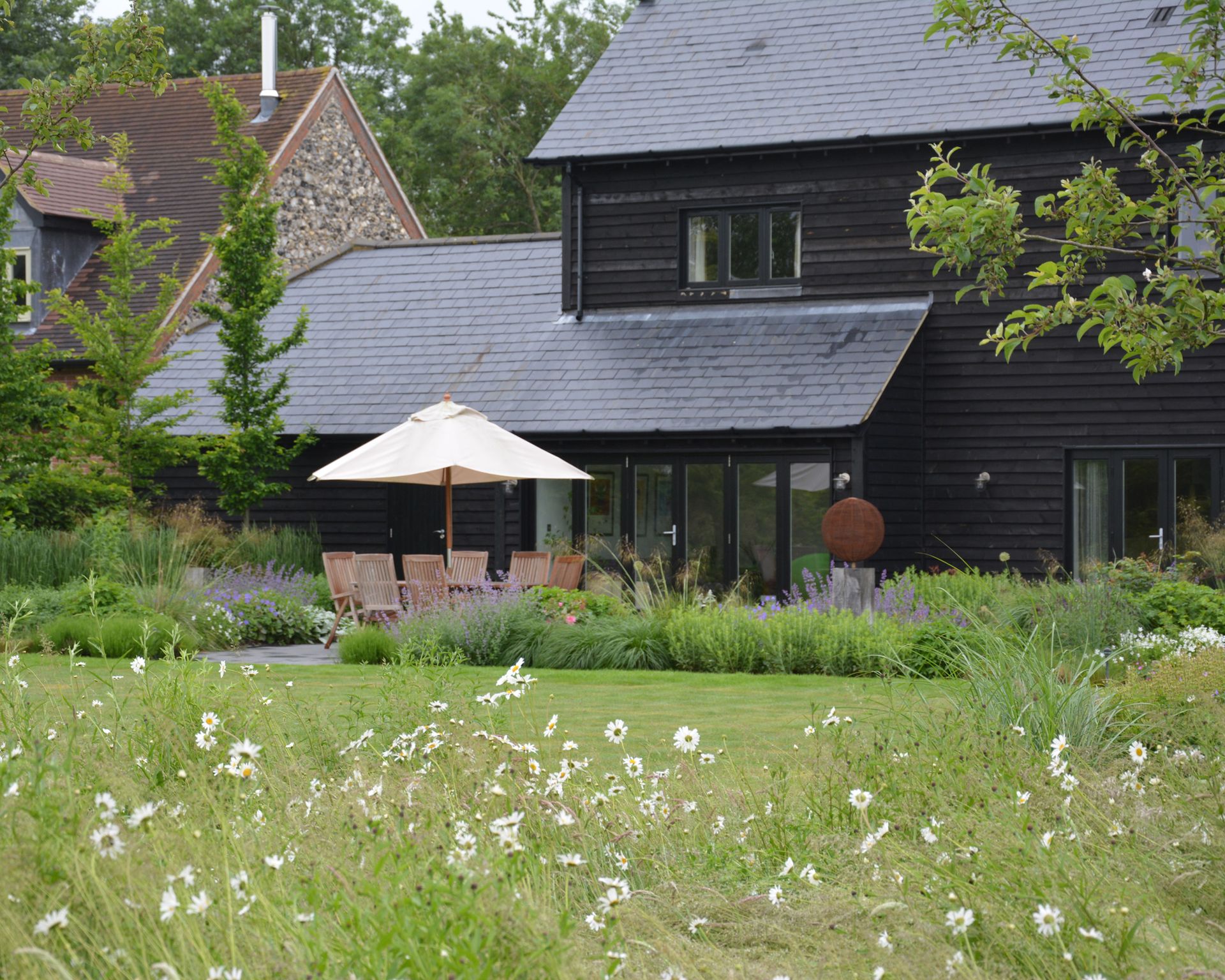 Lawns can be high maintenance things, requiring a lot of water, chemical feeds and mowing to keep them looking good, all of which have environmental implications. They are also a wildlife vacuum.
By planting a meadow rather than a lawn, with native or naturalized grasses, wildflowers and plants for pollinators, you will attract butterflies, have flowers that attract bees, flowers that attract hummingbirds and other birds, and small mammals, too. All these sustainable garden ideas will help it to thrive.
'Aesthetically speaking, a wildflower meadow provides visual interest for many months, offering great plant diversity and a changing color palette throughout the seasons,' says James Scott of The Garden Co (opens in new tab). 'Wildflower meadows require careful maintenance to prevent the more pervasive species from getting out of hand, allowing more desirable flowers to prosper. This usually involves some mowing.'
Another idea is to leave your lawn unmown, perhaps just with paths cut into it, and add wildflowers for interest. 'There are different ways to do this,' say Charlotte Harris and Hugo Bugg of Harris Bugg Studio (opens in new tab). 'You could 'plug in' small wildflower plants in early fall or spring, or you can mix and plant wildflower seeds with a fine, damp sand to help you scatter them by hand.'
Making wildflower seed bombs can be useful here, too.
3. Use wildflowers to enhance dreamy features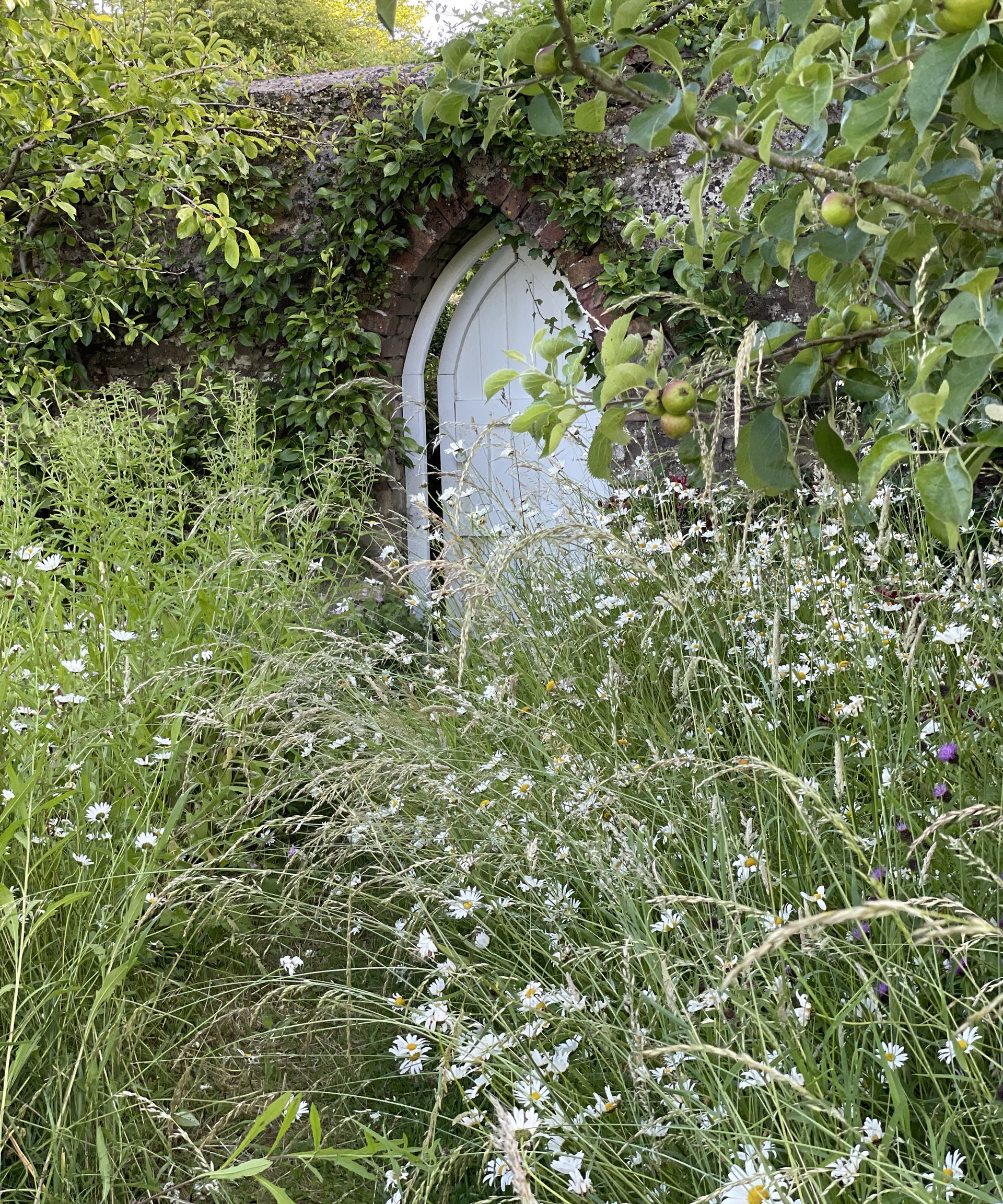 There's something so romantic about swathes of wildflowers shifting gently in the breeze. Even better if you can design a winding path that runs through them to a destination like a gate or separate area of the backyard. Just make sure you get the right mix of flowers (more) and grass (less). There are some easy permaculture gardening and soil health hacks to achieve this look.
'The classic advice with wildflower planting is to reduce fertility by stripping top soil and/or taking away the arisings annually, rather like in a hay meadow to gradually impoverish the soil,' explains Libby Russell of Mazzulo + Russell Landscape Design. (opens in new tab). 'This reduces the success of competitive grasses leaving more room for wildflowers to flourish.'
In a backyard setting, you can then enhance the look with bulbs such as narcissi, martagon lilies and camassias running through it. 'In winter you can clear patches to re-seed species to make sure there are enough flowers for the next season as some management of a meadow in a garden setting creates the longest flowering periods,' recommends Libby.
4. Choose wild flowers for natural container ideas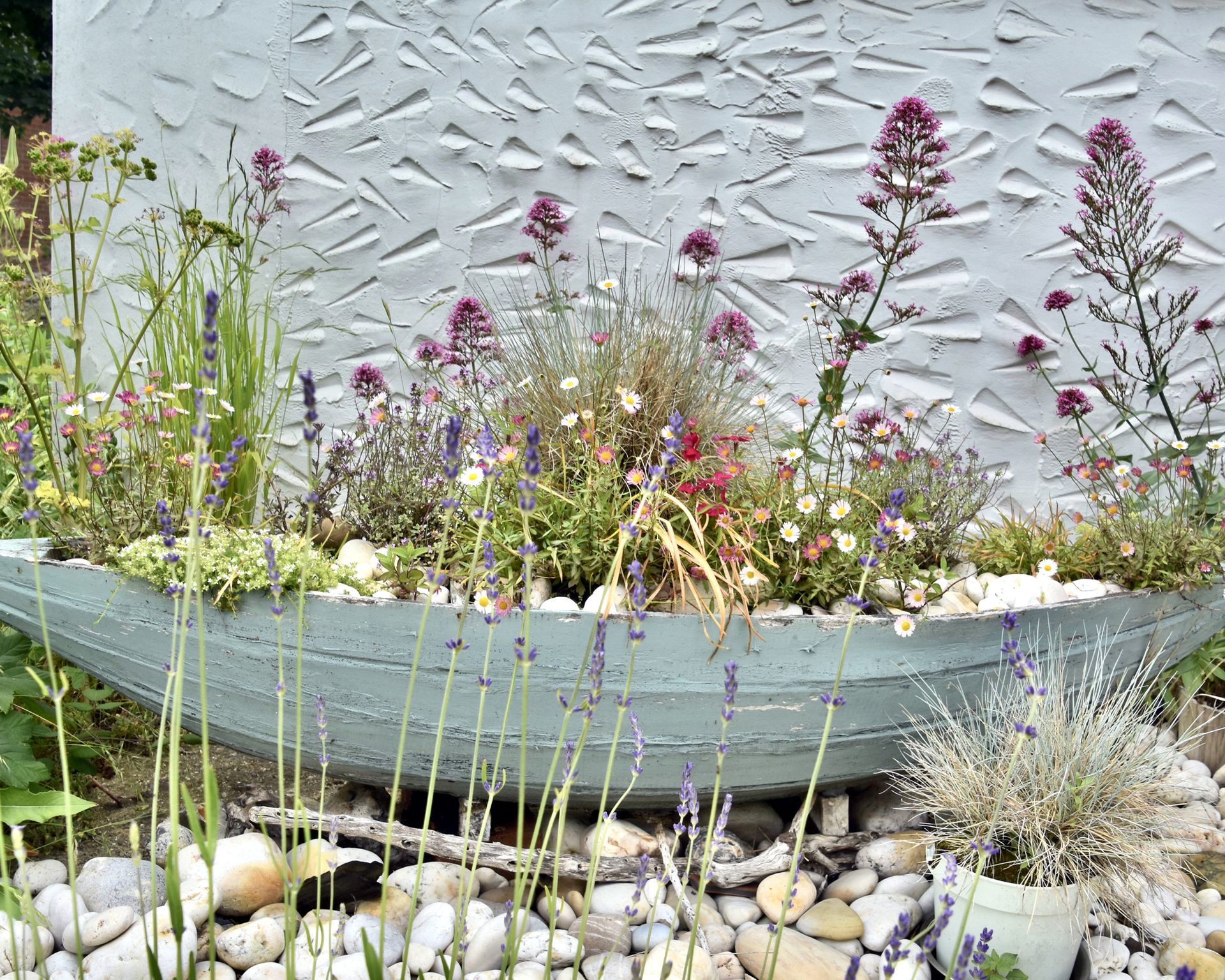 Add to the wildflower interest in your garden with container gardening ideas planted up for a sunny patio, terrace or deck so you can enjoy watching the butterflies and bees hovering on a summer's day.
Wildflowers and native grasses aren't fussy about soil and don't mind being packed in together. A good starting place when choosing wildflowers for a summer container is combining a mix of poppies and cornflowers, along with a native grass to fill in and support the delicate stems of the flowers. 
Pick a selection of wildflowers with different heights for the best results. If you're looking for low growing wildflowers, choose yellow Birdsfoot trefoil, purple wild thyme, red clover and blue harebells. If you want to add height, go for purple wild marjoram and spiked speedwell, blue field scabious and red campion.
5. Roll out a wildflower strip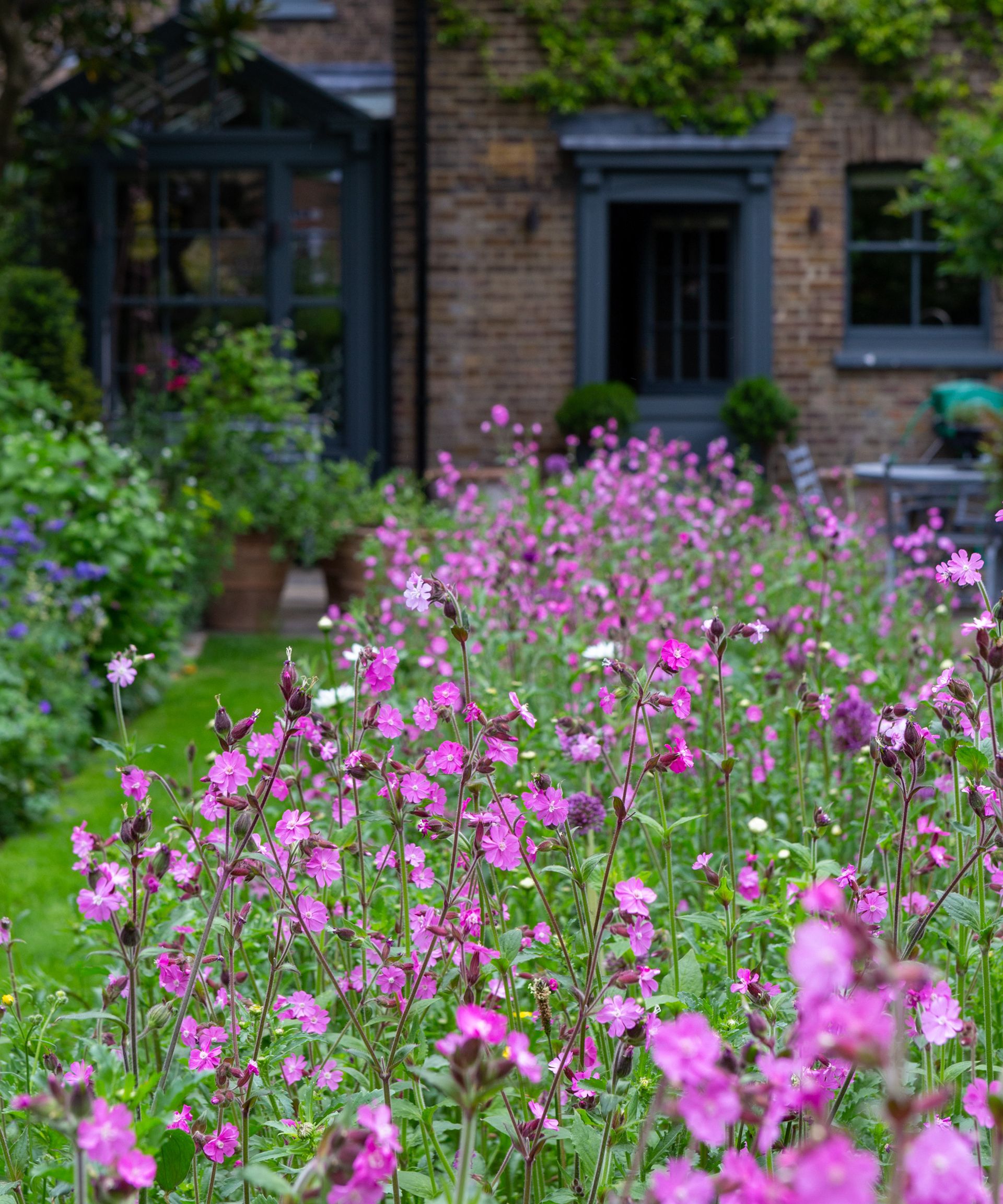 There are some shortcuts to getting a wildflower meadow look for a section of your garden that are well worth knowing about, particularly if you are equally invested in wildlife garden ideas.
'I wanted to encourage wildlife into this garden,' explains the designer Butter Wakefield (opens in new tab). 'I'm acutely aware of the pressures our natural world is under and wanted to do more to help pollinators. By introducing a wildflower meadow down the middle of the garden I could provide pollen, nectar and habitat. I think leaving areas in the garden undisturbed also helps the wildlife enormously.'
Butter used rolls of turf from the Wildflower Turf Company (opens in new tab), which are reasonably straightforward to put down. The soil should be rake to a fine level tilth, and once rolled out, the wildflower turf should be watered regularly until the flowers and grasses begin to take hold and grow.
'This meadow has been a joyous installation from start to finish,' says Butter, 'and changes each year as the seed drop randomly disperses.'
6. Add wild roses to the mix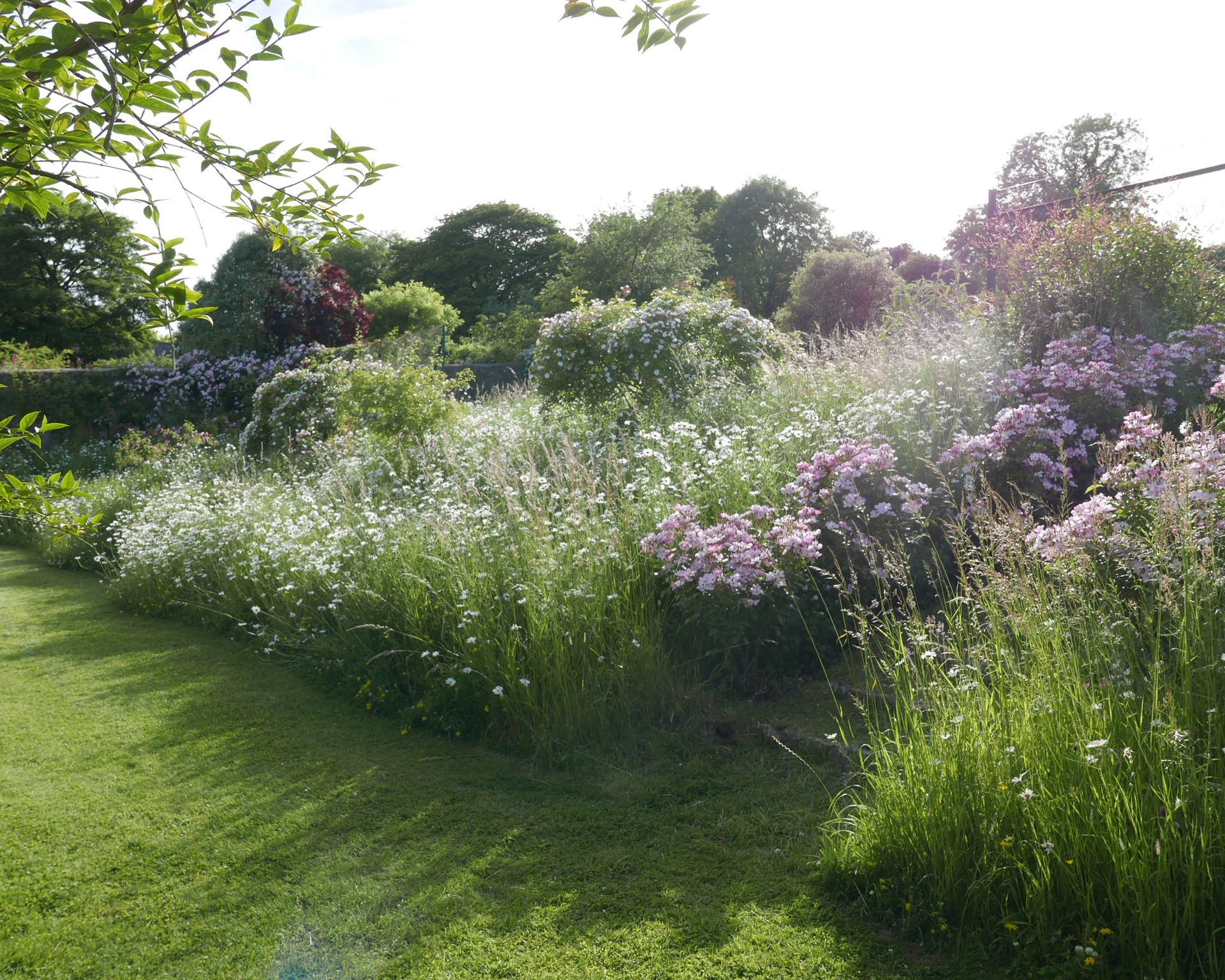 Choose a romantic wild rose or two to plant among your wildflowers. They're easy to grow and tend to thrive on neglect, as well as being exceptionally hardy.
'Wild roses occur in nature with no help at all from man,' explains Stan V Griep, the American Rose Society's (opens in new tab) consulting Master Rosarian. 'They are single bloomers with five petals, almost all of them are pink with a few whites and reds, as well as a few that go towards the yellow coloration.'
These tough roses will grow in just about any soil conditions, and will produce beautiful rose hips that carry over into winter and provide food for the birds if left on the bushes, offering more than just summer interest. 
7. Combine water and wildflowers for an immersive feel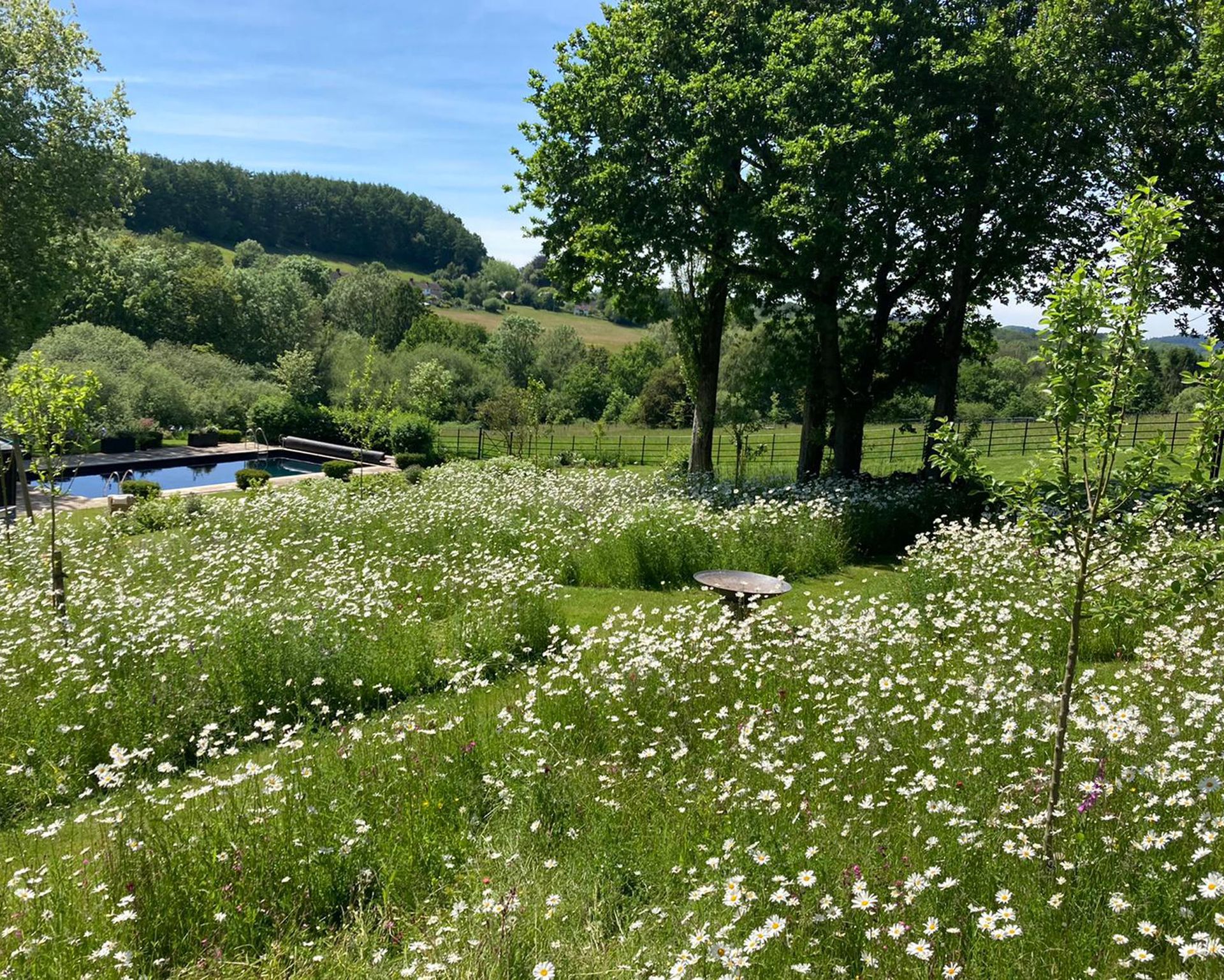 'This garden has a lovely mix of colors that changes throughout the season,' says designer Fi Boyle (opens in new tab). 'This particular area was planted up as an orchard with apple, plum, greengage and quince (you can see the young trees in the picture) with wildflowers growing beneath. 
'Mown paths create a journey and allow the transition from one space to another. The wildflower meadow contrasts beautifully with the cleaner and more structured lines of the swimming pool area, while also settling the garden into the wider landscape.' The house is on the side of a hill with beautiful views across the valley beyond.
Using wildflowers in a garden is a way to transition from the more cultivated areas of a garden to the wider landscape. Slopes in a garden can be challenging to plant and maintain. Using wildflower turf is a great way to overcome this while also creating something that has a long season of interest and is insect friendly. 
8. Turn a small section of garden into a wildflower area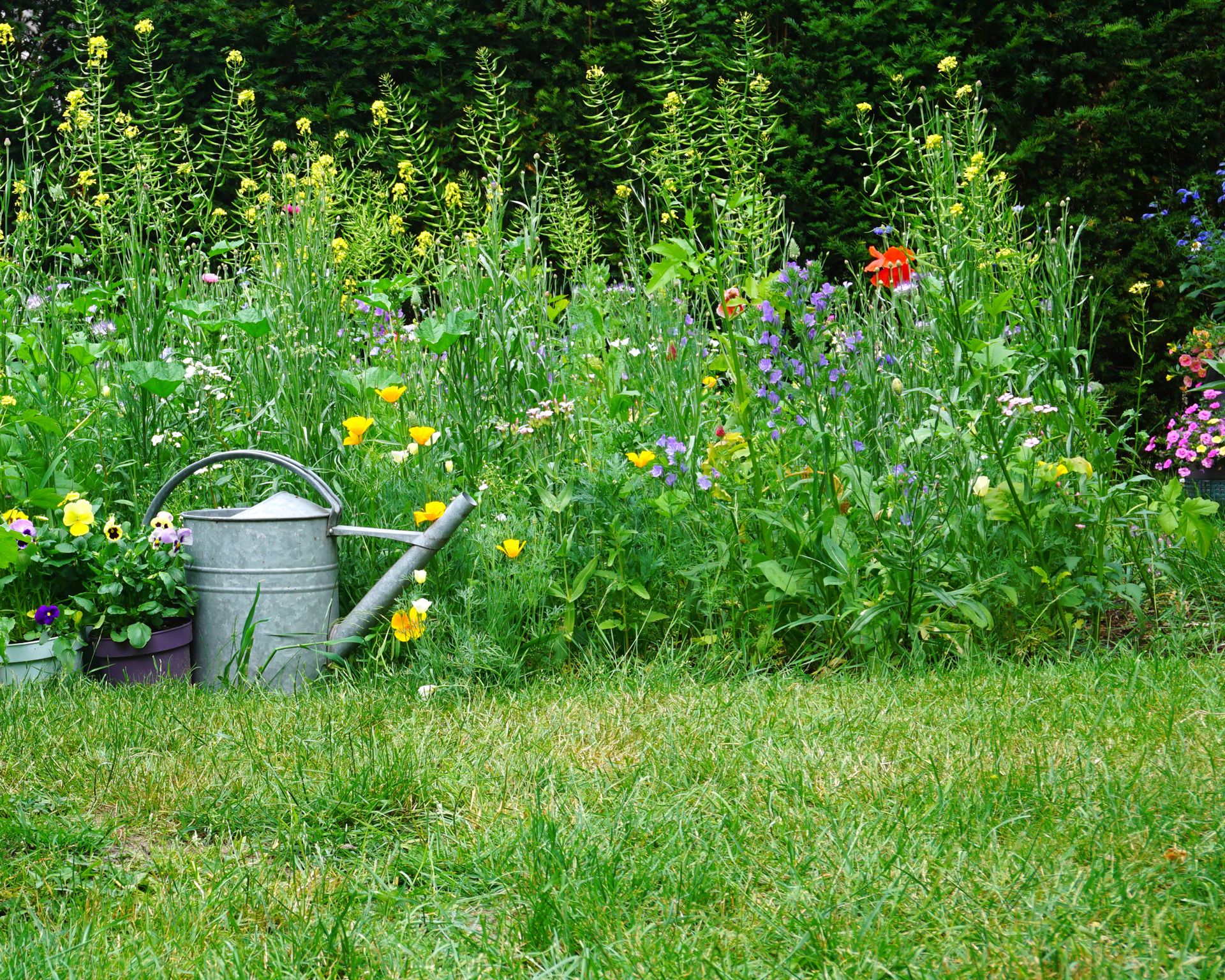 'It may not be possible for everyone to turn their entire garden into a wildflower meadow,' says Chris McIlroy, grass expert at The Grass People (opens in new tab). 'For those who have invested a lot of time and money into their gardens or need space for children and pets to play, turning a small part of the garden into a wildflower haven can be a great solution.'
Chris suggests either leaving the lawn long and letting wildflowers grow naturally or deliberately removing some of the lawn turf to create wildflower borders and beds, and sow seeds. The first option will take a lot longer but the second option would need more work to achieve.
'Whatever option you decide on, rewilding all or part of your garden can look stunning and is a huge help to local wildlife. Plus of course you'll enjoy the benefit of the wildflowers year after year.'
9. Transform soil left over from landscaping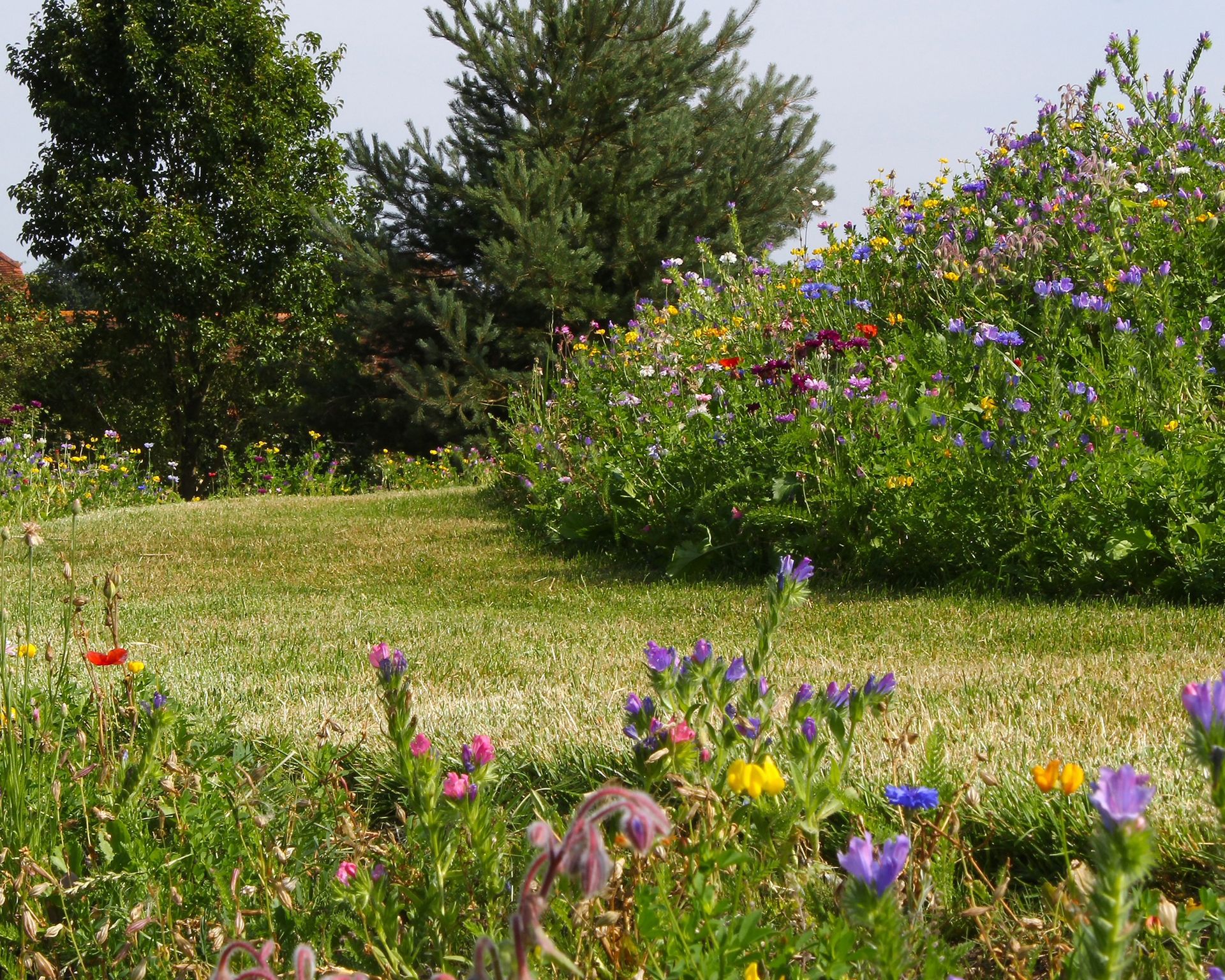 If you're part way through a backyard landscaping project such as adding a pool to your backyard or putting in a retaining wall, you may find yourself with piles of soil at your disposal. They can be put to good use by turning them into wildflower garden ideas.
This landform design was created from the soil left over from digging a swimming pool. 'The landform is like a giant oval snail with a grass path spiralling up it and the sides have been planted with wildflower turf,' explains designer Fi Boyle (opens in new tab). 'This is a low maintenance scheme as well as bring a good way to stabilize the soil bank.'
10. Wild up your entertaining space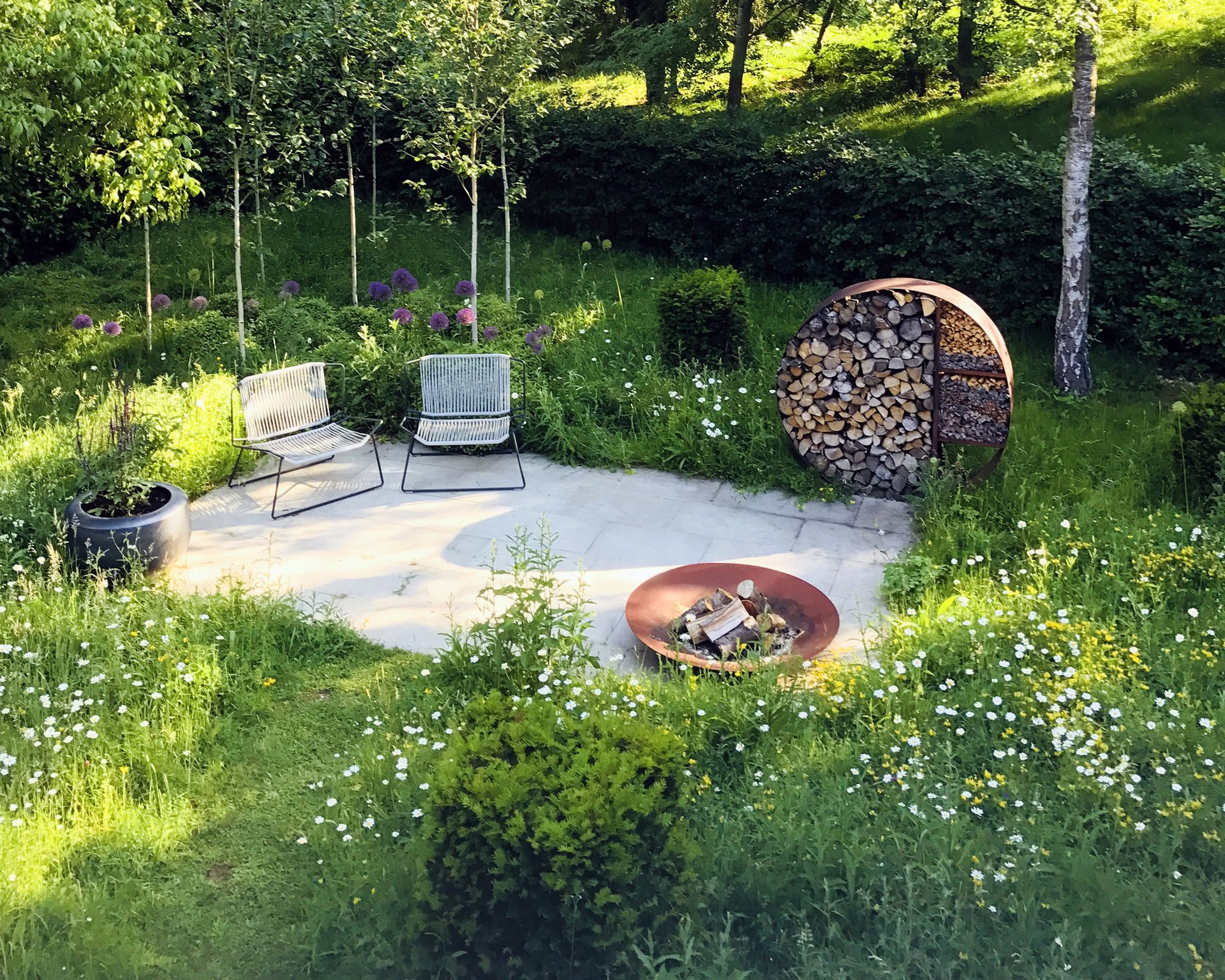 This 'modern meadow' garden is a bee and butterfly nectar pot of native wildflowers and grasses set against a backdrop of clipped yew buttresses, pittosporum domes and architectural birch trees. It's a great example of how wildflower garden ideas can work in zoned spaces too.
An integral central paved terrace of sawn sandstone reached via a mown path provides a sunny retreat and entertainment space right in the heart of the meadow.
 'The terrace appears to float in the meadow, and is a great place to sit, rest and contemplate,' says designer Mandy Buckland of Green Cube Design (opens in new tab). A bespoke circular log-store made from weathered Corten steel provides the focal point, the logs serving as a bug hotel for overwintering pollinators.
'We planted over 30 different varieties of meadow seed to germinate and grow throughout the season,' says Mandy. 'There are two types of meadow seed including annuals such as cornflowers, corn marigolds, poppies and corn chamomile, together with perennials such as wild carrot, bulbous buttercups, yarrow and cowslips.'
What are the best wildflowers for a bee-friendly garden?
To find out the best wildflowers to attract bees, we asked Sarah Hancocks of garden wildlife experts Vivara UK (opens in new tab) to pick her favorites.
'Some of the best species of wildflowers to look out for include foxgloves, poppies, cornflowers, sweet peas, larkspur, mallow and nasturtium, all of which are brimming with nectar for bees to enjoy. 
'We recommend mixing different varieties together to get a lovely natural look, as well as ensuring there is a steady supply of flowers throughout the season. Buy a pre-mixed bee friendly seed selection for ease.'
Can I just scatter wildflower seeds?
You can just scatter wildflower seeds – you can buy ready-mixed packs from Amazon (opens in new tab) – but it's a better idea to spend a little time preparing the soil first.
To create your wildflower garden, choose a sunny spot, then rake the soil until fine. Remove any weeds and stones that might prevent your seeds from growing. Next, simply scatter the seeds evenly across the soil. Once you have scattered the seeds, gently rake and water lightly.
Seedballs are another easy idea. The seeds are protected in a ball of clay, with peat-free compost to aid germination. You simply scatter them on bare soil and water them. Over time with enough water and sunshine the ball will disperse and shoots will appear eventually growing into a beautiful wildflower garden.  
Don't forget you can also plant wildflower plugs or lay wildflower turf too.