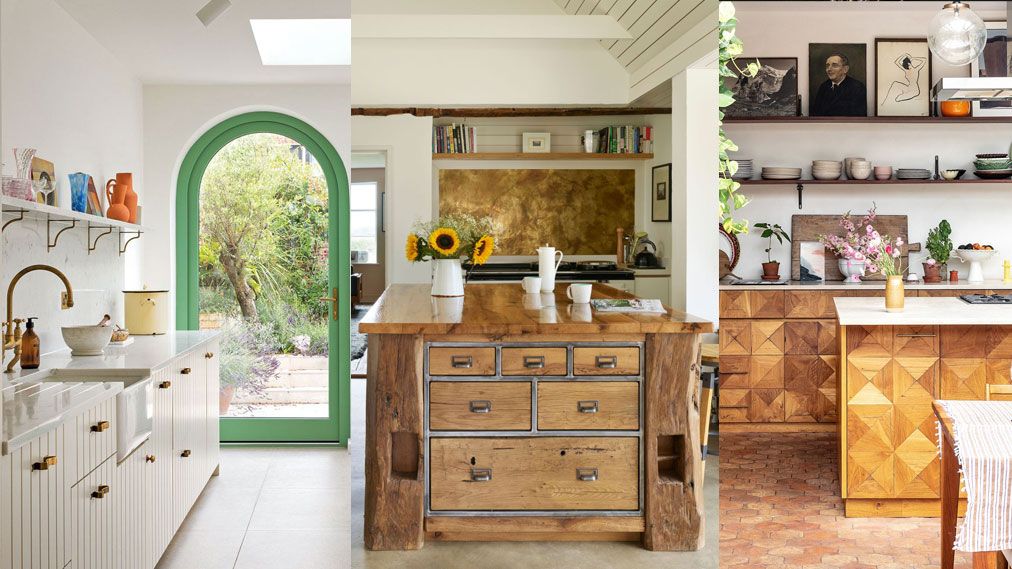 Sustainable kitchen ideas: 12 ways to an eco-friendly space
Designing a sustainable kitchen should be an integral part of your plans if you are remodelling, and thanks to the latest innovations and materials, it shouldn't be the uphill struggle you might think. 
Whether you love the sophistication of sleek, modern designs or gravitate towards the timeless style of farmhouse designs, a few simple changes and conscious decisions will help you to make sure that your kitchen ideas don't cost the earth.
Sustainable kitchen ideas
When it comes to designing a sustainable kitchen there are two approaches. Some of us like our kitchens to look sustainable, heavily drawing on reclaimed and natural materials that not only have the environmental credentials but also exude an air of being at one with nature. 
Others prefer the engine room of their home to draw on modern kitchen ideas, having a sleeker, more contemporary appearance while resting safe in the knowledge that their on trend design is not harming the planet. 
But installing a sustainable kitchen is one of the easiest and biggest eco home improvements you can make. Here's how.
1. Incorporate antiques and vintage furniture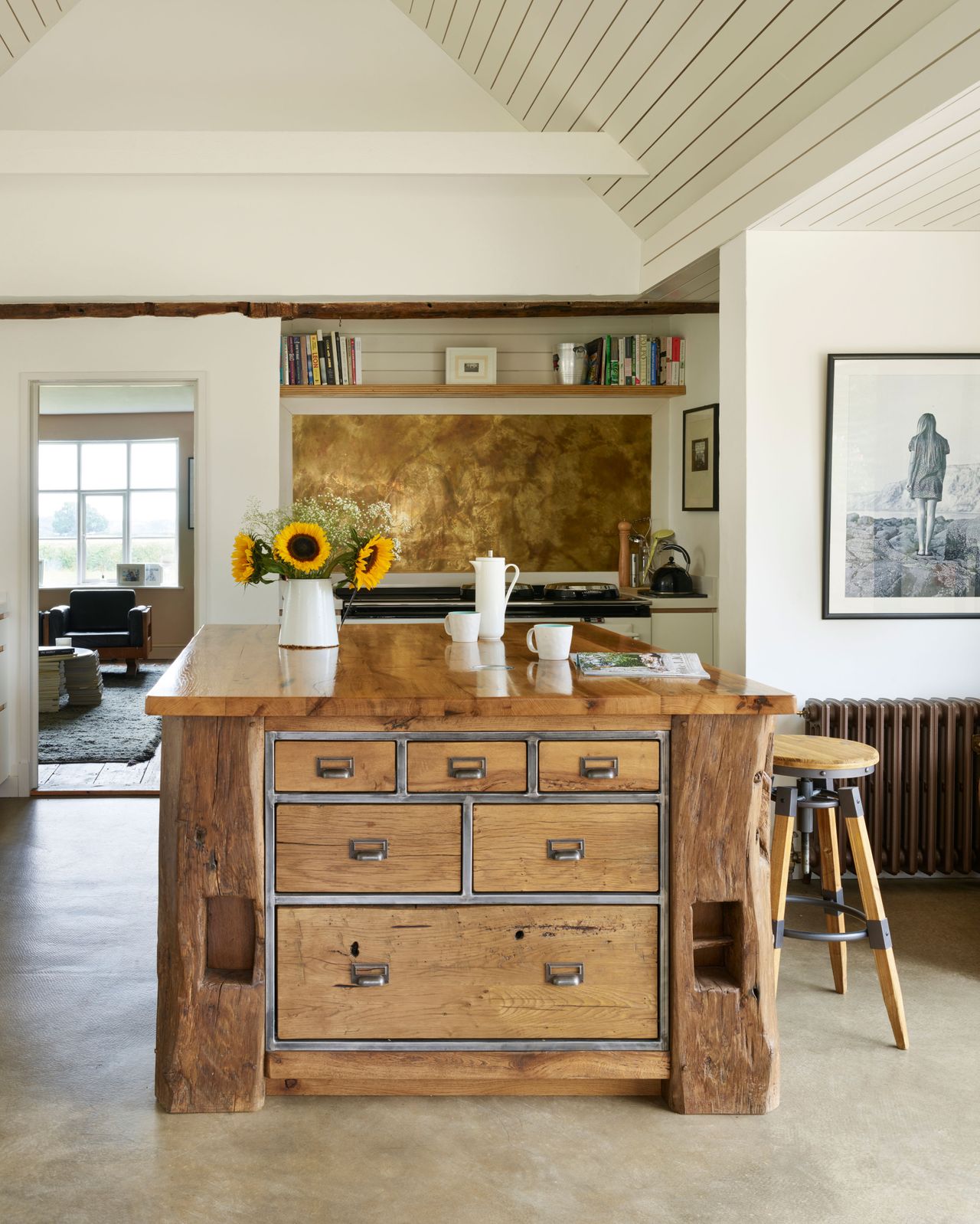 One of the key tenets of sustainable living is to reduce waste: whether that's wasted energy or wasted resources. If you design your kitchen with the aim of reducing waste, it is a surefire way to ensure that it is more sustainable. However, this doesn't mean that you have to put up with old pieces that you hate, or that you can't have the kitchen of your dreams. 
Instead, consider selling unloved furniture to give it a new home elsewhere or learning how to paint wood furniture to help you breathe new life into old pieces. You can also look for antique furniture that's brimming with charm, or see whether parts of your new kitchen could be sourced from reclaimed materials.  
'Incorporating antique furniture and reclaimed materials into your kitchen design is a more sustainable approach that puts less pressure on the environment,' says cabinetmaker Nick Clayton, director, Clayton Cabinets (opens in new tab). 'We often salvage and reuse materials from the property we are working on, or near our own workshops; materials that may otherwise be headed for landfill, too. Reducing delivery distances has a positive impact on the project's carbon footprint. However, we do use modern fittings and technology when they will benefit on a practical front. For example, in this reclaimed island the drawers have modern soft-close runners for easy access and a pop-up socket for small appliances.'
Antiques needn't cost the earth either, in fact, it is often a more cost-effective way to decorate your home. Take inspiration from the interior designers with their top tips on decorating with antiques.
2. Choose freestanding over fitted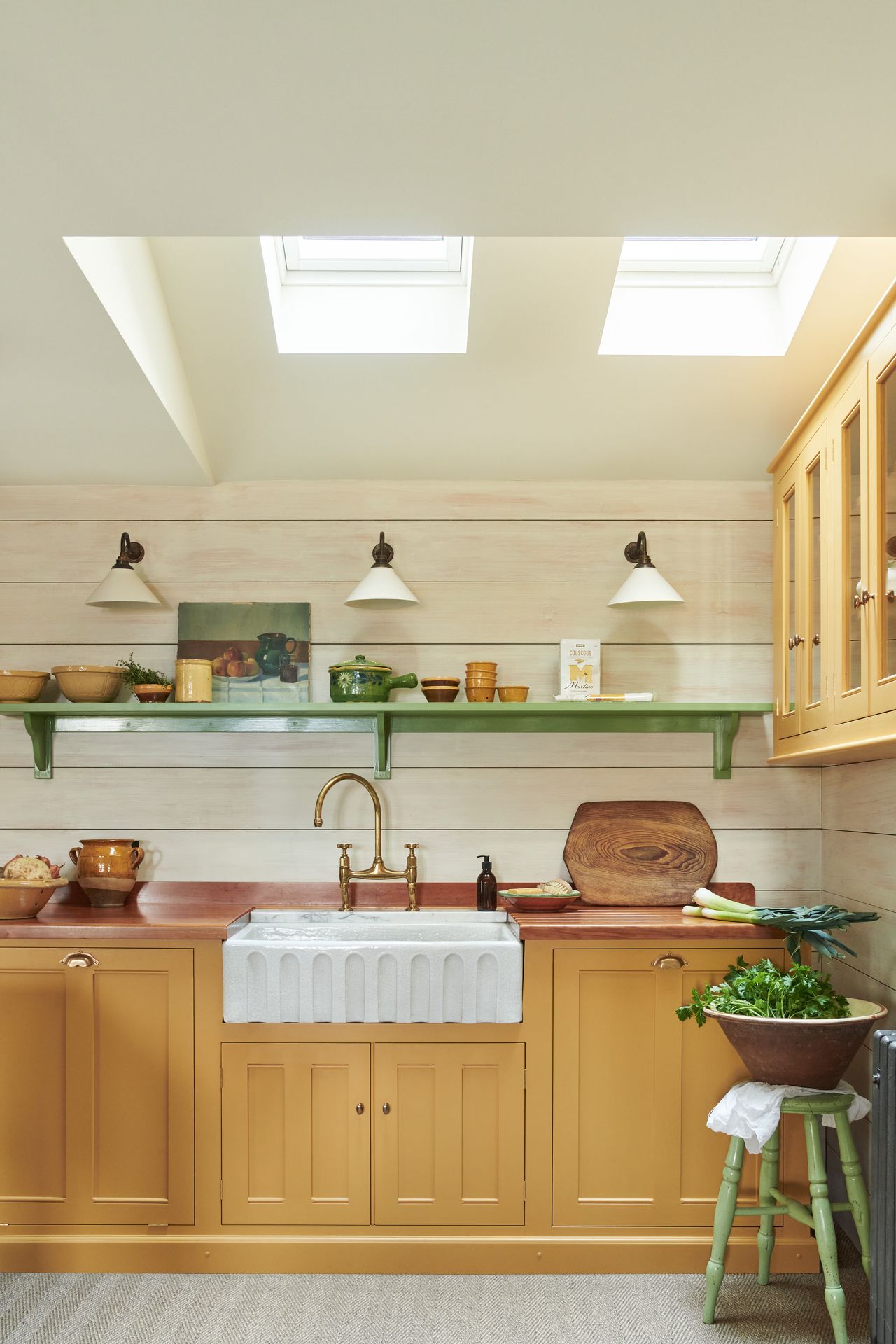 Freestanding kitchen ideas have been a growing trend over recent years, however, they also present a sustainable way to design a kitchen. The flexibility of an unfitted kitchen allows you to change things around or add new pieces without having to rip out a whole fitted kitchen. 
'The unfitted kitchen is more of a furnished room with appliances and kitchen items included than a generic kitchen. It has the beauty of feeling much more atmospheric and unique because it will inevitably have some different styles and materials. I love the way it becomes a room that is beautiful and timeless and not so completely different to the rest of the house. You can add vintage cupboards, you can change things around and you can swap and reuse cupboards in different ways, giving you flexibility. Something which is not possible in a brand new fitted kitchen,' says Helen Parker, deVOL (opens in new tab)'s Creative Director.
3. Opt for reclaimed flooring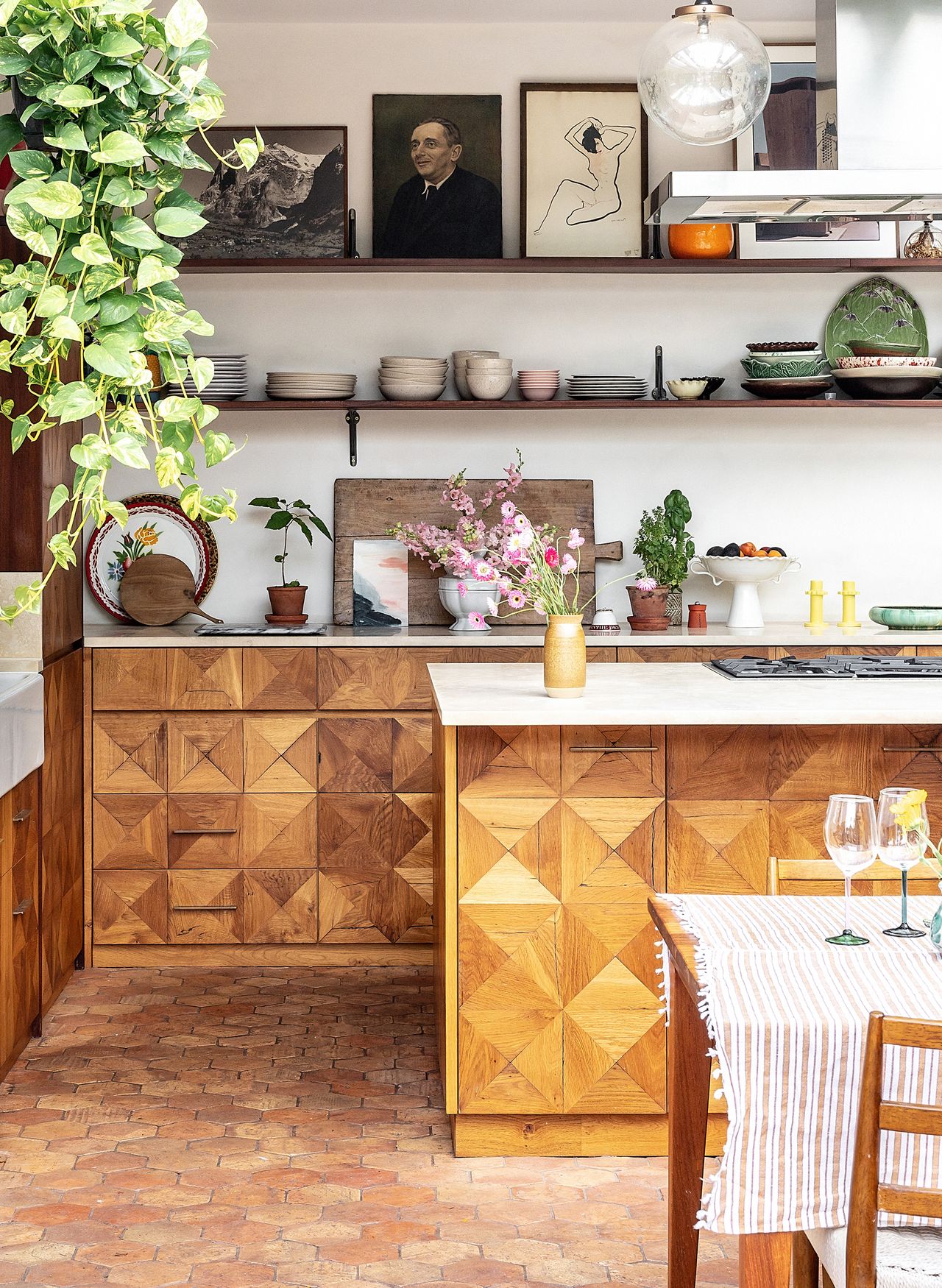 Reusing old material not only saves energy and resources, but will imbue a home with history and character that is impossible to emulate with new purchases. Flooring is a great opportunity to incorporate reclaimed materials into your space, especially when it comes to kitchen flooring ideas as they are often more durable than newer products. 
'Terracotta tile ages beautifully, its natural antique patina showcased in reclaimed tiles just adds a unique piece of history and charm to any room,' says  Chris Gulson-Brooke, founder of Maitland & Poate (opens in new tab). 'It is equally low maintenance, being made from a natural material it is microporous so all newly laid floors will need sealing to protect it but reclaimed vintage tiles have benefited from many years previous sealing and care. They simply require a gentle mopping once relaid to keep them looking vibrant and fresh.'
4. Pick plastic-free paint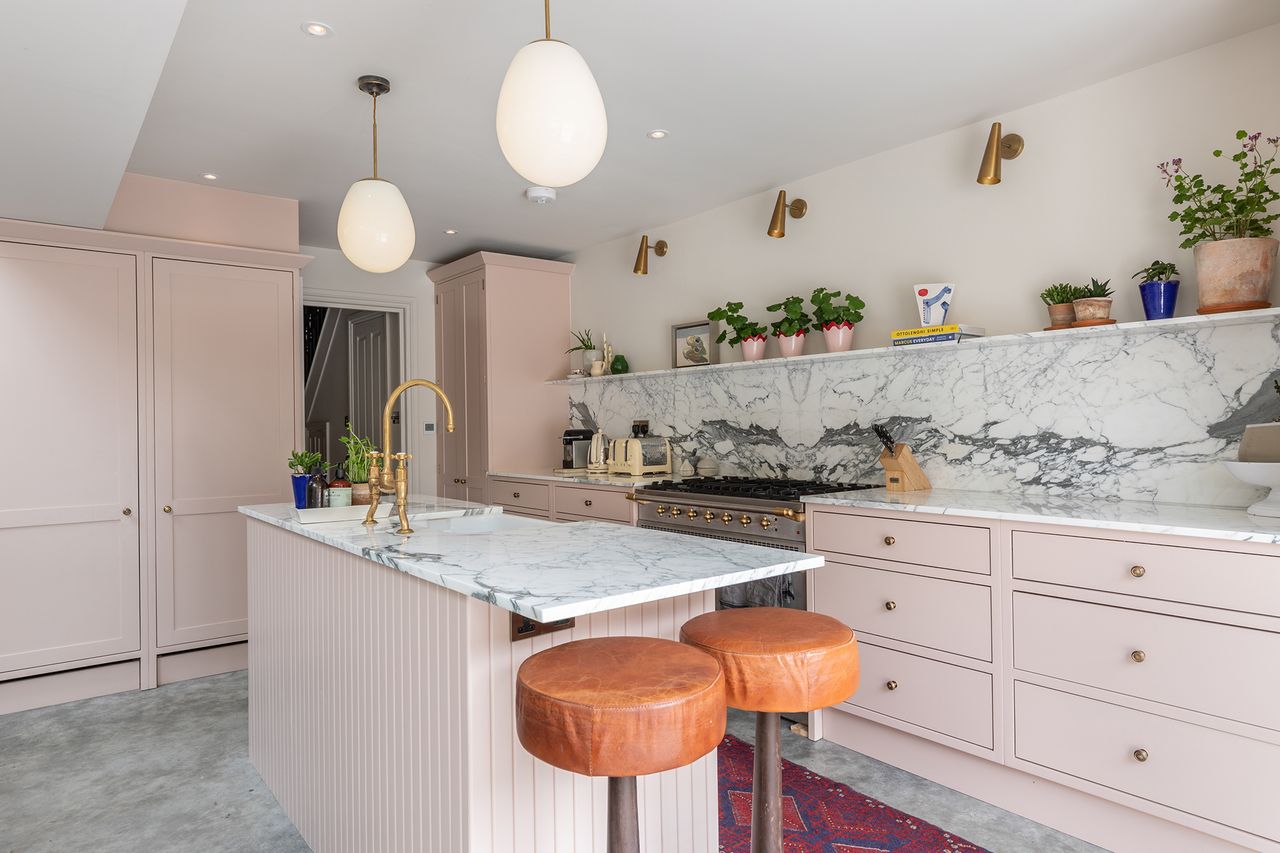 There's more to picking a paint than just deciding on a color you love. Did you know that typical paint features microplastics as their binding agent? Each time you wash your paint brush, these microplastics go down the sink and eventually into the sea.
 '180,000 tonnes of microbeads from paint pollute our oceans every year, only 30,000 tonnes come from cosmetics, yet microbeads are banned in cosmetics,' explains experts at Edward Bulmer (opens in new tab). 
Eco paints, on the other hand, offer a sustainable alternative. For example, Edward Bulmer's paint, uses the natural Silicic Acid and surfactants from vegetable oils (rapeseed and castor oil) and plant materials high in sugar to bind their paints as well as trading chemical colorants for natural and earth pigments. Furthermore, each ingredient is listed on their website along with where they are sourced from and the role they play in creating the paint. 
Now you've decided on the type of paint you are going to use, the next step is to select a color. Thankfully there are lots of painted kitchen ideas and colored kitchen ideas to help to inspire you.
5. Shop local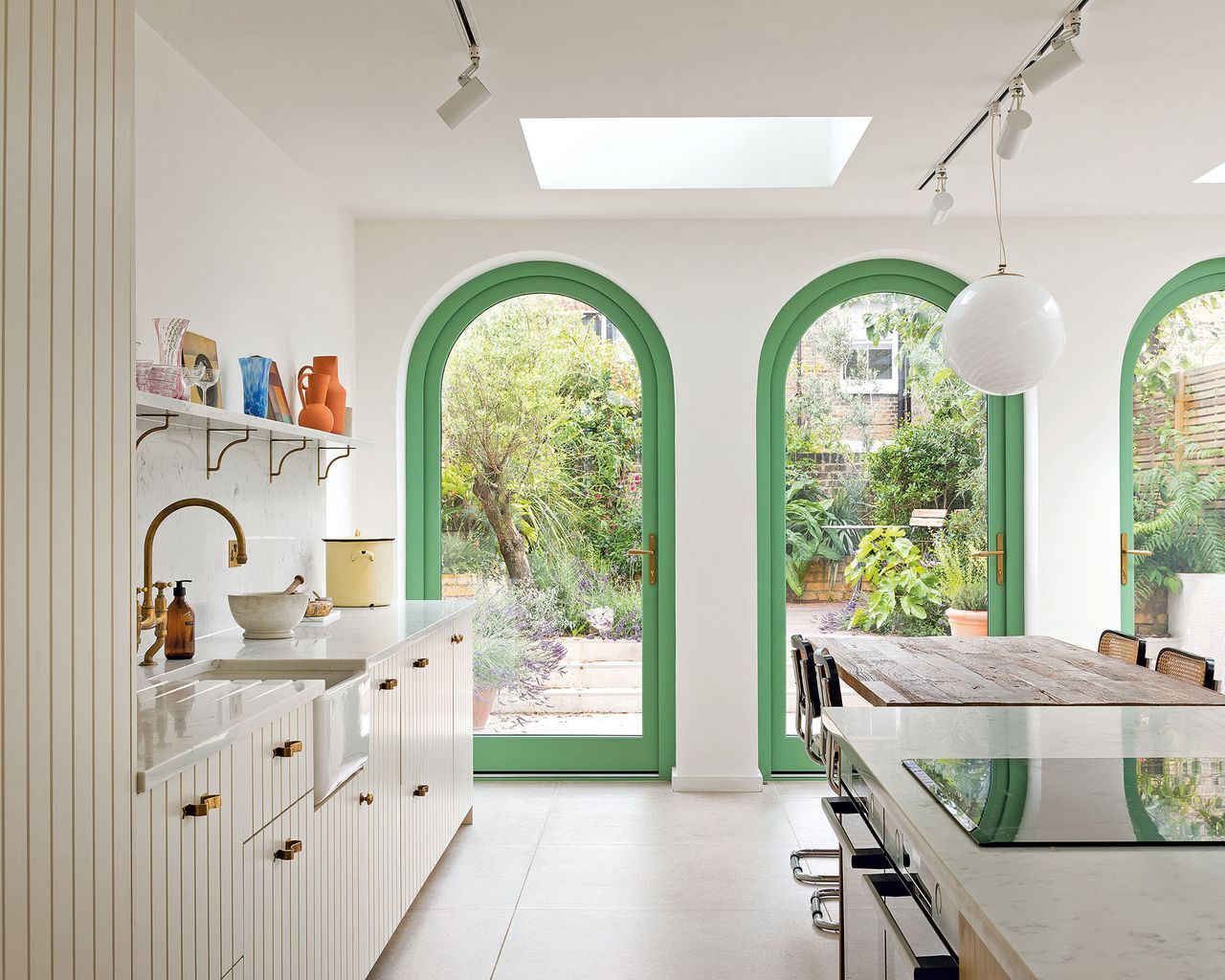 Shopping locally will look different to everybody as each local area will have its own unique set of shops and suppliers. From a sustainability point of view, shopping locally will reduce the airmiles of both the materials and the finished product, however it will also create the feeling of a bespoke kitchen for a fraction of the cost. Go a step further and select handmade products to really channel your kitchen's individuality. Knowing how to shop sustainably is essential when decorating your home with the environment in mind.
6. Change your bulbs to LEDs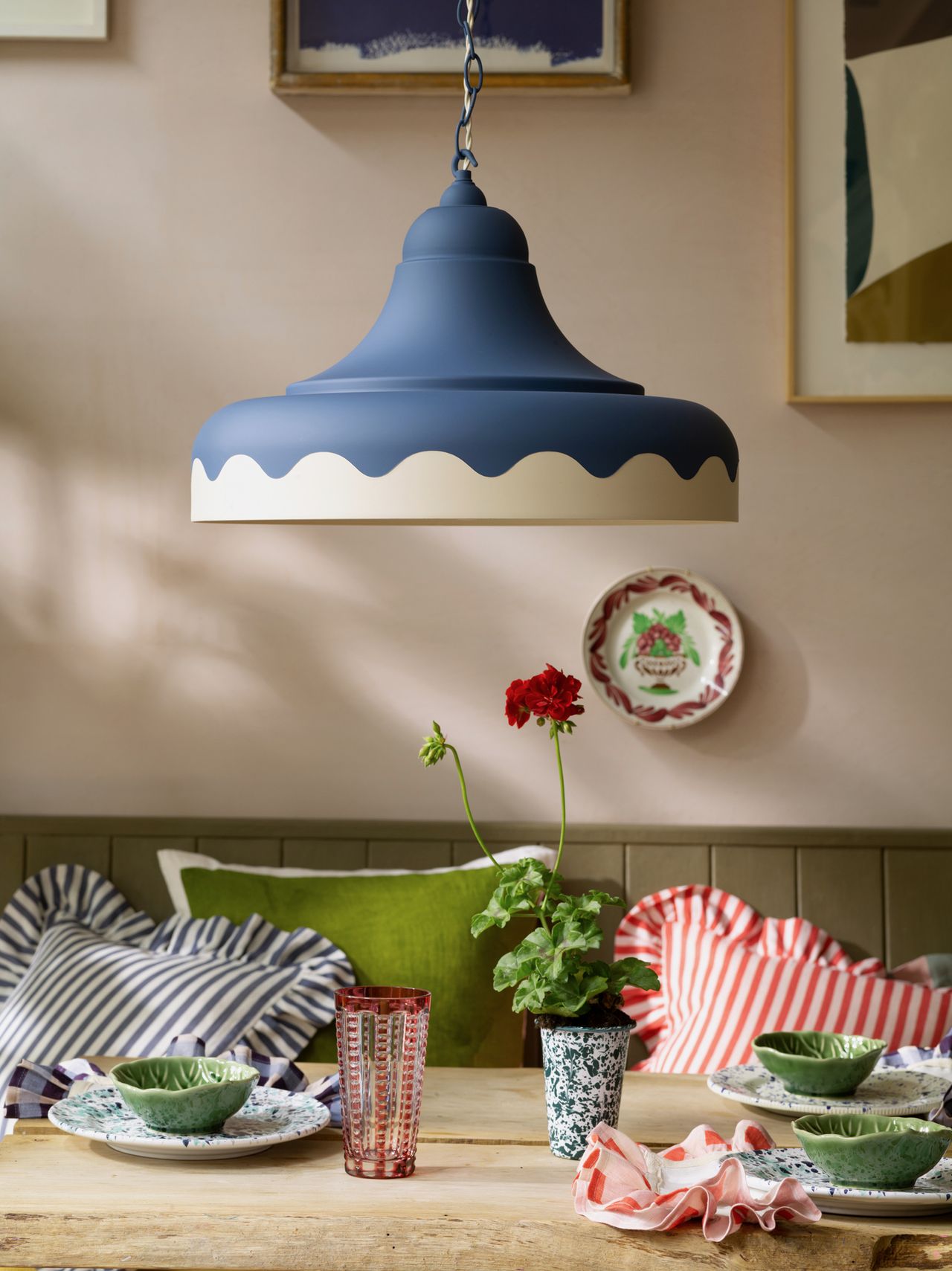 The most efficient of the kitchen lighting ideas, LEDs offer 95 per cent efficiency, consuming very low amounts of power. Using less energy reduces the demand from power plants and decreases greenhouse gas emissions. They also offer a higher quality of light distribution meaning fewer lights are needed to achieve the same level of brightness as traditional lighting. 
A worthwhile investment, LED lighting boasts a lifespan of up to six times longer than other types of lights. Make a statement of your lighting with elegant shades, such as this design from David Hunt Lighting (opens in new tab). 
7. Opt for bamboo when it comes to window treatments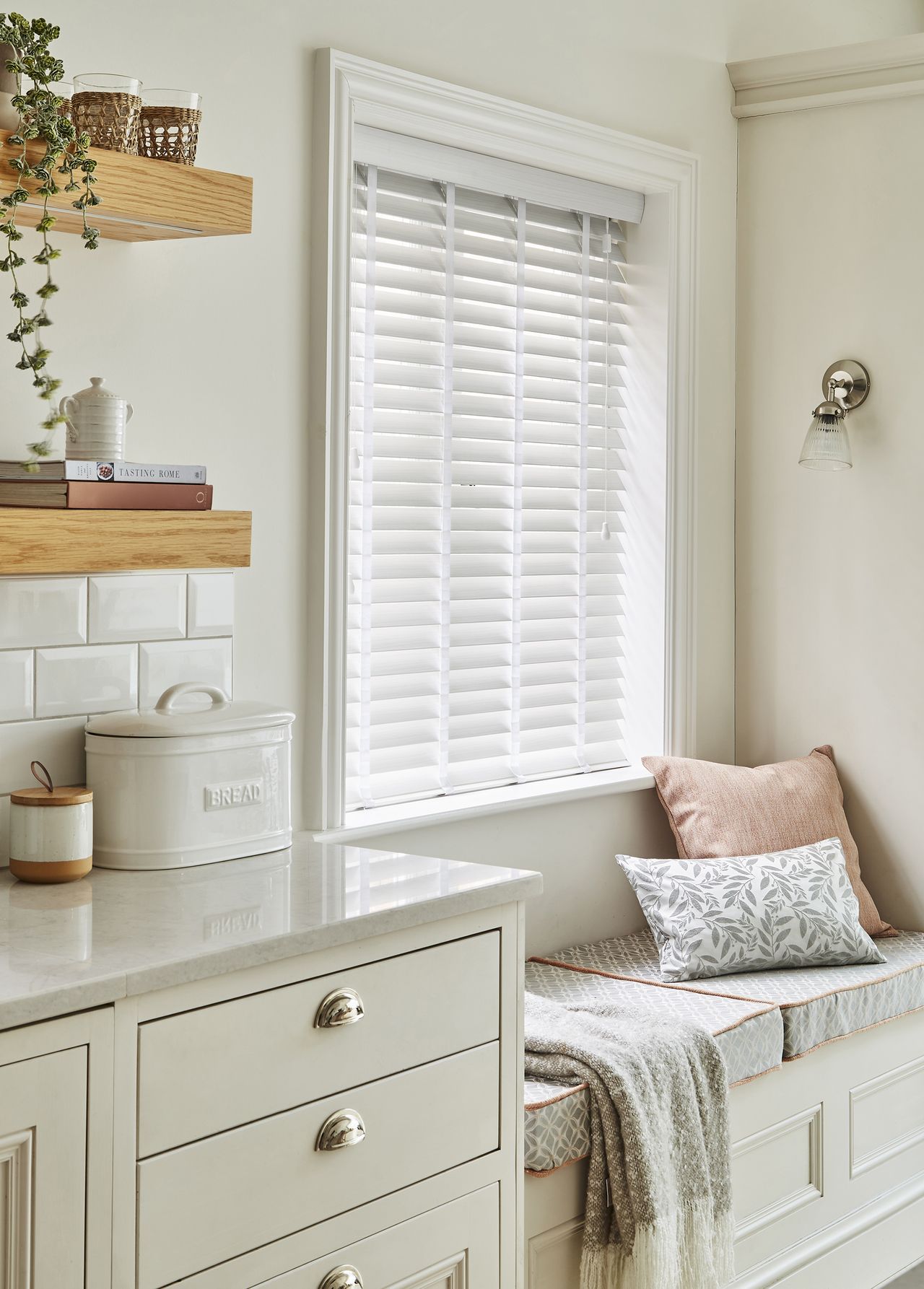 If you are looking for an environmentally friendly window treatment ideas for your kitchen, then look no further than bamboo. 'Bamboo grows incredibly fast. It self regenerated from its root making it a sustainable alternative to other materials due to its naturally renewable properties,' explains James Chilton, product manager at Hillarys (opens in new tab).
Bamboo window blind ideas carry the same aesthetic appeal as wood but with even more sustainable credentials. 'There is an intrinsic warmth about wood that brings a comforting addition to any home. It mimics the effects of spending time outside in nature and studies identity that the presence of wood indoors is associated with an enhanced feeling of well-being,' continues James.
8. Save energy with a boiling water tap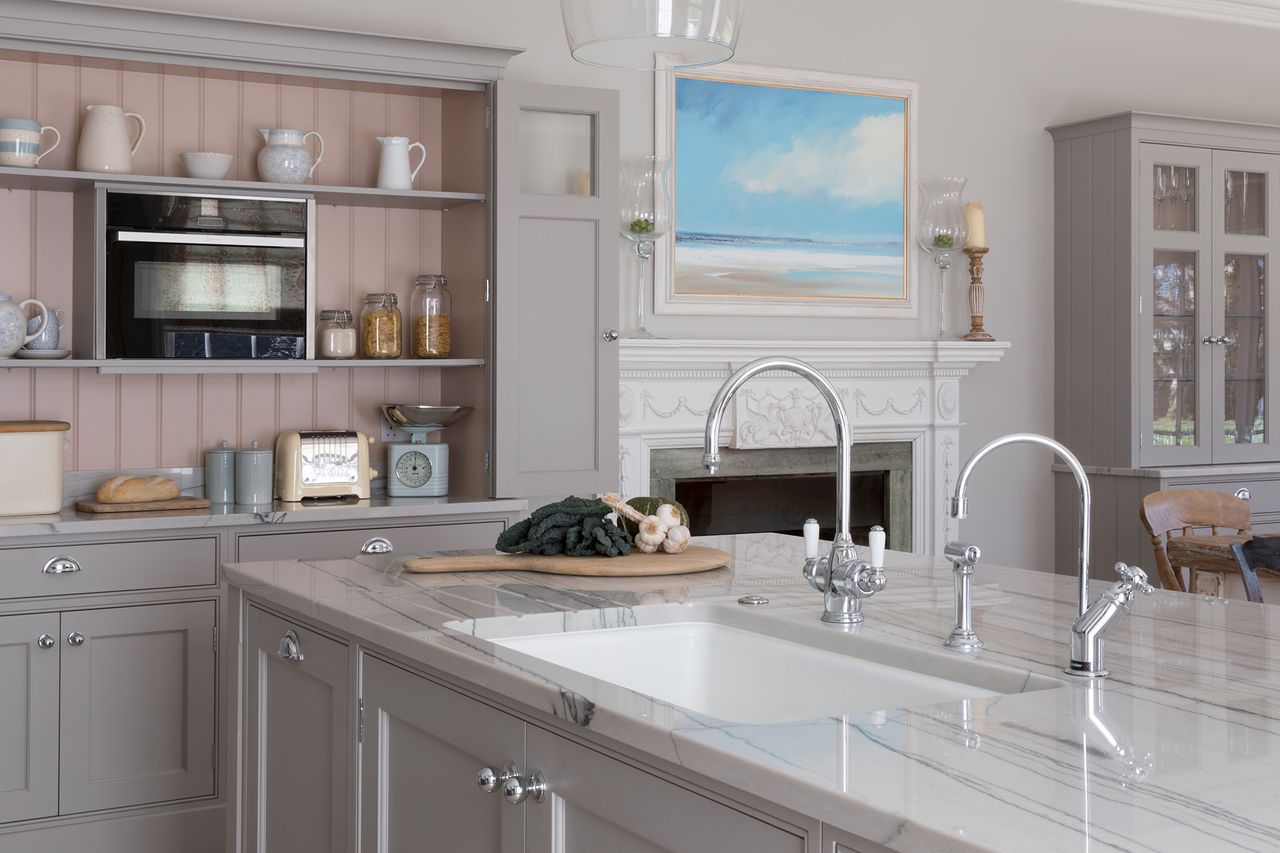 Boiling water taps have seen a spike in popularity in recent years, but did you know that they are also a sustainable choice?
'One of the main benefits of having a Quooker tap is that it will save water. The tap will only deliver the exact amount of water you're using, whether it is for a large pot to boil pasta for the whole family or for a single cup of tea. With a kettle, on the other hand, you'll often end up boiling more water than is needed or decide to re-boil water because it has cooled down, wasting lots of energy. What's more, the Quooker combi-tank delivers not only boiling water, but also hot water, meaning you can have hot water straight away, without letting the tap run,' says Stephen Johnson, managing director at Quooker (opens in new tab).
9. Replace cabinet doors rather than whole kitchen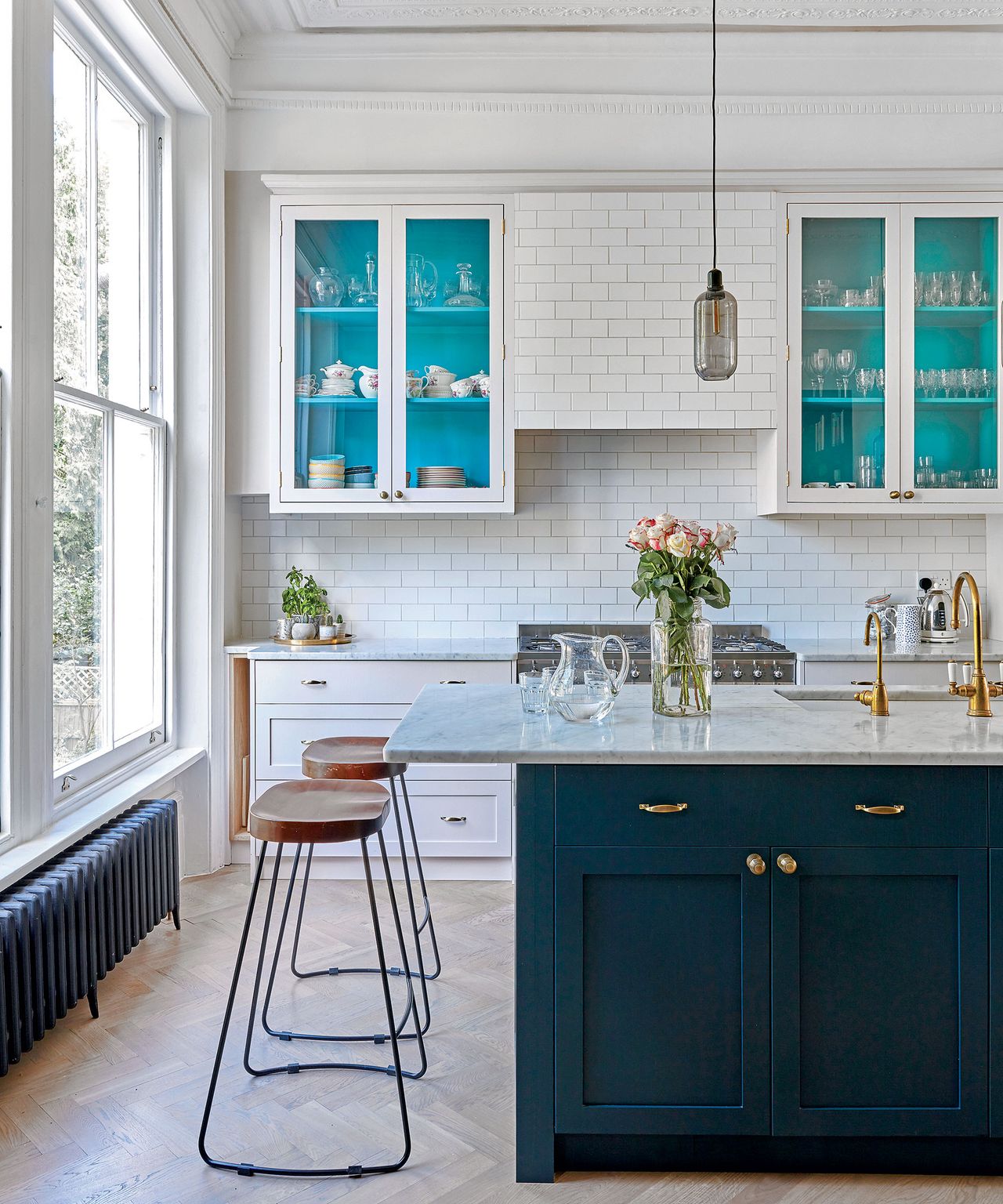 According to Naked Kitchens (opens in new tab), the average kitchen cabinetry usually lasts for 15 to 20 years (some high-end pieces can last up to 50 years) before needing to be replaced. However, many homeowners replace them while they are still fully functional as they find themselves wanting to create a different look. If your kitchen cabinets are structurally sound, then there is no real need to replace them. In fact, just replacing your cabinet doors is a great way to breathe new life into the space without the cost or inconvenience of replacing your whole kitchen. 
10. Opt for neutral cabinetry for timeless appeal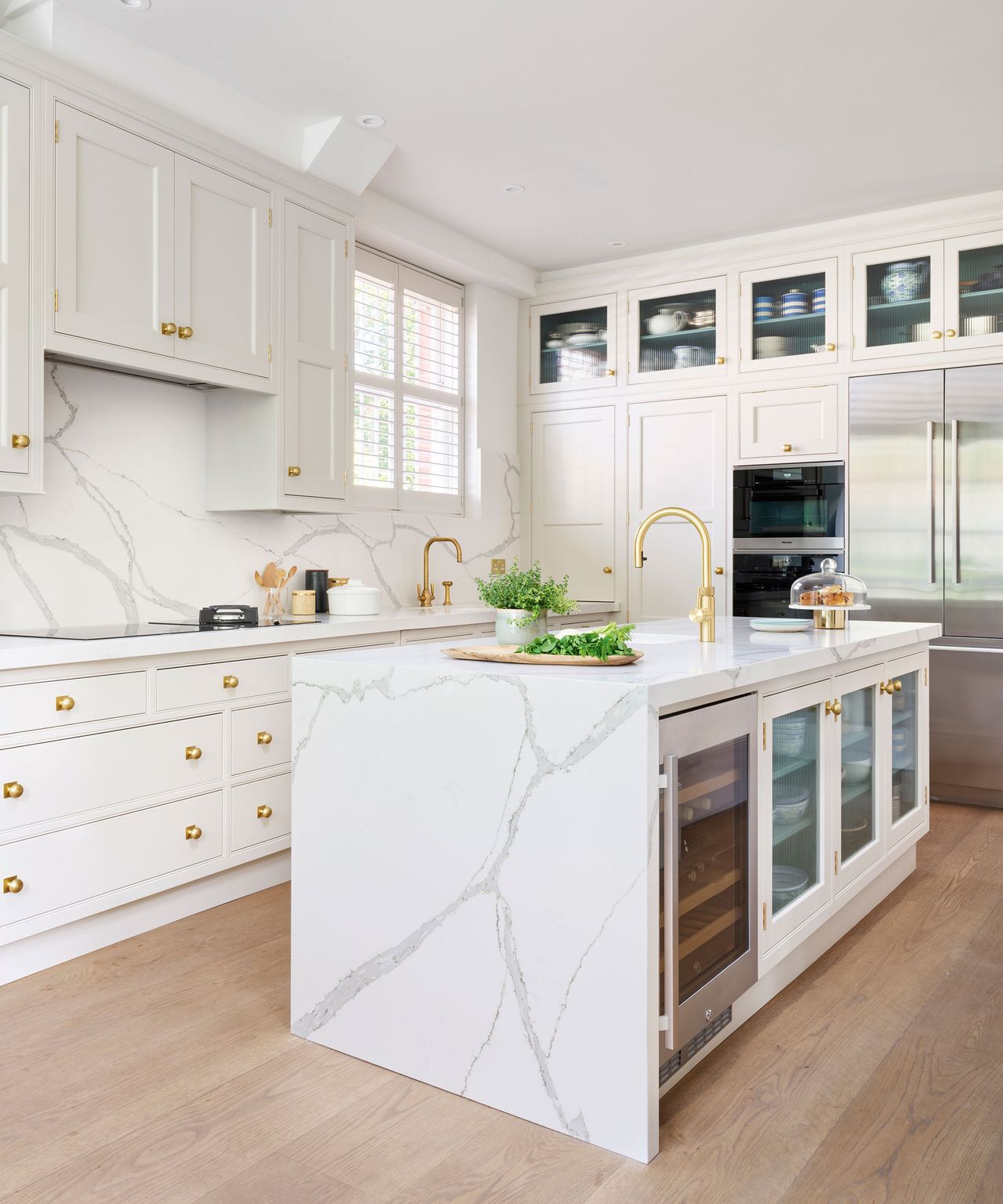 When looking for your kitchen cabinet ideas, it is important to not only think of the design you wish to achieve in this style of kitchen, but also how your cabinetry could be adapted or updated further down the line. 
Neutral colors and a classic Shaker kitchen ideas are some of the most versatile designs, thriving in a wide range of kitchen styles. Opting for wood kitchen cabinets over laminate will also give you the flexibility to repaint as and when you want to rejuvenate your space. 
11. Install a multi-functional range cooker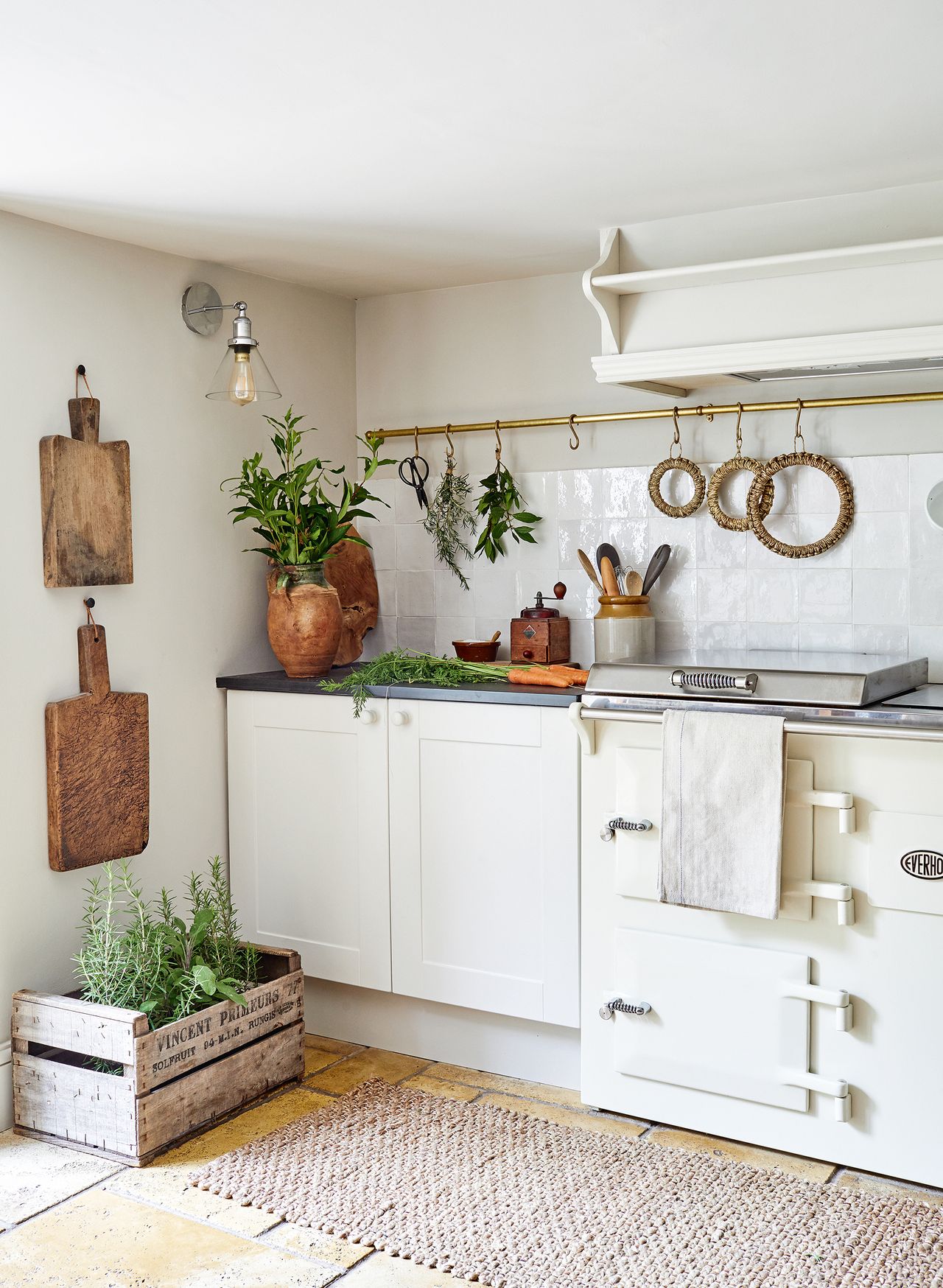 Future-proofing is a great way to make your kitchen more sustainable. From wind turbines through to solar panels, sustainable electricity is on the rise and as such, means that electricity is the most sustainable choice for your appliances.
However, if you're looking to upgrade your appliances, consider a heat-storage range cooker. 'We're all more aware of today's disposable society and the need to reduce waste. A range cooker can replace a number of common kitchen appliances. The hot plate can be used to make cheese toasties and to boil a kettle, and the simmer oven replaces your slow cooker. Not to mention the fact that many of our customers will use a drying rack above the cooker to replace their tumble dryer. Many of these gadgets will need replacing over time, a range cooker is built to last a lifetime,' says  Guy Goring, Managing Director of Everhot (opens in new tab).
12. Small changes can have a big impact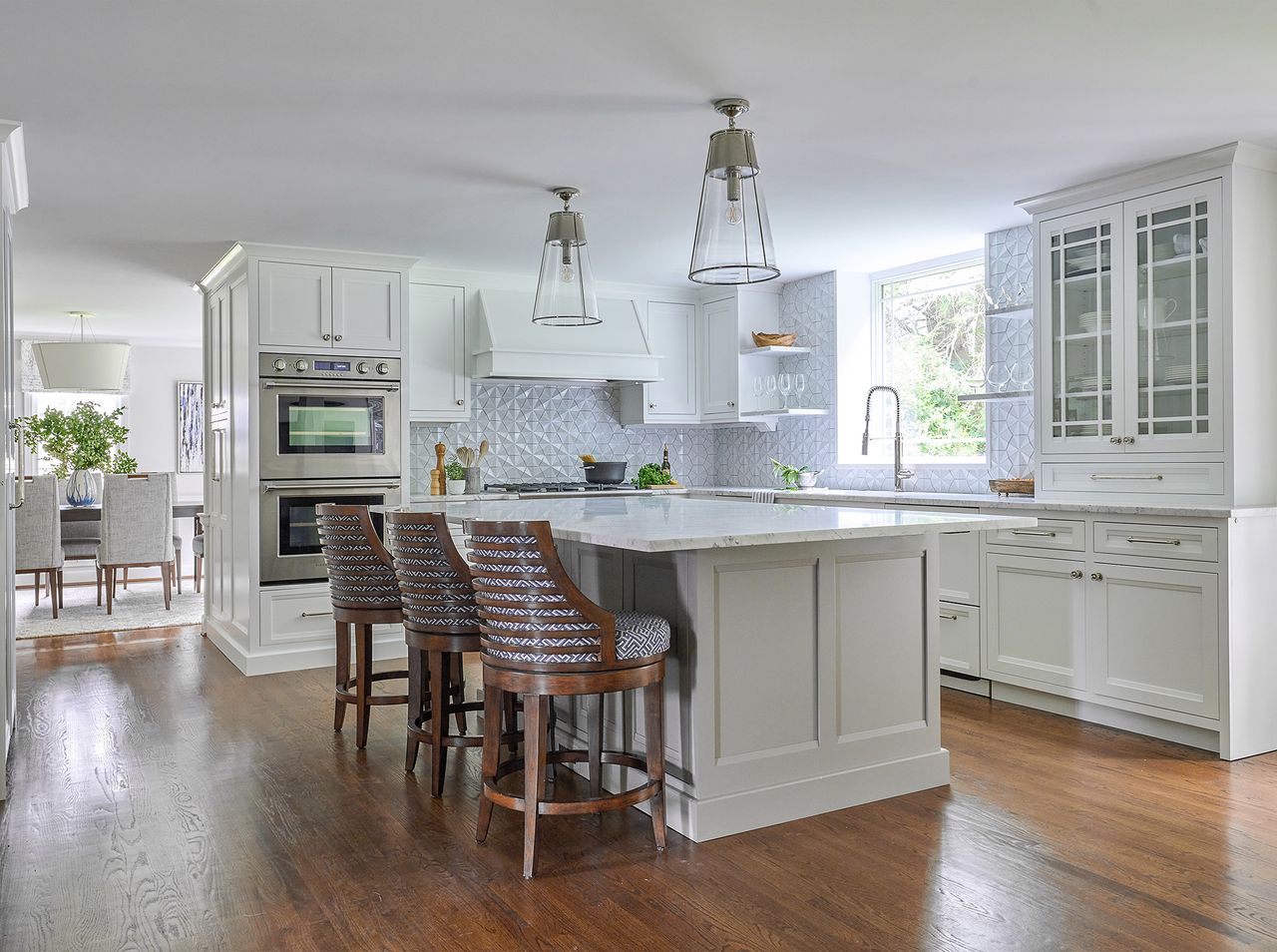 When it comes to larger renovation projects, it's important to remember that the solution to a small kitchen is not always extending. Extending requires a lot of new materials, as well as electricity and fossil fuels in order to deliver your supplies and to complete the project. Therefore, other avenues should be explored to see if there's a more sustainable way to maximize the available space.
In this project by Georgia Zikas Designs (opens in new tab), smaller changes help this family create their dream kitchen for a fraction of the ecological costs. 'Originally our clients for this home wanted to completely gut renovate the kitchen because it was so closed off from the rest of the house. They even toyed with the idea of moving to a new home because the kitchen was so small. We made them realize that by just making a few small, sustainable changes like knocking down walls and repositioning the sink, they could maximize the space, minimize the amount of materials they would have to use and create a beautiful kitchen that was harmonious with their new open floor plan,' says Georgia.
What is sustainable kitchen?
A sustainable kitchen is one that doesn't have a negative impact on the planet. This ranges from crafting your kitchen out of sustainable materials, incorporating antiques and repurposing pieces otherwise destined for landfill and painting with non-toxic paints. A sustainable kitchen also features eco-friendly appliances such as cookers with high energy efficiency and LED lighting. 
How do you create a sustainable kitchen?
There are many ways to create a sustainable kitchen. However, the first rule is to save whatever you can from your existing kitchen and keep as much out of landfill as possible. This could be achieved by selling things you no longer want or by incorporating them into your new scheme.
When painting a sustainable kitchen ensure you are using environmentally friendly paint finishes that are created using natural pigments. The same applies to your interior decor, opt for natural materials such as wood, jute, cotton or metal over plastics and focus your attention on the longevity of the pieces you purchase as well as their ecological credentials.