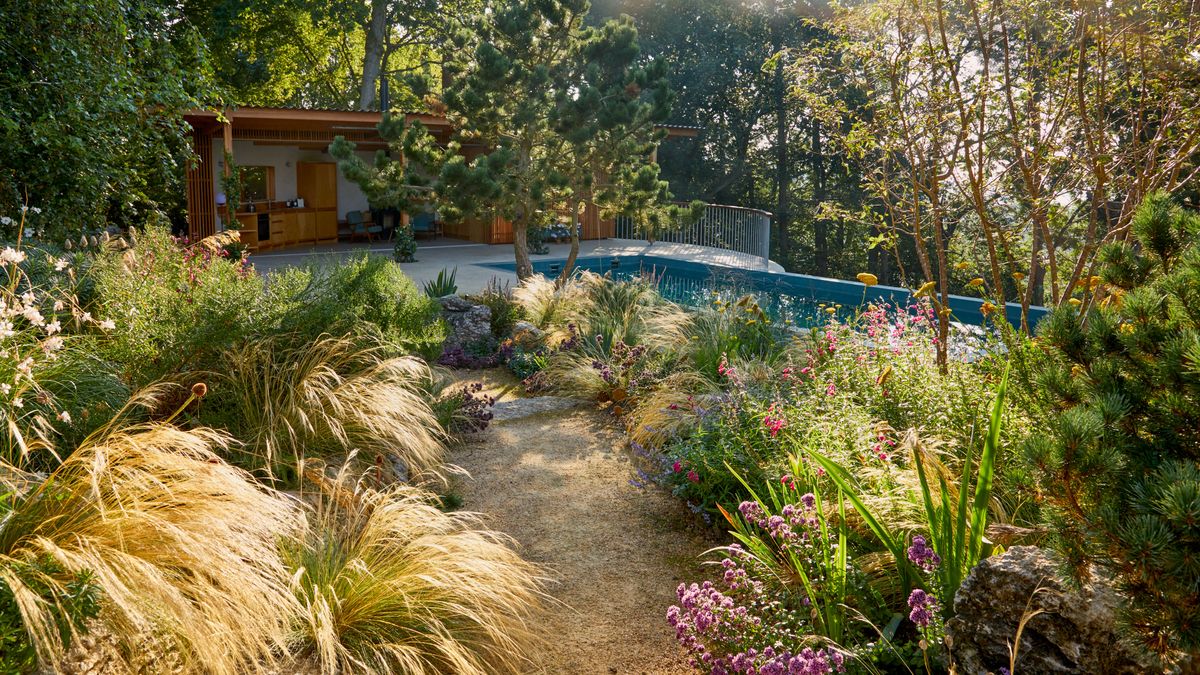 Shortlist announced for the Society of Garden Designers Awards 2022
Among the most coveted annual awards in the gardening world, the Society of Garden Designers Awards celebrate the very best of garden design innovation.
We're delighted to announce the shortlisted entries for the 2022 awards, with many leading names in the industry hoping to win an award across the 14 categories. 
Richard Sneesby, head of the Society of Garden Designers judging panel, says: 'This is another great showcase year for the SGD. The judges were delighted with the range of entries which covered the stimulating work of SGD members both here in the UK and internationally. 
'In particular we were pleased to see the wide range of entries in the smaller garden categories, which often celebrate the work of new members and those who have recently joined the profession. As always, the gardens showcase lots of new ideas, innovative materials and current planting trends, but this year especially the designers, clients and contractors have a strong focus on environmental issues.
'Plants which are resilient to climate change and global pathogens, sustainable water management, minimising carbon footprint of materials supply, wildlife friendly gardens and health and well-being are all evident within many gardens. 
'With most of this years entries having been planned or built during or following the pandemic, this is a testament to the hard work and sensitivity of the whole profession,' Richard adds.
The judges have shortlisted 25 projects for the 2022 awards finalists (opens in new tab), with some projects shortlisted under a number of categories. 
New names in garden design have been selected alongside some of the most established designers. Among the well known names shortlisted include Ann-Marie Powell FSGD for her World Food Garden at RHS Garden Wisley and Helen Elks-Smith for a garden in Dorset. Newcomers who have made it onto the shortlist include Harry Holding, for a cemetery garden in London.
The inspiring designs have been entered for categories ranging from International and UK residential and commercial projects large and small, to those including Garden Jewel, for designs of less than 150m2, Healing or Learning Landscapes or Gardens, Planting Design, and The Design for the Environment Award, for designs focussed on environmental contribution and sustainability, which is also open to non garden designers. More details can be found in the full list of the SGD 2022 Awards categories (opens in new tab).
Projects in seven of the categories will also be entered into the People's Choice Award, which is open for votes via the SGD website on 1st July 2022 for one month.
West London family garden, designed by Gavin McWilliam and Andrew Wilson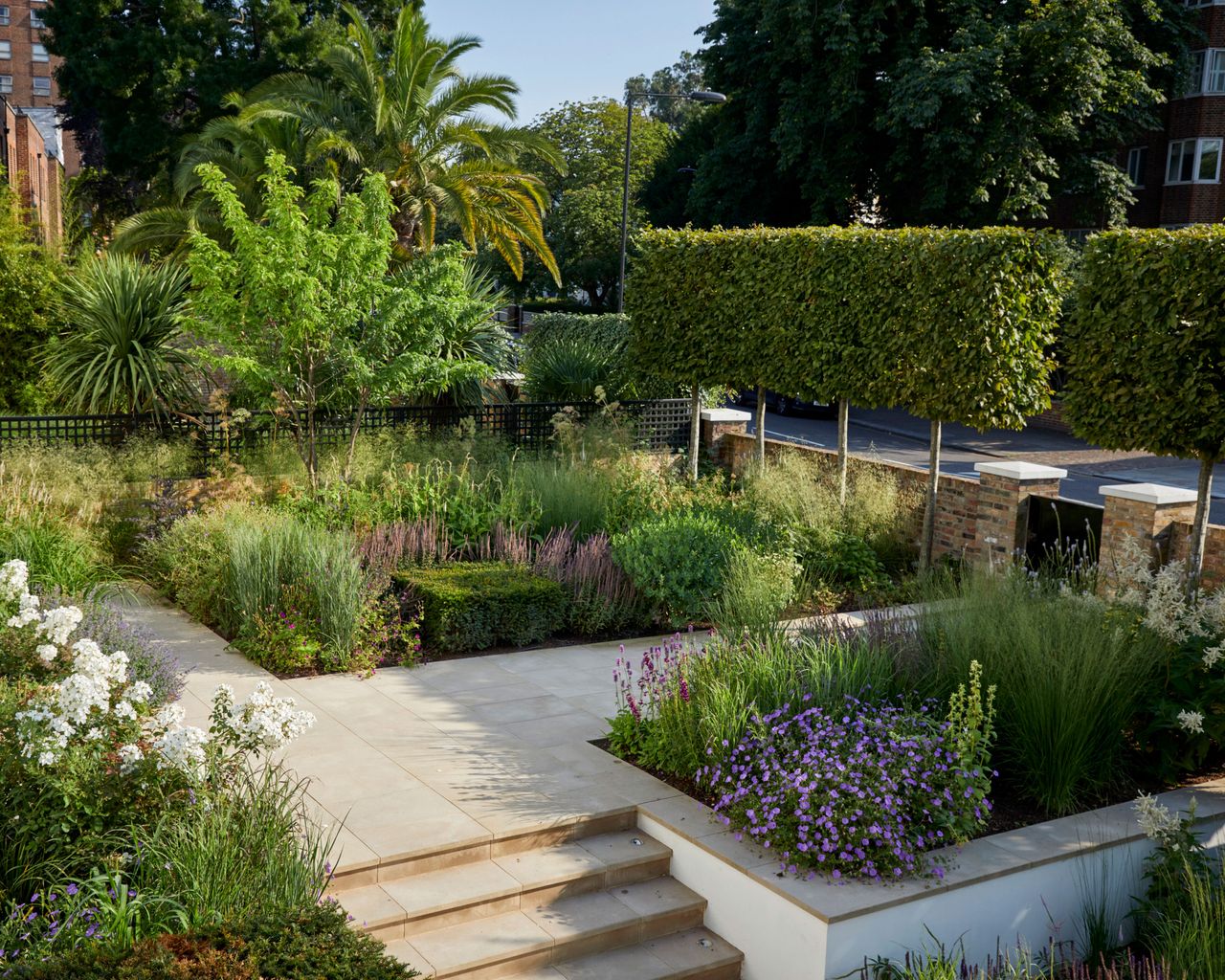 The design of this London garden by Gavin McWilliam and Andrew Wilson (opens in new tab) was to focus on family socialising, leisure and dining. 
Improved access into the main garden from the higher terrace and lower basement level created a stronger connection with the house, and through careful choice in planting, privacy was improved for both the front and rear gardens.
'The main aims of the design were to create a more immersive garden experience and to relate house and garden together more successfully,' says Gavin McWilliam.
Heathside pool garden, designed by Matthew Childs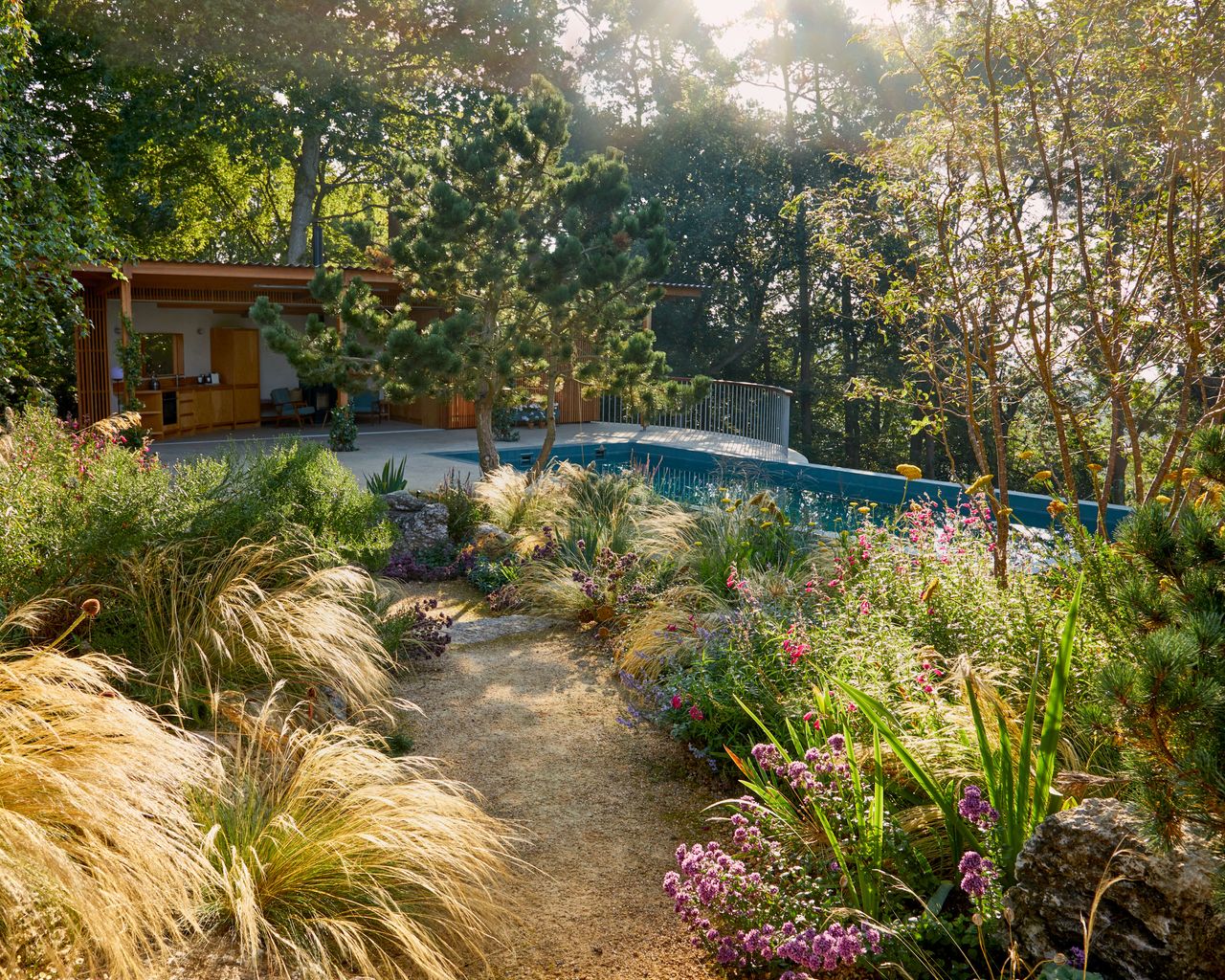 Full of interest and atmosphere, this garden design by Matthew Childs (opens in new tab) is both contemporary but also has a strong link to the natural surroundings.
The design incorporates waterfalls and a large wildlife pond which abuts a stepped limestone terrace surrounding the house, linking home with garden. 
The strong, contemporary features of the pool house are balanced with soft, prairie style and pollinator friendly planting, large multi-stem birches and natural stone to give the illusion the garden had always been there.
'Our project approach was to take inspiration from the site's history. Heathside was originally the pool house to the neighboring mansion, and had been a place for people and pleasure and we wanted to restore this. The steeply sloping topography and extensive amounts of existing Westmoreland stone were seen as a positive rather than a constraint and informed the design direction,' Matthew explains.
Twickenham garden, designed by Tom Massey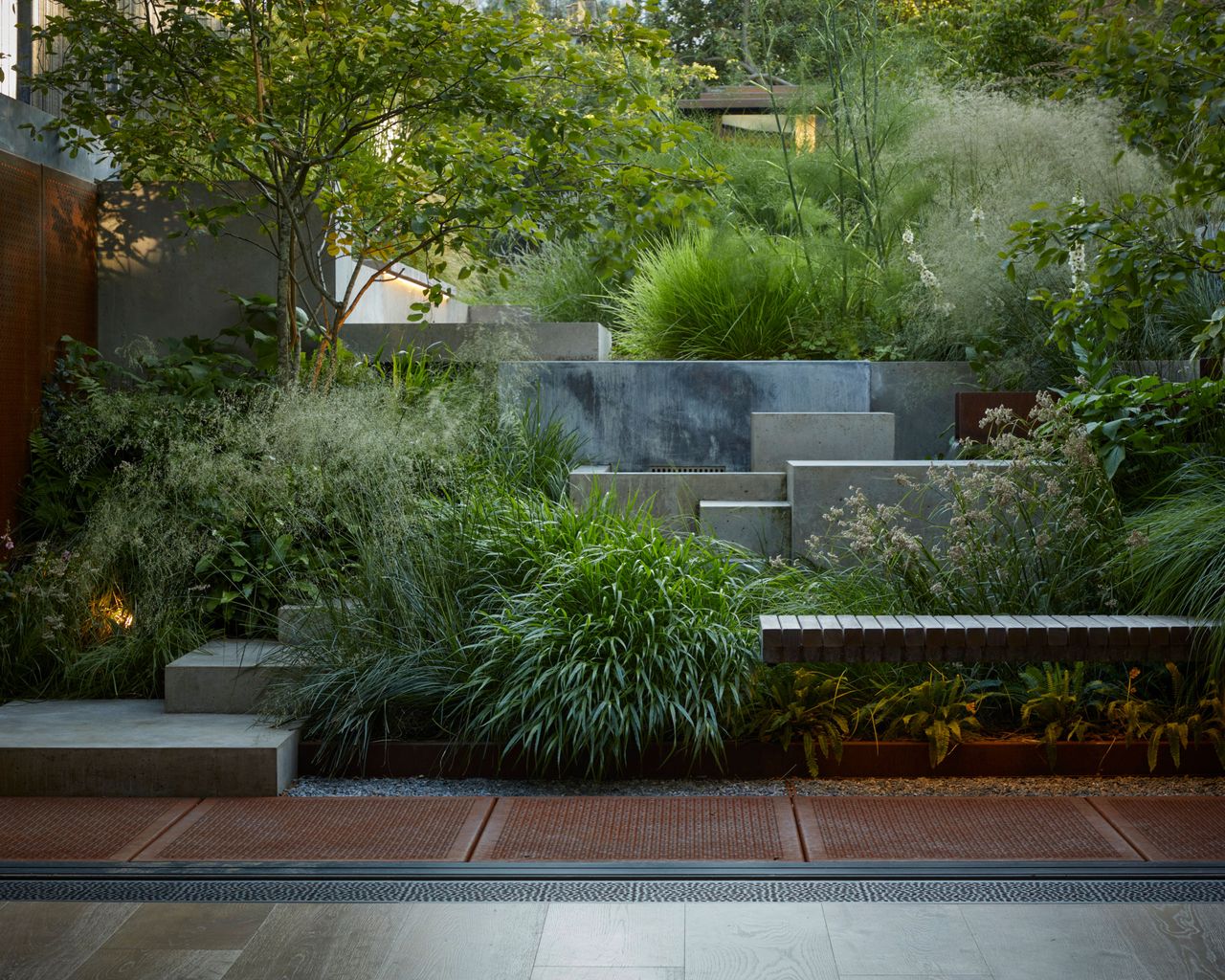 The owners of this Twickenham garden wanted an interesting and dynamic way to move from basement to ground level and that is exactly what designer Tom Massey (opens in new tab) delivered.
'Bespoke concrete cuboid steps – nicknamed the cubist cliff path – advance through a sloped bank of lush green planting and cascading concrete and Corten steel water features, providing a playful way to move from basement to ground floor level,' explains Tom.
The upper garden offers bespoke bench seating and steel planters, maintaining a continuation of the cuboid theme. The rear of the garden houses a studio with reflective glazing, surrounded by multi-stem hawthorn trees.
The easy to manage planting scheme includes blossom, scent and evergreen shrubs softened with perennials and grasses for seasonal interest, while a water feature increases the biodiversity of the garden.
Acomb High House, designed by Matthew Wilson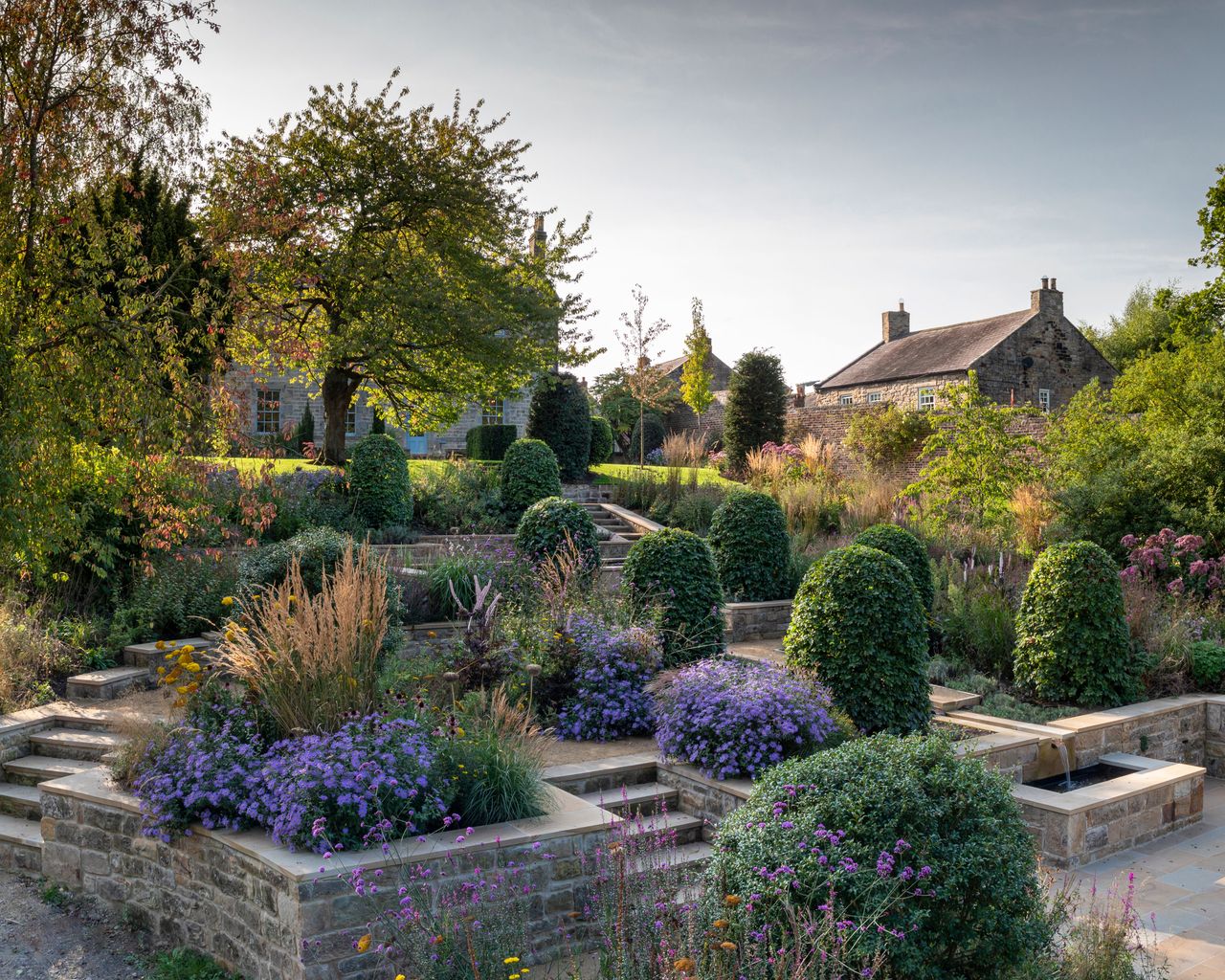 This design by Matthew Wilson (opens in new tab) was for an old walled garden.  
'While the client was open to exploring all possibilities for the design, they were explicit that the garden should be wildlife friendly, and that wherever possible the materials already on site – including large quantities of local walling stone – should be re-used,' he explains.
Paving stone and gravel for the footpaths were sourced from a local quarry, and many existing plants were dug up and retained to further reduce the carbon footprint of the project.
Low maintenance ornamental plants were selected, with pollen and nectar rich perennials and flowering and fruiting trees and shrubs.
Clapham family garden, designed by Garden Club London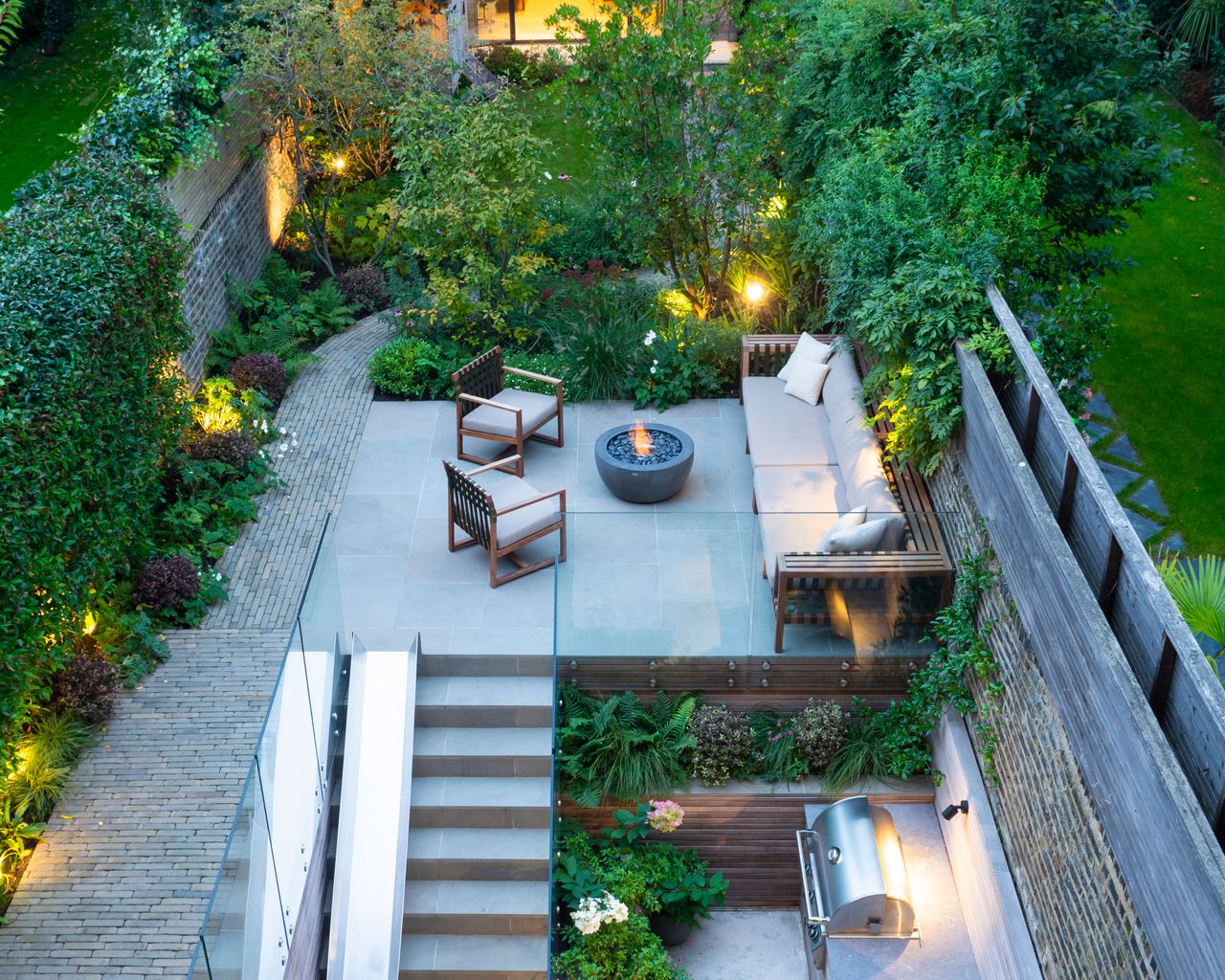 The brief for this family garden design by Garden Club London (opens in new tab) was to provide more balance between hard and soft landscaping and improve the link between the two levels.
An outdoor studio was an inherent feature in the space, while a lower level was redesigned to accommodate an outdoor kitchen.
Garden Club London explains: 'Particular attention was put into creating a better journey through the garden leading to the outdoor studio. A soft curved path leads from the lounge patio through generous planting borders to a small lawn and bespoke playhouse. The minimalist planting scheme has also been expanded, including a wide range of species to increase seasonal interest and biodiversity.'
Golfe Leste, Portugal, designed by Gavin McWilliam and Andrew Wilson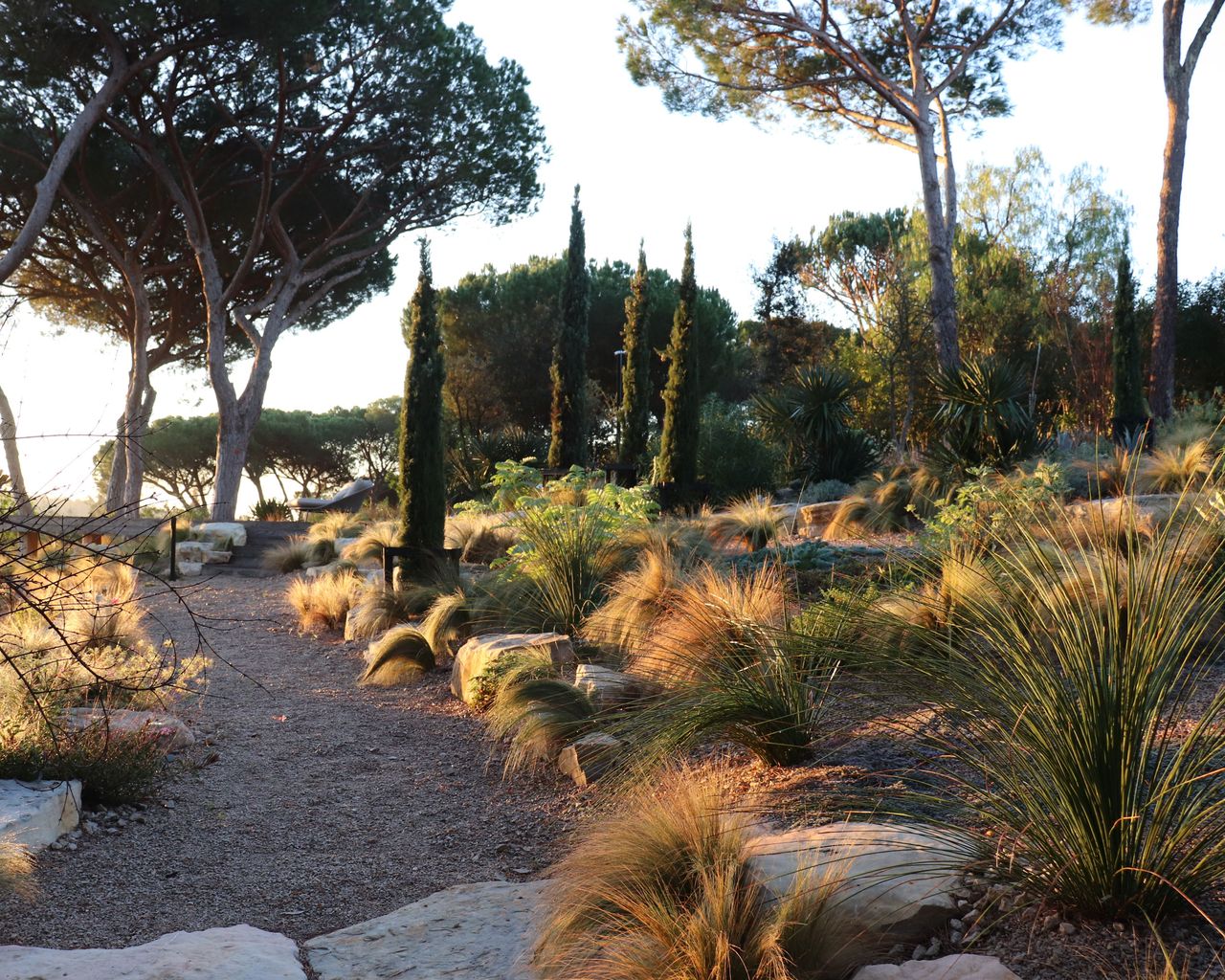 This garden located in the Portuguese Algarve was designed by Gavin McWilliam and Andrew Wilson to meet the client's brief of creating a place of sanctuary and retreat but with views of the surrounding landscape.
Dry gravel naturalistic planting is inspired by the local landscapes and habitats and in the wider garden, boulders and stone steps deal with the level changes of the sloping site, while tall Italian cypresses deliver vertical punctuation.
Gavin McWilliam says: 'The design turns its back on the high input, water thirsty gardens typical of the surrounding area, offering a new aesthetic of naturalistic and native planting that will not require irrigation beyond the establishment period, and will dramatically increase biodiversity.'
Le Mie Colline, Italy, designed by Tommaso Del Buono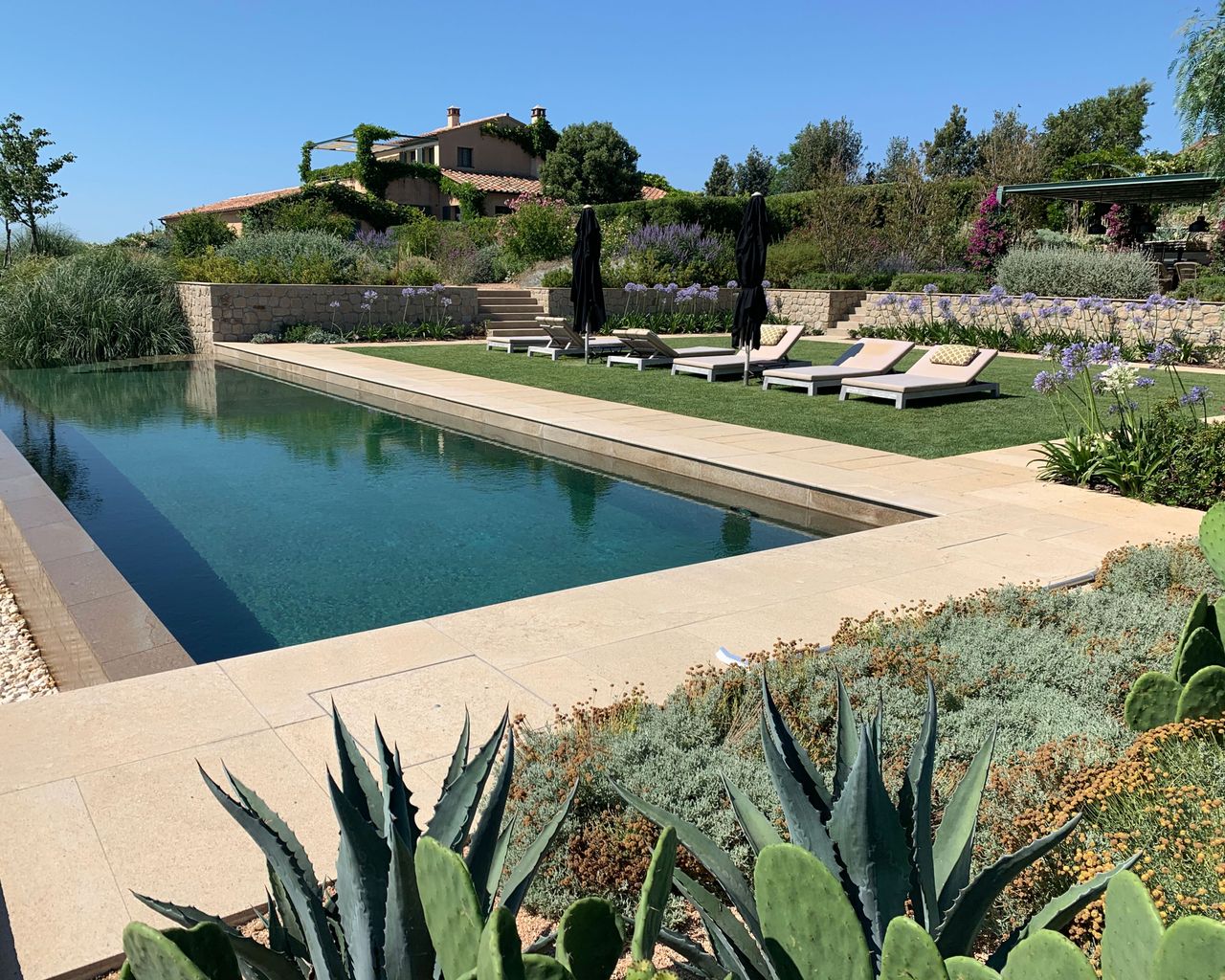 This rural property in Tuscany sits at the heart of a new estate comprising vineyards, olive groves and areas of native woodland. Designer Tommaso Del Buono's brief from the client was to create a much expanded and ambitious garden, to include a new infinity swimming pool, productive gardens and orchards, within a framework of different spaces tailored to the clients' lifestyle.
The stony, heavy soil and relative lack of water informed and guided the selection of drought tolerant plants used. 
'Given the strong character and beauty of the surrounding and nearly untouched countryside and landscape, one of our main challenges was to ensure that the new gardens and elements within them should fit naturally and harmoniously with their surroundings,' says Tommaso.
Richmond garden, designed by Tom Massey
One of the first commissions Tom Massey was awarded two years after graduating from college, this garden features dual level sawn Yorkstone dining terraces with bespoke steps, a 12m long living wall, and a water feature that runs the entire length of the garden, starting as a natural stream, transitioning into a Corten steel rill and ending in a lily pond trough.
'The garden is divided in distinct zones; close to the house it is formal in character with the crisp clean lines of sawn Yorkstone paving, further along stepping-stones lead through the lawn with its planted borders to a productive area, screened from view by bespoke louvered timber screens. At the rear of the garden is a more naturalistic woodland area,' says Tom.
A Sense of Discovery, designed by Stefano Marinaz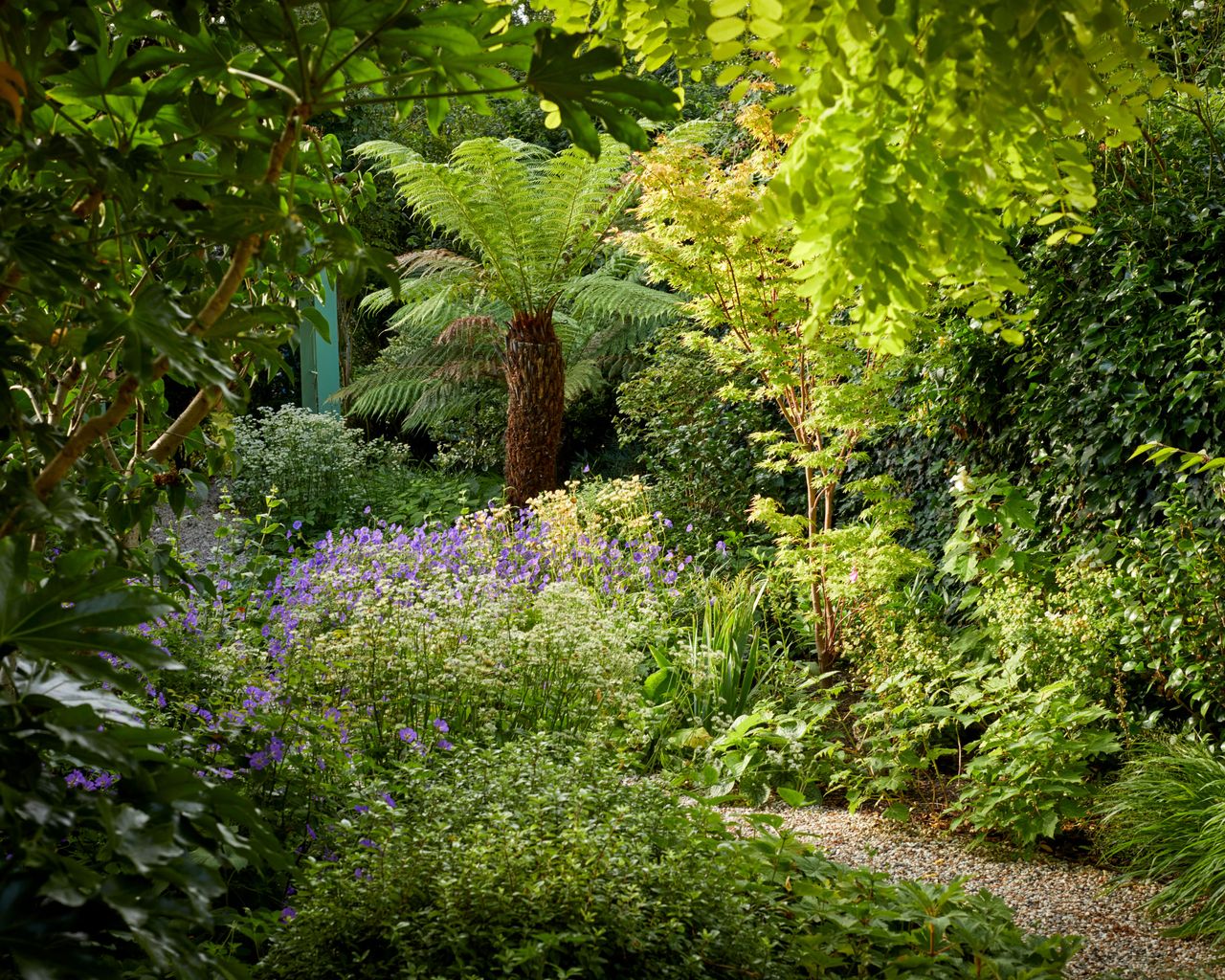 Garden designer Stefano Marinaz (opens in new tab) recreated the 'jungle' feel of this previously overgrown Queen's Park garden through considered planting, with a meandering path creating a sense of discovery.
'The garden was split in 3 different areas and we concentrated our design on the section closer to the house, which includes the terrace and the garden up to the metal arch,' he explains.
The existing large Robinia sp. and Syringa sp. were retained and incorporated within the scheme, while the rest of the planting has an emphasis on perennials and bulbs combined with shrubs that provide interest all year round.
Bishop's House, Rwanda, designed by Chloe Humphreys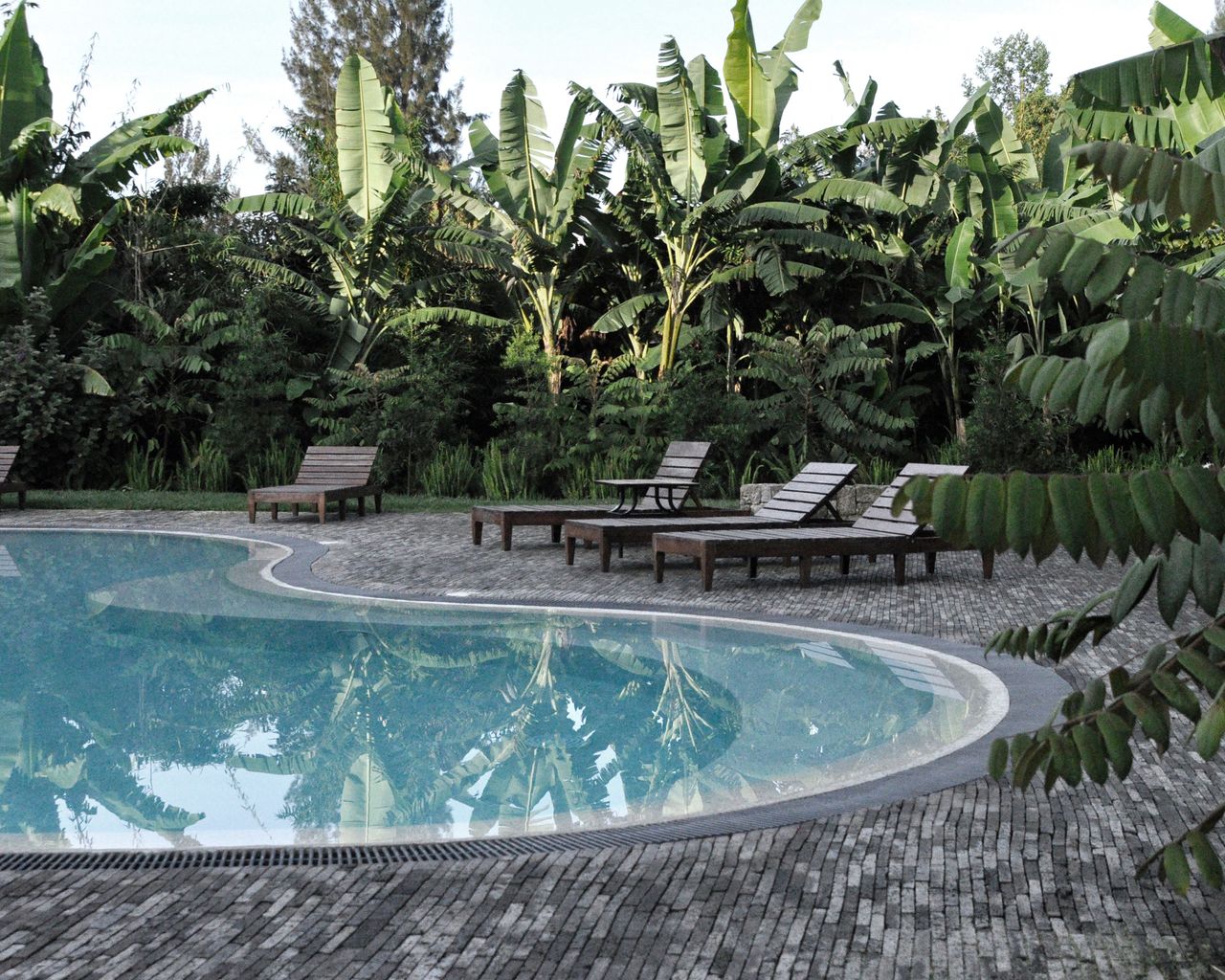 This design by Chloe Humphreys (opens in new tab) meets the requirement of a calming and private garden for guests in a suburban hotel in the heart of Ruhengeri, Rwanda. 
The brief was for the garden to be in keeping with the location's existing flora and architecture; providing screening and privacy from neighboring buildings was important.
Chloe says: 'Being in a highly volcanic area the most easily available stone is volcanic stone and we celebrated this unique stone within the design. Using locally sourced materials often is the most sustainable solution as the carbon footprint of the projects are much reduced. 
With most of Rwanda farmed, she used a dominant crop, the banana, within the planting design to create fast privacy while waiting for the combination of indigenous trees to grow. 'This has resulted in a unique project which is wholly encompassing of a sense of true identity to the site and to the project as a whole,' she says. 
Chelsea Townhouse, designed by Adolfo Harrison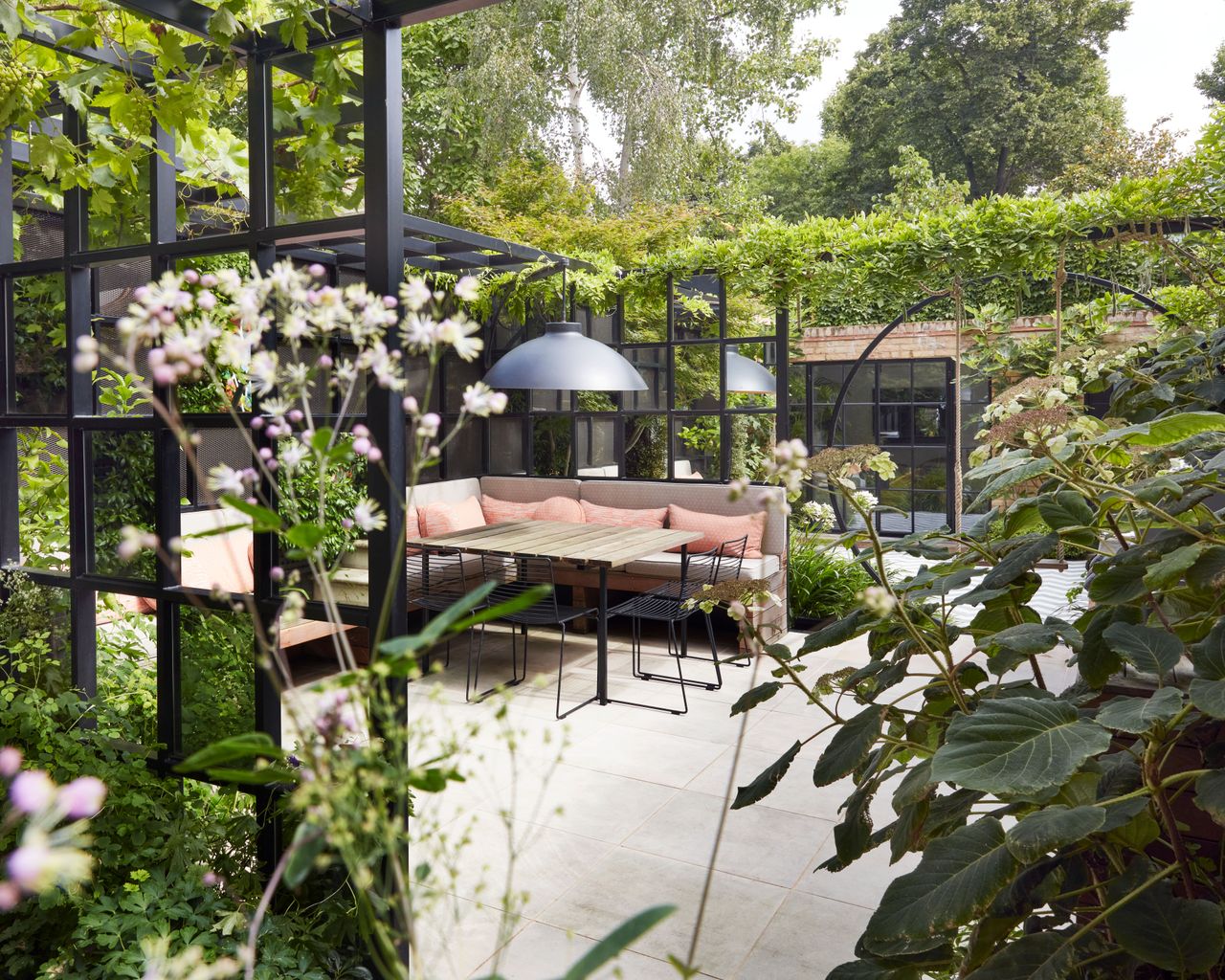 This family garden designed by Adolfo Harrison (opens in new tab)reflects the personalities of the Irish and Italian owners, providing spaces to entertain and lounge in both sun and shade.
'The concept was to create a seamless flow of spaces that starts the moment you walk through the front door of the house till you reach the garden studio at the end, via three outdoor rooms, and by doing so removing any hierarchy between the indoors and out,' explains Adolfo.
Crittall windows from inside the house were taken for the design of the dividing screens and pergola, which are smothered in climbing flowers. 'These screens never allow you to see the complete garden at any one point but neither do they deny the sense of depth,' Adolfo adds.
Kensington Courtyard, designed by Gavin McWilliam and Andrew Wilson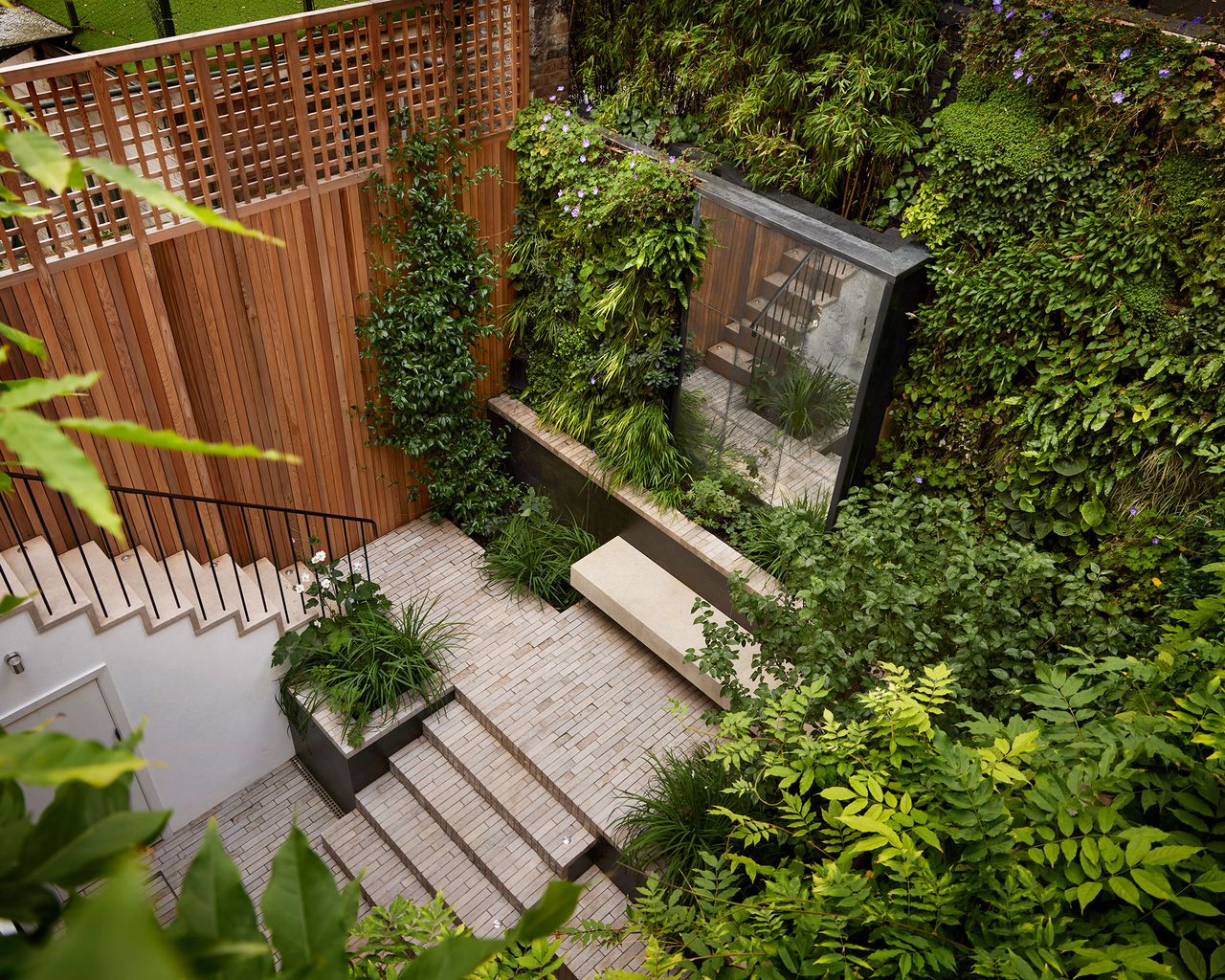 The simple and coherent design by Gavin McWilliam and Andrew Wilson of this small enclosed space was to provide an oasis of calm for a family to enjoy and an extension to their kitchen area.
A more coherent treatment of paving, boundaries and level change has created a calming environment.
'Due to the restricted light levels paving needed to be considered carefully in order to deliver safe use and to age well over time. The introduction of vertical planting delivered a much greater planting impact,' says Gavin McWilliam.
Alexander Square, by Stefano Marinaz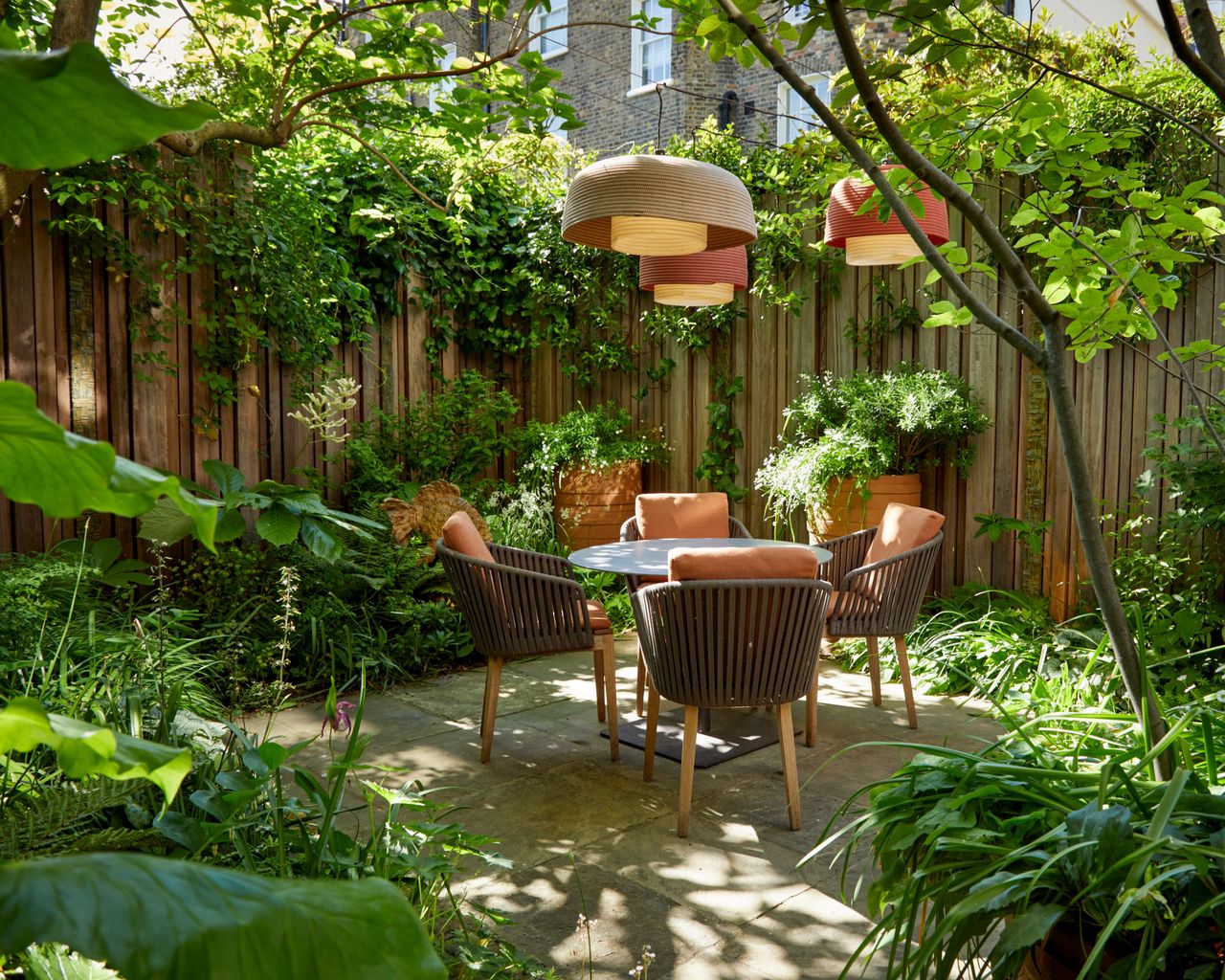 Split over two levels, the design of this garden by Stefano Marinaz increased planting beds while retaining space for dining al fresco in the summer.
'Even though the garden is South-West facing the large Catalpa tree provides a lot of shade to the garden and influenced the type of plants chosen. Above the dining table we hung pendant lights from simple stainless steel wires that also allow climbers to grow on,' Stefano explains.
The feature fencing utilises iroko vertical elements of different width and depth alongside some decorative bronze details that resemble a wooden pattern. 
Triple Texture Courtyard, designed by Mandy Buckland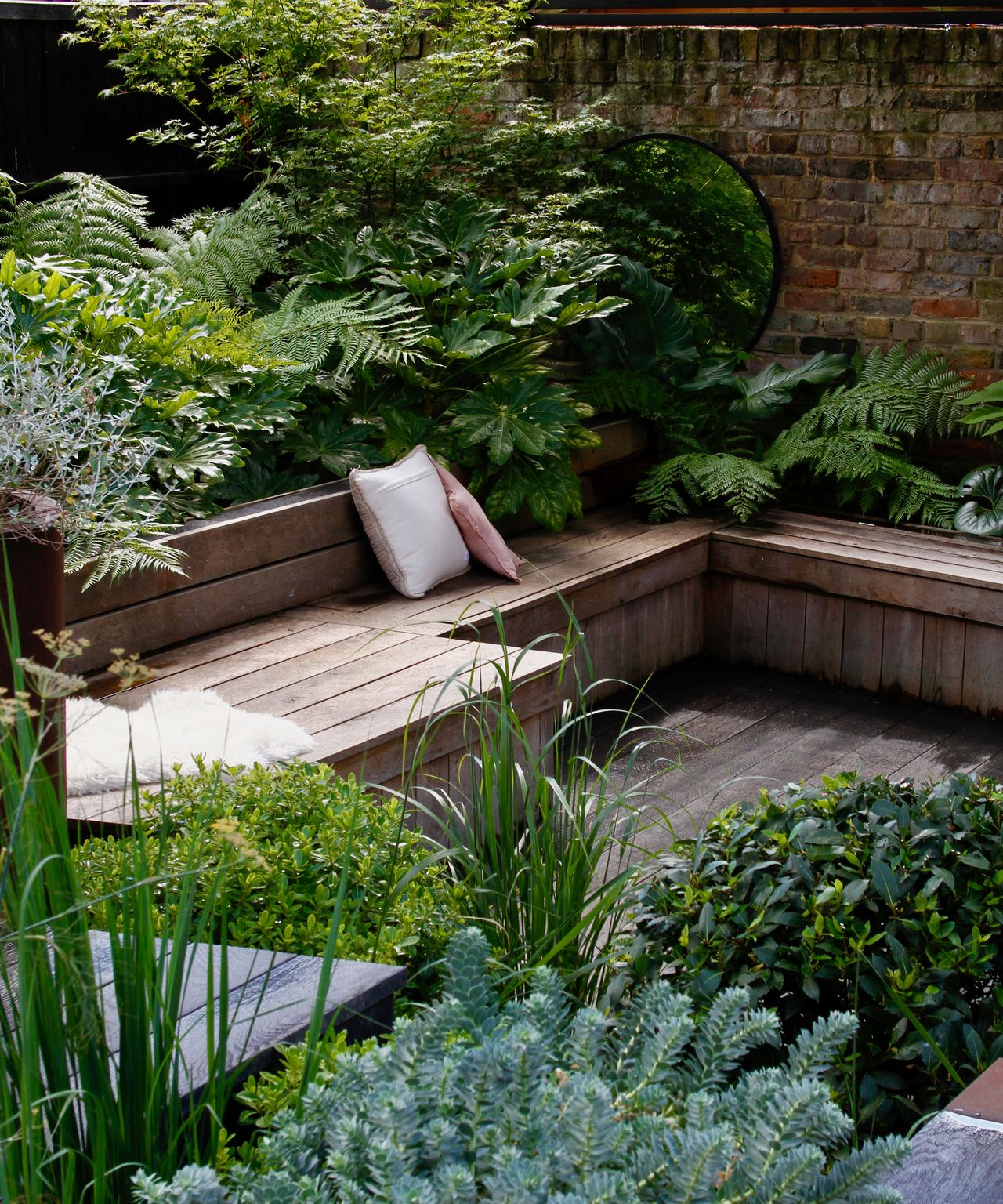 Creating zones for dining, relaxing and socialising, Mandy Buckland (opens in new tab) created purpose to the levels in this two-level small city garden.
The material palette includes charred black timber, seasoned oak and Corten steel . 
'I have designed some interesting quirky angles and junctions. My planting design uses lots of green foliage, creating calm, harmony and texture rather than a riot of color,' Mandy explains.
The Lodge, designed by Harry Holding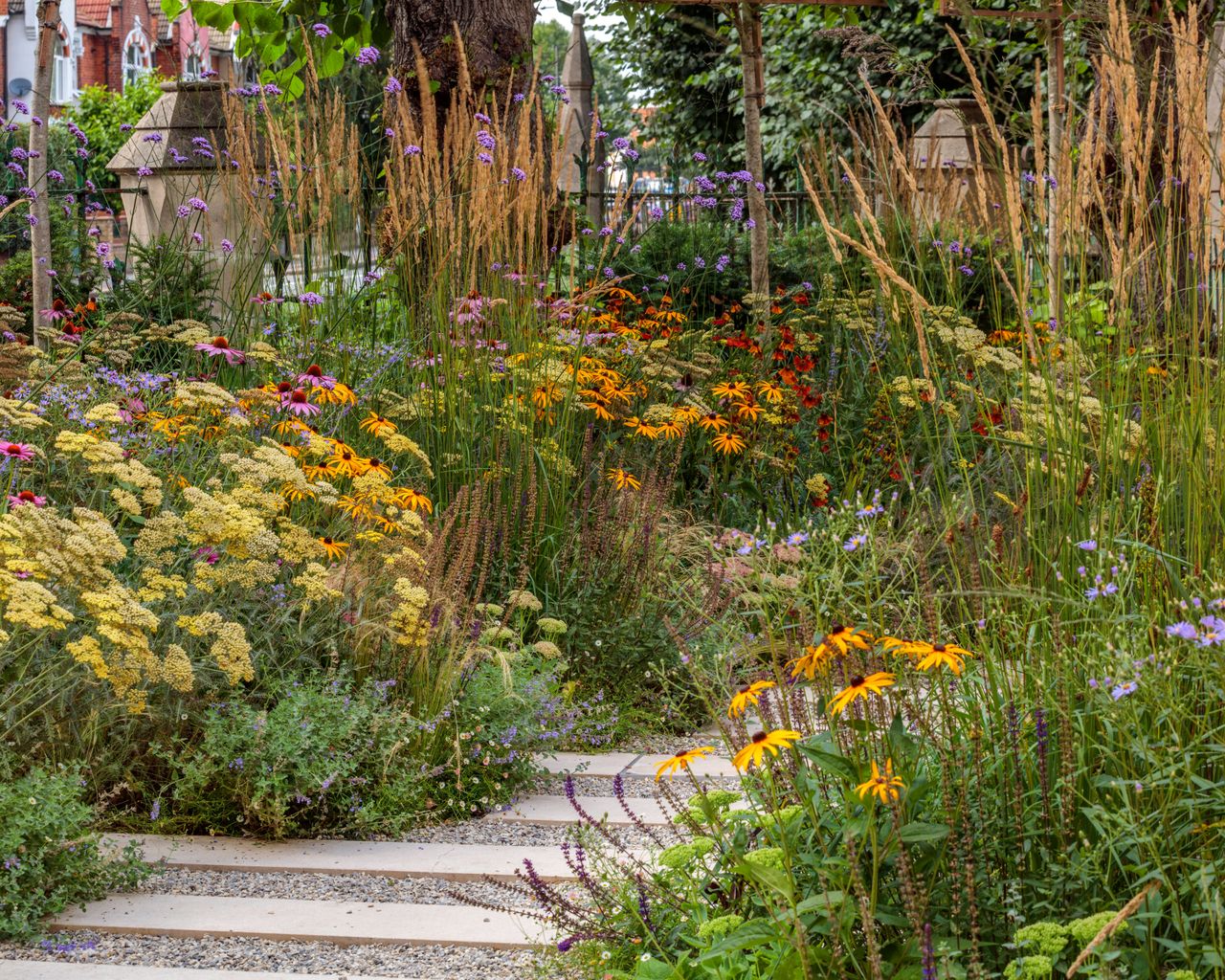 Sitting within a cemetery in central London, the design of The Lodge gardens by Harry Holding (opens in new tab) is sensitive to and distils the essence of the serene landscape beyond. 
Picking up on architectural details of the property, the four outside spaces work to enhance the relationship between the old Neo-Gothic lodge and new extension. 
The richly diverse and low maintenance garden planting creates myriad wildlife habitats. Biodiversity has been hugely improved with 68 new plant species introduced across the four gardens, including a 70m2 wildflower meadow that adorns the flat roof.
'There is a long season of interest for both pollinators and people. A blend of native and non-native plants create an enhanced form of nature that flowers from late winter to early fall,' Harry explains. 
Fifield Farm, designed by Andrea Newill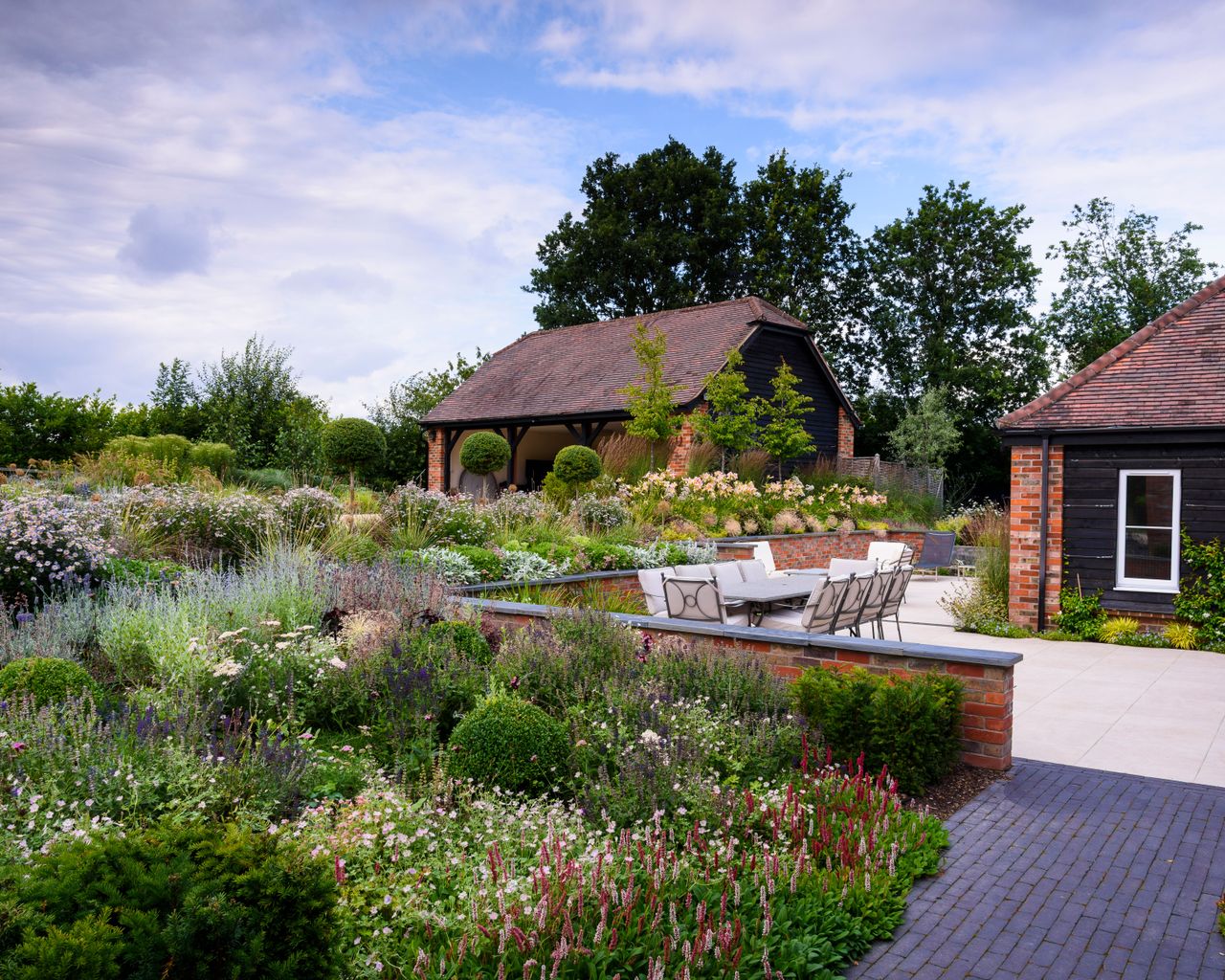 Andrea Newill's (opens in new tab)brief for the design of Fifield farm was to open up views from the house and garden to the rural landscape, with a better flow from the house through the garden. 
An extensive, sunken porcelain and clay paver dining and entertaining terrace close to the house includes a barbeque and hot tub area. A black basalt gravel path leads beneath an oak pergola to the games room, wildflower planting and a woodland garden, with water feature and bespoke bench. The design and naturalistic planting enhance views to the rural landscape. 
'The existing 1970s planting style with a preponderance of evergreen shrubs, and coniferous trees, was static and lacking seasonal interest, as well as creating a divide between the house and landscape beyond. This was completely revamped into a naturalistic, contemporary style, in keeping with the rural location,' Andrea explains.
Poole garden, designed by Helen Elks-Smith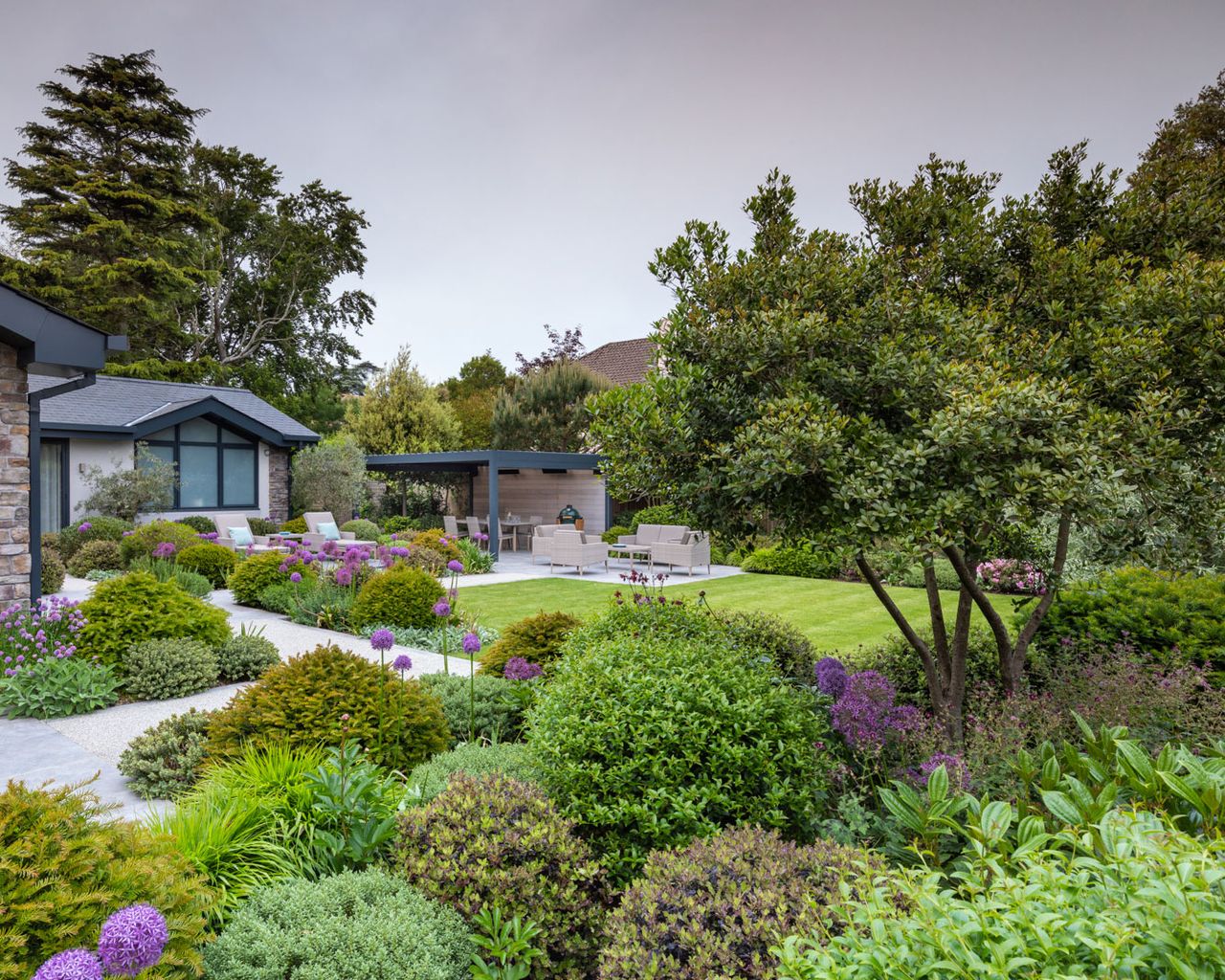 Including structural plants with well-defined form was key to this garden design by Helen Elks-Smith (opens in new tab). 
'Having previously had a garden with traditional topiary and pleached hedging, albeit in a fairly contemporary setting, the client wanted a different approach although still "structured". The garden is used a lot in the evenings and consideration was also given to lighting when selecting plants and their form,' Helen explains.
The design solution includes the use of key low evergreen trees and shrubs that can be pruned to size and shape and offer a variety of texture and foliage color.
Bulbs, perennials and ornamental grasses create seasonal highlights and further textural interest, while the planting also part defines different garden zones.
Richmond garden, designed by Mike Harvey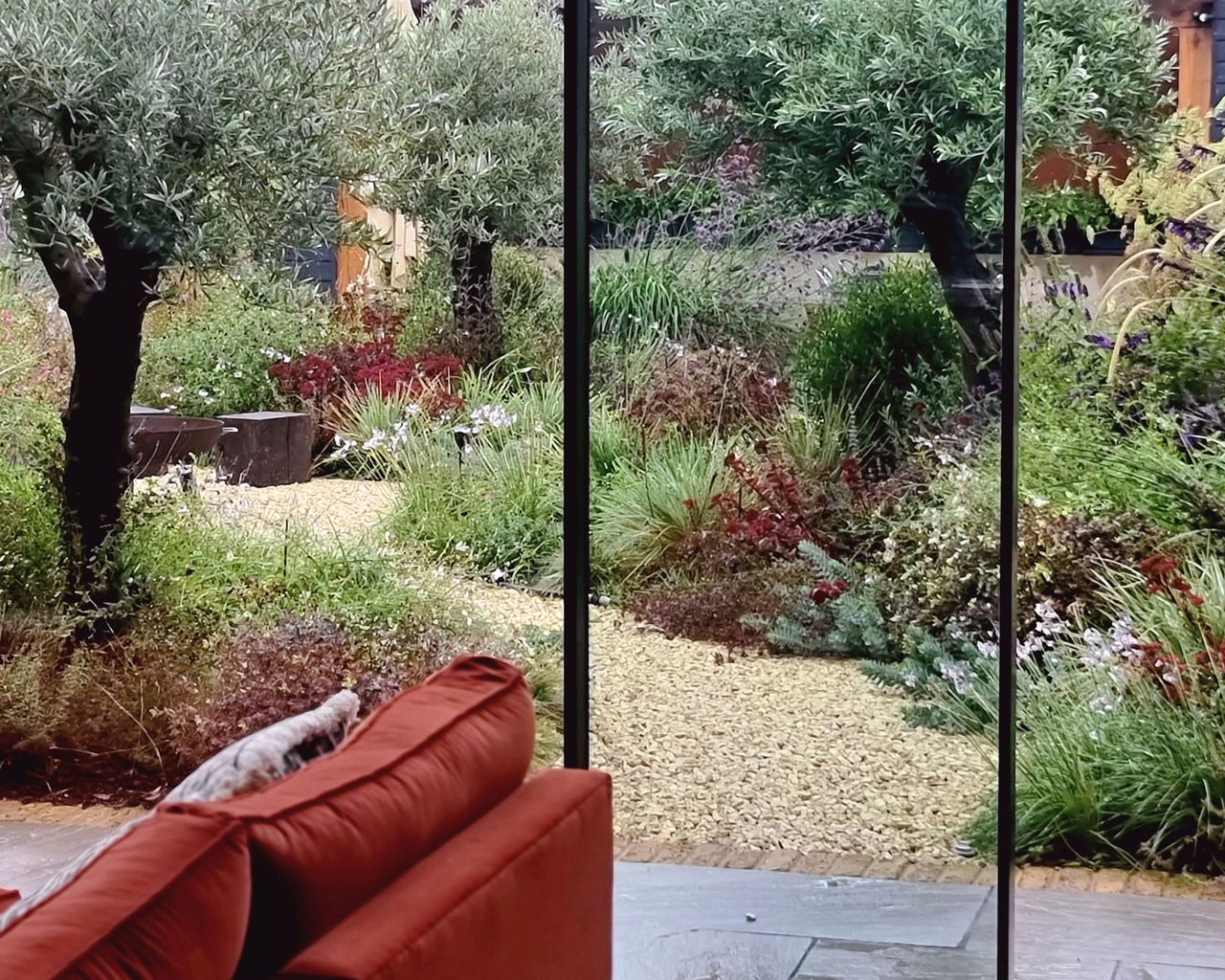 The aim of this garden design by Mike Harvey (opens in new tab) was to provide year round interest, with Mediterranean style planting suited to sandy conditions.
Screening planting, including fruiting and flowering trees, provides privacy from neighboring properties, while not casting too much shade.
'The client wanted the garden to be beautiful both day and night, with a seating area surrounded by plants,' Mike explains.
A Place To Unwind, designed by Sue Townsend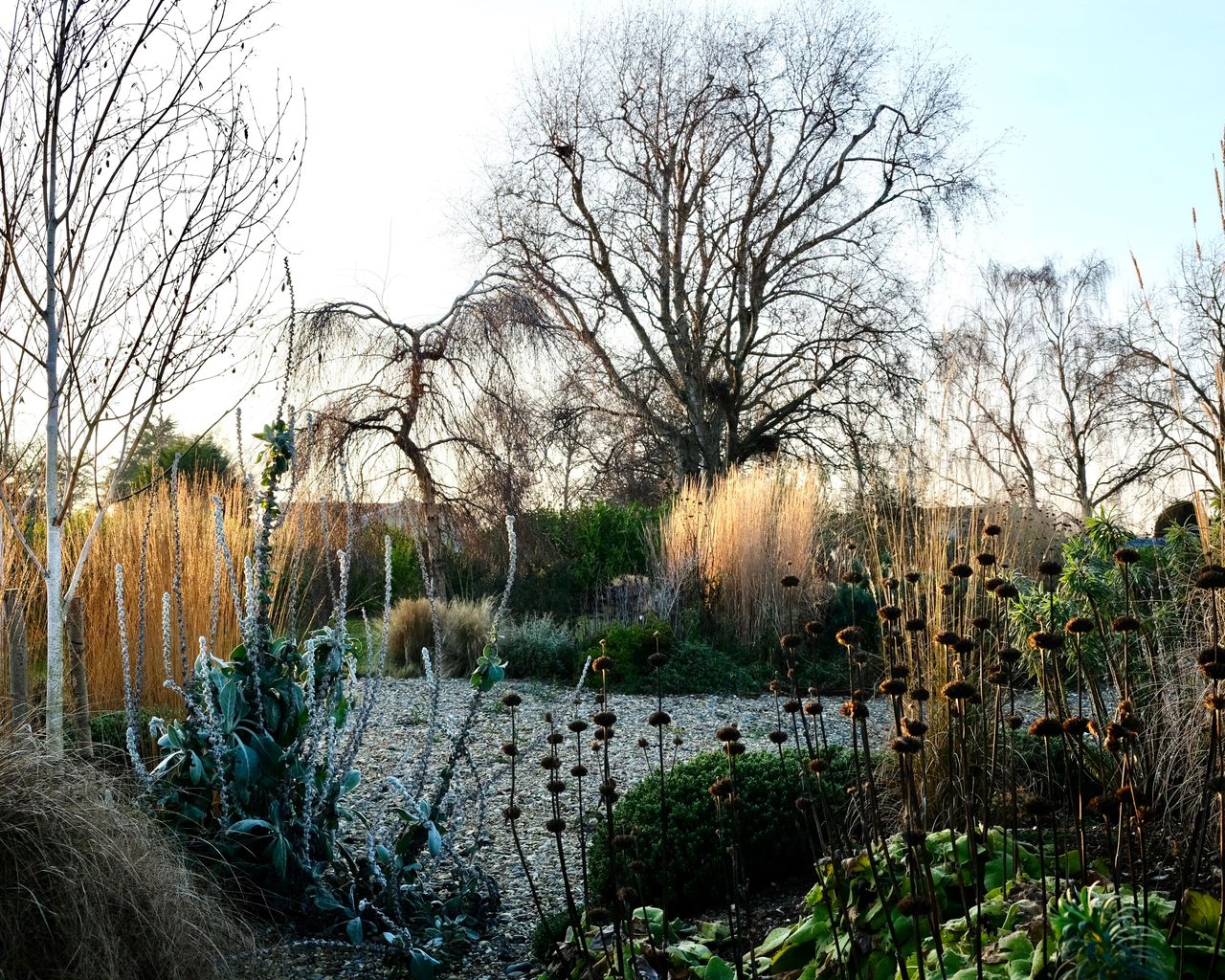 This garden designed by Sue Townsend (opens in new tab) has an overarching sense of privacy. A large native pond, swathes of perennials and grasses and organic shapes in the gravel garden add to its feeling of natural serenity.
A cantilevered oak deck floats over the pond with views over to a beautiful Flora sculpture set in drought tolerant planting, and a seating area enjoys the shade from a pergola.
Sue says: 'Large island beds with textural and nectar rich coastal planting provide plenty of seasonal interest and allow you to meander around the garden and experience the pond life, planting, bees and butterflies at close hand.'
Wildlife Friendly Eco House Garden, designed by Kristina Clode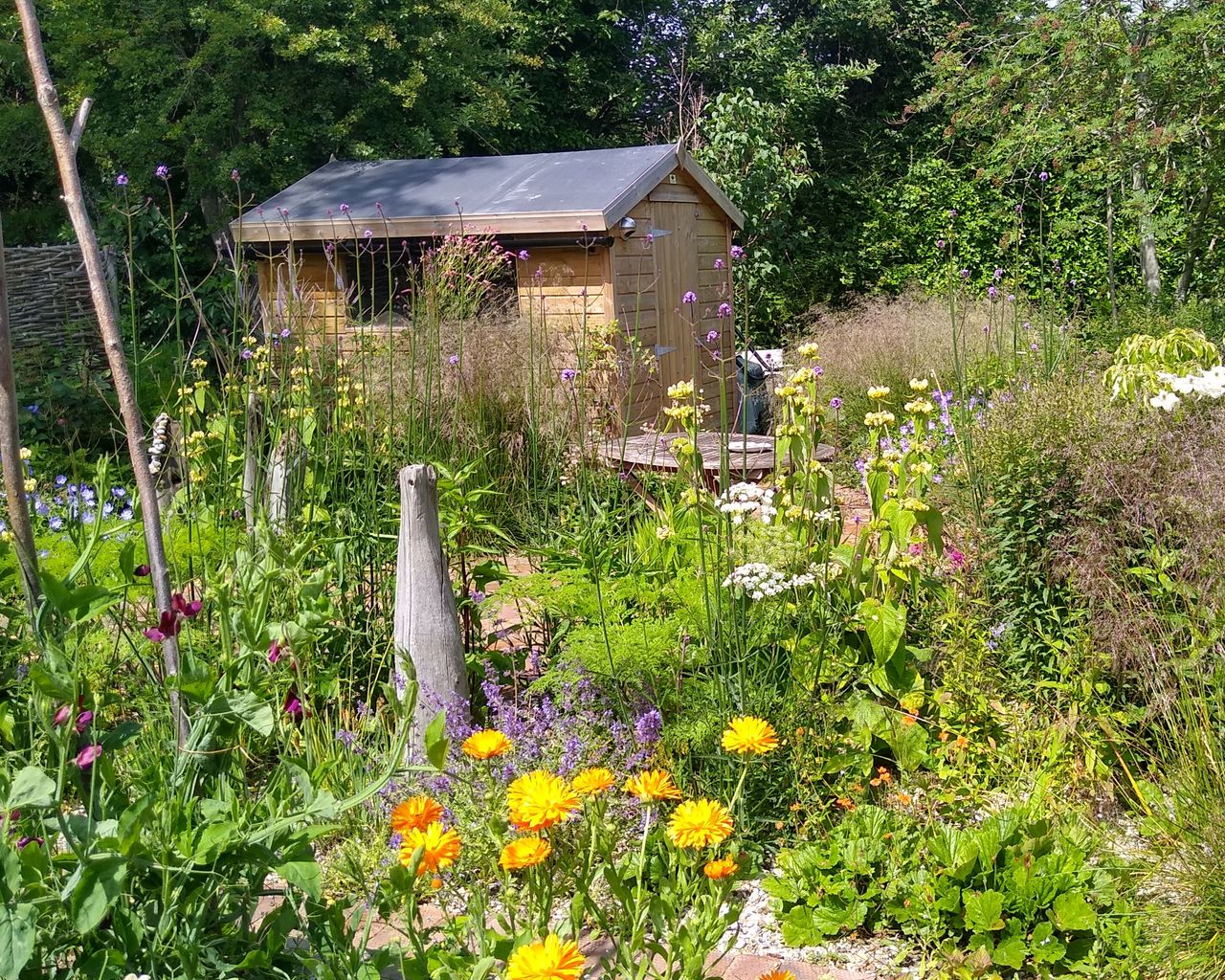 Located in a wild coastal setting, this garden design by Kristina Clode (opens in new tab) had to suit its surroundings.
Kristina explains: 'My client wanted an ecological and sustainable garden, with a low carbon footprint. Planting had to be naturalistic, relatively low maintenance, wildlife friendly and drought tolerant.'
Sustainable, low cost materials used include reclaimed sea timbers, Lydd shingle, reclaimed Yorkstone slabs and rockery stones, while planting had to ensure biodiversity and reinstatement of habitat for the resident bats on the property. 'This meant that a significant proportion of the plants were native, including the perennial wildflower meadow and species rich turf in the rear garden. I am happy to say the bats did return to their new bat box,' Kristina adds.
Rewilding North Barn, designed by Anna Murphy & Sarah Jarman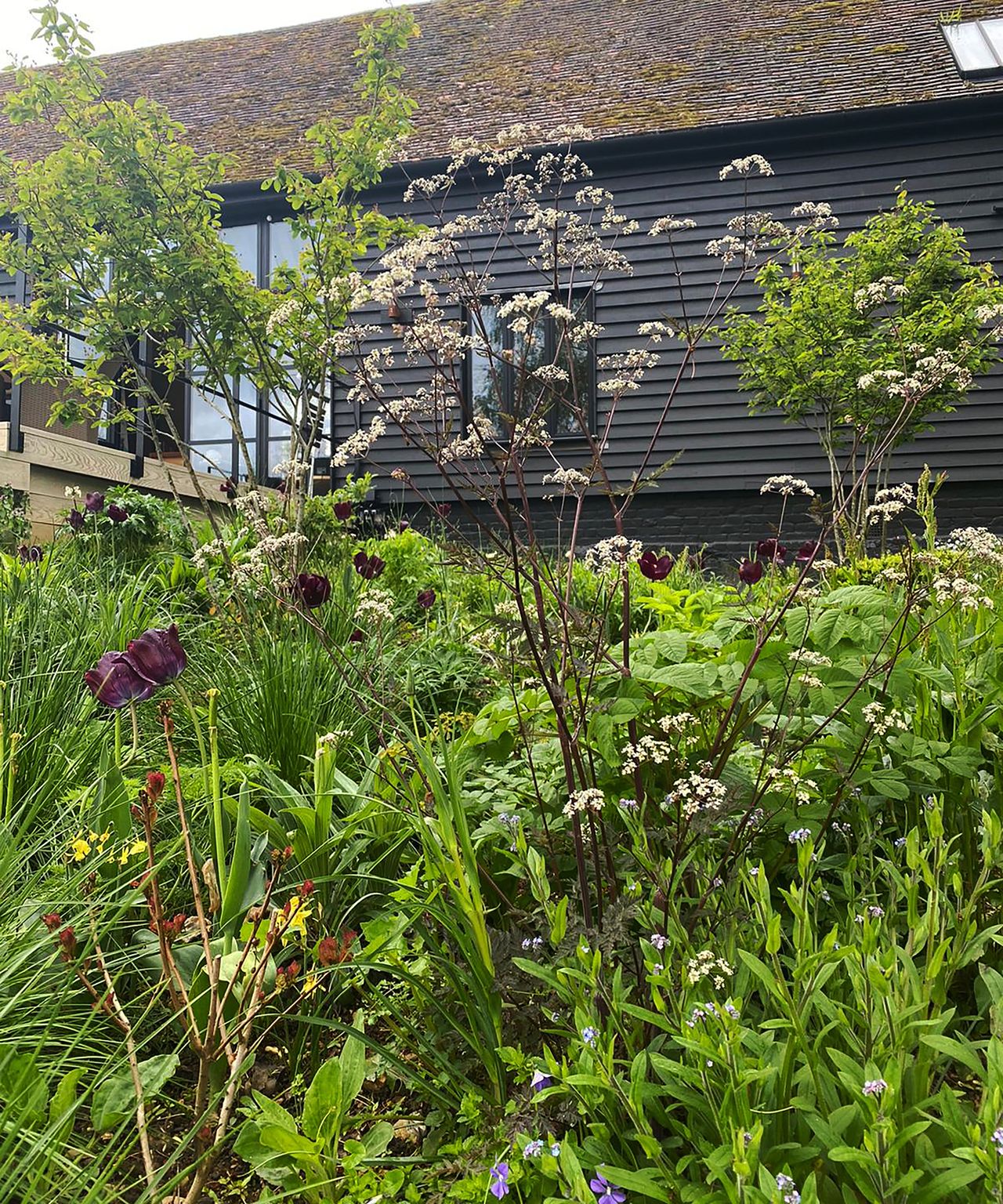 The design of this garden by Jarman Murphy (opens in new tab)sought to create a wild, enhanced haven, and limit the impact on the environment by reusing materials from the site for construction, and source and reclaim sustainable materials with longevity.
Murphy and Jarman say: 'The design was to give the clients immersion in nature and wildlife, opening up views to the water meadows across the road, giving them privacy, space to entertain on a large or small scale, space to relax, places be in their garden, places to go to, places to walk through, sound to distract, focal points, sculptural interest. Human spaces within an enhanced rewilded garden.'
Davines Village, Italy, designed by Tommaso Del Buono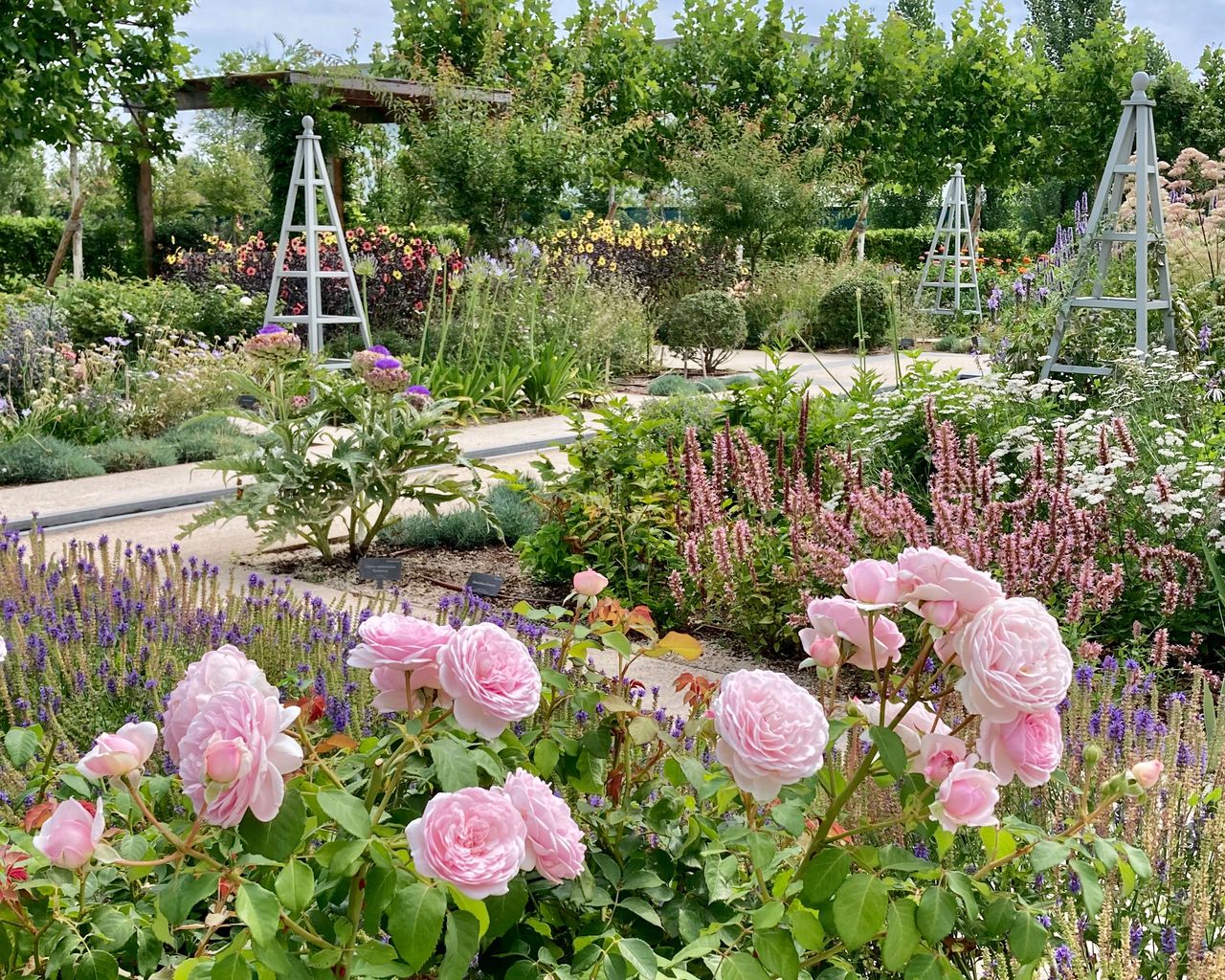 This landscape design by Tommaso Del Buono for the new corporate headquarters of a cosmetics company includes an 'Apothecary Garden' (Orto Scientifico) to display the organic plants that form the basis of their formulations, and two large central courtyards.
'The Orto Scientifico is an instrument for research, an open air 'showroom' and importantly a place of work but also rest and relaxation for both employees and visitors.
'A "Paradise" garden, the Orto is traditionally and practically laid out in geometrically arranged beds with plants selected and grouped in accordance to their beneficial properties and uses,' Tommaso explains.
RHS Wisley, World Food Garden, designed by Ann-Marie Powell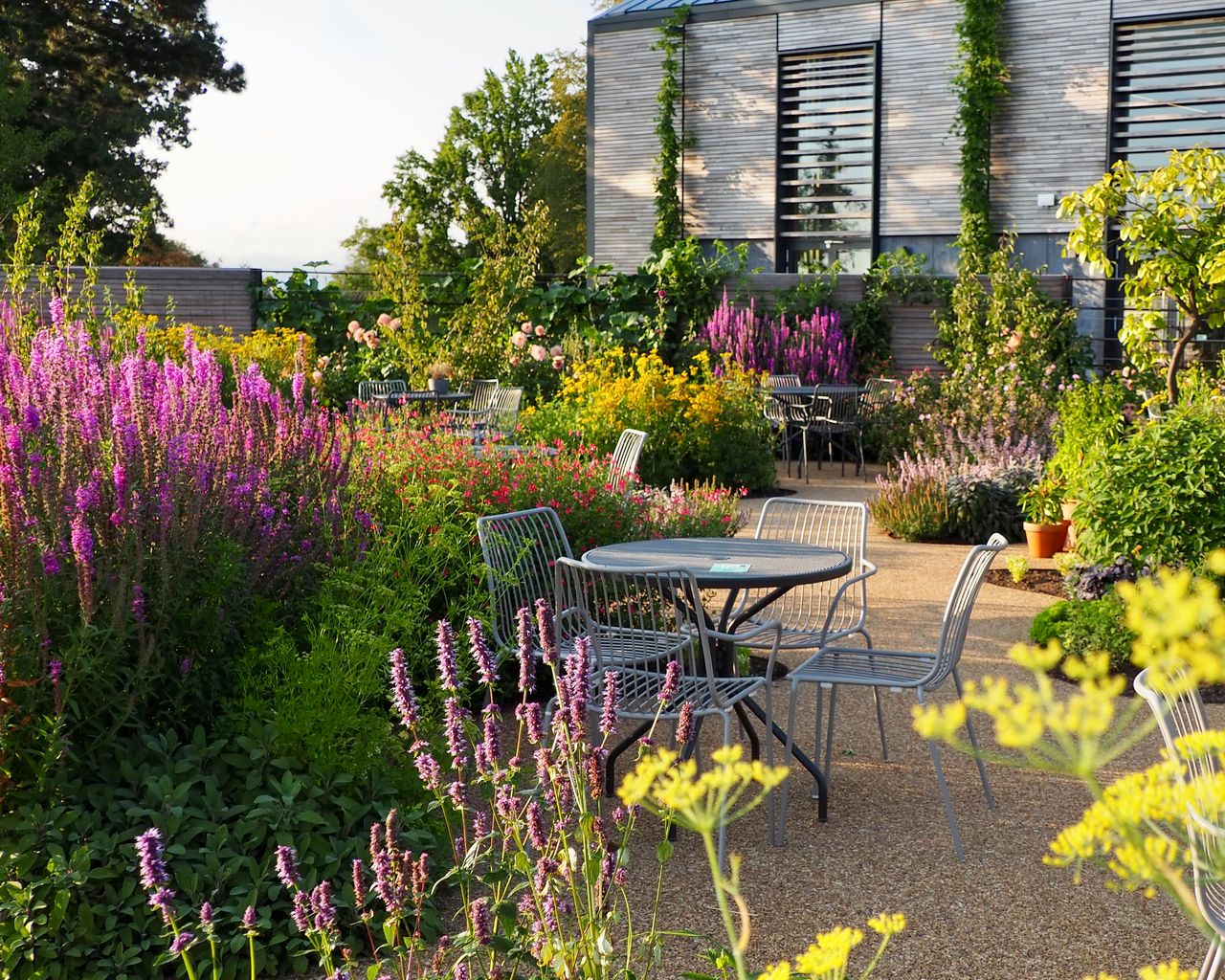 This design of the new World Food Garden for RHS Wisley by Ann-Marie Powell (opens in new tab) was to combine and consolidate their fruit, vegetable and herb gardens.
Split into three sections, the garden was inspired by the unusual oval site. Contemporary Corten pergolas in the Main Avenue overflow with edible climbers, leading to a central water feature encircled by pleached fruit trees. Flanked by beds filled with edible annuals and perennials, the avenue provides a joyful, productive and inspiring educational experience. 
Elsewhere are mixed borders of culinary herbs and edible flowers, mixed height steel raised beds in the World Food Maize allow visitors to get lost within a world of flavor of more unusual vegetable and fruit varieties, and Good to Grow beds highlight how to grow crops.
'The design needed to create a cohesive landscape with separate experimental compartments to welcome and encourage exploration by the visitor,' Ann Marie explains.
Hilltop garden in Berkshire, designed by Adam Vetere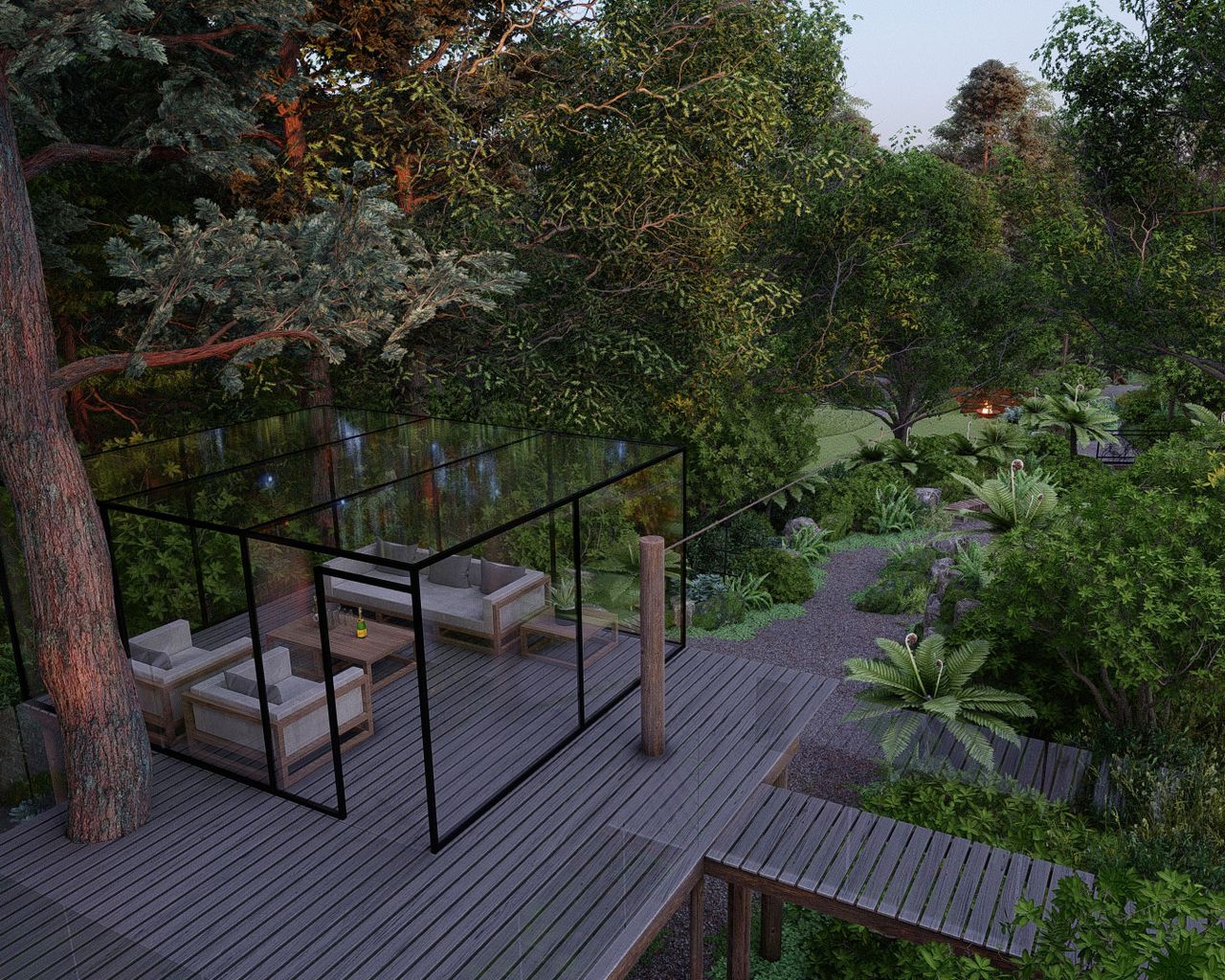 This concept of this garden design by Adam Vetere (opens in new tab)will enrich the site its ecosystem and diversity, while remaining sympathetic to the surrounding ancient woodland.
The aim would be to incorporate recycled materials into the design, while sustainable planting and a rainwater harvest system would further its eco credentials. A long term management plan for the woodland would ensure its enjoyment for decades to come.
Adam says: 'Inspiration for the structure and design of the garden came from many sources, such as the site itself which is steeped in ancient history. The underlying theme was one of strong lines and geometry in the formal areas near the house, which gently recede into the magic and ethereal atmosphere of the ancient woodland beyond.'
Woodland Ensemble, designed by Tabi Jackson-Gee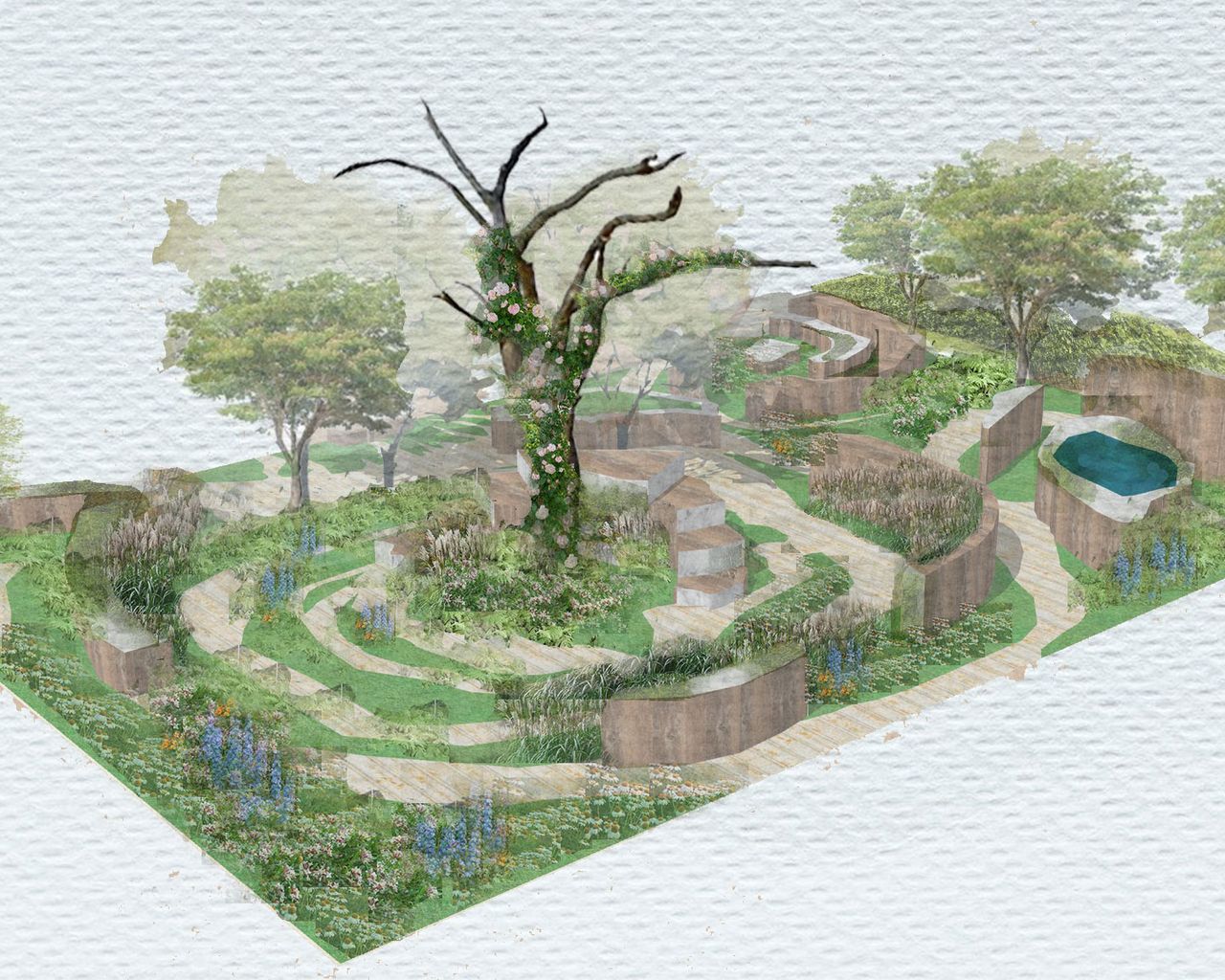 This design by Tabi Jackson-Gee (opens in new tab) was shortlisted by MacMillan Cancer Support and selected for Southgate Flower Show 2022, but the designer was unable to make the dates.
Tabi says: 'The brief was to communicate to visitors that a gift in your will is your way to make a lasting legacy and make a difference for people affected by cancer for future generations to come.
'We wanted to design something accessible and not overly manicured – so anyone could replicate similar ideas at home, affordably and sustainably.
'This design was inspired by one brilliant fact: that a dead tree can provide just as much support to a landscape as living ones. 
'The message is we can support and nurture one another throughout our lives – and beyond – in so many ways,' Tabi continues.
Different planting and features in the design would communicate various messages, such as evergreen planting representing the importance of wills to the organisation; winding paths getting narrower, wider, or sometimes blocked, reflecting the unpredictable nature of life; and the 'Legacy Tree' at the centre showing how we can make a difference to other people's lives after we've gone.