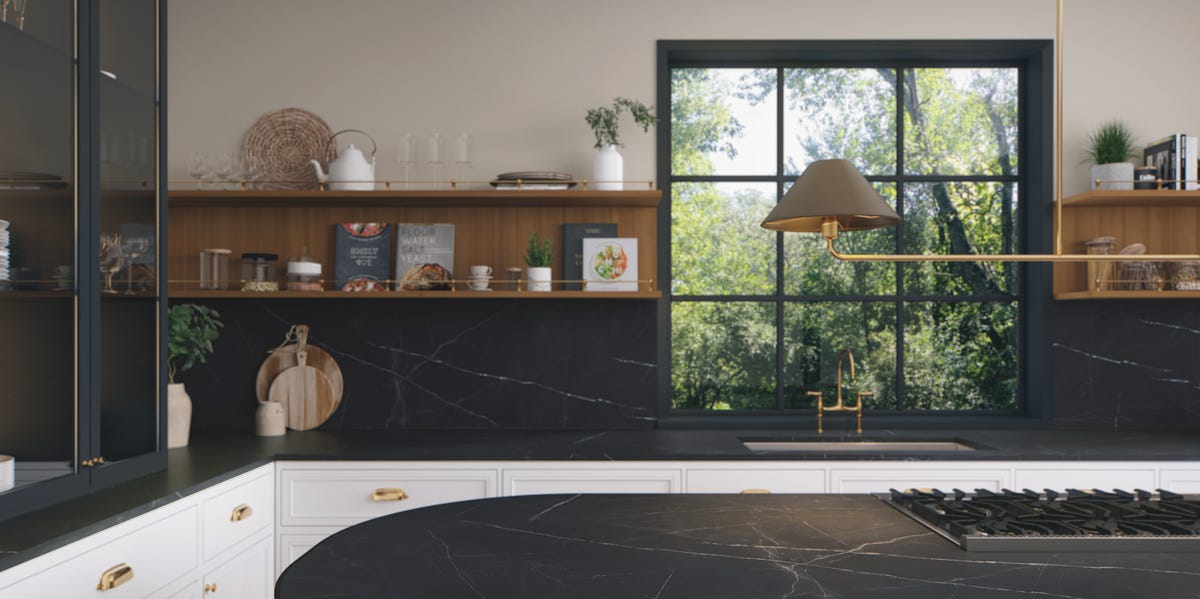 Kitchens For Entertaining: 3 Design Must-Haves
Once an area specifically dedicated to cooking, in recent years kitchens have cemented themselves as the heart of the home and a hive of different activities. Now, more than ever, kitchens are the favoured location not only for eating, but socialising with the family and hosting guests, too.
A well-thought-out and inviting kitchen will encourage the household (and visitors) to naturally gravitate towards it. This is especially important to remember if you love entertaining, as a kitchen that combines practicality, style and comfort will have your guests staying put for hours on end, and is the ideal space for the quintessential host to take centre stage.
Not only do you want to consider the décor and interior styling of your kitchen to make it a welcoming space, but the layout and practicality it provides for hosting duties as well.
Keep reading to discover our top three tips for creating the perfect kitchen for entertaining.
The layout is the most important thing to remember
If there's one thing that can bring the mood down in any hosting situation, it's abandoning guests whilst you crack on with topping up glasses or preparing food in a different room. This is especially important if guests are unfamiliar with each other and need you present to encourage mingling.
Design-wise, we recommend open-plan kitchens for hosting, as you can seat guests and chat to them whilst you get on with all the hard work that entertaining involves. People are inherently nosey, too, so watching you in action will keep guests entertained should there be any lulls in conversation. You won't be nipping out to check the oven every five minutes, either!
To elevate your kitchen's layout, consider the view – especially if you're lucky enough to have a patio or well-maintained garden.
Tom Howley, Design Director at the eponymous kitchen company, agrees: 'The layout of the room is what makes a kitchen design successful. The most important thing to consider is how you use your space.
'If your kitchen is near your garden, or has a nice view, make sure the furniture layout makes the best of this by orienting towards it. Your sink doesn't always have to be positioned looking out to the garden, consider locating your dining area there so it has the best view in the kitchen. Creating an indoor-outdoor living space will mean that dinner parties can extend outside into the garden, with all the essentials to hand in the kitchen.'
Utilise your kitchen island as a serving station
Often sitting at the heart of your kitchen, a sizeable island is the perfect place for a DIY serving space where guests can help themselves to drinks and snacks – leaving you free to get on with all the important stuff.
If your island is large enough, you'll have room to prepare food whilst guests help themselves to canapes, meaning you can hold a conversation while you finish preparing dishes. If you're hosting a laidback meal, you can even use your kitchen island as a buffet station for people to visit at their leisure. Or, if you're only expecting a couple of guests, you can use bar stools to turn it into a cosy spot to dine.
'I love my island – it's a really sociable part of the kitchen where people can gather and chat,' says Tom. 'Because it's centrally positioned, I can face my guests while I'm prepping dinner, without turning my back on anyone. If you have the space, seating around the island means people can gather around and enjoy little pre-dinner tasters.'
Choose durable materials that require little maintenance
If you host guests regularly, your kitchen will see a lot of traffic. This means you need to invest in long-lasting materials. In doing so, you should have a kitchen that keeps its appearance for many years to come. Better yet, you won't have to spend precious time and money when it comes to maintaining it.
One area of your kitchen that's worth investing in is your worktops – they might be tough but they're not indestructible. Hours spent preparing food on them mean that if you don't care for them properly, they won't last long or maintain their appearance, and this goes for just about every type of material out there.
However, some types of material are better than others when it comes to easy maintenance. For example, quartz and porcelain countertops are non-porous, meaning that no moisture should be absorbed, preventing any bacterial growth. You'll still need to use disinfectant spray or wipes though, especially in busy households or those with children.
Floors are another area of your kitchen that need to withstand the high footfall of entertaining. Wood and stone (such as slate) are two brilliant natural flooring options that simply need a little sweeping and mopping to remain as good as new. Their hardwearing nature means they'll withstand even daily parties!
By investing in good-quality materials, your kitchen will be an inviting place to socialise for years to come, withstanding all sorts of social occasions and never looking shabby. What's not to like?
Follow House Beautiful on Instagram.
This content is created and maintained by a third party, and imported onto this page to help users provide their email addresses. You may be able to find more information about this and similar content at piano.io