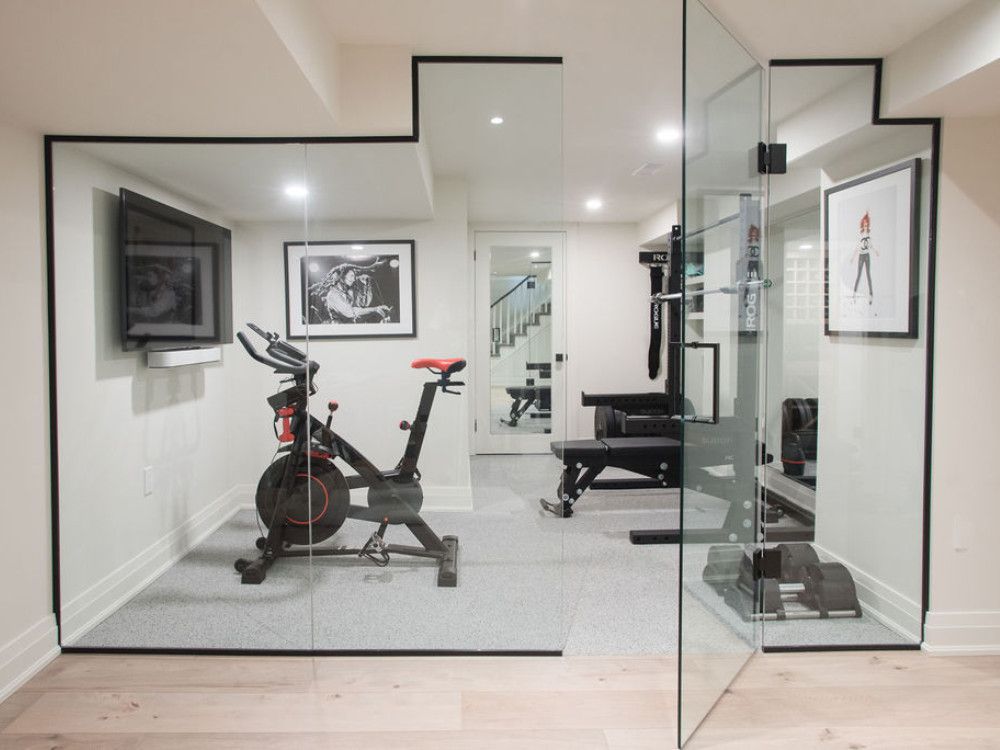 Home design: How to make a basement work harder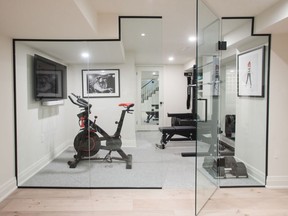 Reviews and recommendations are unbiased and products are independently selected. Postmedia may earn an affiliate commission from purchases made through links on this page.
Article content
To co-habit with young kids is to doggedly keep the toys in check. There are also the petrified snacks, wayward socks and other detritus that children shed as they move through a space. For parents, organization is paramount.
Article content
Such was the concern with Lisa and Hari Vasan — she's a stay-at-home mom, he's a doctor — who have two girls under the age of five and a third baby on the way. So they enlisted the Burlington-based designer Lisa Kooistra of LK Designs to help them plan a house that was both shipshape and stylish.
The problem was that square footage was tight. Kooistra had two storeys and 1,650 square feet in which to fit various zones for the family, including shoehorning six distinct areas in a 570-square-foot basement.
While the couple could have bought a larger house, the location sold them. "We love living in downtown Burlington," says Lisa Vasan. "And in order to do so, we made a few concessions on our home wish list."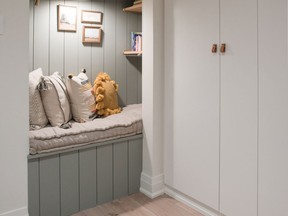 The charm of an older, smaller house in a more expensive area that had recently undergone a partial reno was worth the trade-off in square footage, Vasan says.
Article content
"We knew there was untapped potential in the house, but we didn't know how to get there on our own," she says, even though the couple was moving from a smaller condo and both are minimalists.
For the year-long redo, Kooistra stripped the three-bedroom, four-bathroom house to the studs — in tandem with York Renovation & Design Inc. She then created a calming ambience by layering in a mix of neutrals and textures. Lulling clay tones, mint greens, soft pinks, off-white, hits of black and modern wallpaper provide head-turning moments.
Bespoke millwork in the foyer and the principal bedroom ensure everything has its place.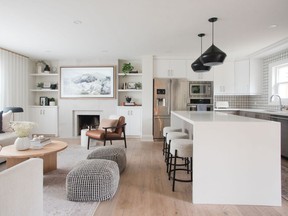 Still, there were challenges. "This is an older house, so there was no way we could get a large headboard upstairs," says Kooistra. "We had a furniture tech cut it for us and reassemble the bed upstairs."
Article content
The entry also got an update. "We extended the foyer and created custom cabinetry. There are drawers and baskets and hooks for hats and jackets," Kooistra says.
White oak floors, miles of simple custom white drapery and a cushy sectional for a crowd give life to the formerly bland main floor.
"The kitchen cabinetry was existing," notes Kooistra. "We added the white tower pantry at the end to match the laminate."
The girls' bedrooms, meanwhile, got equally elevated with wallpaper and furnishings. But it's the basement that's really working overtime here. "It was partly unfinished, dated and cold," says Vasan.
"When we opened up (the cold cellar), there was a leak from the front door," explains Kooistra. The area had to be reparged and restructured to fit a doored pantry.
Article content
The resulting space isn't your average pine-shelves-thrown-in-a-corner basement job. This one sports brass hardware, black floors and handcrafted built-ins by Gravelle Woodworking.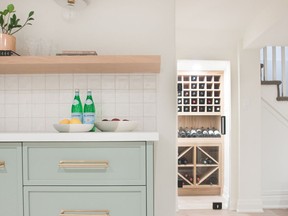 The company also did the charming wine cellar that's accessed by a glass door. Additional basement zones include a mint-green wet bar, a bathroom, an open office, a family and play area, and a sweet reading nook.
"We converted a little closet to create it," says Kooistra. The shiplapped hideaway is fitted with shelves, piles of pillows, artwork and lighting.
"The ample storage in the basement allows for less clutter on the main floor," says Vasan. "It's a great place for the kids to play, do crafts or simply read."
As someone who does Pilates, Vasan is particularly keen on the gym. "It was once an awful, unfinished space," says Kooistra, who reimagined it with rubber floors (the rest of the basement has eco-friendly laminate) and two large black-trimmed glass doors. These follow the zigzag line of the ceiling, giving the doors an interesting presence.
The kids love playing in the basement, and the grown-ups are getting good use out of it too.  "We use the gym almost every day, and it's the best place to watch a movie," says Vasan. "We had a vision, but it's better than we imagined."