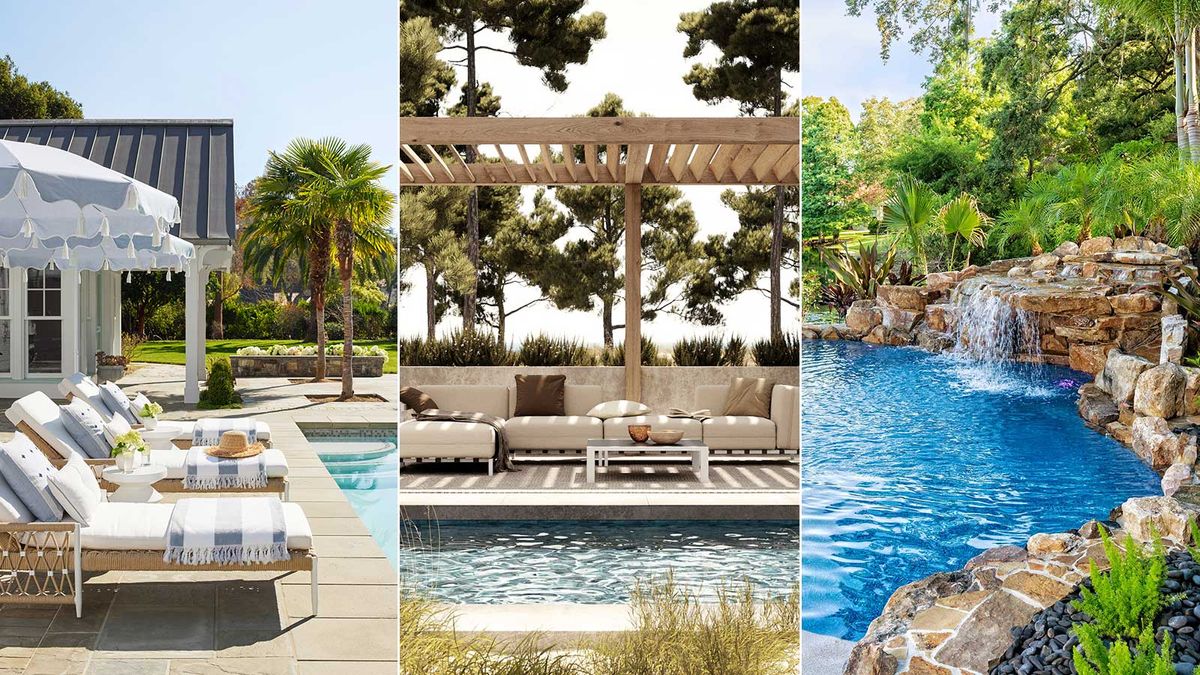 10 ways to create a private paradise |
A pool is a must-have feature for keeping cool in your yard when temperatures soar. But to enjoy a true sense of relaxation as you swim, splash, or sun yourself on an inflatable, you'll need to consider privacy, and put some sort of screening into place.
Garden privacy ideas range from simple to elaborate, spanning from living walls to overhead pergolas and more. To choose the best one for you, you'll need to consider your budget and your plot's individual style. Of course, you'll also need to think about your pool's surroundings and how much privacy you desire. If you live in a built-up area, for instance, you may need a way to screen onlooking eyes from above. In more rural plots, a subtle divide between your patio and your pool may suffice.
Whichever style you go for, it will help transform your backyard pool into your own private paradise – what could be better on a hot summer's day?
10 ways to screen your backyard pool
Create a serene swimming sanctuary that's screened from nosy neighbors with these ideas.
1. Divide the space with a feature fireplace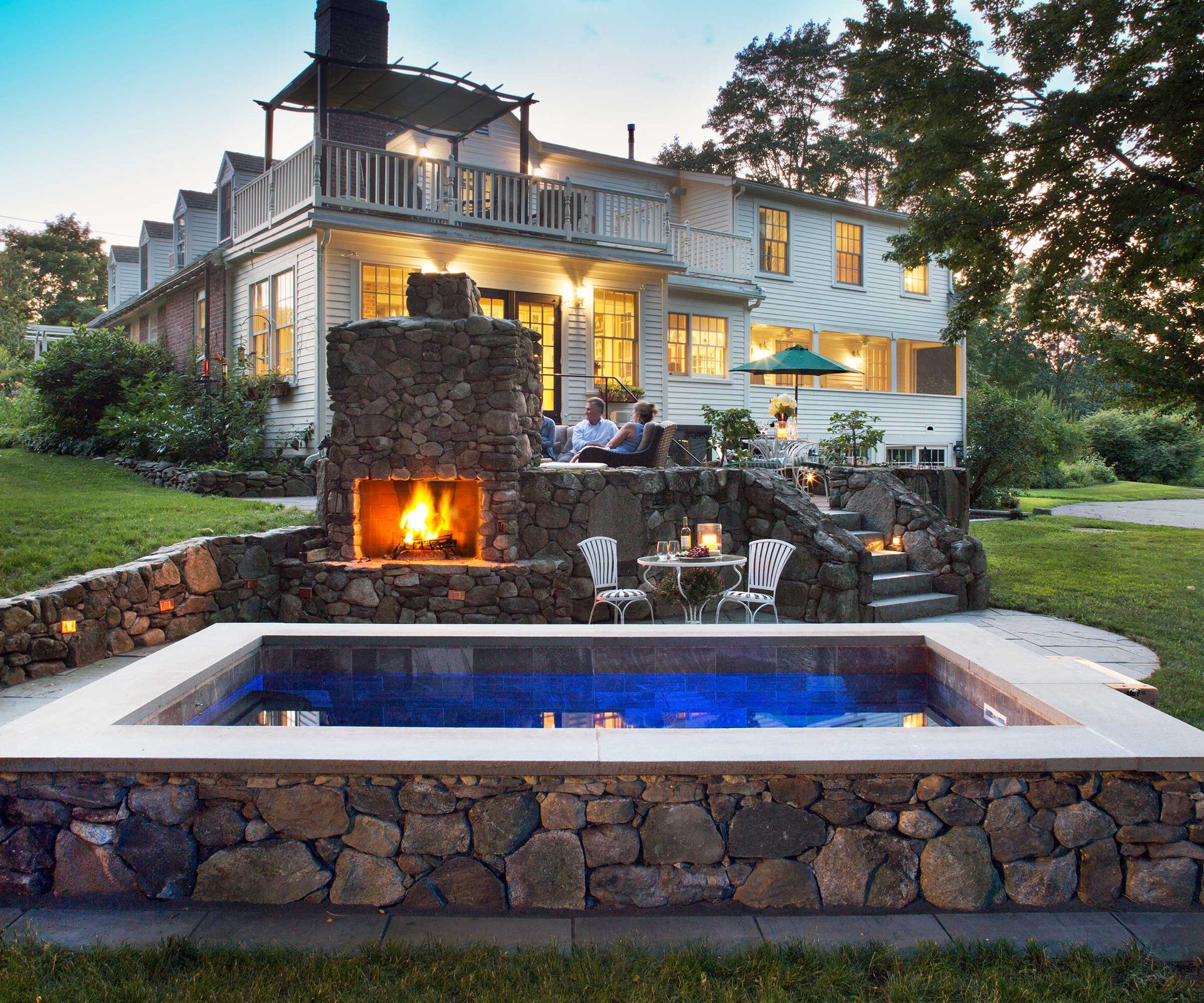 We love an outdoor fireplace as a fabulous focal point – and of course, they extend the use of the space, too, creating atmosphere when night falls and keeping everyone warm.
This example is built into a retaining wall, and brings a real sense of luxury to the small-yet-chic pool. The use of levels also means that the water is screened from the patio above, as well as from the windows of the house. 
A bistro set is the perfect finishing touch and makes the most of a sheltered nook.
2. Surround your pool with a fence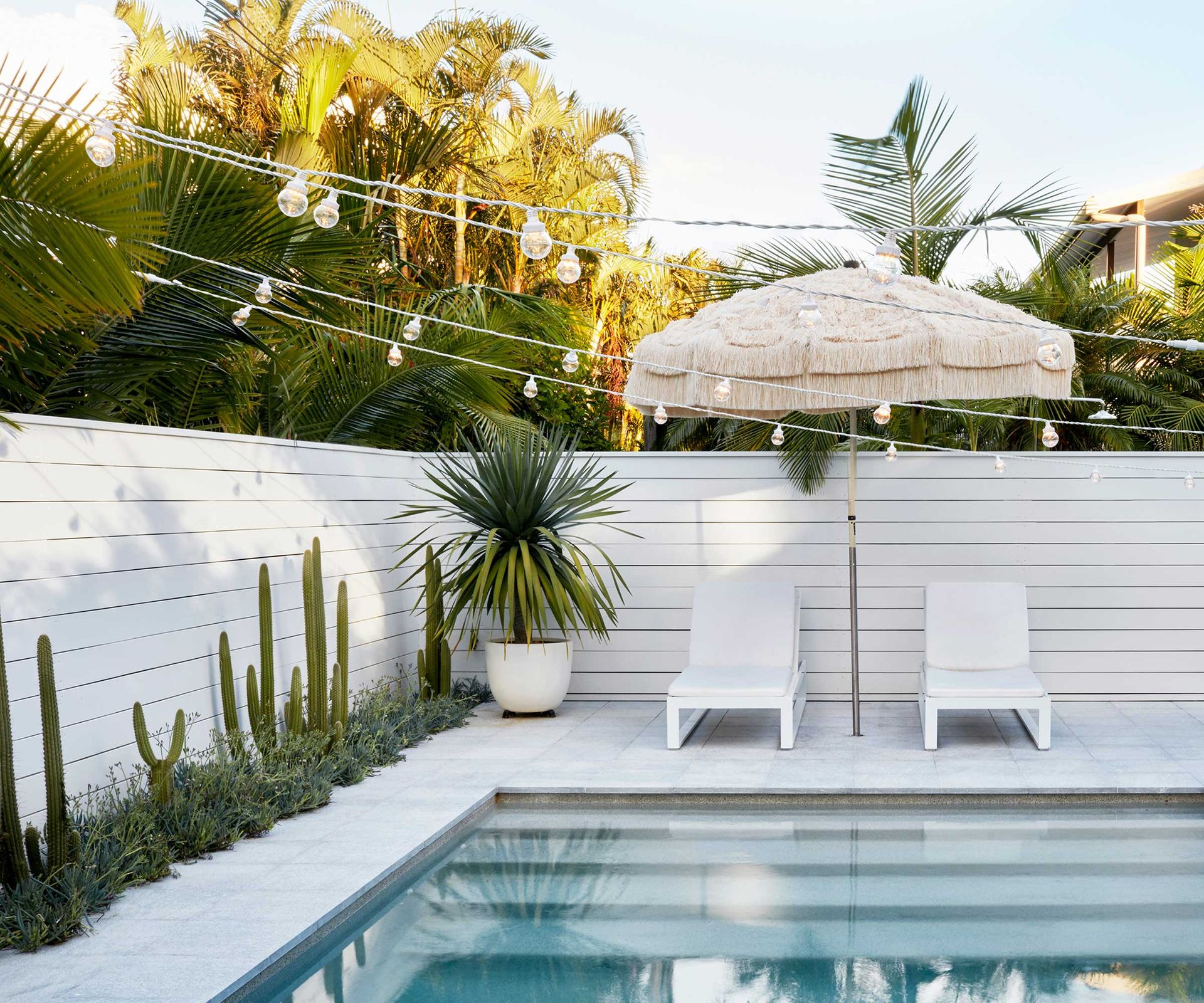 'When it comes to creating privacy around an otherwise open pool area, building a fence is the typical go-to,' says Karen Larson (opens in new tab), co-founder of Soake Pools. 'This is particularly the case because some towns require homeowners to put up a fence around their pools and plunge pools.'
Building a pool fence, however, can present an opportunity to get creative, Karen continues. 'Solid, tall panels are great for total privacy, while adding a trellis or lattice fence with draping vines or unique shrubbery can curate a personal, yet whimsical setting.' You can also add a lick of paint, to ensure it provides the perfect complementary backdrop to your scheme.
Slatted fences are worth considering, too, which work well in a contemporary backyard. They offer privacy while still allowing plenty of light and air through – in fact, they're also one of our favorite patio privacy ideas. 
Karen's background is in textiles and design. She enjoyed working in the interior design field and even owned a chocolate shop at one time. After raising two children, she co-founded Soake Pools with Brian and gets excited by the challenge and variety in each day. Karen oversees all day-to-day operations and sales, and has led the company to success over the past near-decade. 
3. Opt for a pretty parasol (or two)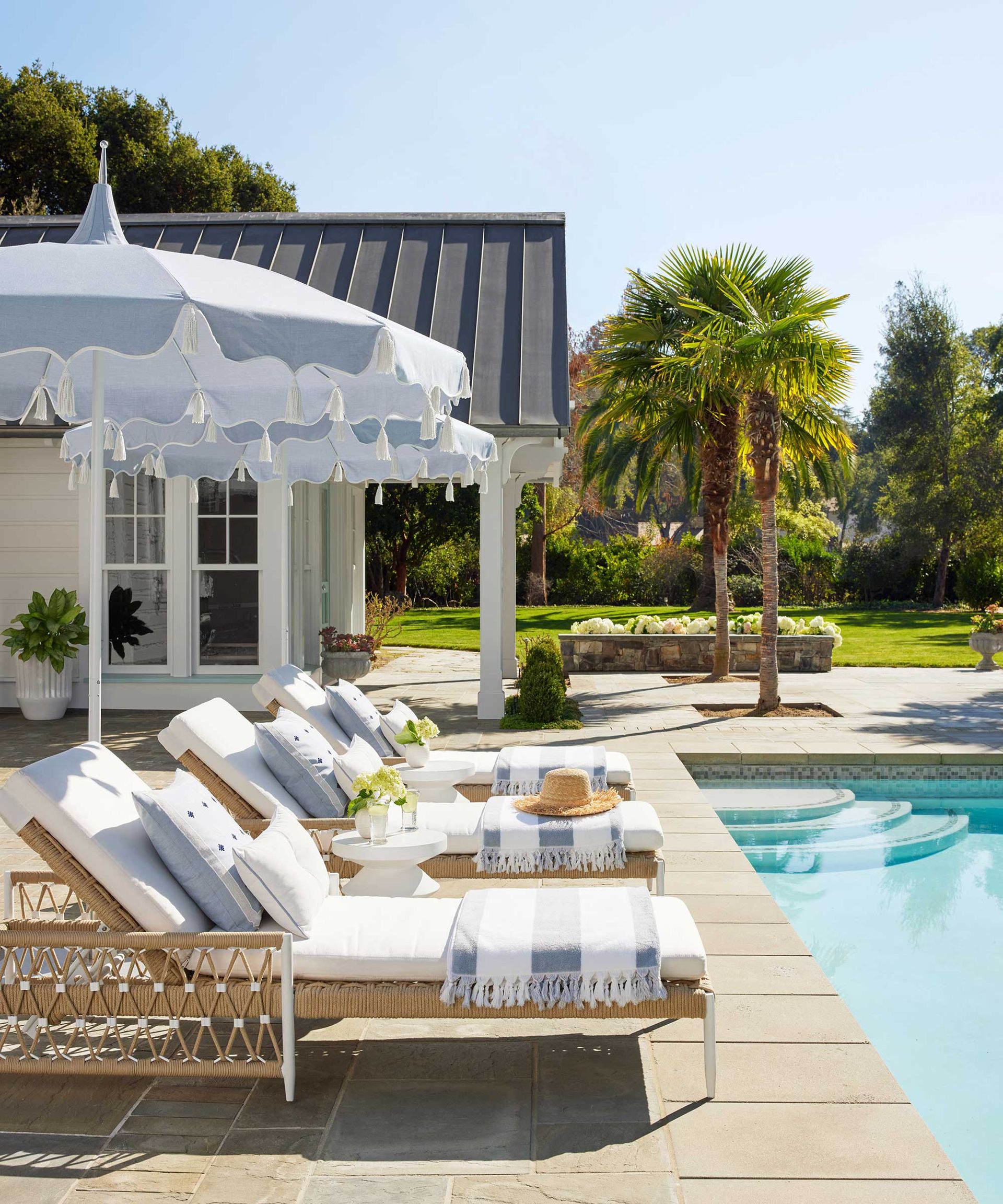 True, a parasol won't provide privacy for your entire pool. But, it will offer a spot of stylish shelter for a post-dip snooze on a sun bed. And not only will it effectively screen the view from upstairs' windows, but it will provide poolside shade, blocking the midday sun's harmful rays.
There are so many options to pick from, including colorful designs complete with fringing and tassels to modern options in neutral tones. If you're looking to make an investment, in a style that's chic as well as super practical, opt for a cantilever design that can be easily adjusted as the sun moves.
For a real sense of cohesion, match the color of your parasol to your furniture or accessories – such as the pale blues and whites used in this scheme shown above.
4. Cover your pool patio with a pergola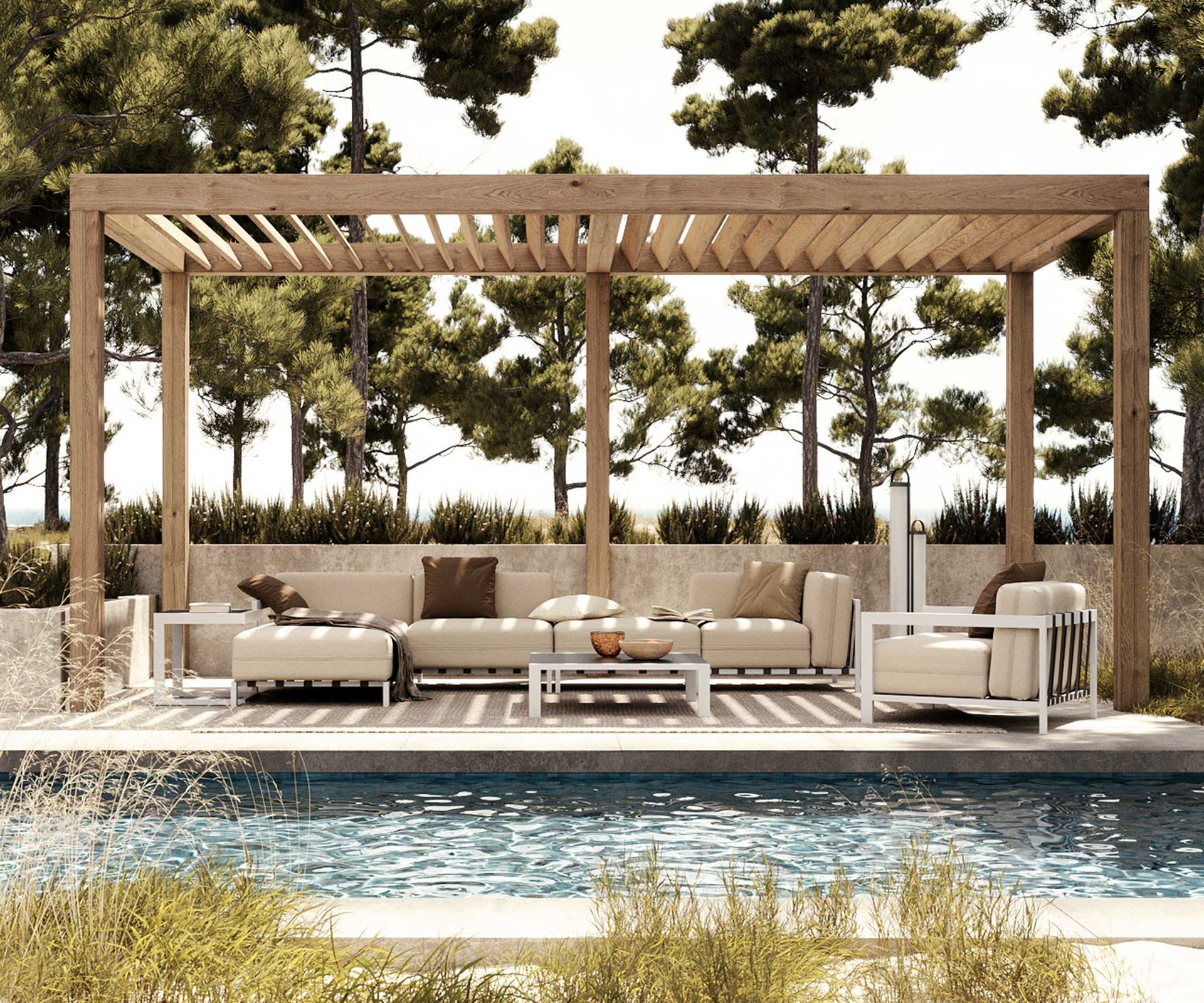 'Building an overhead structure, such as a pergola or trellis, is also an effective way to increase the amount of privacy in your backyard pool area,' says Shaun Martin (opens in new tab), a real estate professional, land developer, and the Owner and CEO of We Buy Houses In Denver.
'This structure can be made from wood, metal or fabric and will add some extra beauty to your outdoor space. Plus, it can provide shade from the sun, which is especially beneficial during the summer months,' he adds.
High-end metal pergolas have nearly unlimited customization options, says Dustin Konrad (opens in new tab) of Rollac Shutters. 'They can be something you use to block off one side of your pool, or cover everything.' For instance, they may include a rolling screen for one wall, sliding or static panels, rolling shutters, or tinted glass. Dustin also notes the addition of retractable awnings or motorized overhead slats, which allow you to control how sheltered you are from the sun.
'If you already have a pergola, adding outdoor fabric is a great way to enhance privacy without breaking the bank,' he adds. You could also consider climbing plants to create a botanical screen around the space.
Dustin Konrad works at Texas-based company Rollac Shutters, who provide high-quality awnings, shutters, shades, and outdoor structures, and have been established for 40 years. He grew up with this family business and has been around rolling screens and shutters his whole life.
5. Add a cooling canopy to a poolside bench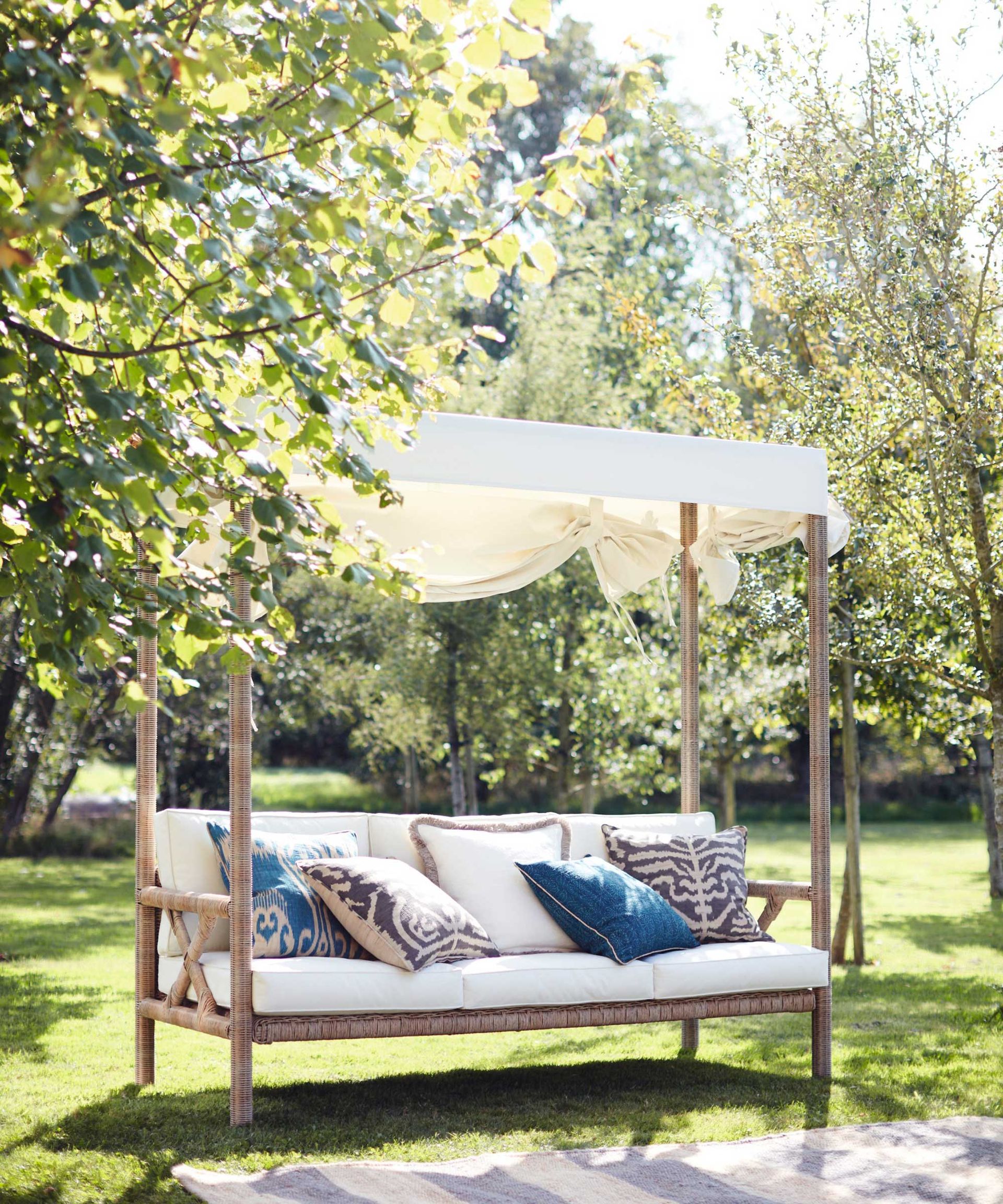 For smaller spaces, consider choosing outdoor furniture with a compact canopy included. This bench is a gorgeous example, and the fabric can be tied up or down depending on how much privacy you desire. Swing seats are another popular option and often come with awnings attached.
Place one poolside for the perfect spot to relax with a good book after a swim. They can also help to divide the space and block the view from next door or other areas of your yard, if positioned carefully. 
6. Cocoon your pool with tropical plants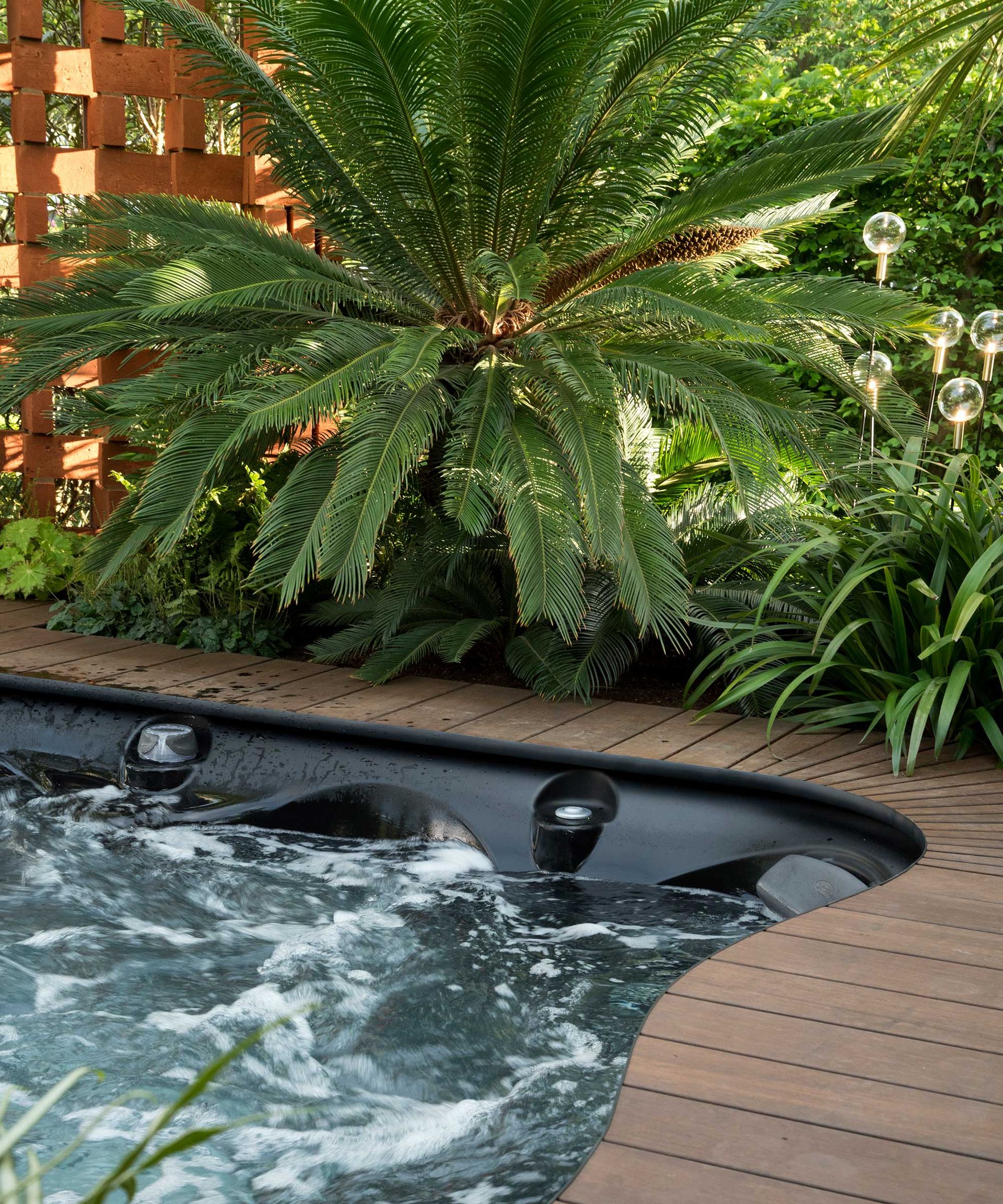 Surrounding your pool with tropical garden plants will create a luxurious, jungle-like vibe that'll instantly make you feel like you're on vacation. And what's more, it's a great way to bring natural screening into the scene, whether that's to obscure the view from a nearby patio or your neighbor's plot.
Try architectural ferns, Fatsia japonica, banana palms and cordylines. You could also grow bamboo for a fast-growing screen, but keep it in containers to avoid it taking over.
Of course, you don't have to stick to this style of planting if it doesn't suit your scheme. Ornamental grasses are a beautiful option that complements prairie-style plots as well as modern backyards, and there are lots of lofty perennial plants, too, that can make a stunning summertime screen.
7. Build up the surrounding pool landscape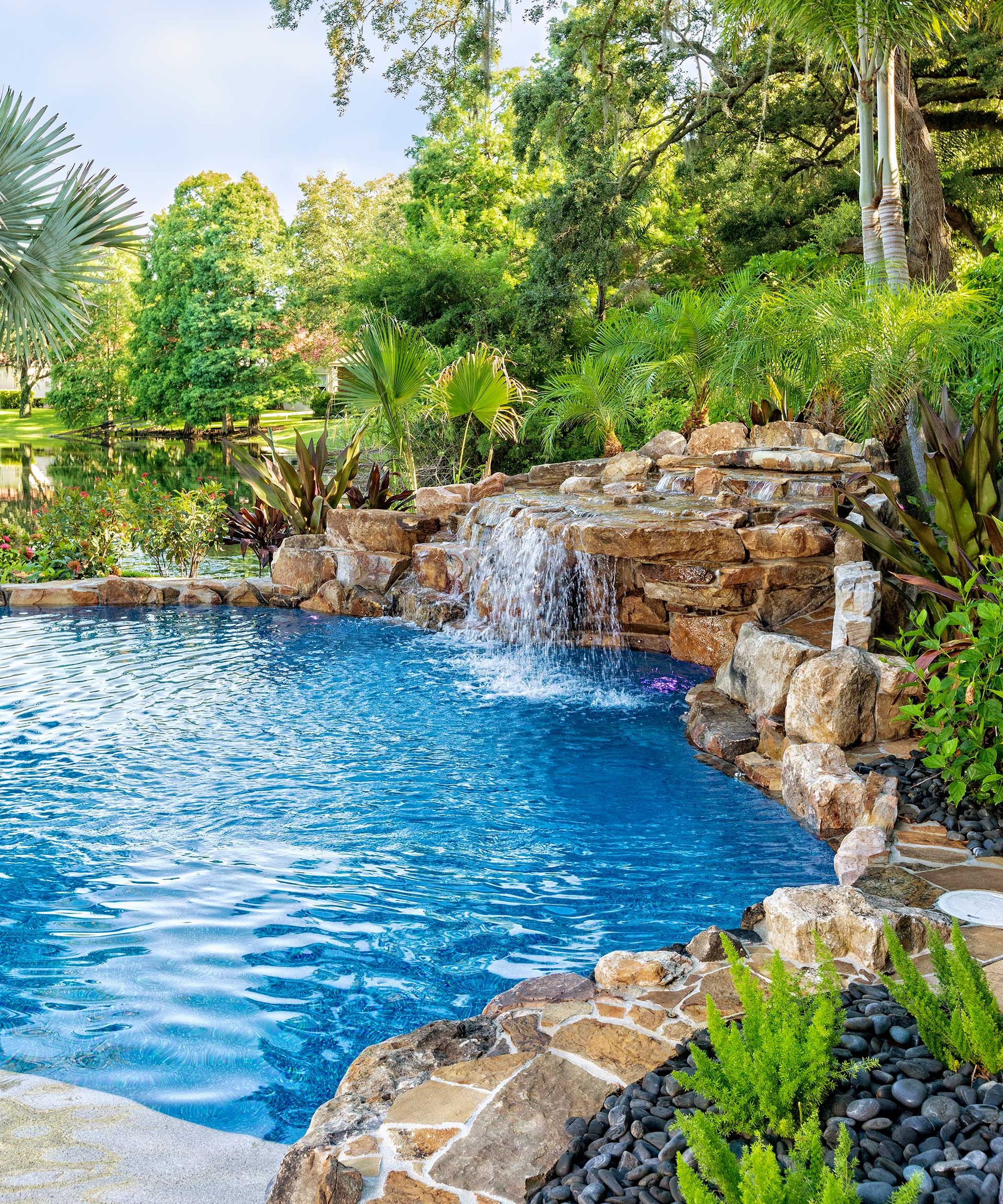 How you landscape the space around your pool can make a big difference in how private it feels. Sure, there are walls, half walls, and fences you can build – but for a more naturalistic look, how about building up the surroundings with boulders?
Landscaping rocks instantly create an organic vibe that's perfect for that faraway oasis feel, and their height will offer an aspect of privacy as you cool off. 
Want to go a step further? Consider installing a waterfall, too. Not only will it add to the beauty of the space, but the gentle splashing will also provide audio privacy.
8. Sink your pool into its own private courtyard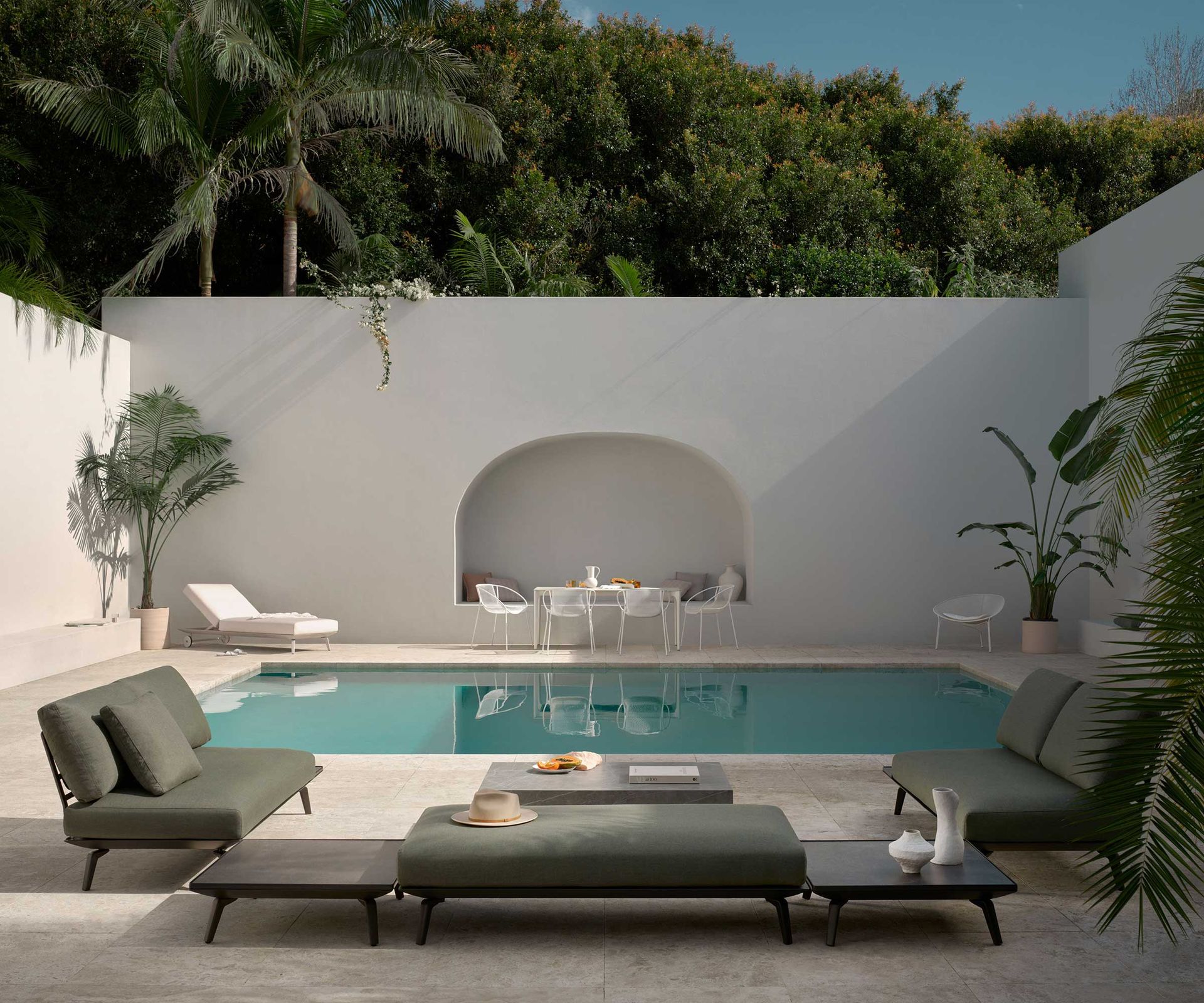 Tall garden walls are a failsafe option for keeping prying eyes out of your pool space. Painting them all white to match pale paving around your pool will create a luxe, Mediterranean feel that's bright and airy, especially if softened with plenty of lush greenery planted in pots.
Outdoor mirrors, climbing plants trained up trellises, a statement block color on one side, or built-in alcoves for seating can also add serious style and give a courtyard pool area more personality. And there's the opportunity to add wall lights, too, for extra ambiance and safety at night.
9. Grow a hedge as a gloriously green backdrop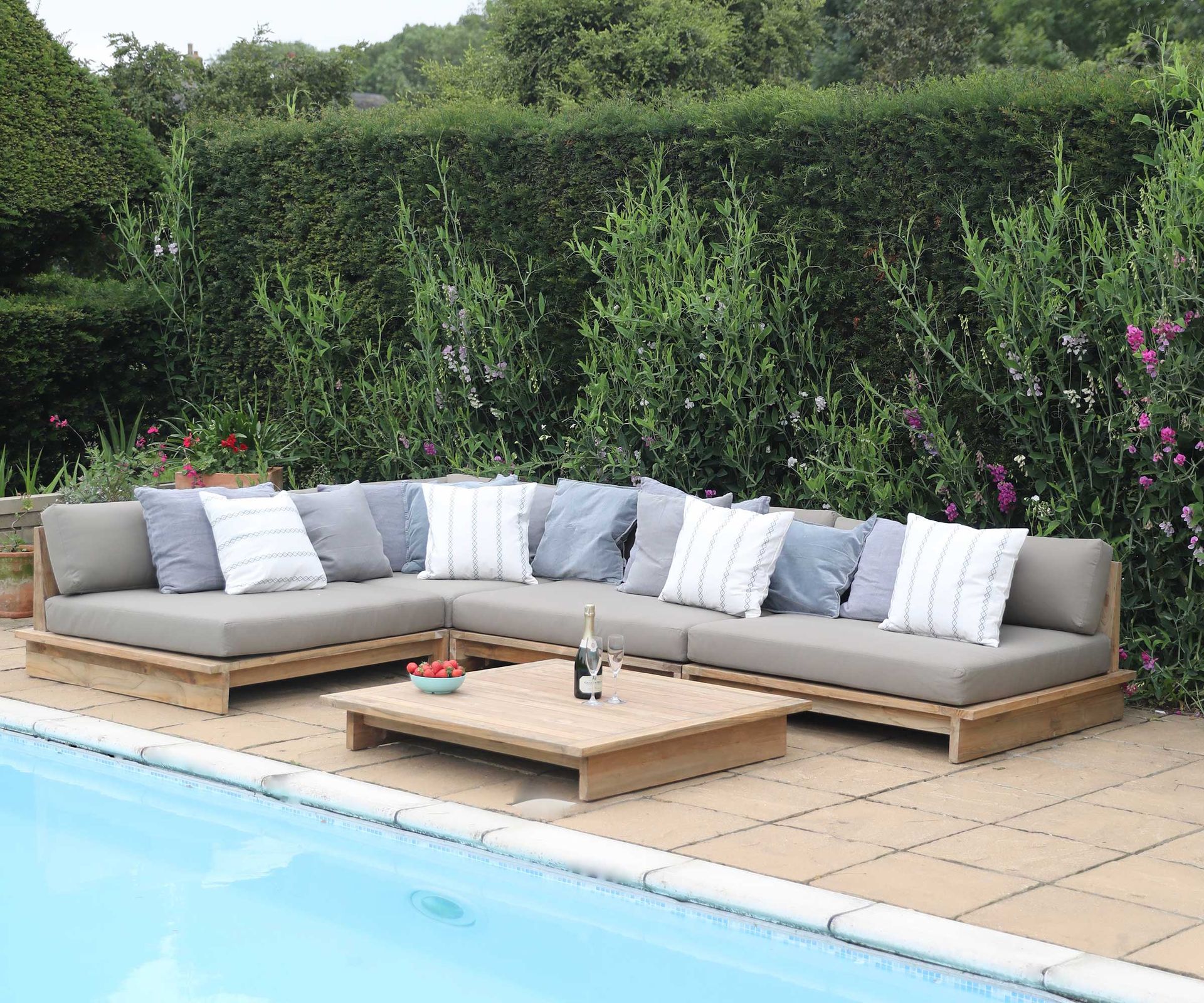 'Another way to create more privacy in your backyard pool area is to plant trees or bushes around the perimeter,' says Shaun Martin. 'This is an inexpensive and easy way to create a natural barrier that will provide some extra security as well.'
Opt for fast-growing hedging plants so you can grow a screen of green quickly. Tammy Sons, the CEO of TN Nursery (opens in new tab), recommends evergreen shrubs due to their dense foliage and year-round coverage. 
There are also plenty of flowering shrubs if you'd like to surround the space with beautiful blooms – try Mexican orange blossom for its beautiful fragrance.
10. Add a rustic stone wall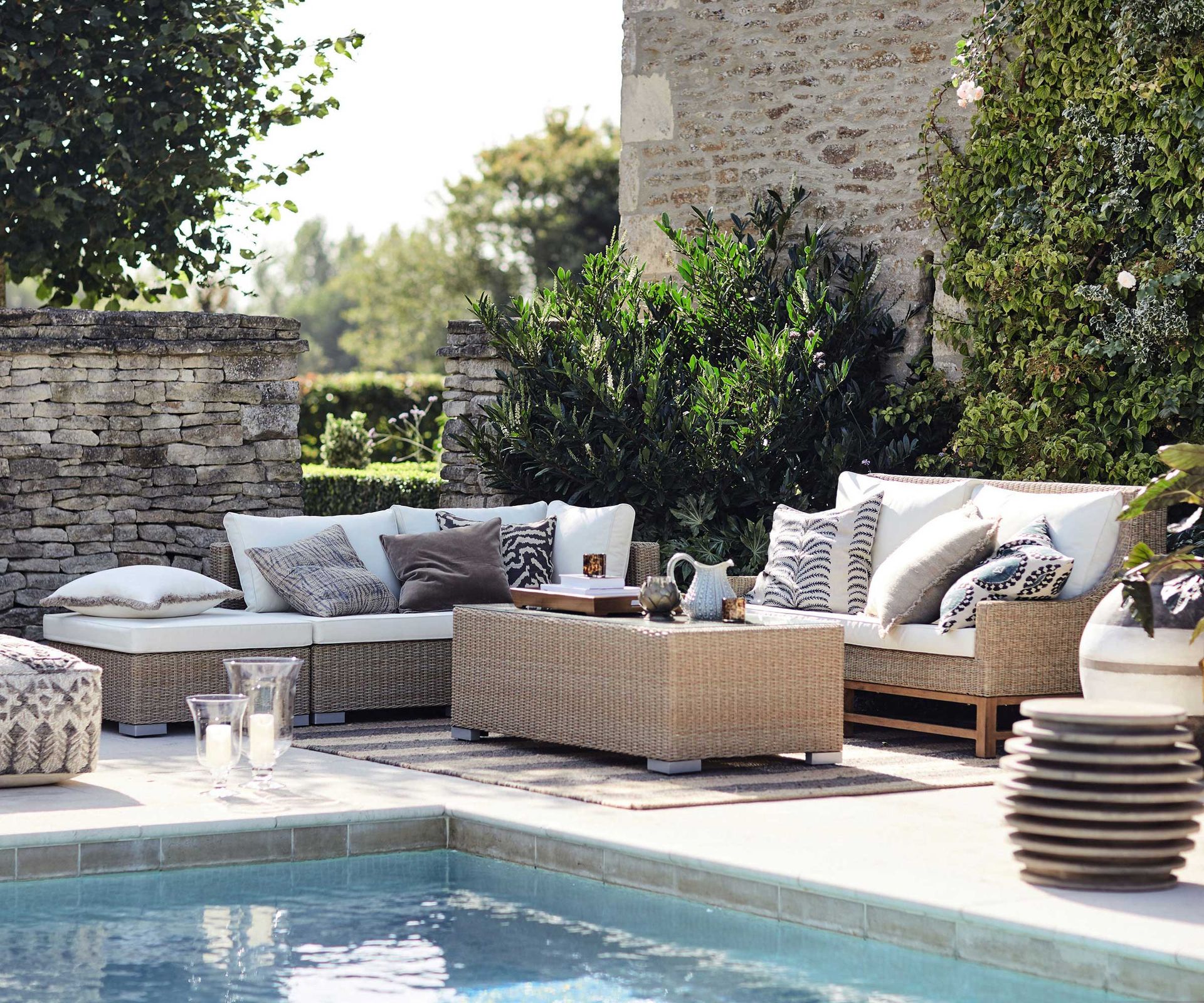 Consider installing a rustic stone wall around your pool. It's a beautiful way to zone the space and transform it into a luxurious hideaway that's reminiscent of the south of France. 
Pair with furniture that features plenty of natural textures – think outdoor rattan, teak, and woven textiles. Pots of lavender and flickering hurricane lanterns will complete the vibe.
---
Screen your pool with one or two of these ideas and it'll feel more peaceful, private, and tucked away from the daily hubbub. Plus, they're likely to give it extra style points, too.