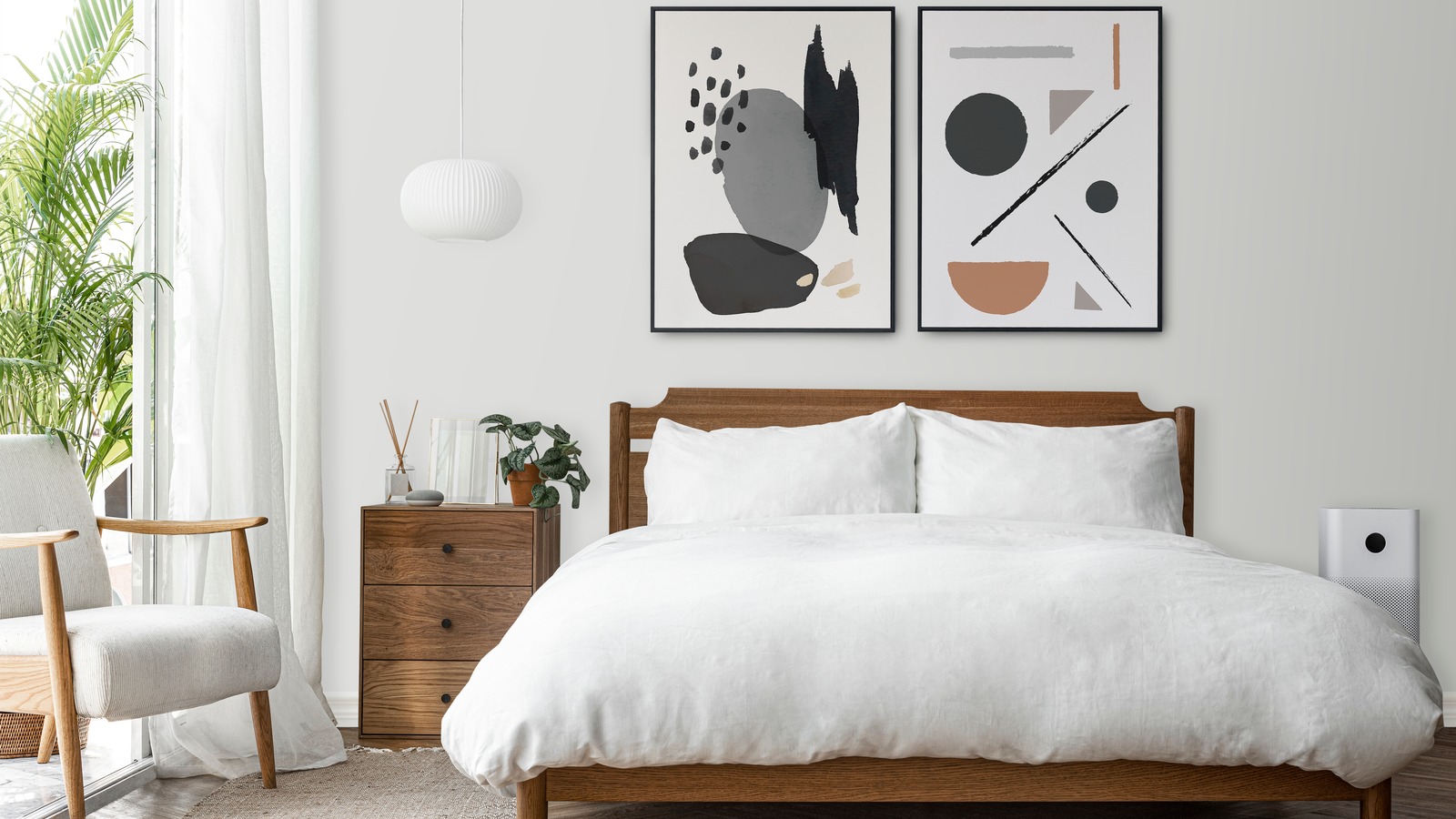 35 Modern And Stylish Scandinavian Bedroom Ideas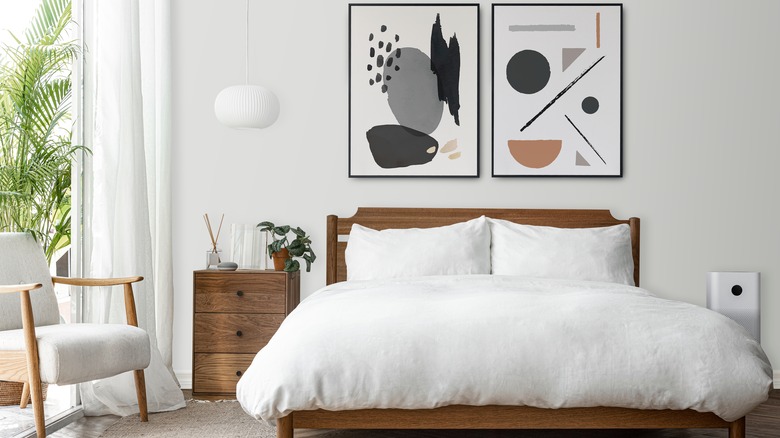 Rawpixel.com/Shutterstock
Do you want a simple yet functional bedroom? If so, you might explore some concepts that encompass a modish Scandinavian design. Simple and clean, Scandinavian (or Scandi) style features a minimalist approach while keeping things light, comfortable, and clean as well as functional. Emerging mainly from the Nordic countries of Denmark, Norway, and Sweden in the early 1930s, Scandi interior design may implement abundant natural light, hardy wood furniture and flooring, neutral colors, and soft woven elements, while remaining clutter-free.
Additionally, the elements should promote accord between you and nature while deterring from superfluous amounts of materials, especially through the presence of plant life. A modest design concept that developed further within the mid-century modern era, Scandinavian incorporates sleek elements through enduring furniture and deeply enriched textiles.
What will your Scandi bedroom look like? While accentuating a simple vibe through furnishings and linens, you might dress up your bed with woven knit blankets and pillows with a sturdy wooden bed frame. Additionally, implement clean lines with a sense of coziness and function, including displaying artwork pieces in a distinctive yet subdued manner. Colors to consider might be various shades of gray, brown, tan, black, and white, including powdery shades of blue, green, pink, or yellow to add a pop of color. Whatever your taste, there are many ways to combine function with aesthetics within a Scandi bedroom layout. Keep reading to discover some fresh and sophisticated looks for your design.
1. Bright and light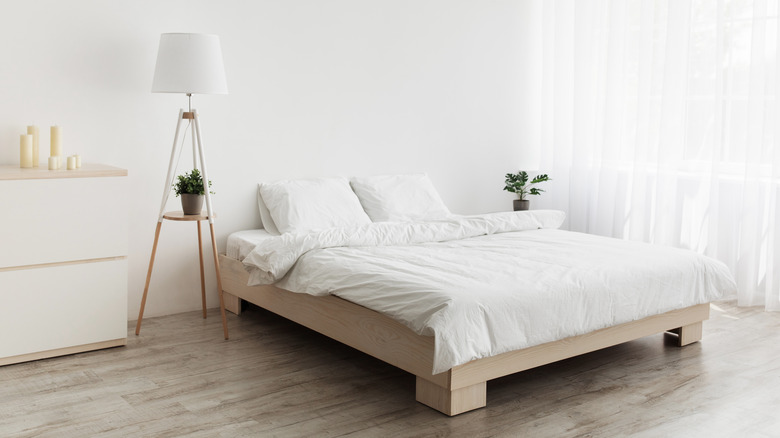 Prostock-studio/Shutterstock
A classic Scandinavian element is white walls and bright light. As long, dark nights are common amidst northern European countries within the winter months, a white interior helps boosts the potential of the natural light, making it appear bright and clean. This bedroom incorporates this method with white painted walls, bed linens/comforter, lamps, and dressers/cabinetry.
2. Exposed windows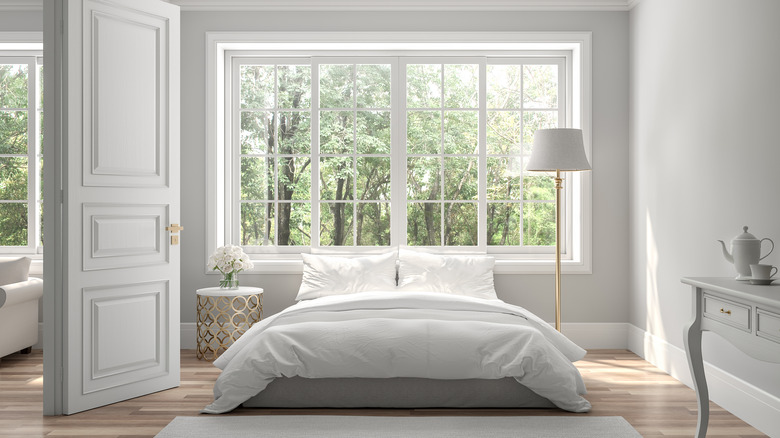 Runna10/Getty Images
Since many Scandinavian countries have limited daylight during winter, a way to incorporate additional light is with bare, unshielded windows. This bright and inviting bedroom showcases four uncovered colonial-style windows with a serene view of the woods. The airy room features gray, white, and gold elements, along with a light oak-colored floor to contrast the tranquil environment.
3. Natural fibers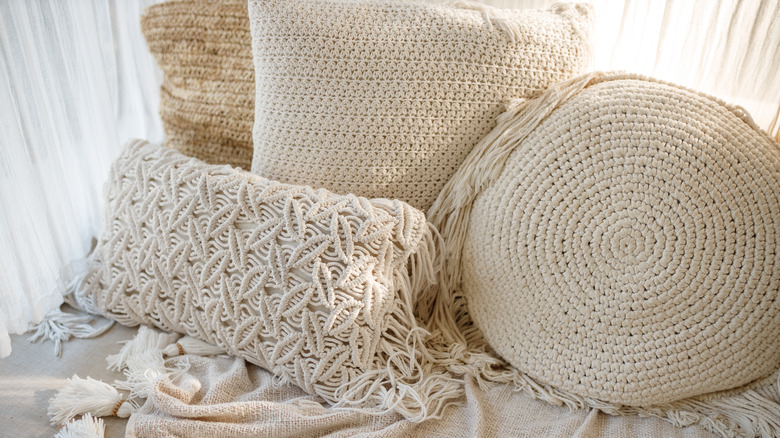 PhotoSunnyDays/Shutterstock
Organic or not, incorporating natural fabrics is essential for your Scandinavian-style bedroom. Neutral pieces made of cotton or wool will complement a basic design like the macramé pillows and knit blankets pictured above. You might also implement décor and/or upholstery materials like burlap, linen, and jute, plus natural wood flooring or sculptures.
4. Woven baskets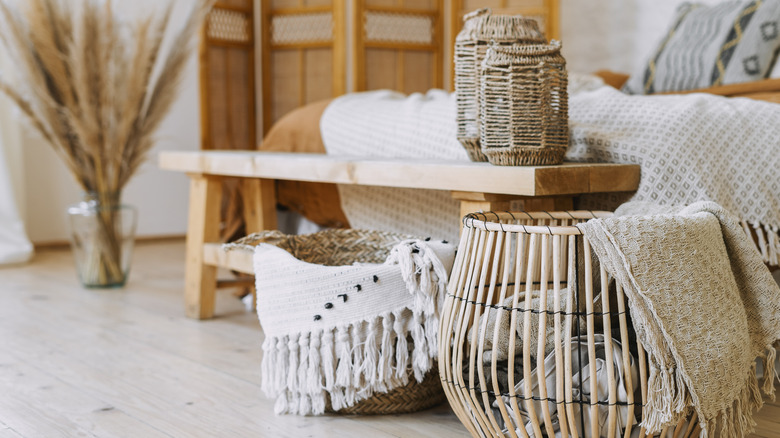 Brizmaker/Getty Images
A traditional tool to use within the home can also be used in the bedroom. A woven storage basket, especially with handles, is a functional way to transport your laundry or store other items like the ones shown in the image above. If you apply more than one, you might store extra towels, blankets, or other items you need within reach.
5. Wooden bedroom bench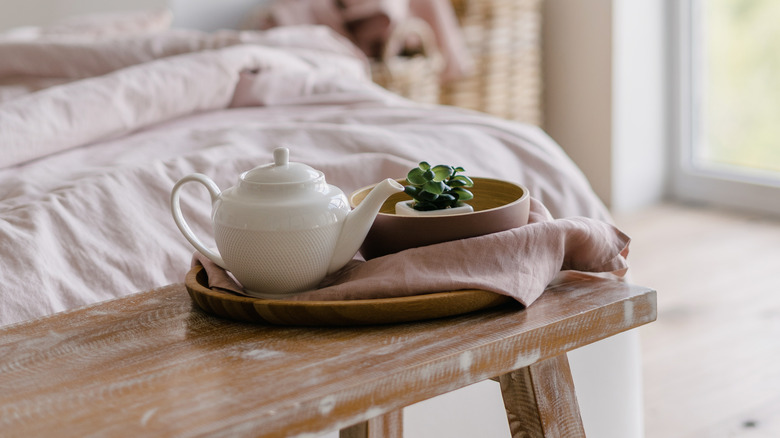 brizmaker/Shutterstock
A bench is a useful way to display elements from the natural world. From oak and pine, to acacia, having a simple, sturdy place to sit at the end of the bed adds modesty like this rustic brown piece. You might use it to rest things such as a book, tea set, or a change of shoes.
6. Featured plants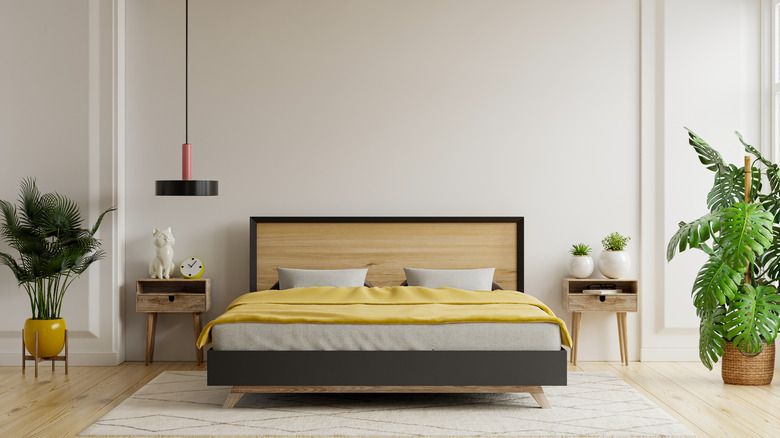 Vanit Janthra/Getty Images
Plants and greenery naturally add a touch of the outdoors to various rooms within a house, as seen pictured within this minimal bedroom. You might showcase large potted plants for your Scandinavian bedroom, like various palm trees, monstera, fiddle leaf fig, snake plant, or philodendron. Balance out your larger greenery with smaller ones on windowsills, shelves, and accent or bedside tables.
7. Abundance of pillows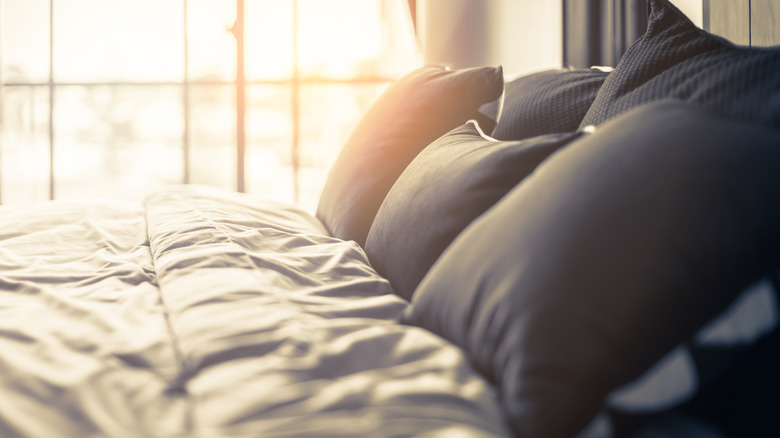 Whyframestudio/Getty Images
You can't have too many pillows. Arrange them to take up most of the head of the bed, as they will appear comfy and inviting. You might select soft, organic fabrics, including woven or plush kinds. Whether colored or neutral, prop your pillow collection upright on the bed to draw attention to rest and relaxation each day.
8. Dreamy canopy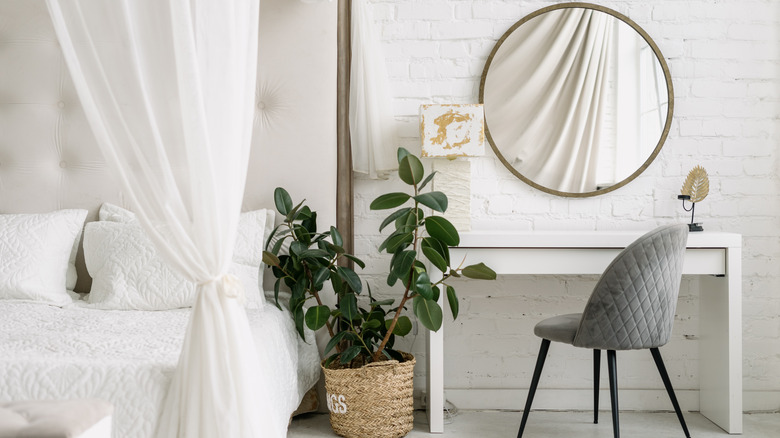 brizmaker/Shutterstock
Establish a sense of romance within your chic lair with a dramatic canopy. Often added for warmth and privacy, you might include curtains or leave it bare for a more prominent focus. This sleek frame features a posh white tufted headboard for added elegance against the rustic brick wall while the green plant represents a sense of nature.
9. Efficient storage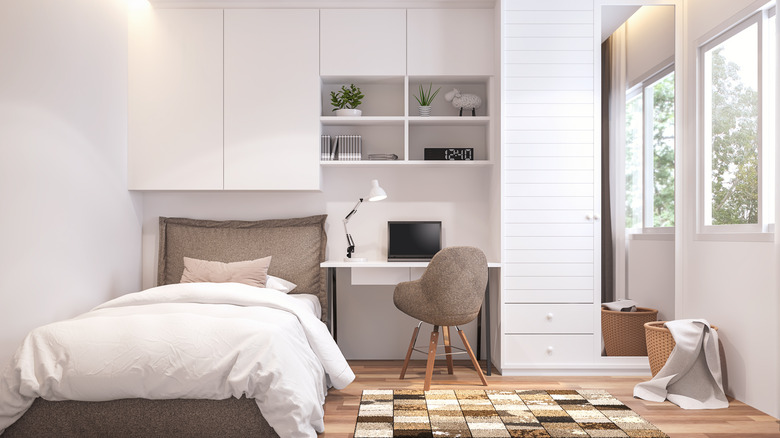 Runna10/Getty Images
While this youthful bedroom incorporates a classic Scandi white base within the walls, cabinetry, and comforter, the presence of built-in storage, including shelving and closets, is highly defined. Smaller rooms may require efficiency and function like this one, especially when involving a student's desk/study area. The taupe-colored elements contrast the scene, including the eye-catching, square grid accent rug.
10. Soft, crumpled linens
Pixel-Shot/Shutterstock
Create a lived-in look for your bedding by including delicate material like linen or down. Linen is a simple material to represent a classic, cozy Scandinavian look, especially when accompanied by a knit throw. Mix various tones of gray, or white and brown for an earthy vibe, including muted hues of green and blue as pictured above.
11. Plush or patterned rug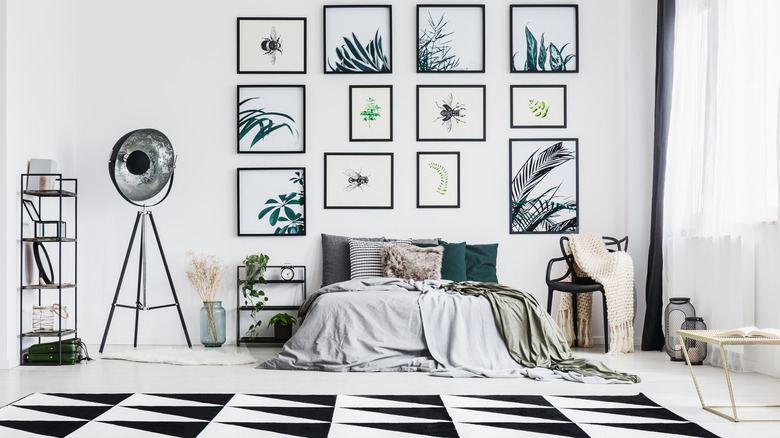 Katarzynabialasiewicz/Getty Images
Whether it's a simple pattern or dramatic geometric design, utilizing an eye-catching rug can set the tone of your bedroom. For soft, relaxed texture, choose a furry accent rug, or incorporate a large area rug or carpet that meets the eyes upon entry with a vivid black-and-white geometric piece, as both are pictured above.
12. Cozy hammock swing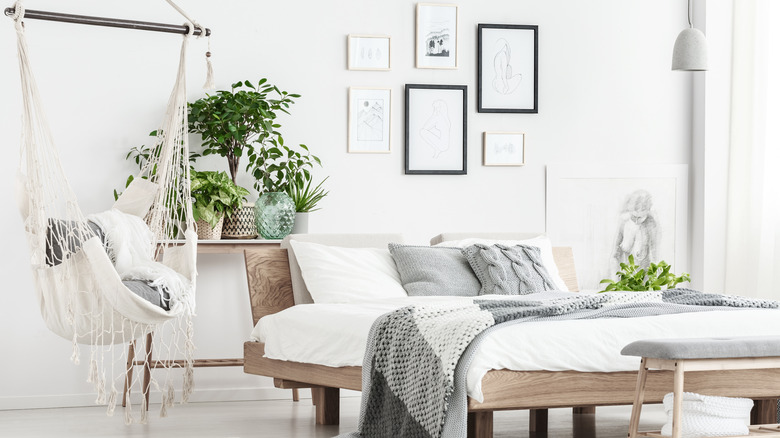 Katarzynabialasiewicz/Getty Images
Sometimes installed in children's bedrooms, a hammock swing brings the outdoors in with comfort and charm. Here pictured is a Nordic-style chair swing dressed for coziness with pillows and throws, as it appears made of dangling woven fabric. Its elegant presence notable amidst the Scandi-style bedroom with gray, white, and black tones, and hues.
13. Wood paneled walls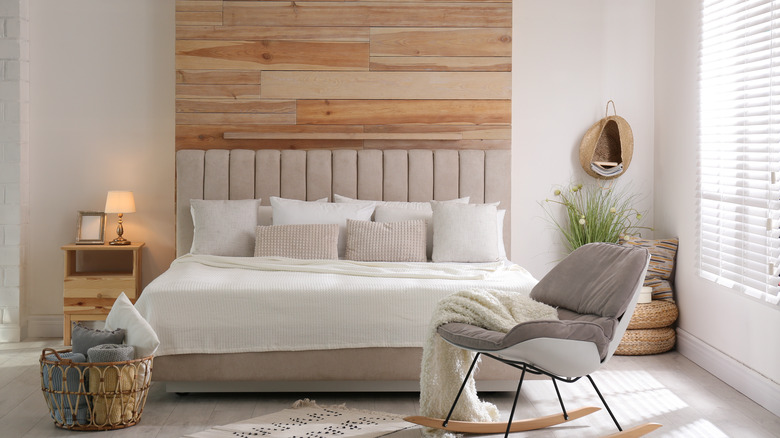 New Africa/Shutterstock
Create a warm, yet modern aura within your Scandinavian bedroom by dressing the walls or a specified area with wood paneling. This room puts a light oak/pine section at the center, as it both blends and adds dimension to the neutral-toned bed and headboard. Other natural colors within the space contrast the rich, golden hues of the wood.
14. Neutral wood flooring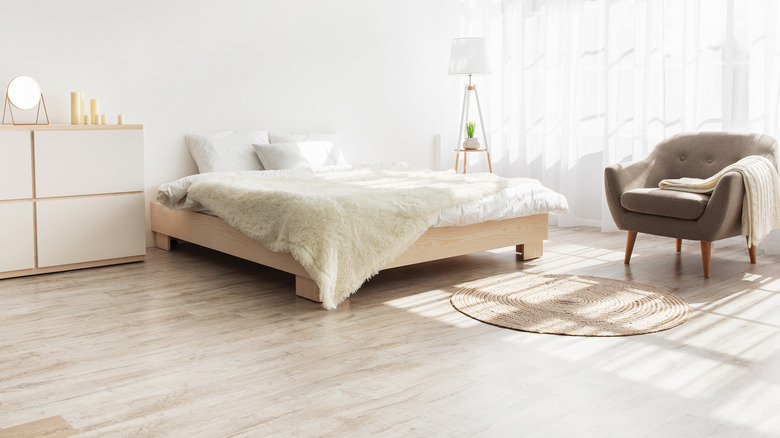 Prostock-studio/Shutterstock
From whitish gray to tannish gold, neutral wood flooring is a key part to establishing your Nordic-inspired bedroom. Here pictured is a light-colored wood flooring with hints of tan, gray, and white, which accompanies the bright, protruding sunlight for added warmth and measure.
15. Elegant, charcoal gray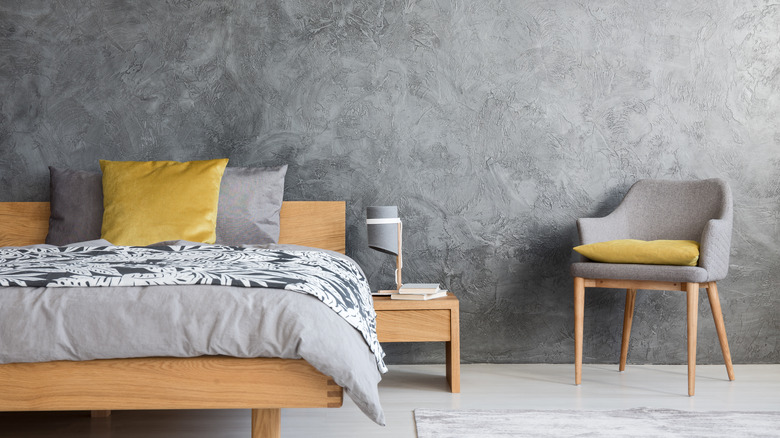 Ground Picture/Shutterstock
Many monochrome or neutral color palettes are utilized within the aesthetics of a Scandinavian space. This bedroom features a textured, charcoal gray wall that leaves room for other lighter shades of gray to accompany it. Light pine-like wood elements, along with the yellow pillows, bring out the room's brilliance.
16. Vintage monochrome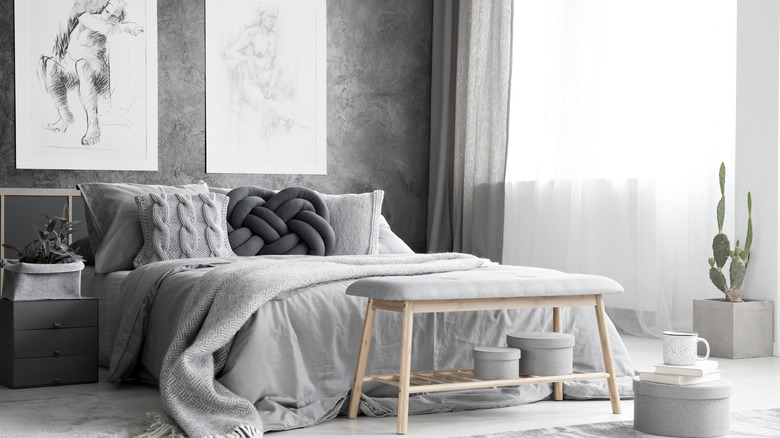 Ground Picture/Shutterstock
Resembling an old black-and-white photo, this chic bedroom focuses mainly on grays, whites, and blacks. Light grays are present throughout the bed linens, baskets, and boxes while a darker shade to highlight the wall with black-and-white art sketches. Slight color is present within the wood bench trim along with a faint green cactus plant.
17. Vibrantly colorless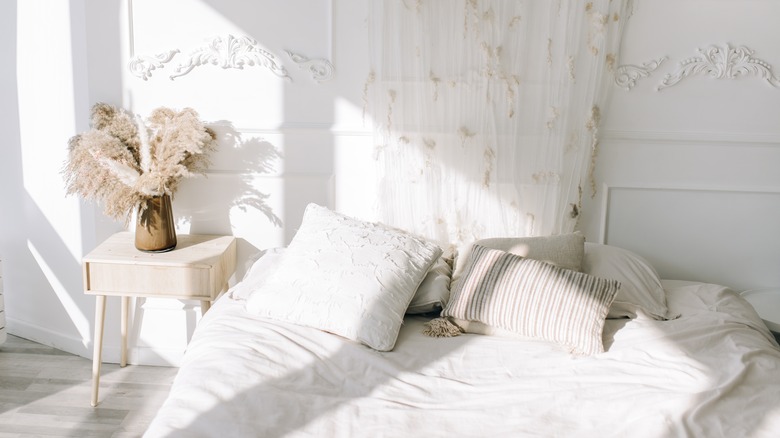 Igor Serik/Shutterstock
Make things very simple by leaving out color almost completely. Here pictured is a cozy, white-splashed bedroom with faint taupe and pink accents, which allow for more detail to be present within the textures. Notice the decorative molding and embossed design on the walls with a sheen curtain and pillows that feature uniquely bunched surfaces and materials.
18. Earth tones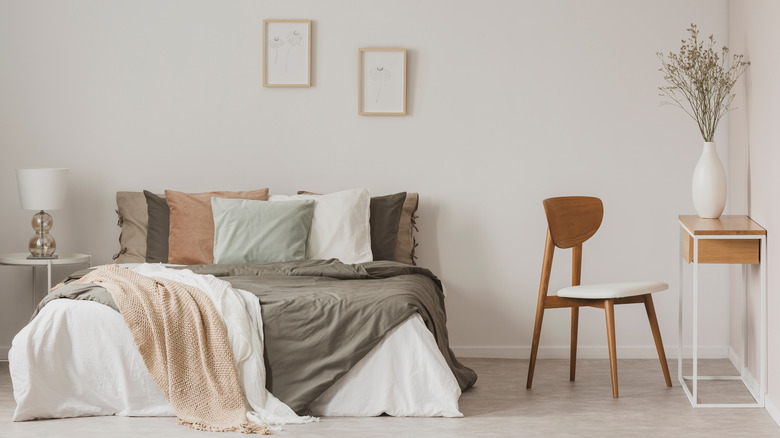 Ground Picture/Shutterstock
A medley of colors can be done within a Scandi design when naturally combined. This tranquil bedroom showcases a blend of green, brown, tan, white, and taupe through the pillows, bed linens, and blankets. With a slight coastal vibe, browns and whites extend throughout the room to the desk and walls for a light aura.
19. Green elements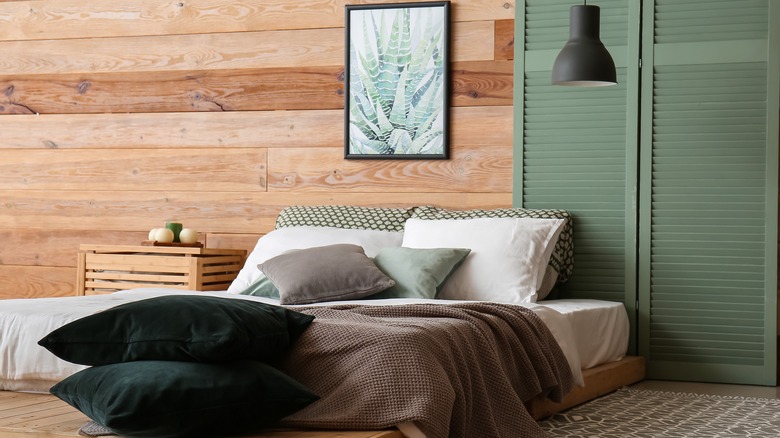 Pixel-Shot/Shutterstock
Color typically offers a contextual aspect to Scandi interior design, as you might choose one shade to complement a neutral scheme. Above is an earthy green amidst the divider, pillows, and artwork, including a deep emerald contrast within the floor pillows. Light oak wood is present within the walls, table, and flooring for a warm, perfecting balance.
20. Blue accents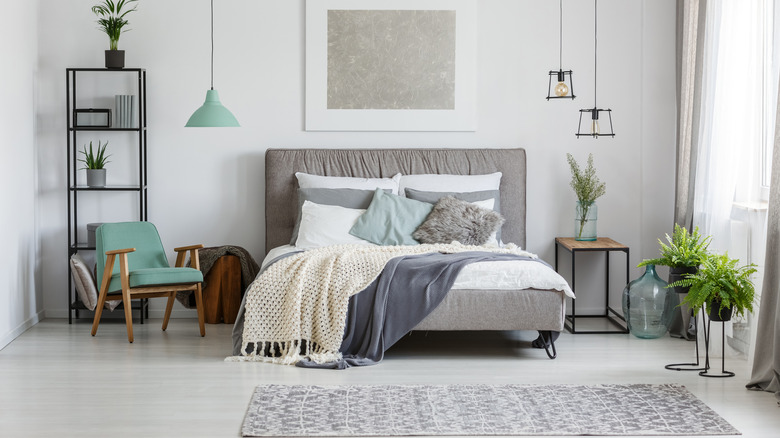 Katarzynabialasiewicz/Getty Images
With a neutral, Nordic theme, utilizing a modest color may enhance the overall scheme. This modern bedroom is balanced with all aspects of Scandinavian design through wood elements, straight lines, and decorative plants, décor, and linens. Amidst the scene is a faint, teal blue present in the chair, pillow, and dome pendant, directing focus to the cozy corner.
21. Rustic pink motif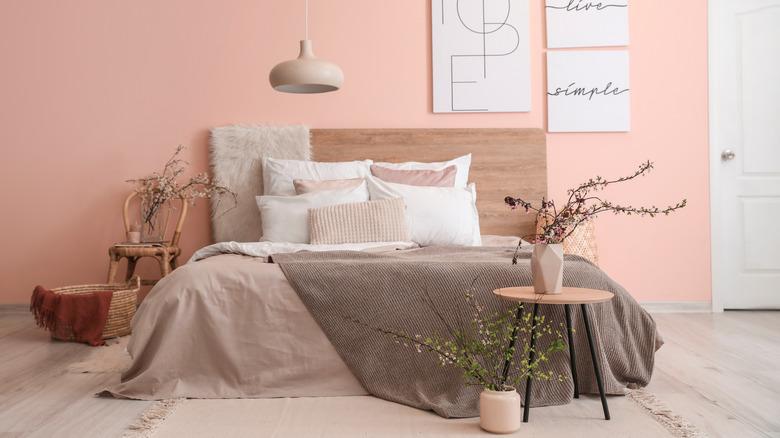 Pixel-Shot/Shutterstock
Colors like soft, damask pink can be incorporated in your modern design while keeping things in a minimal mindset. This lovely bedroom is rustic yet feminine by the varied shades of light, earthy pinks present on the wall, bed, and décor. The baskets and plants highlight the outdoor elements.
22. Small cheerful spaces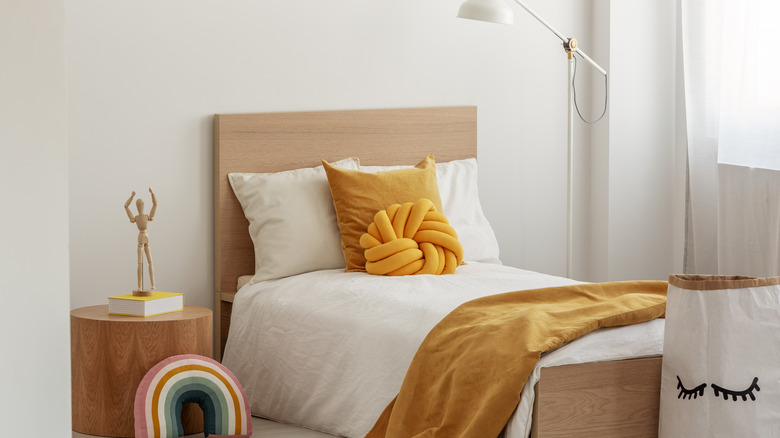 Ground Picture/Shutterstock
If you have a small bedroom that requires a humble transformation, keep things neutral within the landscape and dress it up with a colorful theme. This small room features a smooth, light wood bedframe and accent table with a white background and comforter as the golden yellow elements shine. Other décor has been added for a quirky, youthful sense.
23. Opulent onyx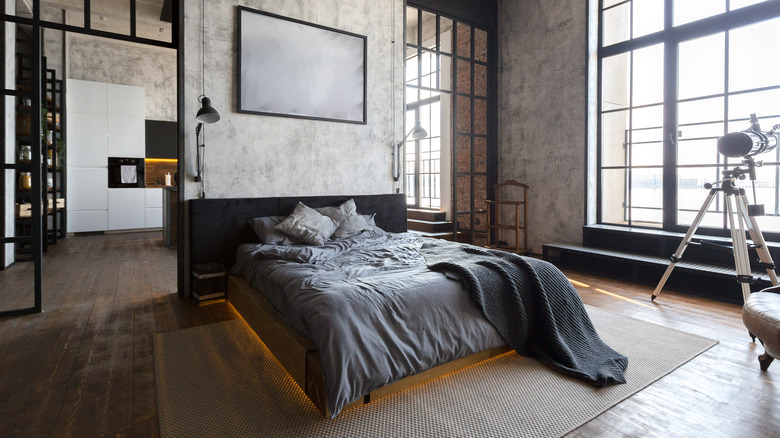 Pinkystock/Shutterstock
Incorporate a feeling of elegance and strength by leading your design with deep, mysterious shades like black or onyx. This modern loft-style apartment features a minimal setup with a king-sized bed centered, dressed in a dark comforter, and throw while the black-framed windows stand out amidst the light wood floor and textured gray walls.
24. Round wall mirror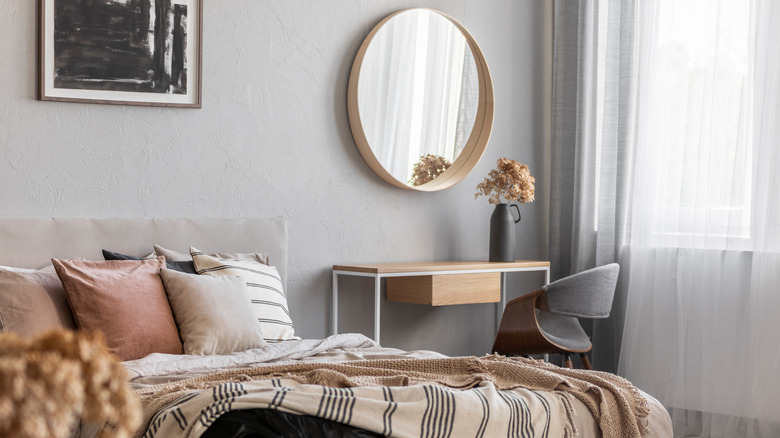 Ground Picture/Shutterstock
With the importance of light always essential in a Scandi-style bedroom, a round, circular mirror adds a soft touch for a brilliant reflection. You might mount a sizeable one near a window or above the bed to both attract and radiate optimum daylight throughout the room.
25. Black-and-white pictures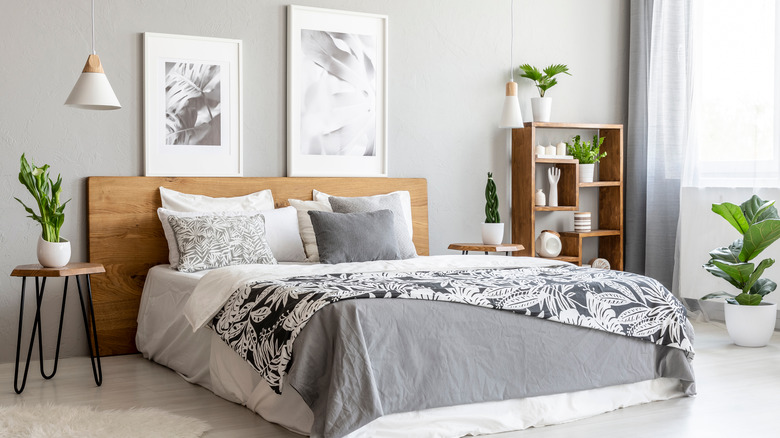 Ground Picture/Shutterstock
Your Nordic den may not be complete without black-and-white framed artwork and/or pictures on the wall. Whether it's a sketch, photograph, or painting, display one or more together to encompass a similar vibe. Here pictured are two black-and-white framed prints, as the light borders enhance the dark images amidst the neutral environment.
26. Informal artwork frames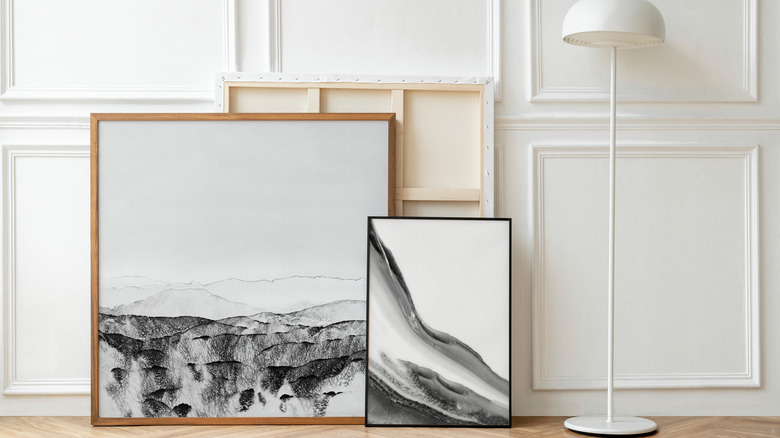 Rawpixel.com/Shutterstock
Besides displaying your captivating, framed artwork on the wall, it's also effective to leave your large frames to rest on the floor. With black-and-white themes within these abstract images, they appear visually appealing while in a relaxed, informal state placed against the wall.
27. Modest wardrobe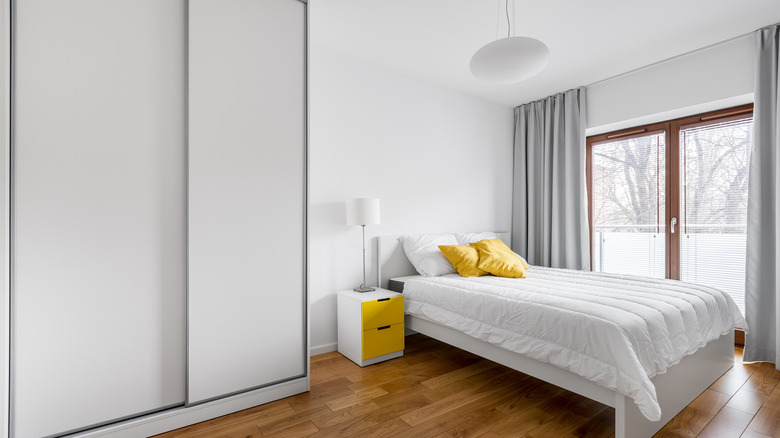 Dariusz Jarzabek/Shutterstock
If you require additional storage or closet space, you might include a modest built-in or add-on wardrobe closet area. This minimal bedroom with a single/twin bed and white and yellow motif features a large, clandestine wardrobe with subtle sliding doors free of handles that blends into the atmosphere.
28. White wooden vase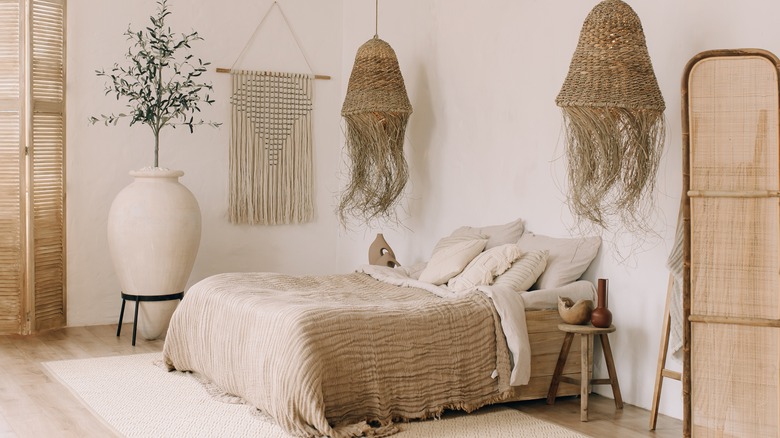 Igor Serik/Shutterstock
Although this scene appears more on the bohemian side, implementing a pure, uncomplicated white vase for flowers or greenery appears absolute. You might choose a large vessel like this one to receive more attention, a smaller one, or even a collection of a few to mix it up. Place fragrant blue eucalyptus branches or another greenery of choice.
29. Floating wooden nightstand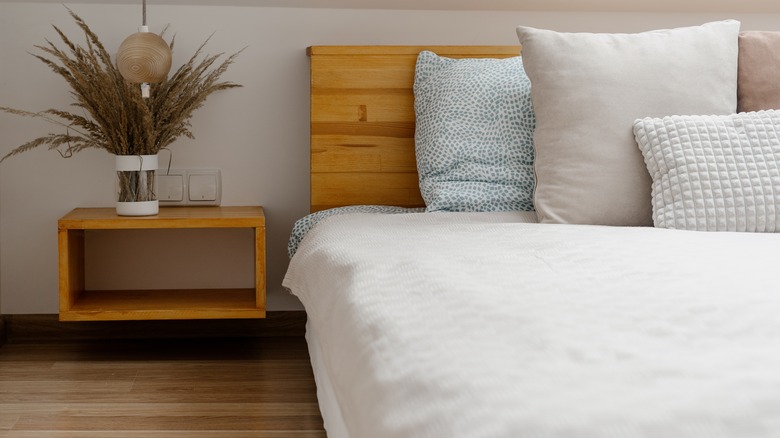 brizmaker/Shutterstock
Including various wood elements within your bedroom design is a vital component to instituting a Scandinavian vibe. This simple bedroom features hardwood flooring, an oak-like headboard, and unique wooden floating nightstand shelf. The golden hues delicately contrast against the light colored bed linens, pillows, and gray walls.
30. Cozy, multipurpose desk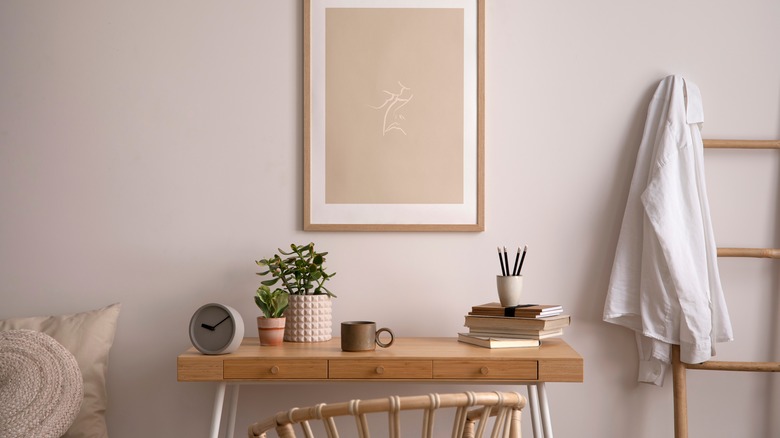 Followtheflow/Shutterstock
A perfect size for a laptop, reading, or writing, this quaint desk table is the right size and type for a minimalist's bedroom. With a light wood material on top, the rectangular piece features three small storage drawers along with a near matching rattan style chair within a plain-colored space.
31. Wood-burning fireplace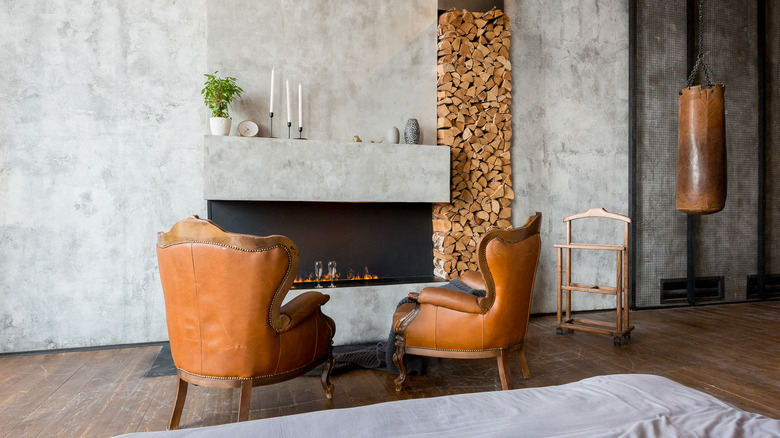 Pinkystock/Shutterstock
If you live in a cold climate, having or installing a fireplace within your bedroom may be necessary. This masculine, ultra-modern bedroom loft showcases a wood-burning fireplace near the end of the bed with a sleek gray façade, two orangish-brown leather accent chairs, and chopped wood at-the-ready.
32. Tall wooden closets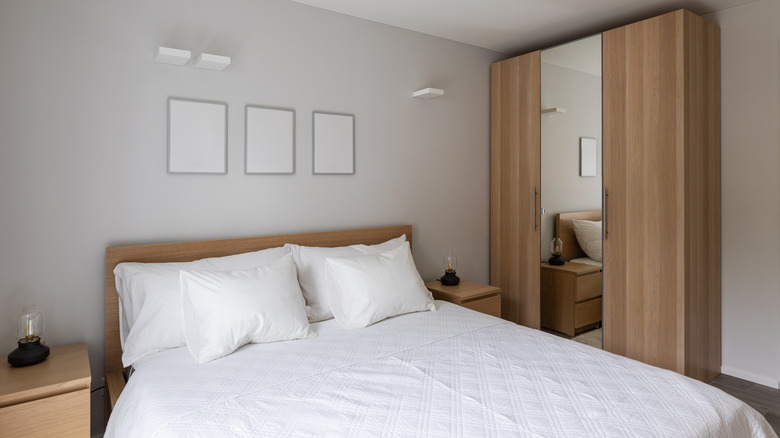 alexandre zveiger/Shutterstock
If you have a neutral to white base within your lair design, then amp up the wood elements through accent tables, nightstands, bedframes, and floor-to-ceiling closets as pictured above. These tower-like pieces are simple and serene in this snug bedroom, as they offer sufficient storage. Notice the convenient mirror built-in between each closet door end.
33. Floating wooden shelves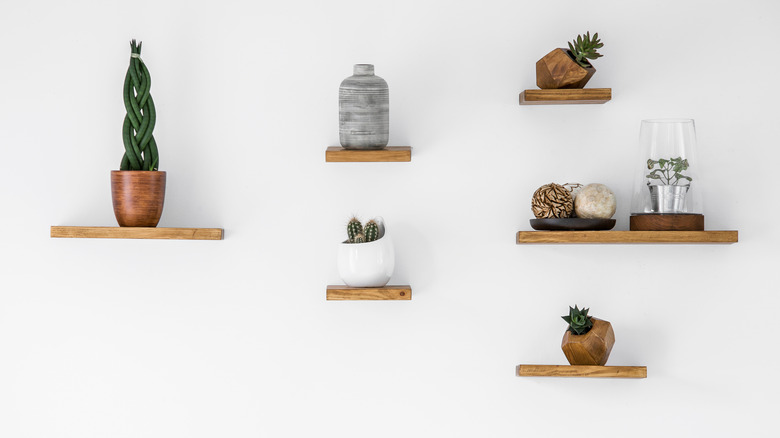 Ground Picture/Shutterstock
Another way to present function and purpose while utilizing an upper space of your Scandinavian bedroom is by installing floating shelves of various sizes. This white wall hosts several smaller wood plank shelves to showcase plants, vases, and other earthy décor. You might place books, jars, wooden figures, or other collectible items to display your aura.
34. Distinctive pendant light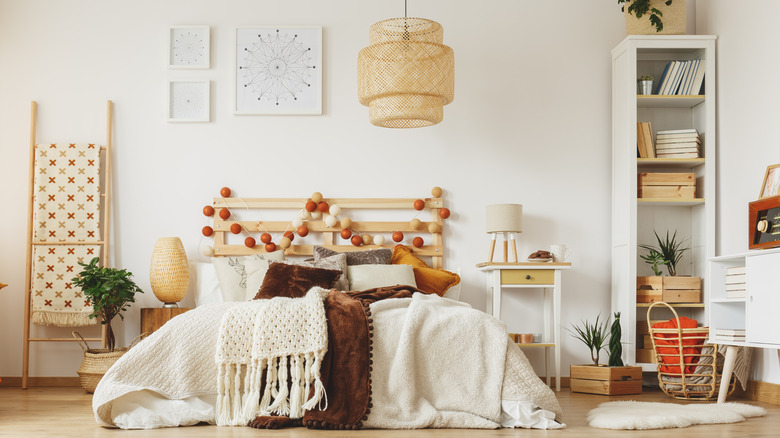 Ground Picture/Shutterstock
Whether it's an orb, dome, or drum style, install a distinctive pendant light within your sophisticated bedroom. A simple option might be a white shade or lamp to coincide with a neutral palette, or choose a tan, cream, or beige color made of rattan or wicker to implement a natural vibe like the drum style above.
35. Mix vintage and modern furnishings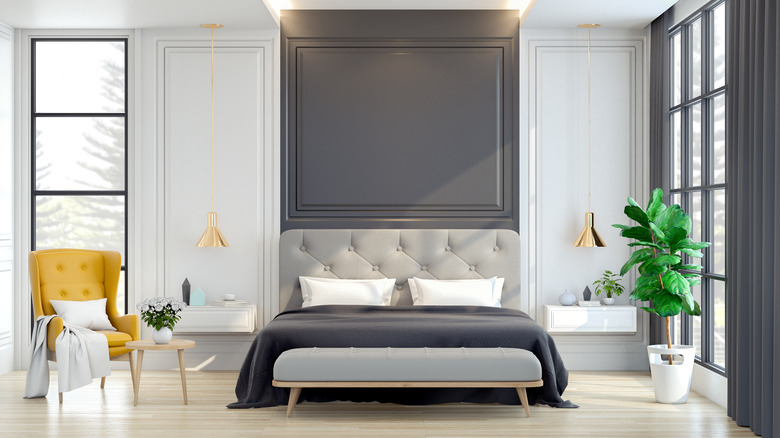 Lek_3dphoto/Getty Images
Whatever your taste, define it through various eras while maintaining a minimal framework for your bedroom. This vast, palace-like bedroom features crown molding, wood floors, and a vintage-style yellow wing chair amidst modern, subdued colors of gray, black, and white. The gold dome pendants add an industrial shine to complement the chair and plant.