2022 Home & Design Awards
Meet the Judges
Nicholas Brinen
A licensed and registered architect in Virginia, Texas and New York, Brinen is a founding partner of Studio Figure and his practice spans from private residential to restaurants, offices and mixed-use buildings. Brinen, with AIA, LEED, AP, NCARB and NOMA certifications and licenses, has taught architecture at the Rhode Island School of Design, University of Virginia, Pratt Institute and Parsons School of Design. He is currently an assistant professor at James Madison University, where his research and teaching focuses on the synthesis between empathetic design inputs and material resourcefulness to elevate design strategies for community-based projects.
Kayla Cooper
From clothes to cars to spaces, Cooper has designed it all. Though her styles and practices have evolved over the years, her love for design and the creative process has not. Beginning her career in Washington, D.C., Cooper now travels to create modern, minimalist spaces with sustainable influences. Based out of Pennsylvania, Cooper loves to design with clean lines and strong architecture.
Chad Dorsey
Trained as an architect, Dorsey approaches every space focused on a fluid relationship to the architecture where proportion, light and scale are essential. Dorsey refers to his style and philosophy as "relaxed luxury"—the idea of living casually with things a person loves to touch and feel in a way that is approachable and not precious. Dorsey's eponymous studio offers a full range of design services and is based in Dallas with an outpost in Los Angeles. Dorsey has been featured in Architectural Digest, Elle Décor, Aspire Home & Design, Interiors Magazine, ADPro, Traditional Home, The D Pages and Rue Magazine.
Allison Crawford
Crawford is the founder of Allison Crawford Design and HOTELette. Her goal is to create beautiful and functional spaces that reflect the personality and passions of her clients. At the heart of Crawford's process is the belief that design creates balance between comfort and luxury, integrating the practical with the desirable. Crawford's work has been featured in Architectural Digest, Forbes, Austin Monthly and Domino. 
Kinley C. Puzey
Puzey is a licensed architect and has spent the last 18 years in the design and construction industry. His project experience ranges from humanitarian efforts on a Navajo reservation to multimillion-dollar custom homes. Puzey holds a master's of architecture from the University of Utah. In 2015, he founded Utah-based Onyx Design Collective, which specializes in high-end residential and one-of-a-kind commercial projects. His unique modern designs are conceived through a rigorous design process that mixes analog techniques and cutting-edge software. 
Lindsey Shook
Shook is a global content and brand strategist who serves as the editorial and brand director of California Home + Design media company. Splitting her time between Miami and San Francisco, Shook has worked with a multitude of companies to generate meaningful stories and experiences that helped expand their global reach. In her spare time, she is an activist in support of select organizations that focus on empowerment and social justice as well as Democratic campaigns.
Lee Starke
Starke is a project manager and interior designer for Cline Design Associates in Raleigh, North Carolina. Cline Design is an integrated firm offering architecture, interior design and land-planning services. Starke leads and manages an expansive portfolio of projects, from large-scale residential buildings to golf clubhouses and corporate office spaces. She has nearly 10 years of experience working on complex projects and has completed work in North Carolina, South Carolina, Virginia, Georgia, Maryland and Michigan.
The ongoing pandemic may have presented challenges in acquiring materials, furniture and fixtures in a timely manner, but it also has led to a fresh wave of creativity, both in architecture and interior design crafted to meet the unique needs of clients. Whether in a modern commercial space meant to serve hybrid working models, in homes that now serve as both family retreats and daytime offices or in remodels that honor the history of a house while updating it for modern living, the entries into this year's Home & Design Awards were a reminder of just how much talent exists in the San Antonio area. Get to know the winners here, which were selected by an expert panel of judges (see above).
The Soto
General Excellence | Architecture, Office
Named for the Spanish word that means "a grove of trees near a body of water," The Soto is the state's first mass-timber office building and represents the initial phase in a 10-acre mixed use project in the River North area between Broadway and the River Walk. Its first floor boasts retail and restaurant units while office space on the upper five floors is designed with flexible floor plans that cater to employees using a hybrid working model. Exposed timber columns, beams and ceilings indoors bring in an element of nature and complement the exterior, where the timber structure is accented by large windows and a masonry façade.
Veramendi Community Pool and Splash Pad
Outdoor Public, Space or Park
Infinity Pools of Texas wanted to offer something for everyone in New Braunfels' Veramendi community. Swimmers enjoy two professional lap lanes while those looking to relax will find a 1,500-square-foot tanning ledge with chairs for lounging. The infinity style edge creates the sound of cascading water, and the pool offers beach entry plus a handicap -accessible lift that provides access to the 6,000 square feet of swimming space. Nearby, a splash pad with spray bars, a bucket dump and more welcomes kids who aren't yet ready for the big pool. 
Repurposed Pecky Cypress Charcuterie Board
Accents/Decor
Colson Custom Builders wanted their clients to have a piece of the pecky cypress tree they had to remove from the property when constructing their new home, so they enlisted Hill Country Woodshop to turn part of the tree into a one-of-a-kind charcuterie board. Pecky cypress is challenging to work with because it has natural holes in it, but Hill Country Woodshop staff were able to chisel out the holes and fill them with epoxy resin to create a smooth surface. The natural edge of the wood was transformed into an arrowhead-inspired handle before the board was sanded and covered with a food-safe oil and wax. 
Walnut River Table
Custom or Repurposed Furniture
The client wanted a desk with dark tones that could serve as the centerpiece in his home office, and the beautiful colors and natural grain in the walnut slabs used for this table delivered. Hill Country Woodshop highlighted the features of the wood with epoxy resin that was black with white swirls and a slightly red glitter tone. They partnered with Citizen Build, a local metal worker, to create a steel tubing base for the desk. The result is an industrial-style piece that balances nature with modern design.  
Ranch Pass
Architecture, Curb Appeal, Wine Storage/Bar
This 3,400-square-foot new build is situated on the east side of the property to accommodate a flood plain encroachment while providing the homeowners with easy vehicle access to the three-car garage and views of the property plus its existing trees. The white brick exterior sets the tone for its traditional design that is accented with East Coast–inspired turn-of-the-century architectural elements.
Inside, the home has four bedrooms, a dedicated office space, an upstairs playroom and a laundry room that doubles as a mudroom, among other spaces. Built in cabinets provide ample storage in the kitchen, which also features a built-in eating space on the backside of the island. White walls and built-in cabinets throughout are contrasted with warm hues in the furniture and light fixtures plus dark frames around the windows. The bar stands out courtesy of its dark wallpaper with golden leaves. It also features black soapstone countertops, an antique mirror tile backsplash and a brass chandelier and shelf.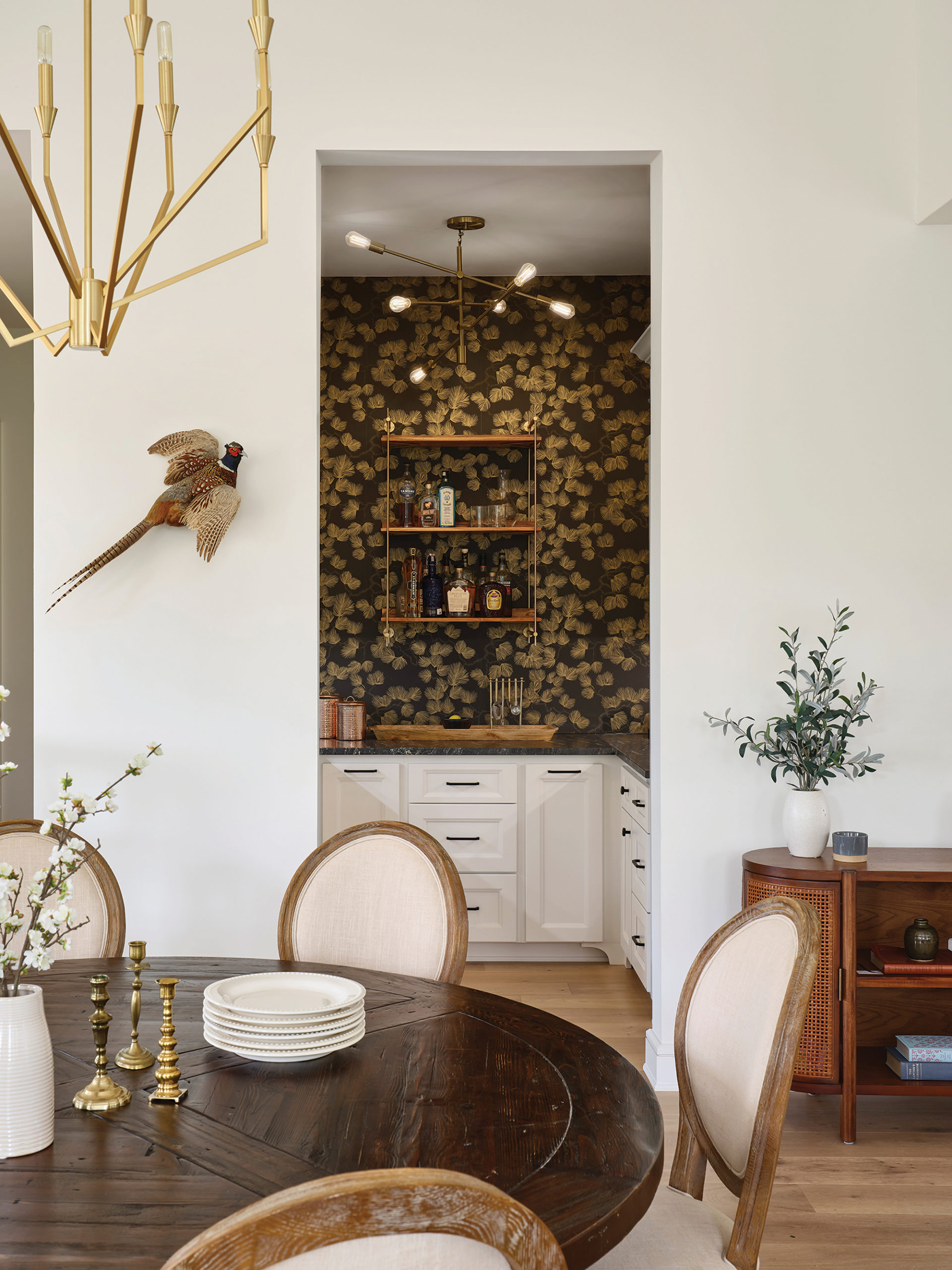 Parklane
Fireplace
In this living room, Amity Kett was challenged with achieving an updated Santa Barbara–style interior in a 1930s Spanish-style home. The fireplace was instrumental in achieving that thanks to the warmth and texture delivered by the hand painted clay tiles and rustic wood mantel. Existing built-ins on either side of the fireplace were updated with oak stained shelves that created a place for the TV, wood and several accessories that bring an extra element of style to the room. 
Pine Street
Exterior Use of Color
Renderings for this urban family dwelling near Essex Modern City included a sleek black door that would complement the vertical black metal siding. As construction got underway, though, black no longer seemed like the right fit, says Up & Co.'s Judith DeMasters. "We got to meet the neighbors and experience the area and black seemed too formal," she says. "It called for something more playful and colorful." DeMasters instead landed on a yellow door that she says pops while still acting as a neutral. A warm white trim that matches the horizontal siding covering the bulk of the house surrounds the door and a mid-toned wood entryway welcomes guests.   
Fronterra Project
Library/Study/Home Office
This home office had to be both beautiful and functional for the young professional who uses it daily. The serene glass-coated landscape hanging behind the modern stone desk accomplishes both by serving as a central piece of art and as a frequent Zoom backdrop. A geometric console hides a printer and provides storage while light blue drapery and guest chairs bring in a splash of color. Behind the guest chairs hangs a TV that can act as a monitor during video calls. 
San Antonio Mid-Century Modern
Interior Design, Readers' Choice for Best Overall Home
When principal interior designer Jana Valdez agreed to take on a mid-century modern home in disrepair after her husband and an investor bought the property, she vowed to make it the kind of mid-century look she could see people enjoying today, meaning no ugly browns or oranges. She doubled the size of the kitchen, opened up the entryway, added character with a walnut divider in the foyer and relied on rich blue and wood accents throughout. A garage laundry room was also moved inside and functionality improved throughout the home.
Blush Nursery
Children's Room/Play Space
Large-scale rose wallpaper behind the crib sets the tone for this feminine nursery that also includes a blush rug, chair and window treatments. White furniture and a crystal light chandelier freshened the room while pale grey walls provide a quiet contrast to the wallpaper. Framed children's artwork—including a piece featuring blush and white textured wings—finish out the space.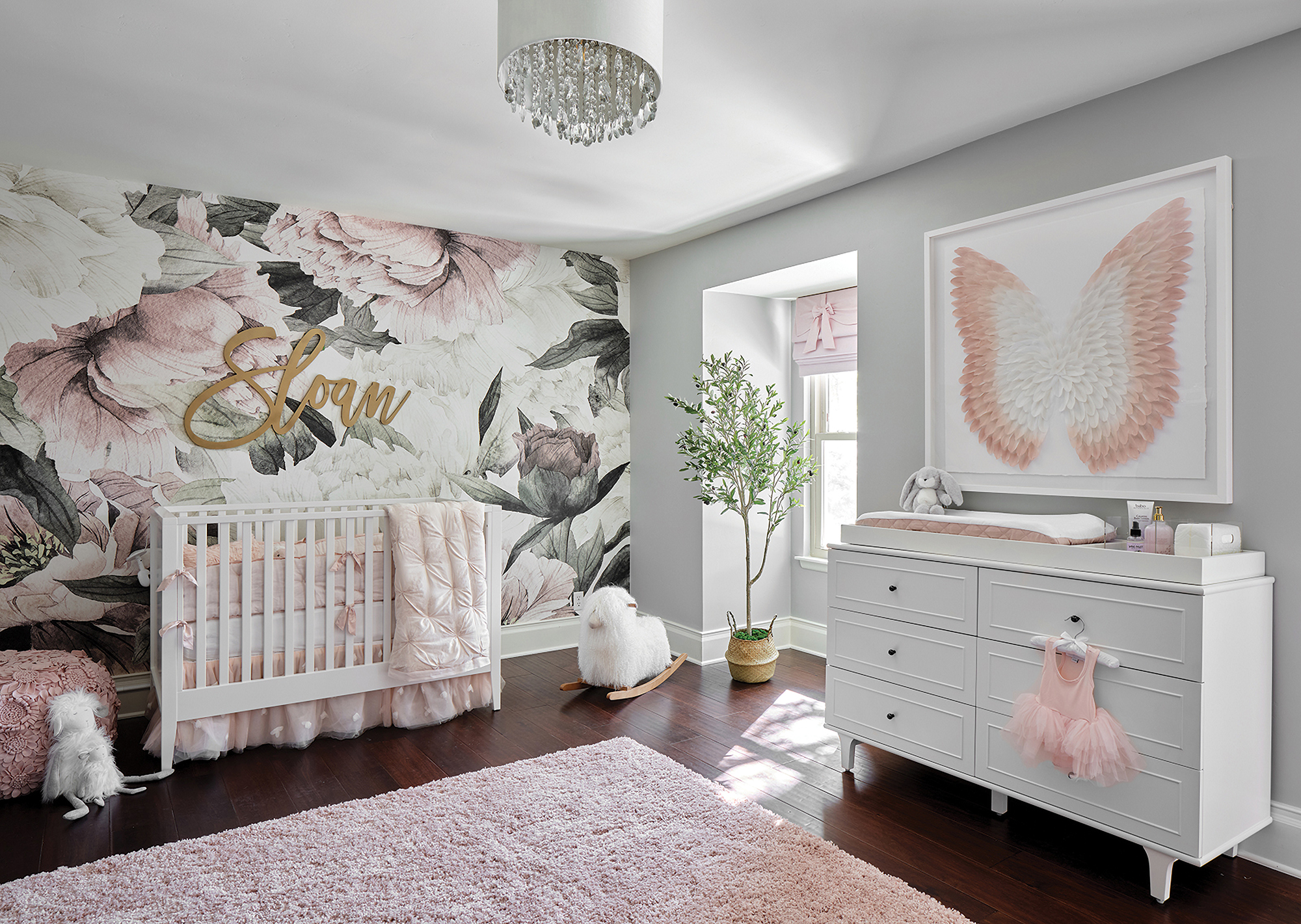 Edgewater Estates

 
Remodel
Almost every surface of this north central San Antonio home was reworked during a remodel by Virtuoso Builders' Mike and Molly Sowry. Walls were removed to open up the formerly compartmentalized kitchen, living room and dining spaces and a second column added to balance an existing column needed to support the structure of the home. An impractical mushroom-shaped island was removed in favor of a long rectangular island featuring a striking dark granite countertop. Stools allow for seating in the kitchen and for interaction with those sitting in the nearby living and dining rooms. The primary bedroom and bathroom were gutted, and a builder-grade bathtub replaced with a gorgeous freestanding black tub. Throughout the home, the once light blue walls were repainted shades of grey and the floor replaced with wood tile plus a "carpet-style" inlaid tile in the entryway. An outdoor bar was built near the pool.
Anaqua Springs European Hacienda
Dining Room, Full Bath, Lighting, Powder Room
One-of-a-kind details are evident throughout this home that brings an Eastern European hacienda feel to the Hill Country. The dining room is anchored by custom masonry brick walls and an inlay tile floor design. In the powder room, guests find an antique tile wall, shiplap and a custom vanity while the full bath boasts gold-framed mirrors, custom furniture-style cabinetry and a built-in steam unit. Lighting throughout brings in delicate lines, with touches of elegance courtesy of clear crystals and glass. 
Hollywood Park Project
Kitchen, Laundry Room
When a San Antonio family purchased this Hollywood Park home during the pandemic, they knew the kitchen needed some serious work. Originally a long, closed off corridor with eating spaces on either side, the homeowners enlisted Styleberry Creative Interiors to transform it into a hub for entertaining. They opened up the space, making the original dining room, which overlooked the backyard and pool, part of the kitchen and turning the breakfast nook into the main eating area, says Shawna Percival, the firm's founder and creative director. Stools also were added along one side of a long island to create another seating space. 
On the opposite side of the island is a custom butcher block countertop that's ideal for cooking or housing in-home charcuterie boards. A pantry is tucked away from view and a wall of custom cabinetry was added to the back of the room to create much-needed storage. The microwave and an ice maker are tucked under the island while handmade clay tiles cover the main wall, bringing an organic element into the room. 
The reimagined kitchen leads into the laundry room, which also was reworked by Styleberry Creative. "It's a little space, which is sometimes the trickiest," says Percival. They added cabinets and a simple shelf above the washer and dryer to provide storage. On the other side of the room, is a "drop zone" with baskets for kids' shoes and hooks for backpacks and jackets. Vertical white shiplap brings texture and design to the wall while protecting it from wear and tear. 
Hunter's Creek Kitchen
Use of Color
Like a good pair of denim, blue—when used well—can act as a neutral in interior design, says Shawna Percival, founder and creative director of Styleberry Creative Interiors. Such was the case with this kitchen, which the firm began designing in February 2020 and completed plans for largely through virtual meetings. The homeowner initially envisioned an all-white kitchen but wanted to salvage the original off-white stone floor, which looked dirty next to white cabinets. Instead, Percival suggested a dark blue for the lower cabinets, which grounded the space, plus white upper cabinetry and a light, bright counter and backsplash. White herringbone tile runs up the main wall, which is broken up with long floating wood shelves that are complemented by the warm wood vent over the oven. Brass hardware and three sconces above the floating shelves bring another layer of warmth. "The kitchen sets the tone for everything else in the house," Percival says.
Terra Mont Living
Living Room/Great Room
Nearly every element in this far Northwest home's living room was custom made, including a sectional that was designed to have enough recliners for all seven members of the multigenerational family that lives there. Glass sliding doors covering one wall allow for the indoors and outdoors to merge. An abstract design made of several pieces of hand carved MDF wood covers the focal wall and is painted with a smooth, metallic finish. A black tile shelf brings contrast to the wall and creates a home for the TV, with a fireplace underneath. Jaimie Anand, lead designer and firm owner, says while the home is contemporary, it is also functional for the family, which includes grandparents, teenagers and a toddler.
Hill Country Oasis Primary Suite
Primary Suite
Designer finishes and luxurious touches turn this secluded primary bedroom and bathroom into a relaxing getaway for the busy homeowners. A wall of large windows brings in natural light and provides views of the Hill Country while a gray tray ceiling and wall introduces contrast. The bathroom includes a large walk-in shower and a freestanding tub with a custom Carrara Hexagon tile shampoo niche. Separate dual vanities mean there is plenty of storage for two and high frosted windows let in natural light while still providing privacy.
Royal Oak Estates | 213 E. Pet Spa
Specialty Room
Dogs are the star of this fur-friendly spot that features two high-end kennels built under a jet-black quartz countertop. A white backsplash and shelving plus natural light from a window nook brighten the room while a specially built tub means pups can get clean without having to visit a pet spa. 
Olmos Park Preservation
Historic Renovation, Rising Star Award | Less than 5 Years
When Kali and Thor Tripp stepped into the original kitchen of their Olmos Park home, they knew immediately why it had sat on the market for two years. "It's just this massive home, but the kitchen was itty bitty," Thor Tripp says. "We knew we'd have to move it."
An inspection revealed even further issues—like improperly spliced wiring, tree roots growing through pool plaster and submerged plumbing caused by decades of leakage—but the Tripps were committed to rehabbing their 1929 home. 
The couple who met while working at competing TV stations in Lincoln, Nebraska, moved to San Antonio just before the pandemic began to be closer to Kali's family. They'd flipped two homes, including their own, while living in Nebraska and decided when they relocated to take on the work full-time. "We had a blast doing the first one and the rest is kind of history," Kali Tripp says.
The Olmos Park home had been expanded in the 1950s and updated in the 1980s, which the Tripps say meant it was "in identity crisis" with a mishmash of styles. After fixing the bones of the house, they relocated the kitchen to what was once an extra living room, adding a 12-foot island and two seating areas. The entryway, living room, dining room and office are located toward the front of the home and are more formal. Original elements from the home were refurbished or repurposed throughout, including fixtures and oak floors that were matched rather than replaced. "Honoring the history of the home was important to us," Thor Tripp says.
The couple and their young son now live in the Olmos Park home and they've since rehabbed three houses in Dignowity Hill. They're working on projects in the Lone Star and Castle Hills areas before taking on another major remodel this year. "We changed careers and cities, but we feel good about the work we are doing," Thor Tripp says.
Legacy Award: Julie Bradshaw, Bradshaw Designs
Bradshaw began her career after graduating with an interior design degree from the University of Texas at Austin over 30 years ago and she's been remodeling kitchens, bathrooms and other spaces throughout San Antonio since. Modern Luxury magazine called her a "renovation maven" who is to homes what good plastic surgeons are to face lifts. That means she has superior attention to detail and a commitment to being involved in every aspect of her client's design, from creating plans to selecting just the right materials to working with contractors to carry out her firm's vision. Whether a historic renovation that requires a dedication to matching original details or a new home that calls for character, Bradshaw delivers. She's been recognized with numerous American Society of Interior Designers awards, including six ASID Pinnacle awarded projects in 2021, and she also won a 2021 Luxe Red Award in the regional kitchen category.