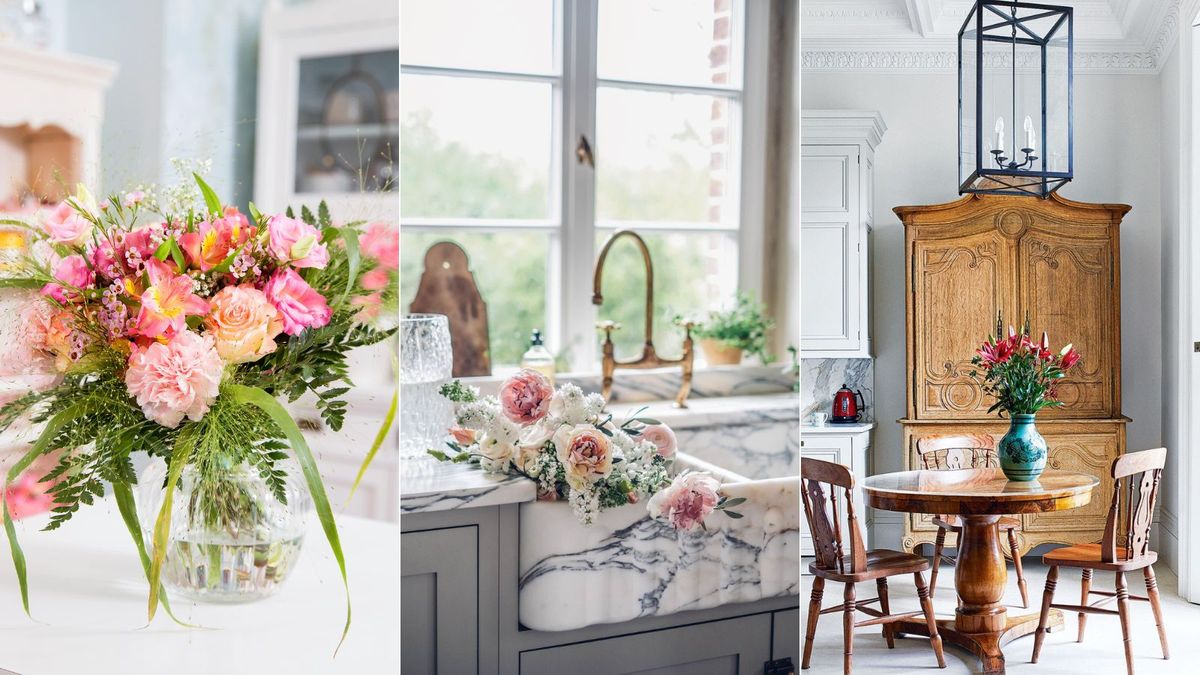 What makes a home look expensive? 11 tricks designers use
There are plenty of ways to make a home look expensive without the high price tag. The secret to achieving an expensive look for your home isn't actually rooted in the amount you spend. In fact, when it comes to making a home look expensive, less is often more. 
Why make a home look expensive? It's obviously wonderful to live in a home that feels well-curated, but it's also a great way to increase your home's value if you are thinking of selling up any time soon.
Whether you are looking for luxury living room ideas or luxury bathroom ideas and beyond, these expert interior design tips will help you achieve an expensive aesthetic in every room of your home.
What makes a home look expensive?
Making a home look expensive primarily comes down to the materials you use and how you dress your space. Every interior design project should begin with a declutter – there are plenty of decluttering tips to help you. Decluttering your home will ensure that you are starting with a clean slate – after-all, clutter definitely doesn't say 'expensive'. From here you can redesign your space with these high-end ideas in mind.
1. Pick furniture with character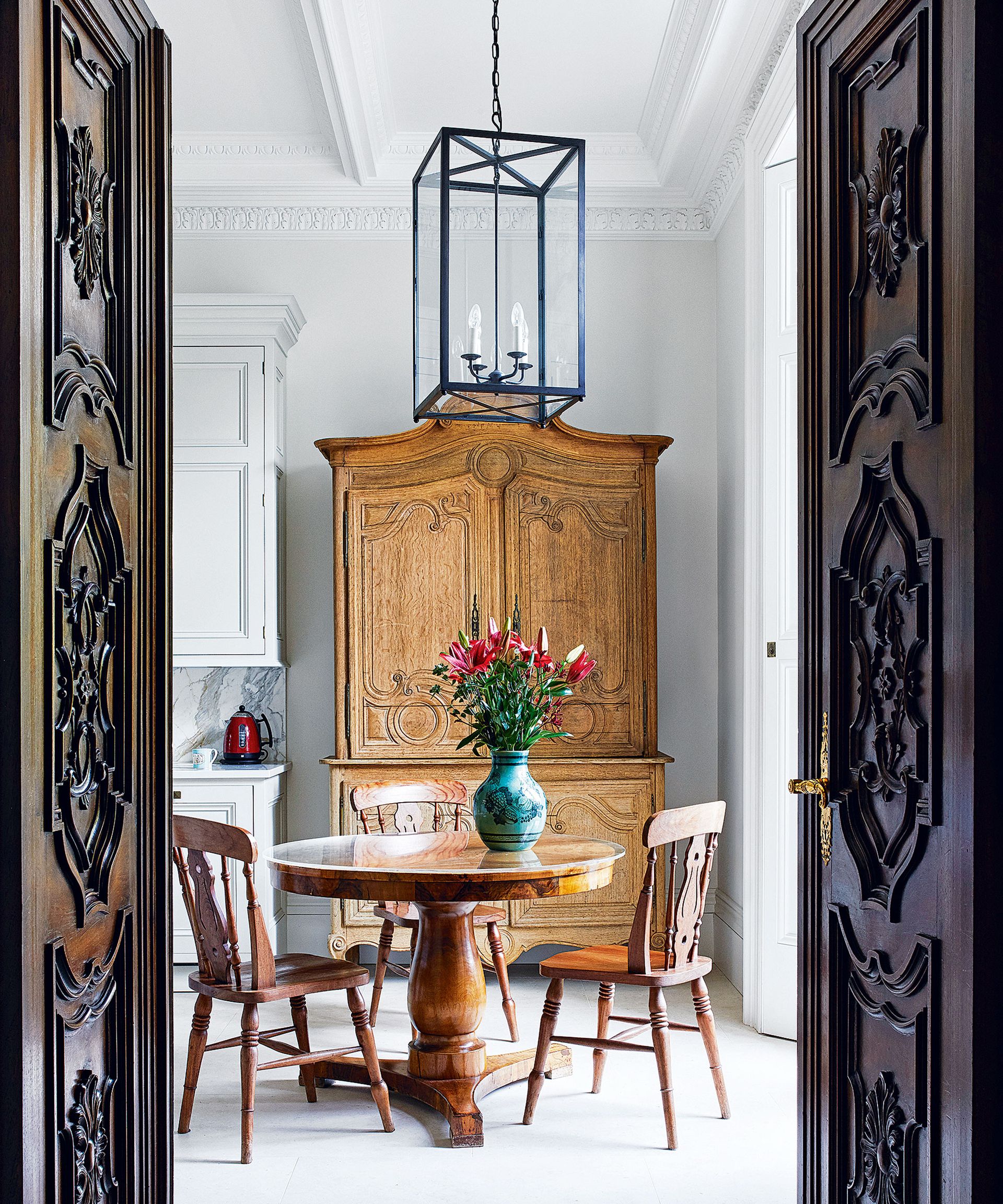 Gone are the days of a matching suite of furniture being a marker of great interior design. Today, it's all about texture, interest and character. Decorating with antiques, especially wooden pieces, is a great way to make a house look expensive. You can mix antique and newer finds to curate a space that is truly unique to you.
'When decorating with wood, resist the urge to pick furniture in the same species or tone as this can sometimes make a room feel flat. Instead opt for pieces with slight color variation for a more sophisticated and polished look,' advises Rob Ellis, head of design at Dwell (opens in new tab).
2. Add character and texture with paneling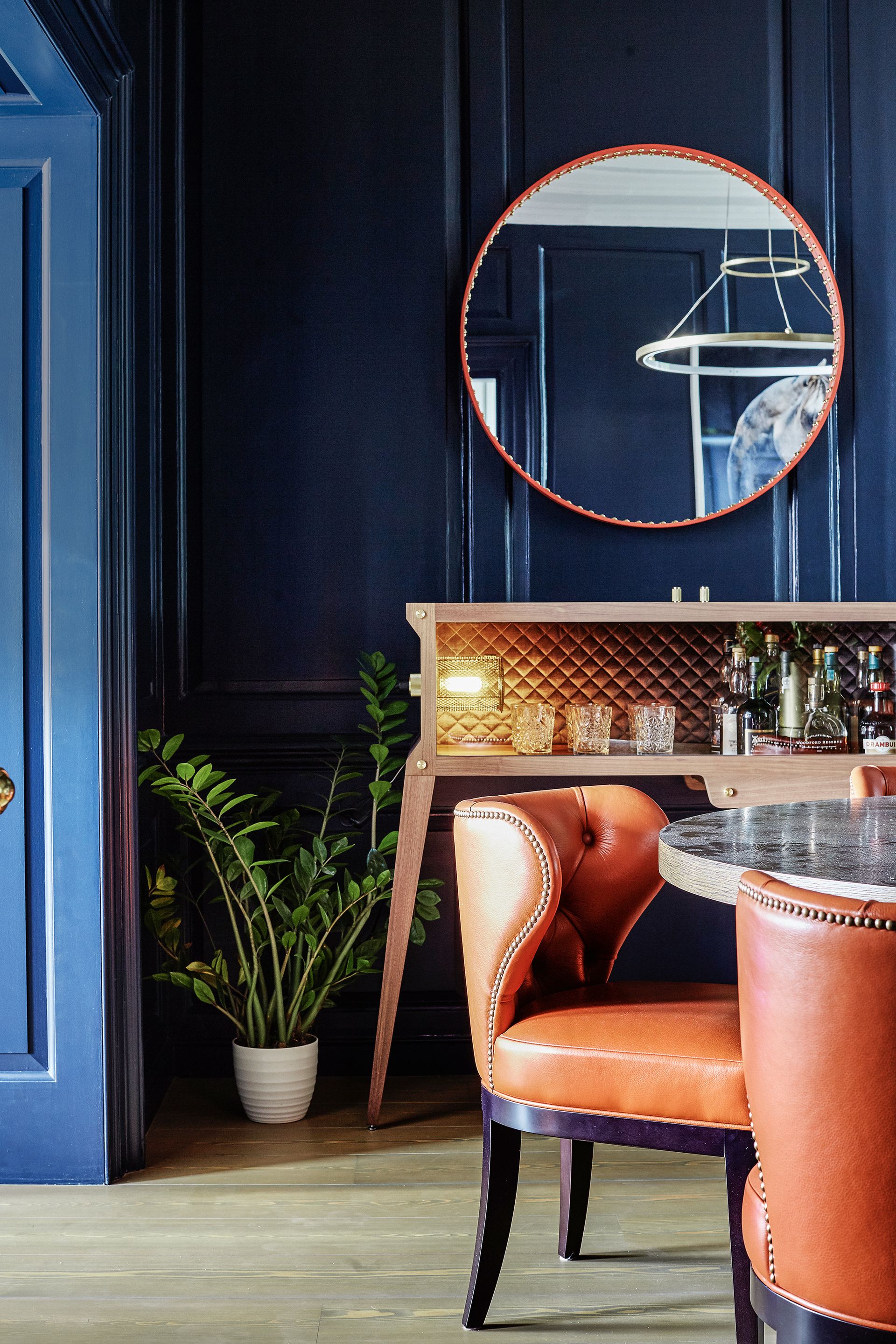 Originally used in period homes as a method of insulation, today wall paneling ideas are loved for the way they elevate a room – giving the scheme a sense of gravitas that instantly screams 'expensive'. 
There are ideas available for paneling any room of your home, from living room paneling ideas through to bathroom paneling ideas. Plus, it's a surprisingly cost-effective way to decorate, often more affordable than wallpaper.
While wall paneling is by far the more traditional option, why not consider ceiling paneling? One of our favorite ceiling ideas, it adds architectural interest to what can be an overlooked part of your interior design and will also emphasize the height of the space, another technique that makes a home look expensive.
3. Install statement lighting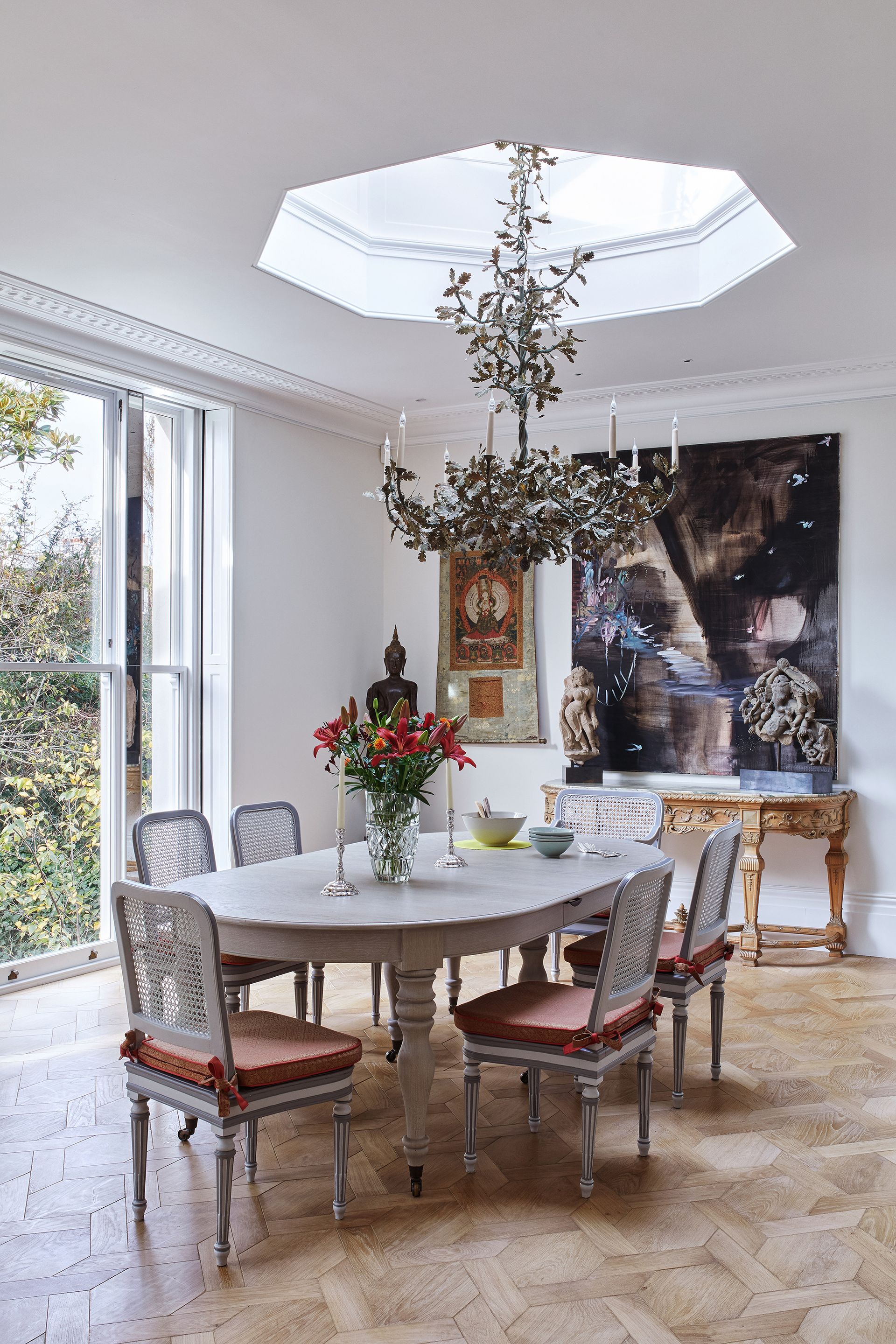 No expensive-looking interior is complete without a chandelier, which, in itself, needn't be costly (you can even buy affordable chandeliers on Amazon (opens in new tab), vital if you are decorating a home on a budget). However, they aren't just reserved for houses straight out of a period drama, both modern and traditional homes can both benefit from the instant elegance of a chandelier – and there are plenty of living room chandelier ideas from which to choose.
One of our favorite ways to make a living room look expensive, a bold pendant light will also draw the eye upwards, emphasizing the height of the room which in turn makes the space feel bigger and brighter. 
'Statement chandeliers are the jewellery of an interior,' says Owen Pacey, founder of Renaissance London (opens in new tab). 'A great way to level up your living room is with a grand, statement chandelier, whether that's an ornate, rococo-style, gilt piece or a contemporary sputnik globe.'
4. Give your staircase an update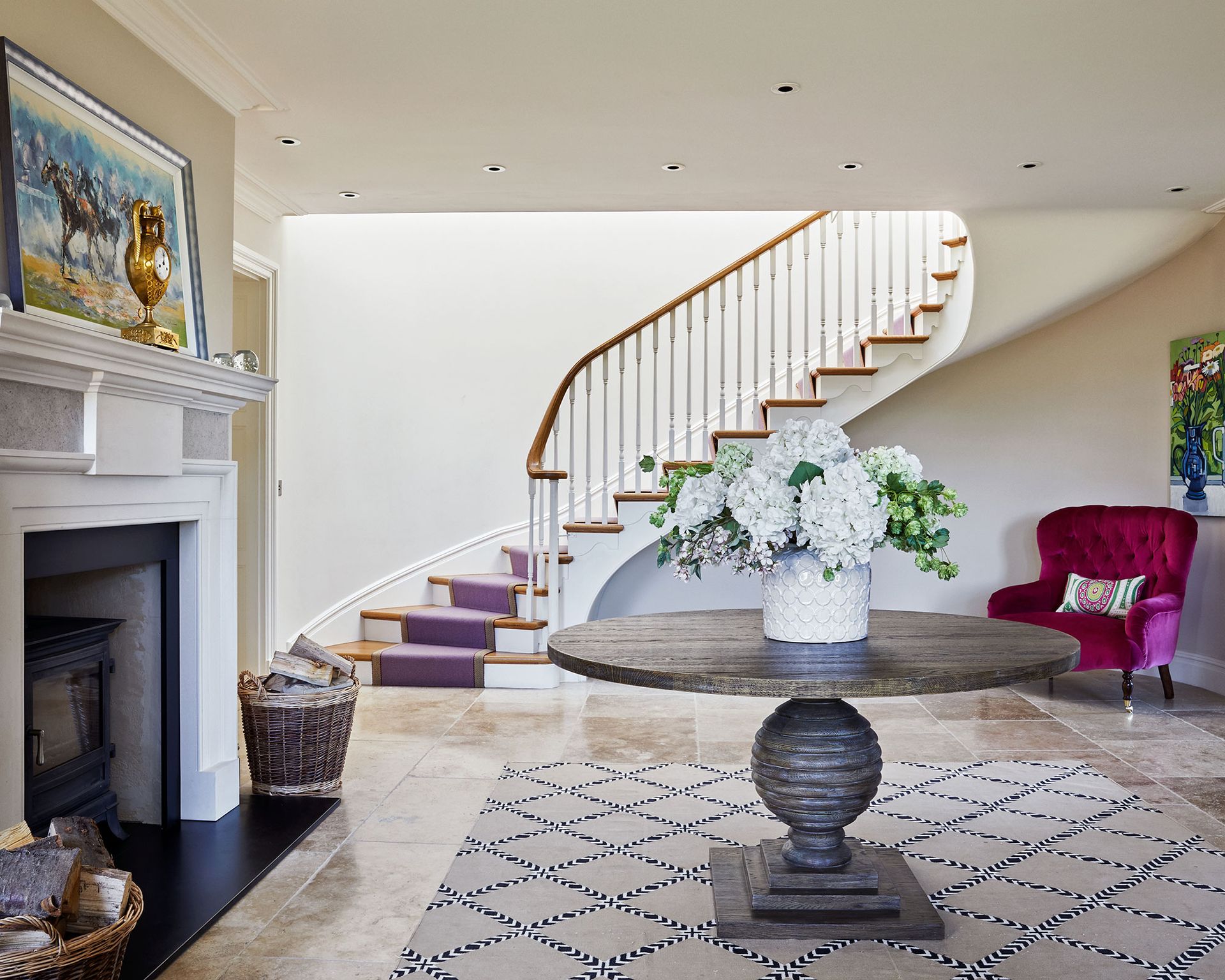 Updating your staircase might seem like an unusual way to make a house look expensive, but new staircase ideas, whether a new or refinished banister or balustrade or smartly painted risers, can transform the way in which people perceive your home. 
'A staircase is an integral part to the structure of any home and is the first thing that yourself and guests see when walking inside, so guaranteeing your entryway is impactful is key. A bespoke staircase is the perfect way to transform a space into something that was once 'tired' into somewhere that is stylish and welcoming,' says Gareth Betts, Neville Johnson (opens in new tab)'s staircase designer. Let yourself be inspired by the latest staircase trends, but always stick to a design that suits the period of your home and your existing interior design.
Even if you don't go for a total change, there are many ways to decorate a staircase that are sure to give your existing flight a new lease of life. Consider ripping up staircase carpets that are worn and replacing them with elegant wood flooring ideas or even wood-look flooring. You can then dress these with pretty stair runner ideas that will help with grip as well as adding aesthetic value. 
5. Display cut flowers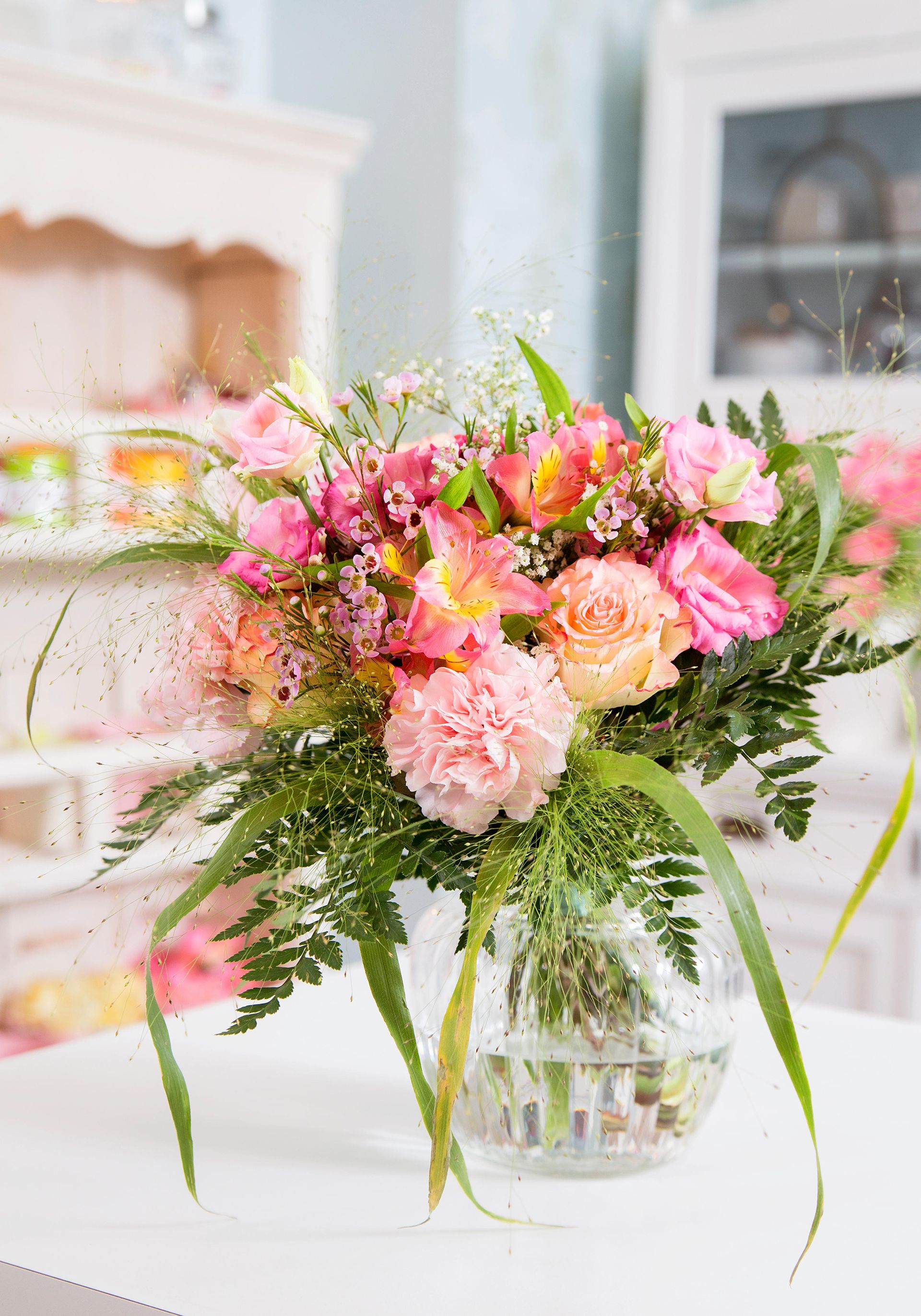 'It may seem obvious, but having fresh flowers on the counter is an instant color burst adding endless decorative value,' advises Kristina Phillips (opens in new tab) of Kristina Phillips Interior Design.
Decorating with flowers is a quick and effective way to make a house look expensive. Not only do fresh flowers bring color and texture to a room but they also bring a sense of life and some even imbue the room with their beautiful fragrance. 
'Eucalyptus is a favorite among florists for creating fragrant and luxury displays perfect for high-end interiors. Paired with a simple glass vase and beautifully interspersed among fresh flowers such as lilies, carnations, roses and thistles, the stunning shapes of the eucalyptus stems will add height and dimension to any room and add a look of opulence for a more expensive interior,' says Dani Turner, customer experience director at Bunches (opens in new tab). 
Why not go a step further by planning a cut flower garden so you can harvest fresh blooms from your own flower beds? 'This is a much more sustainable way of growing flowers for arranging in your home and avoids buying ones that have been flown halfway across the world,' explains Amelia Bouquet who trained in garden design at the English Gardening School (opens in new tab).
6. Invest in art you love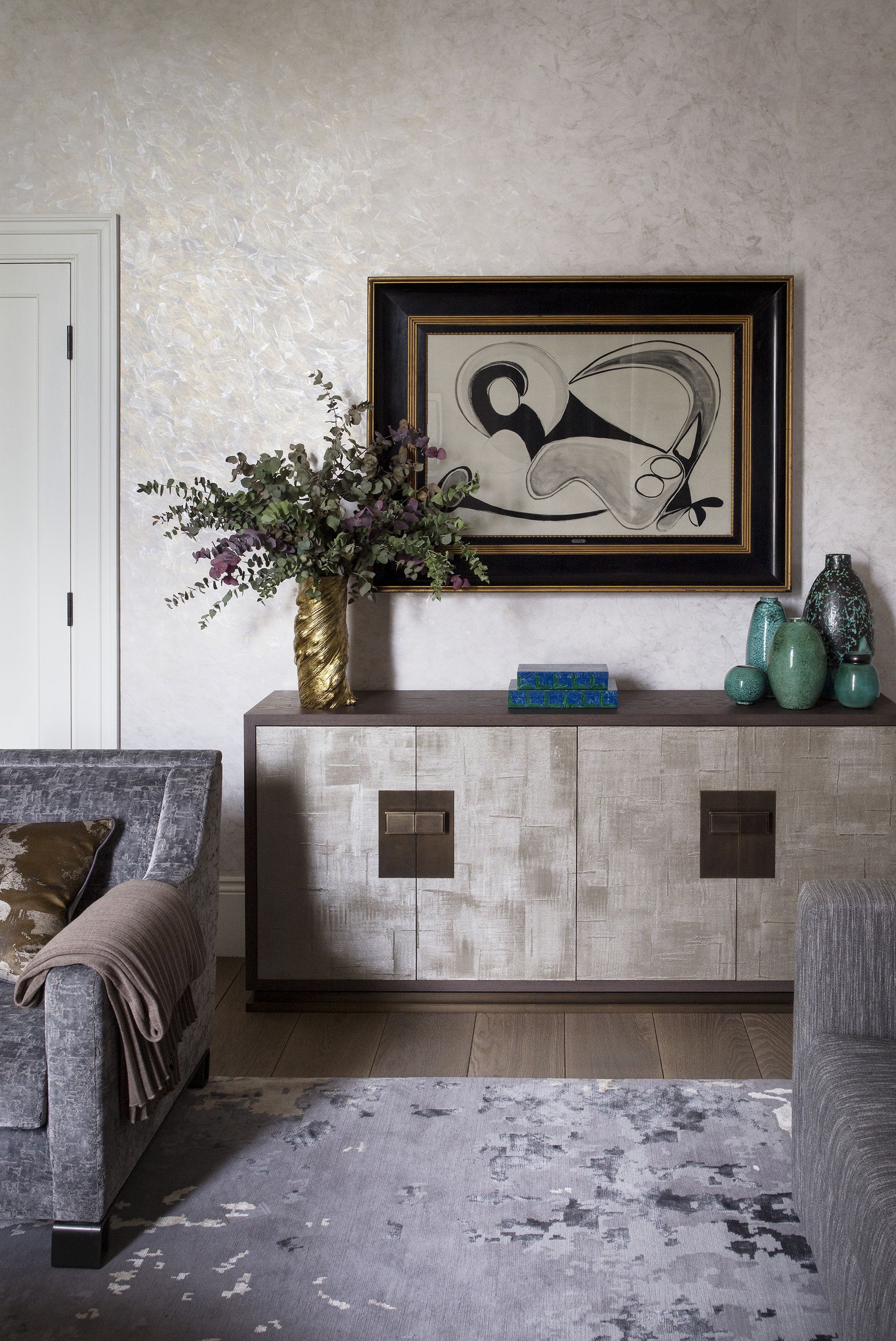 Decorating with art can seem like a daunting prospect, from choosing the right colors and textures to size, shape and position. Thankfully, there is lots of advice to help you choose art for your home and plenty of gallery wall ideas that are sure to inspire.
'Bare walls will make a space feel empty and lacking, but enormous prints of a cityscape are certainly not the way to go. Taking time to invest in pieces you genuinely like, that also fit your space will make a huge difference to the overall look and feel of any room, and help to craft something that feels authentic and meaningful. Don't rush this process or put pressure on yourself to have all your art within six months. Building your collection is all part of the fun,' says Sam Greig, senior designer at Swoon (opens in new tab).
7. Replace carpets with wood flooring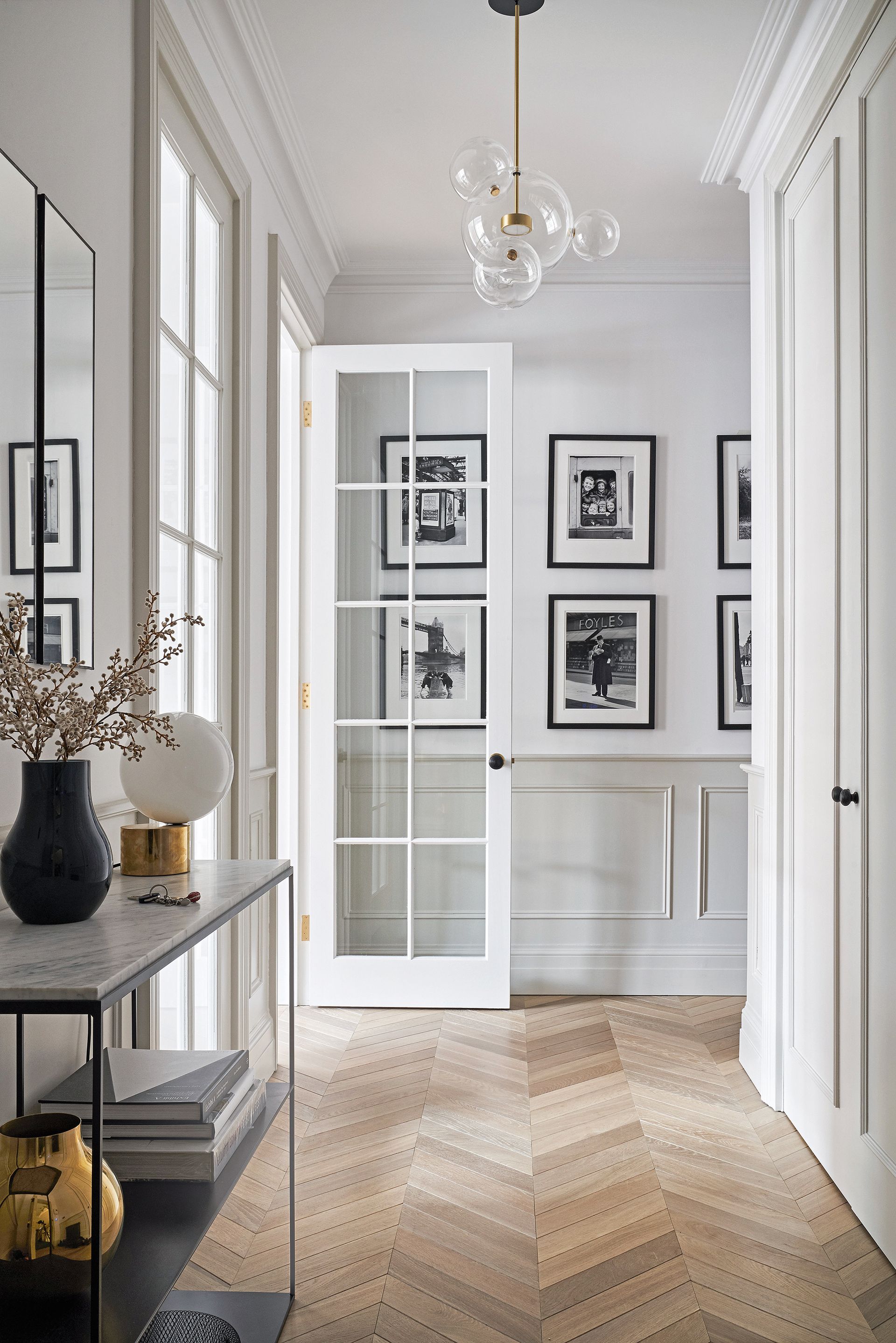 Timelessly beautiful, wooden flooring is a highly desirable feature. Loved for its authentic, natural appearance, durability and warmth underfoot, it will add an expensive look to any room in which it is installed. 
'Flooring is the key element when it comes to setting the tone for any interior. Get this right and all the other details will fall into place,' says Darwyn Ker, Managing Director of Woodpecker Flooring (opens in new tab).
There are lots of options from which to choose. Ageing gracefully, natural wood flooring reveals a characterful differentiation of shades between each board – try these wood floor ideas for a bedroom. 
A reclaimed wood floor is imbued with history and character which is nearly impossible for newer boards to emulate, however it is poorly suited to a kitchen as there are more durable kitchen flooring ideas from which to choose. If you love the look of wood but want something a little more budget friendly, luxury laminate wood-style flooring will achieve a similar finish at a fraction of the price.
'Lighter boards create an element of freshness all year round and while they might not offer the same drama as their darker counterparts, they still add wonderful character to the home. They are ideal for those who prefer to walk on the fresher, brighter side of interiors,' adds Darwyn.
8. Incorporate luxury materials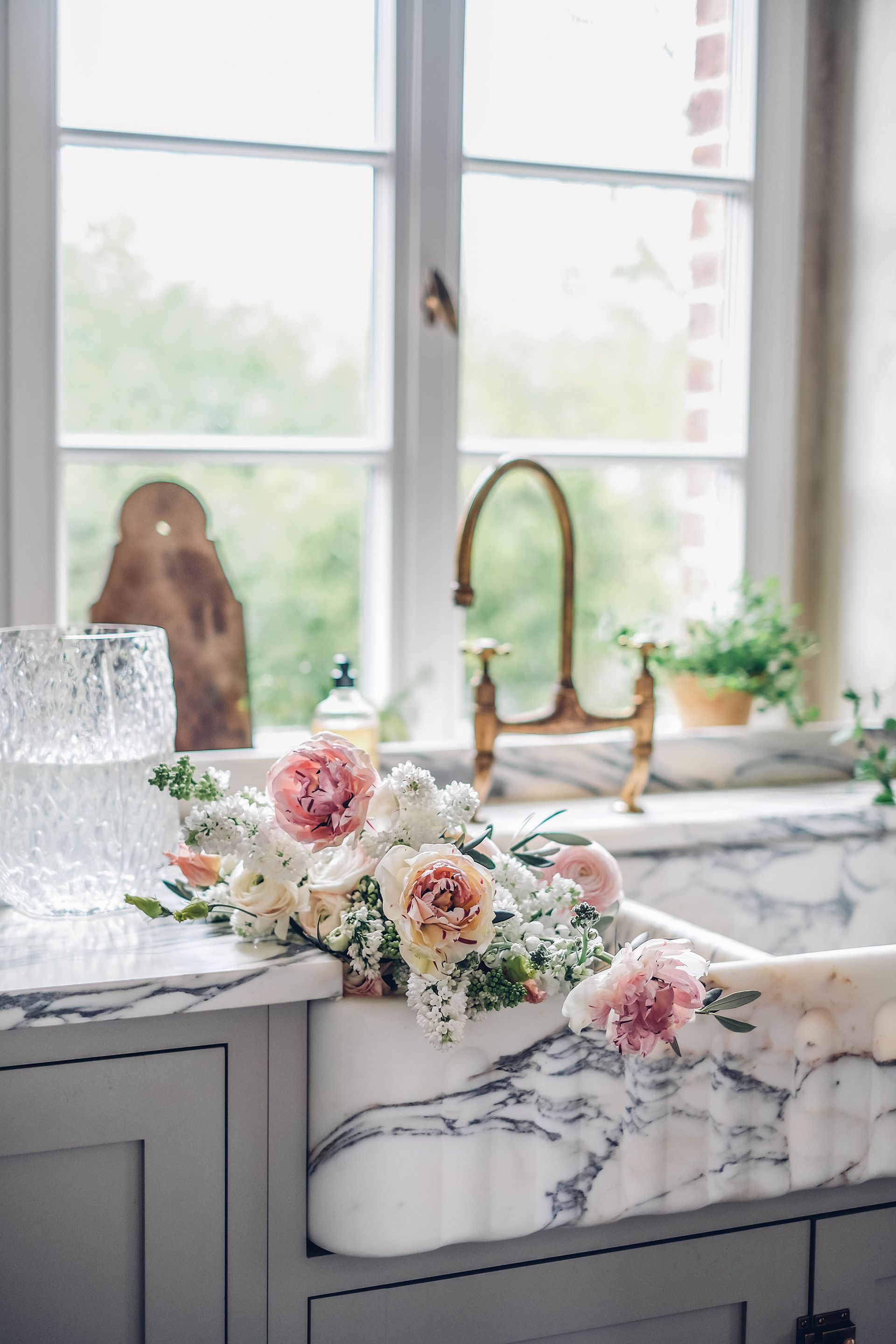 You don't have to go all out when adding luxury materials to your home. Yes, a marble bathroom will look stunning and definitely give off expensive vibes, however, it is not the only way. 
First, consider saving in certain areas that don't matter as much to you – perhaps you go for engineered wood flooring over real wood or you opt for a more affordable paint brand – so that you have the budget to invest in the items that really matter to you – maybe a marble sink for your kitchen or grand fireplace for your living room.
You can also accessorize with pieces made from luxury materials, such as a marble tray on a coffee table or a gold candle snuffer; this will help to make your house more look expensive without breaking the bank. 
9. Keep wires out of view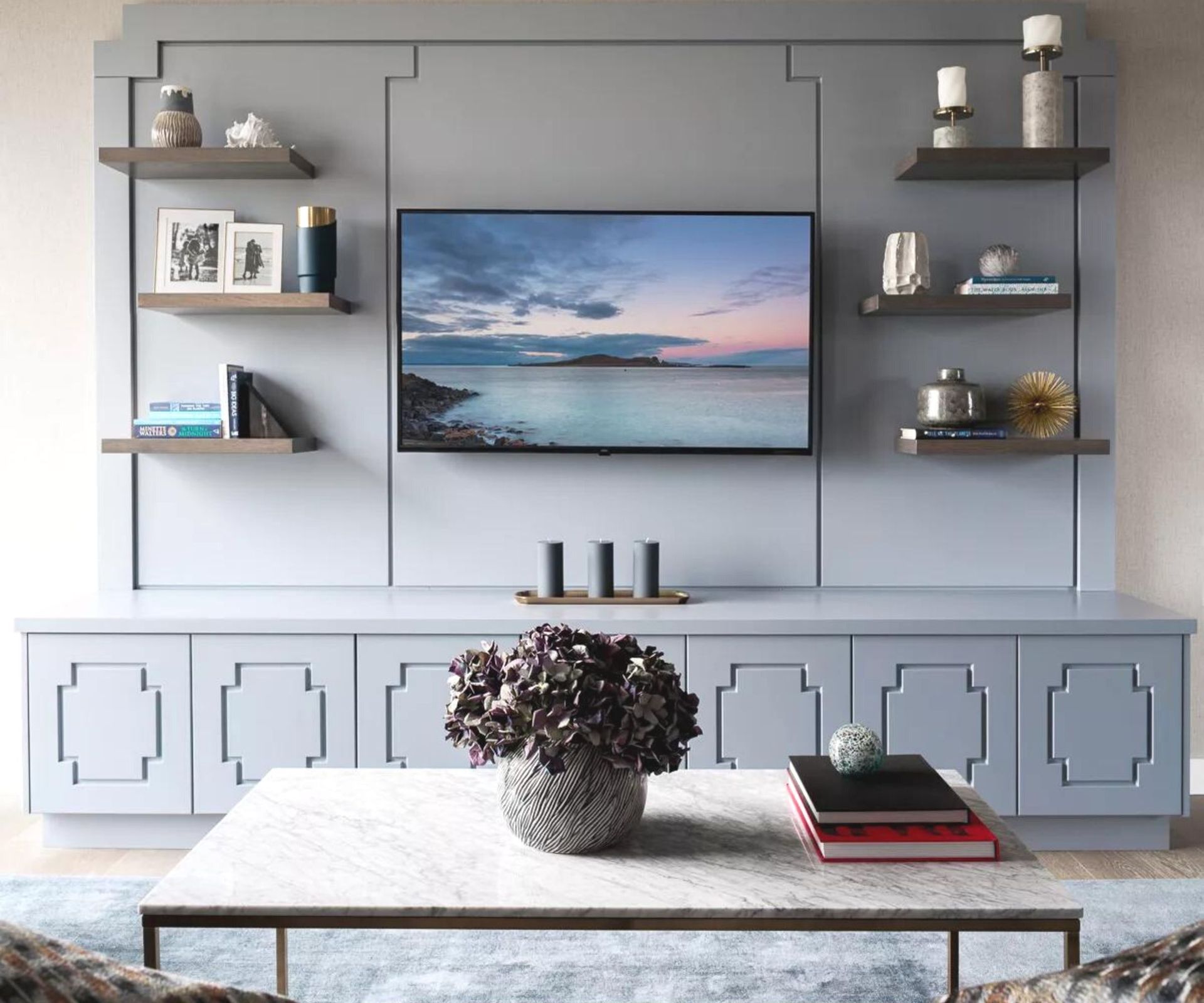 We live in a technological world and it is likely that there will be wires in every room of your home, from the TV in the living room, appliances in the kitchen to chargers in the bedroom. However, even the most elegant room will be brought down by a tangle of stray cables. In order to achieve an expensive looking home, it is essential that this source of visual clutter is reduced as much as possible.
If you have a wall mounted television or are thinking about TV wall ideas, consider running the cables through the wall to achieve a seamless look. Then hide peripheral devices in sideboards or adjoining cabinetry to continue to wire-free aesthetic. 
For device chargers, consider an all-in-one wireless option. The single cable can tuck behind sideboards or bedside tables and the dock will provide an easy, minimalist way to charge all your devices without all the cables.
In the kitchen, the easiest way is to keep appliances out of sight. Store toasters, blenders and other occasional gadgets in a cupboard or pantry until needed. This will not only reduce the wires but will also keep your kitchen countertops clear.
10. Add a vintage rug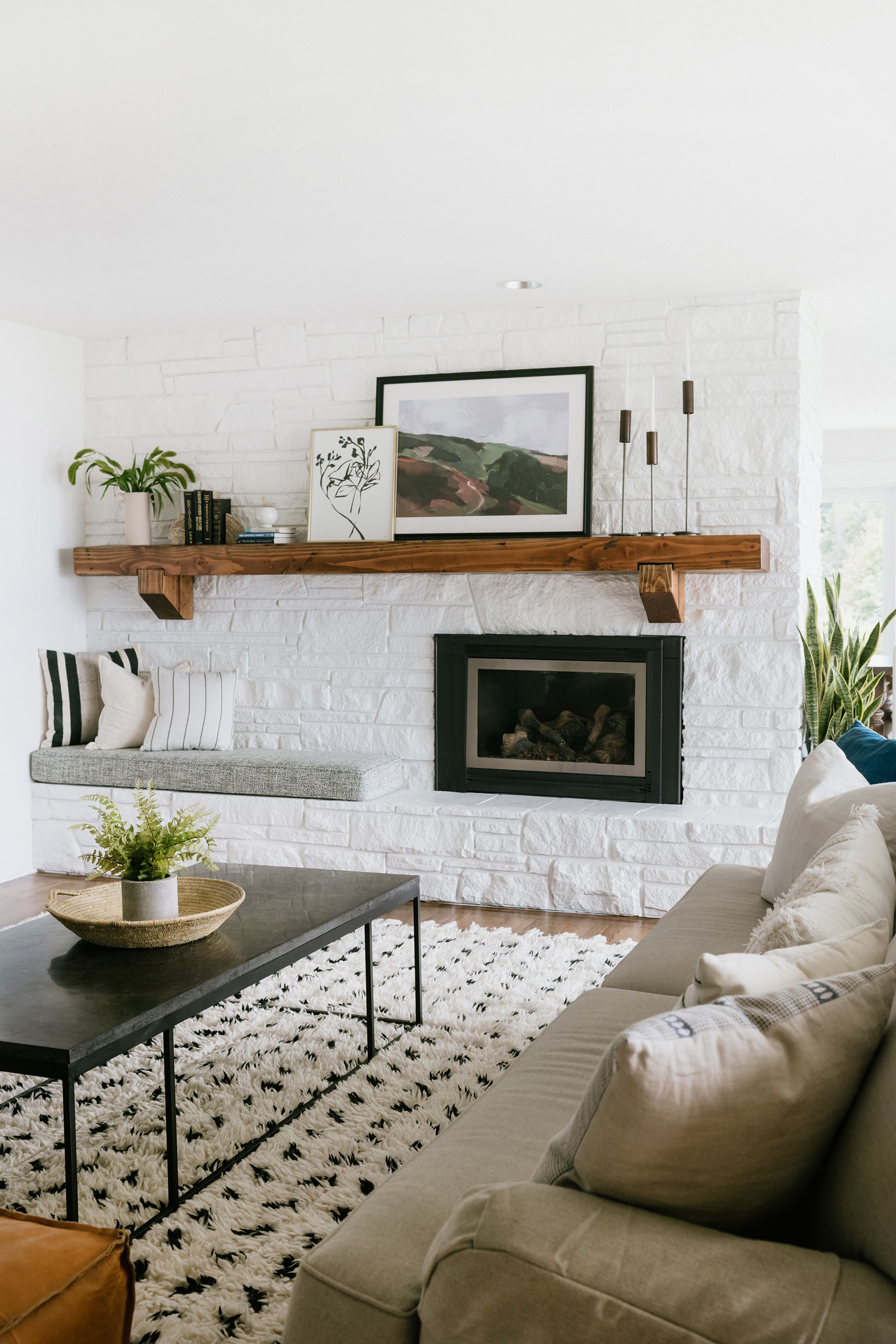 'Luxurious rugs can make a home look and feel more expensive. Choose options that are durable and stain-resistant,' says Jessica Nelson of Jessica Nelson Design (opens in new tab) . Knowing how to choose a rug can make or break an interior scheme, and the right design is a simple way to elevate your space.
'Rug pads also make a big difference in the design. We usually opt for thicker felt options over the thinner webbed versions. There are some great expensive options out there, but we also love vintage rugs we find on Etsy as a more budget-friendly option,' adds Jessica.   
Once you've chosen the perfect design – there are plenty of bedroom rug ideas or living room rug ideas that are sure to inspire – it is also important that you know how to clean an area rug in order to keep it looking its best. 
11. Don't overlook the details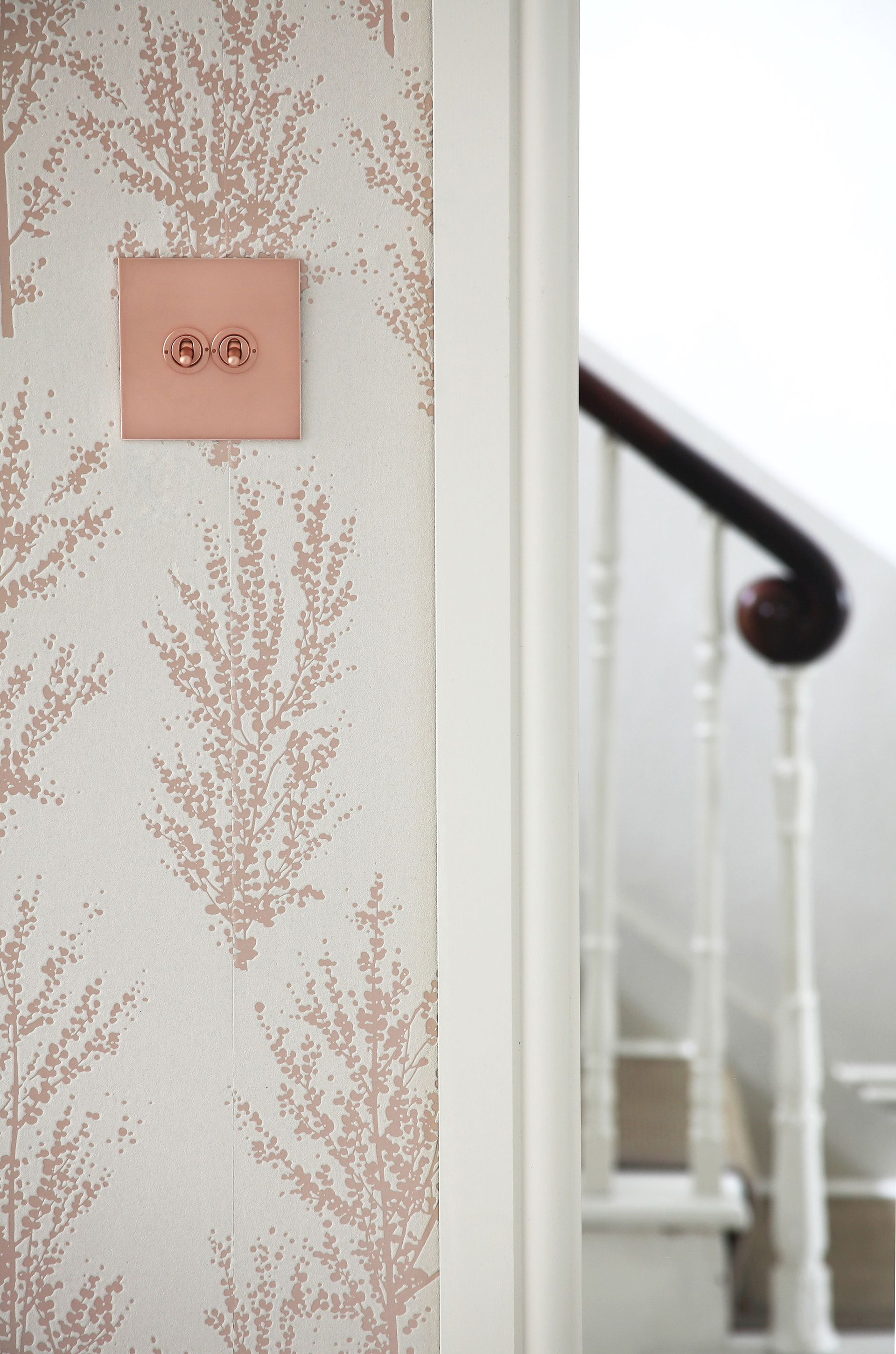 Finishing touches are a great way to make your home look expensive. Think door handles, drawer pulls, light switches and sockets. These elements are often overlooked but the right design can pull an entire scheme together.
'Light switches are the most interactive part of your interior and should be an integral part of the design,' says Howard Solomons, head of design
at Wandsworth Electrical (opens in new tab). 'Anything handled so frequently must reflect quality, not only in its look but also in its touch.'
While outlets and switches are small details, this is not a place to skimp – opt for the best you can afford. Create a harmonious look by ensuring that door handles and the pulls on drawers and cupboards are in the same material and finish as your sockets and switches.
How to make your house look expensive on a budget?
One of the best ways that you can make your house look expensive on a budget is with your decor. Whether it's vases of flowers, artwork or window treatment ideas, all of these elements can help to make your look more expensive.
'While many of us have been spending so much time at home, it seems like every day we're finding something that we want to change in our space. If you're working with a minimal budget, updating your window treatments can play an integral role in a refresh without going overboard. Think of your window treatments as a canvas for the rest of your space,' says designer Mariko Blakemore of Stoneside Blinds & Shades (opens in new tab).
How do you make your house look like it's worth more?
One of the easiest ways to make your house look like it's worth more is by repainting. 'To give a room life and look more expensive, go with the power of paint. A fresh coat of paint in an eye-catching color – either bold or moody – can make all the difference,' says Mary Patton of Mary Patton Design (opens in new tab).