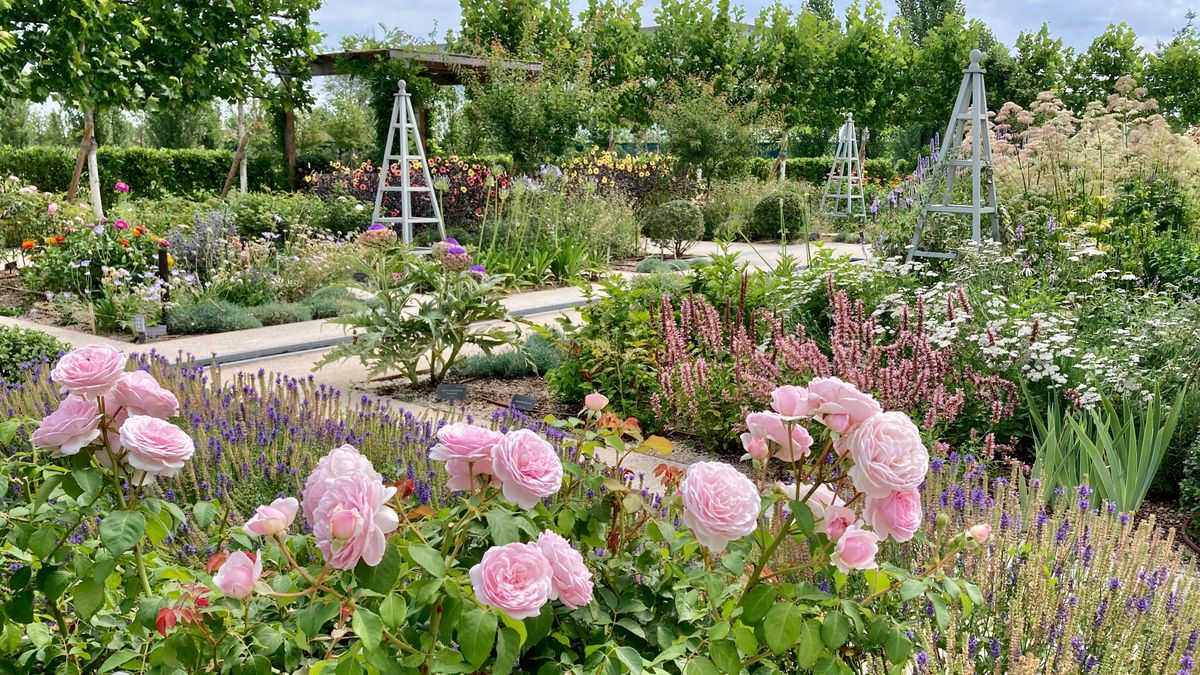 The Society of Garden Designers Awards 2022: the winners
The results are in for the Society of Garden Designers Awards 2022, among the most coveted annual awards in the gardening world, which celebrate the best of garden design innovation.
The great and good of the gardening world attending a glittering awards ceremony in London last night, where the winners were revealed across categories including everything from International and UK residential projects, design for the environment, to planting design – with one of them taking home the grand prize of the overall winner.
In addition there was the judges' award, chosen from all winners, and the People's Choice award sponsored by Homes & Gardens, which was the only one put to a public vote.
Earlier this year, the judges visited the shortlisted entries before coming together to decide on the winners – who include new names in garden design to some of the most established designers.
Brimming with garden ideas to inspire your own garden plans, read on for details of the winning designs…
Tommaso Del Buono – Winner, International Commercial or Community Landscapes & Gardens and Grand Award Winner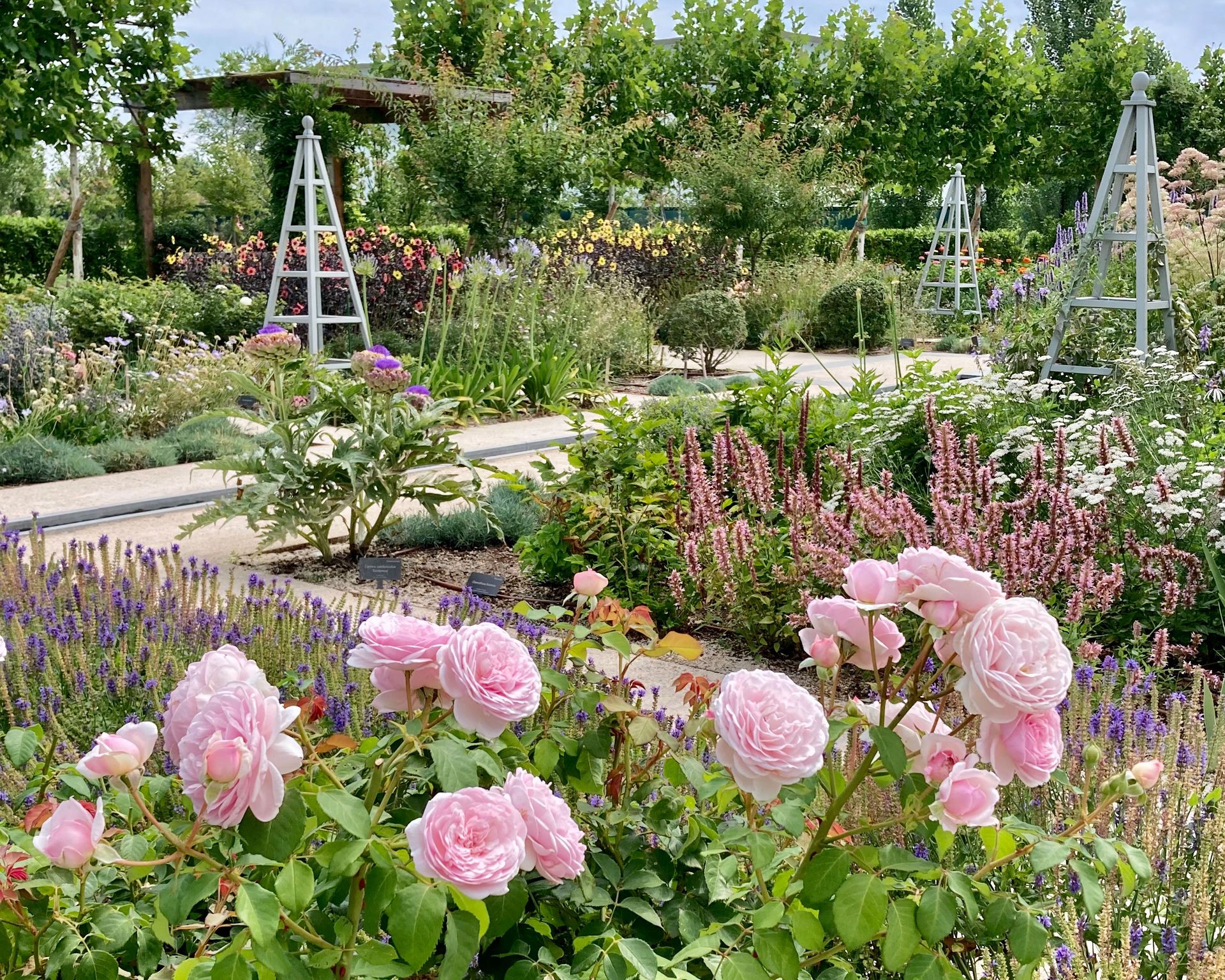 Bringing home the Grand Award from this year's winners was Tommaso Del Buono's (opens in new tab) design for the new corporate headquarters of a cosmetics company, Davines Village, in Italy, which also won the International Commercial or Community Landscapes & Gardens category.
The judges felt this was 'an ambitious and stylish project demonstrating exceptional design and implementation that cleverly combines commercial landscaping with garden design to create a generosity of space while maintaining a sense of intimacy.'  
Tommaso was delighted to work in his native Italy for the project, in which he 'was asked to create, from scratch, a sequence of new gardens and spaces not only aimed to add beauty and harmony to the daily work life of many but also convey the company's unwavering commitment to environmental improvement and preservation.'
For Tommaso, the most interesting aspect is 'the large Apothecary garden, the heart of the whole scheme, which stands simultaneously as an amenity, a research tool and a living representation of the company's manifesto. Making it was a hugely informative and interesting challenge that involved much research and learning about the beneficial and medicinal properties of a huge range of plants was endlessly fascinating.'
The result, in the judge's opinion, is 'beautifully planted with exquisite detailing demonstrating the clever use of simple geometric design.'
For Tommaso, the win is both recognition, and reward, for having risen to the challenge of a departure from the type of work he was more accustomed to and familiar with.
Ann Marie Powell – Winner, UK Commercial or Community Landscapes & Gardens and People's Choice Award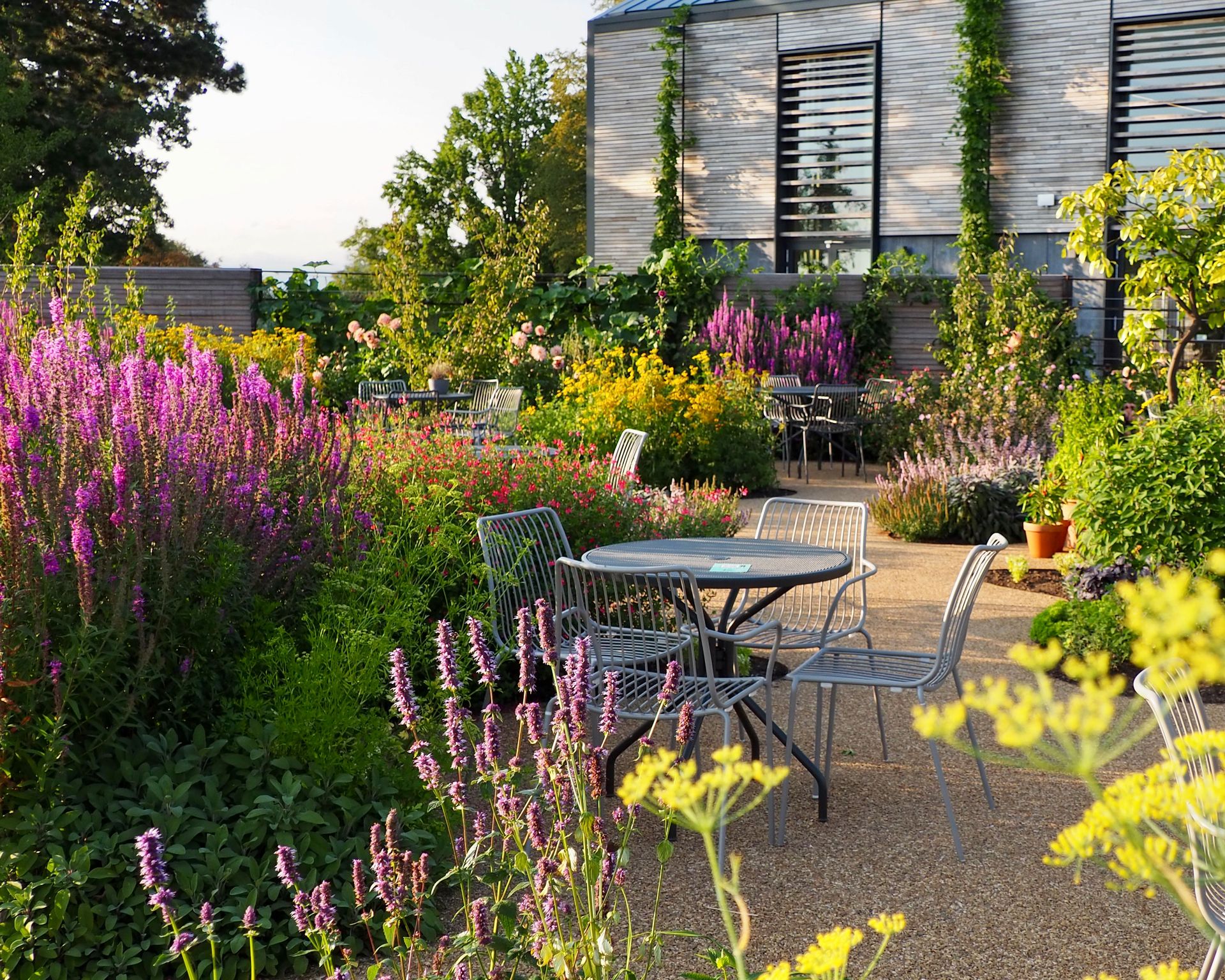 Taking home two awards was the design of the new World Food Garden for RHS Wisley by Ann-Marie Powell (opens in new tab), which combines and consolidates its fruit, vegetable gardens and herb gardens. As well as winning the UK Commercial and Community Landscapes & Gardens category, it got the public's vote for the People's Choice Award, sponsored by Homes & Gardens.
'The world food garden at RHS Wisley (opens in new tab) was a very different project for us as garden designers. It challenged us in myriad ways, working with a range of exceptionally qualified horticulturalists from the RHS, creating a garden that was inclusive, inspiring and educational for garden visitors, experimenting with all aspects of growing including dig and no-dig, trained fruit, crop protection, seasonal interest and last and not least, including plants that were edible in some way,' Ann-Marie explains.
'Previously the RHS didn't have a garden that incorporated vegetables, fruit, herbs and edible flowers all in one space, and this garden provides a holistic overview of the benefits – wellbeing, health, environment, variety – of productive food growing in all its forms.
'I believe the garden encourages everyone to celebrate just how beautiful, beneficial and satisfying productive growing can be, no matter your age, income, or ethnicity, whether you garden on a balcony, in a city garden or large country estate, there will be inspiration and physical representations of how you can develop a plot to plate experience without air miles, chemicals  or high cost. To see so many people enjoying the space makes me feel humbled and proud,' she adds.
Ahead of the award, Ann-Marie said to win 'would mean so much to us, not just professionally but personally, too –  that all our energies, the research, the long hours, and the blood, sweat, worries and tears were worth it.'
For the judges, the design represented a 'wonderfully immersive public space displaying a lovely mix of edible, annual and perennial planting designed to inspire and educate visitors.' A view that was echoed by the public.
Gavin McWilliam & Andrew Wilson – Winners, International Residential Landscapes & Gardens and Hardscape Design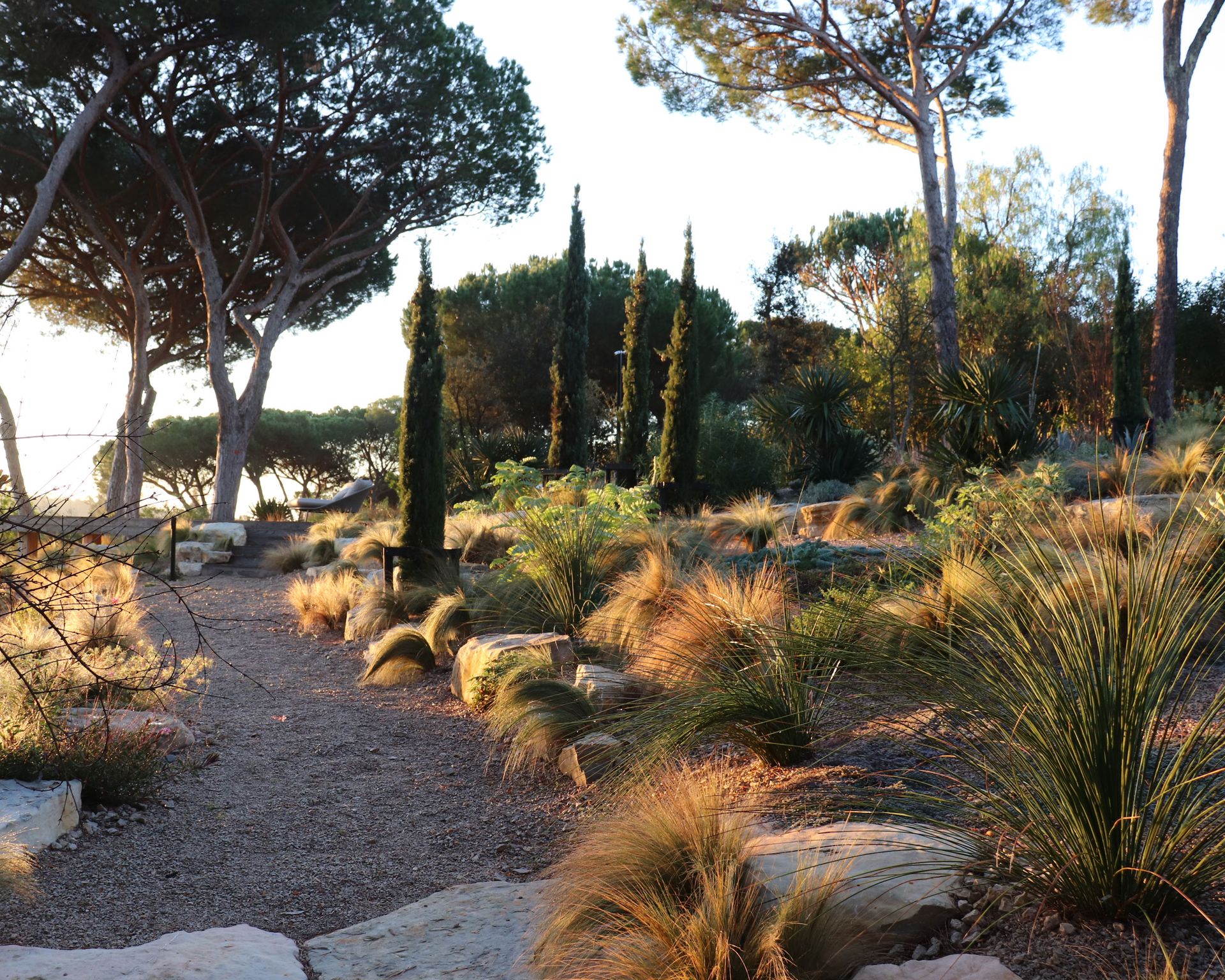 Design duo Gavin McWilliam (opens in new tab) and Andrew Wilson brought home the winning prizes for two of their garden designs entered into the awards.
The award for International Residential Landscapes & Gardens went to a garden located in the Portuguese Algarve. 
The dry gravel, naturalistic planting design 'turns its back on the high input, water thirsty gardens typical of the surrounding area, and will dramatically increase biodiversity,' explains Gavin McWilliam.
The judges felt the imaginative design 'offers a new aesthetic of naturalistic and native planting inspired by the surrounding landscape. Demonstrating a wonderful contrast between the simplicity of the design and the architecture of the house,  the designers have created a place of sanctuary and retreat that looks and feels completely at home in its surroundings.'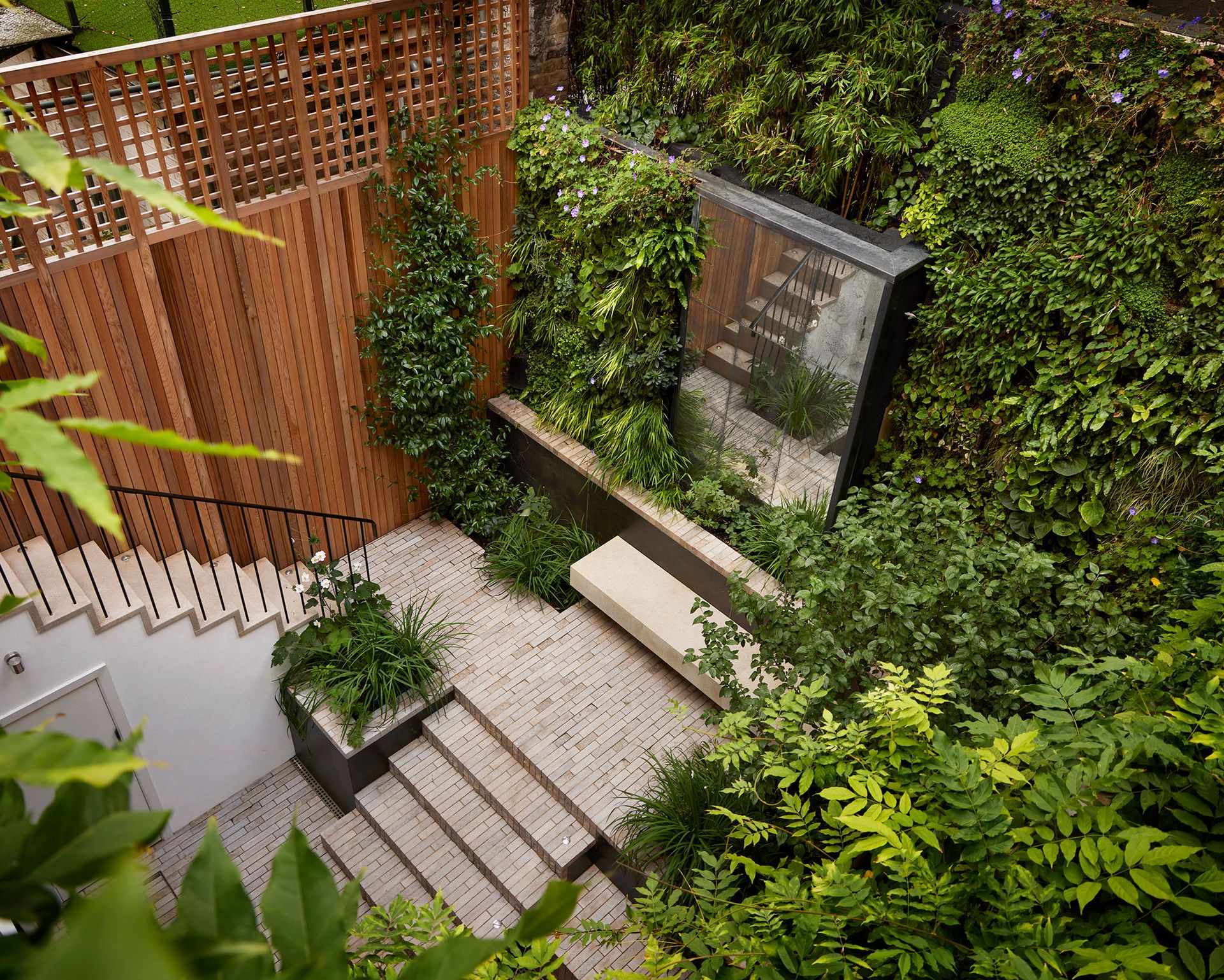 In their second award for the evening, Gavin and Andrew also won the Hardscape Design category for their design of a Kensington courtyard.
The small enclosed space provides an oasis for a family to enjoy and an extension to their kitchen area.
In the view of the judges, it was a 'thoughtful and beautifully detailed composition demonstrating exceptional quality of design and execution.  The small scale minimalist design required exquisite detailing, which has been achieved throughout, creating a garden that works as a visual tableau from the house and is a pleasure to use.'
Matthew Wilson – Winner, Large Residential Landscapes & Gardens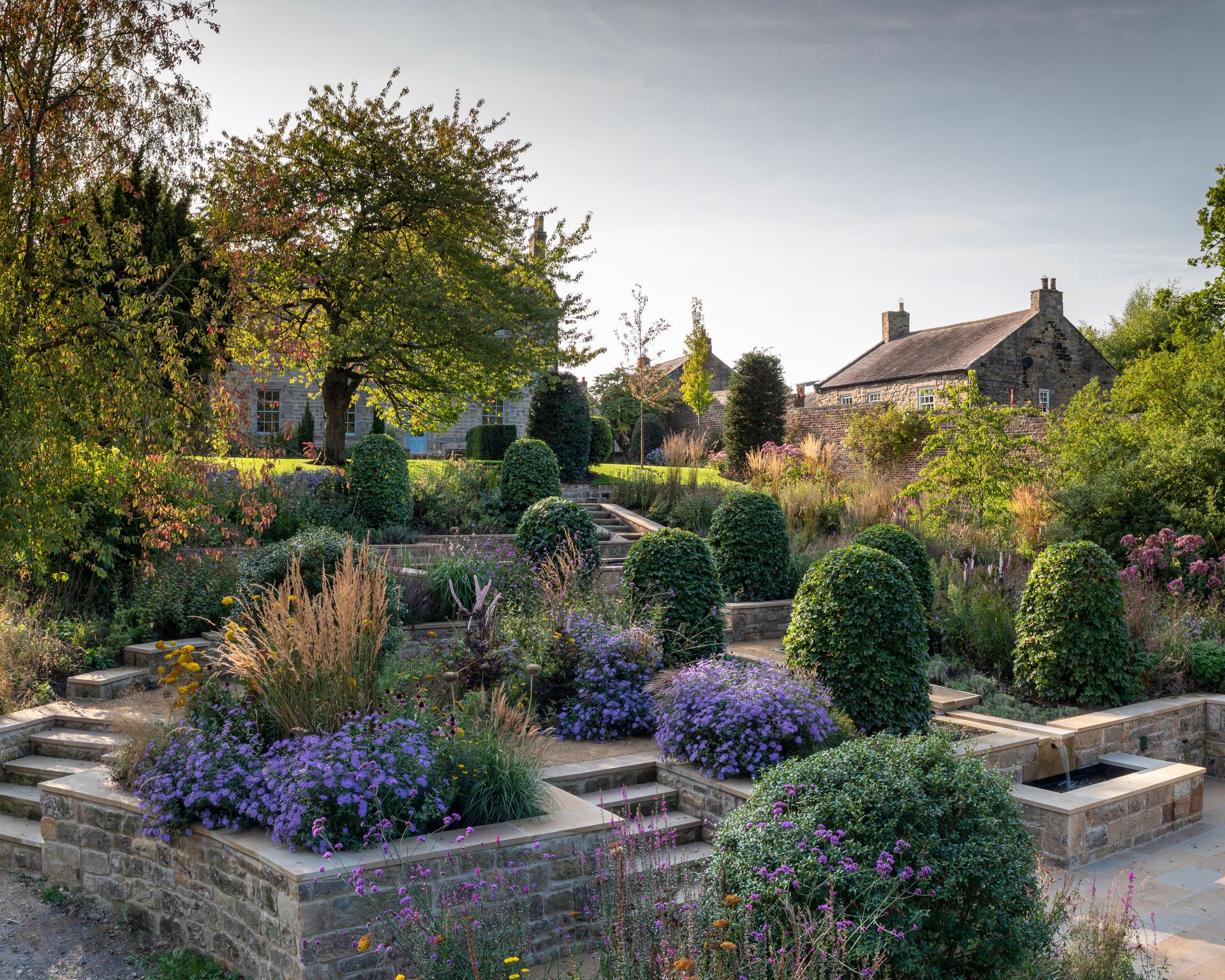 This design for an old walled garden that blends beautifully into the surrounding hills by Mathew Wilson (opens in new tab) was the winner of the Large Residential Landscapes & Gardens category.
'I believe the design makes the most of a challenging and quirky site, but I particularly wanted to enter it into the awards because of the way environmental considerations were integral to every aspect of the project, from drawing board to completion,' Matthew explains.
For Matthew, the most interesting aspect was reusing and upcycling materials as sustainable garden ideas, 'such as walling stone, barrel top coping, paving and so on – finding ways to incorporate these elements in the design that felt purposeful and not "tacked on" made for a fascinating challenge,' he says.
The judges felt that 'existing materials, original features and established plants have been thoughtfully integrated alongside a planting palette that demonstrates gently blended colour combinations and textures.' 
Matthew Childs – Winner, Medium Residential Landscapes & Gardens and Judges' Award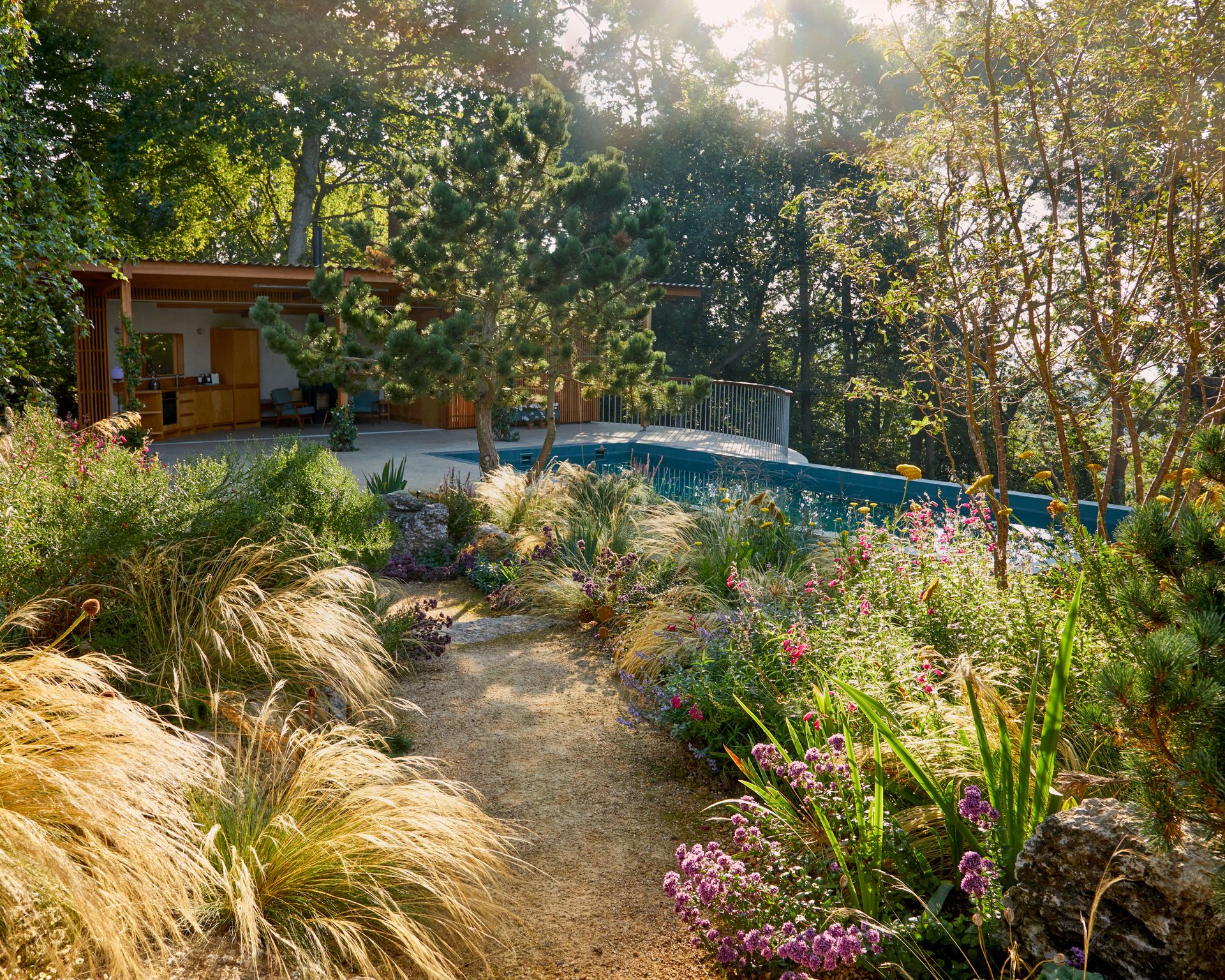 Scooping both the award for Medium Residential Landscapes & Gardens along with the Judges' Award is the stunning heathside pool garden design by Matthew Childs (opens in new tab).
Described by the judges as 'an extraordinary garden, full of surprises and beautiful moments that required risk and imagination by both the designer and the client,' the design brims with sloping garden ideas. 
'I have been designing gardens for 12 years professionally and I feel this project is a good representation of where my design journey is currently at,' says Matthew.
'Our design solution to the client's brief and a difficult sloping site was successful on many levels. I am really pleased with the balance between strong contemporary hard landscaping elements and lots of more naturalistic landscaping and planting, which creates a dynamic but harmonious feeling garden that sits well in the wider landscape. Although the garden is designed with the needs of people at its heart our planting design and the inclusion of a large pond and waterfalls have also made the garden a habitat for wildlife,' he adds.
With places to swim, entertain, eat outdoors, relax with a morning coffee, sit in among plants and feel connected with nature and the wider landscape,  'the garden is a true pleasure garden and our clients, who did not previously feel a connection with their outside space, now spend lots of time in their new garden,' Matthew explains.
The design recognises the huge role gardens can play in helping to alleviate and mitigate pressures on the environment, through minimising waste, utilising existing materials on site, using chemical free water for swimming, creating watery wildlife habitats as wildlife garden ideas and planting in a way that was appropriate to aspect and site conditions for a resilient scheme.
The judges were impressed how 'existing isolated elements have been retained and given new life with new architectural structures added to create a beautiful juxtapositions of geometry and natural organic forms. The planting takes us into another world and is a seasonal tour de force.'
Tom Massey – Winner, Small Residential Landscapes & Gardens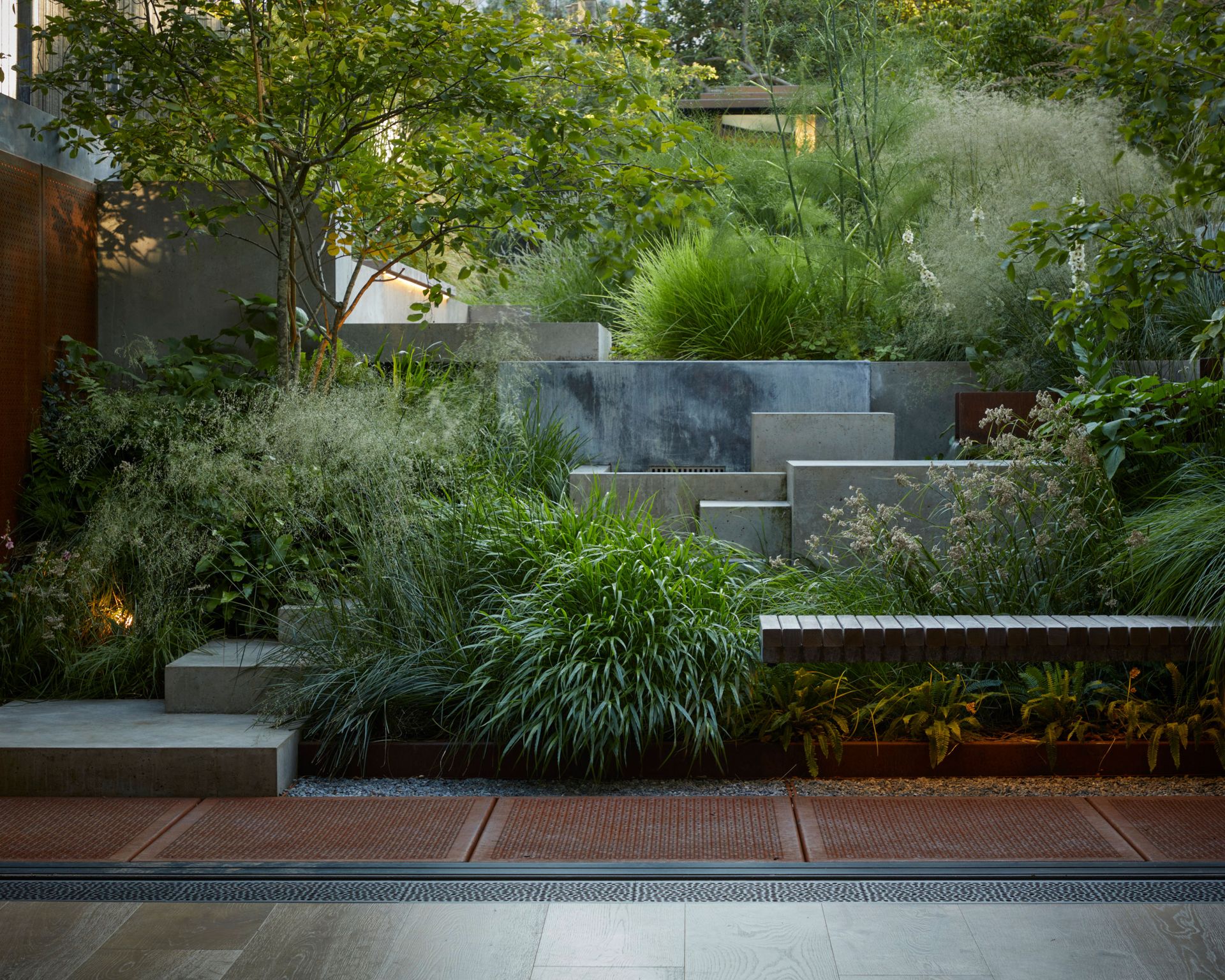 Winner of the Small Residential Landscapes and Gardens category, Tom Massey's (opens in new tab) design for this sloping garden incorporates bespoke concrete cuboid steps that make a path through a bank of lush green planting, and cascading concrete and Corten steel water features.
'This was an incredibly technical build with multiple specialist sub contractors working under Landscape Associates – the landscape contractor. There was a point where the scheme felt very hard, and I was slightly concerned it would feel too industrial, but as soon as the plants went it it all made sense and the softness provided a perfect counterpoint to the hard landscape,' explains Tom.
The result is an 'immersive sanctuary with functional and practical designed elements alongside a sense of adventure and fun.'
In advance of the awards, Tom said to win would 'be a great testament to the hard work that went into realising the scheme, a multi-year project that I was awarded early in my career, so will always have a special resonance for me. I feel like I learnt a lot, and the completion felt like a turning point in my early career.'
In the view of the judges, this is 'an outstanding piece of design that challenges the more typical approach to a suburban sloped garden with something that is bold, playful and very attractive.'   
Stefano Marinaz – Winner, Garden Jewel and Planting Design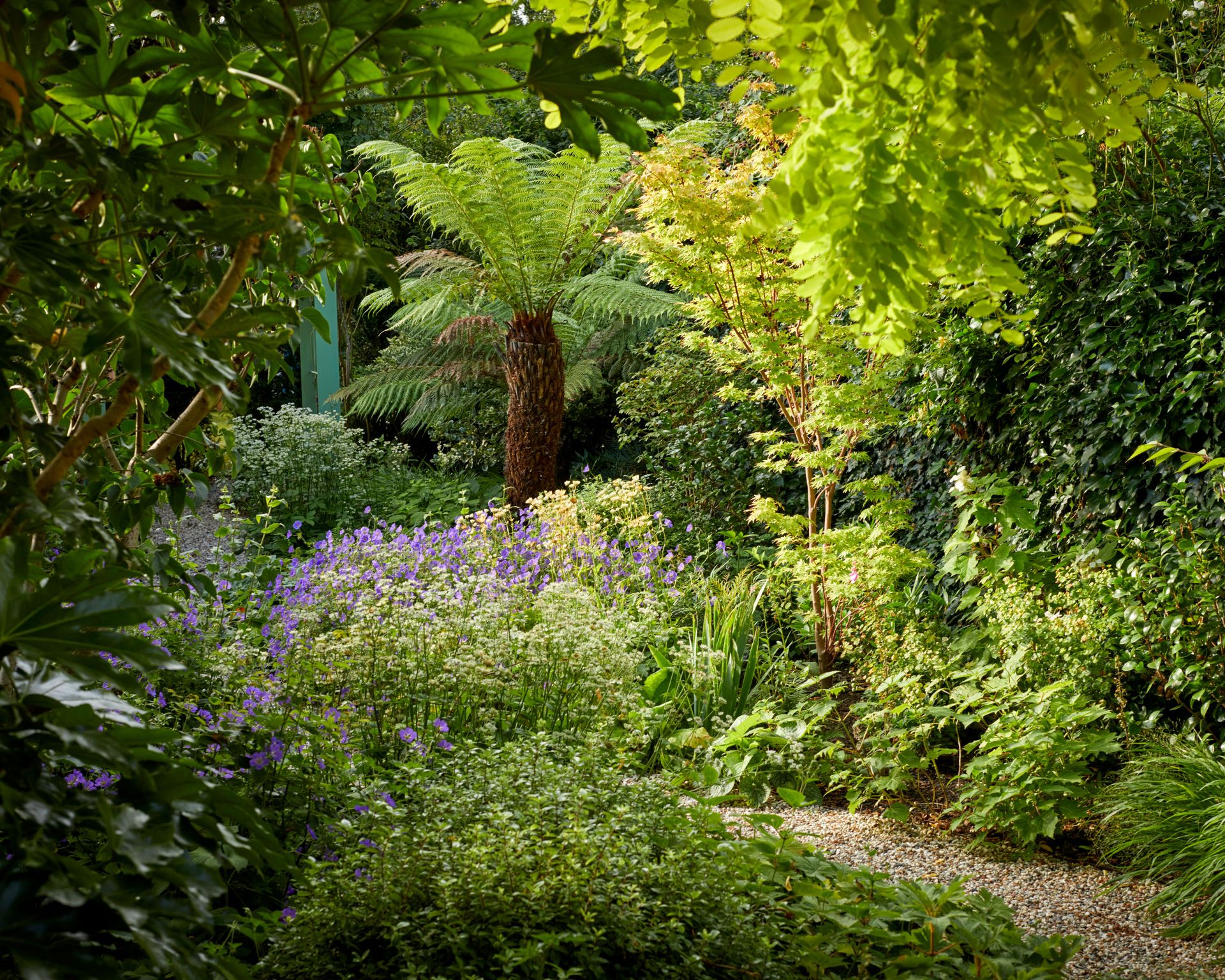 The recreation of a 'jungle' feel for a modest city garden by Stefano Marinaz (opens in new tab) scooped the prize in two categories: winning Garden Jewel as well as Planting Design.
'It is special for the simplicity of the design that is able to evoke a sense of discovery. This garden can tell a story as you walk through it and it reveals its components to the visitors,' says Stefano.
'It creates a powerful link between the house and the outdoor areas, and can inspire other homeowners to achieve something similar by creating something that almost could have been designed by Nature itself,' he adds.
Described by the judges as 'an exquisite garden filled with beautiful planting that creates a space you want to spend time in. A beautiful composition with simple, effective detailing and a choice of materials that provide unity and harmony – a  great example of what a domestic residential garden should be like.'
With regards to the planting, 'the garden was extremely overgrown and almost inaccessible in certain spots before our intervention. The design retains the feel of adventure and discovery while exploring it, but provides to the homeowner with a useable space,' says Stefano.
Planting plays a dominant role in comparison to hard landscaping. 'It shows that gardens should be more naturalistic than formal, particularly if we want to encourage sustainable design where maintenance is less of a burden and highlight the ecological and biodiversity aspects.'
The judges felt the 'lush and generous planting conjures a sense of immersion and enclosure and demonstrates a wonderful restraint and careful composition where clever layering, interesting textures and minimal colours are combined to great effect.'
Mandy Buckland – Winner, Big Ideas, Small Budget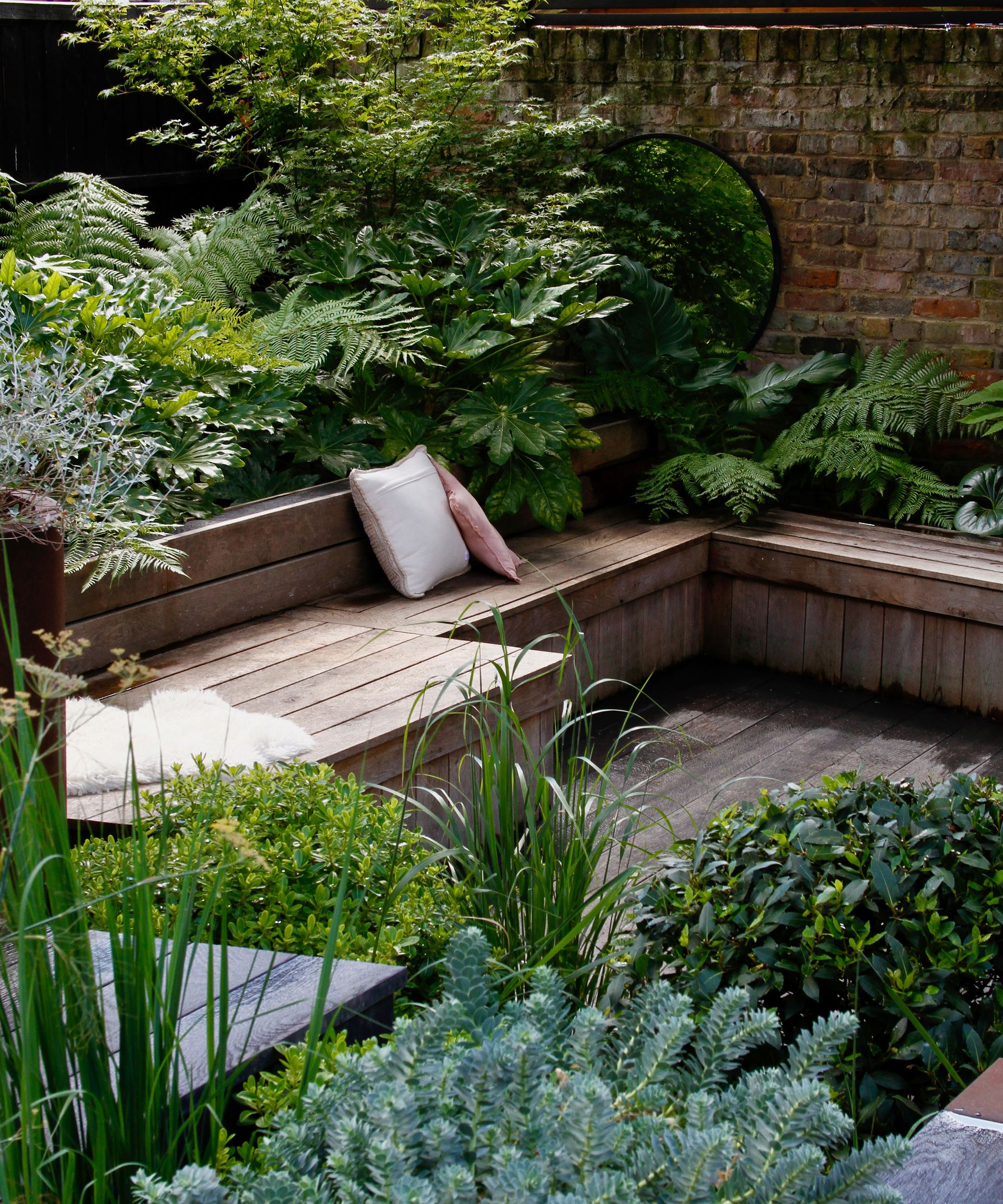 The triple texture courtyard designed by Mandy Buckland (opens in new tab) she describes as 'fun, quirky and creative'. Winner of Big Ideas, Small Budget category, it created a sanctuary to be enjoyed by the whole family, with a simple use of materials and well considered balance of hard landscaping and textural planting.
The judges describe it as 'an intelligent piece of design displaying imagination and clever use of levels to create a chic, sharp outdoor room, which works really well from both inside and outside the house.'
Harry Holding – Winner, Fresh Designer Landscapes & Gardens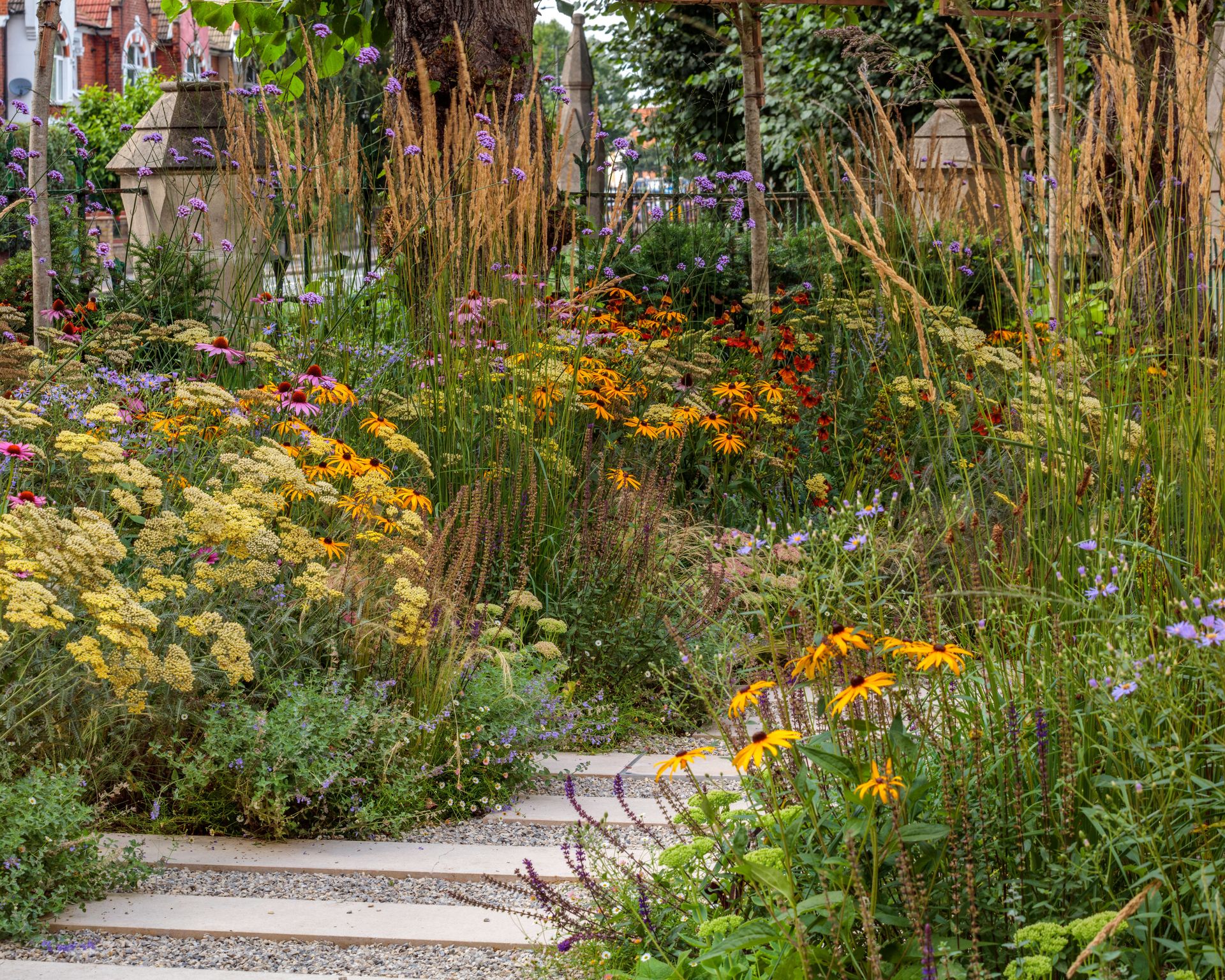 Championing the work of new names in garden design, the category of Fresh Designer Landscapes & Gardens was scooped up by Harry Holding (opens in new tab) for his design of a unique city garden located within a cemetery.
'This project was the flagship garden that allowed me to push my boundaries, exploring naturalistic design principles and delivering high-spec hardscape design features. With the property being located within a cemetery and having wonderful architectural features, there was a huge amount of context to work with and enrich the landscape design. For me, the balance of clean, contemporary lines with immersive planting makes this garden feel a rather magical place to be,' says Harry.
Along with creating spaces of calm and nature immersion where the home-working owner could take work calls and unwind after a busy day, the build had to be delivered to tight deadlines to fit with filming of Channel 4's Grand Designs.
'I feel this garden demonstrates how a space can be mostly planted and yet have a clean, contemporary feel. In this changing world, I hope projects like this will inspire designers to go bold with planting and put nature first,' adds Harry.
The judges commended this accomplished garden of a designer at the beginning of their professional career. 'They have turned a difficult space into a unique and richly diverse garden, demonstrating an excellent sensitivity to the surrounding landscape and successfully enhancing the architecture of the building.' 
Kristina Clode – Winner, Design for the Environment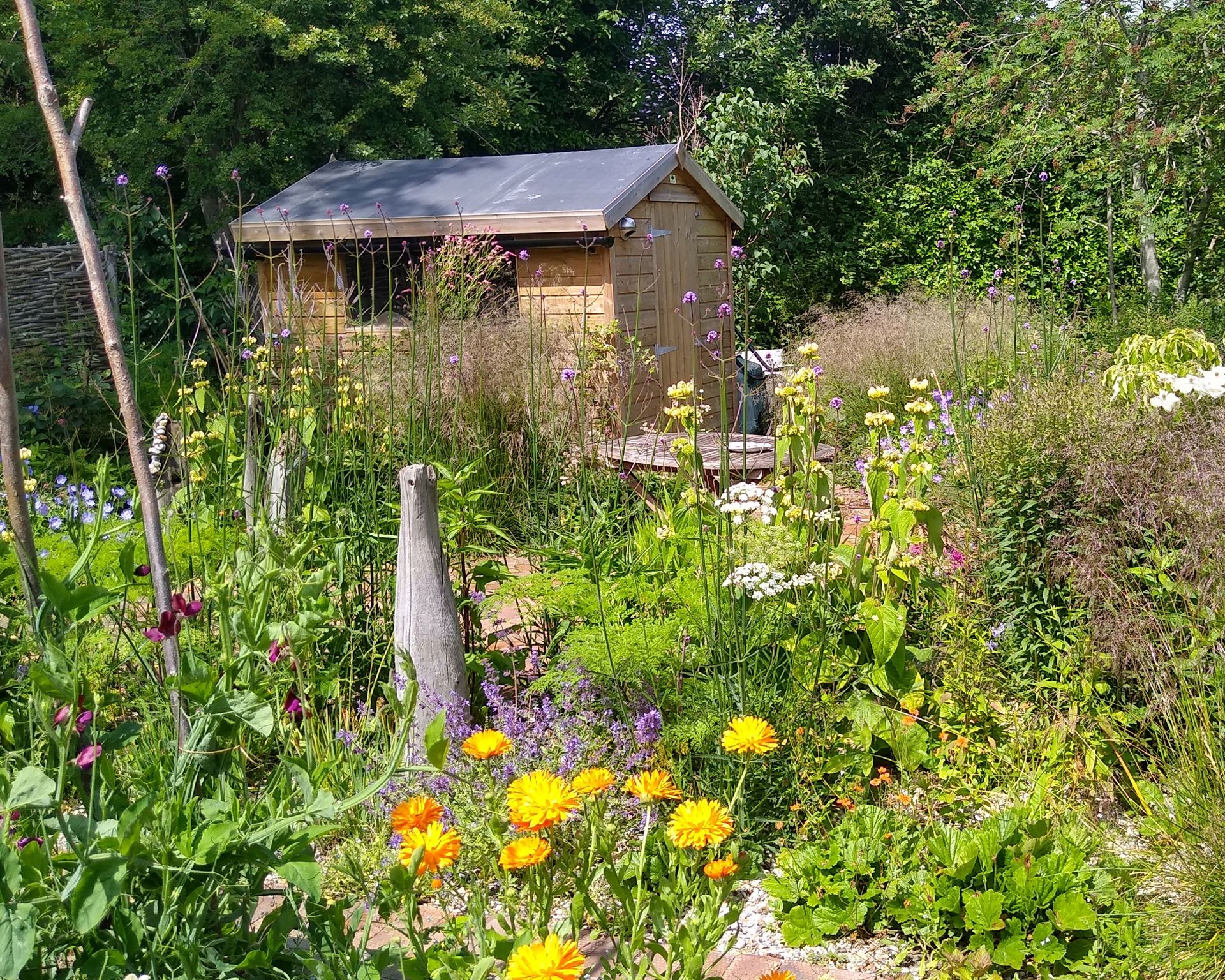 'As a project, the Wildlife Friendly Eco House Garden was all about sustainability, biodiversity and a low carbon footprint,' explains designer Kristina Clode (opens in new tab), winner of the Design for the Environment Award. 
'Every aspect of the design had environmental aims in mind: using local and natural hard-landscaping materials; growing your own food; composting and rain water harvesting; planting with a high proportion of native, wildlife friendly plants for pollinators; creating diverse habitats with a drought tolerant gravel garden, perennial wildflower meadow and a pond and bog area; plus making a naturalistic look to fit within it's Rye Harbour Nature Reserve setting,' Kristina explains.
'There has been a lot of talk recently about eco-friendly, sustainable gardens – in my opinion this eco house garden is about as sustainable and low-carbon as you can get, and it was done on an incredibly low budget. It shows how such gardens are achievable for everyone regardless of garden size or budget; it just takes good design and willingness and steadfastness by the client, designer and landscapers to stick to the environmentally friendly ethos in all aspects of the project,' she adds.
The judges were in agreement, noting how the 'simple design stands out for its environmental credentials. The sympathetic use of low impact materials, which enhance the setting and design concept, has been combined with sumptuous wildlife-friendly planting associations to create a series of garden spaces for both the environment and the lifestyle of the homeowners.'
Tabi Jackson-Gee – Winner, Paper Landscape Design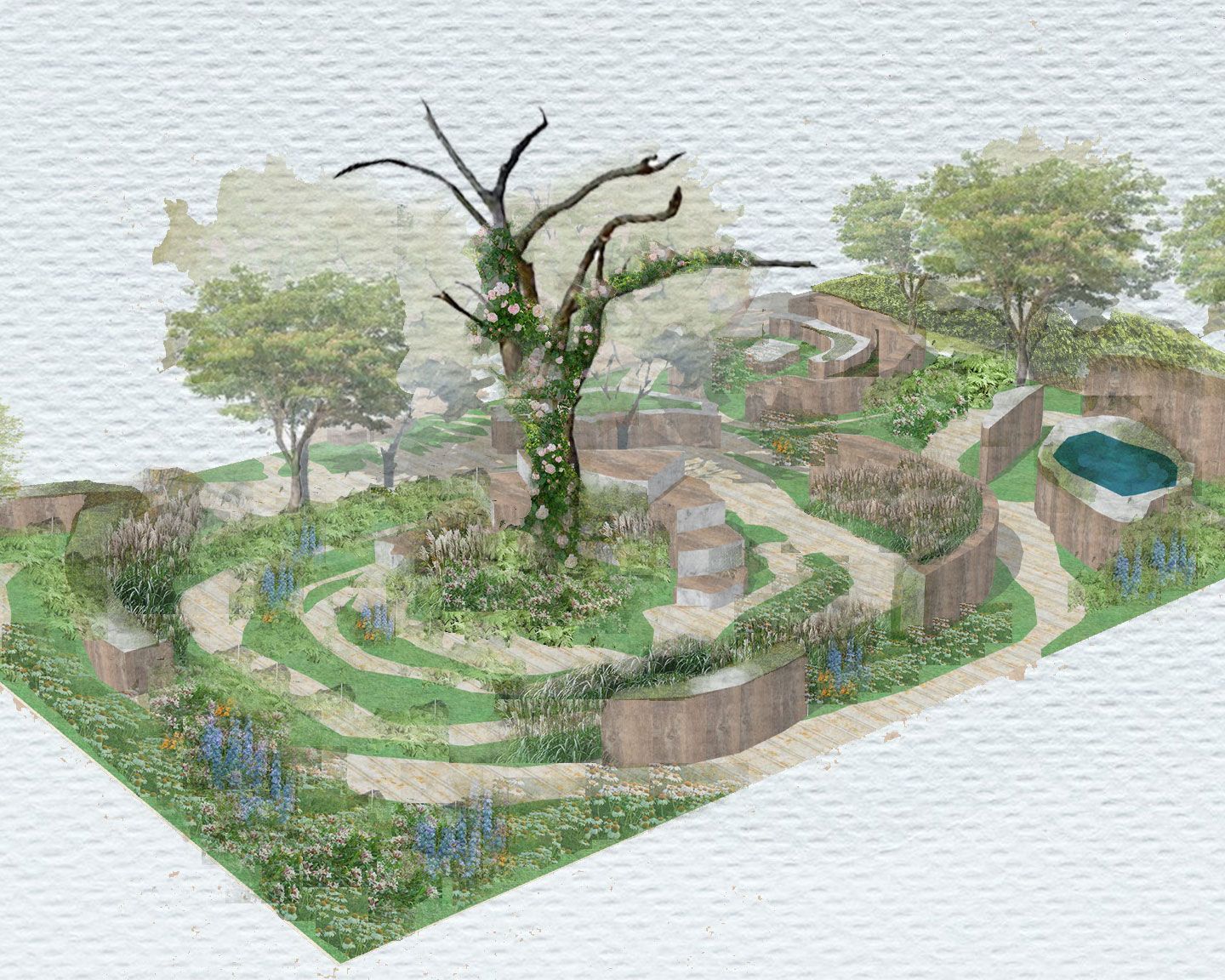 The Paper Landscape Design award for a design not realised, goes to Tabi Jackson-Gee (opens in new tab) for her Woodland Ensemble, which was shortlisted by MacMillan Cancer Support for the Southgate Flower Show 2022.
'I loved developing this show garden concept as it combines a few things that are very close to my heart. I often think of my gardens as an ensemble of characters and in this instance it really translated well to thinking about how we all support each other through life and beyond, in the same way that a woodland or any part of the natural world works in such an intricate, balanced and delicate way, with every element supporting the next,' says Tabi.
'It was also fun to imagine a garden from scratch with so few restrictions; I had such freedom in developing the idea which was wonderful and very liberating.' 
The design was inspired by how a dead tree can provide just as much support to a landscape as living ones. 'Seeing standing dead wood is not something many would expect in a 'garden' setting  and certainly not in a show garden, but I also like to challenge my clients to rethink what they imagine a garden to be. Seeing beauty in death and decay is for me a huge part of appreciating the natural world and our own place within it and I wanted to showcase this,' Tabi adds.
The judges applauded how the scheme 'is creative in its approach and presented using beautifully evocative graphics to communicate the story.  The lasting legacy story is beautifully expressed through the use of materials and evocations of time and natural processes.'