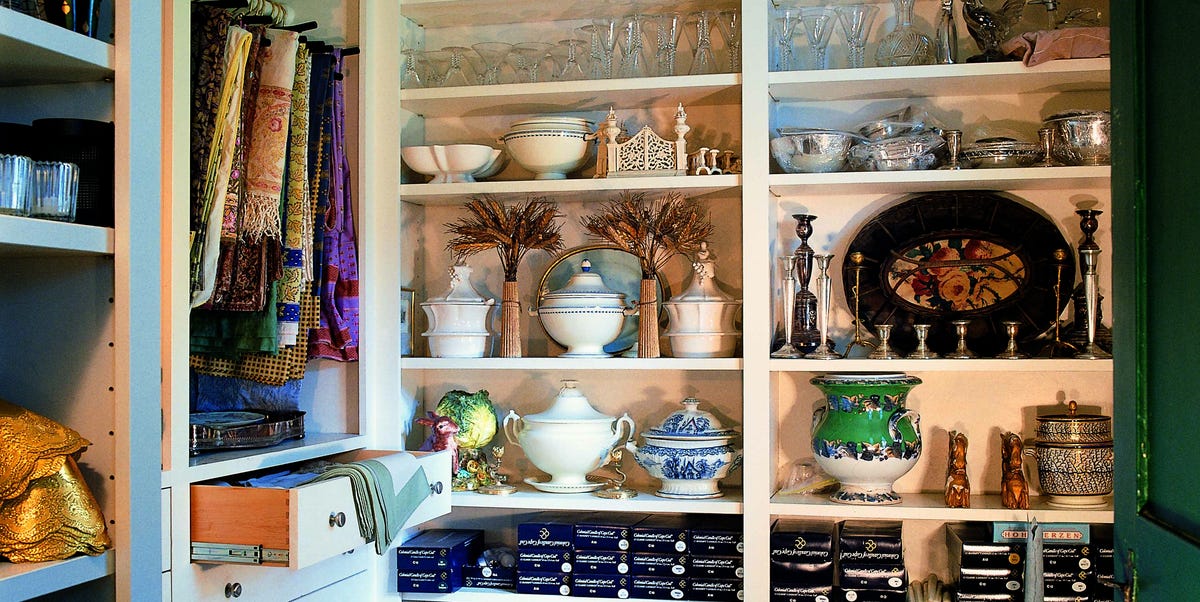 The 10 Best Decluttering Tips, According to Designers
If you've ever looked around your home and thought "I have way too much stuff" or "I need to get rid of everything and start from scratch," you're certainly not alone. Things we don't love—like stacks of old receipts in a junk drawer or scratchy towels in the linen closet—not only take up space, but also make our home a less desirable place to live. The good news? Decluttering your home can bring in new energy and help you feel much more organized and less stressed. While most of us could use a Marie Kondo-approved purge, it can be tough to know where to even begin, so we asked designers for their best decluttering tips.
"One of the biggest mistakes I find that people make when they're beginning to declutter their space is taking on too much, too fast," says Ashley La Fond, founder of home organizing company Of Space + Mind. "This just causes them to get overwhelmed, because people often begin with an area of their home that carries a lot of attachment for them—they get distracted, bogged down with decisions, or become so emotional that they can't move forward."
It's also worth noting that there's a big difference between organizing and decluttering. La Fond says that decluttering is actually the step you take before organizing, since it will help you decide how to best design your space with what you have left. "It's an audit of your space and your things—basically, the process of deciding what to keep, toss, donate, or sell," she says.
More From Veranda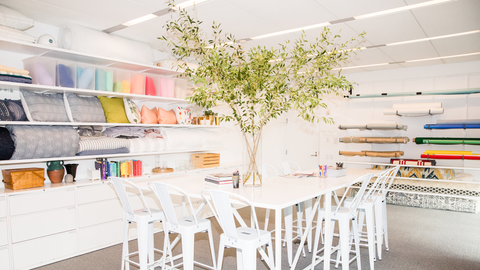 Once you declutter, then you can organize and "create a system for your belongings," according to La Fond. She adds that while it's possible to initially organize your home without decluttering, "maintaining an organized system is unlikely, because what you actually need and use is drowned out by what you don't."
Now that you know the importance of decluttering, here's how to tackle it in your own home. From mindset shifts to simple techniques that actually work, designers share their top decluttering tips that'll make the process easy and—dare we say it—enjoyable.
Tips for Decluttering Your Home
1. Divide your house into zones.
"Ensure you have zones for the different functions you have in your home," says interior designer Jil Sonia of Jil Sonia Interiors. "For example, creating what we call a 'drop zone' near the most used entry of the home gives adults and children a place to hang up their backpacks from school or place their coats. This gives them a designated place to store their shoes."
Once you determine what each zone's function is, it'll be a lot easier to determine which items belong there—and which items should be donated or tossed.
2. Start (very) small.
According to La Fond, one big reason why people fail to declutter their home is because they find the task completely overwhelming. She recommends starting with decluttering one small area.
"Pick a single area in your space that feels manageable and achievable, whether that's your kitchen counter or your bookshelf," La Fond says. "Once you start and feel the impact of your work, you'll be much more motivated to keep going." And don't forget: You absolutely do not need to do your entire home in one day.
3. Figure out your "why."
One of La Fond's favorite techniques to hone in on what you need to keep versus what you need to get rid of is asking yourself why you want to hold on to a certain item.
"After you ask yourself this question, consider what your mind tells you," she says. "If the answer is guilt ('My mother-in-law gave me that, so I have to keep it'), shame ('I spent so much money on it, it would be a shame to throw it away'), or fear ('What happens if I need it one day?'), then I urge you to reconsider."
La Fond also suggests creating a vision for your space and coming back to it whenever you have these thoughts. "If the reason to keep something is not in line with the vision you have for your home, let it go," she adds.
4. Take everything out all at once.
"Don't try to declutter by digging through drawers and cupboards," insists La Fond. "Instead, I suggest you take everything out from a space and sort it by type."
This way, you'll be able to see everything you have. If you're storing many of the same items in different spaces (for instance, if you have sweaters in both drawers and closets), corral them all together. "Seeing everything laid out helps us make decisions holistically, which is important when it comes to intention," adds La Fond. Not to mention, you might realize you have six sweaters of the same exact color and material (oops!).
5. Decide where purged items go.
Will you sell, donate, or throw away the items you're getting rid of? While you might think that tiny detail doesn't matter, interior designer Andi Morse of Morse Design says it's pivotal when you're decluttering. Otherwise, you'll just have a pile of "stuff" that has no home. For this exercise, we like keeping large bins on hand to corral trash, donations, and items you want to sell.
6. Make a ceremony out of it.
"I highly recommend treating the decluttering experience as a relaxing, mind-body experience so that you don't dread doing it," suggests Morse. This is a great time to turn on your favorite music or a compelling podcast. Or, she adds, you could turn off tech altogether to completely focus on the task: "Making it a more dedicated experience might mean not taking phone calls, texting, or doing any other thing that causes a distraction."
7. Invest in hidden containers.
"One of my favorite decluttering tips is investing in containers that let you see everything you have in one place, so you don't buy more than you need," says Sonia. "Use clear plastic bins to collect small items such as spatulas, whisks, or garlic peelers in your kitchen, for example, so that they don't roll around in your drawers. Drawer dividers can help store underwear and socks easily, and small cases can also be used in the bathroom to hold your hair care products."
The best part about these containers? Once they're full, you can't just toss new items in there. It's the easiest way to control what goes into your space.
8. Leave space for each room to grow.
Sonia stresses that you don't actually want to fill every one of those spaces up to the brim. "The goal is to have at least 10 percent of each space free," she says. That way, you'll be able to re-organize as you need, and you'll never feel like you're piling things on top of each other.
9. Give every item a home.
Once you have decluttered your space, it's important to keep it that way. The easiest rule of thumb? Don't let things pile up on surfaces (read: no tossing your jacket on the chair after work or leaving that used coffee cup on the table after breakfast).
"When I'm tempted to place something on any handy spot, I ask myself if it takes less than 60 seconds to place the item in its proper location," says Sonia. "It almost always does, so I make myself put it away. This has cut down my clutter by at least 75 percent."
10. Realize that decluttering can require a mindset shift, too.
Decluttering requires a significant mental shift and a new way of thinking of things, which can be difficult for some people to process.
"Sentimental feelings can be uncomfortable, and we likely hold onto things because of the memories that we associate with them, versus the actual items themselves," says Morse.
While this can lead to feelings of discomfort, the best course of action, according to Morse, is figuring out how you can move through those emotions—whether that's deep breaths, positive self-talk, or a quick cry. It might even help to take a picture of the item before you get rid of it in order to remind yourself that it isn't the actual thing that sparks joy (to quote Marie Kondo), but the memory of the thing.