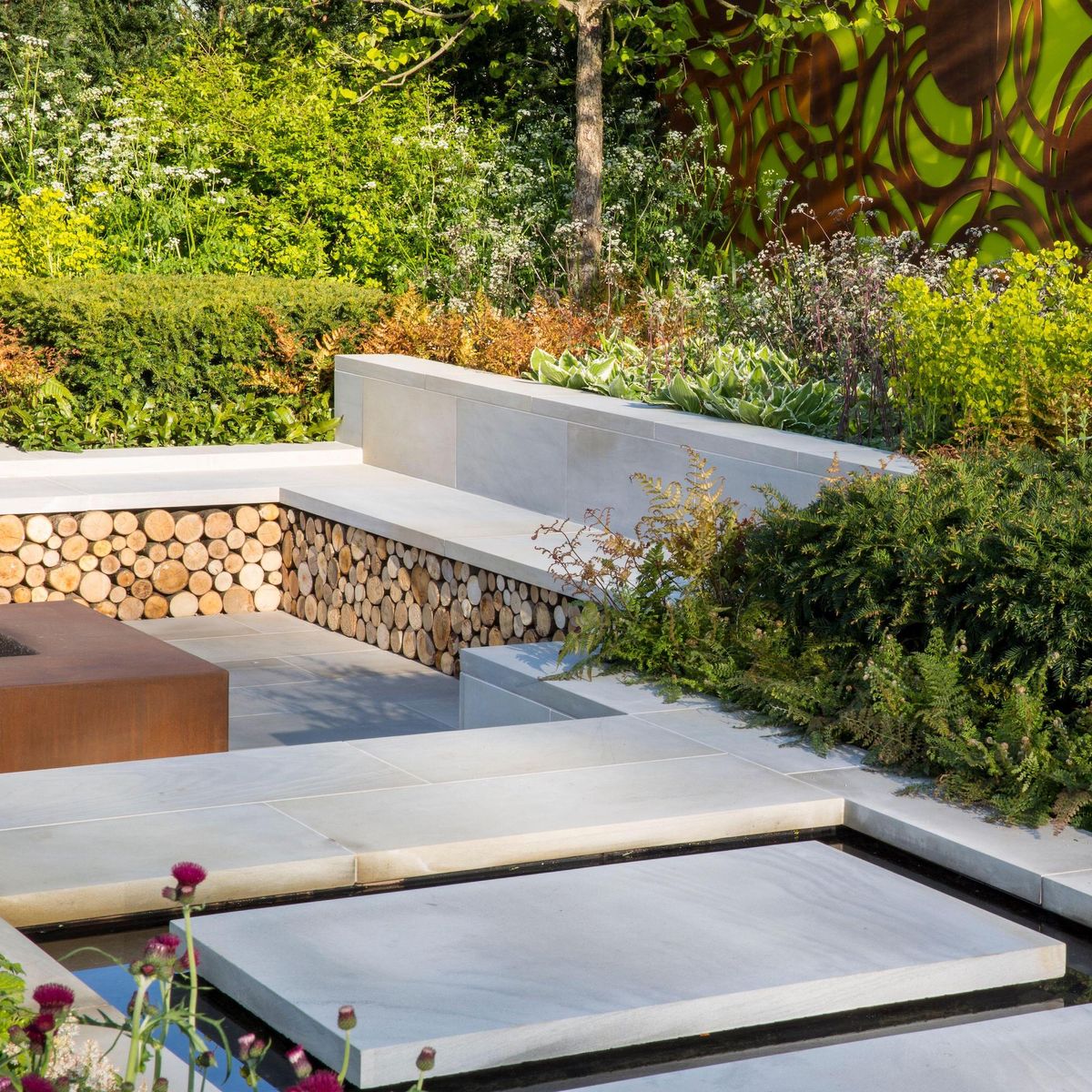 Sunken garden ideas: expert tips to help create your own
The sunken garden is making a comeback once again. For those of us who make being in the garden a part of our lifestyle – for extending our living space so we can relax and entertain, as well as enjoying the fresh air and plants – then a sunken garden offers new opportunities for our garden ideas. Think of it as a living room conversation pit that's been picked up and put outside your back door.
Whether a slight step down in level or a fully enclosed space, a sunken garden will add intrigue and intimacy to any plot, and can be an exciting upgrade to your garden landscaping ideas. 
'You feel like you're accessing a new room within the garden, taking you further away from daily life lived indoors,' says designer Sam Proctor of Chiltern Garden Design (opens in new tab).
Sunken garden ideas
There is a whole host of reasons you might want to go to the effort of a sunken garden, from creating a sheltered seating area to establishing a microclimate that allows you to grow plants you couldn't otherwise. 'The differences in soil, moisture and shelter can make it easier to grow moisture-loving plants,' suggest James Scott, managing director at The Garden Co (opens in new tab), while tender plants or those that might be battered by the wind will thrive in the shelter of a sunken spot.
We spoke to garden designers to find out how to plan a garden that contains a sunken element, and the pitfalls to look out for when creating your own.
1. Get to know your garden before you start digging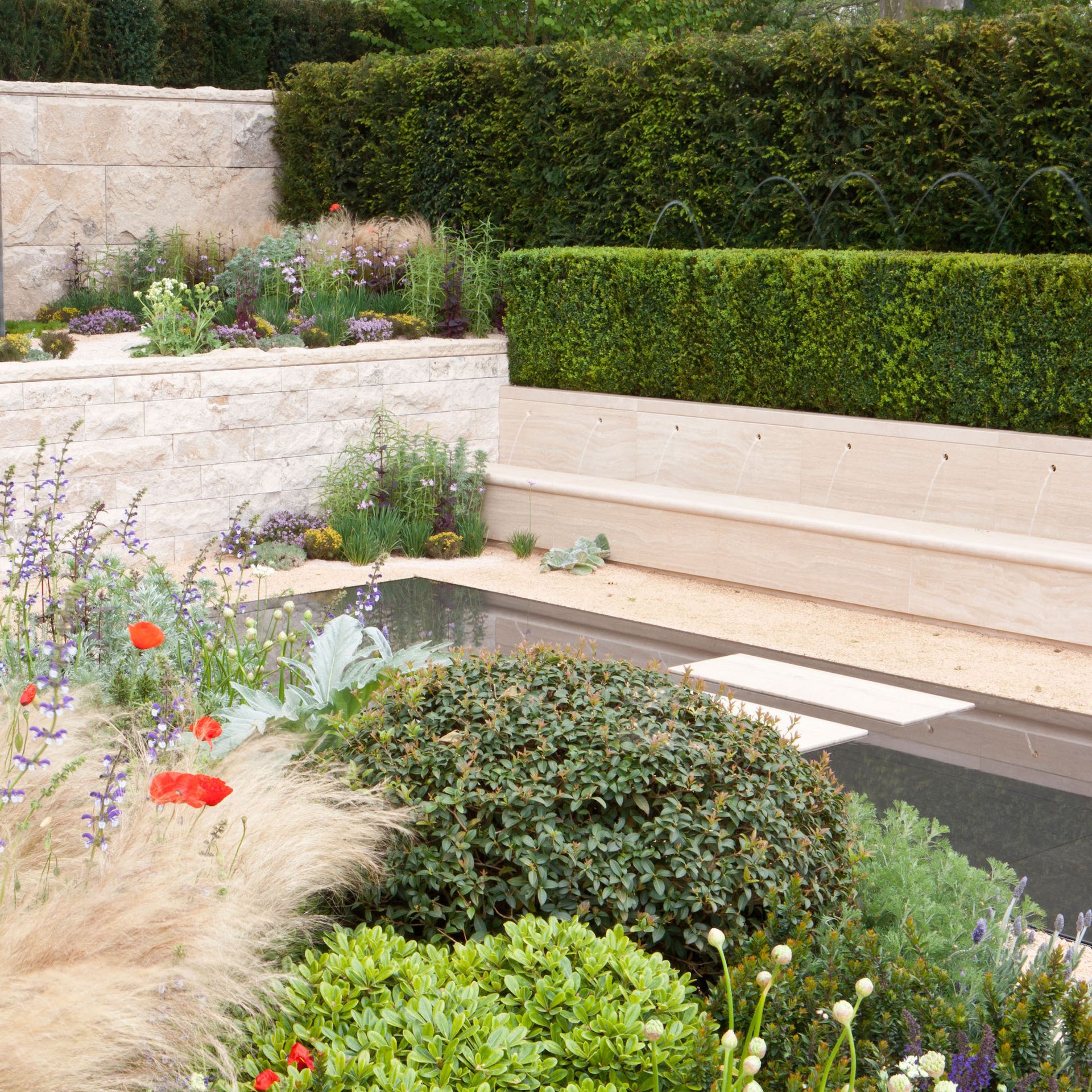 Digging down into your garden will, necessarily, pose challenges. You can help prevent some of these by getting to know your site well before you break ground.
 'Know the geology of your property,' advises garden designer Marlene Lento (opens in new tab). 'Finding the likes of a sandstone layer as you start digging will quickly spoil your plans and blow your budget.' Be sure to get quotes and check out how much you can expect to pay for the landscaping costs of your sunken garden ideas.
2. Choose a position that gets the sun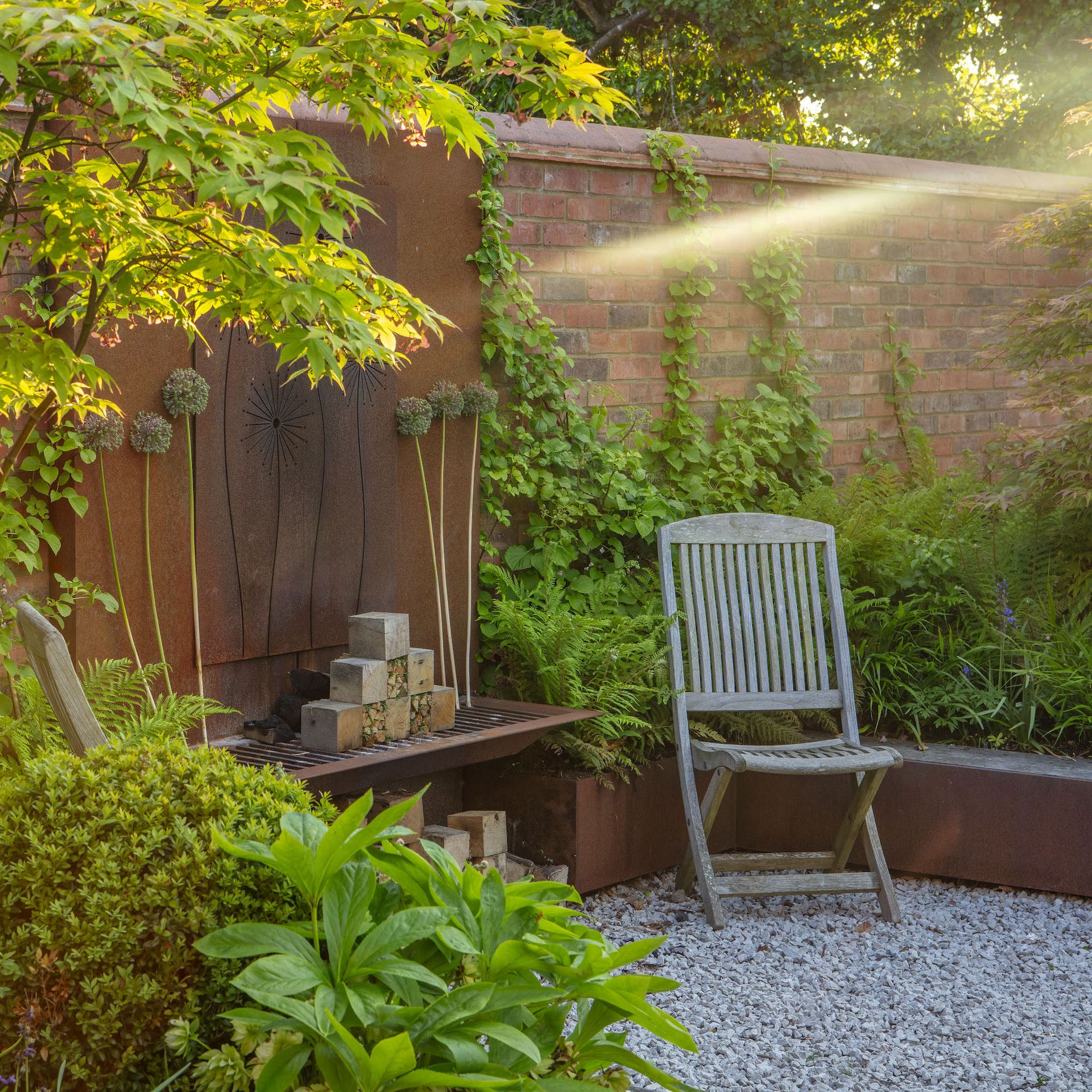 As a sunken garden is lower than the rest of your outdoor space, you'll need to ensure it's not too shady to enjoy. A sunken garden may not be the best idea for a north-facing garden that doesn't get much light, but it could be a great garden shade idea for a south-facing plot where the sun can sometimes feel too strong.
'If you have a choice of locations for your sunken garden, pay attention to the sun as well,' says Marlene Lento. 'Even a slightly lower position will affect how much shade you're creating for your seating or planting areas. Think about the time of the day you're most likely to use the sunken garden and orient it accordingly. Sunken gardens with lounge areas are often most used if they capture the last of the evening light.'
3. Call in a landscaper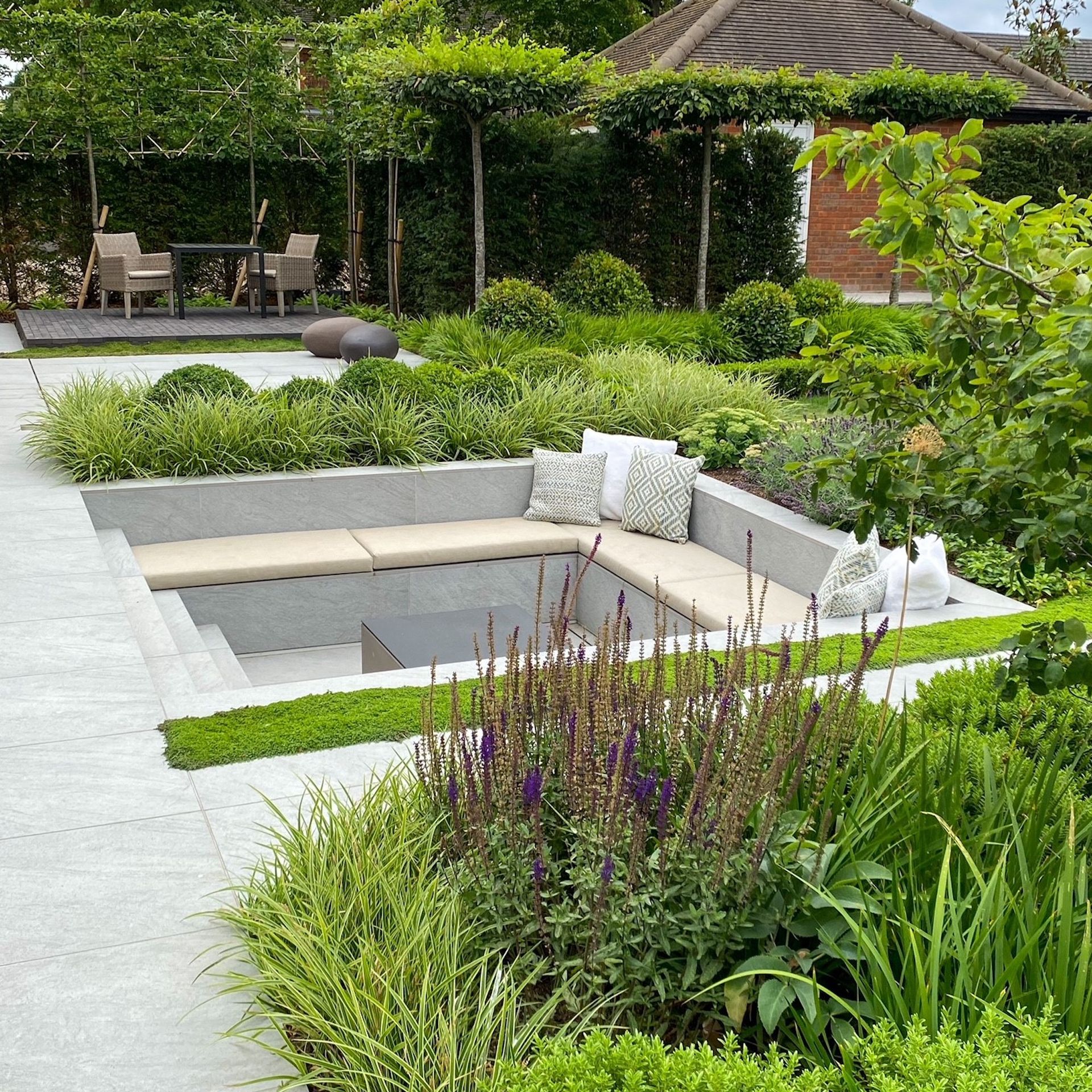 A sunken garden is one feature that definitely needs to be planned by an expert – not least because water will certainly be an issue. 'It's important not to create a pond if that wasn't your intention!' says Sam Proctor of Chiltern Garden Design. 'Consider drainage carefully – you may need to incorporate linear slot drains and a soakaway, as well as using permeable paving such as gravel.'
'Walls also need to be robust enough to hold back the earth behind them,' she adds, 'and take the pressure not just of the soil but the water that can build up behind. Again, drainage is key.' You could always paint the exterior wall in your sunken garden to spruce up your outdoor space even more. 
4. Don't go too low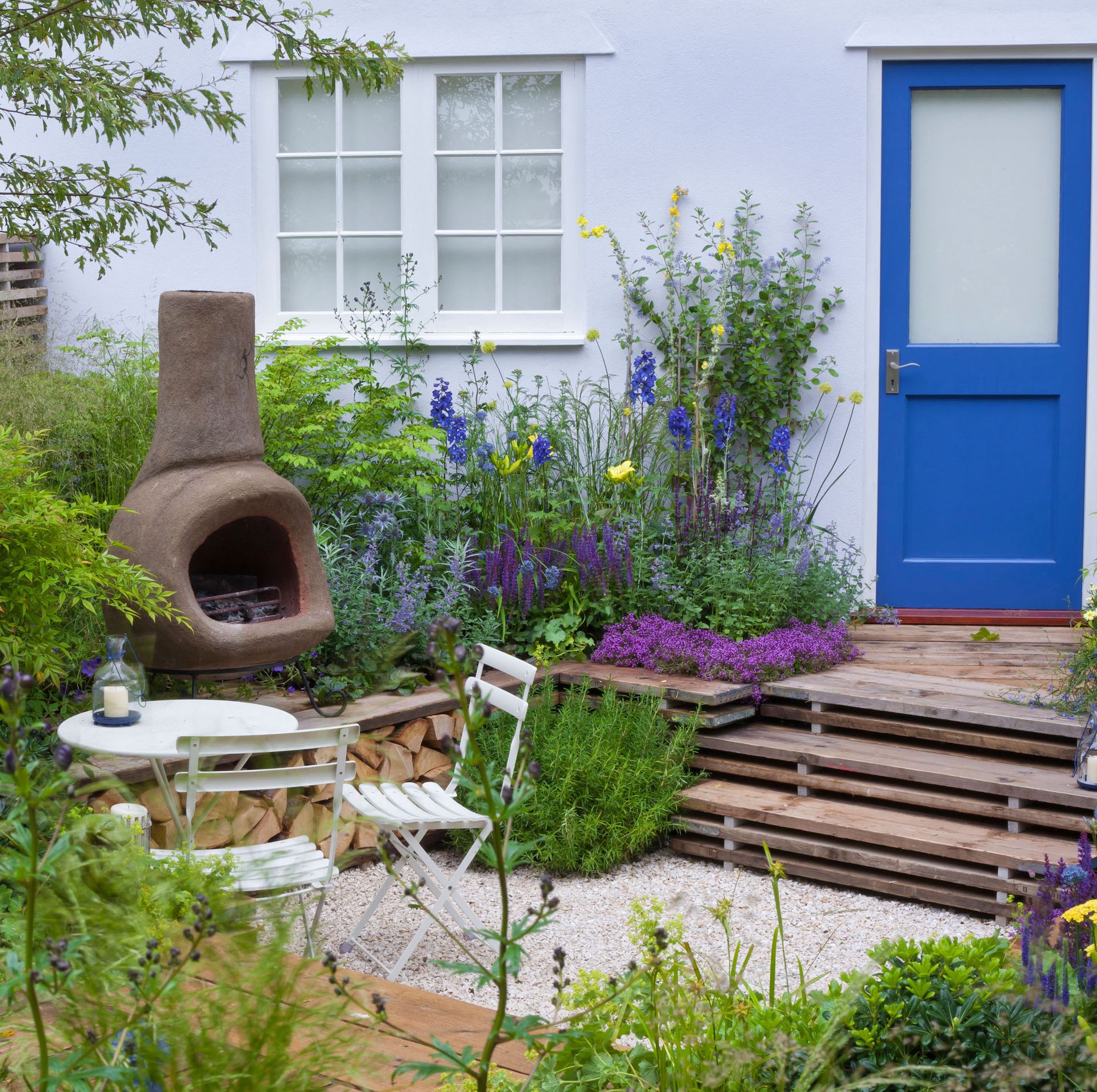 'There is a fine line between being airy and inviting or being gloomy and claustrophobic,' says Oliver Bond of Bond Landscape Design (opens in new tab). 'The deeper the sunken patio, the taller the internal walls. This influences both the structural requirements of the walls and their visual impact on the space. A low-level wall will allow lots of light to enter.'
5. Ensure easy access to your sunken garden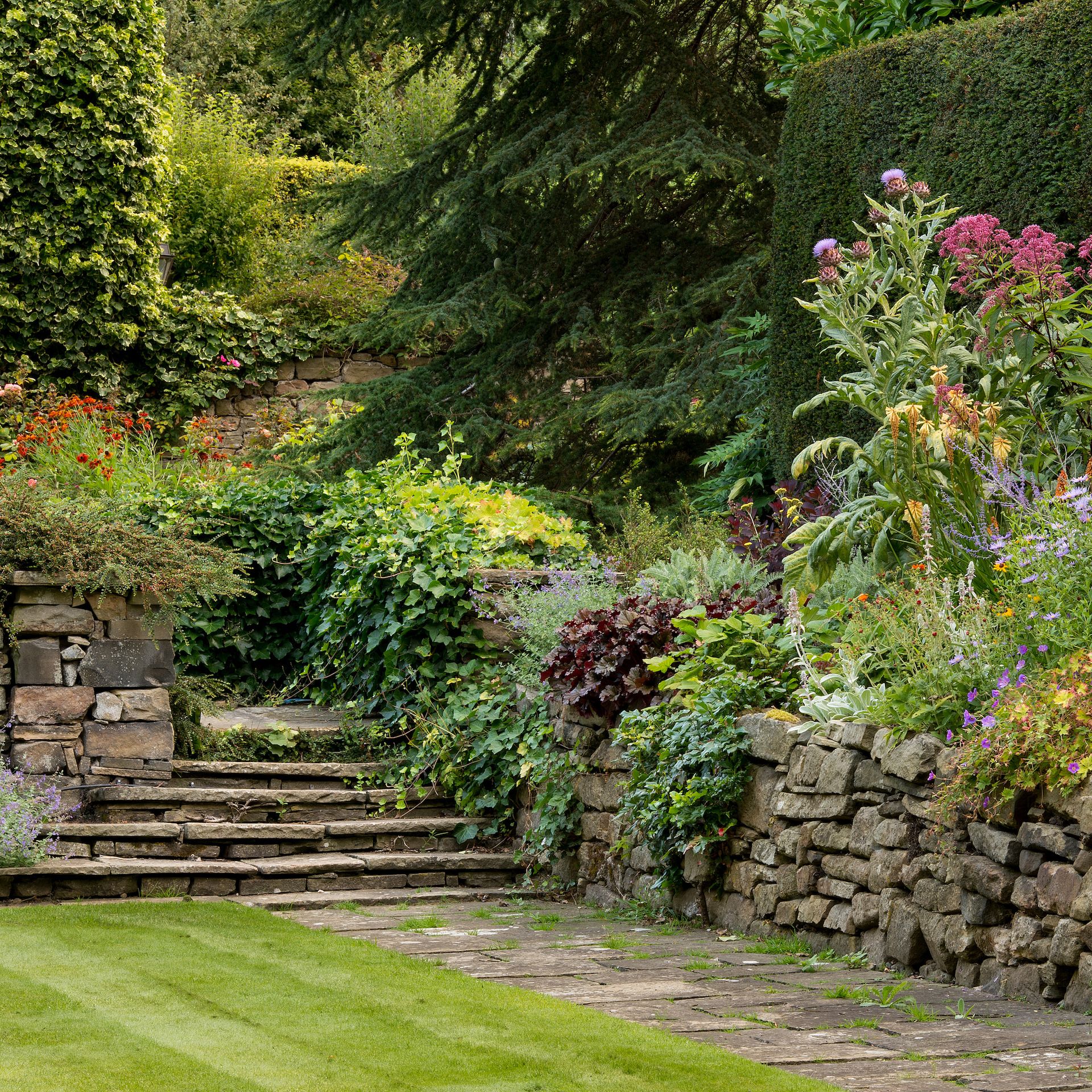 The lower you take your sunken area, the more of a challenge access will become. 'You need to consider how many steps down are required to comfortably journey to it,' says designer and horticulturalist, Melissa Morton (opens in new tab). 'To ensure it doesn't become a redundant space, make sure it's easily accessible for those impromptu occasions, whether it be for socialising or solitude.'
6. Make it work with the rest of your garden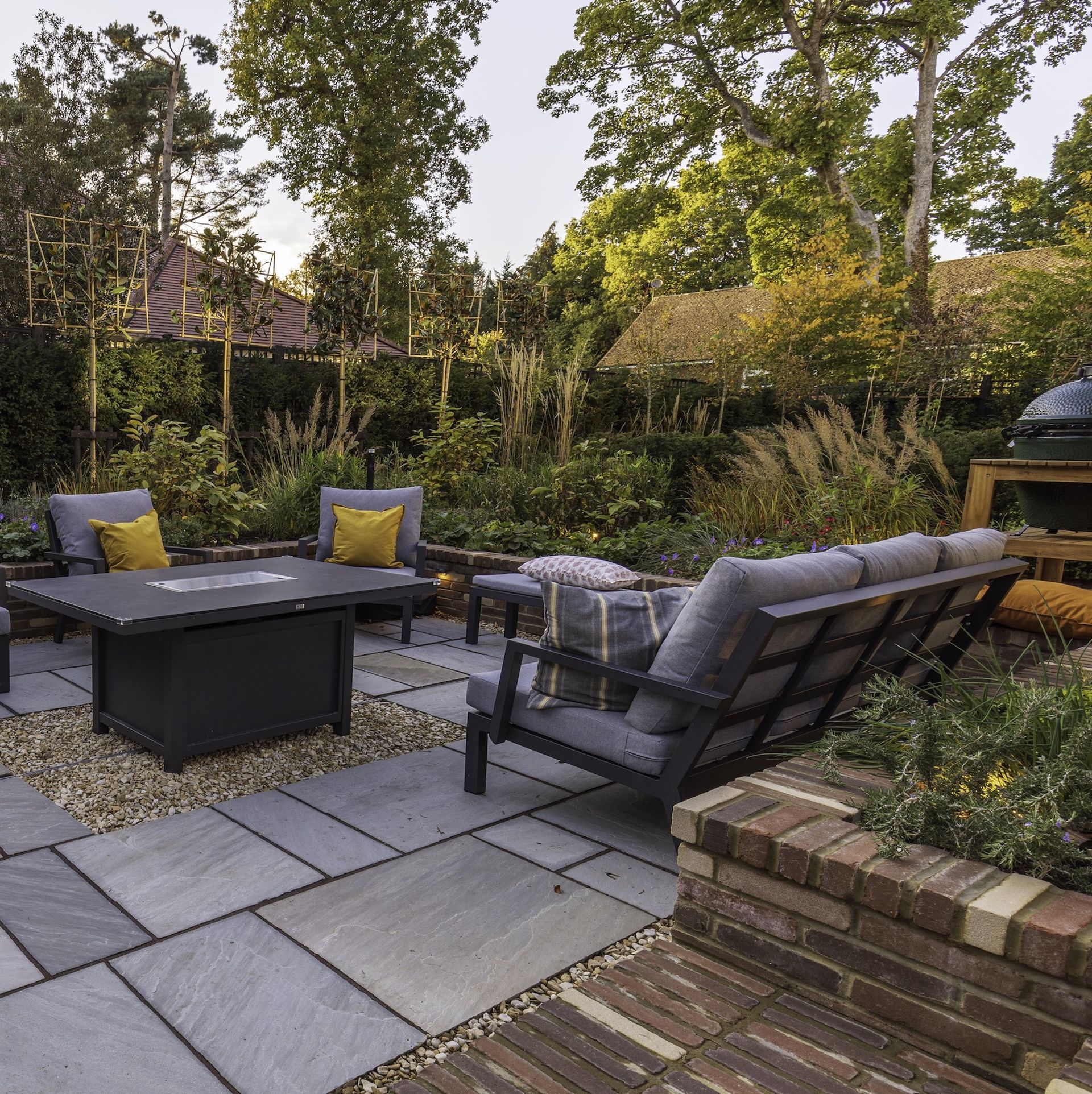 The materials and plants you use in your sunken garden will depend on how hidden or open it is. A space that can be seen from the rest of the garden or the house should tie in through repeated planting and materials that echo the architecture. 
If your sunken garden is fully enclosed, there could be room to experiment. 
'A sunken garden provides the opportunity to create a garden "room", a separate oasis that can be treated quite differently from the remaining garden in terms of materials and planting,' garden designer Marlene Lento suggests. 
'Especially if you're creating as a sociable or gathering space, you might introduce some colourful or patterned outdoor tiles and focus on detail in a way you wouldn't be able to do or afford on a larger scale. It's an opportunity to create a jewel that you step down into.'
7. Make sure your sunken garden is cosy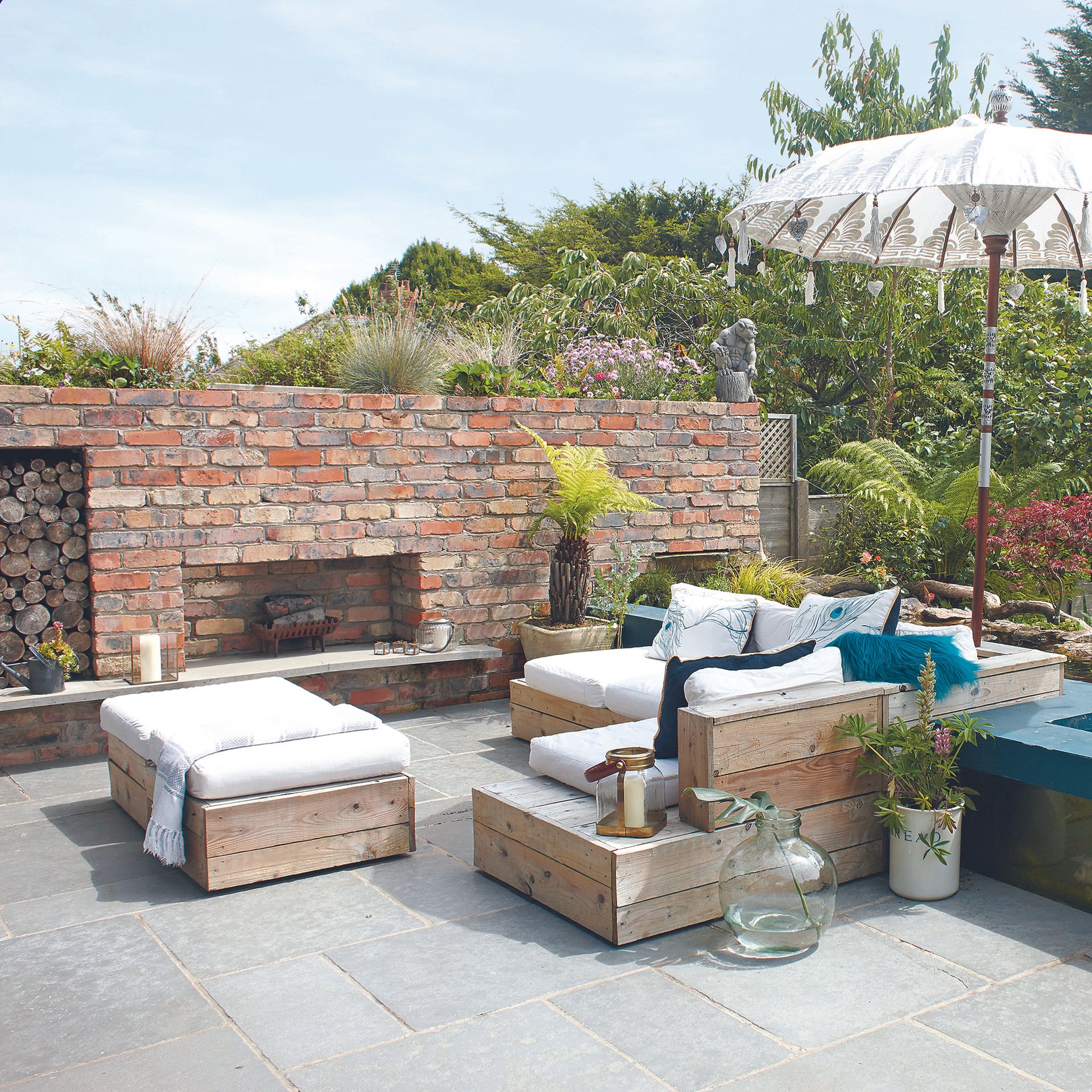 Sunken gardens naturally lend themselves to creating cosy seating or dining areas, so design them as you would any similar space indoors to create somewhere that's truly inviting. Consider how to choose garden furniture to make the most of the space and your needs, whether that's creating an outdoor lounging area, a romantic alfresco dining room, or even an outdoor cinema in your sunken garden.
8. Add a firepit or fireplace for warmth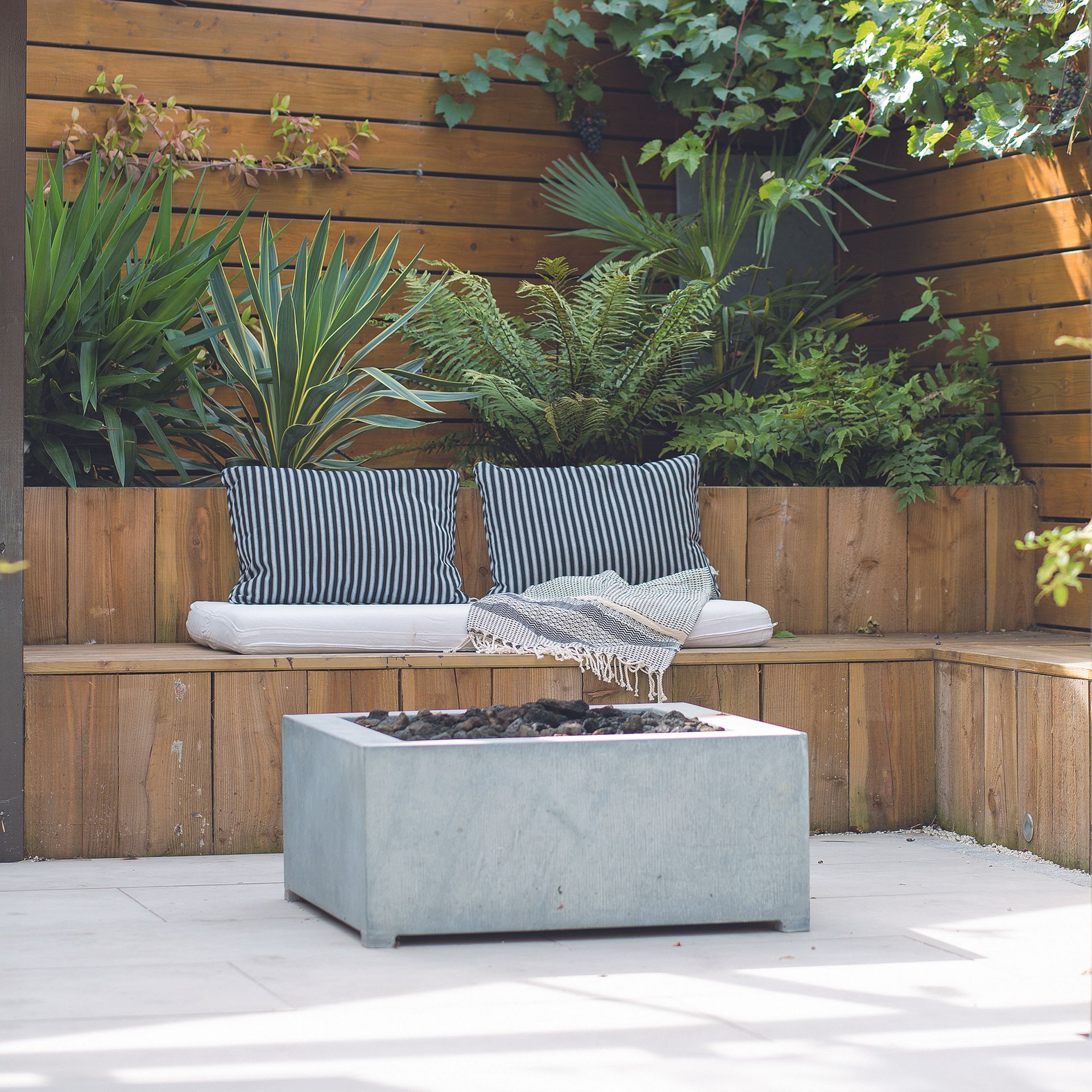 'Often clients like to include fire bowls or fire tables in a sunken space,' says garden designer Sam Proctor, 'as the warmth is more easily enjoyed in a sheltered spot.' 
She does offer a word of caution, though. 'Beware using propane gas fire tables in a sunken garden as they can be a safety risk. Because propane sinks, it could cause an issue if there is a leak as it won't disperse out of the sunken area, so piped natural gas is the safer option.'
To really create the feeling of an alfresco living room, you could install an outdoor fireplace into your sunken garden.
9. Don't forget lights in your sunken garden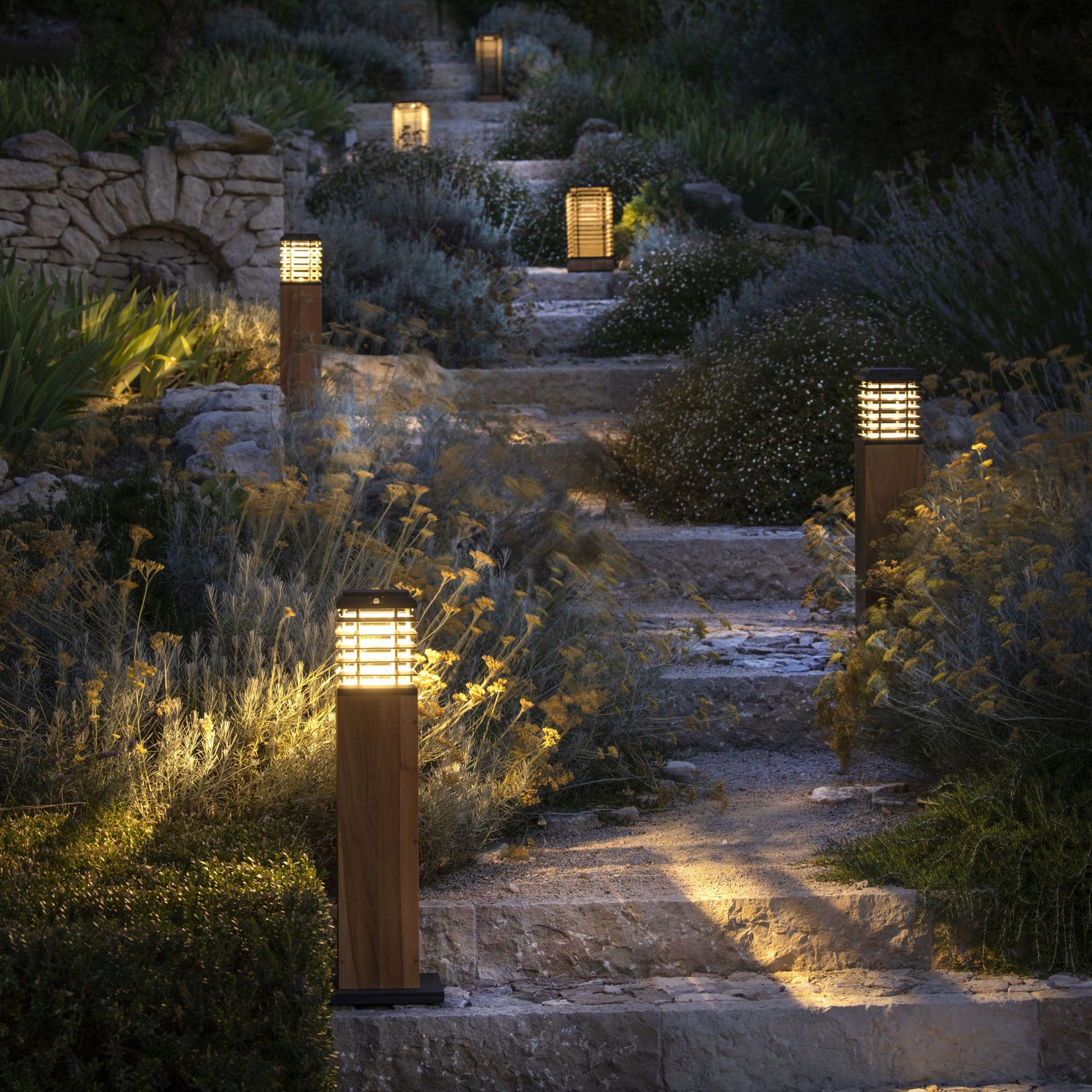 For your garden lighting ideas, Marlene Lento recommends focusing on atmosphere. 
'Diffused peripheral lighting to delineate the space softly creates a sense of magic. If you have a special feature in your sunken garden such as a water feature or a sculpture, add some drama by lighting it well. And if your sunken garden is not directly adjacent to the house and is used for cosy evenings, consider low-key lighting along the path.'
10. Pick fragrant plants for a sunken garden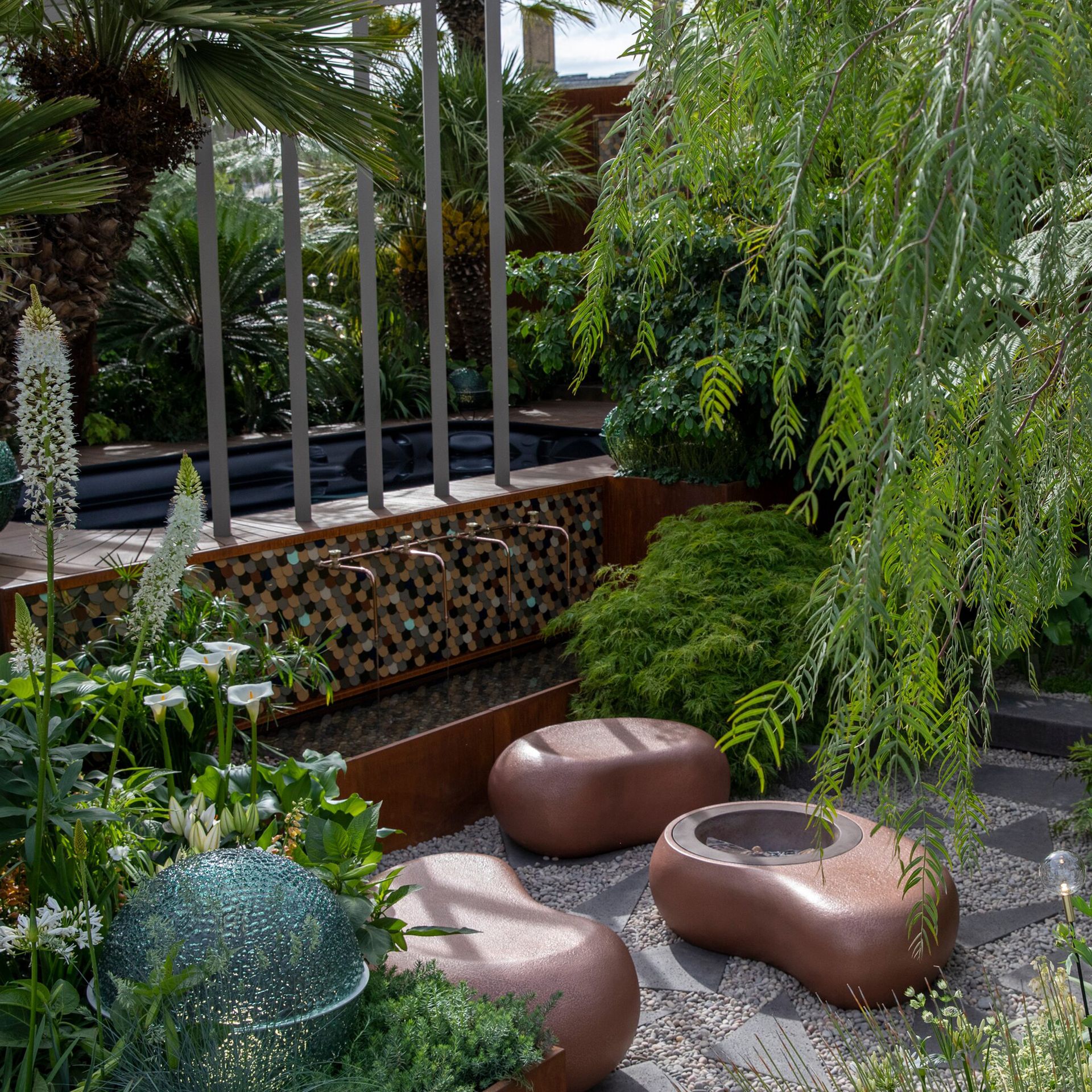 With all the hard landscaping involved in a sunken garden, plants have an important role to play in varying the textures in the space so it feels welcoming. 
'Plants that like to trail will soften the hard edges of your retaining walls,' says Sam Proctor. She recommends Helianthemum, Campanula portenschlagiana and prostrate rosemary for sunny spots, and Vinca or Hakonechloa macra for areas in shade. 
A sunken garden also allows you to view plants from a different perspective. 'There's a great opportunity to choose scented plant varieties and also those that attract butterflies, bees and other insects,' says James Scott. 'Sitting at eye-level with colourful flowers, hearing the buzzing of the insects, and smelling the fragrances on offer all enhances the intimate, multi-sensory experience of being in a sunken garden.'
How do you make a sunken garden?
To create a sunken garden, you will need to dig out an area of your outside space to create a lower level. You'll also need to build walls to hold back the earth around the sunken space, plus install steps or create a slope that you can walk down to access the garden easily. As you will be digging below soil level, water may collect in the sunken garden unless you incorporate drains and soakaways to channel away the moisture.
What is the point of a sunken garden?
A sunken garden allows you to create a 'garden within a garden', with its own atmosphere, microclimate and purpose. For keen gardeners, it may be away of growing shade and moisture-loving plants that may not tolerate the conditions elsewhere in the plot. For people who love to entertain, a sunken garden can create an outdoor room that's perfect for parties. It can also be an enclosed and private outdoor space for lounging and watching films in an outdoor cinema.
How deep are sunken gardens?
The depth of your garden should suit the size and shape of your outdoor space, but no deeper than 120cm is recommended – any lower and the sunken garden will be expensive to landscape and may be too dark and damp to enjoy. In fact, you don't have to go low at all. Dropping the level by just one or two steps will give you a sunken garden feel.