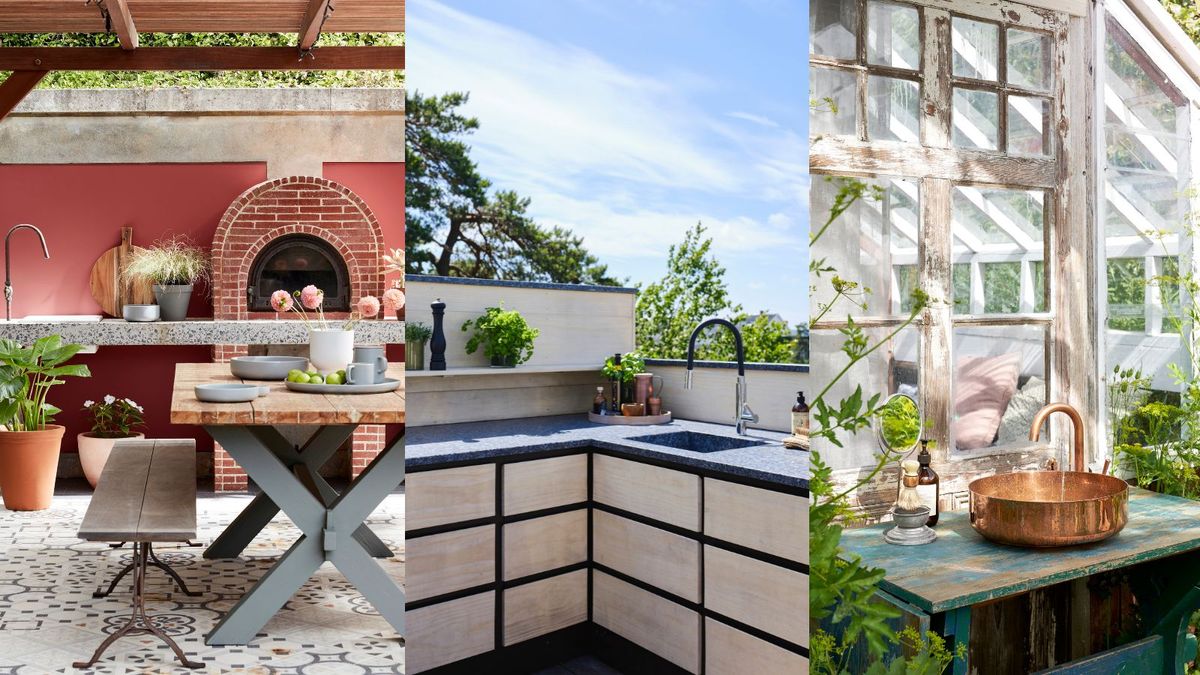 Outdoor sink ideas: 10 ways to add one to your cook space
An outdoor sink is a boon for the keen outdoor cook or grill enthusiast. Adding a sink to an outdoor cook space will make it far more functional and practical; after all, who wants to continually traipse indoors and back out for food prep and doing the dishes when it could be all be done right where you're standing?
An outdoor sink also makes a handy addition for the busy gardener, providing on-the-spot hand-washing facilities and a useful place to rinse off tools and plant pots. 
If you have children or dogs (maybe both), an outdoor sink is a very sensible thing to have, especially if you fit a faucet with a detachable hose or spray, invaluable for cleaning muddy boots and giving the dog a bath.
Or, if you simply love the idea of an outdoor sink for the decorative value it can add to a corner of your outdoor kitchen, invest in a beautiful vintage copper or solid stone vessel that will become a very special part of your backyard.
Below, we bring you our favorite outdoor sink ideas to show you just how broad your options are.
Outdoor sink ideas
When choosing what kind of outdoor sink would work best, first consider its main purpose. If you're planning an outdoor kitchen and are going to be using it for food prep and dishes, for instance, you need a deep, hard-wearing style and model, which won't mark or rust and will be easy to clean. If it's for cleaning off tools, boots and dogs, it can be shallower, but you'll probably need it to be wider and longer.
Then consider how you want your outdoor sink to look alongside the rest of your outside space – and your home. 'A stainless steel sink will match well with modern homes, while a copper or granite sink will be more suited to traditional or rustic homes,' says Lindsey Hyland, gardening expert and founder of Urban Organic Yield (opens in new tab). 'Be sure to choose a size and shape that will fit well in your designated space, and don't forget to factor in the height of your faucet – you'll need enough clearance to easily fill pots and pans.'
1. Add an outdoor sink to your backyard kitchen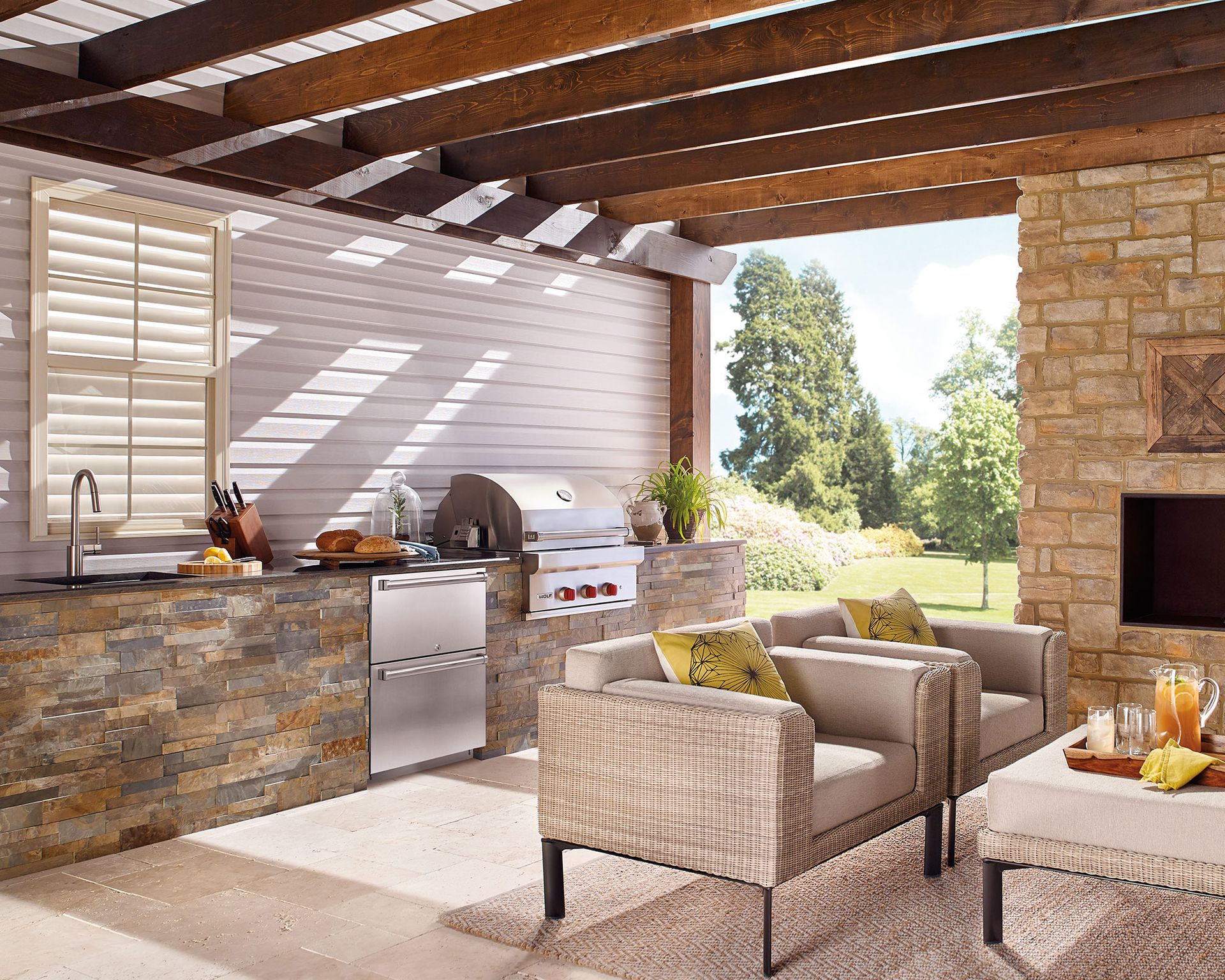 Fitting an outdoor sink in a backyard kitchen makes perfect sense. You can choose to bring in an outdoor sink of your choice to a bespoke kitchen design, or opt for a free-standing modular unit with a built-in sink. This can even be wheeled away and stored in a shed or outbuilding over the winter months, or when you need space for something else.
'Not including a sink in your outdoor kitchen set-up is very often the top of people's regrets,' says Cedric Wells, creative director of outdoor kitchen company Vlaze (opens in new tab). 'When it comes to the end of the night, it can be used to wash up those fiddly BBQ tools and outdoor grilling accessories. In addition, if you store outdoor crockery and glasses in your kitchen, it means you can wash them on site.'
2. Keep to indoor kitchen layout rules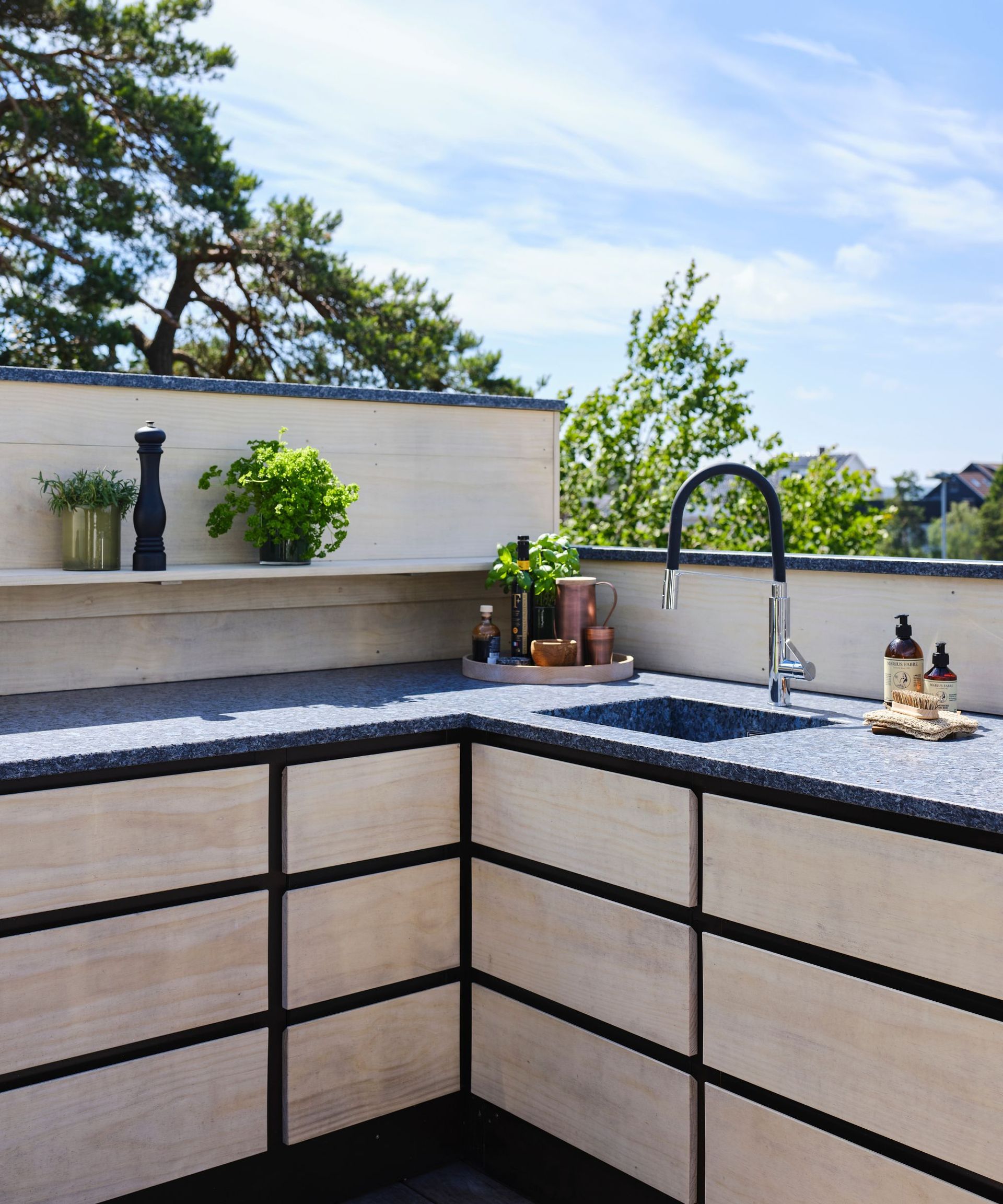 With an outdoor sink in an outdoor kitchen, do spend time considering how you're going to be using it in combination with cooking facilities – the outdoor grill station, pizza oven, rotisserie and so on – food storage cabinets and refrigerator, if there is one. It's a good idea to plan the kitchen layout with the sink as one point (with cooking facilities and food storage/refrigerator as the other two) of a classic kitchen triangle.  
'Also think about the way the sink faces,' says Sam Proctor, founder of Chiltern Garden Design (opens in new tab). 'Will the person using it be facing away or towards the guests and dining space? If away, make sure they're not just looking towards a fence or a hedge.'
3. Get the practicalities right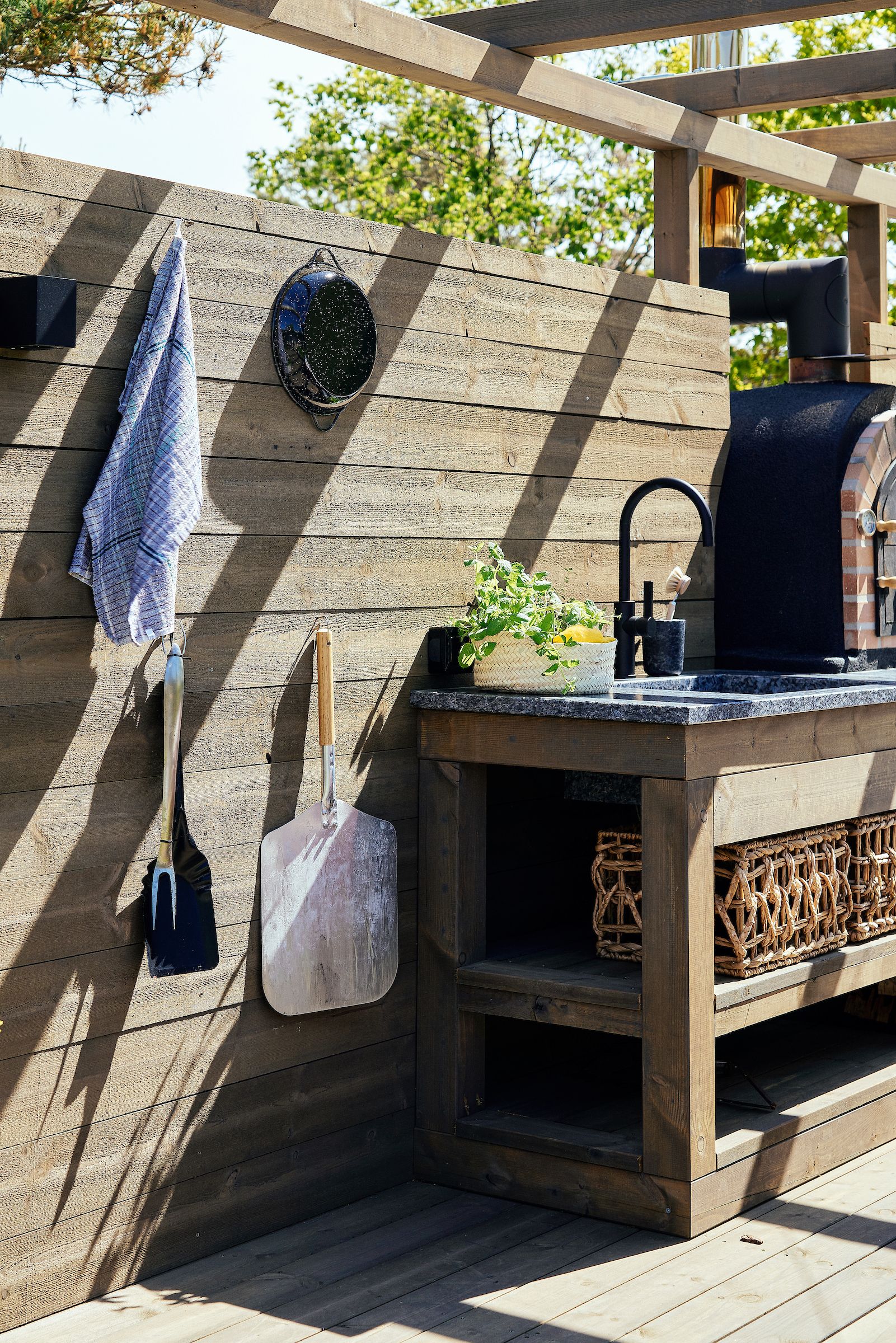 If you're including an outdoor sink in an outdoor kitchen, think practicality first. Choose the largest and most useful sink for the space, in a hard-wearing material that won't pock or scratch. 
Pick a faucet that is sturdy and durable in all weathers. Ensure there is plenty of leeway underneath the faucet to wash large grill trays and cooking pots, as outdoor cookware is often larger in scale. A double-basin sink is a good choice if you plan to double-up activities with cooking/gardening tasks. And make sure that the sink has a generous draining board and countertops surrounding, for ease of use.
4. Get the outdoor sink styling just right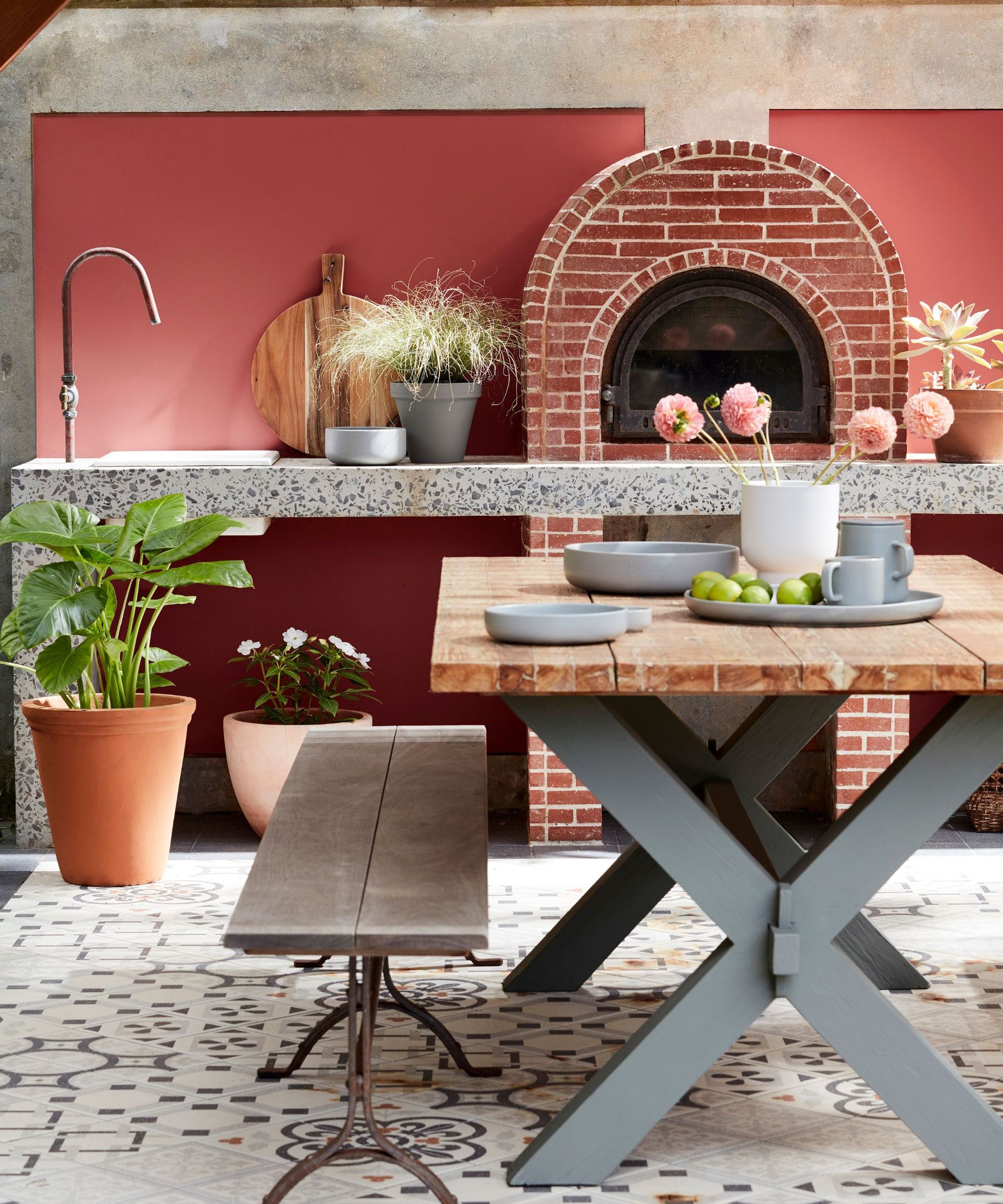 If you're keen on a vintage-style outdoor sink, you will want to site it against an attractively on-key background and bring in pretty planting and accessories.
'A vintage outdoor sink looks amazing on a marble slab or authentic wooden countertop,' says Lucy Searle, global editor in chief of Homes & Gardens. 'Pick a subtle shade such as soft earthy pink or terracotta for the surrounding wall. A distressed finish to any woodwork adds a charming touch. Herbs and climbers in pots, trailing over and around the sink finish off the look.'
5. Pick an eye-catching material for an outdoor sink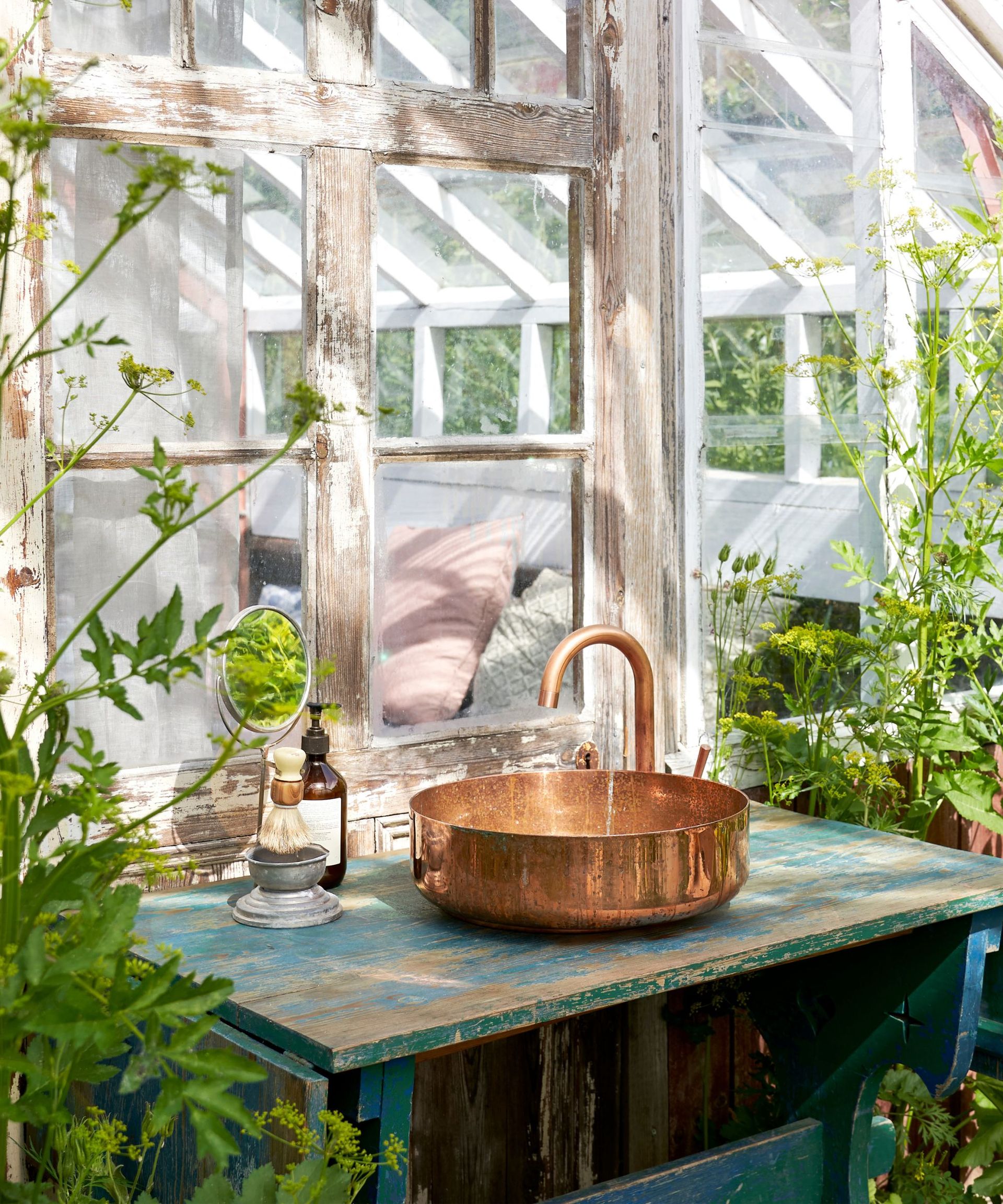 A gorgeous vintage sink in burnished copper, carved stone, even wood will bring an extra dimension to any outdoor space. You can go for a plumbed-in freestanding bowl – and with a little DIY skill, any bowl can be adapted into a simple sink. 
'Vintage or antique basins are beautiful additions to any yard that can be found in antique stores, markets or online,' says Robin Antill, director of Leisure Buildings (opens in new tab). 'An outdoor kitchen with a lot of activity might not be the best place for an old vintage French basin. However, if you use it for lighter things, such as washing your hands, it would make a fantastic garden feature.'
6. Bring an outdoor sink to your garden bar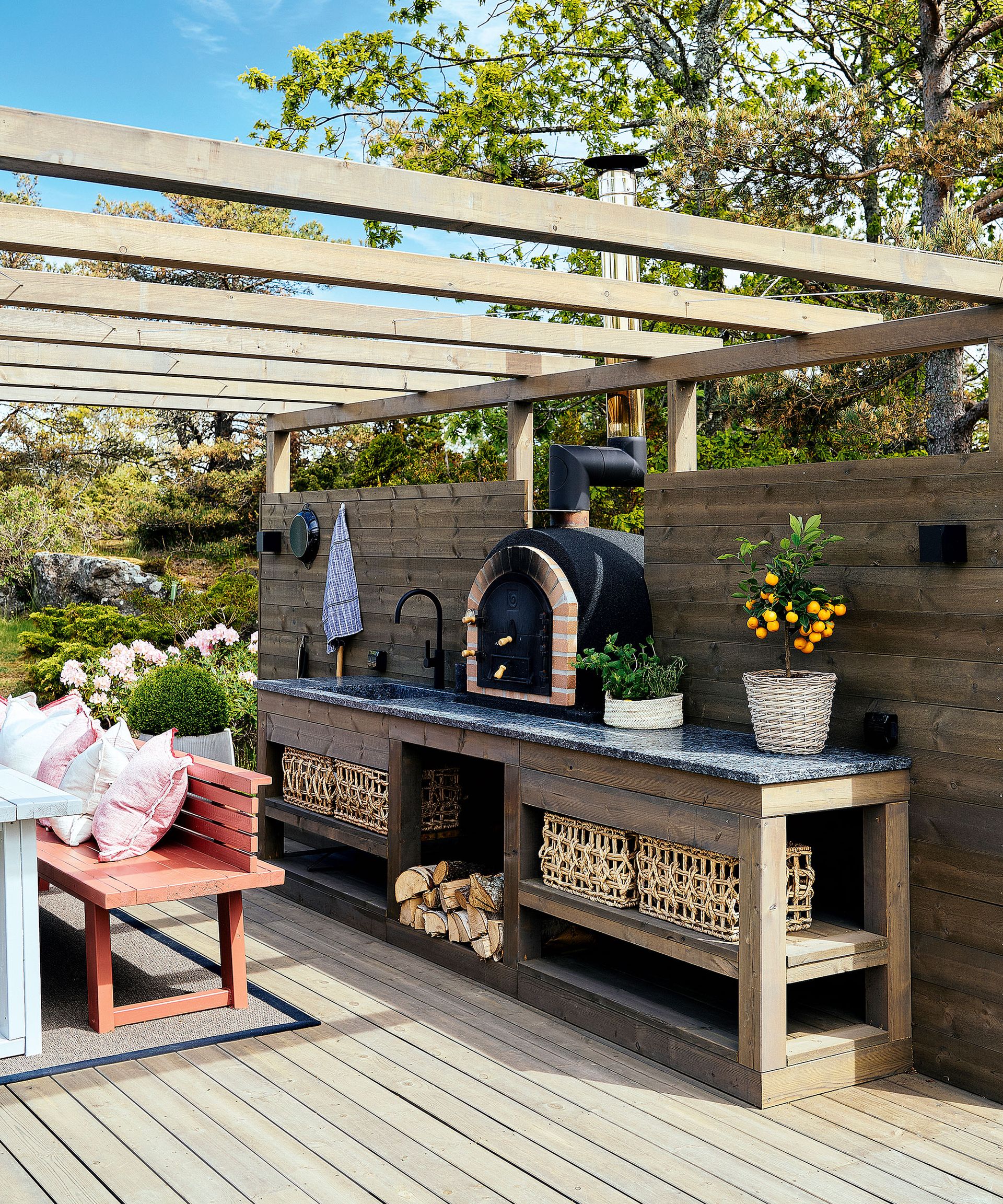 An outdoor sink is a brilliant addition to a garden bar. Not only does it provide a handy place to rinse, wash and dry glassware, filled with ice it provides the perfect receptacle for cooling beers and wine. 
If you're going to use your outdoor sink regularly for this purpose, consider a material that retains extremes of temperature well, such as stone or composite, as this will help to keep the ice as cool as possible. 
7. Make it the right material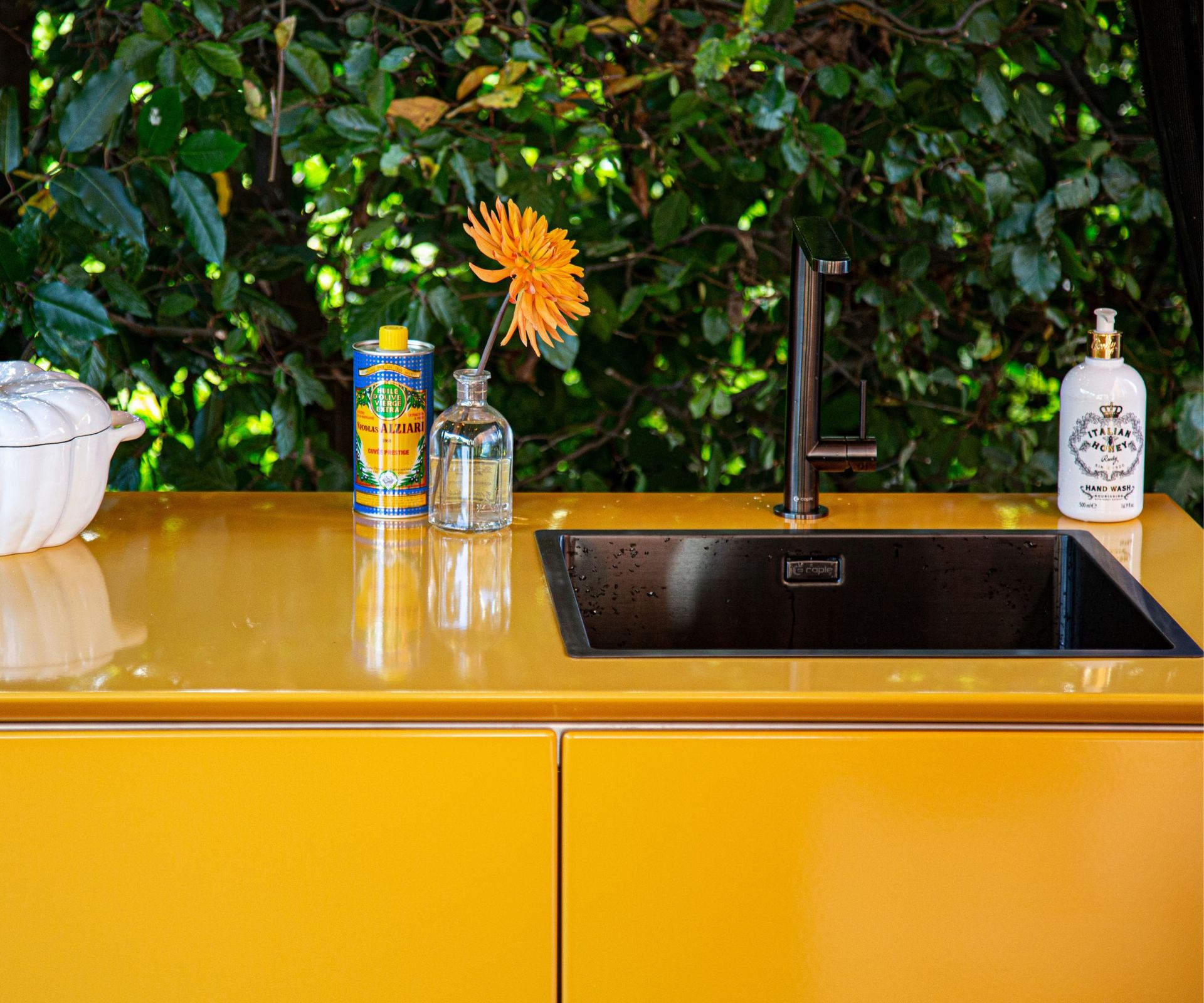 For outdoor sinks, stainless steel is practical, relatively inexpensive and easy to keep clean. Brushed steel is a good option, because it's tough, scratch-resistant and will not reflect glare from the sun. 
Porcelain is an alternative, but is perhaps less suitable for heavy outdoor use. Stone can look stunning, but may erode slowly and will need extra care if you live in an extreme climate. 
Composites, quartz, granite and concrete share the designer good looks of stone but are usually more hard-wearing. Bear in mind if you choose a heavier sink material, the cabinets or surface beneath may need to be reinforced to bear the weight.
8. Buy an all-in-one cook station with sink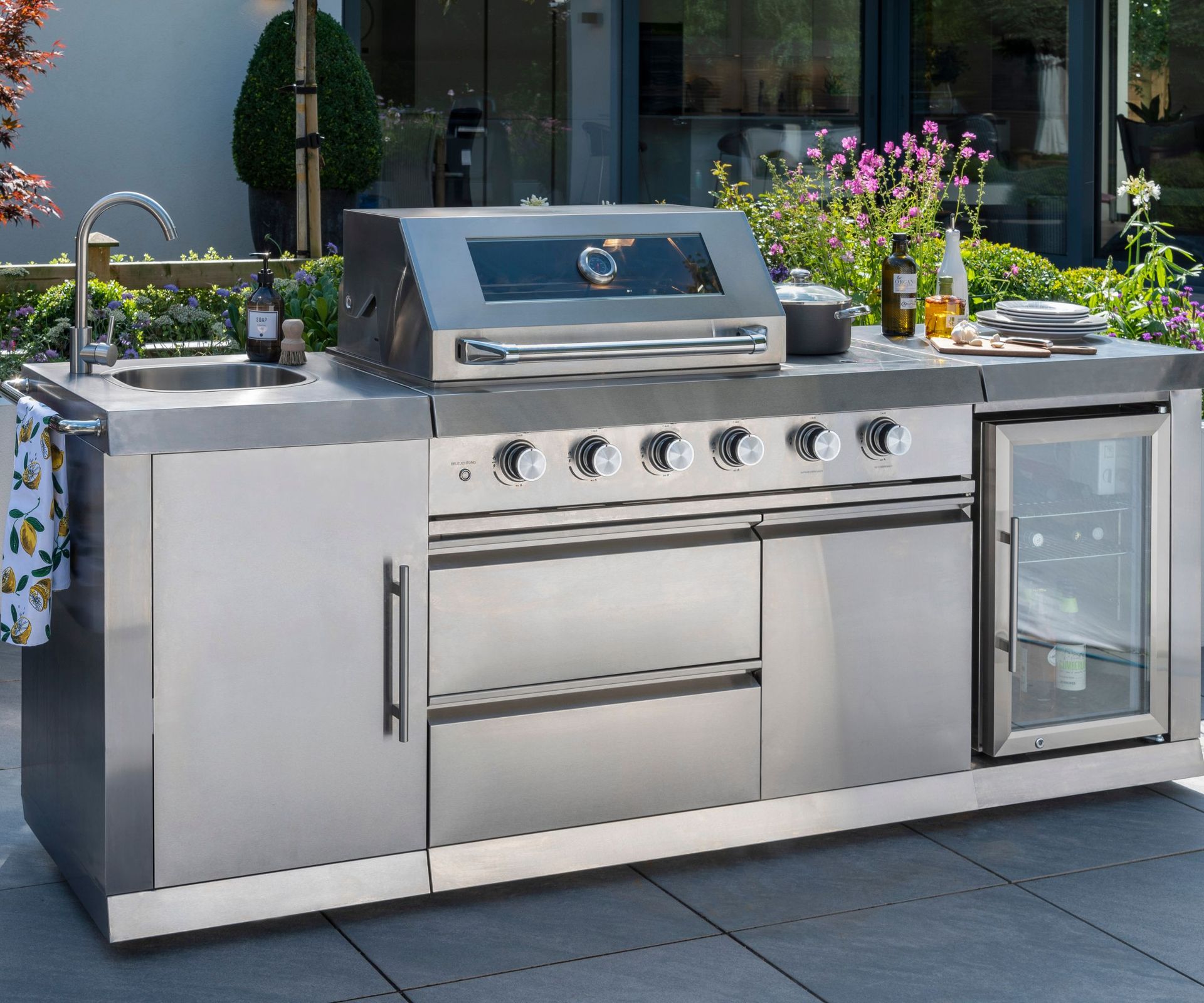 If you're looking to buy the best grill anyway, why not consider one that incorporates everything you need in an outdoor kitchen, sink and all, like this one from Norfolk Grills (opens in new tab)?
'These types of grills aren't cheap,' says Jen Ebert, Homes & Gardens Deputy Editor (Digital) and grilling fan. 'However, if you factor in that there are no kitchen installation costs and that you can take them with you when you move, making them a must for renters), they are clearly a great choice.'
9. Put an outdoor sink in a shady corner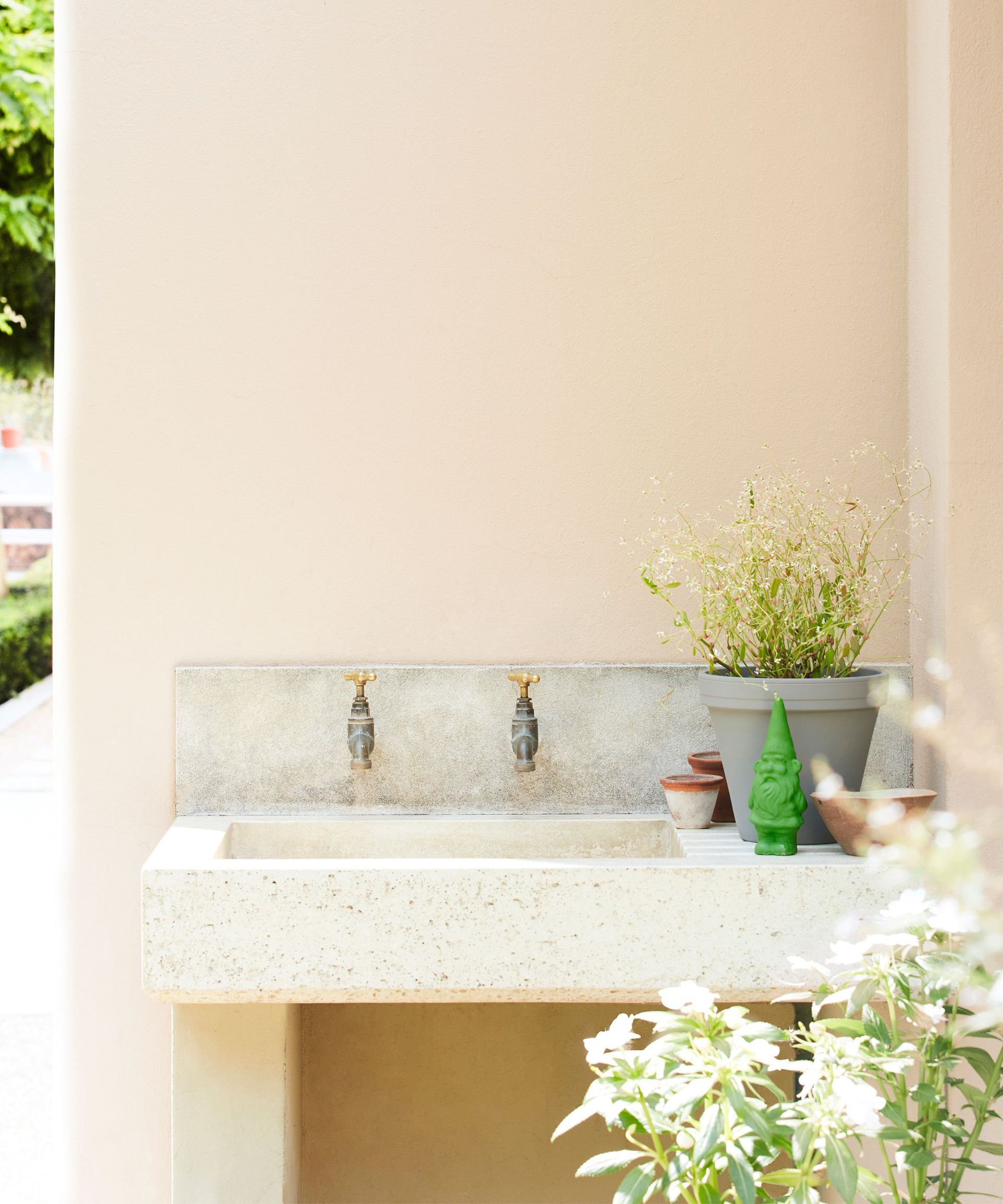 A small outdoor sink can bring life to a shady and unloved corner of a backyard. It will create an interesting water feature – even when the faucets are turned off. Choose a wall-hung style and pick the most attractive taps you can find to add sculptural interest. Brass or copper will age well and develop a lovely verdigris patina over the years; the more water splashes, the better. 
10. What type of outdoor sink?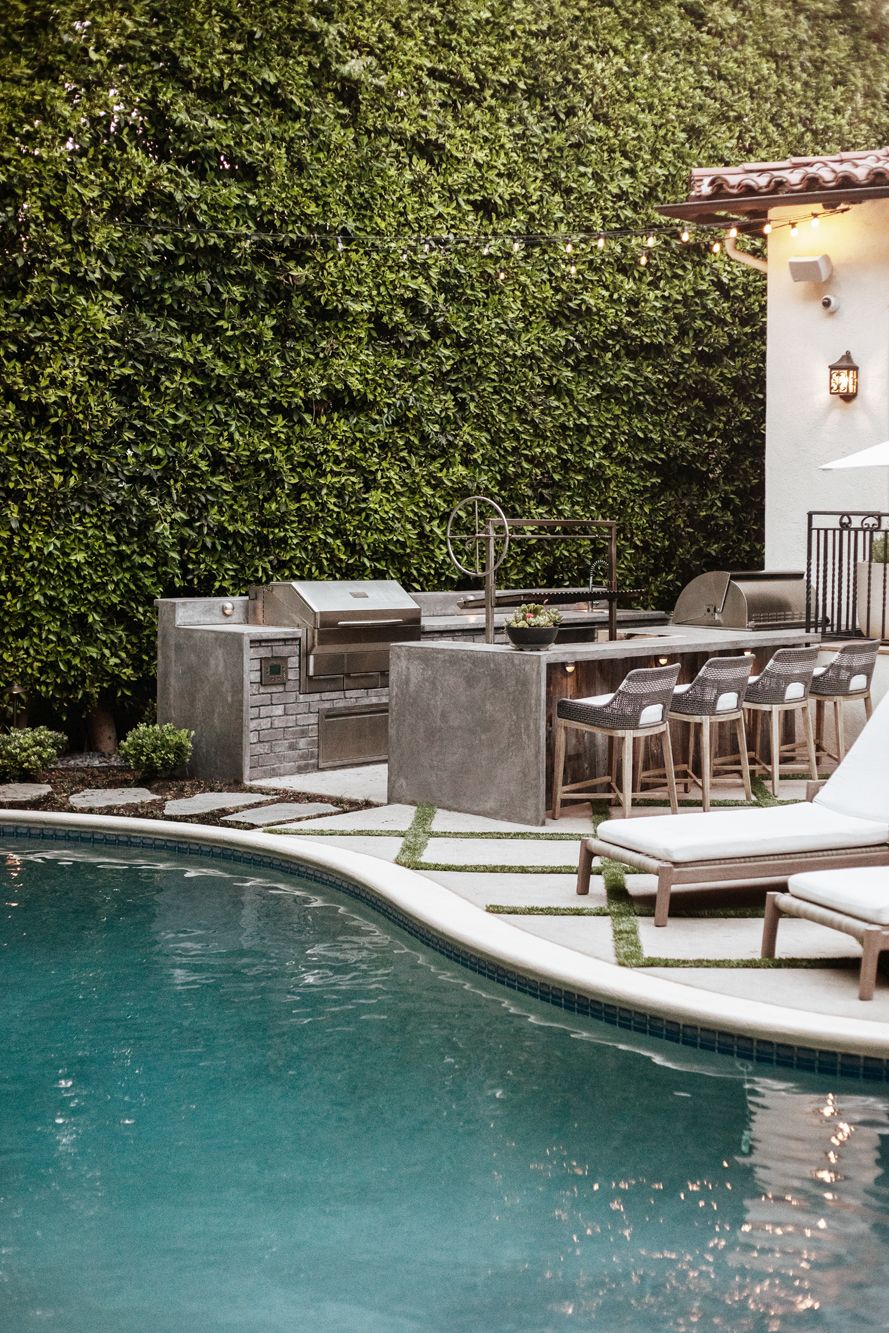 Another big decision when fitting an outdoor sink in an outdoor kitchen, says Sam Proctor of Chiltern Garden Design, is whether to opt for an under-mounted (so it fits directly into the countertop) or over-mounted model which sits proud on the countertop. 
'An under-mounted sink leaves no visible joints, and is more easily cleanable,' says Sam.
A free-standing or pedestal outdoor sink can look stunning and is sure to get your guests talking. Find a spot near the edge of the yard – and try to place it within practical reach of other crucial outdoor points, such as the grill, the shed, or the gate which you use when you return from walks with children or dogs.
A dry sink is another option. It requires no plumbing, but is a practical receptacle used for gardening tasks such as potting plants. Soil and debris are collected in the removable bowl, which is then tipped out onto the compost heat or flowerbeds. If you like this idea, you might like to look for a potting bench with an in-built dry sink.
Is it difficult to plumb in an outdoor sink?
The plumbing work itself is not difficult; an outdoor sink works just like an indoor one. The main challenge is the water pipe supply to the backyard. If there is already a supply – for instance if you have an outdoor faucet – as long as you site the sink near the faucet, the plumbing work should be relatively straightforward, providing you're only going to be using cold water.
If you would like hot water to be plumbed to your sink, this is a more complex plumbing job, but certainly not impossible. A professional plumber will take a feed off the indoor supply, but this may involve some disruptive digging work.
'As well as water supply, do think about drainage,' says Sam Proctor, owner of Chiltern Garden Design. 'Where will the water drain to when the sink is emptied? If you're not doing large-scale washing up, and only rinsing salad, herbs or fruit for cocktails, then you can probably simply drain into a French drain or flowerbed.'
Can I use an indoor sink outdoors?
You can use an indoor sink outdoors because sinks are designed in water-resistant materials such as stainless steel, copper and stone, so they can withstand rain and bad weather. However, if you're going to choose or repurpose an indoor sink for outdoors, it's best if it's made of a really hard-wearing metal, stone or composite material. And ensure that the material you have chosen can withstand really cold weather without cracking if you live in a northern zone. Some manufacturers do make weatherproof sinks especially designed for outdoors.