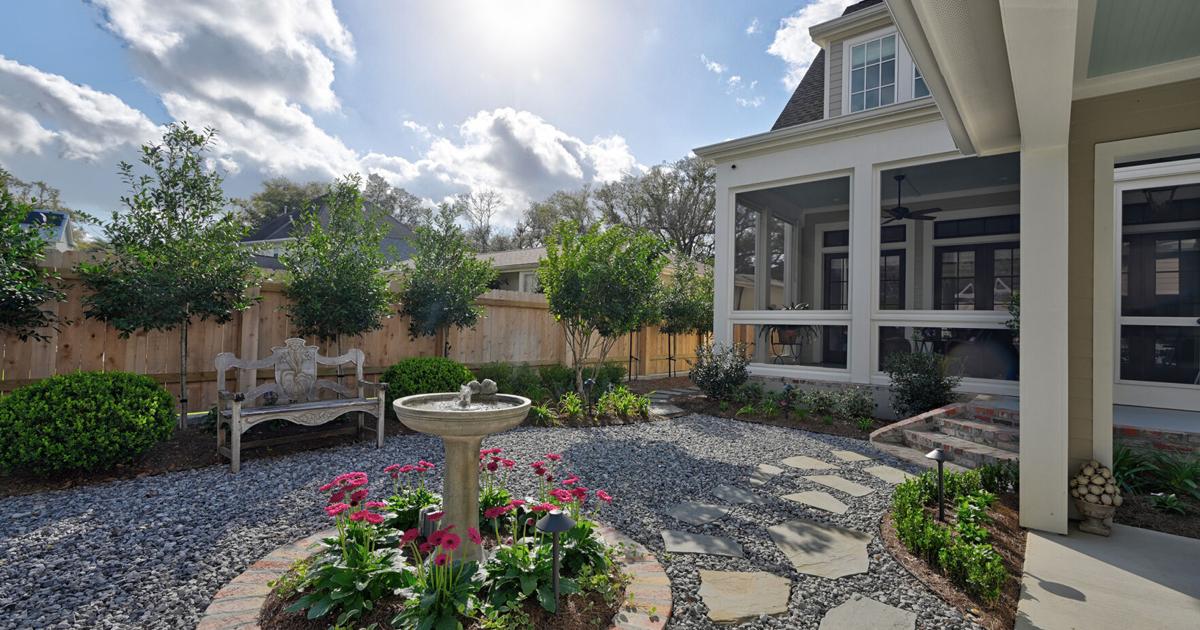 New Lake Vista cottage designed to retain sense of history | Home/Garden
When retirees Bruce and Jim Gaynor asked architect Lindsay Woolf to design a cozy Lake Vista cottage that wouldn't feel like new construction, Woolf, no stranger to historic houses, nailed the main features of the architecture with her first set of drawings.
"Fifty percent of my work is historic houses," said Woolf. "I'm in them all the time, and what I find is that there are all these quirks. Historically, craftsmen would take liberties with design and create unique features. I tried to incorporate a lot of that into this house."
The Gaynors have built multiple houses over the years and were clear on what they envisioned.
When retirees Bruce and Jim Gaynor asked architect Lindsay Woolf to design a cozy Lake Vista cottage, Woolf nailed it.
In addition to wanting a cottage that felt like it had history, they wanted a home that would comfortably accommodate two generations of their family — themselves and their grown daughter Michelle Gaynor — and that would have a strong connection to its Lake Vista site, where houses face the street on one side and the neighborhood's pedestrian lanes on the other.
The Gaynors requested separate rooms that flow together, but at the same time provide a degree of privacy. 
"It was important everybody had a space they could escape to," said Bruce (short for Mary Bruce) Gaynor.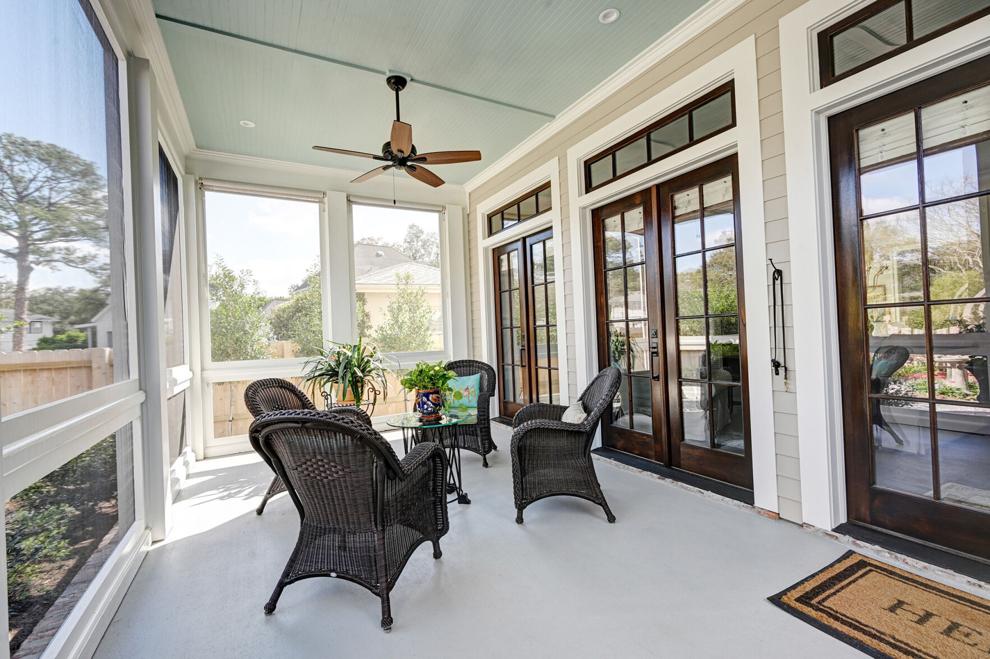 The Gaynors owned the 1949 cottage that previously existed on the lot and originally wanted to renovate it. But when building new proved necessary, they drew on what they loved about the house and embraced the opportunity to do some things differently.
This time, they wanted the kitchen to overlook the lanes and a porch where the kitchen had been to face the street. They also wanted a courtyard based on the one at their home in Florida and a soothing background of coastal, Low Country colors.
After getting to know the clients and their traditional tastes, Woolf imagined a cottage with parking, a charming garden entrance and a screen porch, all conceived to create a relaxing, exhale moment when the occupants arrive home.
A double-arched entrance faces the lanes, which is technically the front of the house in Lake Vista.
A central hall between the two facades, a common architectural feature in Southern cottages, serves as a nucleus, with individual rooms branching off of it.
Cased openings connect the kitchen, living and dining rooms, but also delineate them, unlike the truly "open concept" arrangements seen in many contemporary dwellings.
"Lindsay did a good job of defining rooms without it being too open or too closed," Bruce Gaynor said.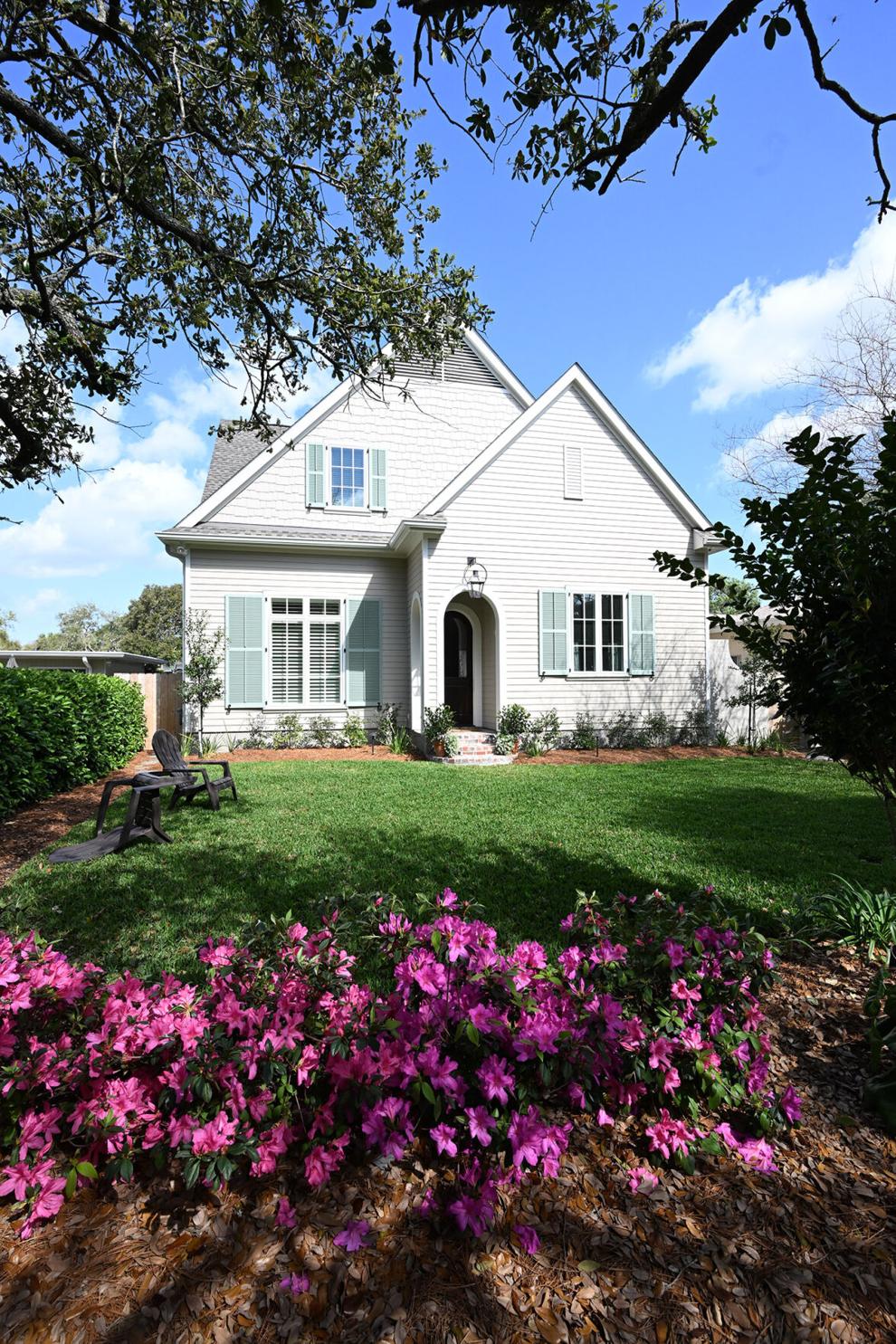 Outside, the classic cottage language is expressed in a crushed-stone courtyard with a fountain and an arched pergola gateway, arched doorways, a swooping dormer window, multiple roof lines, and details such as strap hinges, iron shutter hardware and gas lanterns.
Inside, layers of architectural elements that look as if they've evolved over the years — deep case openings, paneled wainscoting, built-in cabinetry, French doors and a 9-foot tall bay window with a carved-out sloped ceiling — imply the custom craftsmanship of other eras.
A coffee/beverage bar, recessed into an alcove with textured grass-cloth walls, was designed to look as if it was reimagined from what was originally a closet. In fact, Woolf's plans had called for a linen closet in the niche.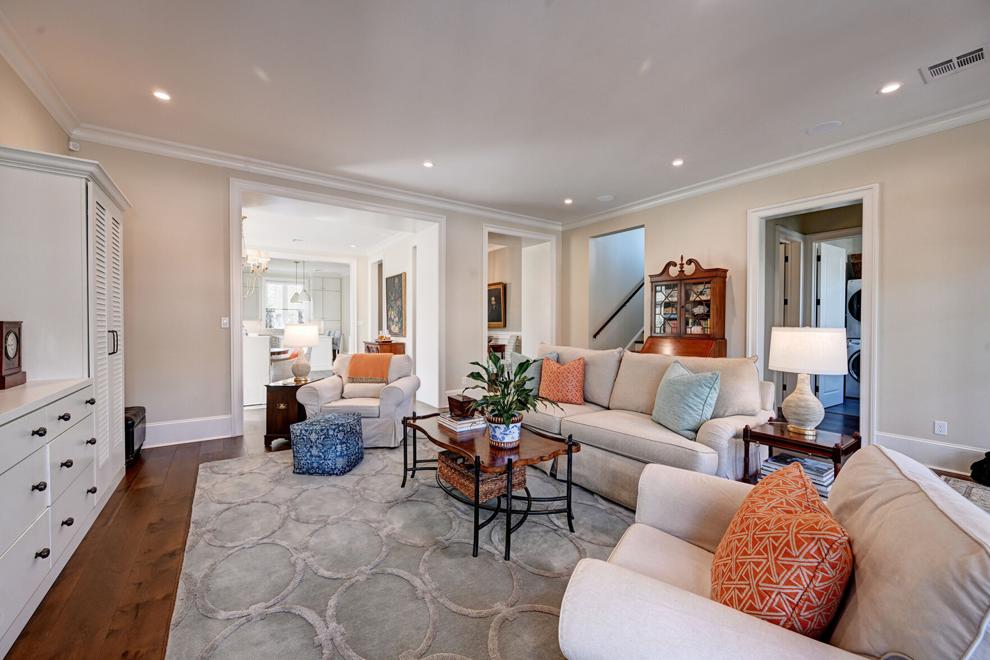 Giving the house a sense of age, said Woolf, was critical to achieving the "warm and cozy" character that was the clients' goal.
The Gaynors hired Frank Augello, of Affordable Quality Construction, with whom they'd worked on a house 20 years earlier, and LGD Lawn & Landscape to bring the outdoor spaces to life.
Woolf collaborated with interior designer Betsey Hazard to select the palette of soft colors and interior finishes. Early on, Woolf and Hazard discovered how in sync they were with the project: They both chosen the same shade of cream, Benjamin Moore's Spring in Aspen, as their preferred color for much of the interior.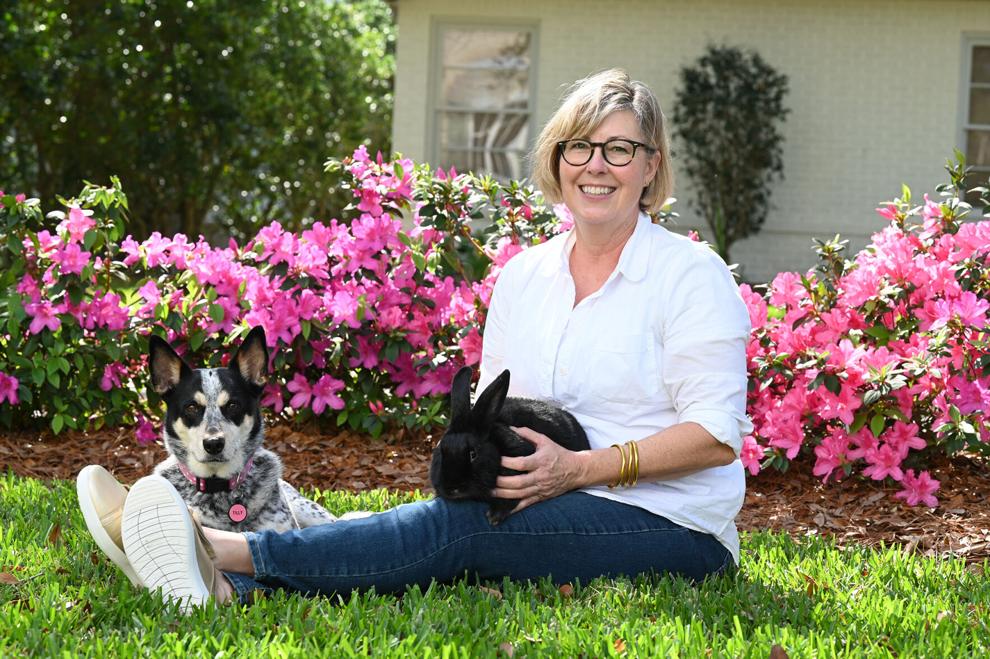 Though the house encompasses more than 3,000 square feet with four bedrooms, 3½ baths, a mudroom and even a custom living space under the stairs for Harry the Rabbit, all involved were intentional in staying true to the snug informality of cottage living.
The interior's 10-foot ceilings are high enough to be comfortably spacious yet low enough to feel intimate. The garden's angled pathways of natural stone pavers are more quaint country garden than manicured urban landscaping.
Both of the Gaynors have historic houses in their DNA. His parents restored a late 19th century house in Kentucky; her parents remodeled several in Virginia.
The couple's frequent travels include historic homes and gardens. And they are not afraid to roll up their sleeves and take on DIY projects. Jim Gaynor, who does woodwork as a hobby, has created carpentry details for some of the couple's previous houses.
Michelle Gaynor, head of retail for the shop at The Historic New Orleans Collection, is also interested in historic renovations and participated in choosing from the well-edited design options that Woolf and Hazard presented.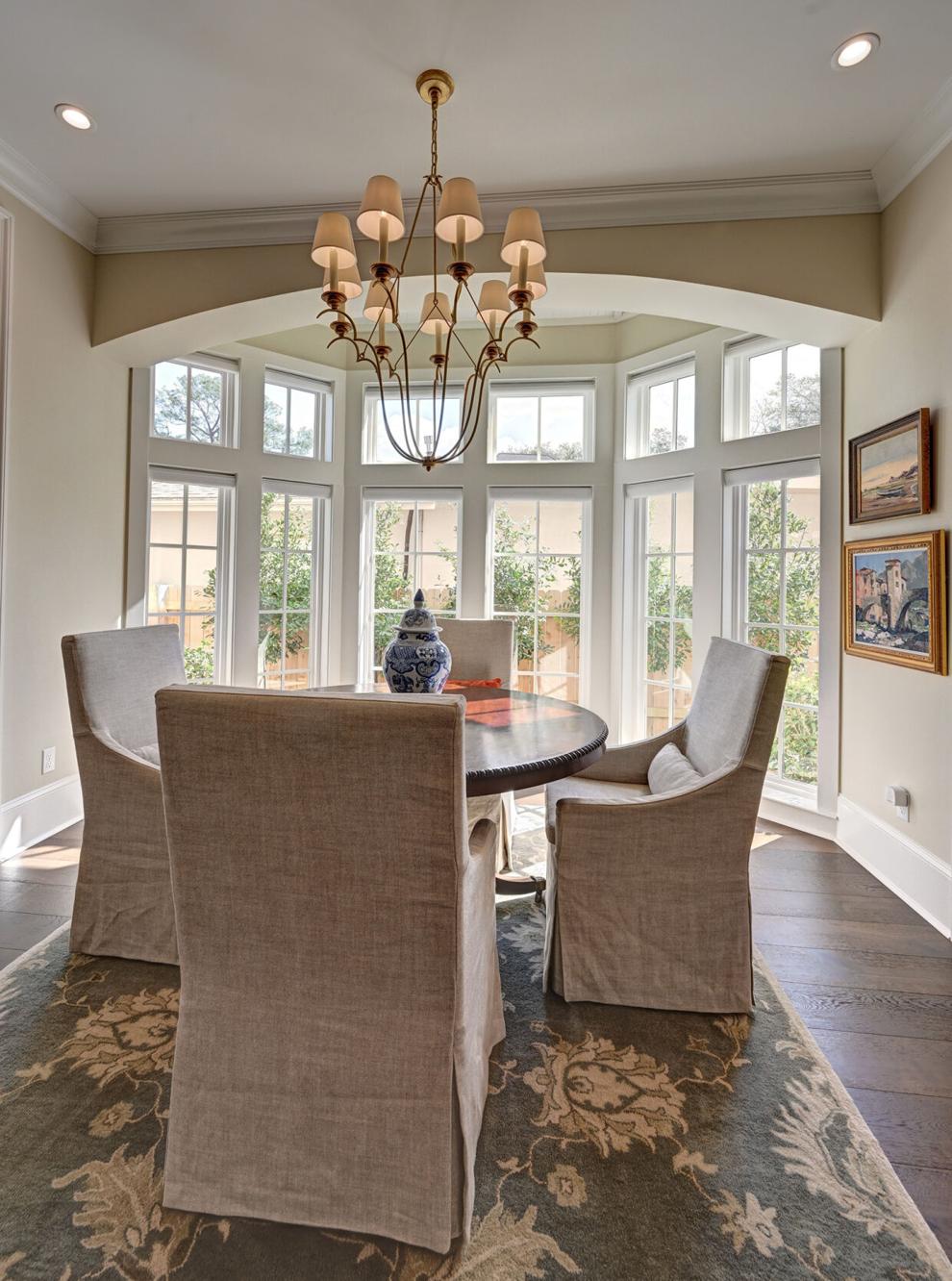 Like the house, the Gaynors' furnishings and art convey an appreciation for historic design. The couple furnished the house themselves, mixing the antiques, Chinese porcelain and oil paintings they've collected over the years with fresh contemporary pieces and all new lighting.
A 1902 portrait by German American artist Nicola Marschall hanging in the paneled hall frequently piques the interest of guests. Jim Gaynor's parents found it covered in soot when cleaning out the third floor of the 19th-century Kentucky house they restored, and Bruce Gaynor had it professionally repaired.
The Gaynors have been unable to identify the man in the painting but have playfully dubbed him "Uncle George."
The Gaynors have been in the cottage less than a year, but thanks to the respect for the past that they and Woolf brought to the design, the cottage itself, which still retains grown-in hedges from the previous house, looks as if it's been nestled in place for far longer.
"The connection to the past has always been interesting to us," said Bruce Gaynor. "We have a love of things that connect generation to generation."