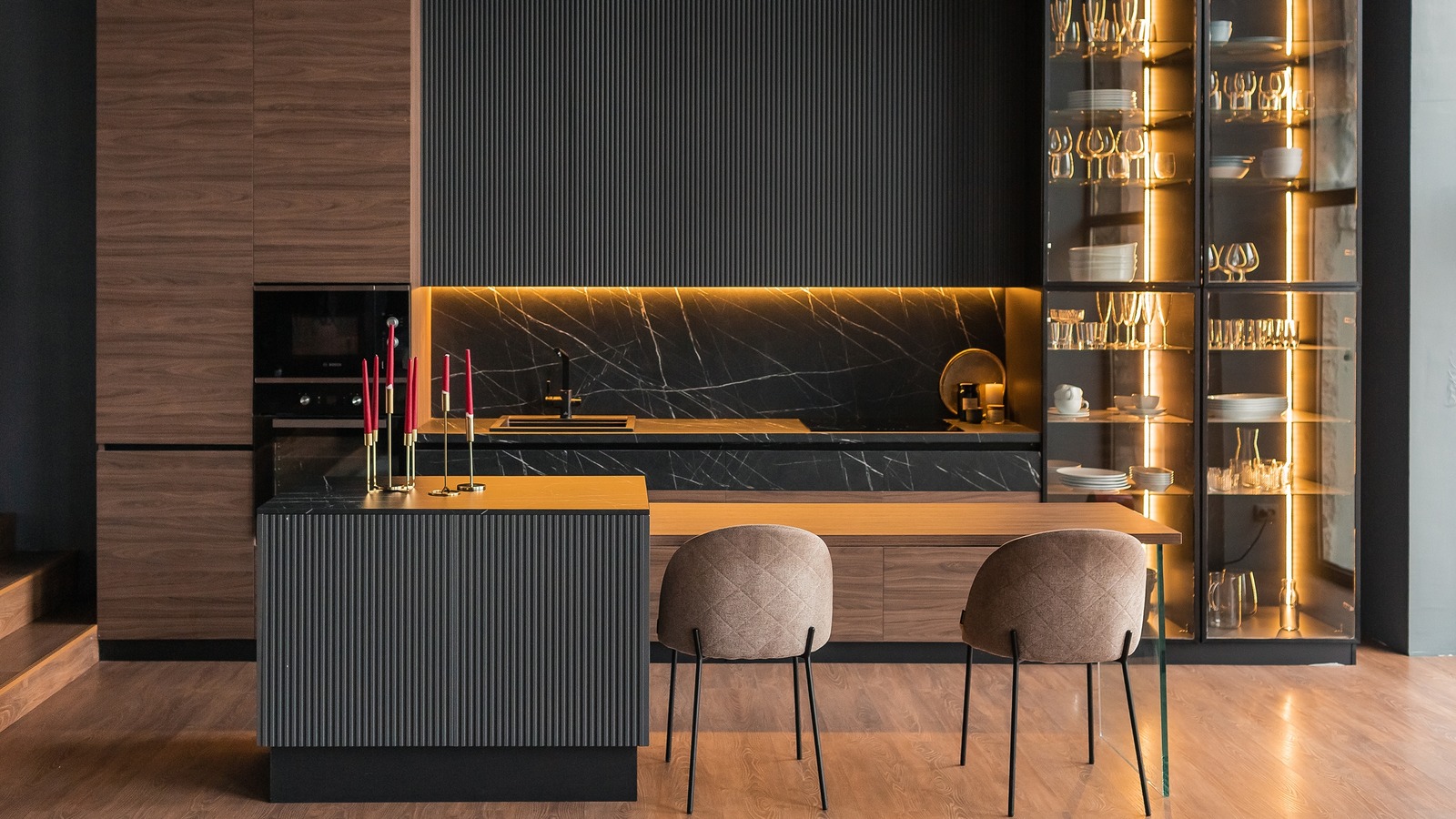 Is An Invisible Kitchen The Next Big Home Trend?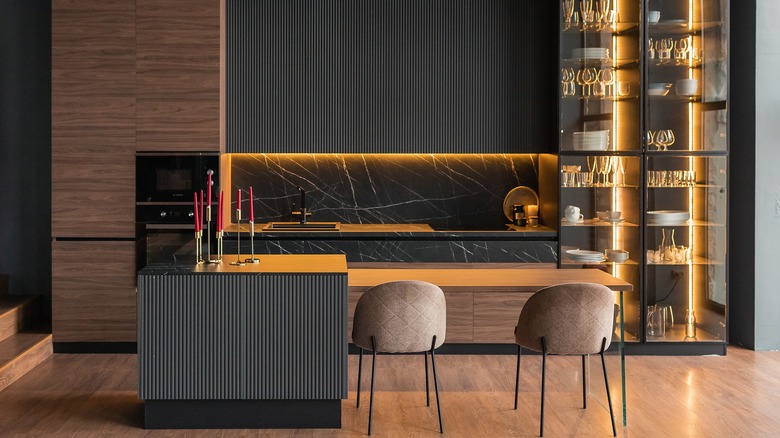 Sakharova Anastasia/Shutterstock
When it comes to sleek, modern kitchen designs, one of the buzzwords still gaining momentum is invisible. But what does that mean exactly? Livingetc reports that Millier, a British design firm, equates invisible kitchens to those with all the elements of a traditional kitchen — a sink, stove, and fridge — but they're primarily hidden within the room. The overall appearance of an invisible kitchen, sometimes called a hidden kitchen, provides a cohesive look that expands on the ideals of minimalism. The colors and overall design scheme of the most serviceable room in the house live in harmony with adjacent rooms. Anything not aesthetically pleasing is usually stowed behind handleless cabinetry, and built-ins are commonplace, as noted by The New Indian Express Indulge. 
Will more invisible kitchens be added to homes in the foreseeable future? Signs point in that direction as more and more decorating blogs, magazine spreads, and Pinterest boards give this luxury design trend exposure. Exploring the features of invisible kitchens can help you decide if this type of remodeling is right for your space. 
1. Hobs blend into surfaces
Aleks Kend/Shutterstock
Whether located on an island or another counter surface, hobs, also known as cooktops, blend into a flat surface in an invisible kitchen. Like the example in this photo, they are often black and barely noticeable when not in use. 
2. Refrigerators are hidden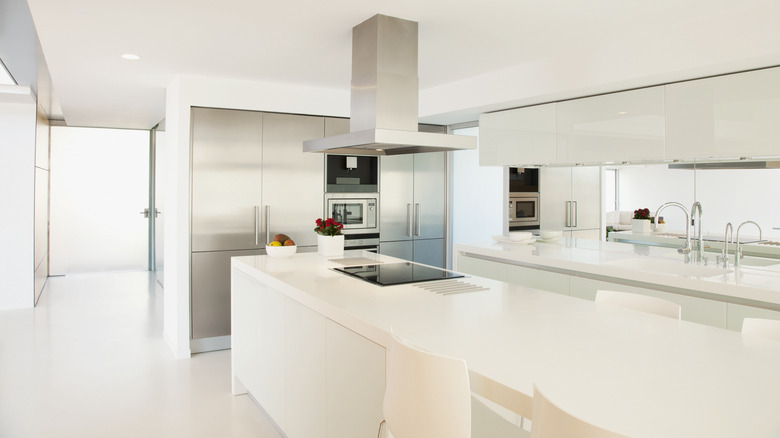 Martin Barraud/Getty Images
Even the bulkiest appliance in the kitchen, the refrigerator, is hard to distinguish in an invisible kitchen. In this sleek kitchen, the front of the fridge matches the cabinets. 
3. No cabinet knobs or pulls in sight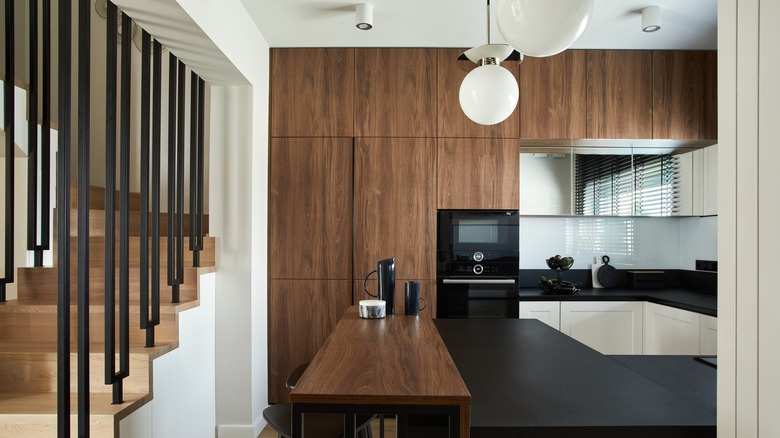 Followtheflow/Shutterstock
A lack of pulls and knobs on cabinetry is an earmark of invisible kitchen design. If pulls are present, they are usually very minimal in size. The result is a wall of cabinets hiding the refrigerator and storage cubbies that are obscured. 
4. Rooms meld together cohesively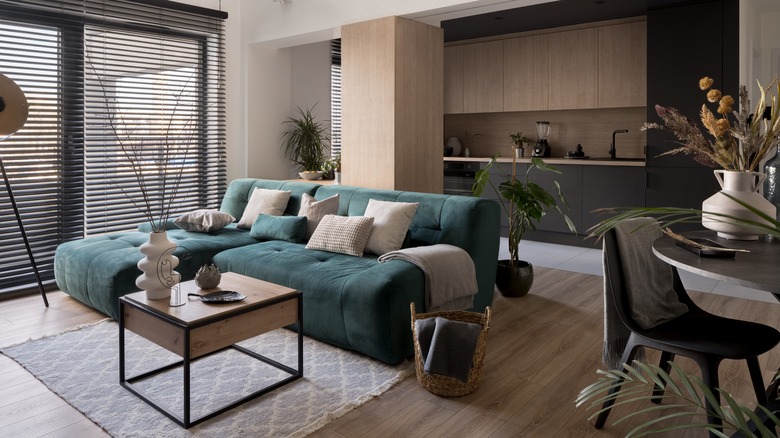 Dariusz Jarzabek/Shutterstock
Invisible kitchens are camouflaged, so they don't immediately stand out as food prep areas. Colors, fixtures, and woodwork blend with decorative elements employed in adjacent rooms.  
5. Shapes in living spaces echoed in kitchens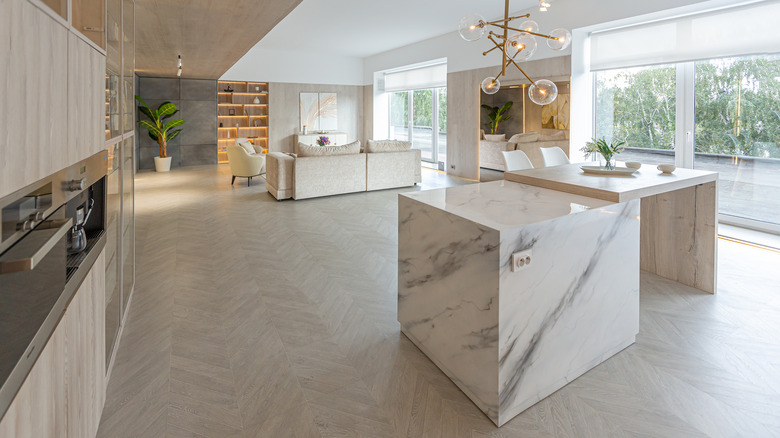 Pinkystock/Shutterstock
An island in an invisible kitchen looks the part by repeating the shape of furniture decorating an adjacent room. This makes for a functional element in the kitchen that doesn't immediately meet the eye as a food prep station. 
6. Minimalist décor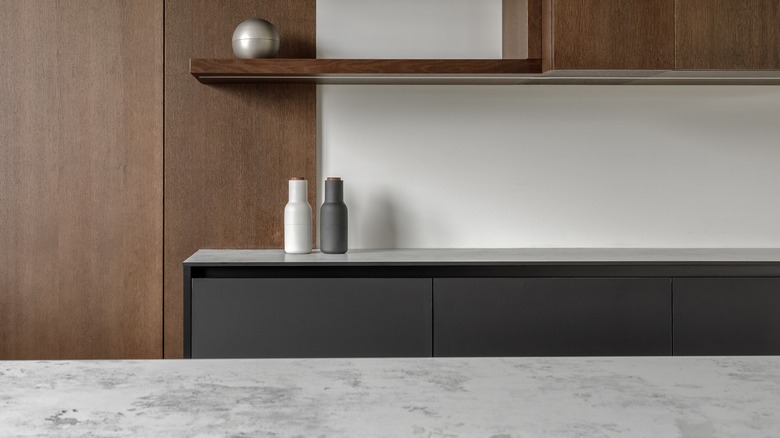 Jevgenija ZUK/Shutterstock
Islands, shelves, and cabinets have decorative items selectively placed in invisible kitchens. When used, the styles and colors generally match the décor in neighboring rooms. 
7. Drawers hiding functional kitchen items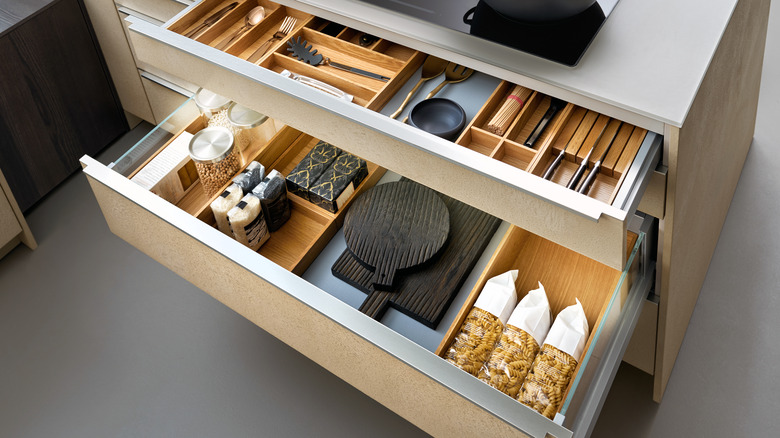 PK-Donovan/Shutterstock
Drawers in invisible kitchens can be outfitted to hold many items traditionally sitting on countertops. These range from areas big enough to hold canisters filled with food staples to fitted slots that replace knife blocks. 
8. Unobtrusive cabinetry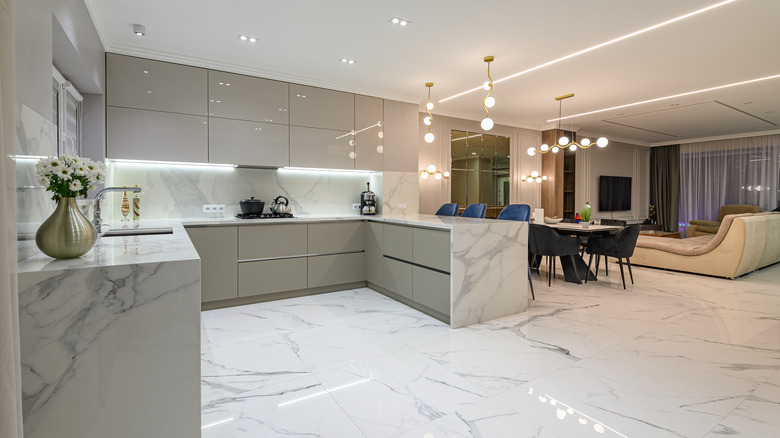 Serghei Starus/Shutterstock
Rooms of any size can be remodeled to include invisible-style cabinetry. In large, open areas updated in this way, coordinating lighting fixtures can link the kitchen to the dining area. 
9. Hidden elements in small spaces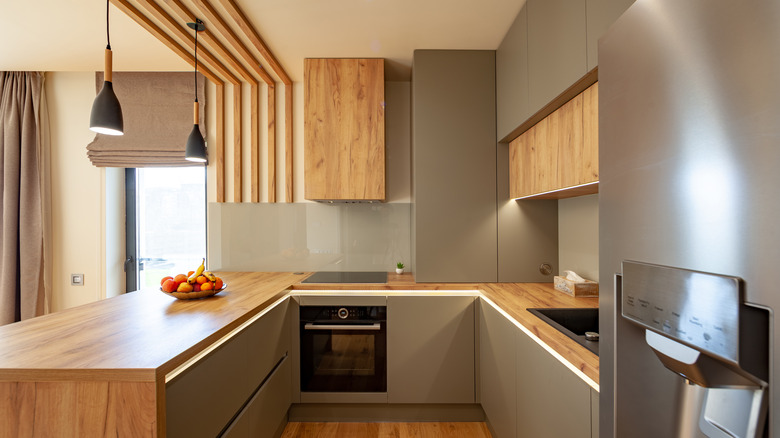 Gabi Moisa/Shutterstock
Small kitchens in apartments can also be updated to include invisible design elements. These can consist of unobtrusive cooktops, cabinets without knobs, and wooden wall features that coordinate with adjacent living areas.
10. Windows bringing the outdoors in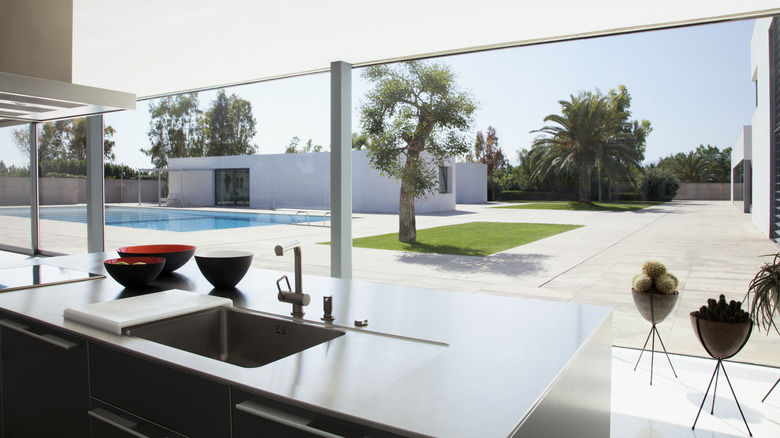 Martin Barraud/Getty Images
Windows can replace walls in invisible kitchens allowing indoor spaces to flow into complementary outdoor settings. 
11. Sinks and dishwashers blend into the design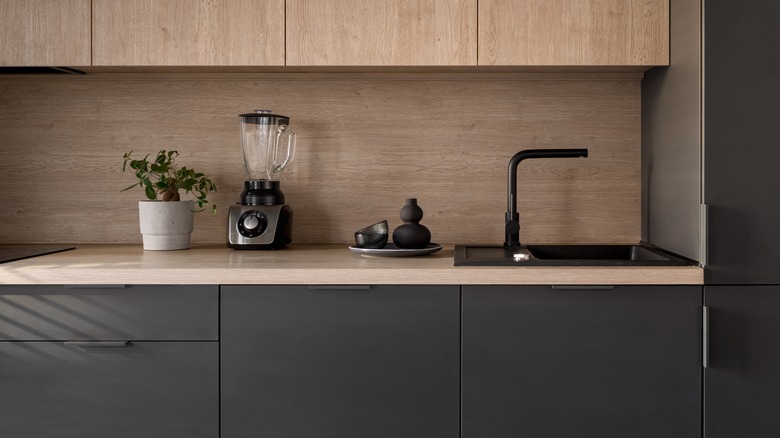 Dariusz Jarzabek/Shutterstock
Sinks are often barely noticeable in invisible kitchens, and the hardware is usually modern in styling and essentially blends in with the overall feel of the room. Dishwashers are outfitted with the same façade used in cabinetry, making them indistinguishable without opening them. 
12. Minimal use of color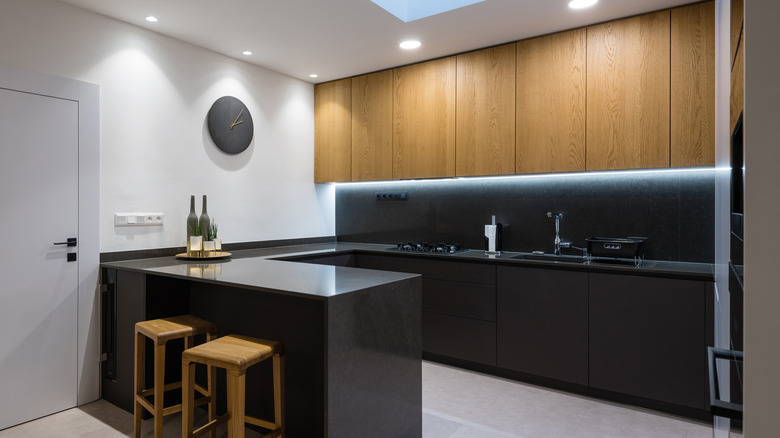 Ventura/Shutterstock
Color is often kept to a minimum in hidden kitchen designs. Rows of cabinets blend together seamlessly, especially when black cabinet façade are combined with equally dark backsplash areas.  
13. Open concept spaces meld together in harmony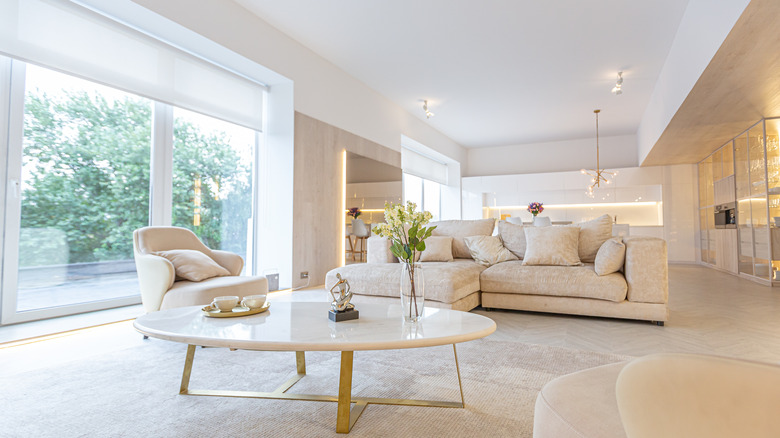 Pinkystock/Shutterstock
An invisible kitchen blends into the overall look of an open area, and it appears to be an extension of a larger living space rather than standing out as a kitchen at first glance. 
14. Neutral pallets make the perfect backdrop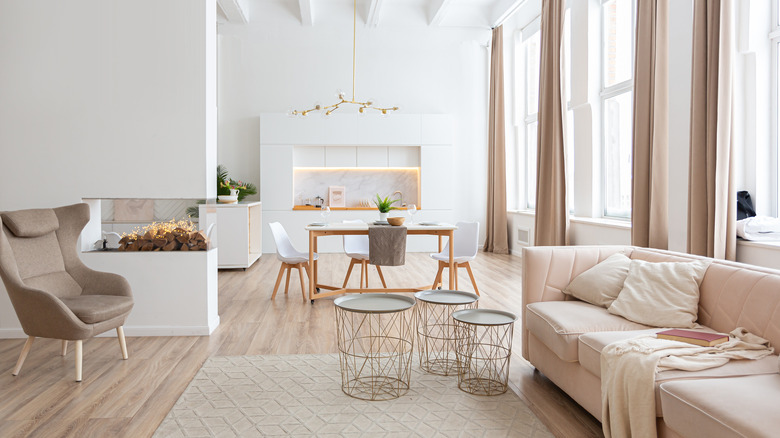 Pinkystock/Shutterstock
Neutral colors are incorporated in hidden kitchens time and again. They work well in studio apartments where rooms are not well-defined by walls. 
15. Eclectic decorating in invisible kitchens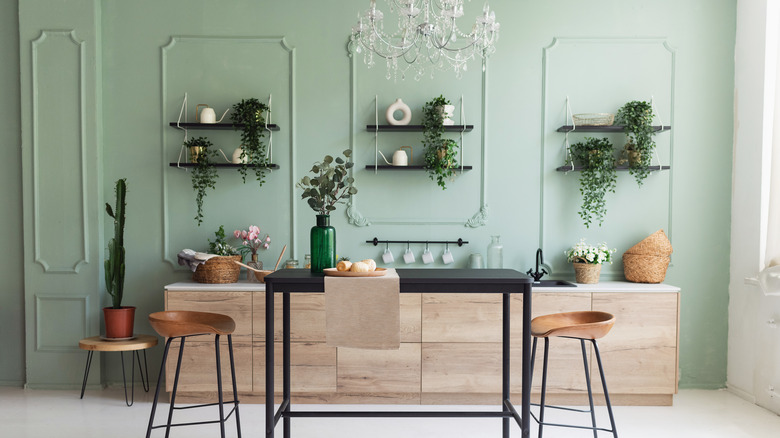 Lysikova Irina/Shutterstock
While invisible kitchens are usually associated with minimalism, that's not always the case. Some hidden kitchen designs pull elements from living areas and dining rooms into a truly eclectic space but work nonetheless.