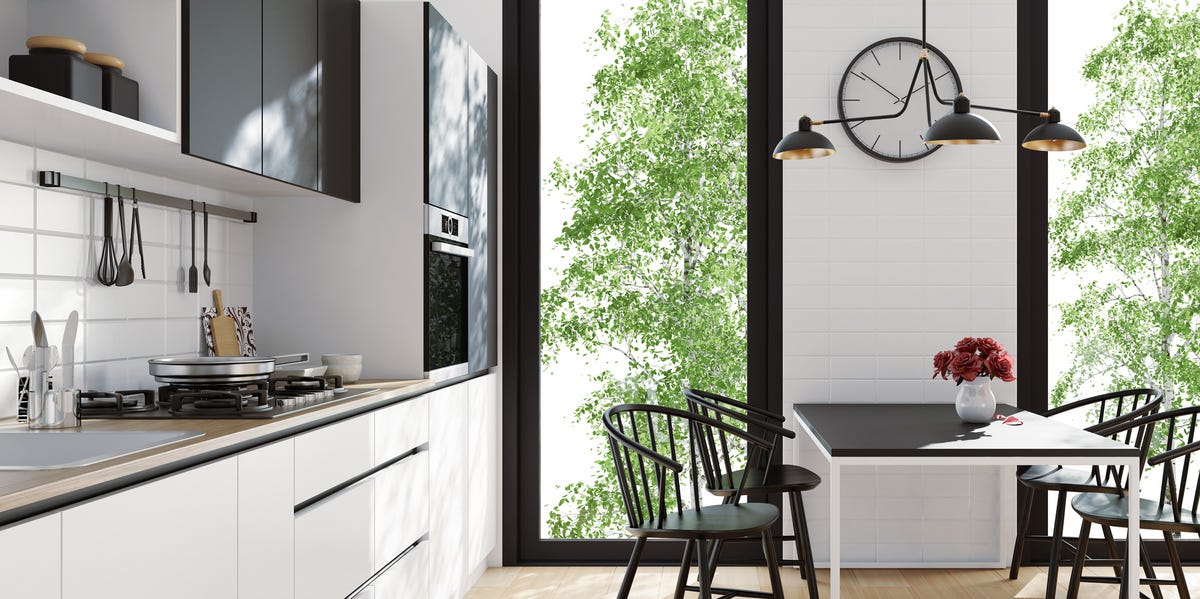 How To Keep Your Kitchen Cool In Summer
Whether we're in the midst of a heatwave, or just enjoying a sunny day, stifling summer heat is often felt most in the kitchen, where turning on the oven bakes more than just the food you're cooking! The majority of homes in the UK don't feature air conditioning, which means rising temperatures are tricky to escape and seem to become unbearable in a matter of hours.
Fans offer a cost-effective way of keeping your kitchen cool, helping to keep air circulating around the room and make it feel cooler, even if they don't actually lower the temperature of the room.
But what else can you do? If you're feeling the heat, you're not alone – kitchen retailer Magnet reports that there has been a whopping 271 per cent increase in Google searches for 'how to keep the kitchen cool in summer' over the past three months. Here are five handy tips to help you beat the heat whilst in the hardest working room of your home…
---
• Make kitchen design choices that are heat-resistant
We're likely to see hotter summers continuing over the coming decades, so making heat-proof design choices is a really good idea to ensure you can enjoy your kitchen all year round. This is particularly important for those with south or westerly-facing kitchens where the sun shines in through the windows for the majority of the day.
An open-plan kitchen design creates more space for air circulation; a key way to prevent your kitchen from becoming hot and stuffy. But it's also important to ensure you have the right ventilation installed within your kitchen design. For example, cooker hoods will mitigate odours and help to improve air circulation. When it comes to cabinetry and countertops, lighter colours will absorb less heat and give your kitchen a light and airy feel.
• Open the window in the morning, then close it when the temperature rises
We all love a breeze, especially in sweltering weather, but avoid opening your kitchen windows later in the day when it's hotter. Why? Early in the morning it is often hotter inside than it is outside, due to hot air from the day before being trapped in your house while the temperature outdoors has dropped overnight. To counteract this, opening your windows first thing in the morning will let cool, fresh air in and warm, stale air out. Remember, when temperatures begin to rise, close the windows to keep the hotter air out and the cooler air in.
• Keep your blinds closed
Sunlight streaming through your windows seems like a lovely idea in summer, but during a heatwave, it only makes your kitchen temperature hotter.
'If you have blinds fitted on your kitchen windows, close them when the sun rays begin to shine directly through. If you don't have kitchen blinds, they are a great investment that don't need to be expensive,' the team at Magnet explain.
The same rule applies to shutters, which are great at stopping heat from escaping through window panes in winter, as well as stopping heat coming into rooms during summer. Keep it closed during the day to block the sunlight and heat, then open in the evening when it's cooler.
• Try to shorten cooking time by meal prepping
If you have time to spare in the morning when it's cooler, it's worth preparing your meals before the kitchen gets too hot. By evening when you're ready to eat dinner you can simply pop it in the oven or microwave.
Alternatively, opting for a cold meal, like a salad or sandwich, means you won't have to heat your kitchen up further. Not only is this better for keeping your kitchen cool, but hot weather can also make you feel less hungry, meaning a lighter meal is often a much better option.
• Avoid the oven as much as possible
We all know the phrase, 'it feels like an oven in here' – and for good reason, too. Your oven heats up your kitchen (and home in general) in a big way. But minimising the use of your oven and stove top and using smaller appliances instead will emit less heat and less energy. For example, an integrated microwave, toaster ovens, slow cookers, air fryers and panini presses are also good options when cooking on a hot day.
• These 5 houseplants will help keep your home cool in a heatwave
• The best quiet fans that won't keep you up at night
• 3 brilliant fan tricks to help cool your room during a heatwave
• The hot water bottle trick to help you sleep in hot weather
• Tried & Tested: The best tower fans for beating the heat
• How to protect your garden during a heatwave
Follow House Beautiful on Instagram.
---
This content is created and maintained by a third party, and imported onto this page to help users provide their email addresses. You may be able to find more information about this and similar content at piano.io