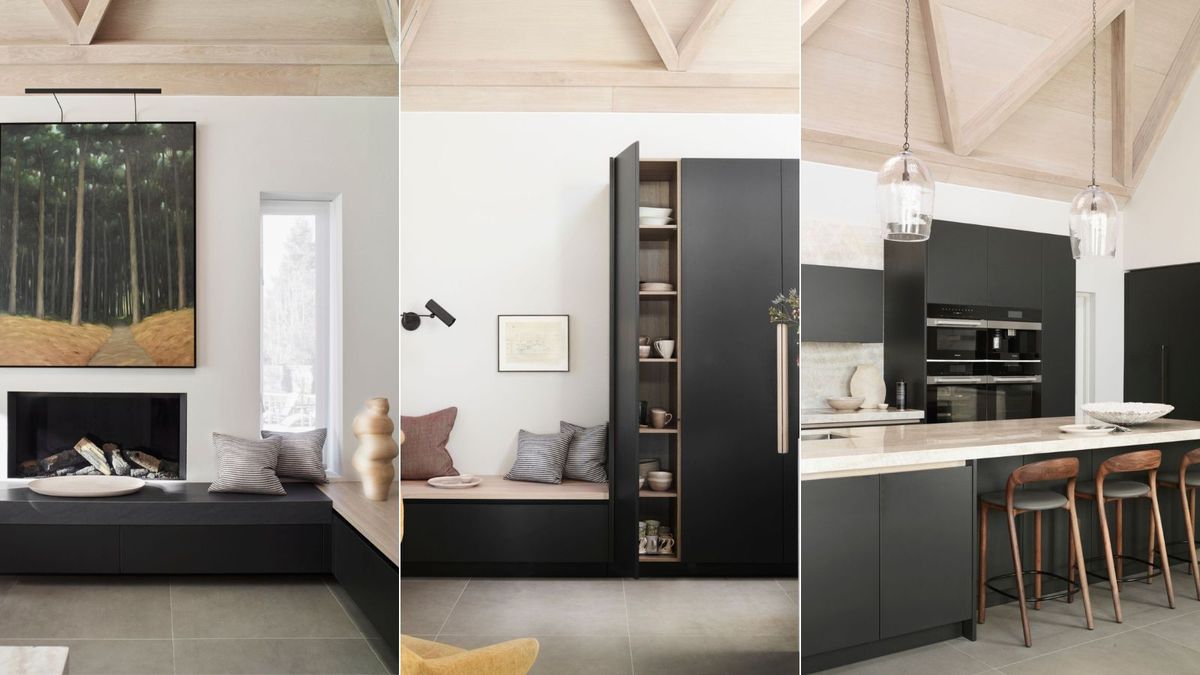 how to create a contemporary but charming kitchen |
There is much to be said for streamlined kitchen cabinetry, a minimalist approach to the room's decor and a pared-back approach to accessorizing.
After all, the kitchen is a busy space, so it makes sense that modern kitchen ideas are universally popular. However, contemporary minimalist kitchen ideas are often in danger of lacking character, and in turn, warmth and charm.
However, there are ways to mitigate this – and who better to ask for advice on this than award-winning kitchen designer Jane Powell (opens in new tab) from Roundhouse. Here, Jane talks us through her design decisions that make this modern black kitchen so elegant and inviting, so that you can design your modern kitchen with confidence. 
Jane Powell is an award-winning kitchen designer for Roundhouse Design (opens in new tab). Jane has vast experience of designing beautiful bespoke British kitchens, closets and other furniture.
1. Highlight architecture with material choices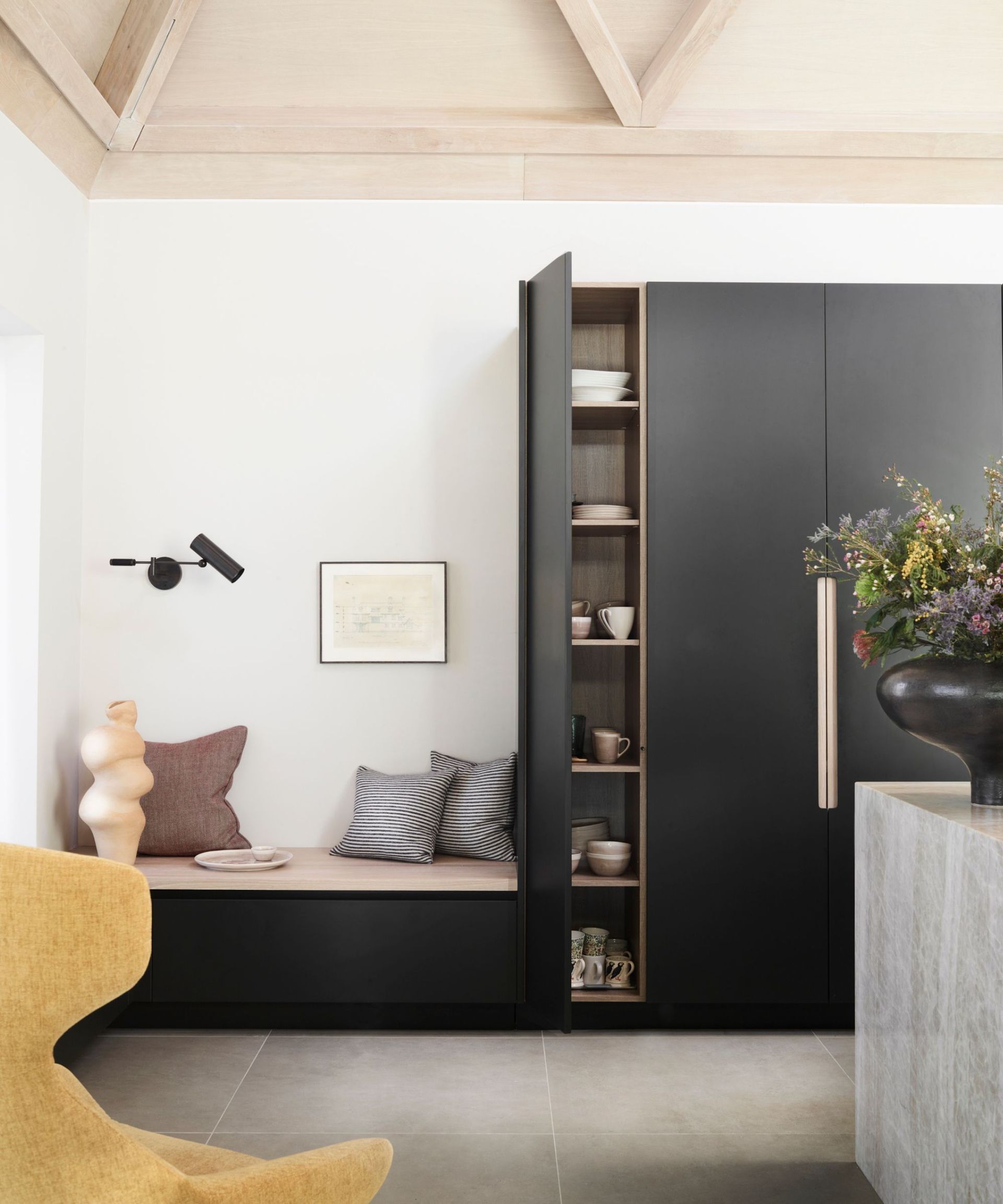 'Inspired by the whitewashed oak vaulted ceiling, this kitchen was designed to highlight the beautiful feature above. Our Urbo & Metro handless furniture keeps the look streamlined, while the cabinetry in matte lacquer Little Greene 'Lamp Black' (opens in new tab) with white-painted and limed oak veneer contrast and echo the pale wood of the vaulted ceiling,' says Jane.
'Taj Mahal granite was selected for the countertops and backsplash; the gold tones in the stone's veining complement the kitchens oak details while adding warmth to balance the cooler charcoal shade of the cabinetry. 
'When designing a kitchen, it's important that every material choice is carefully considered to ensure that the materials are not only beautiful in their own right, but work in harmony when placed together.'
The kitchen low bench is in Black Vermont honed granite.
2. Choose warm-colored countertops for balance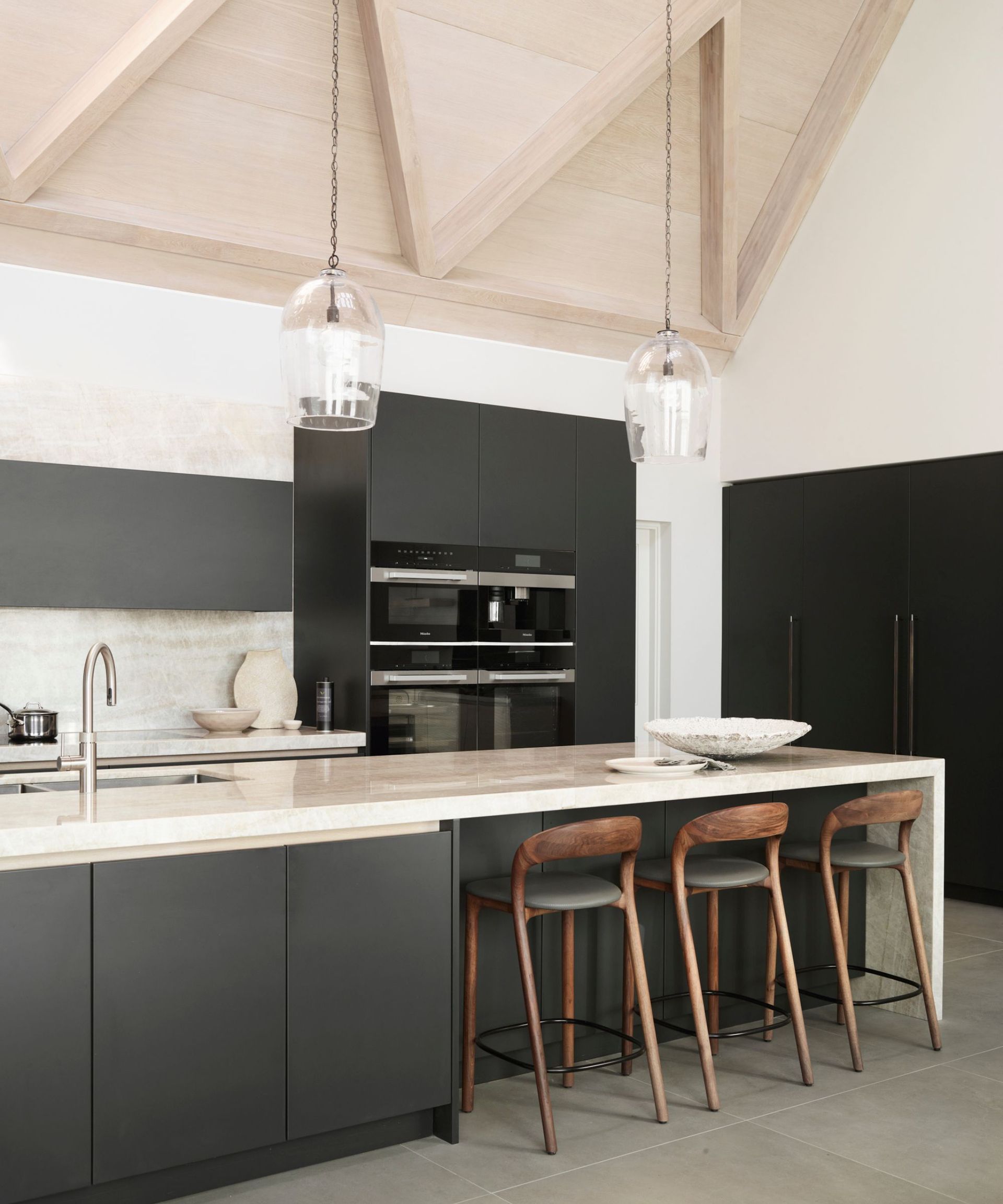 Your kitchen countertop ideas are key to ensuring a modern, minimalist kitchen feels inviting, so look to warm-colored, textural natural stone rather than those with a one-tone, bluer color. And if you are wondering if kitchen countertops should be light or dark, consider the room's natural daylight: light-starved spaces will always look brighter and warmer with light-colored countertops.
'The client I designed this kitchen for loves to entertain, and has a large family, therefore having enough countertop space was key for preparing food and laying out platters,' says Jane.
'The impressive kitchen island is without a doubt the focal point, and scales well within this grandiose space. In addition, the refined material choice helps to unite all elements and prevent the island from feeling obtrusive or monumental. 
'The thick Taj Mahal granite countertop with downstands also helps to lift the darkness of the cabinetry on the island.'
3. Modern doesn't mean featureless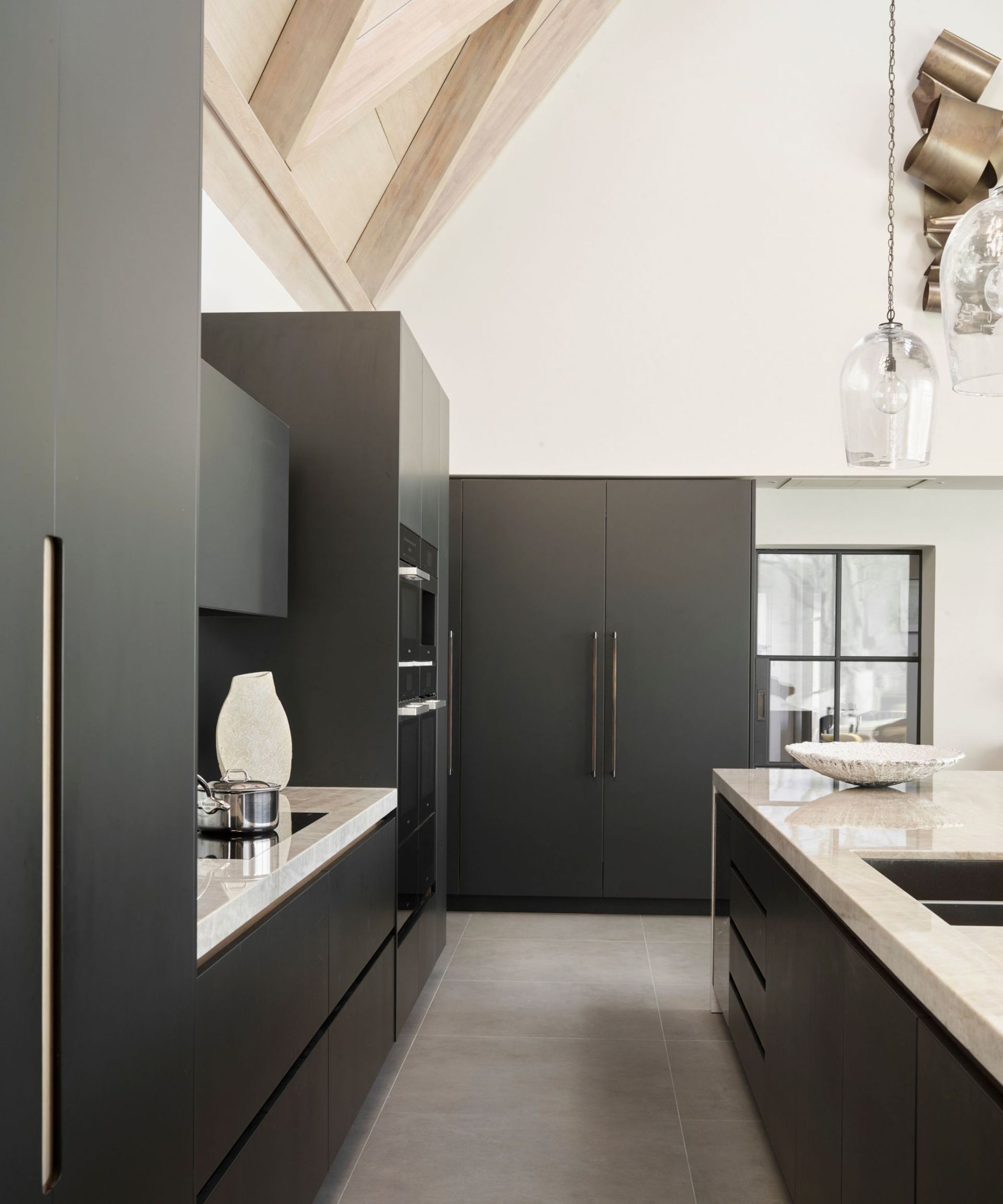 'Despite this being a streamlined modern kitchen, it is not without intricate detail. The sleek handleless cabinetry is decorated with oak recessed handles while the same oak is mirrored in the bench in the corner of the room.  
'The matching wood serves to function as a link between different design elements within the room. Black Vermont honed granite was chosen to top the storage bench below the fire, picking up the grey undertones in the worktop and floor tiles. 
'Taj Mahal granite on the back wall frames the island and adds texture to contrast the smooth surface of the cabinetry that surrounds it.'
4. Create a social feel with seating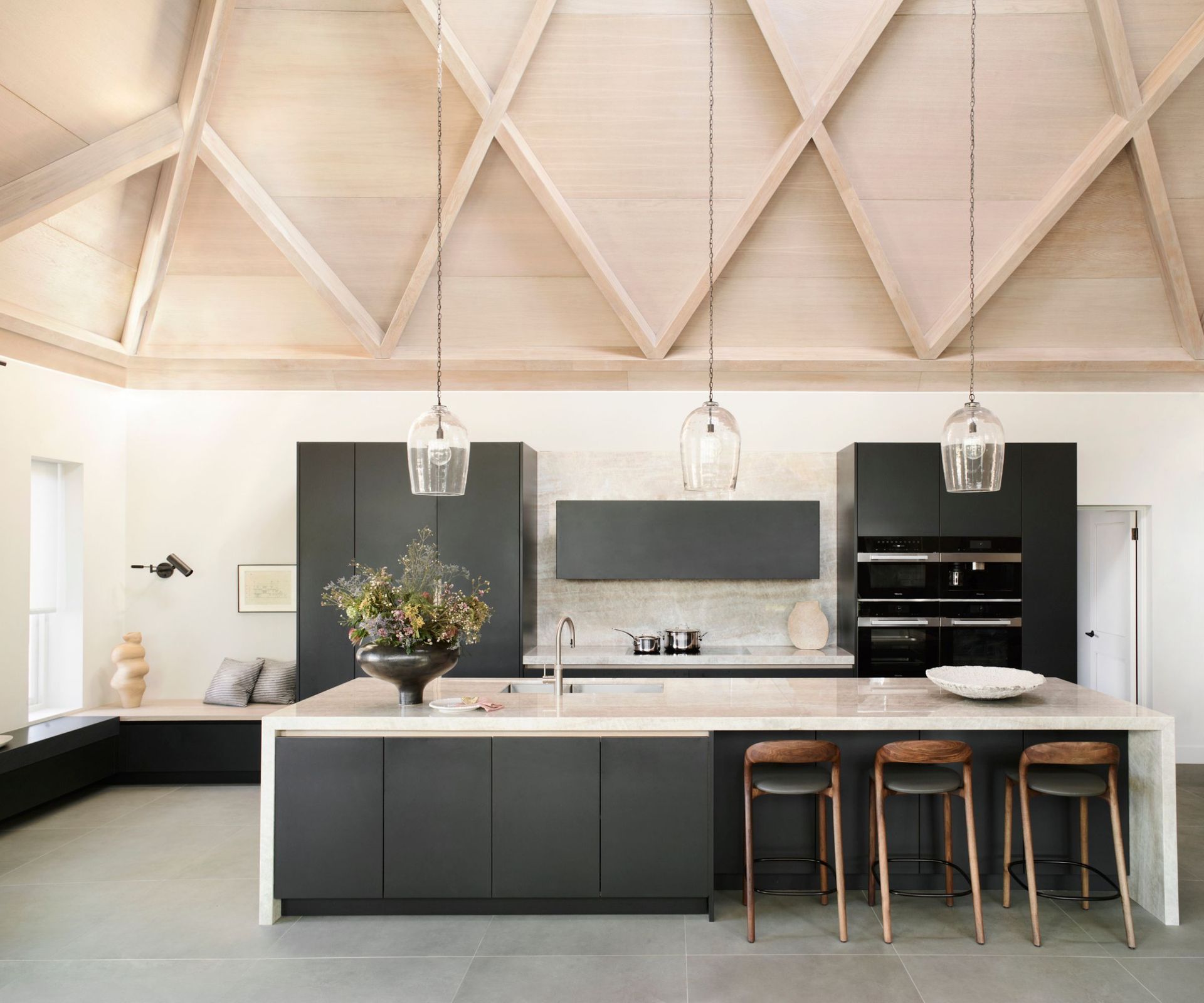 'When designing a kitchen for someone who loves to cook, it's imperative to include comfortable kitchen seating ideas so that guests can sit nearby while you prep and serve,' says Jane. 
'The perfect solution to this is banquette seating. In this kitchen, the bench is situated at the end of the island by the fire. Guests are out of the way, but close enough to serve drinks to easily while keeping an eye on the stove. This bench seating also doubles as extra kitchen storage which, as we all know, is crucial.'
5. Integrate art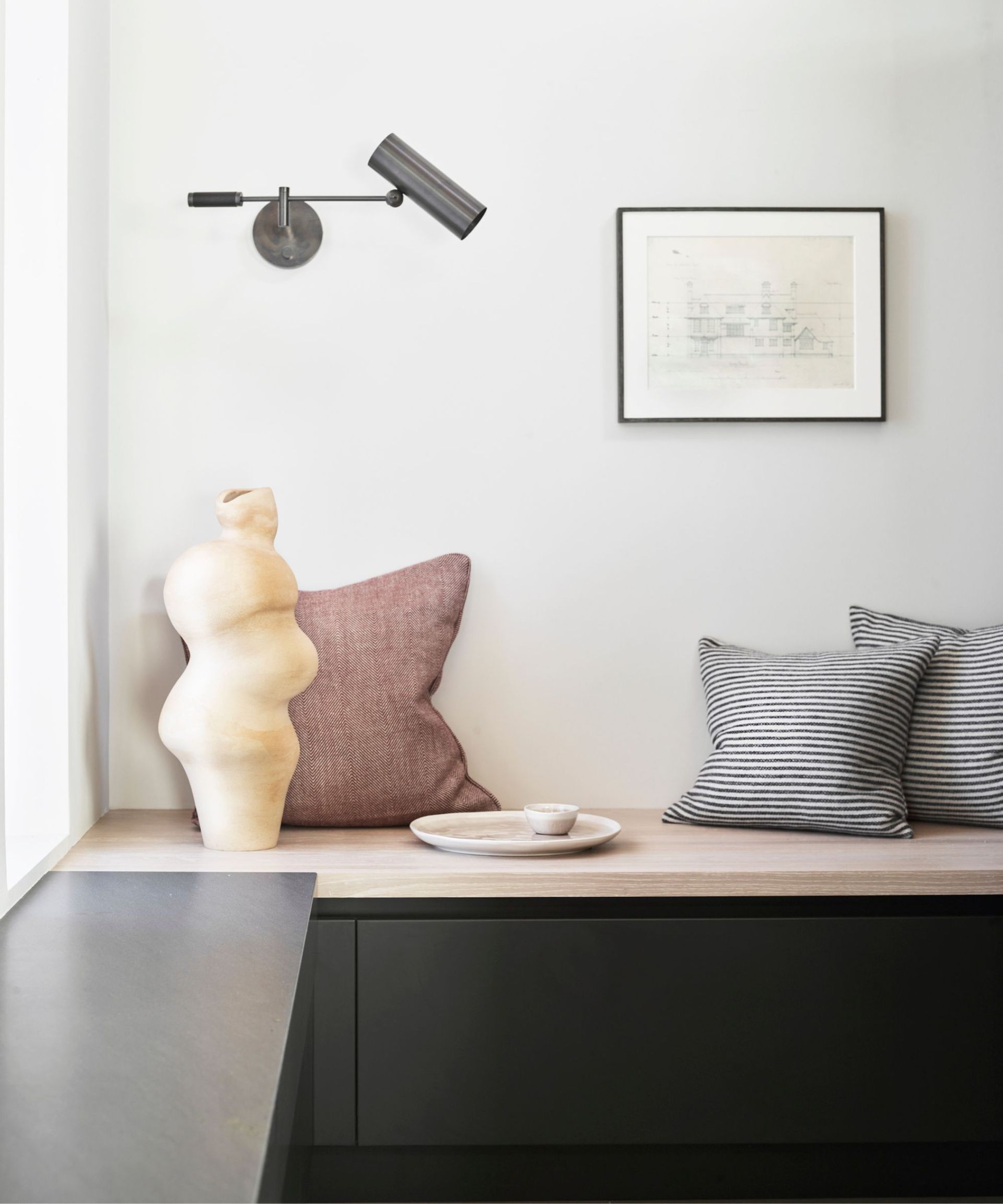 'The best way to make a kitchen feel more like any other room in the house is to add kitchen art ideas,' says Jane.
'This especially applies if the kitchen is part of an open-plan dining/living room as it creates a flow from one space to the other. 
'Hanging art creates a different feel and a new "area" in the kitchen to enjoy and is a great opportunity to introduce your personal style to a room that can otherwise feel quite utilitarian. 
'In this case, a large oil painting sits above the fireplace creating a separate alcove to sit and relax in the kitchen. The simplicity of the design and materials chosen for this kitchen allows for bold art.'
6. Include a fireplace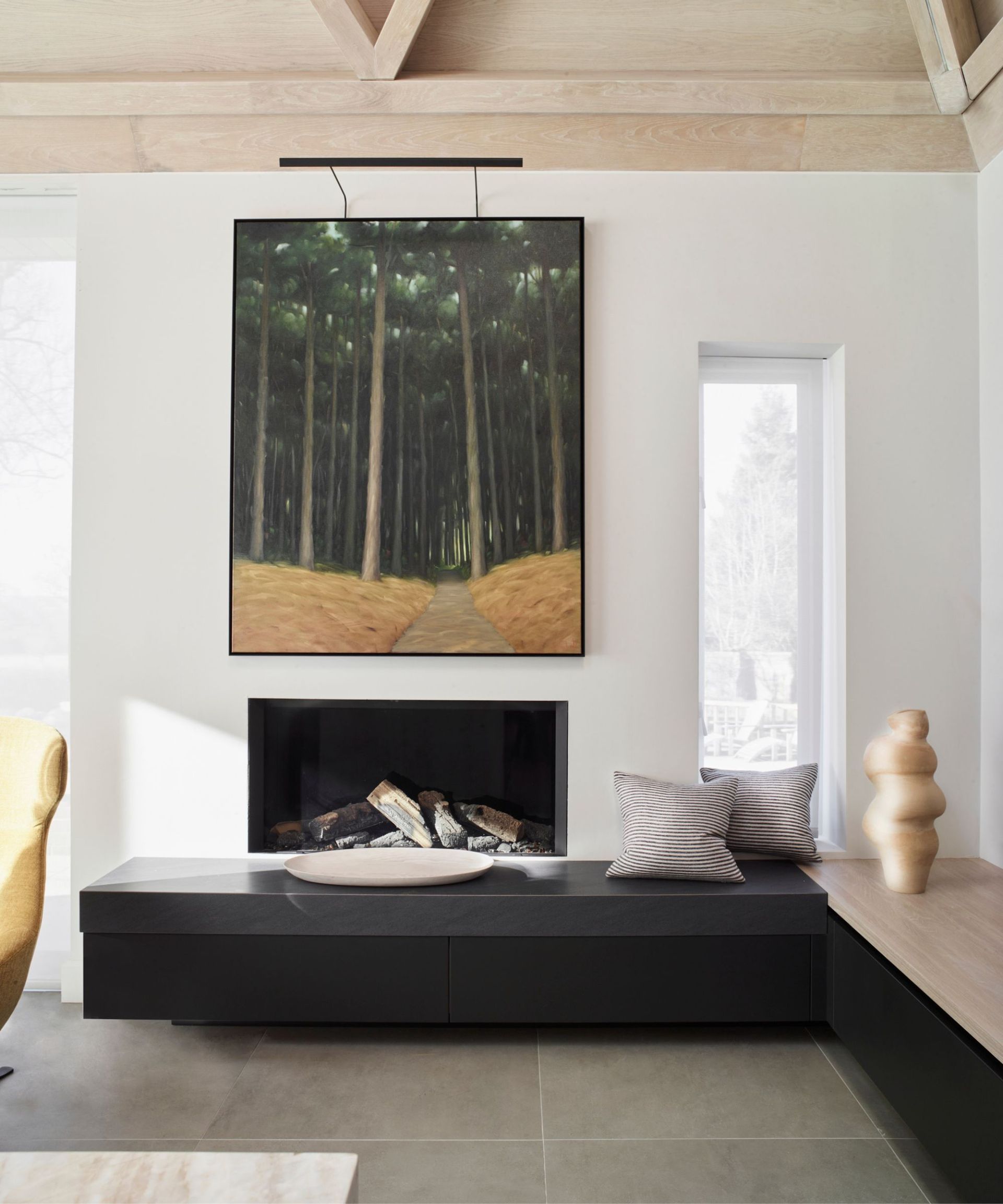 'Fireplaces are making their way back into kitchens as the line between kitchen and living space is becoming increasingly blurred,' explains Jane.
'Not only do fireplaces add warmth to a room, they also give family and friends a feature to gather around for pre-dinner drinks. 
'A flickering fire emanates a coziness that is hard to replicate – and who doesn't love a glass of wine by the fire?'
7. Add different levels of lighting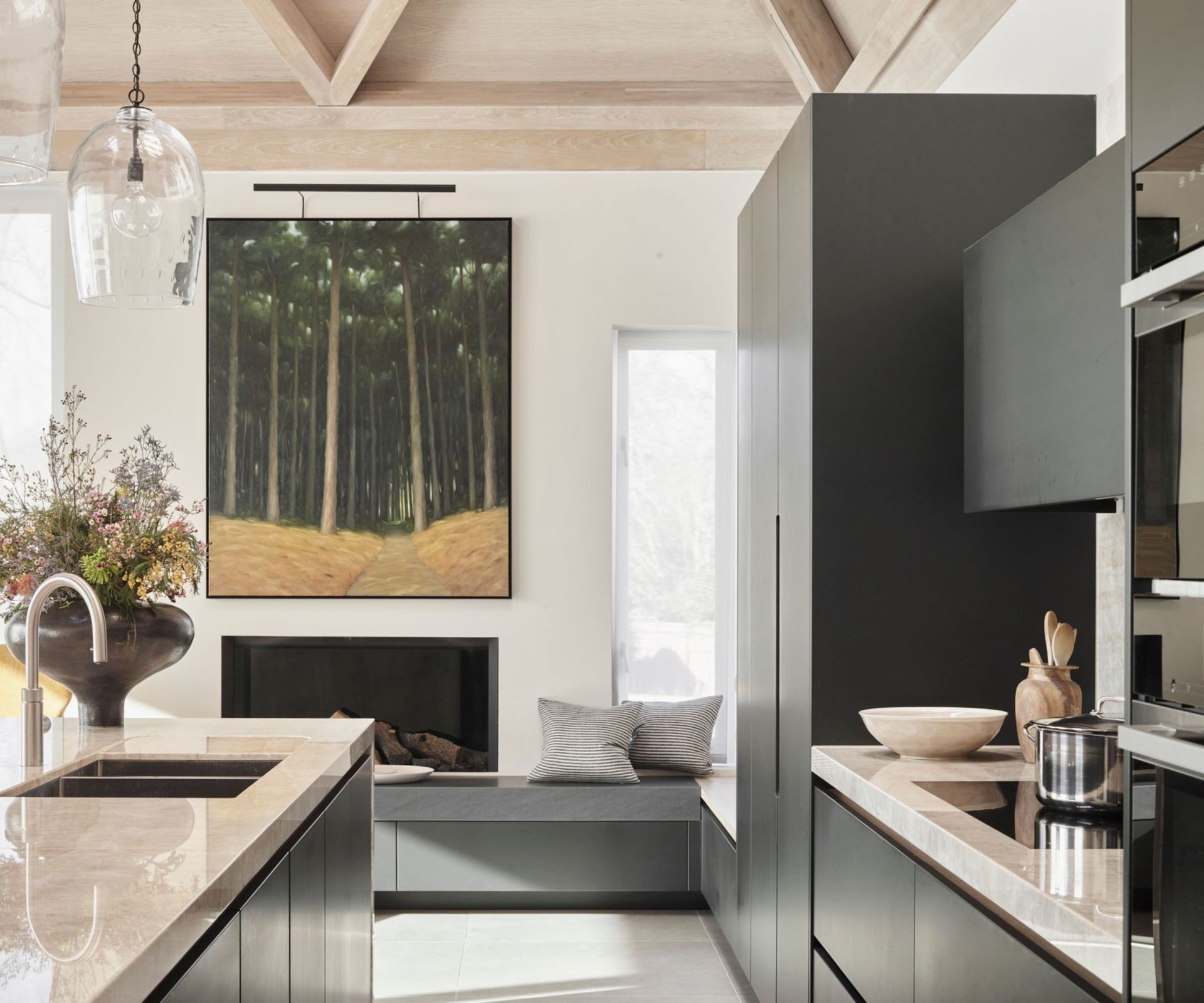 'The best way to create atmosphere in any room is to incorporate different levels of lighting,' concludes Jane. 
'In this kitchen, a trio of glass pendant lights hang above the island offering overhead task lighting for preparing and cooking at the island and stove. 
'An adjustable wall light sits in the corner of the kitchen above the bench seating making it the perfect reading nook, while a picture light serves not only to highlight the large painting, but to radiate a subtle glow from above.
'Each of these kitchen lighting ideas create a different mood, making the kitchen an appropriate setting for any occasion.'
FAQs
How to add warmth to a modern kitchen?
The best way to add warmth to a modern kitchen is to ensure you choose materials with yellowish hues rather than blue. This is easy to do: pick cream over white, spice shades over primaries, and add in plenty of wood and natural stones.