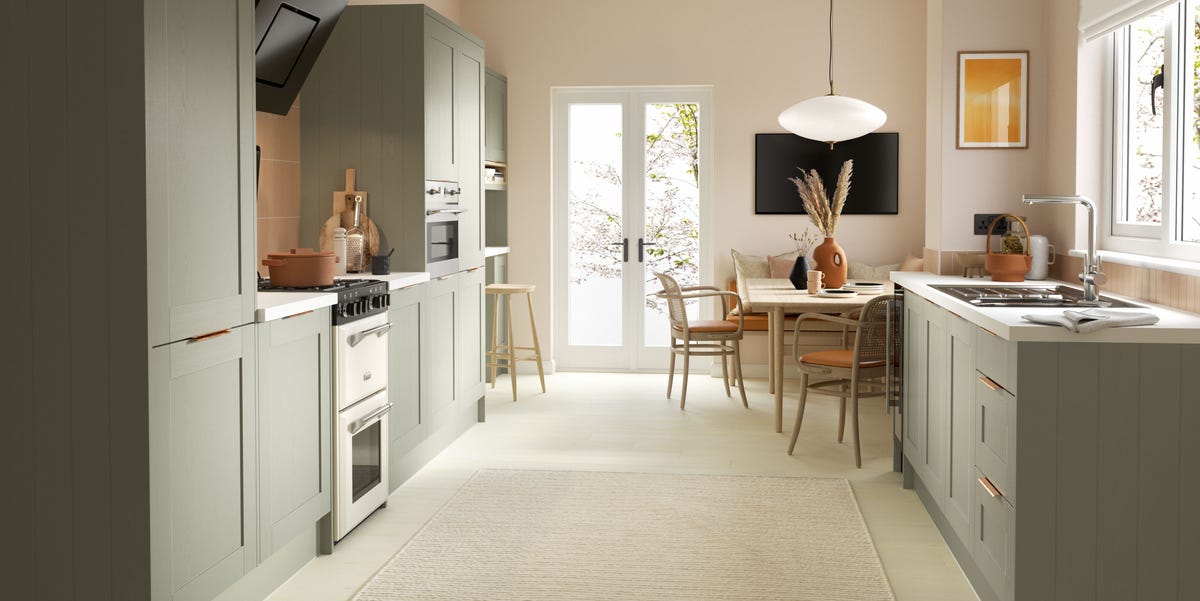 How To Add Character To A New Kitchen
Sleek and modern, there are lots of reasons to love contemporary kitchens, especially owing to clever storage solutions which maximise functionality.
However, a brand new, contemporary kitchen can sometimes lack personality and character. In their perfected finish, these sleek, modern spaces can miss the things that make a room unique and are absent of personal quirks.
But fear not, another brilliant benefit of modern kitchens is that they provide an excellent base for getting creative and putting your own spin on things. Keep reading to discover our expert tips on bringing your kitchen to life…
---
Shaker-style cabinets add a timeless look
If there's a style that is both classic enough to provide traditional elements as well as understated enough to appear modern, it's Shaker kitchens. Thanks to clean lines, wooden texture and an elegant look, Shaker-inspired design has undeniable stylistic longevity.
Annie Tullett, Kitchen Designer at Tom Howley, explains: 'Shaker Kitchens have a timeless simplicity and elegance, which evolved from the pared-back, practical lifestyle of 18th century Shaker societies.
'The Shakers created the blueprint for the family kitchen through social design – this can be seen in their large trestle table islands and benches, and they blurred the lines between dining and kitchen space. Shaker kitchens have longevity to them because they are grounded in the architecture of the Georgian era, a style which has bled into Victorian, Edwardian and now modern architecture.'
Add drama with dark tones
Although it's easy to see the appeal of light and bright shades within your kitchen, they could be the very thing that prevents the space from capturing a deeper sense of character.
According to Mor Krisher, Head of Design at Caesarstone, getting experimental with darker tones is an eye-catching way to add visual interest to your kitchen. He explains: 'Contrary to what people often think, black or dark kitchens aren't always sombre or austere. Dark colours can be bold and dramatic or warm and cosseting. They have within them so many different nuances, tones and tactility that give them different characters. They can be basic or sophisticated, daring or elegant, industrial or classic, traditional or modern.
'Starting a kitchen design with a black worktop can lead you down a very exciting route as you start to pair it with different door colours, appliances, and accessories, and if you are already shying away from all white spaces, it's a great way to go.'
Catch the eye with a bold splashback
Splashbacks are not only a functional aspect of your kitchen – they provide an excellent opportunity to add colour and pattern, giving them an equally stylistic purpose.
Diane Hyde, Marketing Manager at traditional ceramics manufacturer, Craven Dunnill Jackfield, suggests getting playful with your choice of splashback: 'Using tiles as a kitchen splashback is an exquisite way of displaying and accentuating their pattern, texture, and glaze. A beautiful way to bring a burst of colour into a room, highly reflective gloss tiles are also a great way to create a sense of space and openness.'
With countless splashback options available, you can decide whether to be subtle in your approach or make a bolder choice – either way, it's not a style opportunity to be missed.
Use statement lighting to create visual interest
No matter the room of the house, lighting plays a bigger role than just being simply functional. Of course, it needs to be practical, but it also needs to be installed with socialising and everyday life in mind. The right lighting will create a welcoming ambience in the kitchen (particularly in the darker months) and needs to work best in the areas that people are drawn to the most.
'Kitchens obviously need to work hard and so does the lighting. Recessed spotlights or under cabinet lighting is a common solution, but also consider the space when it's not functional.
'Family and friends often congregate around an island so consider low-level or pendant lighting here. Don't be afraid to use "living room" lighting in the kitchen: a floor lamp in a corner or a table lamp at the end of a worktop,' says Niki Wright, co-founder of lighting design studio, lights&lamps.
Sculptural and statement lights also act as intriguing pieces of décor which will strike up conversations, as well as add a sense of personality.
Suzanne Duin, founder of Maison Maison, suggests choosing something quirky and colourful for maximum impact: 'If this seems daunting, draw on the existing features of the kitchen design. For example, in a traditional kitchen, an oversized rattan pendant will add a sense of reassuring, warm tactility. A statement lamp on a kitchen island or back countertop is equally impactful. The cosy yet directional diffused glow cast across a kitchen work surface will instantly soften the kitchen making it feel less industrial.'
Follow House Beautiful on Instagram.