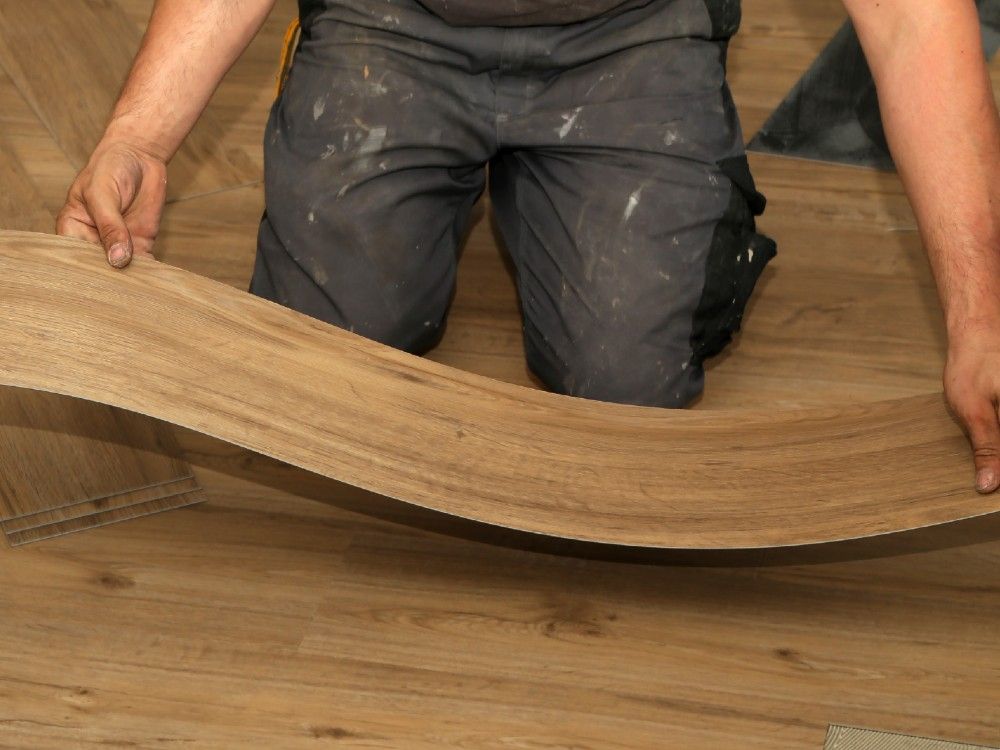 HouseWorks: Three fake wood floors worth a look
Reviews and recommendations are unbiased and products are independently selected. Postmedia may earn an affiliate commission from purchases made through links on this page.
Article content
If you've got plans for a new wood-look floor, then you should know how this class of flooring has improved over the last number of years. And there's one wood-look flooring option in particular that's got a lot going for it, including an important detail that's easy to miss.
Article content
When I say "wood-look" I mean flooring that looks like wood but isn't. Why would anyone want fake wood floors? Three reasons: durability, authenticity and ease of installation. Real wood floors are not all that durable, and while they're authentic by definition, they're certainly not easy to install. This is where three main alternatives to wood come in.
Article content
Laminates
This was the first wood-look option to challenge real wood in a big way, and this stuff came to Canada in 1993. It wasn't particularly impressive then, but incremental improvements in appearance and durability have changed that. Today's laminate flooring can be extremely tough and wear resistant. It's also less expensive than wood, it requires no on-site finishing, and it's easy enough to install with moderate DIY skills. There is one problem with laminates though, and it's not something that's immediately obvious until you're committed to using it.
Article content
Laminate flooring requires a very flat subfloor to sit on, and that's non-negotiable. Laminates are rigid and not particularly strong on their own. If it sits on a subfloor that does not support it completely, laminate flooring will flex under foot, feel squishy, and make noise. Not good. So how flat is flat enough?
Most laminates required a subfloor to be flat within 1/4-inch over a 10-foot diameter circle. This is not easy to remedy, but it is where my current favourite wood-look option comes in.
LVP & LVT
Luxury vinyl plank (LVP) and luxury vinyl tile (LVT) are both floating, click-together flooring options made of the same material, with LVP being shaped like rectangular planks and LVT like square tiles. You'll find amazingly authentic wood-look versions of both, so they're similar to laminate in that regard. Flexibility is their main advantage.
Article content
Being vinyl, LVP and LVT can conform to subfloors that are far from flat. It simply follows the undulations of the floor structure you have. Simply click pieces together with their neighbour, and you're done.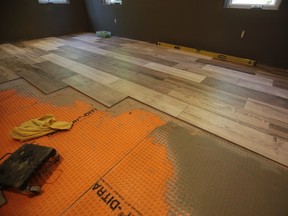 Ceramic wood-look flooring
If you want the look of wood over infloor heating, you can't do better than ceramic "planks" that look like wood. They go down like regular ceramic tiles. Good versions look so much like wood that except for the grout lines, even a wood purist like me needs to get down on hands and knees to tell the difference. But since it's ceramic, it transmits floor heat nicely to your feet.
As with any ceramic tile floor, you'd be very wise to install it over something called an uncoupling membrane. That's the orange, dimpled sheet you see in the photo. Uncoupling membranes allow slight side-to-side movement of the ceramics relative to the subfloor. While you might recognize the need for a very stiff subfloor to support ceramics, few people understand the danger of tiles and subfloor expanding at different rates with changes in temperature. This differential can cause any kind of ceramics to crack, but especially ceramics coupled with floor heat. As the heat comes on it can induce stress, and the same thing as it cools off.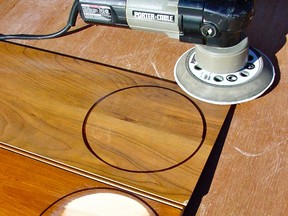 Having a hard time deciding on one particular wood-look option? All choices come packaged in boxes, making it easy to buy just one, set the flooring in place formally in your home, then live with it a while. This way you get to experience an option for a while to see how it looks and shows dirt.
Steve Maxwell is partial to hard-surface flooring. Visit him online at BaileyLineroad.com for thousands of made-in-Canada articles and videos about home improvements, woodworking and hands-on living.