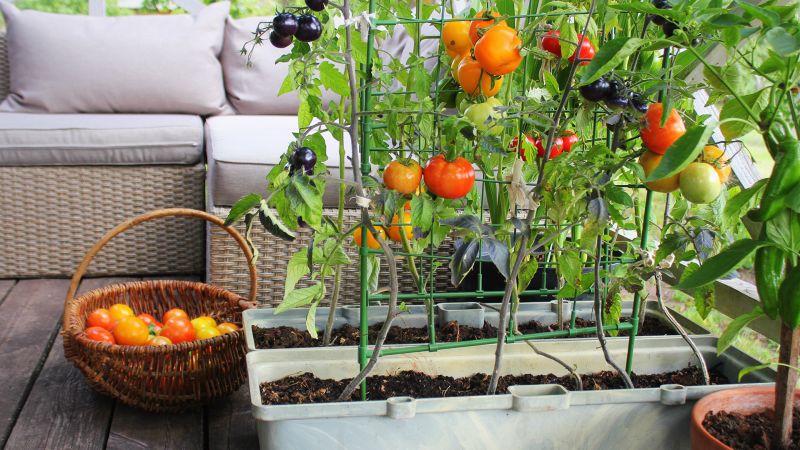 Garden ideas: Easy vegetables to grow in backyard gardens and beyond
It didn't take long after stay-at-home orders for many of us to start getting crafty. First came sourdough and banana bread, but as the weather warmed, we started looking outdoors. Many people are finding social distancing a powerful motivator to start growing their food for the first time. And getting started is a lot easier than you might think. The rest, you can learn as you — and your garden — grow.
YouTuber and blogger CaliKim, who wrote "Organic Gardening for Everyone," has inspired countless gardeners. She recommends being clear about your reasons for starting a garden to stay motivated. And don't expect magic overnight: New gardeners may find it challenging to grow enough food to significantly reduce trips to the store. But they will get the benefits of always having fresh herbs at the ready early on.
The first step is, of course, setting up your garden. While home gardens come in nearly infinite shapes and sizes, there are three basic categories: indoor gardens, container gardens on a patio or porch, and backyard gardens. Even if a big backyard is available, a small garden may feel like a more sensible way to start. In fact, many gardeners have a mix of containers, plots and kitchen herbs. Growing space also doesn't necessarily limit what to grow: A small porch can be home to several lush tomato plants, for example. Playing around with it and experimenting is half the fun.
Even an apartment dweller can start a garden at home. In fact, one of CaliKim's favorite first-time growing projects, a head of lettuce, can grow indoors. Containers, potting soil and seeds are all that's needed to get started. To keep costs low, use existing containers — like pie pans or food storage containers — as pots. But it's important to get the right potting mix. Here's what you need to get started growing indoors.
If you have some outdoor space, container gardens offer a lot of flexibility: it's easy to move plants around for better light, or even indoors in case of unexpected frost. You might be surprised just how much you can grow in containers. Here's what you need to grow and harvest a delicious container garden.
Ah, the backyard garden. If space is available, it really opens up the possibilities. Just make sure, whether you're using raised or in-ground beds, that you've got good-quality soil. CaliKim suggests reaching out to landscapers about buying soil in bulk to get your garden off the ground.
There are tons of plant foods and additives out there, but you really just need a good soil and some compost, says CaliKim. No matter where you plant your garden, you'll want to layer some compost on top to feed the plants, and add it every month or so throughout the season. Compost can literally be free if you want to make it yourself, but you can also purchase it at a garden center.
Just as there are countless ways to set up a garden, there are countless delicious delights to grow in it. For many in the US, it's a bit late this year to start growing from seed, which is a reason starter plants are a good option. But plants that can be harvested within 90 days of planting are still OK to plant from seed. Look at the back of seed packets to get an idea of harvest times. Or, to find out what to plant when based on where the garden will grow, check out Burpee's Growing Calendar — just enter any zip code and follow the steps to see a full planting calendar. Also, to really geek out, this chart on what plants like to grow together from Heirloom Organics is a solid read. We'll bet you didn't know that lettuce doesn't like growing next to parsley.
The best piece of advice, however, is fairly simple. "There is no point in growing edible plants that you don't enjoy," says Schultz. Your palate should be the biggest factor in deciding what you'll grow.
While it's easy to read (and read and read and read) about gardening, the best lessons are learned through doing. In fact, CaliKim counsels new gardeners to expect some failures. If you're growing outdoors from seed, keep some starters indoors in case a visiting critter makes off with some broccoli, for example. If the starters end up not being needed, you can use them as tasty microgreens added to salads.
Even with planning, there may be some outright failures along the way, but you can think of them as learning opportunities. Maybe next summer try planting something in a different corner or different type of container. Or maybe decide that a self-watering planter is the best defense against forgetfulness. As a garden grows, the gardener will learn and grow too. Now roll up those sleeves and get started!