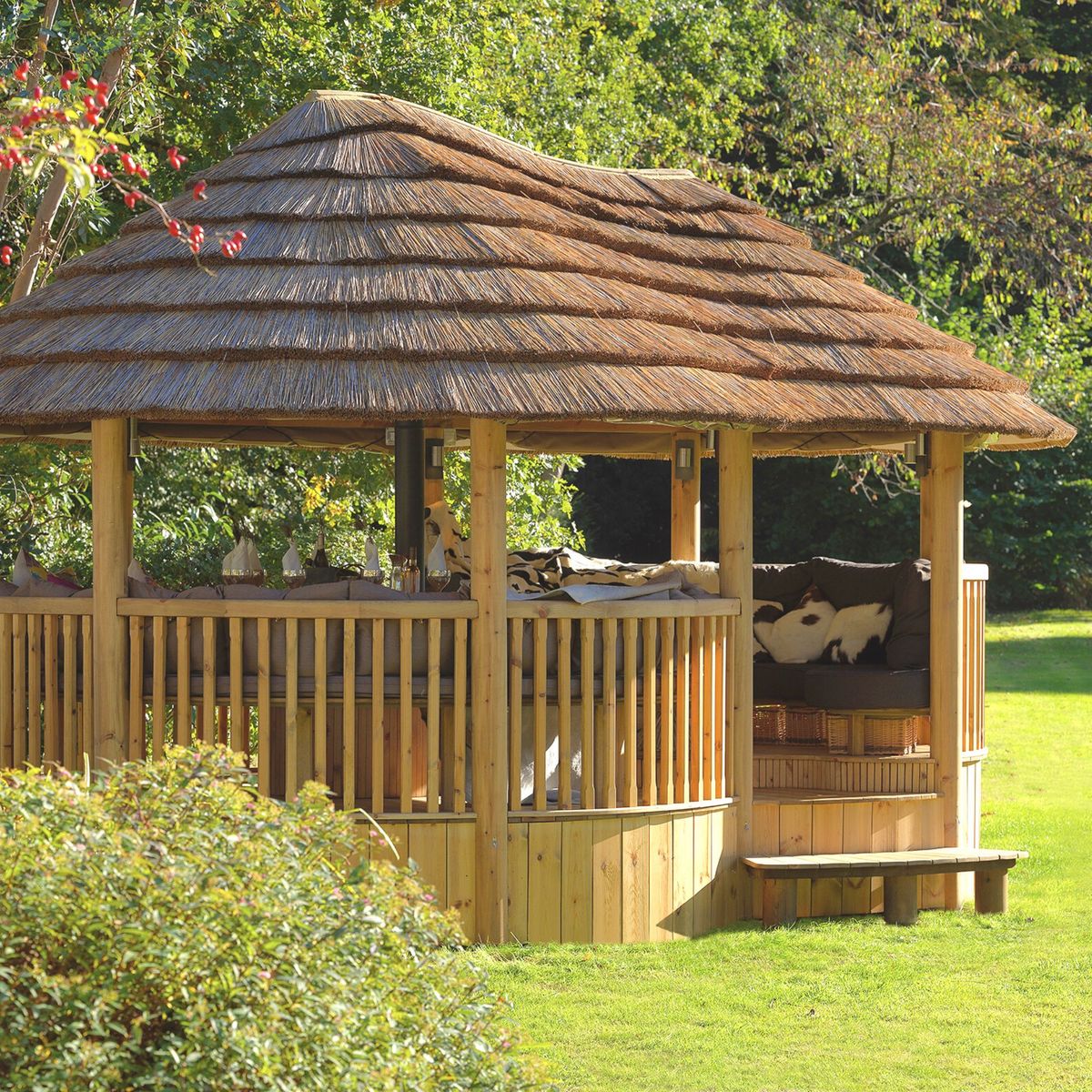 Garden building ideas to add character to your outdoor space
Garden building ideas cover a wide range of structures – from small sheds and modest gazebos to larger structures such as home offices and shepherd's huts.
There are numerous styles and functions from which to choose: from providing a place to entertain and dine with friends and family; a peaceful garden office so you can separate home and work life; to simply a sheltered spot to enjoy a quiet cup of tea and admire your gardening efforts.
Large garden buildings or garden rooms can provide a beautiful living and dining space or serve as an outdoor kitchen or work area, but if you're looking for small garden ideas, then consider wooden arbours or pergolas which can add covered seating in lieu of a sheltered deck. 
Garden building ideas – add character to your space
Over the last few years, our gardens have grown from luscious lawns, floral borders, and maybe a vegetable patch, to multi-functional outdoor living spaces. With this change has come a rise in garden buildings. 
Whether you are looking for a peaceful home office, a practical space, or somewhere to dine or spend time with family and friends throughout the summer, garden building ideas can have a transformative effect.
1. Add a gazebo to a garden of any size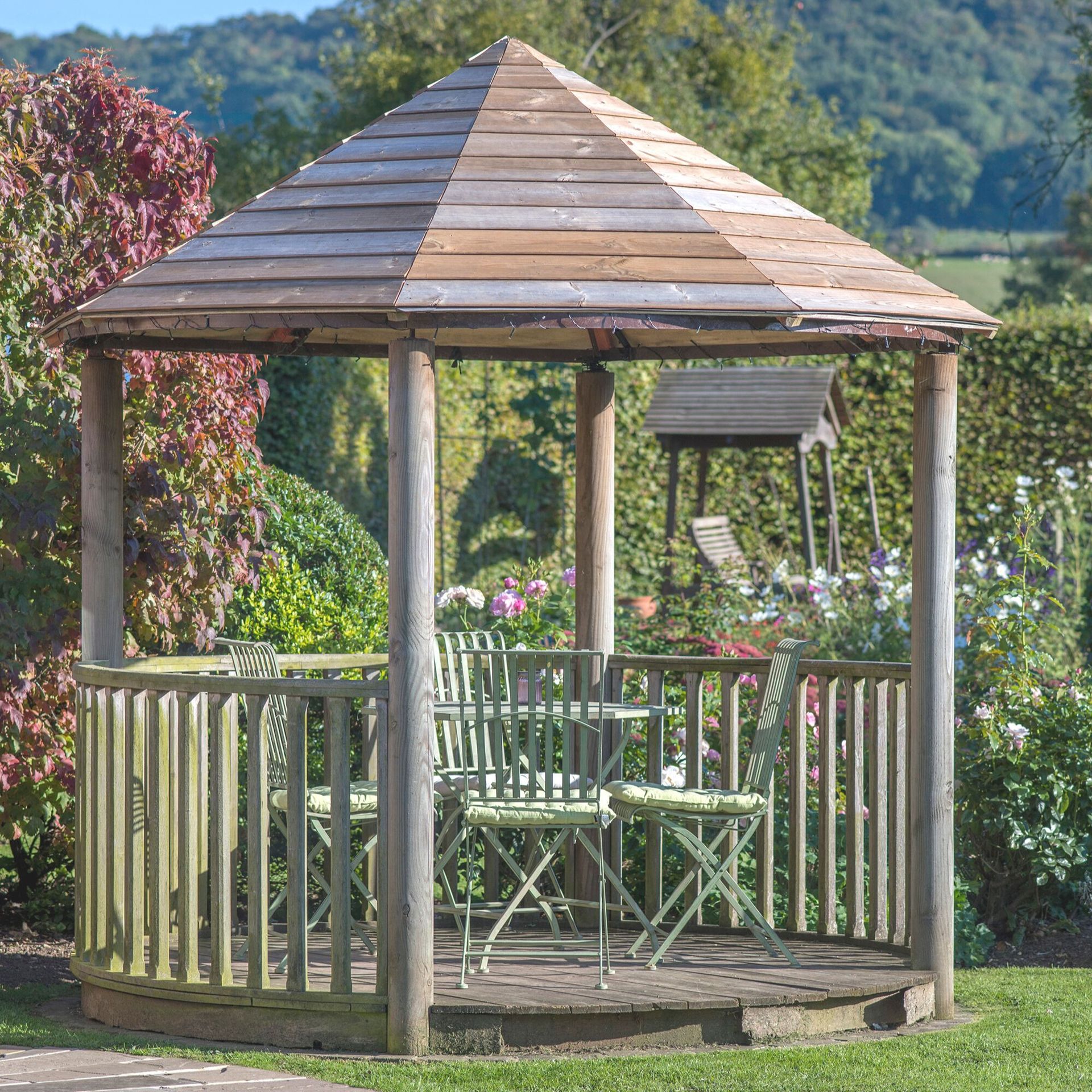 When choosing the right garden-building ideas for small gardens, it is important that it doesn't overwhelm the space. In a petite garden, a solid structure can restrict the eyeline and make the space feel even smaller, so instead, opt for a design with open sides. 
With its modest footprint, a gazebo is a less intrusive choice, while a solid roof still allows you to make the most of your garden in all seasons.
Pair with the best wooden garden furniture for a cosy spot to relax regardless of the weather.
2. Expand your space with an idyllic shepherd's hut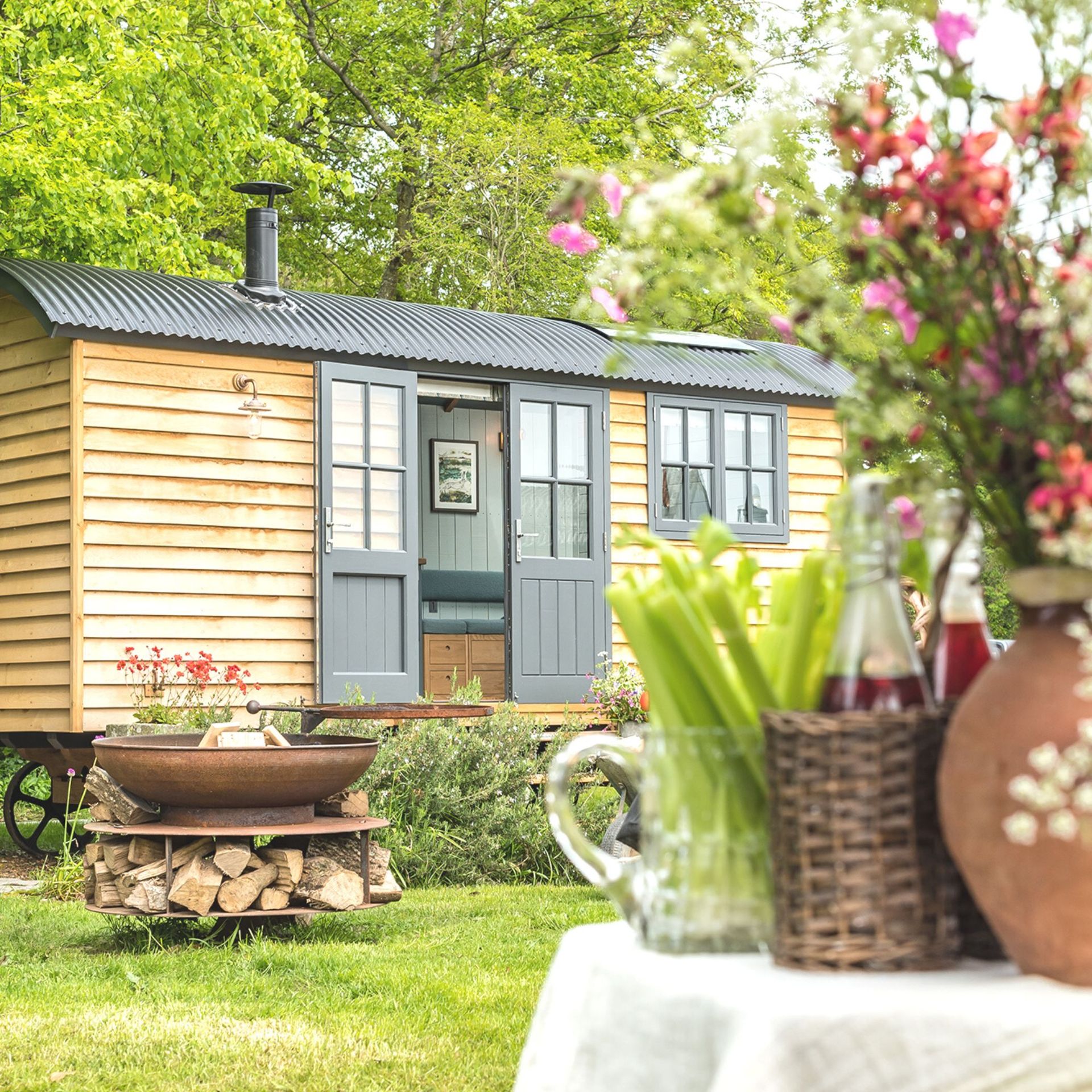 Originally a farm building used to house shepherds while tending their lambing flocks, today, shepherd's huts offer an inspiring retreat. 
Use a shepherd's hut as a sanctuary where you can indulge in your hobbies, or as a spacious guest annexe for hosting loved ones. Blackdown Shepherd Huts (opens in new tab)' Turnkey Quercus design is crafted from oak, and features a pull-down wall bed, kitchen, wood burner and shower room.
3. Add vintage charm with a summerhouse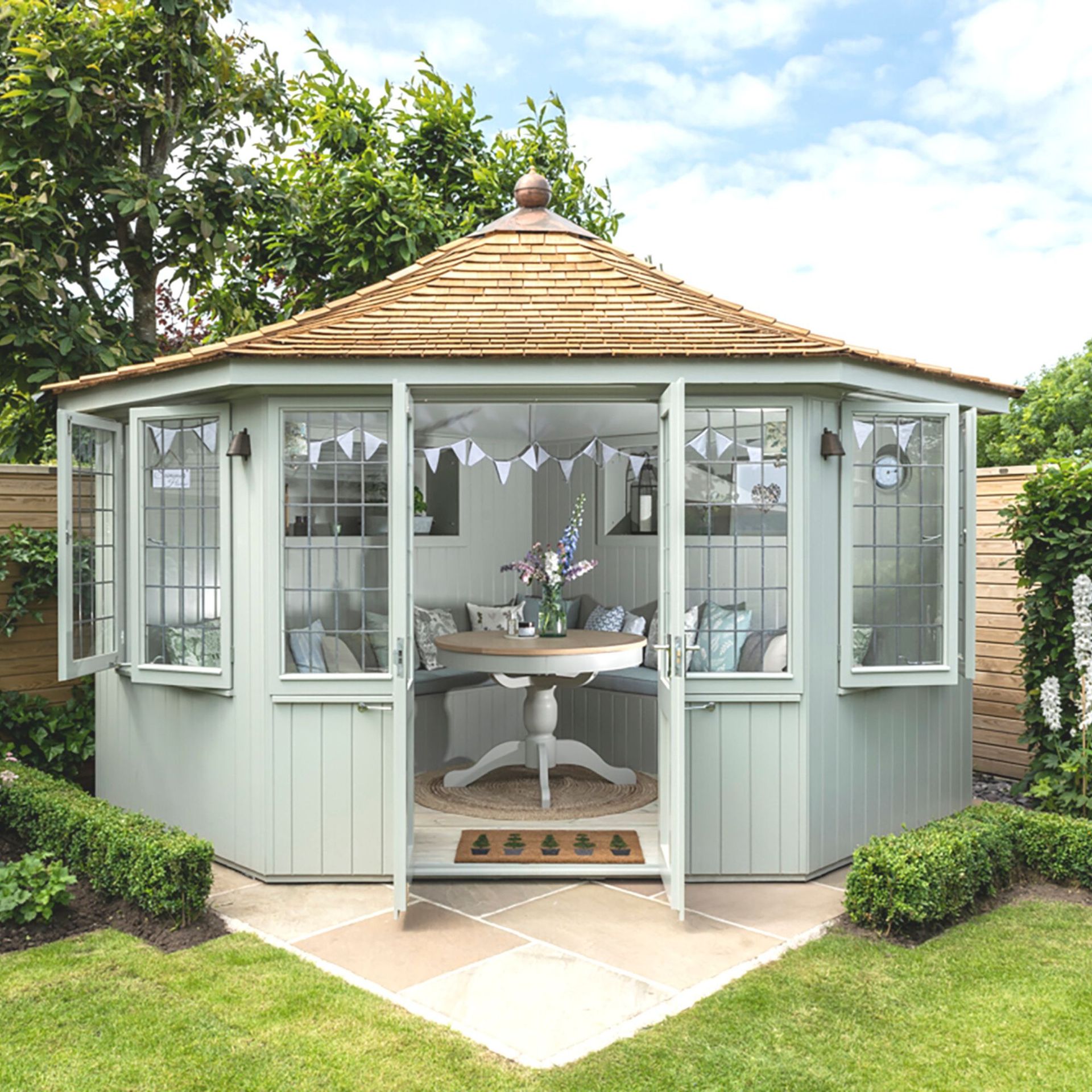 When it comes to planning a garden, you can't go wrong with a classic summerhouse. One of the quintessential garden building ideas, it provides the perfect spot to relax after a busy day.
'We know from talking to our customers that they welcome the additional space that a garden building or summerhouse offers, and they tend to get excited about the possibilities for complementing their lifestyle,' adds Kathryn Morris, summerhouse sales manager at Scotts of Thrapston.
'While summerhouses do not add square footage to the size of the property, they certainly increase its appeal in terms of useable space and storage for hobby and leisure equipment and for garden furniture and accessories.' 
This beautiful Newhaven design, from Scotts of Thrapston, (opens in new tab) has been finished with a cosy upholstered bench, creating the ideal spot to sit and catch up with a friend, while its glazed windows let you enjoy your garden's vistas.
4. Create shade over a patio with a pergola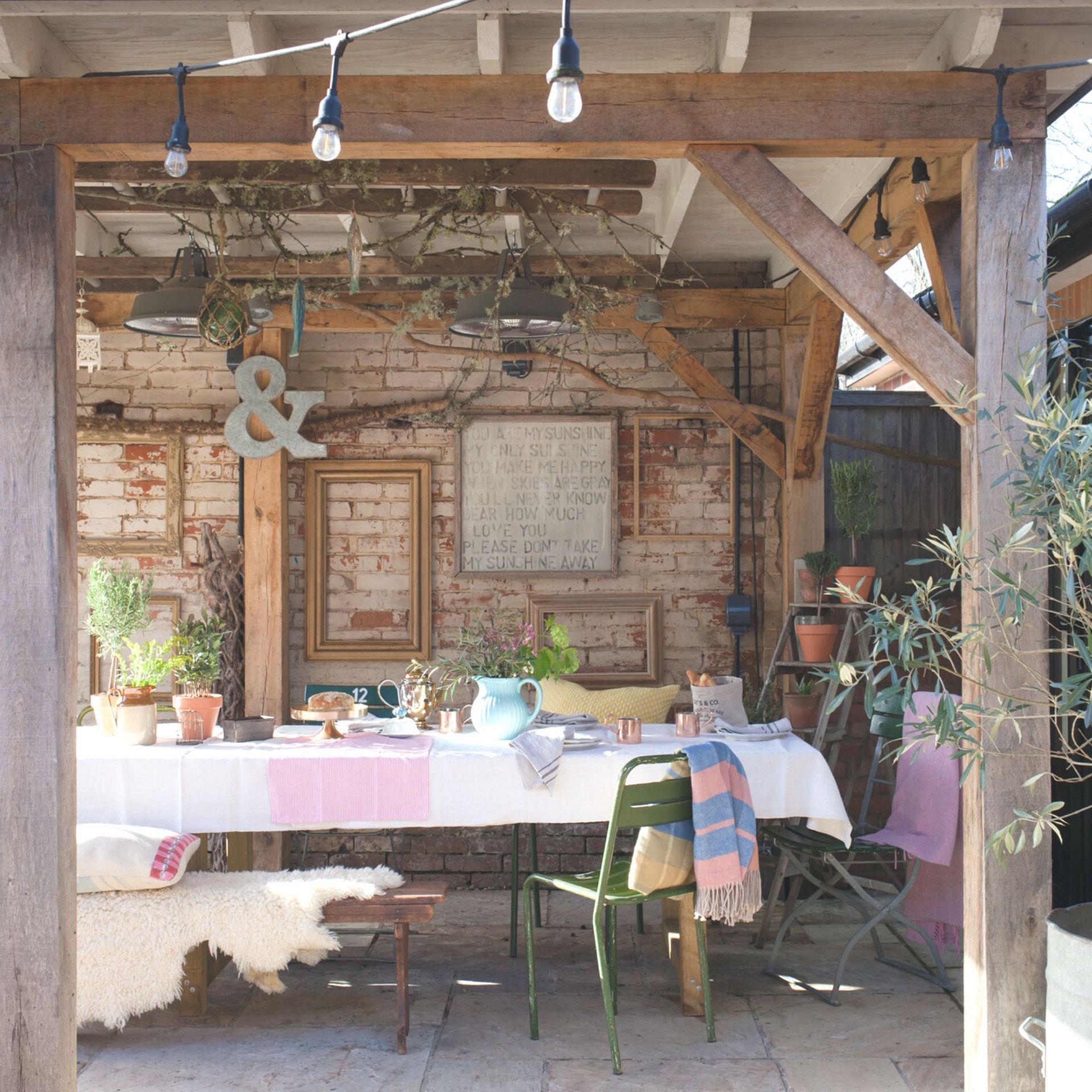 Pergolas are one of our favourite garden building ideas due to their versatility. Whether used as a patio cover to provide garden shade; to support your favourite rambling blooms and frame a path or create a private seating area, a pergola draws the eye upwards, adding height and structure to the garden. 
'A pergola should be integral to the layout of the garden, instead of an afterthought. Carefully considering views to and from a pergola is key to enabling it to feel connected to the garden,' explains garden designer Harriet Farlam of Farlam & Chandler (opens in new tab).
5. Create a home office in your garden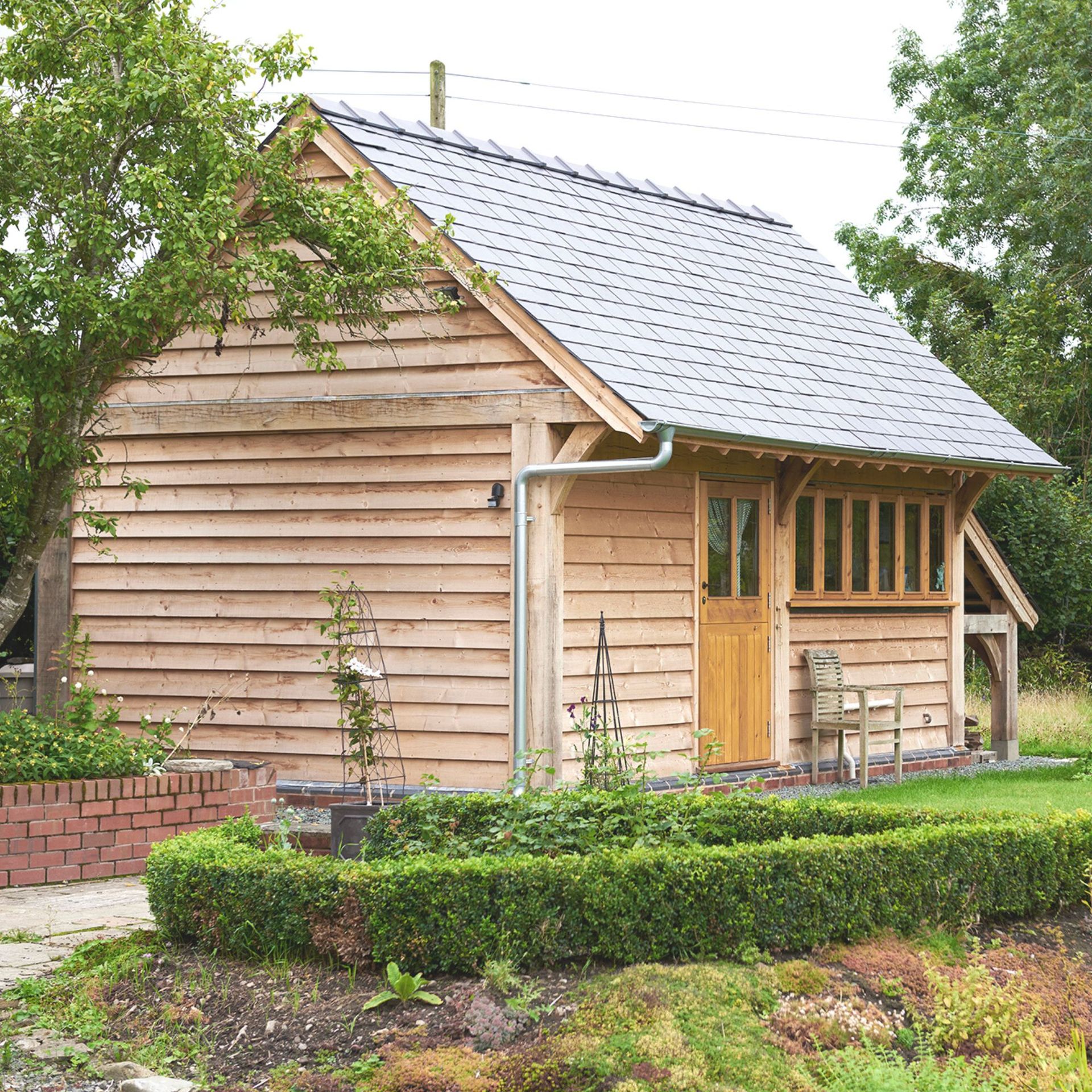 In recent years, many of us have found our homes replacing our offices – at least for some of the time – and with this change becoming more permanent, many homeowners are investing in this new way of life. A garden office – like this self-build design from Border Oak (opens in new tab) – not only provides a peaceful environment, aiding productivity but also creates a clear distinction between work and home, helping you to maintain that essential balance.
Site your garden building ideas near your main property and it will be easier to run power to it. Having the benefit of light and heat obviously increases the versatility of your garden building ideas and how you can use them. 
This smart garden room with floor-to-ceiling windows overlooking a pretty garden has been fitted out as a home office – a truly inspirational space to work. However, a similar structure could also function as a granny flat – though it is vital to ensure you have the correct planning permissions for this use.
6. Increase your gardening productivity with a greenhouse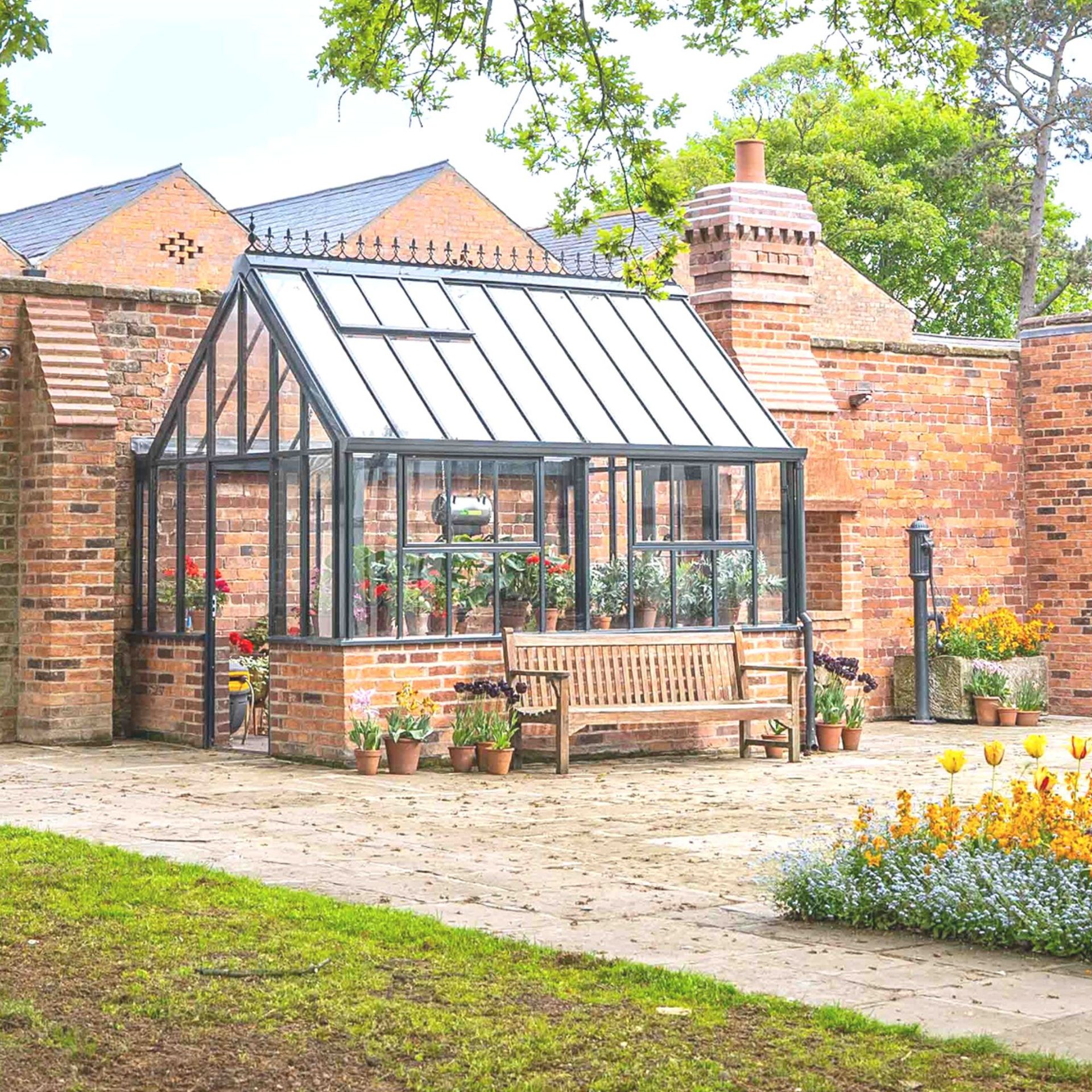 If you want to take your gardening enterprises to the next level then greenhouse ideas are a must. Enabling you to extend both ends of the growing season, it will also offer increased control over light levels, temperature, and soil type – helping you to produce a more bountiful harvest. It will prove invaluable when it comes to protecting plants from frost.
'We are increasingly seeing customers make bolder, more modern choices when it comes to greenhouse colours. In the past, we were rarely asked to powder coat a glasshouse in black but customers are much more confident about how this will work visually against their plants,' says Tom Barry, CEO of Hartley Botanic (opens in new tab).
When choosing a greenhouse, consider a design with a dwarf wall or position against a wall to capture the residual heat and increase the greenhouse's productivity. 
7. Opt for a thatched roof for a heritage touch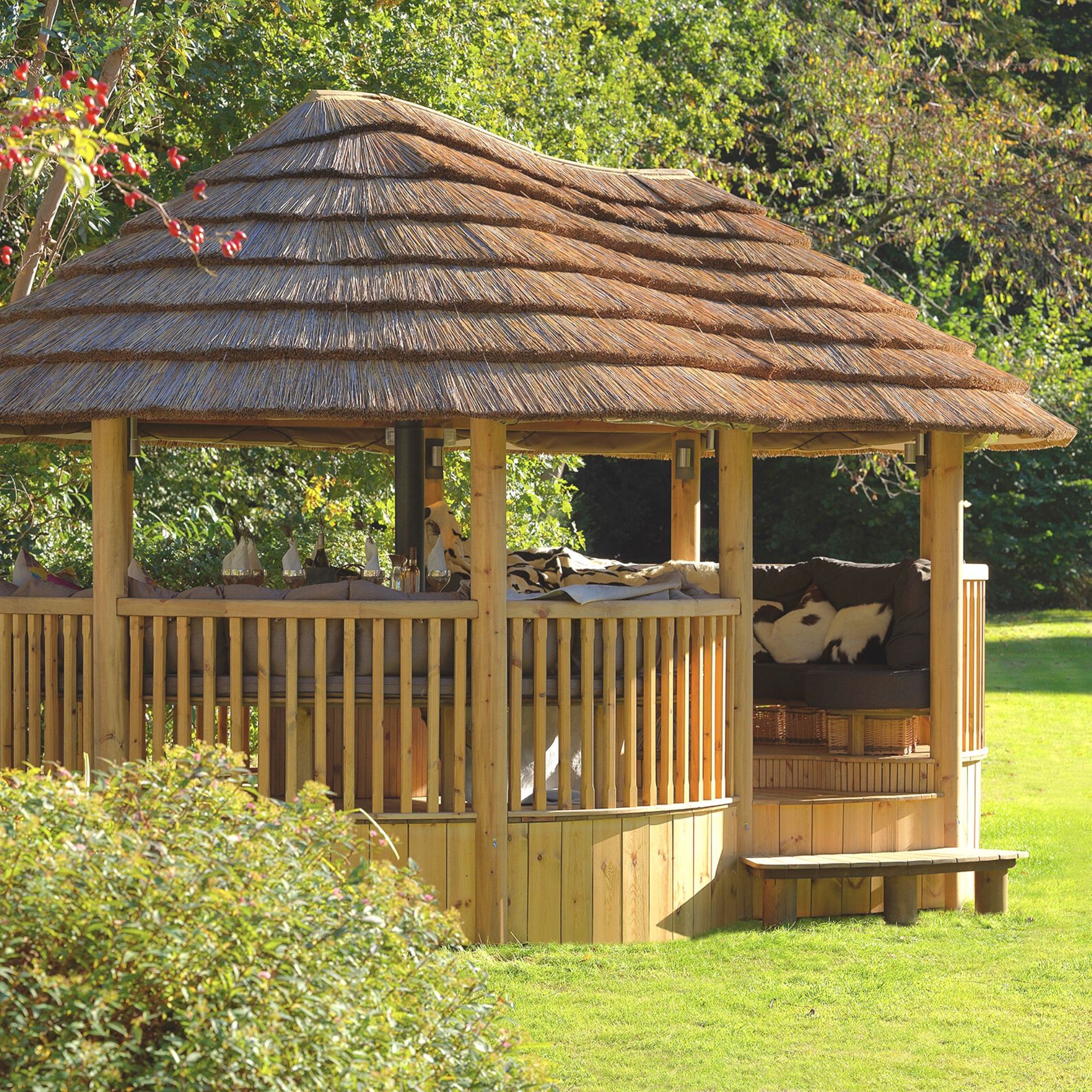 Thatched roofs are a favourite feature of the picture postcard Englis home. So why not bring the charm of thatch to your cottage garden by opting for garden building ideas with thatched roofs? 
This characterful and spacious Hambleden structure from Julian Christian (opens in new tab) not only looks the part but can seat up to 16 people. Providing a covered space to dine with ambient lighting and an infrared heater, there is no risk of your al fresco plans being rained off.
8. Add a fun touch with a treehouse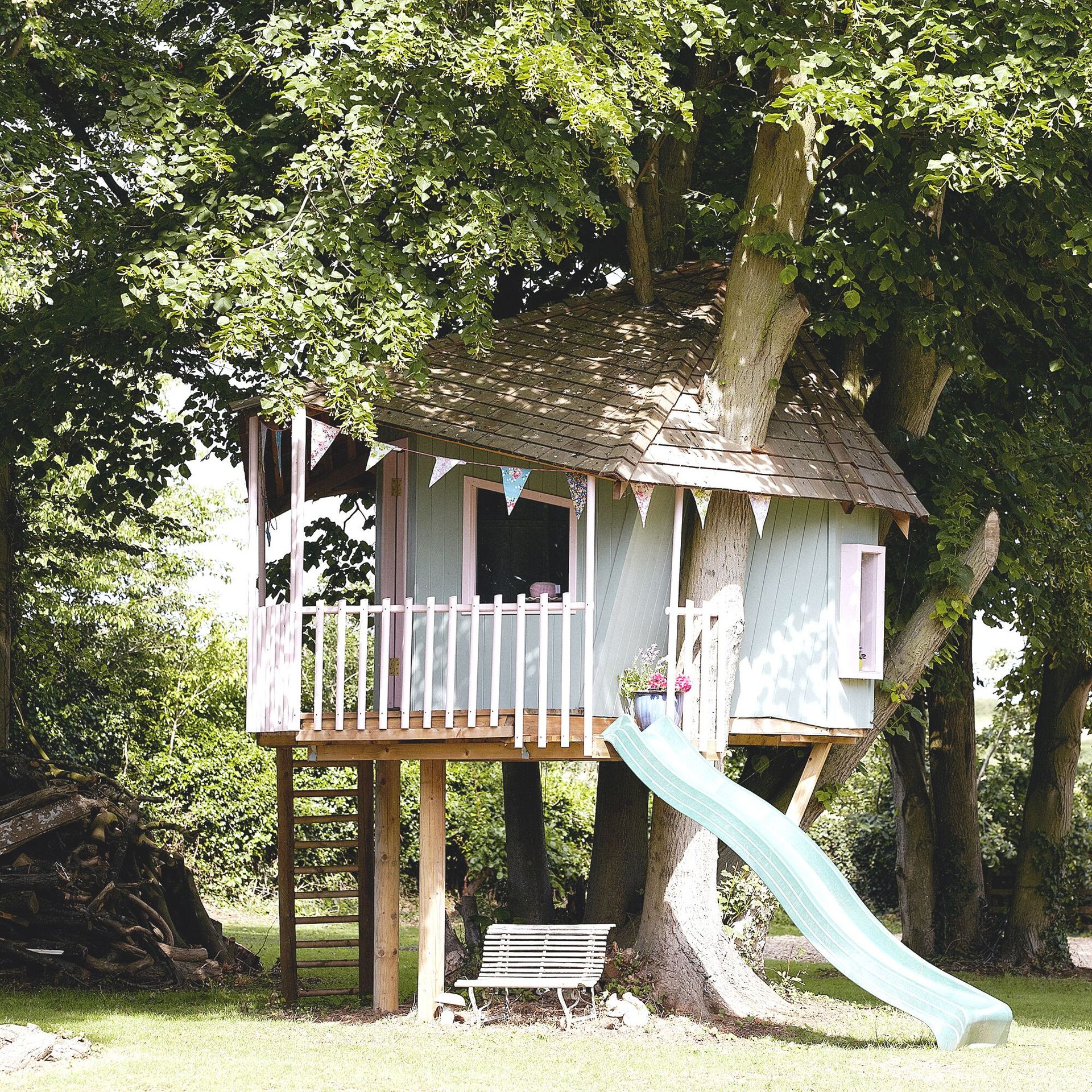 If you have children or grandchildren, then the garden takes on a different role, altogether. Instead of purely being an area to plant and relax in, it offers the potential for play and discovery, to nurture young imaginations. Capitalise on the magic of the garden by adding a treehouse, which is sure to bring endless joy to the younger residents or visitors, and add a touch of whimsy to your plot. 
9. Consider aluminium for added durablity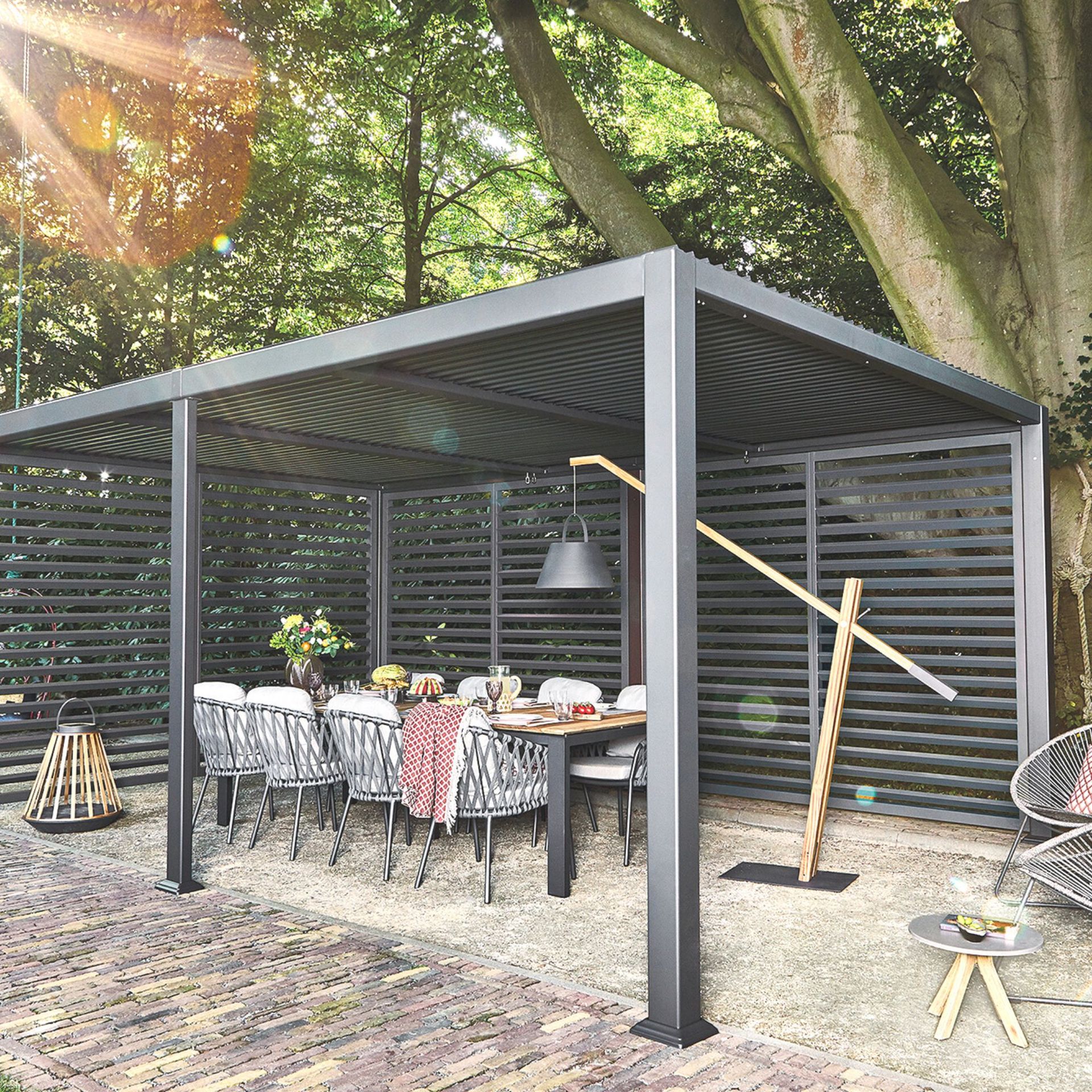 While wood is a traditional choice for garden building ideas, aluminium is a highly durable, and low-maintenance alternative. 
'When wood gets wet it can drip sap and ruin the furniture below. A powder-coated aluminium structure, however, will offer weather protection and will look the same forever,' says Reilly Gray, co-founder of Suns Lifestyle (opens in new tab). Above is its Maranza pergola, from £3,500, which features a motorised, louvered roof for variable shade.
Increase the durability of seating by learning how to weatherproof garden furniture.
10. No garden is complete without a shed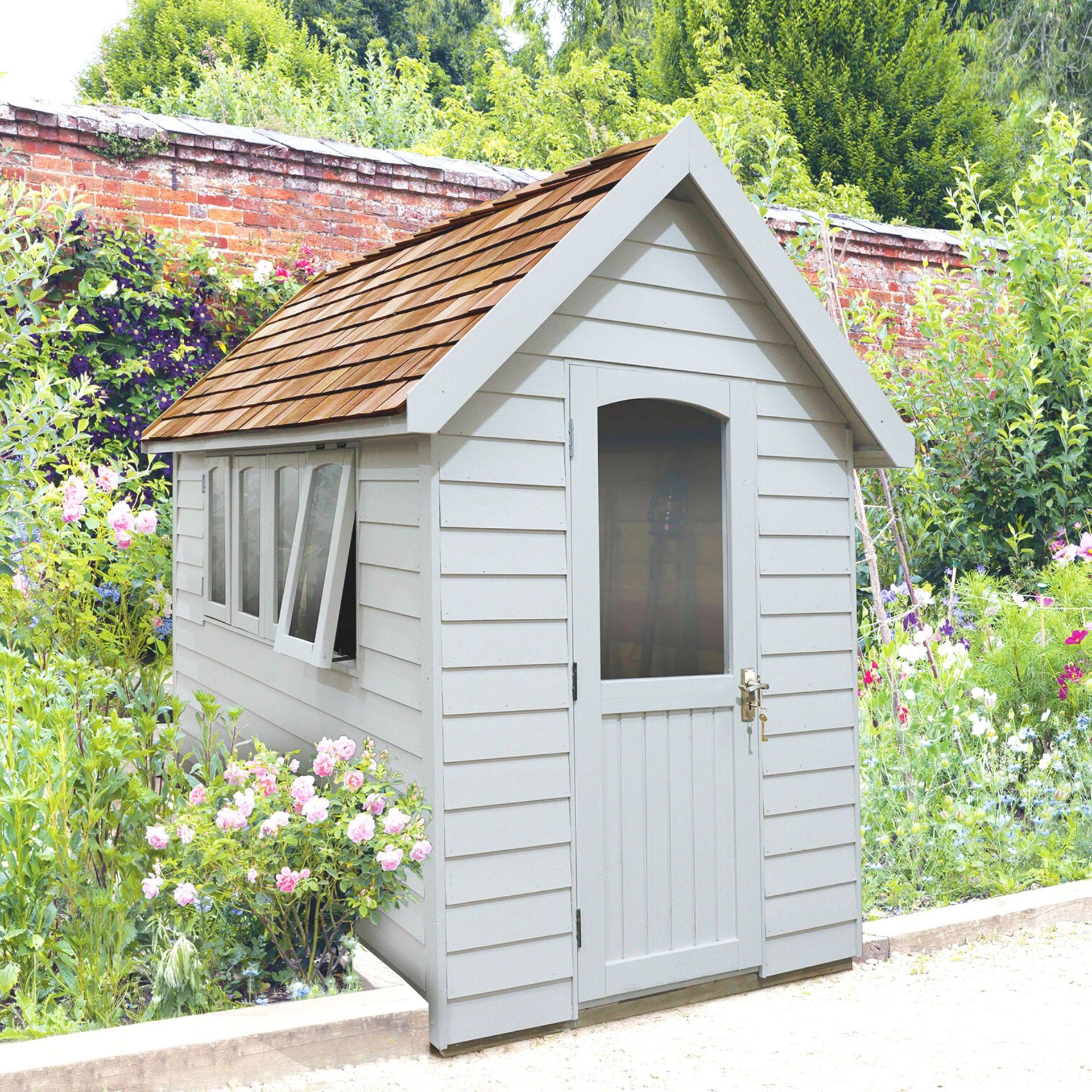 Not all garden building ideas are about creating a space to sit or dine. Storage opportunities are equally essential to create a relaxing garden – giving you somewhere to house your garden tools, pots and bags of compost – and you can't beat classic garden shed ideas. However, practical doesn't mean that it can't be beautiful, too. 
This Forest (opens in new tab) Retreat shed is completed with Redwood lapboards, painted in Pebble Grey, and a red shed shingle roof for a classic look. Large windows provide ample light and its steeply pitched roof ensures plenty of headroom inside. Keep your space neat and tidy by incorporating storage ideas for sheds, too.
11. Enjoy your garden with a swing seat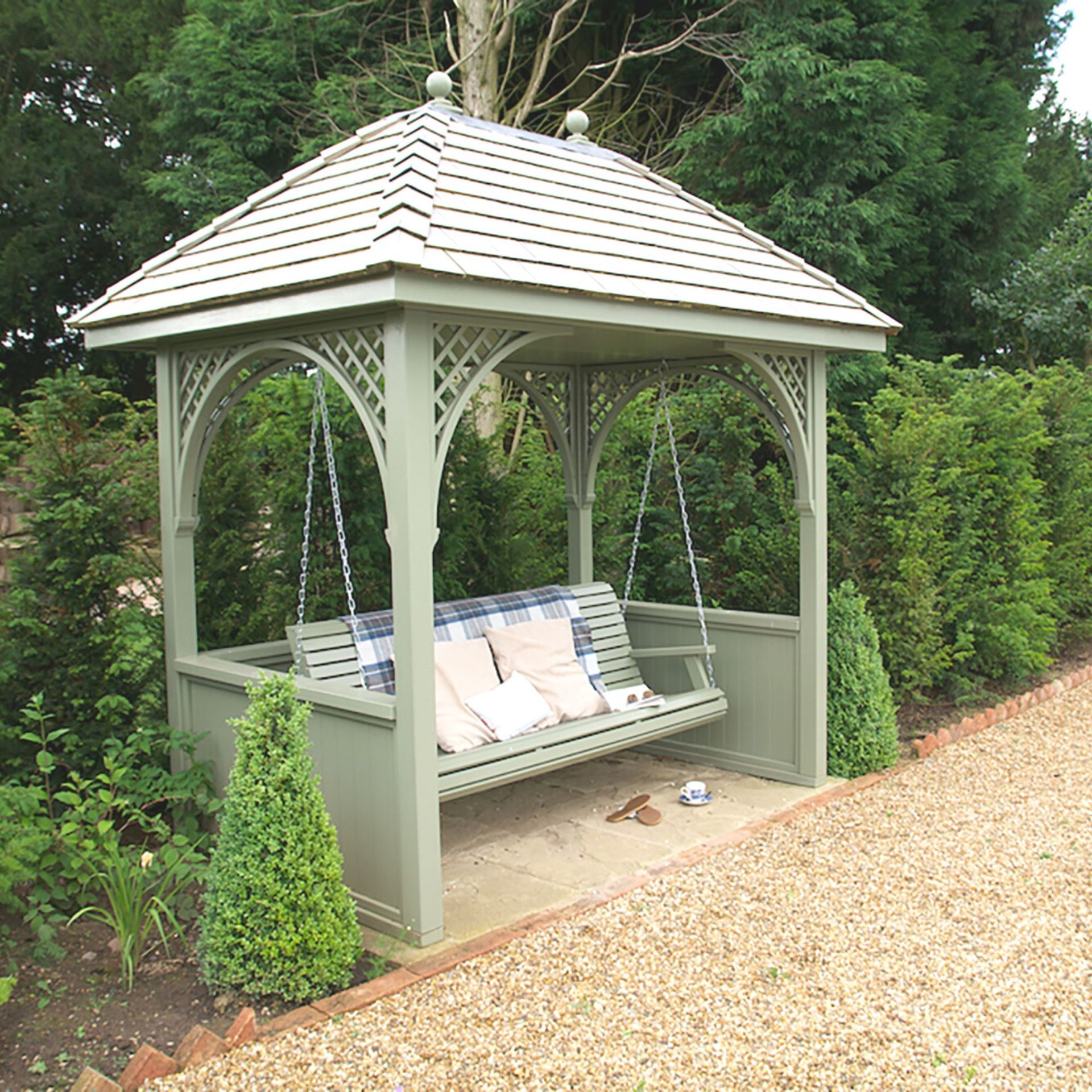 After a busy day of tending to your garden, it is important to have somewhere to enjoy the fruits of your labour. When placed in a peaceful spot, a shaded swing seat offers the ideal place to – quite literally – kick back and relax. 
Surround the seating with planting and evergreen foliage to increase the sense of seclusion. Featured is a handcrafted bespoke swing seat with arbour, price available on request from The Garden Trellis Co. (opens in new tab)
12. Add beauty with a rose arch or trellis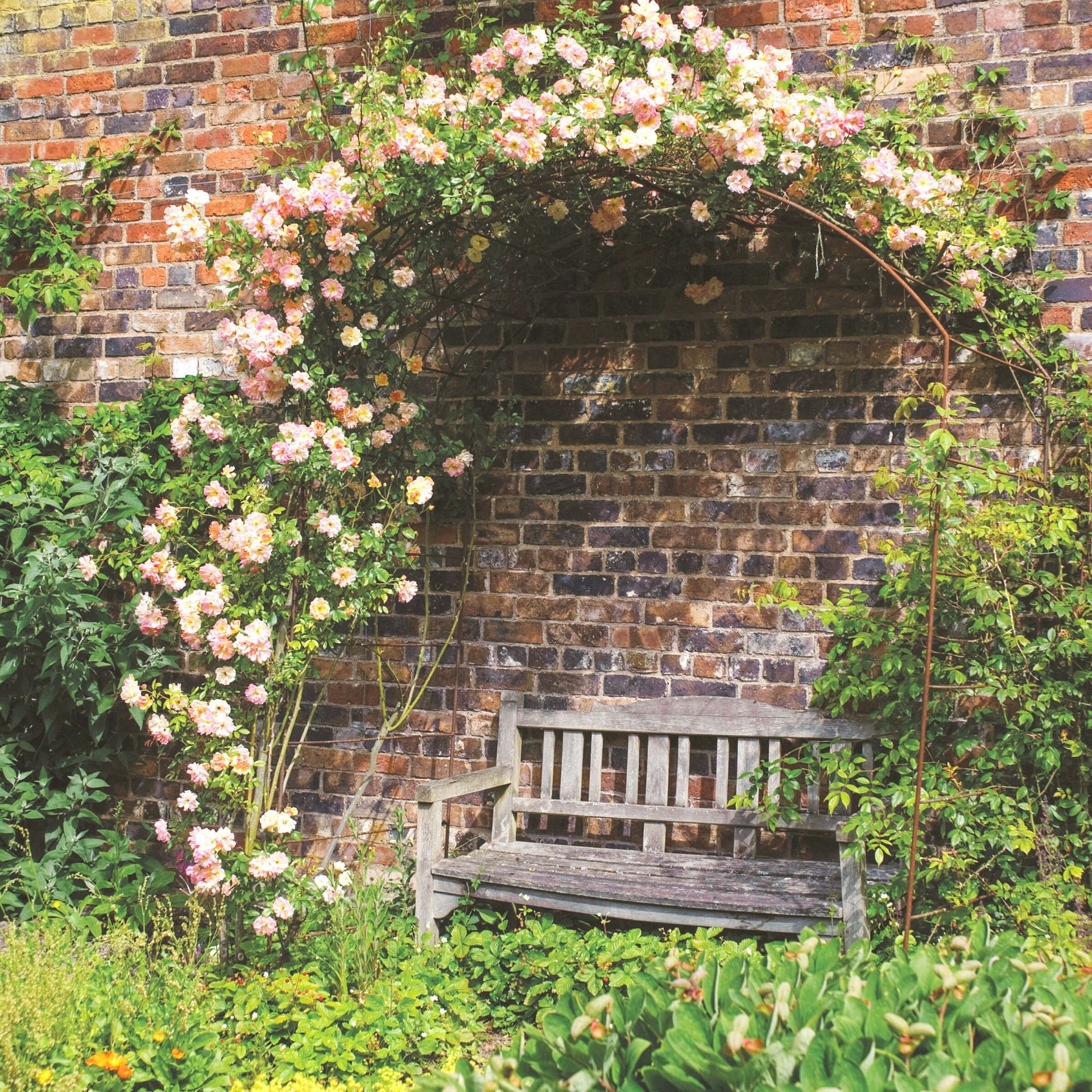 The epitome of any romantic scheme, a rose arch adds a beautiful focal point to your garden; whether to make an architectural link between two areas or create a floral hideaway where you can sit and enjoy the delicate scent and blowsy blooms. 
Opt for quick-growing ramblers, like the beautiful Phyllis Bide (featured here), or repeat-flowering climbers, such as Gertrude Jekyll, which can be trained to grow over an arch. A small wire arch starts at £200 from David Austin (opens in new tab).
Garden trellis ideas can also be used to split a garden into individual 'rooms', each with its own character and personality.
13. Use paint to reinvigorate a tired garden building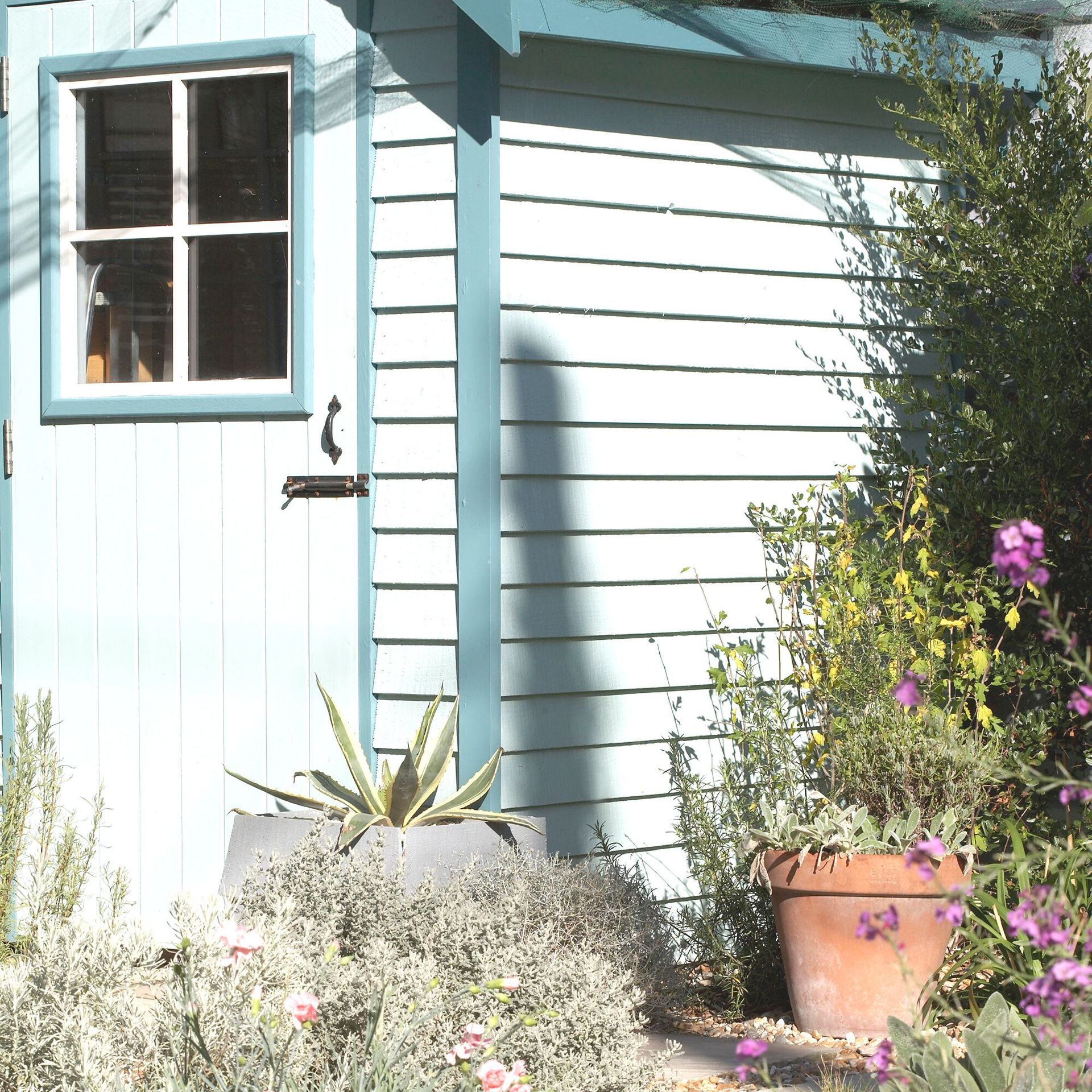 Paint can serve to both preserve and reinvigorate your garden building ideas. Painting your outdoor structure with durable exterior garden paint ideas, such as Cuprinol Ducksback, will help to protect it from UV or water damage. 
'A dramatic, dark colour will intensify the golden hue of decorative fairy lights, or, for added character, try using a contrasting colour on the trim to make the building pop,' says Marianne Shillingford, creative director at Cuprinol (opens in new tab).
14. Add decorative tent as an affordable alternative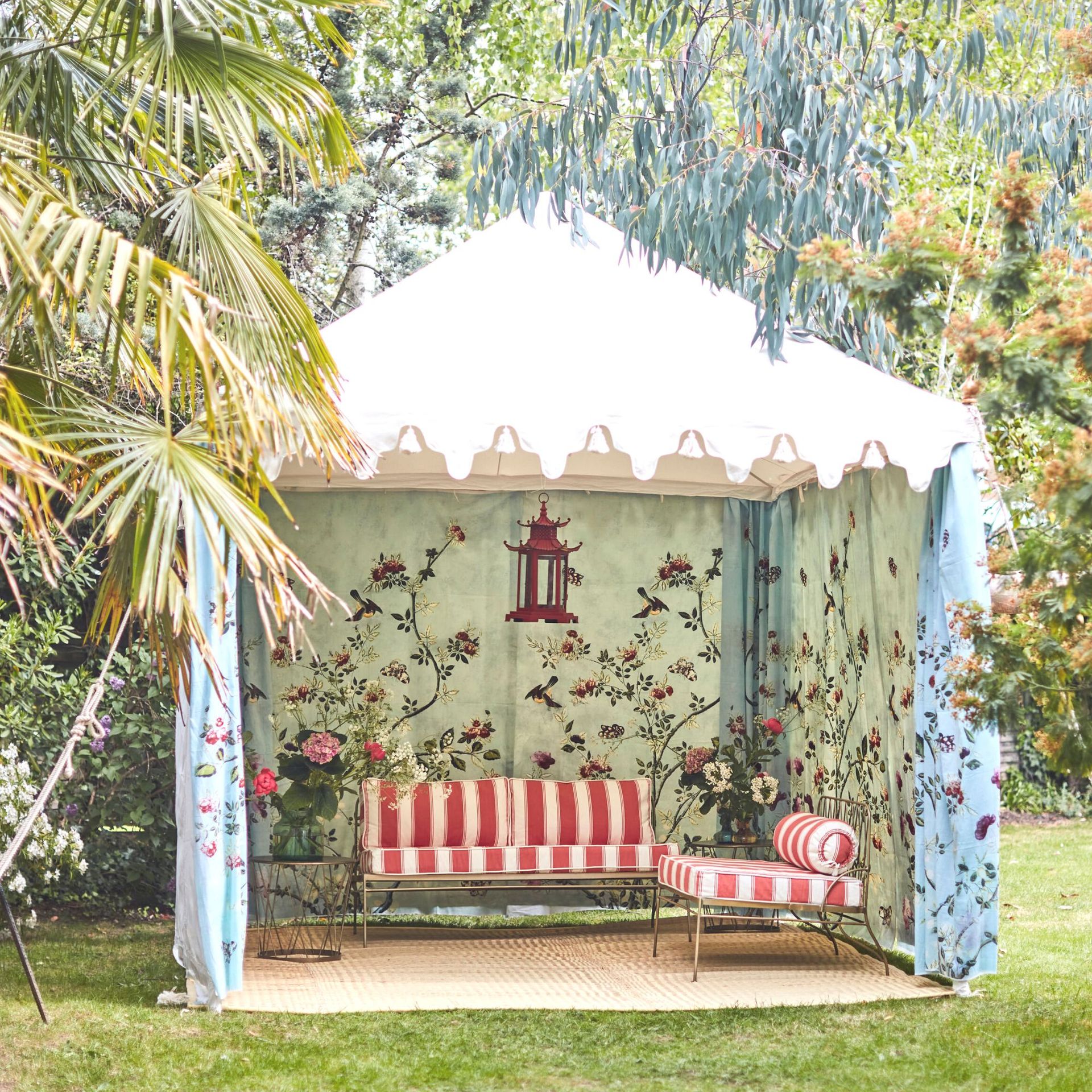 If garden building ideas are too much of a stretch on the budget you can always roll out something more temporary should the occasion demand it. An easy garden idea, tents and fabric gazebos can be a godsend when it comes to summer entertaining.
Bring out the cot beds, pretty bedding and bunting for teen sleepovers, or use a gazebo as canopy over outdoor patio furniture – it can provide welcome shade or shelter from the odd shower.
15. Evoke atmosphere with Japanese-style pagoda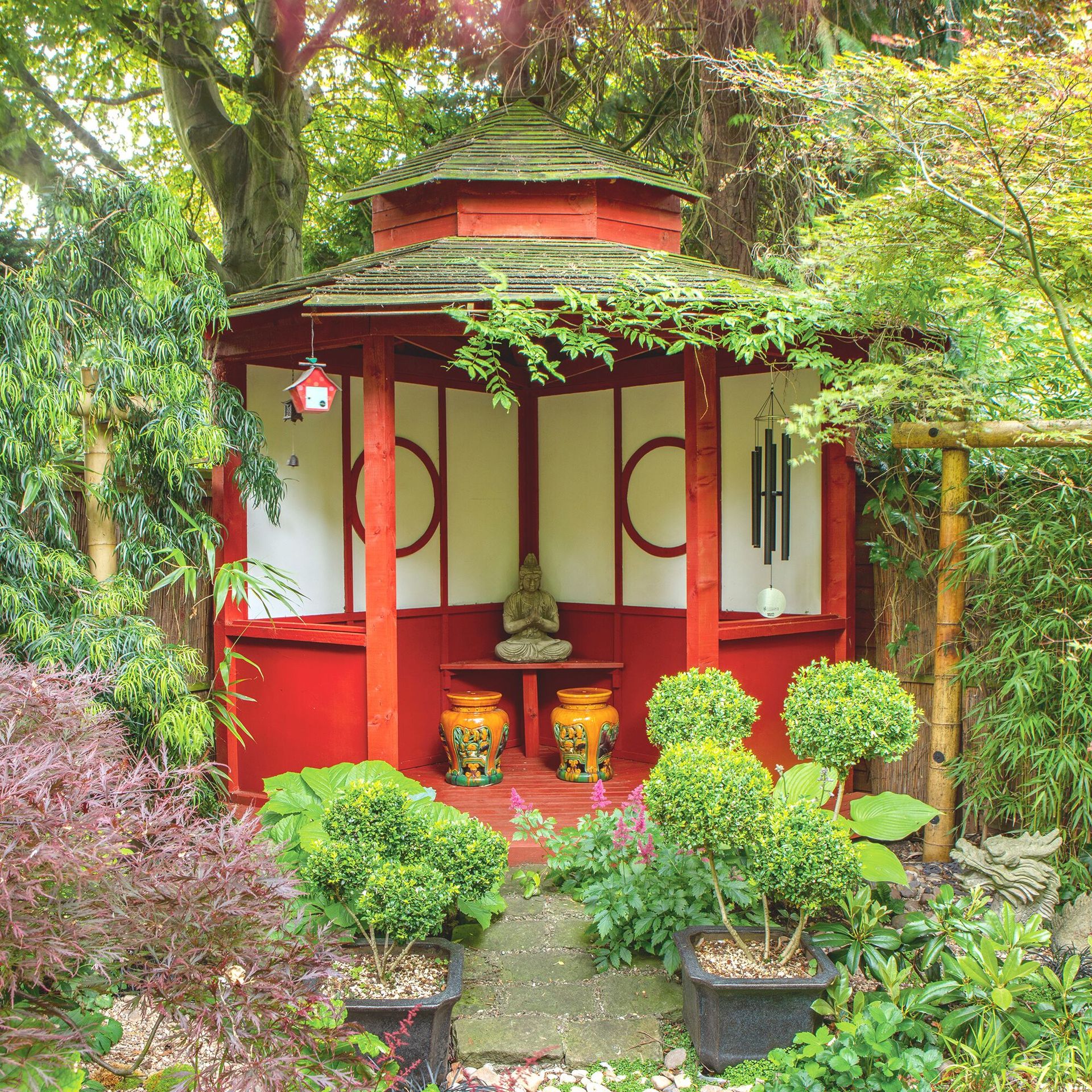 When considering garden landscaping, use a garden building to evoke a specific atmosphere. Here, this Japanese-style pagoda is flanked by abundant bamboo and vibrant acers to give the space an ornamental feel. The bright red immediately draws the eye, punctuating the space while also serving as a sheltered sanctuary.
16. Use trellis to create privacy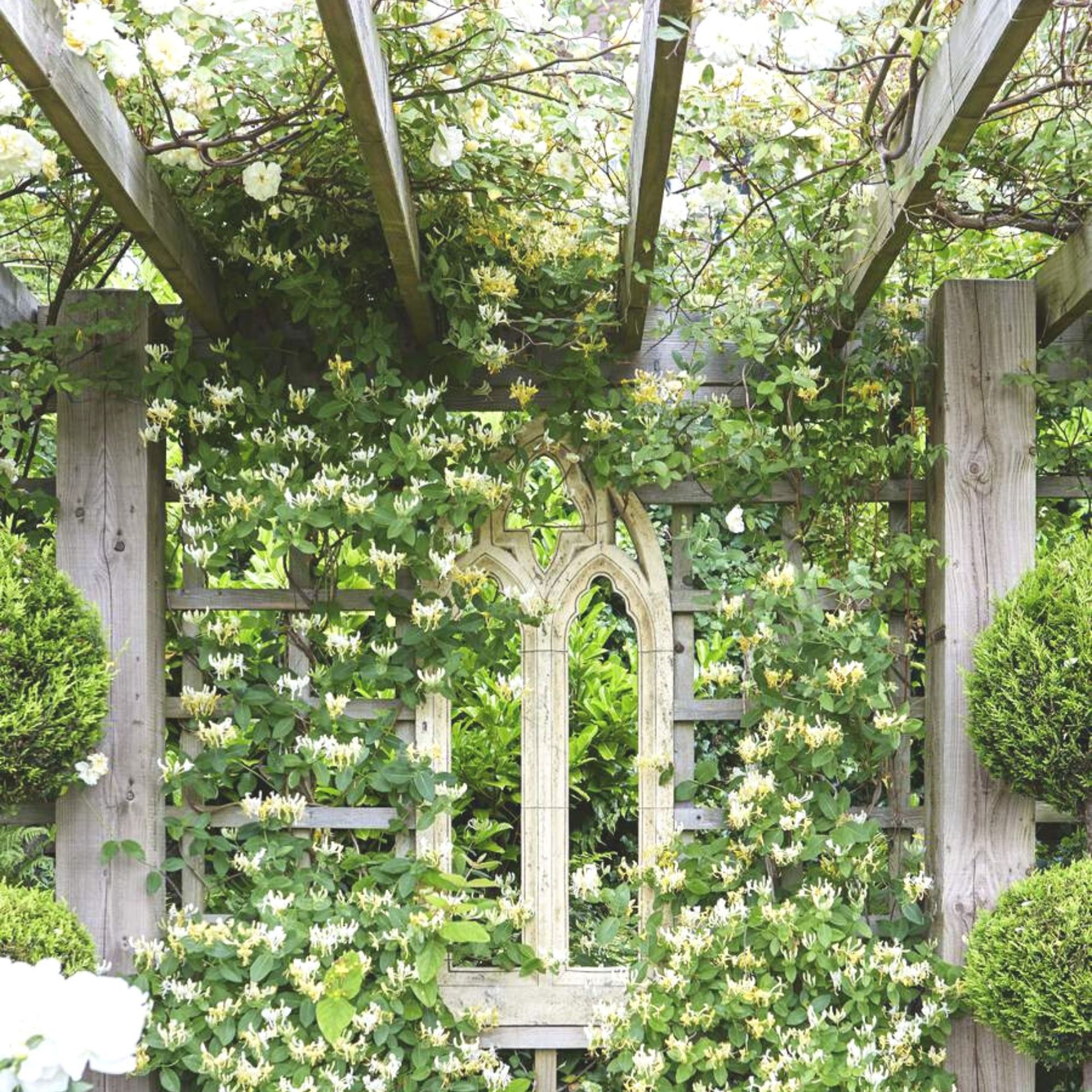 Trellises add height, form and structure to a garden scheme. Install it behind a flowerbed or a run of filled pots or planters and train them to scramble upwards.
Some plants, such as ivy, can turn trellis into virtual screens because they are so dense once they get a grip – they can make a cheaper alternative to full-panel fencing. Fit two panels of trellis with a gap in between to form a walkway and let your plants bridge the two to create an arch.
17. Love entertaining? A garden bar is a must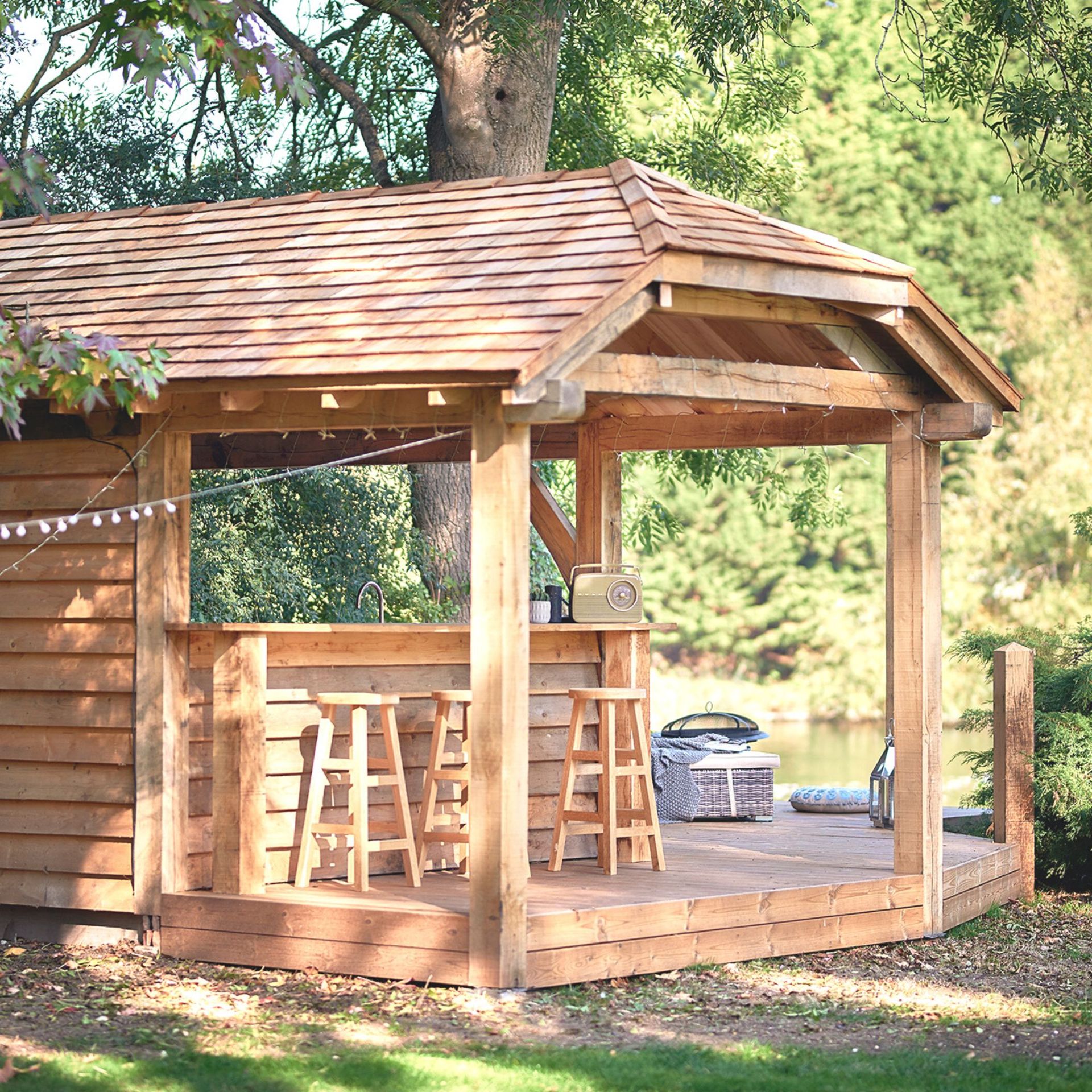 If you love to host, then creating an outdoor entertaining space is a must. Oakwrights (opens in new tab)' spacious Leisure Pavilion ensures nobody is left off the guest list. Its oak structure complements the surrounding greenery, and with a solid roof and strings of festoon lights, you are set to party into the evening.
Do I need planning permission for a garden room?
Since they are considered to be 'outbuildings incidental to the enjoyment of the house', garden buildings are deemed a permitted development, and so don't usually need planning permission – unless your home is listed. However, they must be single-storey and have a maximum height of 2.5 metres. For more information visit planningportal.co.uk (opens in new tab).
Does a summerhouse add value to your property?
A summerhouse makes a dreamy addition to the garden, but it can also increase the value of your property. 'If you are thinking about adding a summerhouse to your garden, you could add around 5 per cent to its value,' says Johnson Roy, Area Manager for Sharman Quinney (opens in new tab). 
'While summerhouses don't increase a home's square footage, they offer appeal in terms of usable space and storage potential.'