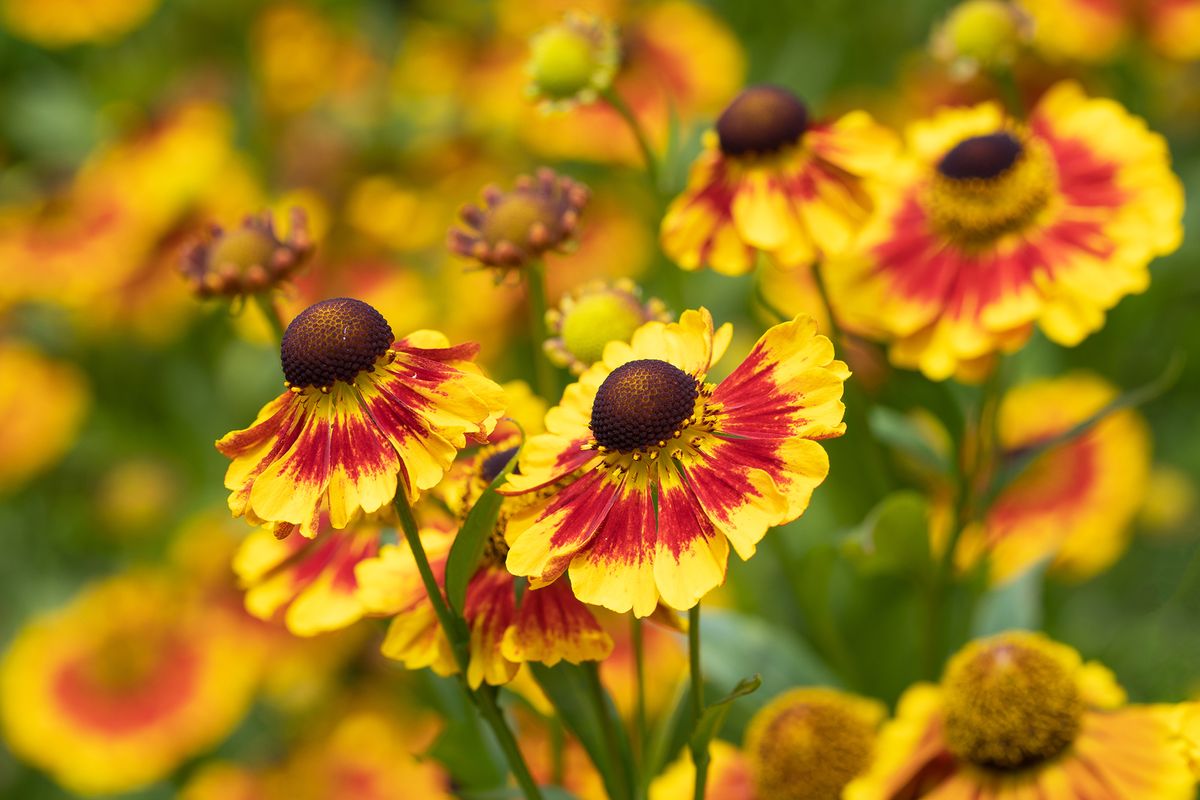 Fall flowers for pots: 10 ideas to add color and interest
The best fall flowers for pots are bursting with color and interest, and offer a long blooming season.
If your container gardening ideas are usually limited to the best spring bulbs and summer show-stoppers, then you need to consider the possibilities offered by fall-flowering plants.
'As summer fades into fall, the garden takes on a mellow loveliness, with the light softer and flowers more muted. Yet there is still much to look forward to in the container garden,' says Isabel Palmer, founder of The Balcony Gardener (opens in new tab).
As well as choosing the best fall flowers, don't overlook the importance of investing the right containers. There are many beautiful fall planter ideas that will help you to create a backyard sanctuary.
'Use the largest planters you can afford, in terms of both cost and space,' says Palmer. 'A few large containers can create a small garden oasis and, kept close by the back door, are easy to access as the weather turns colder.'
10 best fall flowers for pots
From stunning annuals to reliable perennials, there is a wonderful variety of different fall flowers for pots that will add color in the cooler months.
Bear in mind your USDA hardiness zone, as this will influence what you can grow, and may limit the lifespan of less winter-hardy plants.
1. Pansies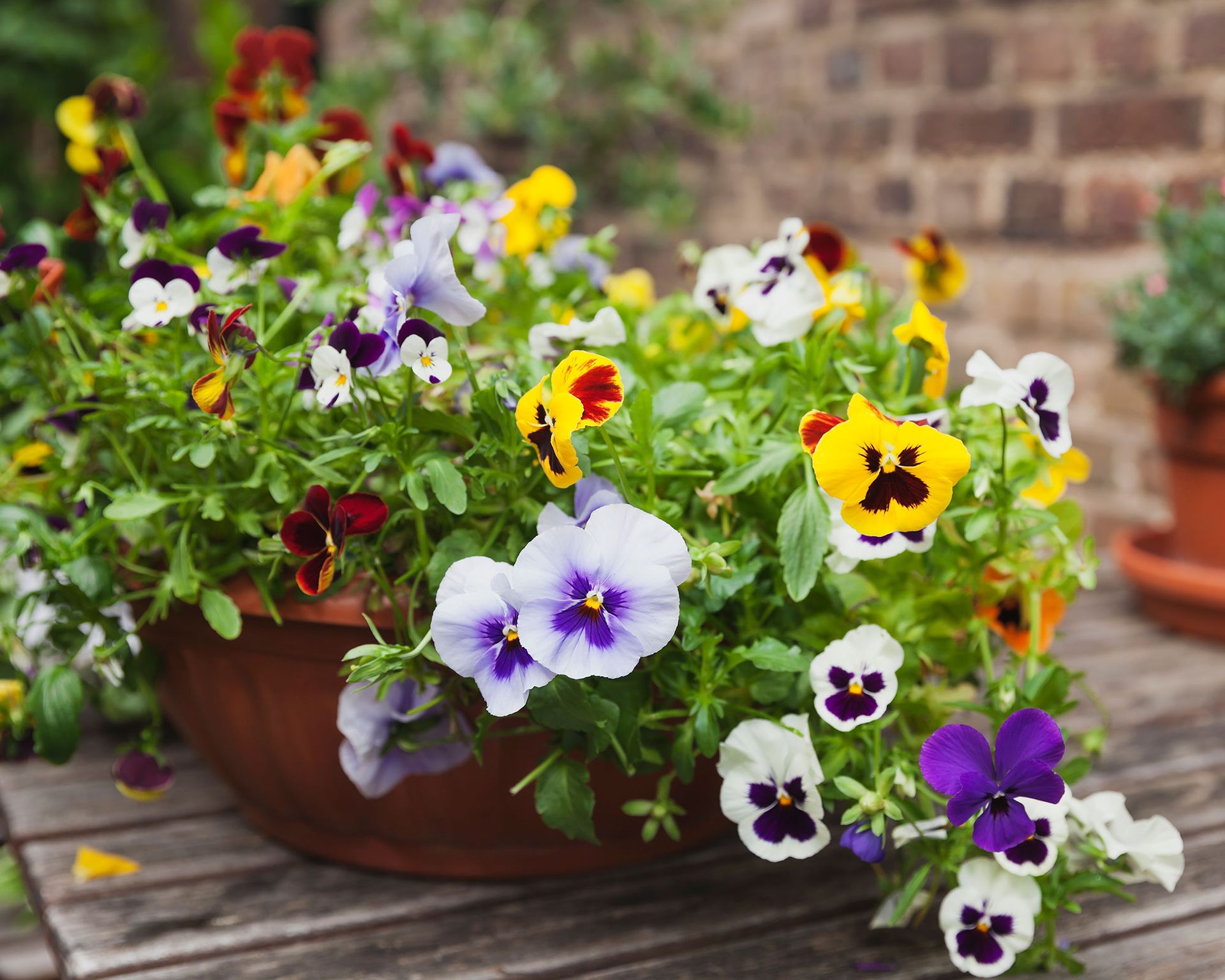 Pansies are some of the best-loved fall flowers for pots. They are perfect for adding to your cottage garden ideas, and are also prolific self-seeders, so you can enjoy them for years to come. 
'With their heart-shaped, overlapping petals, pansies offer the widest variety of bright, pretty colors and patterns,' says Jen Stark, founder of Happy DIY Home (opens in new tab). 
'They don't ask for much care, and in addition to pots they are also a good option for hanging baskets and borders.'
It's easy to learn how to grow pansies – they like full or partial sun, but need cooler temperatures to grow and flower. 
'Make sure the planting area will get morning sun but avoid the heat of the late afternoon,' adds Stark.
'A well-drained soil or potting mix, snail pellets, and a bit of liquid fertilizer are all you need to promote new growth.'
You can grow pansies as annuals in almost every USDA zone.
2. Chrysanthemums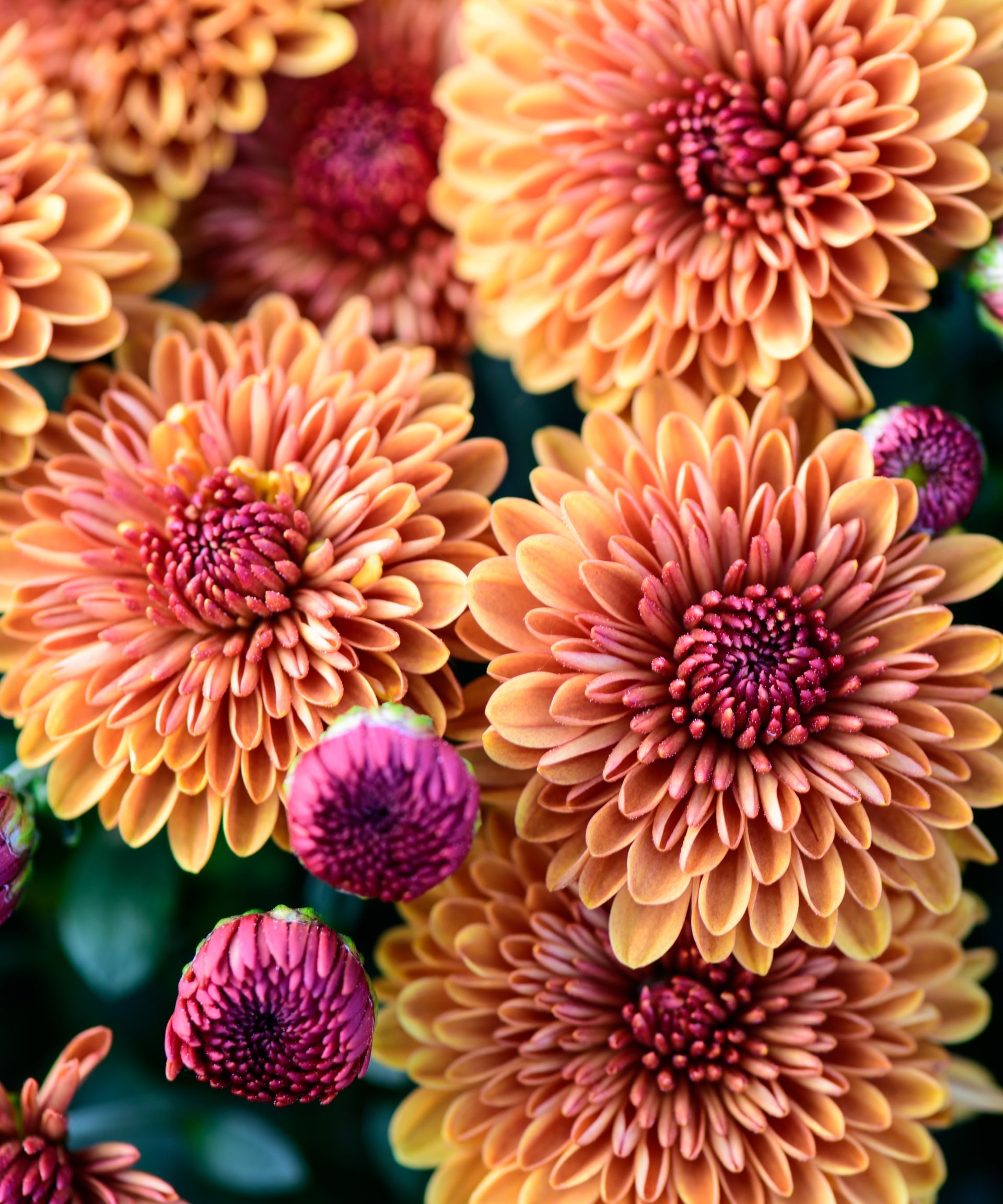 Chrysanthemums are surely one of the most glorious garden sights in the fall. Native to East Asia, they come in a wide variety of colors and shapes, and make stunning cut flowers.
They will bloom from the end of summer right up until the frosts set in, but ideally you should get them planted in the spring to give them chance to establish.
'Perennial flowers, chrysanthemums are one of the most popular fall flowers for pots,' says Paige Anderson, landscape expert at Nitido Design (opens in new tab). 'These flowers are great for containers because they can withstand colder temperatures.
However, though perennial, chrysanthemums will not survive outdoors in colder climates, so in many areas need to be overwintered indoors or in a greenhouse.
Chrysanthemums require well-drained soil, but do not allow the soil to dry out. They also like plenty of fertilizer and full sun. Pinch out the growing tips to encourage bushier plants. 
You can grow chrysanthemums in USDA zones 5-9. They are very easy to propagate if you know how to take plant cuttings.
3. Goldenrod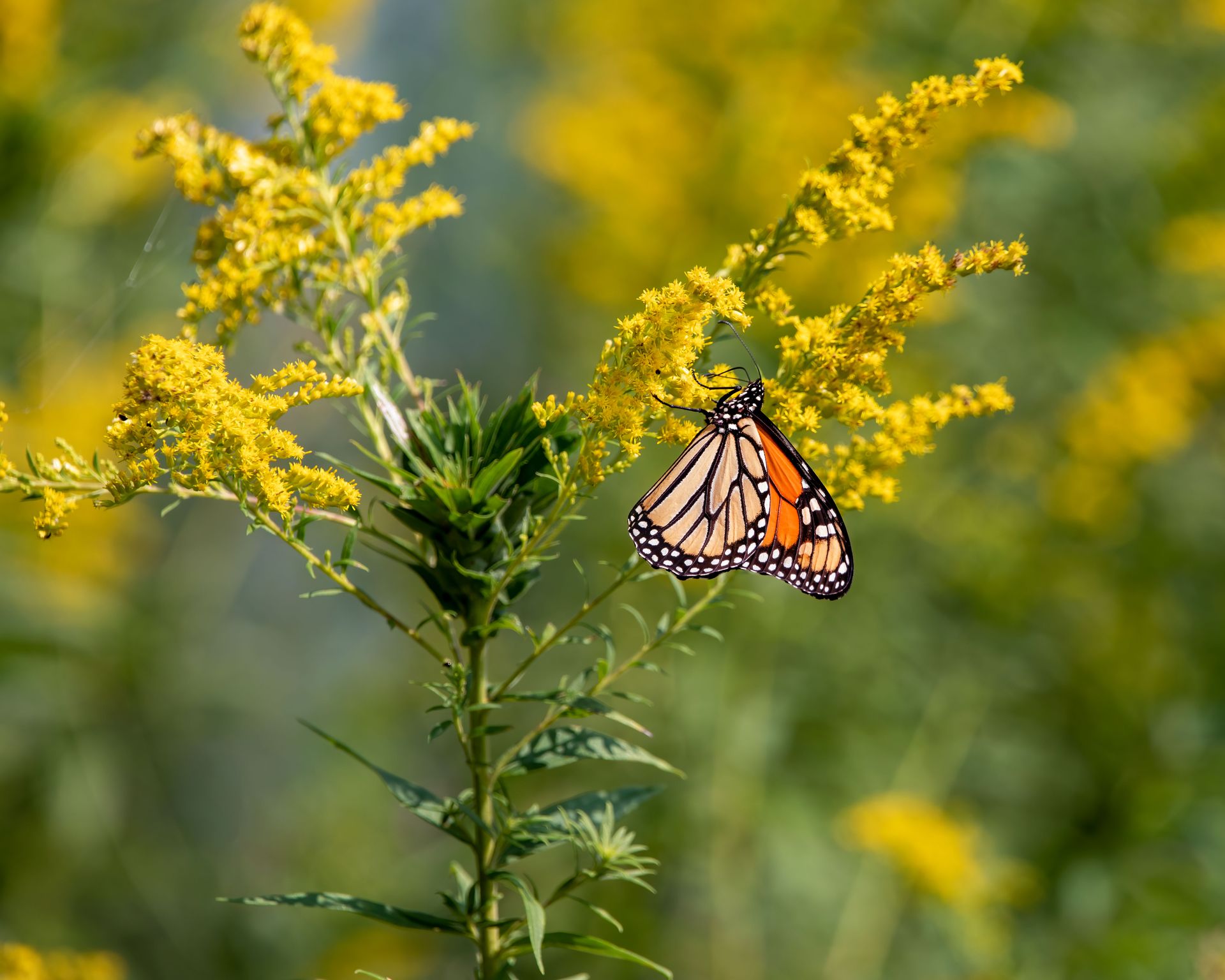 Also known as solidago, goldenrod is easily grown in pots, and bursts with small yellow flowers from summer to fall.
As a herbaceous perennial, goldenrod is a great investment in your long-term garden ideas. The plants are fairly compact, yet can be somewhat invasive, which makes them ideally suited to pots. They rarely have problems, and pollinators love them.
'You can hang pots of goldenrod on your porch and enjoy your view whenever you look outside. You should regularly water these flowers so they keep blooming,' says Vera Kutsenko, founder and CEO of Neverland (opens in new tab).
Goldenrod prefer a sunny spot, but will tolerate some shade, and can be grown in USDA zones 2-8.
4. Heleniums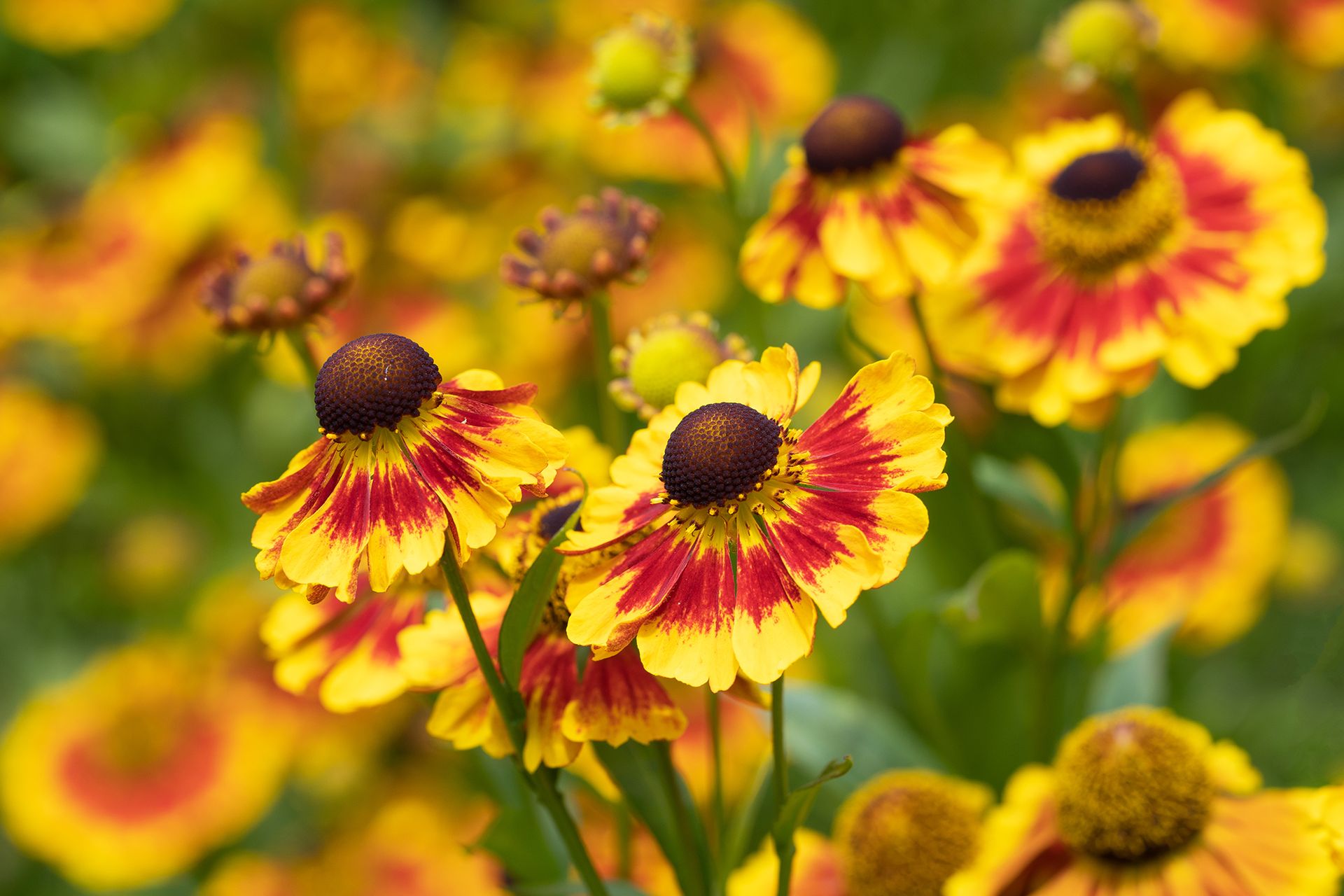 Coming in fiery shades of yellow, orange and red, heleniums bring warmth and vibrancy to pots from mid summer into fall, with their whimsical daisy-like flowers.
They are attractive to pollinators and also make good cut flowers in a vase.
While heleniums will thrive in most soil types, they do need a sunny but sheltered spot. As thirsty plants, they should only planted in large containers, and they need frequent watering to prevent the soil from drying out.
Deadhead regularly to extend the flowering season as long as possible.
Heleniums are perennial flowers, winter hardy in USDA zones 3 to 8.
5. Petunias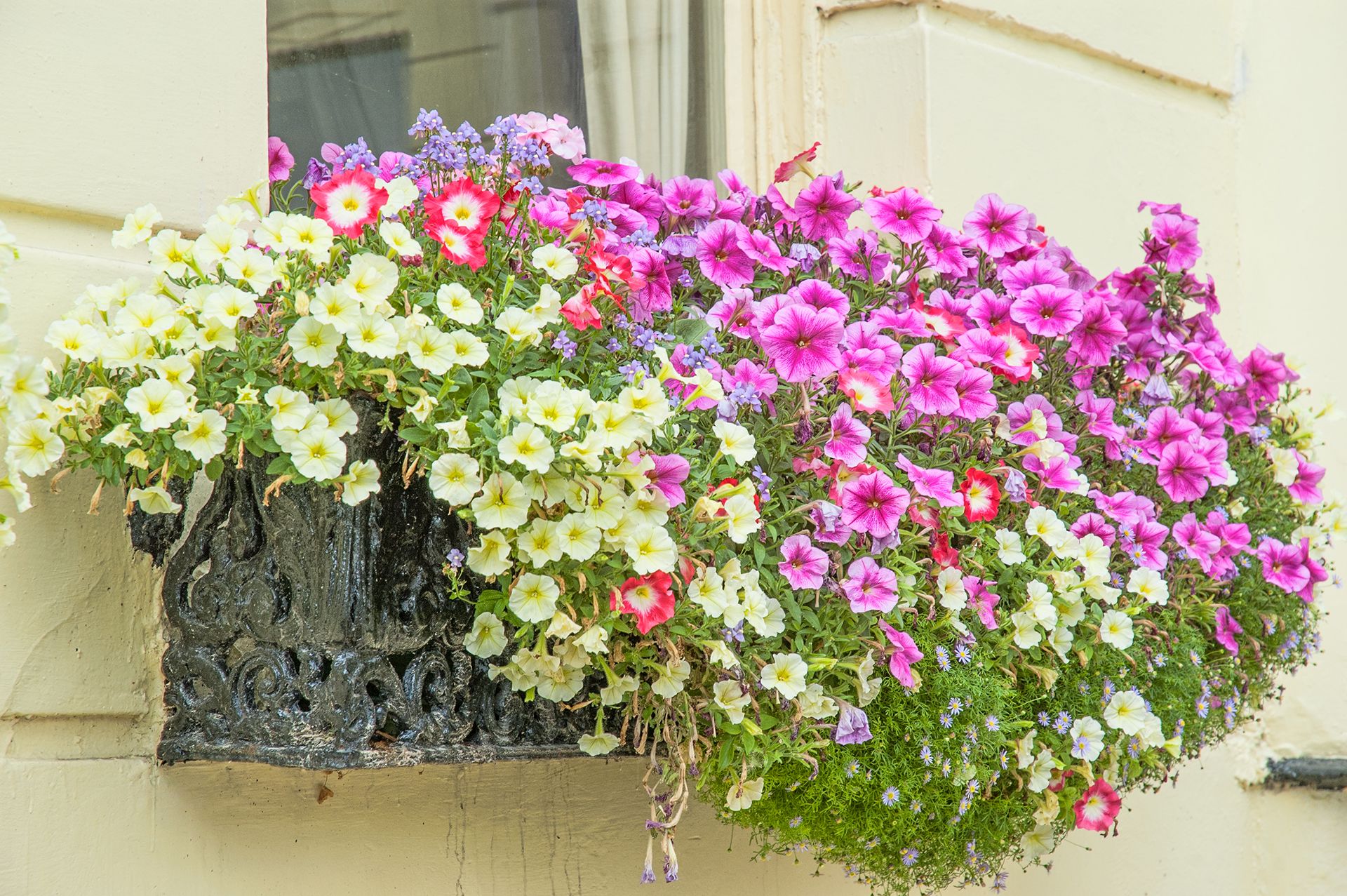 'Petunias are many gardeners' all-time favorite fall flowers for pots because of their selection of a wide array of colors, including their small trumpet-like-shaped blooms,' says Stark. 
'Their stunning look when in bloom makes them a great addition to autumn displays, while they are also one of the best plants for hanging baskets.'
Petunias offer high reward for minimal effort, as they are easy to care for. Fertilizing these plants on a regular basis will keep them blooming. 
You should also learn how to deadhead petunias to extend their growing season.
They can be grown as perennials in USDA zones 9-11, or otherwise only as annuals.
6. Asters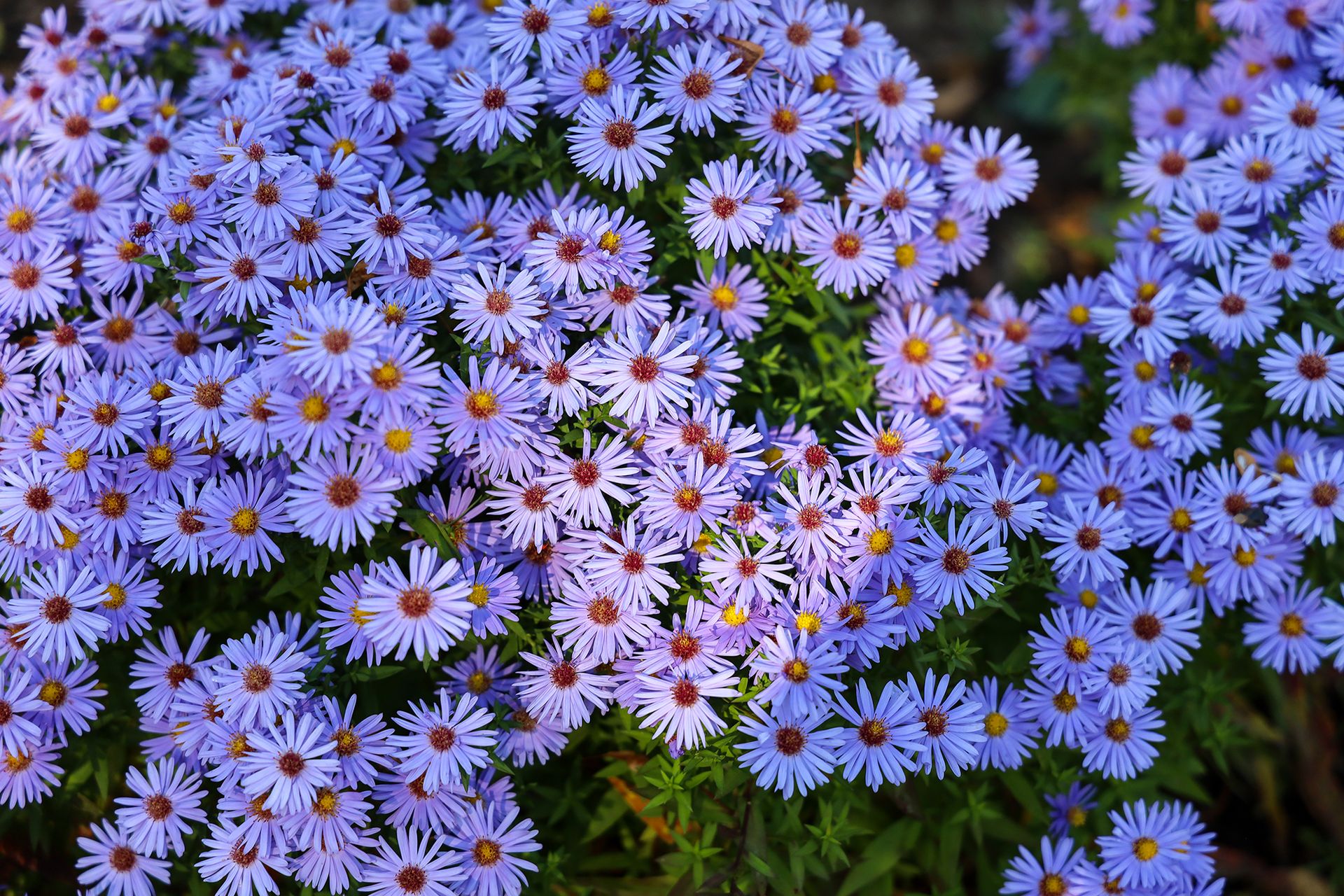 Asters – also known as Michaelmas daisies for their daisy-like appearance – provide invaluable color in the late summer and fall garden with their pink, purple or white flowers.
They also provide in important source of nectar for pollinating insects.
'This delicate, star-shaped flower is perfect for adding color to your fall pots,' says Anderson.
Asters are perennial and if planted in a sunny spot in free-draining soil will keep returning each year. They do appreciate some shelter from strong winds, though.
Pinch them out to extend the flowering season, and cut them back after flowering. Asters can be grown in USDA zones 3-8, but in cooler areas, it's best to overwinter them in a greenhouse.
7. Marigolds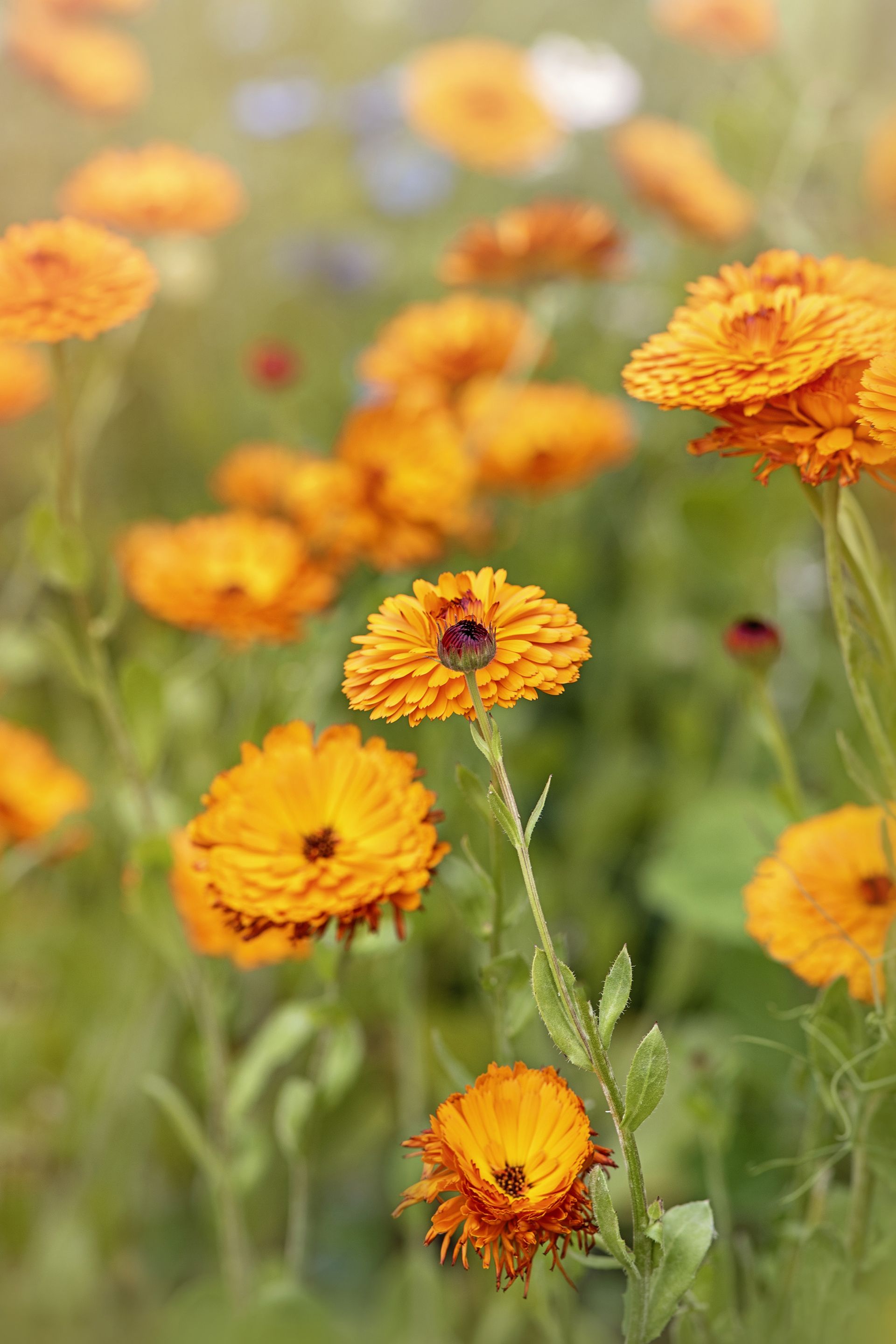 Marigolds have a long flowering season that often extends from spring into the fall – though eventually the frost will finish them off.
This means it's important to know when to plant marigolds to get the most out of them.
'Marigolds are quite popular in companion planting as they help keep away aphids. They are happy in pots, baskets, window boxes, or containers provided they are placed in full sun,' says Stark. 
'Potted marigolds will definitely brighten up and add life to your patio or doorstep because of their vibrant colors from yellows, limes, and creams to just about every shade of orange and bronze.'
Plant in full sun in free-draining, fertile soil. As they are hardy to hot and cold temperatures, marigolds are some of the easiest fall flowers for pots to look after. 
You can grow them in USDA zones 2-11, but they will only be hardy from zone 9.
8. Calibrachoa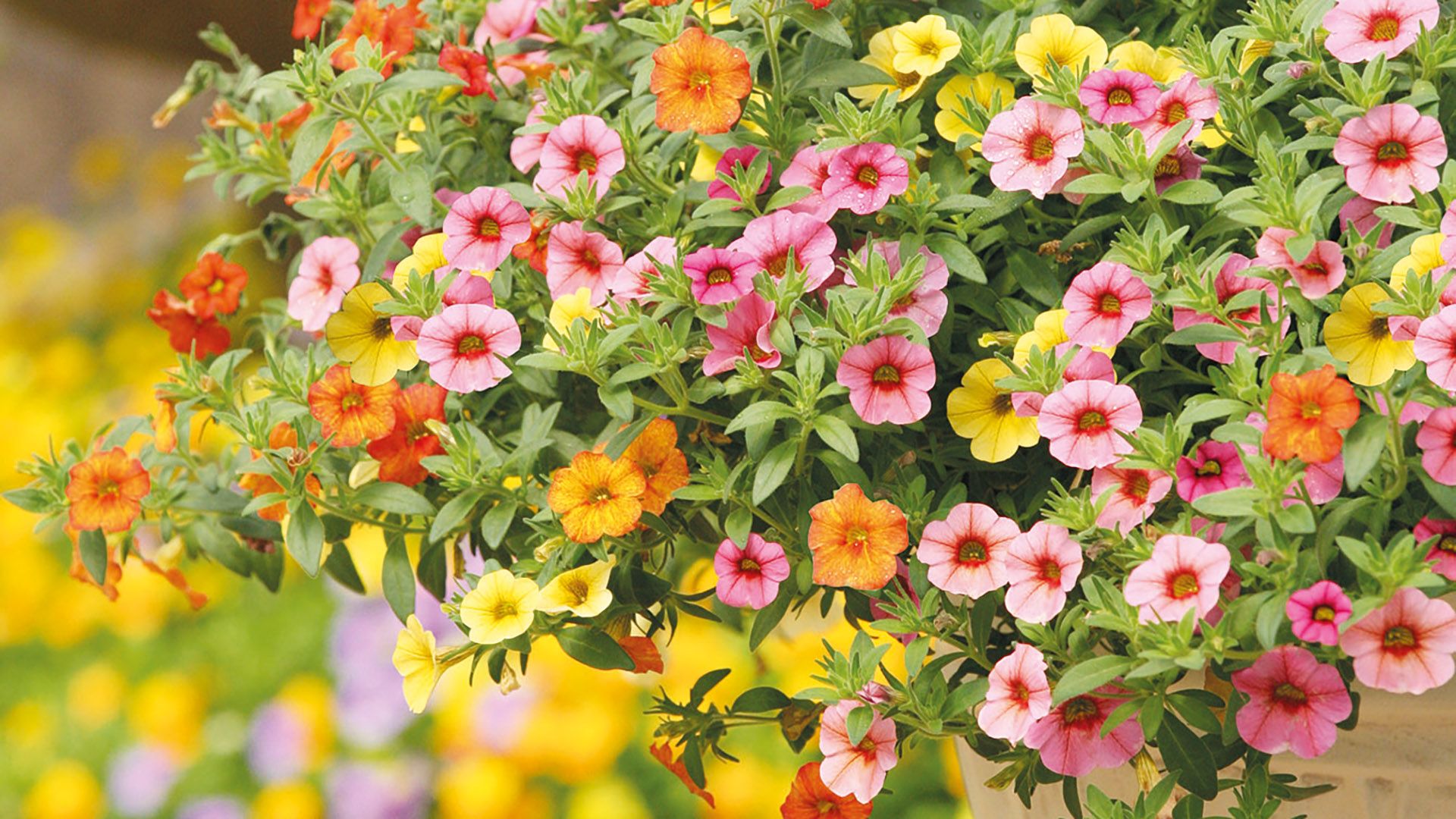 This miniature variety of petunia, often known as million bells, will fill out pots beautifully into the fall, and has a romantic trailing habit.
Calibrachoa are available in a wide color palette, with some having variety within one plant. Mini Rosebud Romantic Peachy has beautiful flowers of peach and pink, while Minitunia Kabloom Mixed offers a stunning mix of colors.
Though perennials – hardy in zones 9-11 – calibrachoa are tender, and so will need overwintering in a greenhouse in cooler areas. Otherwise, they are best grown as annuals.
9. Toad lily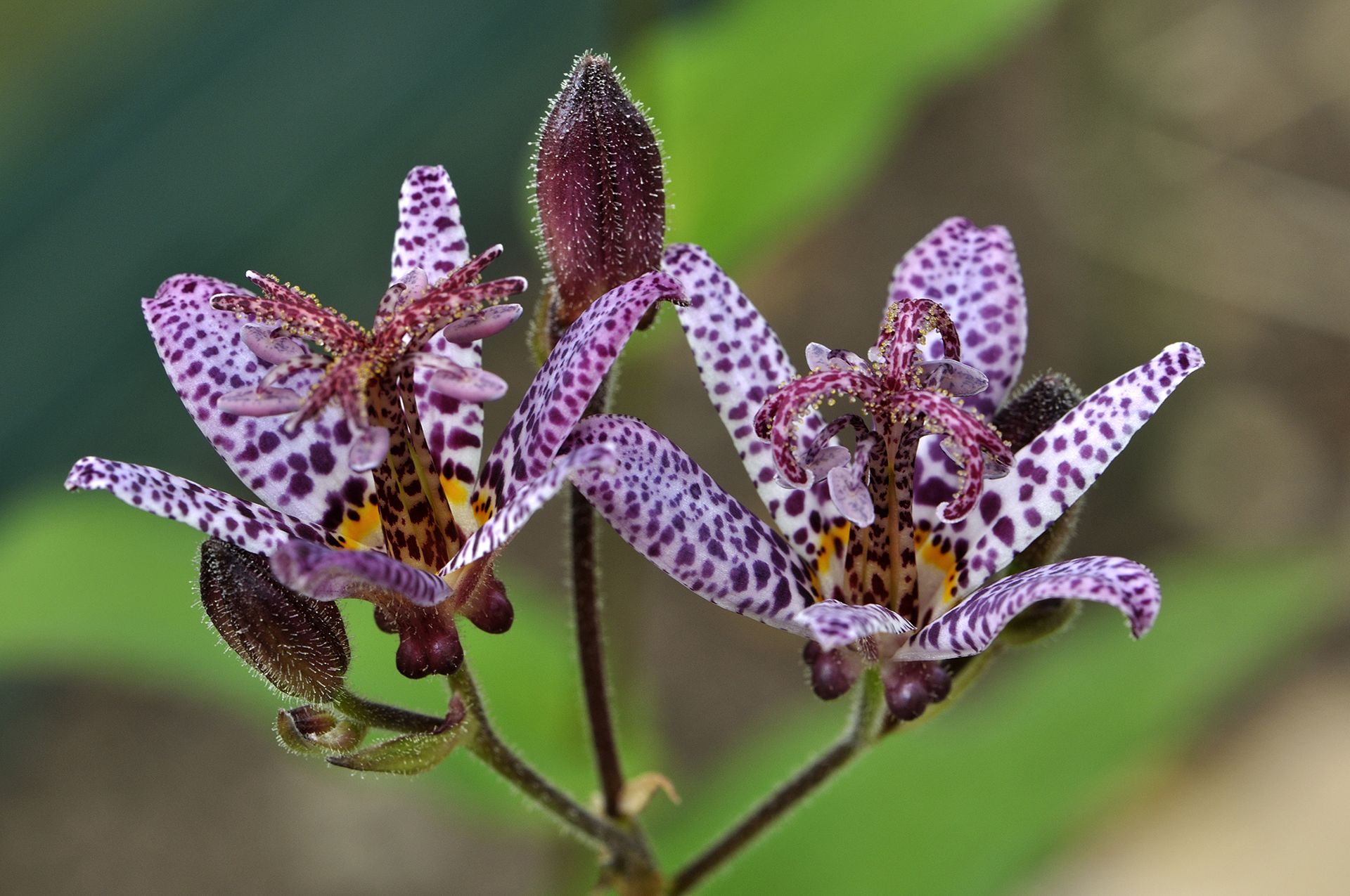 'Toad lily is as unique as its name sounds,' says Kutsenko. 'The flowers have a printed pattern, which looks beautiful in small pots on your deck.'
Rhizomatous perennials, toad lilies are native to Japan and have an exotic appearance – yet despite their delicate looks are surprisingly easy to care for.
'Toad lily requires little to no attention. However, you need to place plants in partial to full shade,' adds Kutsenko. 
Blooming from summer to fall, toad lily is a compact plant that grows in any well-drained soil type, making them perfect fall flowers for pots if you're looking for something unusual.
You can grow toad lily in USDA zones 4-9.
10. Sweet alyssum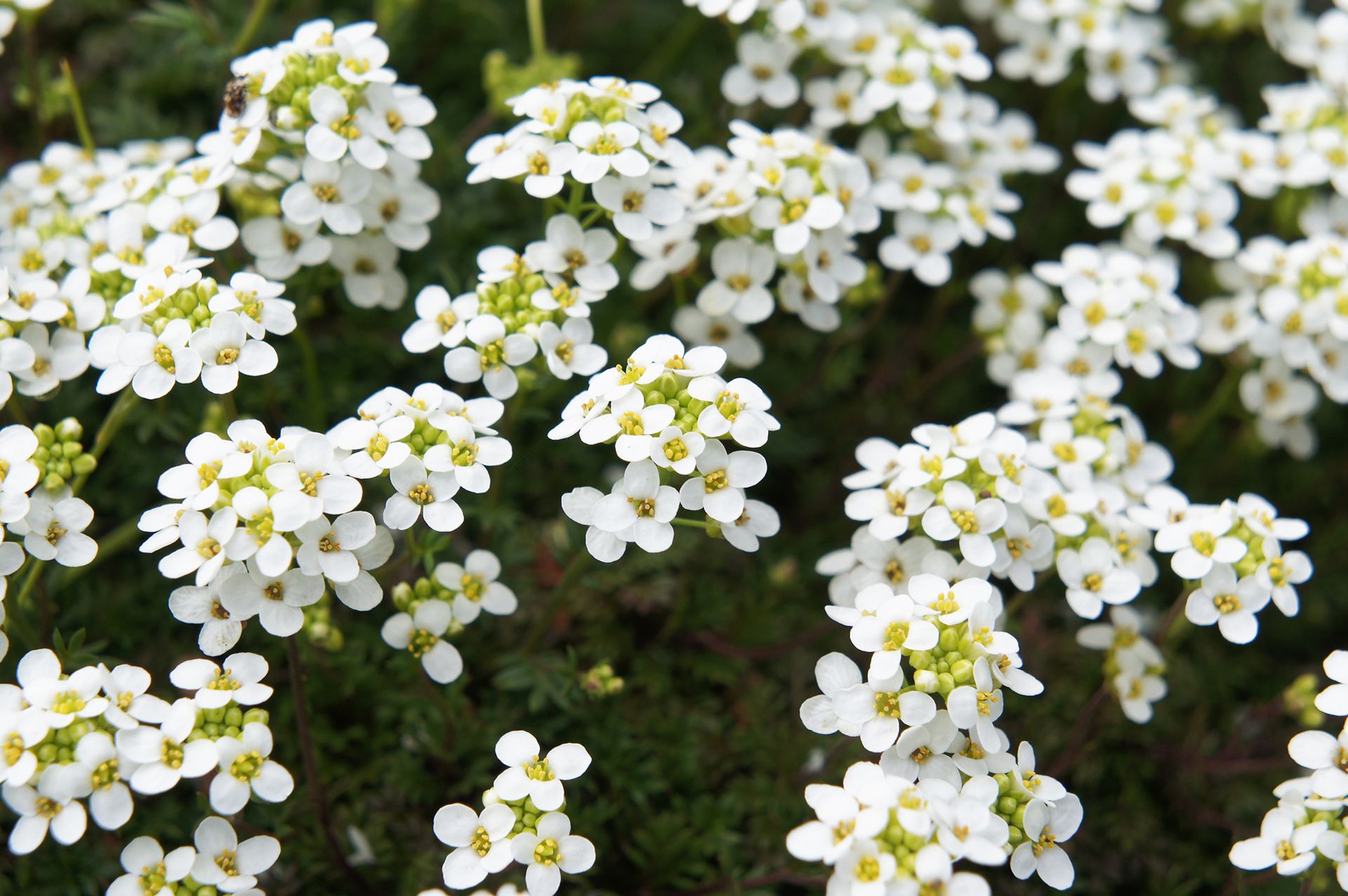 Sweet alyssum creates a frothy carpet of white to purple flowers that spill over the side of a container arrangement. They are also very fragrant.
Alyssum actually bloom in the spring, before dying back in the high heat of summer. They then have a second flush of flowers in the fall – although in colder climates will die back once the frost arrives.
This means the flowers are most often grown as an annual, though they can be grown as short-lived perennials in zones 9-11.
Plant sweet alyssum in well-drained soil, but do not allow it to dry out. Otherwise, the plants are low maintenance.
What are the best potted flowers for the fall?
There are a range of different potted flowers for the fall that can be used to make a stunning display in your garden.
Bear in mind, it's best to plant these before the change of the seasons, to give them chance to bed in.
'In summer, choose from the huge selection of bedding plants to provide further interest into the fall,' says Palmer.
'Choices include osteospermums, petunias, gazanias, marigolds, annual rudbeckias, violas and calibrachoa. Don't forget about trailing plants like ivy and lobelia, which can spill over the edge of the container.'