Design Indulgence: The 2021 ASID-MN Interior Design Awards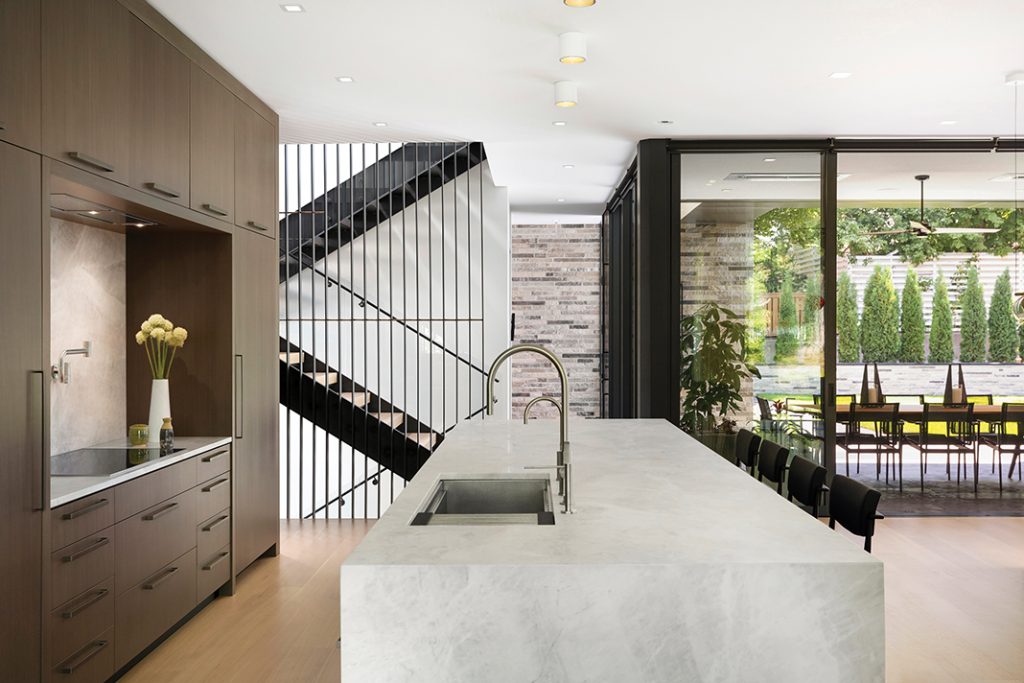 The American Society of Interior Designers (ASID) has long been a trusted, go-to source for home and business owners looking to draw up their dream spaces. These association members are not only successfully creating the beautiful interiors their clients want and need, but they are also thinking two steps ahead: How will the client actually use and function in this space? Live, breathe, laugh in it? 
The designers featured on the following pages both asked and answered. Here, we get up close and personal with the 20-plus first-place projects of the ASID's 2021 design competition—a highly anticipated annual event that highlights, recognizes, and celebrates the organization's talented Minnesota members. —Katelyn Bloomquist, Editor
Residential Multiple Rooms/Entire Residence
(1,000 square feet or less)
Project Name: Old Cabin Door
Firm: Lucy Interior Design
Designers: Lucy Penfield, Allied ASID; Stephanie Lalley, ASID
Designers' Note: A Bright, modern color palette and additional room for a family of four breathes new life into this 200-year-old cabin. The disjointed layout was reworked, and the original wood stove was relocated to the living room, allowing for some much-needed space. A built-in dining area was added to the adjacent kitchen, incorporating benches to reduce floating furniture and introduce additional storage options. After a cozy night of games, reading, and listening to music by the fire in the living room, bedtime brings a pull-out sofa into the equation—allowing the room to double as both a sleeping and seating area. In a nearby bedroom, a custom platform bed saves space, while the headboard wall provides the perfect place to display art.
Residential Multiple Rooms/Entire Residence
(1,001-3,000 square feet)
Project Name: Dark & Dated to Boho Chic
Firm: Martha O'Hara Interiors
Designers: Martha O'Hara, Associate ASID; Gabriela Laboy, Allied ASID
Designers' Note: From a dim, old house blooms a beautiful boho-chic sanctuary. The remodel begins the moment you approach the light pink front door, where the porch instantly reflects the client's love of coastal living with an oversized hammock chair. Inside, the office near the foyer was transformed and now echoes the entry's featured pop of pink. The rest of the home is high on style and low on maintenance, keeping it functional for the family. The kitchen steals the show with a white oak hood that provides warmth and continuity. Brass hardware and natural stone in the backsplash balance the bright white cabinetry, centered on a rich blue island base. With a beachy feel in mind, lighting was also a priority throughout the house.
Residential Multiple Rooms/Entire Residence
(3,001-6,000 square feet)
Project Name: Refined Ranch
Firm: Studio M Interiors
Designer: Lori Handberg, Allied ASID
Designer's Note: This project combines the client's two needs: a family home and a horse training center. Now, home life and the client's equestrian passion can be close and convenient. With dogs, cats, horses, and a family, life can get chaotic, so a serene environment was a must. Soaring ceilings and oversized windows complement a custom acid-etched, steel-clad fireplace wall in the hearthside room. Tasteful metal details such as the mantels, columns, and interior barn doors can be discovered throughout the ranch home, while charred, black-stained cabinetry contrasts against the home's natural wood tones. The design successfully combines the indoors and out to feature panoramic views and provide full functionality.
Residential Multiple Rooms/Entire Residence
(more than 6,000 square feet)
Project Name: Ancient and Modern
Firm: Studio M Interiors
Designer: Annie Graunke, Allied ASID
Designer's Note: Located on a beautiful lot overlooking Lake Superior, this home was built with elements of Old Europe and styles of the industrious Canadian border. Although housing a young family, every detail has a dusting of antiquity—starting with the bridge built to access the home. Stone quarried from the North Shore is used throughout for several interior walls, while slate and rough-hewn timbers define the main rooms. The spaces are designed as gathering areas that allow the family to keep an eye on little ones. The home takes full advantage of the natural backdrop, with a bathroom wall of windows that offers unhindered views, the presence of rugged materials, and modern elements. The thick North Woods timber is softened with dappled natural light, combining a woodsy feel with classic elegance.
Residential Kitchen (350 square feet or less) + Best of Show – Residential Kitchen
Project Name: English Kitchen Retreat
Firm: InUnison Design
Designer: Christine Frisk, ASID
Designer's Note: After living in London, the clients wanted details from their previous home incorporated into their new Minnesota kitchen. To reflect a European aesthetic, painted cabinetry became a key detail. Cabinets are coated in a soft green, inspired by the early selection of the stone countertops. The green hues are further enhanced by the handmade tile backsplash, copper tones from the owner's collections, and warmth of the wood floors and cupboards. A stained cabinet with leaded glass doors replaces a cluttered desk in the butlers' pantry. The copper sink was reused, highlighting the kitchen's warmth with its patina. A glass cabinet was added to hold serving pieces and glassware upon sawtooth brackets. A bar was incorporated within the pantry and retractable doors promise unencumbered access. The high ceilings are accentuated with tall cabinetry, while a Dutch door to the back stairwell completes the European aesthetic. All of these details give this English-inspired kitchen just the right amount of whimsy.
Residential Kitchen (351-500 square feet)
Project Name: Kitchen Dreams Do Come True
Firm: Martha O'Hara Interiors
Designers: Martha O'Hara, Associate ASID; Elizabeth Darth, Allied ASID
Designers' Note: This kitchen is unrecognizable after being revamped into a larger, brighter, and simpler space. In a home filled with the delightful chaos of kids, a functional kitchen is a must. Turning the island 90 degrees was the first step in transforming the area, providing more space and storage on both sides. This includes a specific spot for the client's stand mixer, which sits behind a retractable door to the appliance garage that also houses the family's hot cocoa maker. A vintage-inspired stove adds the perfect blend of neutral tones and eye-catching detail. Gold hardware wonderfully complements the ornate details on the range. Not everything was new, though, and original pendants were reinstalled above the shifted island. This kitchen is a dream come true for the family and achieves the simple elegance they have always wanted.
Residential Kitchen (more than 500 square feet) – TIE
Project Name: Lake Harriet Kitchen
Firm: InUnison Design
Designer: Christine Frisk, ASID
Designer's Note: Endless thought went into making this space one that could easily entertain a large extended family. With stone and metal being frequent themes throughout the rest of the home, these textures were incorporated into the kitchen through a muted and warm color palette. The wood veneer is a velvety composite that plays off the warmth of the stone walls found in the interior of the scullery. Black Fenix cabinets contrast the large white island and match the blackened steel of the cabinetry near the banquette and vertical slat stairwell. A lounge area was also designed with highly engineered swivel chairs and stools at the center island. All functional elements are expertly hidden behind doors, including a special hiding place for the Roomba in the scullery. Here, function and beauty are effortlessly fused together.
Residential Kitchen (more than 500 square feet) – TIE
Project Name: Manor Reimagined
Firm: Bruce Kading Interior Design
Designers: Bruce Kading, ASID, CID; Eric Kaufmann, Allied ASID; and team
Designers' Note: European style played a big role in this reimagined kitchen, where the interior designers employed their encyclopedic knowledge of decorative arts from travels around Europe's stately homes and chateaus. The kitchen flows naturally into the living room, so a cohesive aesthetic was created for the adjoining spaces. The original kitchen did not have a cooking center, so the team designed a beautiful and functional area with an antique fire back, custom surround, and classic La Cornue range. The refrigerator catches the eye with a handcarved wooden door akin to a European armoire face. The Southwestern-style fireplace was replaced with a handcarved French Rococo-style mantel with bronze detailing. The final product is a classical slice of Europe right at home.
Residential Powder Room
Project Name: Whimsy Powder Bath
Firm: KASA Interior Design Inc.
Designer: Bonnie Kespohl, ASID
Designer's Note: This design was all about balance, with a goal of keeping the interior intimate as it naturally competed with the wide, open foyer to which it is attached. To solve these challenges and achieve the "jewel box" style the client was looking for, the designer created a fun, hobbit-like experience with a smaller door, which creates intimacy and adds visual appeal with its arched frame and pop of orange color. A single brass wall sconce completes the fanciful aesthetic while keeping things modern. Behind the burnt orange door, an eye-catching wallpaper with black and white line drawings matches the rest of the home's whimsical feel. A floating wood vanity is adorned with a bridge faucet for a yester-year style that matches the ceiling beams in the rest of the house. The vessel sink and pill-shaped sconces bring all the details together for a clean, yet exciting space.
Residential Bathroom (more than 100 square feet) + Best of Show – Residential Bathroom 
Project Name: Sophisticated & Secluded Lakefront Bath
Firm: Martha O'Hara Interiors
Designers: Martha O'Hara, Associate ASID; Elizabeth Darth, Allied ASID; Bhavana Bhimavarapu, Allied ASID
Designers' Note: Living by a lake comes with its own unique necessities, and the clients of this specific project were looking for a place to relax and decompress. Flooded with natural light and can't-beat lake views, this bathroom is more than a place to wash off the day's fun. The floor is tiled with heated, patterned porcelain that mirrors the tiled walls for both a fun floor and an effortless backdrop. Views can be enjoyed from the soaker tub or, for more privacy, the glass-paneled shower. A dual sink with an oak vanity allows for ample storage space and adds warmth and texture that doesn't compete with the tile. A beaded chandelier adds subtle elegance to the room, balancing the rustic, lakeside details. This bathroom provides a private oasis when rejuvenation is required.
Residential Bathroom (100 square feet or less)
Project Name: Clean Lines, High Contrast
Firm: Crystal Kitchen + Bath
Designer: Kaitlyn Stokes, Allied ASID
Designer's Note: The designer may have kept it simple in this classic bathroom, but the details incorporated into every feature take it to the next level. The client nixed having a separate tub and shower, and instead, opted for a doorless shower that includes a bench with a double vanity and ample storage. The color palette is clean and neutral, naturally illuminated by a skylight. Mahogany veneer cabinets match the ones in the kitchen and create warmth and depth. The Silestone charcoal soapstone countertop furthers the contrast between the bright and dark details. An angled wall was squared off to produce the clean lines that make the space so satisfying. The bathroom blends beautifully with the rest of the home.
Residential Bedroom Suite
Project Name: Manor Reimagined
Firm: Bruce Kading Interior Design
Designers: Bruce Kading, ASID, CID; Eric Kaufmann, Allied ASID; and team
Designers' Note: Instead of tearing down this stunning piece of property, the team decided a renovation was the better solution. An originally Western- style space was transformed into a European-inspired country manse. French-country houses influenced much of the interiors, where a serene palette of subdued hues for the finishes and fabrics emphasize views of nature. Two-panel doors aged with cracked paint and glazed walls were combined with custom cabinetry adorned with period-appropriate hardware. Herringbone flooring was added, and a distressed gray finish elevates the original rustic beams—ultimately creating an aged European environment. Custom bronze fireplace doors add a layer of patina in the sitting room, further enhanced by antique chandeliers, sconces, and lamps. Casual glamour was effortlessly achieved, bringing the whole theme together seamlessly.
Residential Singular Living/Special Purpose Space (300 square feet or less)
Project Name: Dog Wash
Firm: Brynn Alden Interior Design LLC
Designer: Kelli Mickelson, ASID
Designer's Note: Interior design includes our furry friends, and this homeowner, who is a veteran dog foster, knows that. This "dog wash" needed a major makeover to accommodate the client's four dogs as well as three or more foster pups. The space includes a custom, durable concrete sink with hidden steps that pull out for dogs to easily access the bathing station. The easy-to-clean porcelain floor tile, which adds a playful pop of color, can withstand all paws and claws. A single handheld shower offers convenient cleaning and quick cleanup for even the wiggliest of pups after a bath session. This project effectively tames the chaos of foster life and helps keep the client's canines squeaky clean.
Residential Singular Living/Special Purpose Space (301-600 square feet)
Project Name: Manor Reimagined – Library
Firm: Bruce Kading Interior Design
Designers: Bruce Kading, ASID, CID; Eric Kaufmann, Allied ASID; and team
Designers' Note: Renovating won over rebuilding this country property, and the goal became to transform the Western-style house into a European-inspired estate. Custom embroidered draperies were hung in the vestibule leading to the library to create a sense of arrival. Layered within the library are custom black walnut-stained bookshelves and paneling for a more intimate and inviting feel. A European-style nickel fireplace adds warmth and light, especially on chilly Minnesota mornings. Worn antique rugs were laid under cozy furnishings in a palette of serene neutrals and warm accents. The designers sourced period-appropriate and antique lighting, vintage books, and objets d'art to complete the look.
Residential Singular Living/Special Purpose Space (more than 600 square feet)
Project Name: Medina Autoplex
Firm: Crystal Kitchen + Bath
Designer: Kaitlyn Stokes, Allied ASID
Designer's Note: Autoplexes are popping up all over the country, becoming more than just storage spaces for vehicles. This one achieves that multi-use dream with both a lower area and upper mezzanine. Gray laminate cabinets paired with a red countertop pay homage to the Swiss flag, not to mention provide an easy-to-clean surface for harsh chemicals. Up in the mezzanine (pictured here), there is a kitchen, bathroom, and entertainment area. The bathroom offers more insight into the client's Swiss background with a mural that depicts a red train emerging from a mountainous region. The kitchen is complete with a refrigerator, speed oven, dishwasher drawer, and custom-built espresso machine.
Commercial/Hospitality/Living Project + Best in Show – Commercial
Project Name: Luxe Organic Condo Lobby & Corridor Renovation
Firm: KASA Interior Design Inc.
Designers: Bonnie Kespohl, ASID; and team
Designer's Note: The designers wanted to elevate this condominium's aesthetic, incorporate more areas for resident use, and refresh the dark, windowless corridors. Within the entrance and lobby, the fireplace was relocated near the entry to create a dramatic focal point and provide separation between the new foyer and residents' lounge. This allowed for more space that now accommodates groups of all sizes. A new built-in coffee bar not only provides warm beverages but also acts as a serving surface during gatherings. Beautiful architectural finishes, unique lighting, and marble panels usher a more modern style into the lobby. The lounge features a warm, textured wood mosaic wall and is balanced by a sophisticated color palette of gold, brown, and navy.
Custom-Designed Object/Detail
Project Name: Changing Perspectives Through Holistic Healthcare
Firm: Studio Vice
Designer: Kristin Rackner, Allied ASID
Designer's Note: This remodeled wellness center incorporates the ethos and community that surround the business. The most impactful elements of the design take inspiration from classic Japanese culture in the form of screen dividers and acupuncture stations. The Eastern influences were combined with midcentury and Swedish touches, working in functional must-haves like needle disposal receptacles, acupuncture items, a space for guests' belongings, and means for privacy. Plexiglass tops were added to all surfaces to maintain a sterile environment. To intrigue guests as they enter and exit the facility, the space features a "portal" archway through which visitors catch a glimpse of the whole space. The design successfully allows for a sense of energy flow and exchange between spaces.
Commercial Corporate Project
Project Name: Pest Control Reimagined
Firm: InUnison Design
Designer: Christine Frisk, ASID
Designer's Note: After more than 100 years of service, it was time Plunkett's Pest Control remodeled its space to match a more modern-day team and aggressive growth agenda. InUnison's design created a much larger space that allows for any necessary additions, like more work desks. Bold colors boosted the originally drab and visually flat workspace to one worth working in. Greens of the corporate brand combined with pops of orange do everything but dull the senses. Standup desks and acoustic screens that provide privacy were incorporated with employees' comfort in mind, while indirect LED lighting puts the new-and-improved color palette on display. Biophilic design was infused into several aspects of the space, including a honeycomb divide and wall coverings adorned with natural patterns and trees. Now, employees feel more connected to nature and experience less fatigue throughout the day.
Commercial Institutional Project
Project Name: Innovative Learning Center
Firm: InUnison Design
Designer: Christine Frisk, ASID
Designer's Note: With a desire to spark innovative thinking amongst a growing student body, the designer first aimed to create a common area that provided several styles of reconfigurable meeting areas. The space immediately catches the eye with an all-glass entrance and a skylight that illuminates the meeting areas with natural light. Some of the more intimate lighting (such as the large charcoal-colored shades) provides acoustical properties. Lounge spaces, small meeting tables, and a combination of seated and standing options allow for teams to meet in both casual and professional settings. Team tables with large monitors for presenting and learning sessions were incorporated as well as huddle rooms for a quieter space. The project accurately encompasses the needs of higher learning while maintaining an approachable realm for young adults and middle schoolers.
Commercial/Hospitality/Service Project
Project Name: Changing Perspective Through Holistic Design
Firm: Studio Vice
Designer: Kristin Rackner, Allied ASID
Designer's Note: While designing this holistic wellness center, a large challenge was transforming one long, dark room into an environment that appeals to both the mind and body. The space boasts a modern take on Japanese and Chinese design concepts, featuring touches of midcentury and Swedish design. Woven fibers, wood block prints, wall coverings, and tambour wall applications add a touch of texture, while natural colors infuse themes of travel and the holistic practices the client offers. The illumination of the space was achieved through a layered effect with wall sconces. Light bounces off various arches, continuing the circular pattern around the room. New millwork was added to undermount the lighting and create a special glow in the evening—helping guests feel at peace.
Commercial Retail Project
Project Name: Purple Pop-Up
Firm: PureAlchemy Design
Designer: Stephany Eaton, Associate ASID
Designer's Note: The client of this studio complex and venue that hosts concerts, tours, and recording artists wanted to harness Prince's magical energy and transform the space into a one-of-a-kind pop-up shop. The cornerstone of the pop-up shop display is a podcast lounge stage, where visitors can view live podcast interviews or even enjoy the occasional performance. A selfie station was placed at the entrance for visitors looking to commemorate their experience. To introduce younger generations to Prince's music, Spotify codes were included for new fans to add Prince tunes to their playlists. House lights dim for the "Legendary Music Experience"—where stage lighting brings the space to life to transport visitors to a makeshift, but nonetheless magical, concert moment.