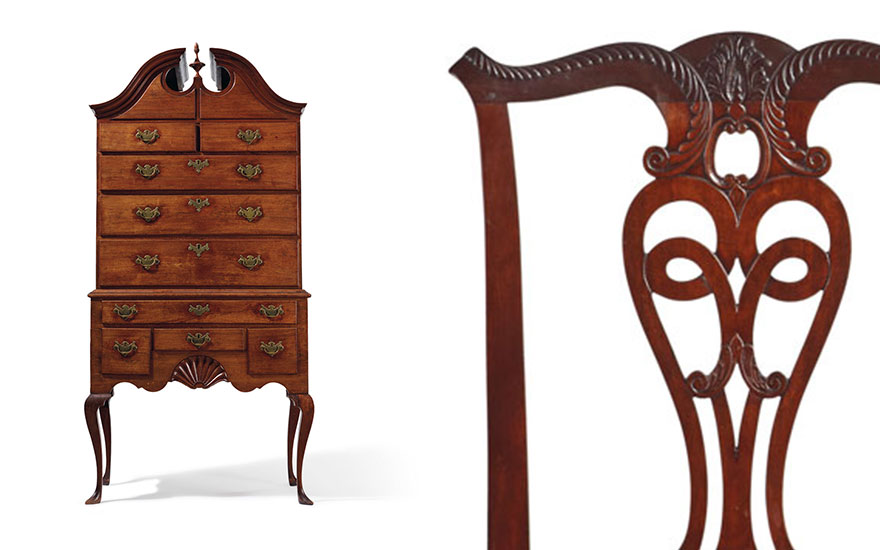 Collecting Guide: Key periods of American furniture
Can't tell a Federal chair from a Classical chest of drawers? Here's our expert guide, illustrated with lots from past Important Americana sales
This is the earliest style of furniture to have been produced natively, with pieces generally dating from around 1680 to 1730. The period is named after England's late-17th-century co-regents, William III of Orange and Mary II; during their reign, many craftsmen emigrated to England from William's native Netherlands, fashioning a new Anglo-Dutch style that was an amalgamation of the tastes of both countries.
In the newly-established colonies a variation on this Anglo-Dutch trend developed, characterised by a Baroque aesthetic that featured elaborate turnings, severe curves, contrasts of colour, as well as case pieces with simple flat surfaces and architectural trim. Commonly used materials included indigenous walnut, oak, pine and maple woods.
Furniture from this period is scarce, both because of its significant age, and because production at the time was limited — the result of a relatively small population. 
This style followed the William and Mary period and is named after the English monarch who reigned from 1702 to 1714. Popular in the American colonies from approximately 1730 to 1760, furniture of this era is characterised by a sophisticated fluidity, achieved through the use of the newly introduced cabriole leg, curving chair crests, and decorative shells and volutes, or scroll-like forms.
The expansion of urban centres during the period led to the appearance of strong regional traits. The most celebrated and accomplished furniture was produced in Newport, Rhode Island and Philadelphia, where dense mahogany was used to produce expertly carved chairs, tea tables and high chests of drawers for the emerging elite.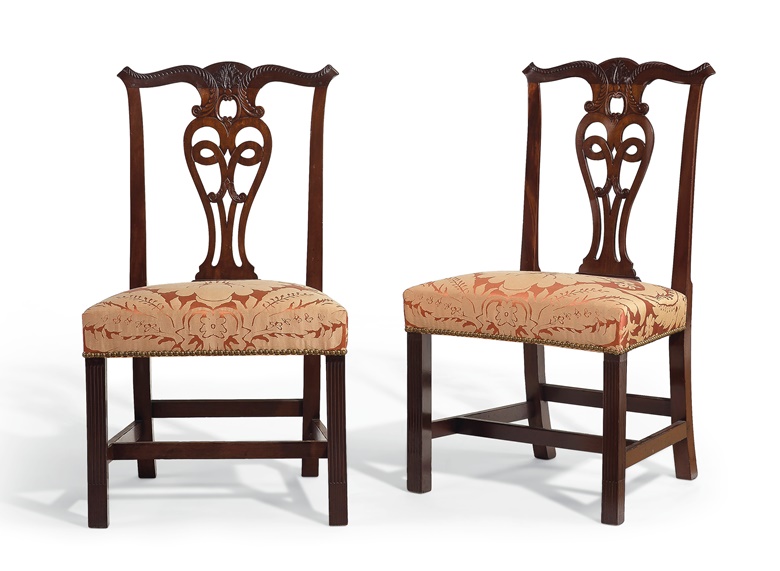 Chippendale furniture, produced from around 1755 to 1780, represents a natural evolution of the Queen Anne style, with many of the pieces based on the designs in Thomas Chippendale's The Gentleman and Cabinet Maker's Director, first published in England in 1754.
The style combined decorative elements from three distinct sources: French Rococo, Chinese ornamentation and Gothic architectural details. Overall, Chippendale is characterised by a profusion of carving, predominantly on mahogany, with features including acanthus — an ornament resembling foliage — opposing 'C' scrolls, and ruffled, rocaille motifs on the splat (the central support panel of a chair back), knees and skirts (or horizontal façades) of chairs and case pieces, which frequently sit on ball-and-claw feet.
On pieces from Philadelphia, Newport, Boston, New York and Connecticut, regional traits became more pronounced. In these urban centres, the rise of the upper class had led to the emergence of sophisticated cabinetmaking workshops, employing highly skilled carvers, often trained in England. 
In Newport, three generations of members of the Goddard and Townsend families produced furniture of exceptional quality and artistry. In Philadelphia, cabinetmakers including Thomas Affleck, Benjamin Randolph, Thomas Carteret and Henry Clifton worked alongside carvers such as Hercules Courtenay, Nicholas Bernard and John Pollard to create extensive suites of furniture for the city's mercantile elite.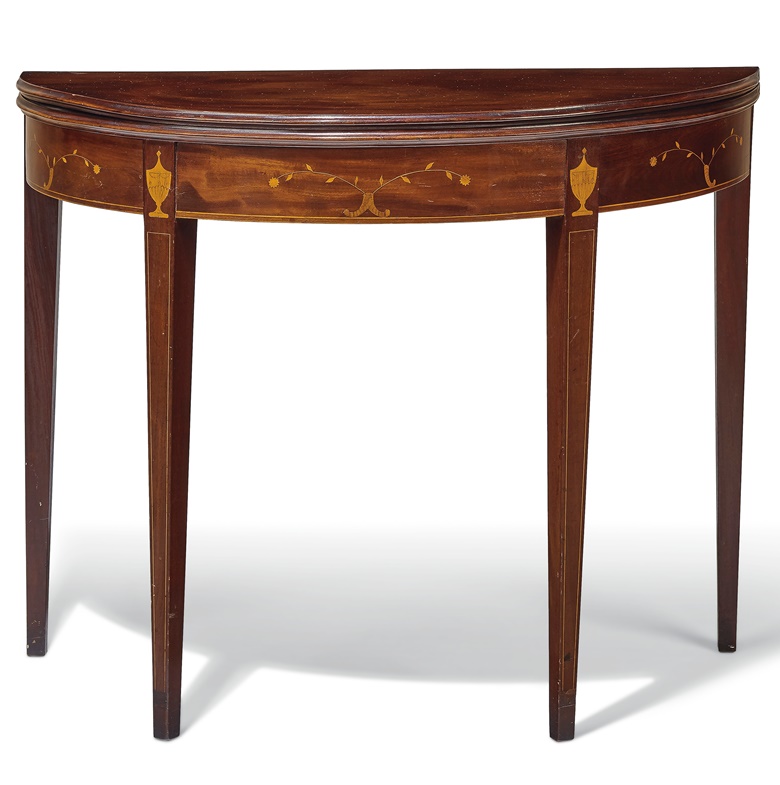 The Neoclassical style, introduced in England by Robert Adam, George Hepplewhite and Thomas Sheraton, flourished in America from around 1780 to 1820, during what has come to be known as the 'Federal' period.
Furniture produced during this time evolved greatly, both in style and form. Cabriole legs, shaped in two curves, gave way to simplified, straight legs and various inlays, which were favoured over carved ornament. Dressing tables and high chests of drawers disappeared, while new forms such as the sideboard, tambour desk (with desktop-based drawers and pigeonholes) and worktable were introduced.
Motifs and forms inspired by contemporary discoveries of ancient Greek and Roman architecture were widely favoured, and included urns, circular paterae (shallow bowls), swags or garlands, cornucopias (goat's horns) and columns — the form and styles of the period giving an overall sense of elegant lightness. 
Notable cabinetmakers working during this time included the Boston-based father/son partnership of John and Thomas Seymour, Duncan Phyfe and French émigré Charles-Honoré Lannuier in New York, and Edmund Johnson and Samuel McIntire of Salem, Massachusetts.
The Classical style is the last traditionally collected by Americana collectors, and flourished from 1820 to 1840. Works from the period were typically greater in size, with makers favouring undecorated, veneered surfaces, which drew inspiration from furniture of the French Restoration period.
Case pieces were often constructed using 'S' and 'C'-scroll pillars. The most important centre of production was New York, where established maker Duncan Phyfe now competed with emerging firms including Joseph Meeks & Sons.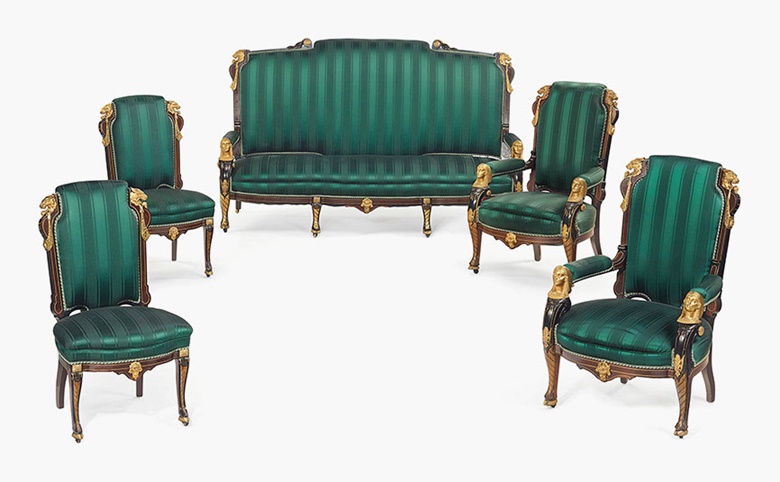 While it is tempting to think of the 19th century as the 'Victorian' century, as far as furniture is concerned it in fact reflected the changing technology of the time. The country grew from a small, mostly agrarian society to an international industrial powerhouse. 
As the century progressed, furniture was increasingly produced by means of the machine, and not by hand. Revival styles of the 1860s and 1870s marked the first period in which fine designs were used for mass-produced furnishings.
The Egyptian Revival style emerged in popularity around the time of the Civil War (1861-1865) — a period when American tastes increasingly drew inspiration from Classic and Romantic periods of the past. Major motifs of Egyptian art such as obelisks, hieroglyphs, sphinxes and pyramids were used in various creative ways.
Ebonizing, elaborate carving, elegant detailing and ormolu mounts became the height of furniture fashion, particularly among the firms working in New York, as exemplified in the above Egyptian Revival suite, attributed to renowned New York cabinetmakers Pottier and Stymus. Pottier and Stymus (active 1859-1910) specialised in a variety of revival forms, and provided furniture and interiors for William Rockefeller, Leland Stanford and the Grant White House.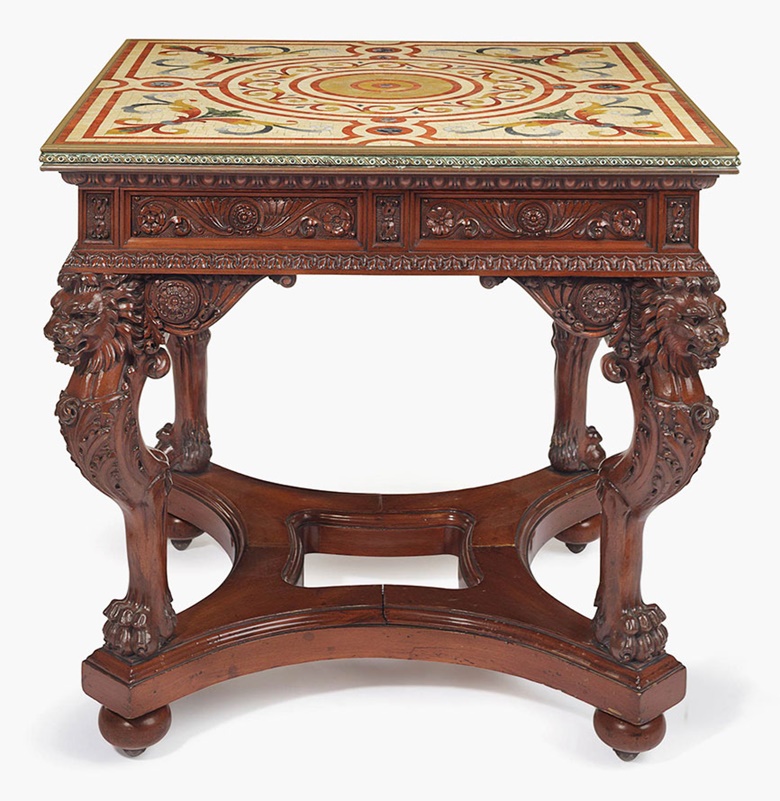 The last half of the 19th century reveals an even further expansion of revivalism. The Renaissance Revival style (1850-1885) appeared as early as 1850.
Inspired by Renaissance architecture, the furniture from this movement was characterized by massive square architectural forms, broken pediments, applied medallions, acorn trim and tapering baluster-turned legs. Porcelain, bronze and mother-of-pearl plaques were popular embellishments. Walnut was the most popular wood, with some veneer introduced as surface decoration. Light woods were favoured in reaction to the prevailing dark woods of the Empire and Rococo Revival styles.
Well-known cabinetmakers of this period include George Hunzinger, German by birth, who was working in New York by the 1860s and whose work shows remarkable mastery of the Renaissance design vocabulary. Other influential makers were John Jelliff in Newark, whose designs included sofas and chairs carved with male and female busts. Daniel Pabst, in Philadelphia, frequently collaborated with architect Frank Furness on many of his high-styled pieces to create elaborate and often architectural pieces. And Thomas Brooks, a Brooklyn native, is known for his extraordinary designs of tables, bedroom suites and hall stands.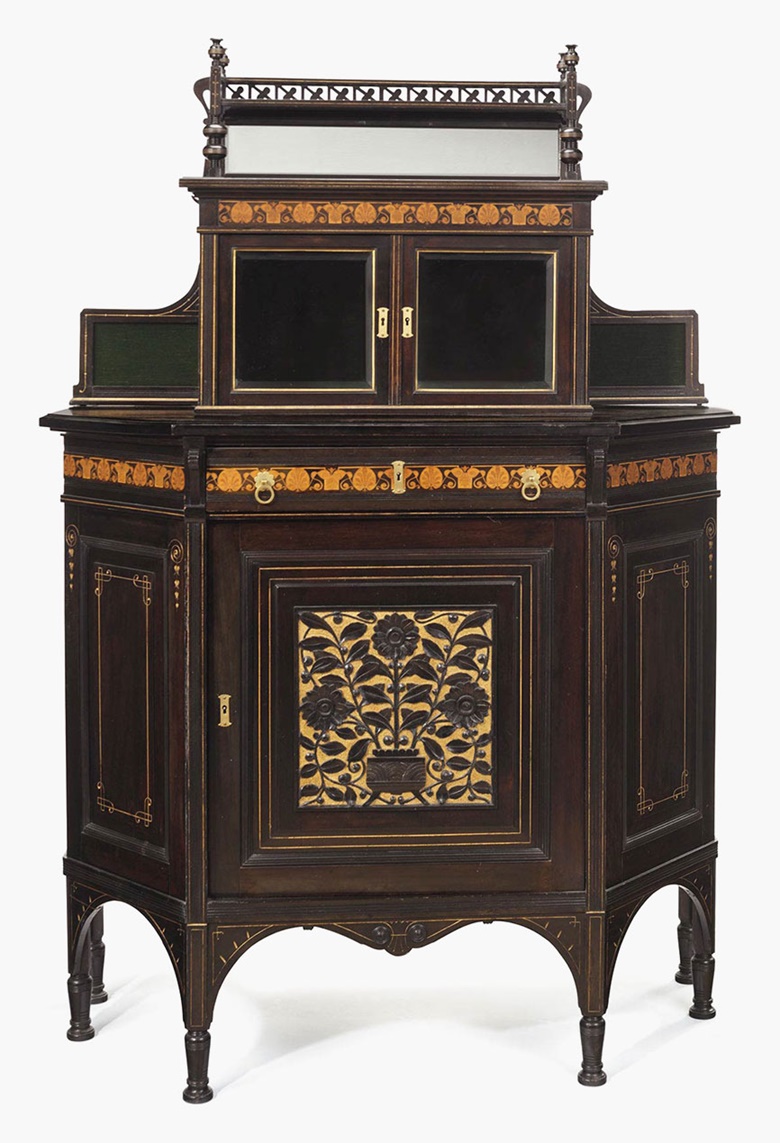 The Aesthetic Movement (1860-1890) argued that art was not supposed to be useful in any practical sense. Instead, aesthetic experience is a fully autonomous and independent aspect of a human life. Its adherents believed that 'art should exist solely for its own sake'.
Aestheticism stressed simple lines and naturalistic decoration, such as inlay, marquetry and cloisonné. In the Aesthetic Movement's credo, ornament was often placed asymmetrically, moving away from the highly elaborate products of mainstream Victorian taste.
Aesthetes favoured strong, simple colours: bright blues, greens, and especially yellows. Those colours were used in interiors set off with black furniture, clearly inspired by lacquered wares from Japan. The sunflower was a popular motif because its bold colour and simple shape could be stylised, much like the chrysanthemum of Japanese art. Forerunners of this style were firms such as Herter Brothers, Pottier and Stymus and Kimbel and Cabus.