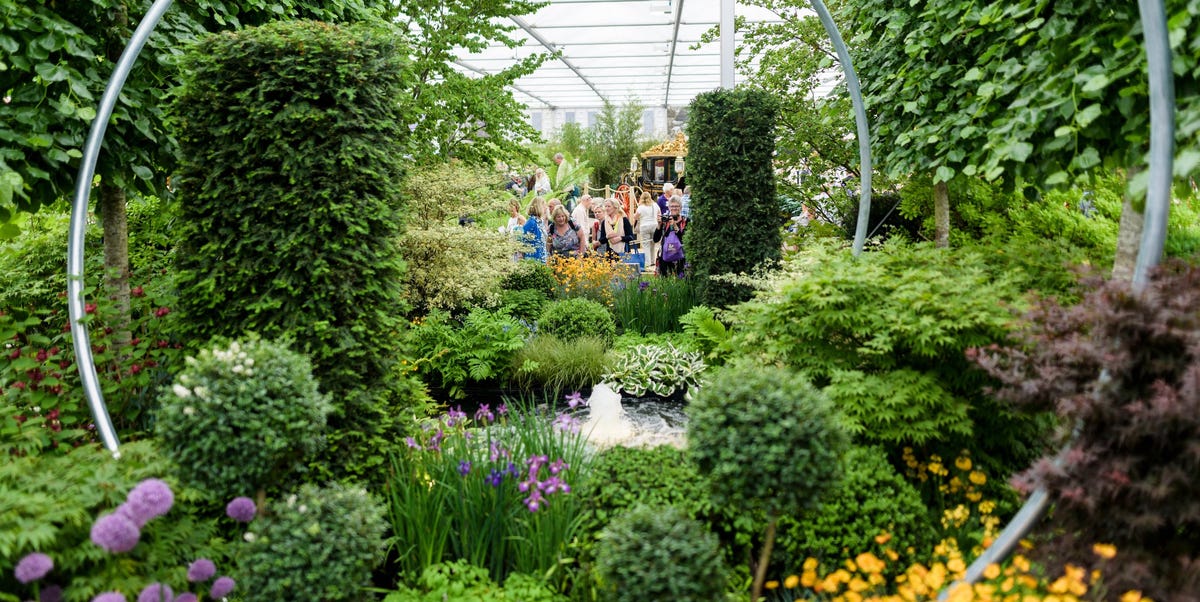 Chelsea Flower Show 2023 Tickets, Dates Location, Highlights
Chelsea Flower Show 2023 returns next year in spring for another spectacular gardening event.
Sponsored by The Newt in Somerset, the Royal Horticultural Society (RHS) is returning to SW3 over five days, from 23rd – 27th May 2023, for the world-famous show. While it's too early for all the details, tickets are now on sale, and once again the prestigious horticultural event promises to be a jam-packed week with amazing garden designs, gorgeous floral displays and exclusive shopping.
There are bound to be some favourites returning next year. RHS Chelsea 2022 saw some incredible Show Gardens from designers including Sarah Eberle, Chris Beardshaw, Andy Sturgeon and Juliet Sargeant, who returned to Chelsea after winning a gold medal in 2016.
The 2022 show also welcomed new faces making their RHS Chelsea debut, from emerging talent such as London community gardener Tayshan Hayden-Smith, to established designers such as Richard Miers, and Lulu Urquhart and Adam Hunt.
• 21 fascinating facts about the Chelsea Flower Show

• Chelsea Flower Show: RHS bans artificial grass
• The Queen at Chelsea Flower Show: in pictures
Planet friendly gardening and health and wellbeing were two key themes across the gardens at the 2022 show, highlighting how sustainable practices can benefit the planet, and how the healing and restorative power of gardens and plants promotes positive mental health.
A key element of RHS Chelsea 2022 were the celebrations in honour of the Queen's Platinum Jubilee. There were four installations commemorating Queen Elizabeth II's 70-year reign, and the Queen – who had been a patron of the gardening charity since 1952 – visited the show to see it in person. This marked Her Majesty's final appearance at the flower show.
Tickets for the RHS Chelsea Flower Show 2023 is available to buy now.
BUY TICKETS
Two days (23rd and 24th May) are reserved for RHS Members only. If you get an RHS membership, tickets are cheaper, plus there are lots of other benefits, including being able to buy guests tickets to flower shows at member rates, unlimited expert gardening advice, and free entry to over 200 partner gardens.
JOIN: Become an RHS Member
• Monday 22nd May: Press Day (restricted to members of the press, celebrities and the Royal Family)
• Tuesday 23rd May: RHS members only, 8am – 8pm
• Wednesday 24th May: RHS members only, 8am – 8pm
• Thursday 25th May: RHS members and non-members, 8am – 8pm
• Friday 26th May: RHS members and non-members, 8am – 8pm, Chelsea Late: 5.30pm – 8pm
• Saturday 27th May: RHS members and non-members, 8am – 5.30pm (typically on the last day at 4pm, the plant sell-off begins).
The Chelsea Flower Show is held in the grounds of the Royal Hospital Chelsea, home to the iconic Chelsea Pensioners who are retired soldiers of the British Army. Some 300 veterans live in the retirement and nursing home on site.
Address: Royal Hospital, Chelsea, London SW3 4SL.
A lot of preparation goes into the world's most prestigious flower show each year. Take a look at some of the garden categories:
Show Gardens
A Show Garden demonstrates the best of horticulture and excellence in garden design and landscaping. These are the largest gardens at the show and it's where garden designers create excitement with lots of wow factor, and make a lasting impact.
Sanctuary Gardens
Sanctuary Gardens combine contemporary and traditional visions of the home garden, all whilst harnessing the healing power and serenity of nature. These inspirational gardens are located in a prominent position on Royal Hospital Way or Ranelagh Gardens.
Balcony and Container Gardens
Balcony and Container Gardens dispel the myth that gardening is only for those with large outdoor areas or big budgets. It showcases how small spaces can be turned into a garden sanctuary, benefitting mental wellbeing, wildlife and the environment.
All About Plants
A new garden category, All About Plants, was the first ever garden category to feature in the Great Pavilion, joining the growers and nurseries. These small gardens celebrate the power of plants, highlighting the many ways in which plants can positively influence mental health, community, and industry.
The Great Pavilion
The Great Pavilion is often referred to as the crown jewel of RHS Chelsea – and we'd agree. Every year, the massive white tent is filled with glorious spring flowers and the most beautiful floral displays from the world's finest growers and nurseries.
Alongside the flower displays there are also educational exhibits, highlighting the latest discoveries in horticultural science, championing the benefits of gardening, plus how it can combat climate change or improve mental wellbeing. There really is something for everyone.
Houseplant Studios
The Houseplant Studios showcase brilliant style ideas and practical tips focused on growing plants in interior spaces. These houseplant specialists highlight a variety of species, with previous designs ranging from an aerial indoor garden to a walk-in terrarium.
Chelsea on TV
And finally, if you're unable to make Chelsea Flower Show 2023, there's no need to miss out. The BBC and RHS' exclusive broadcast partnership brings gardening inspiration from the RHS to millions of homes across the UK. BBC's RHS Chelsea Flower Show coverage takes place across BBC One and BBC Two, and programme information will be available the time.
Follow House Beautiful on Instagram.
---