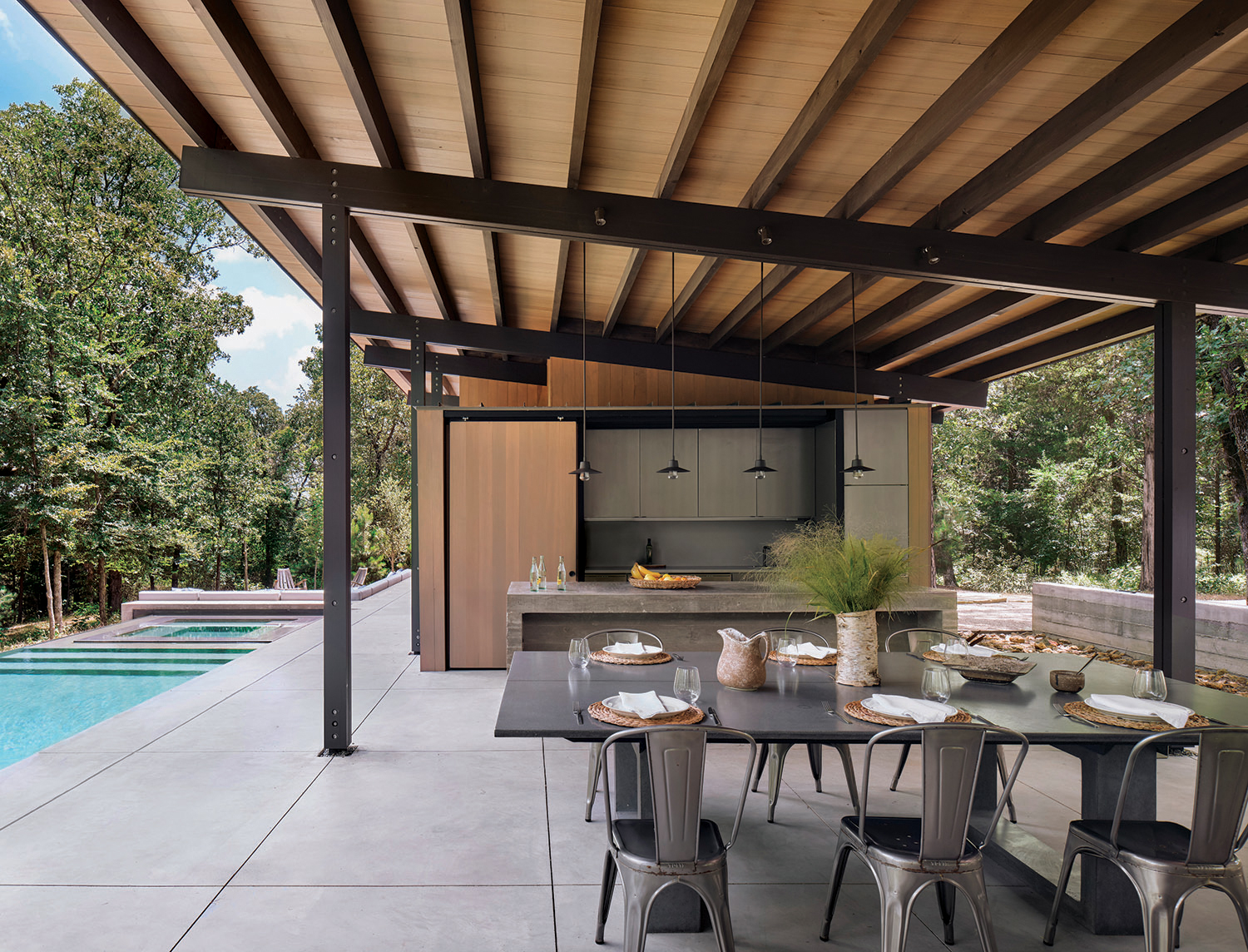 8 Designers Share How to Create the Perfect Outdoor Kitchen
As clients task designers with creating kitchens that are everything from exceptional entertaining spaces to hidden workrooms for caterers, there's a new area that's becoming just as important. The latest development has been to construct beautiful kitchens outside, with all the function of an indoor setup but using materials that can withstand the elements. "There's a level of design expertise that's expected," says Bob Bakes, whose firm, Bakes & Kropp Fine Cabinetry, helps plan bespoke kitchens from the Hamptons to Palm Beach. "It's going to continue to gain momentum as people feel their outdoor kitchen is more of a major player than a minor one."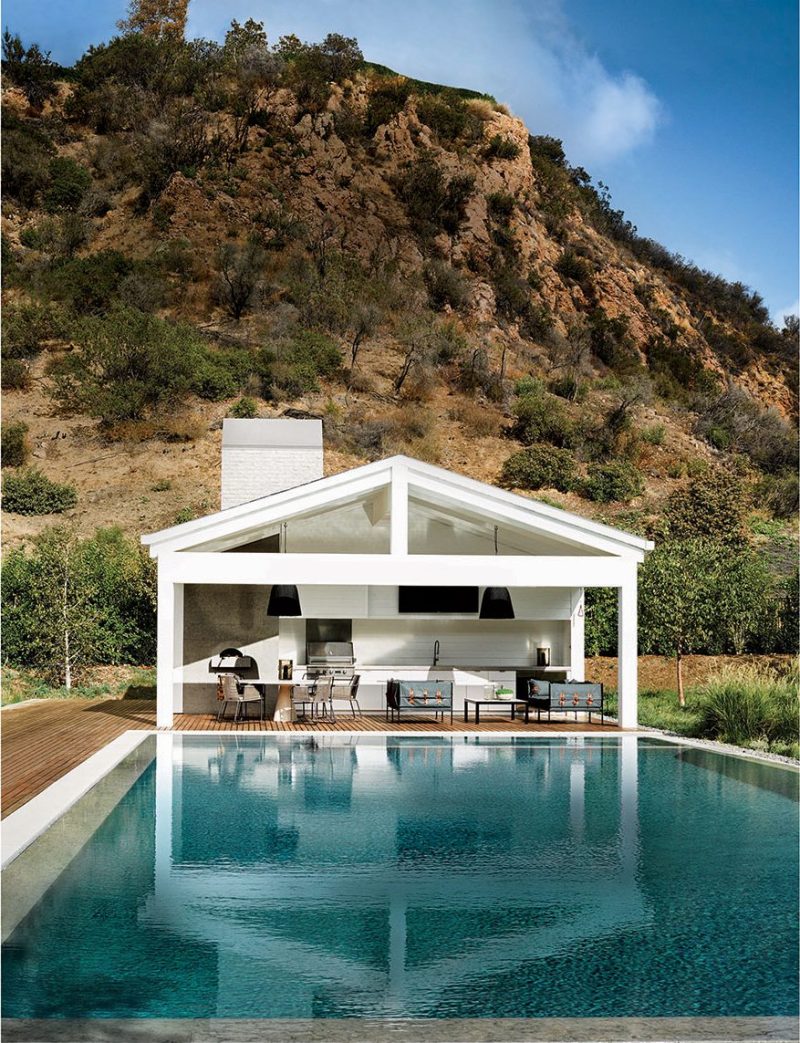 Location, Location
Where to site an outdoor kitchen is almost as important as how to outfit it. "If you're going to have a cooking appliance that's incorporated into the architecture, keeping it away from the doors to the inside is big," says Studio Jackson founder Ryan Gordon Jackson. "Nobody wants to be smoked out by the barbecue, nor do you want to smell like steak for the rest of the night."
For homes where the outdoor kitchen is an extension of the interior living area, sight lines are another significant detail to consider. "You want to think about what you're looking at when you're inside," suggests Lake | Flato partner Steve Raike. "Rather than put appliances in your view, we'll put them off to the side."
Adaptability helps ensure these cooking spaces are welcoming no matter what the season. Leroy Street Studio regularly constructs them with collapsible walls so they can be enclosed during the winter. Jackson situated the barbecue area for a modern Southern California home in a central courtyard, hiding heaters in overhead beams. The design firm Lucas used an awning window to mitigate weather. "We liked that the window becomes a canopy above the seating area when it's in the open position, so it creates this intimate space," says creative director David Lucas.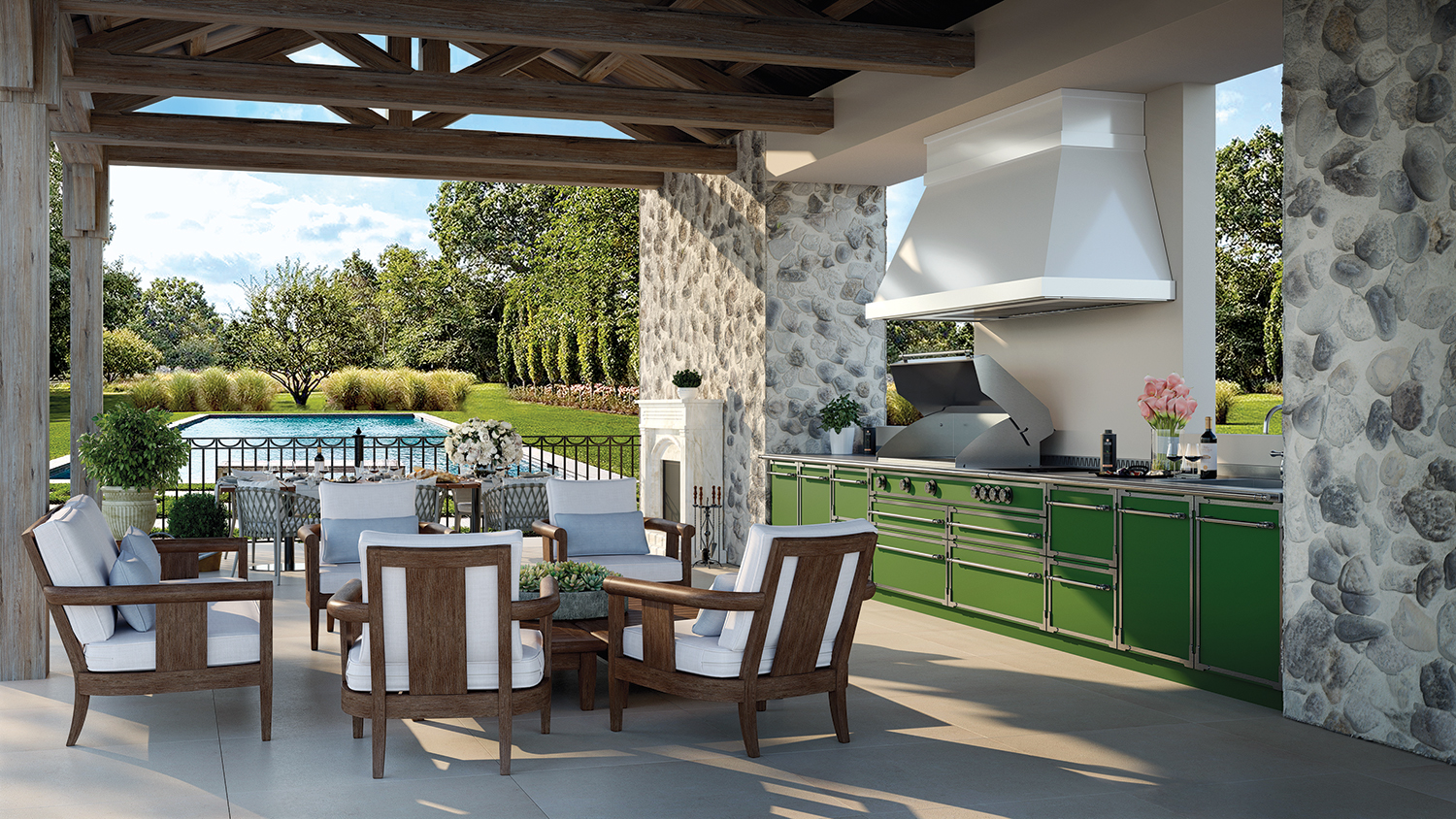 Tools of the Trade
Clients need tools for cooking, chilling, and cleaning up, so experts are tasked with carefully orchestrating an extensive appliance suite. "We're doing some outdoor kitchens now that have a rotisserie, an open fire, and a Big Green Egg built into the countertop, as well as the grill, of which Kalamazoo seems to be the favorite these days," says designer Nicole Hollis. 
Experts come down on both sides when considering a range hood. In a more open, well-ventilated area, Bakes says, it's purely visual. Others, however, believe installing one helps control smoke and cooking smells. "It's definitely a luxury that makes the space a lot more comfortable," says Maria Moraes, creative director at L'Atelier Paris Haute Design, maker of custom French ranges and cabinetry. 
"There's going to be a need for designers to be more creative and clients to be a little more expressive"

Bob Bakes
One thing everyone agrees on: Pizza ovens are hugely popular. "They're a challenge in some cases because they're big and bulky," says Raike. "We're starting to see some smaller, portable versions that you can use outside without getting a fire going and getting it up to temperature, which takes a fair bit of planning and forecasting."
Warming drawers, built-in blenders, televisions, and ice makers are also migrating outside. "We have a lot of discussions about crushed ice versus cocktail ice, sizes of cubes," says Hollis. "Especially during COVID, everyone got really into cocktailing."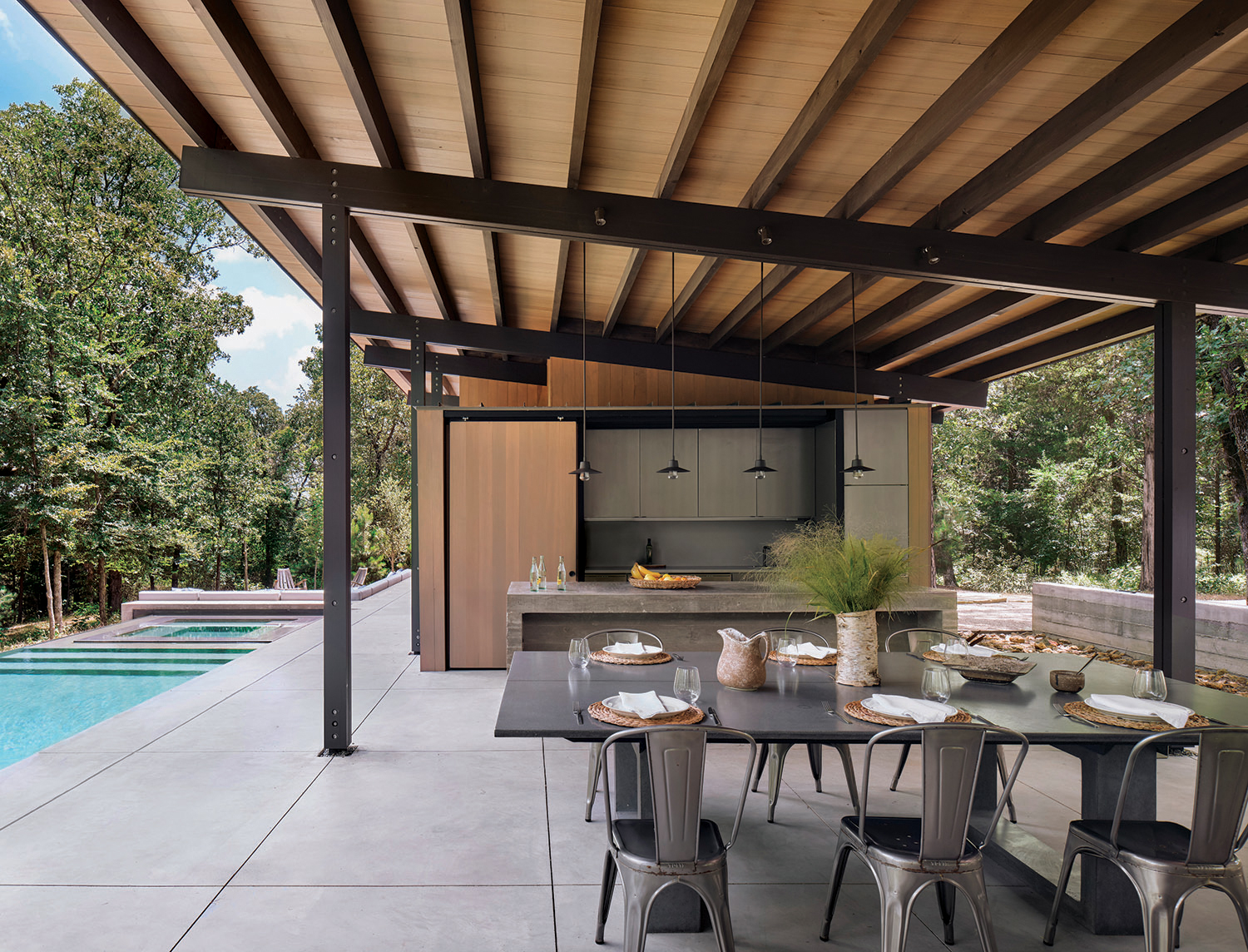 Building Blocks
Countertops that look stunning indoors may not hold up in an exterior space. "Any marble that's porous is not going to work outside," says Dallas designer Emily Summers. "You must use very dense, very durable, nonstaining surfaces. Tiles work great. Certain stones work well. It just depends on how much use they're going to get and how susceptible they'll be to things like oils, fat, and grease."
While options range from butcher block to resin, most designers name Caesarstone as a solid choice. UV rays will negatively affect many of the man-made quartz countertops popular for interior spaces, and porcelain will weather and patina, says Bakes. Natural stones are the obvious choice for durability—plus, they offer a unique design opportunity when backlit as a backsplash. "We get the most requests for the stainless steel because it's such a nice, easy surface to clean," explains Moraes, who encourages keeping every piece at the same level for a long, seamless countertop. "You're not going to have any little gaps for food or insects."
For floors, Leroy Street Studio partner Morgan Hare and Lake | Flato's Raike like concrete, while Jackson suggests terrazzo but warns choosing a black material can turn your surface into a skillet.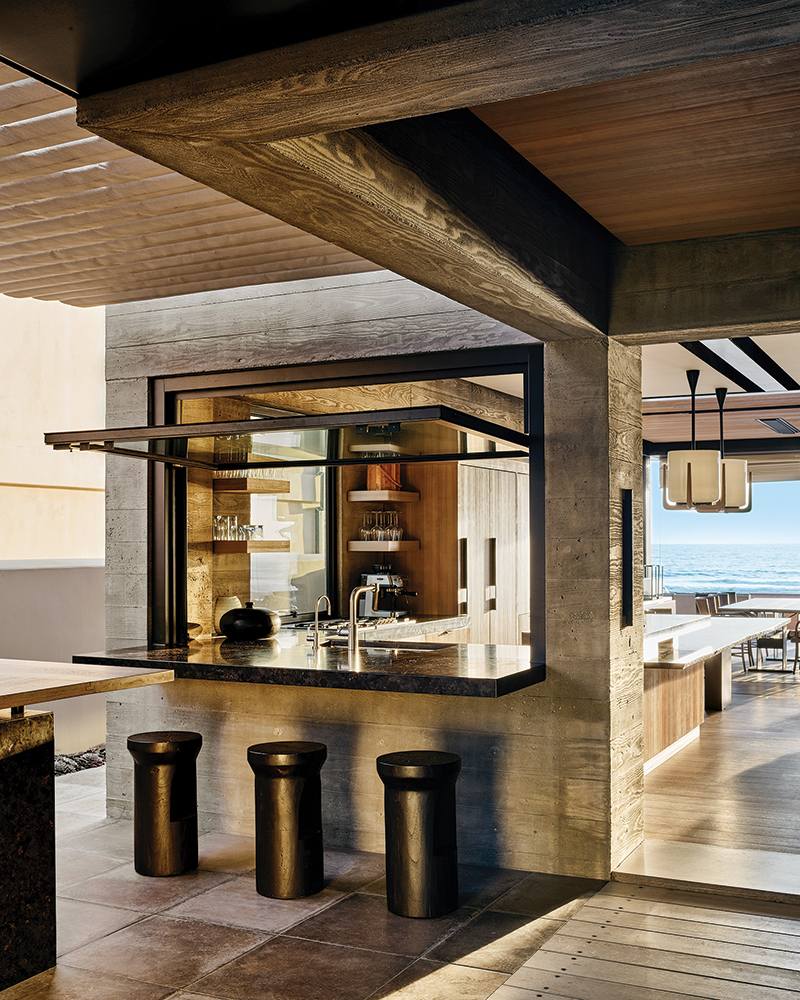 Finishing Details
Although the ambient glow from a pool can create a romantic atmosphere at night, proper illumination is required to prepare dinner. "You need some light to cook, and that's often forgotten," says Hare. Weather-permitting pendants and under-cabinet lights can make a space usable long after sundown; portable table lamps also add to the experience. 
To make the outdoor kitchen self-sufficient, designers approach the space with a boatlike efficiency, tucking in storage wherever possible and crafting pieces that do double duty, like the kitchen island the Lucas team conceived with a single-slab dining table that slides out. 
Tableware and linens can provide the finishing touch, bringing the final punch of color into a relatively neutral palette. "People's need for expression is going to increase as we move from a transition period of the last few years," says Bakes. "There's going to be a need for designers to be more creative and clients to be a little more expressive. I think that's going to apply to outdoor kitchens in every way."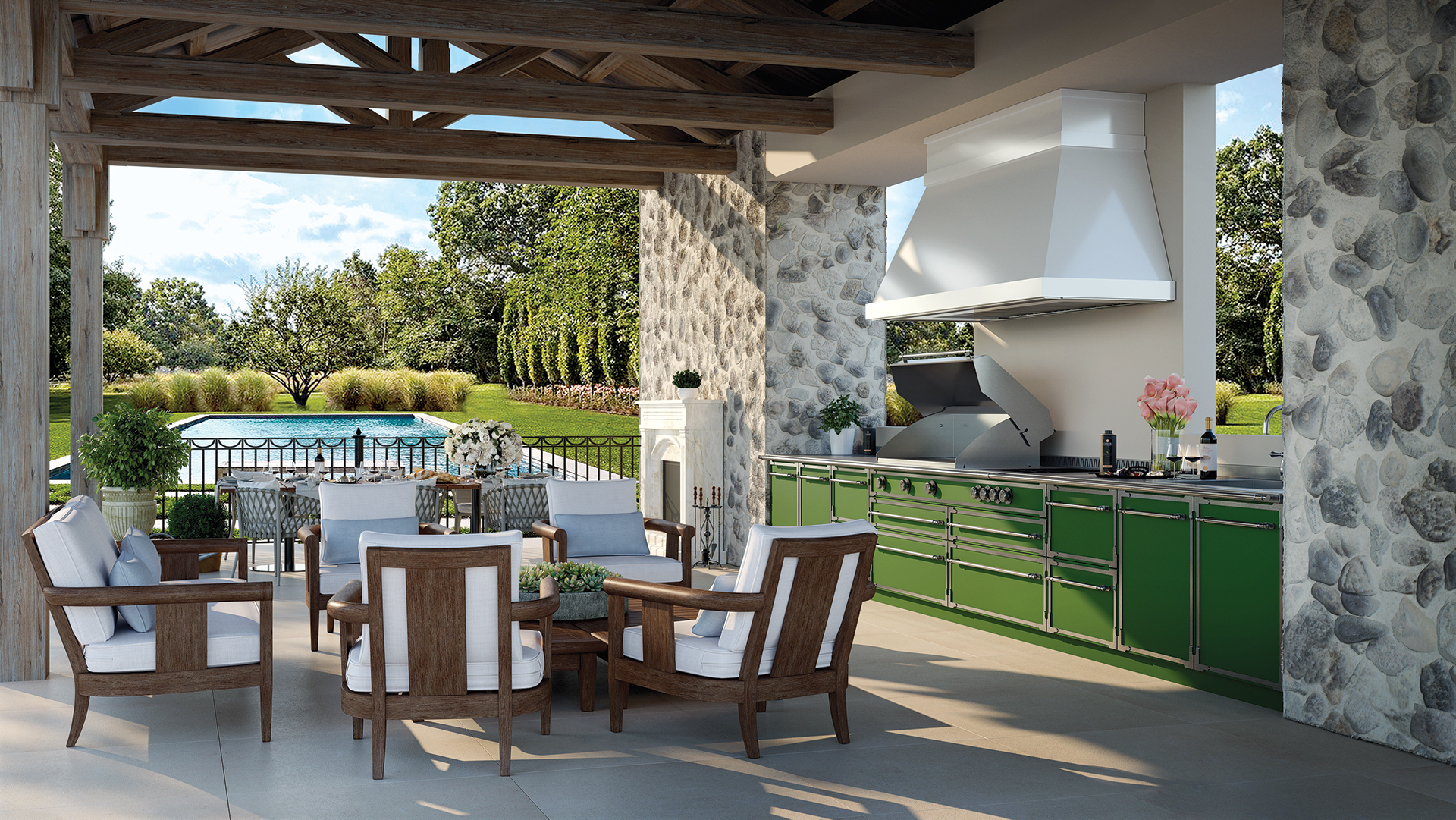 A version of this article first appeared in print in our 2022 Summer Issue under the headline "Art & Soul." Subscribe to the magazine.