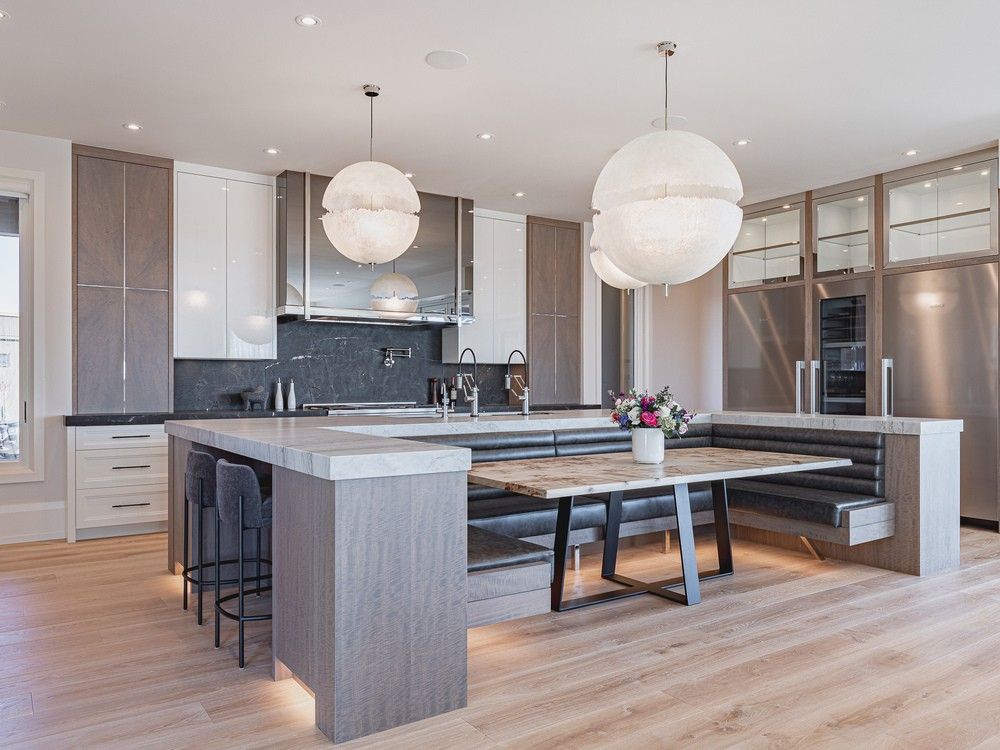 4 kitchens, 4 ways | Canada.Com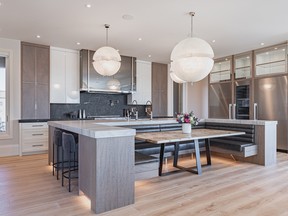 Article content
Warm woods, mix-and-match countertops (think a black granite waterfall island with four-inch lip, juxtaposed with a milk-white Corian countertop), plenty of detail and texture, creamier neutrals and re-imagined islands are all hitting centre stage when it comes to hot kitchen designs for 2023.
Article content
Jennifer Grenda, show home merchandiser for new home builder group Jayman Built, adds to that list, noting that clients are also requesting plenty of storage and prep space and great flow for entertaining and family moments. As well, details that offer a more streamlined appearance, such as hood fan shrouds and panelled appliances, are at the top of the kitchen must-have list this year. From uber-luxe to accessible designs, we've scouted four stunning kitchens sure to tick all the boxes — form, function and beauty — and offer plenty of design inspiration to any rethink of this central home space.
Article content
ESTATE-STYLE LUXURY
Rockwood Custom Homes
A U-shaped island, clad in Italian natural quartzite, creates a stunning kitchen focal point in this almost 9,000-square-foot custom-designed home by Rockwood Custom Homes. The island's unique shape allows for ample functional workspace, as well as provides a structural backdrop to carve out a banquette breakfast nook with built-in seating and a custom-crafted table.
Article content
"We wanted to create a conversational setting — an intimate space for this family of three to enjoy meals and time together," says Allison Grafton, president of Rockwood Custom Homes.
The clients wanted a home, and a kitchen space in particular, that was exceptionally functional, and infused with a nod to their personal style.
"The overall concept was centred around beauty and dynamic finishes, with a touch of bling, ultimately delivering an understated and classic lounge vibe," says Grafton.
Two-toned countertops, mitred at three inches to elevate the space, paint a chunkier profile, allowing for optimum appreciation of the stone's beauty, in addition to creating a standalone and uniquely scaled detail within the space — much like a sculpture in a gallery. Light wood cabinets, polished nickel finishes and a backsplash tile with a handmade look give the space sophisticated style without being fussy. Plenty of creative hidden storage and a built-in coffee and wine station add to the appeal.
Article content
A melange of materials — including high-end hardwoods such as walnut and African anigre, glass and smoked mirror, stone and metal — weave together an elegant and sophisticated modernity, while Italian handblown fibreglass pendant light fixtures finish the look, offering texture and dramatic visual impact.
"It's really the mix of materials that adds the magic," says Grafton.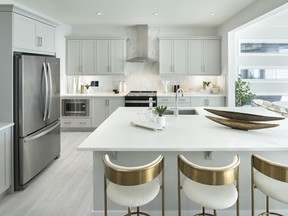 MOVE-UP MAGIC
Jayman Built
Elegant and sophisticated, this kitchen design by Jayman Built sparkles like a gemstone.
"We took a neutral palette and added warmth, plenty of texture and a touch of brass. We really wanted to create spaciousness with a calm and ethereal feel," says Jennifer Grenda, show home merchandiser and lead designer on the home.
Article content
Located in the upscale southwest neighbourhood of Wolf Willow, the show home, the 2,273-square-foot Karma model, is developed at the highest level of finish and is designed with family and entertaining in mind.
"The island really makes this space stand apart — it's designed for functionality and flow and the quartz is beautiful," says Grenda.
The eight-foot by five-foot island complements the porcelain tile backsplash, designed to look like a sheet of marble. The kitchen melds cohesively with the rest of the floor plan, yet stands apart, thanks to pops of glitz in the stools and dining chairs.
"They are the jewelry of the kitchen and adding a touch of counter lighting gives it extra mood and ambience, especially in the evening," she says.
Article content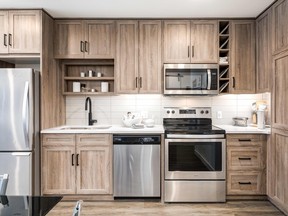 SMALL SPACE GLAMOUR
Homes by Avi
This spacious two-bedroom and den condominium in Homes by Avi's Maverick project in Livingston (it's the B2 model) carves out ample space and packs a powerful design punch. The designers took it a step further, ramping up functionality and optimizing storage, especially in the kitchen.
"Everything really has a place — there's tons of storage for food, for small appliances and for knick-knacks," says Carla Dean, designer of product development for Homes by Avi.
The kitchen takes centre stage in the home's bright and airy open-concept, 912-square-foot floor plan.
"It's really centralized, bringing easy access," says Dean.
An L-shaped cabinet layout, 14-inch deep upper cabinets (12-inch is standard), an extra-wide pantry, a built-in boxed wine rack and spice rack for those quick-grab items and a dedicated space for cookbook storage and display, all make this sleek styled kitchen stand out. The design is also full of thoughtful details — under-cabinet task lighting, piano hinges on the corner cabinets and a location adjacent to the 182-square-foot outdoor patio, a perfect spot for eating al fresco. Noticeably absent from the design is the central island, leaving plenty of room for an oversized harvest dining table.
Article content
"Multi-functional is the way to go. The table can be used for game nights, dinner parties, as a baking counter or a work-fromhome station," says Dean.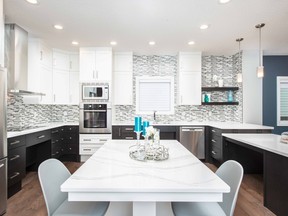 BEAUTIFUL AND FUNCTIONAL ACCESSIBLE DESIGN
Distinct Interior Design
Designed for a young family with two pre-school-aged children, functionality was the name of the game in this Edmonton kitchen, designed for accessibility.
The new build home was created in 2018 without a central island, a feature that the owners wanted to incorporate, but finding the right design had proved challenging. The island had to be beautiful, functional, able to accommodate the entire family for sit-down meals and be wheelchair accessible.
The family brought in Susan Jomha of Distinct Interior Design to help them with the project.
Article content
"I really wanted the island to be like a sculpture on its own, something decorative and to stand out," says Jomha, principal designer and owner at Distinct Interior Design, an Edmonton-based design firm.
But creating the island wasn't straightforward; it proved to be a bit like fitting puzzle pieces together. To tick all the boxes, Jomha crafted a six-foot-long by four-foot-wide 30-inch-tall island — the height of a table — supported in a T-shape, so that a wheelchair could fit in at one end. She notes that she pared the island's scale down to accommodate five-foot aisles, allowing for the chair to pivot and turn.
"It's a big kitchen, but because of the accessible nature, we had to hone down the size. It was tricky," she says.
She cantilevered two pullout cutting boards at a 28-inch height within the island, to allow for prepping and cutting, while seated. Fashioned from Cambria stone, the island adds to the kitchen's warm and authentic vibe.
"It's just this nice soft grey and warm white, and it really complements the rest of the kitchen," says Jomha.