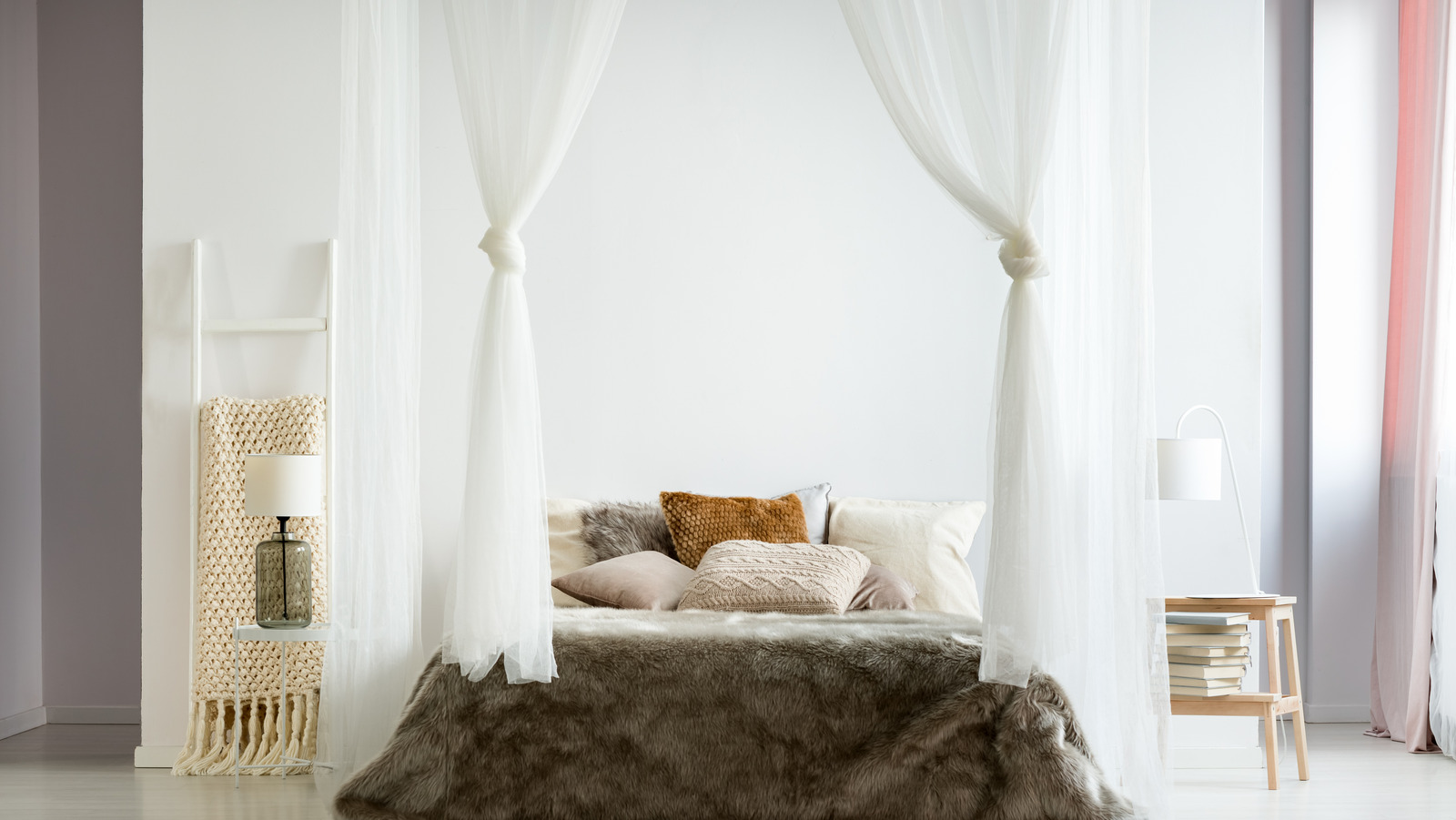 30 Gorgeous Ways To Style A Canopy Bed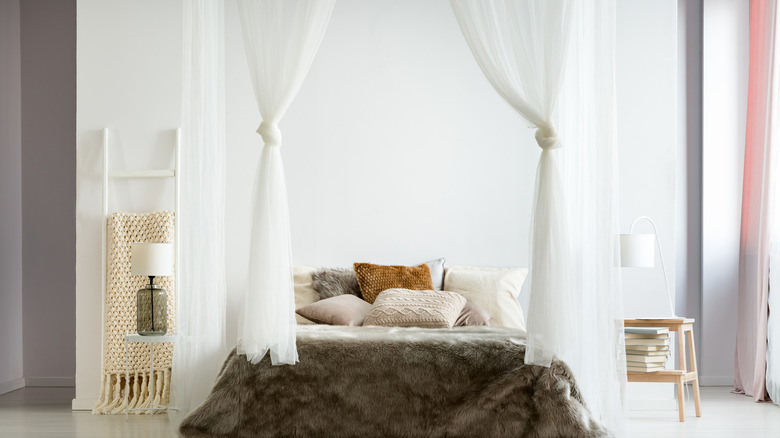 Ground Picture/Shutterstock
Your bedroom can easily be one of the most fun rooms in your home to decorate. Unlike more utilitarian rooms like your kitchen or bathroom, there aren't any major installments like refrigerators or showers blocking your arrangement potential. All you really need to have in your bedroom is a bed, too, so your options are limitless in terms of design and creativity potential.
The one guiding principle of bedroom design is making it as comfortable and inviting as possible, and what better way to do that than with a canopy? Canopy beds are traditionally four poster beds connected by a frame at the top, allowing you to hang curtains along the side, but they can also be wall or ceiling-mounted. They have some functional purpose, too — according to Custom Home Group, canopy beds can warm your bed if you add thick curtains, as well as block out light. They can also help keep out bugs if you get mosquito paneling. While you may associate canopy beds with a more youthful design, there are a lot of ways to style them in alignment with any aesthetic.
1. Floating bed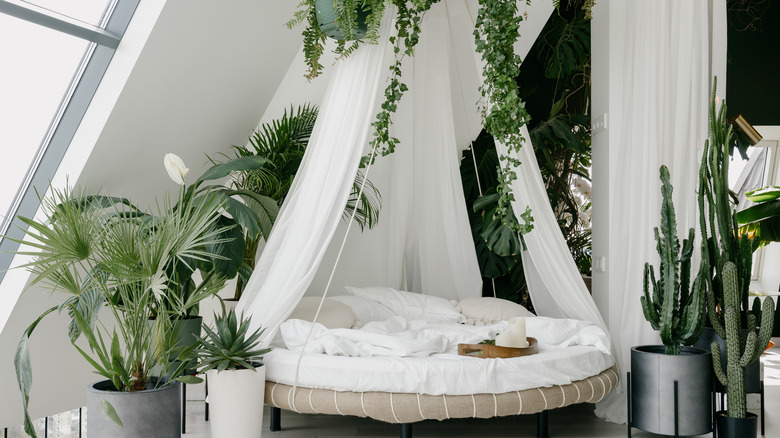 brizmaker/Shutterstock
Enhance the natural whimsical nature of a floating bed with soft, sheer canopies draping over the side. Make it feel even more fantastical with lots of lush, vining plants.
2. Simple and clean
brizmaker/Shutterstock
For a simple and clean look with just a little something extra, add some tied curtains to the end of a canopy bed. Keep the rest of the room bright and white to intensify the clean look.
3. Rustic boho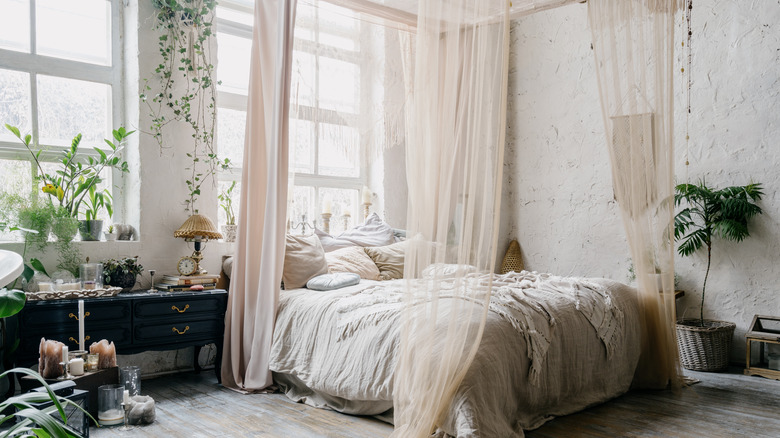 brizmaker/Shutterstock
Make a rustic boho bedroom feel even airier and more natural with either white or lightly colored sheer curtain panels, keeping the rest of the bedroom very gray, neutral, and light, with unfinished woods and raw textiles.
4. Breezy blue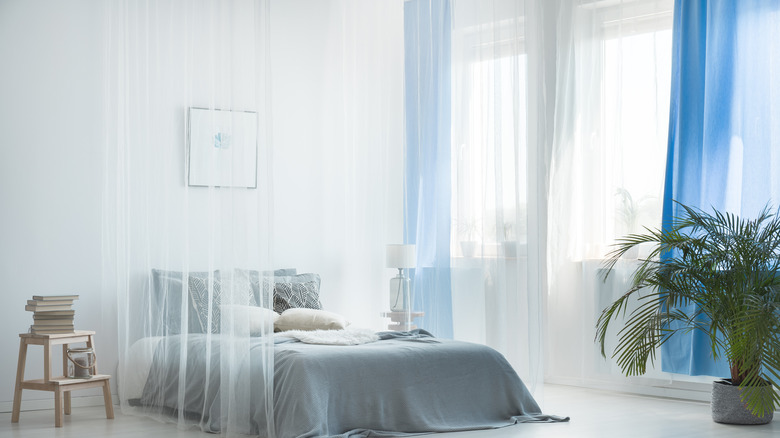 Ground Picture/Shutterstock
Use sheer and light canopy curtains hung from the ceiling above your bed paired with multiple shades of light blue to create a breezy, fresh-looking bedroom.
5. Princess style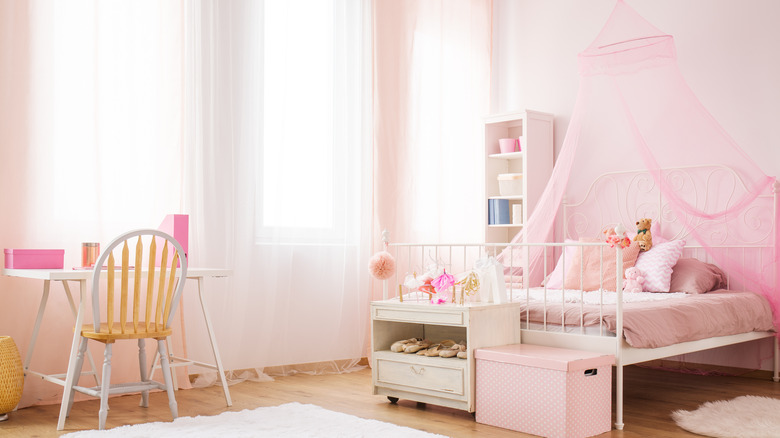 Ground Picture/Shutterstock
Create a princess-inspired oasis for your child's bedroom with a hanging, traditional-style canopy. Opt for a sheer pink panel to subtly incorporate the color while still keeping it breezy and light.
6. Plant paradise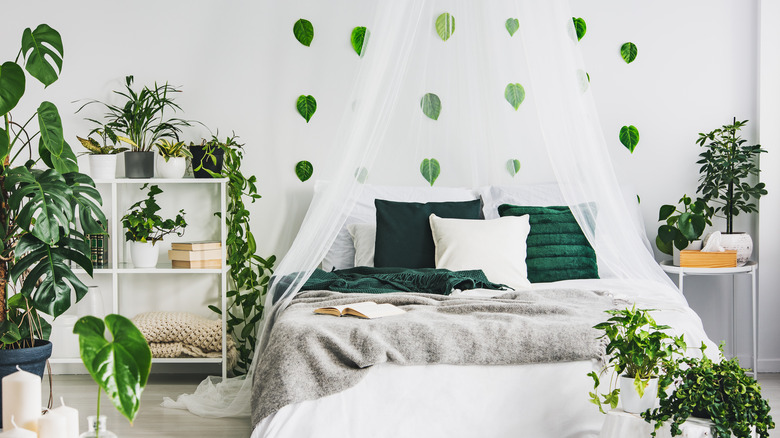 Ground Picture/Shutterstock
If you want your bedroom to feel like a plant paradise or tropical escape, add a traditional canopy with sheer panels to enhance the vining quality of your houseplants. Add lots of green touches with pillows and blankets to enhance the natural vibe.
7. Tropical boho retreat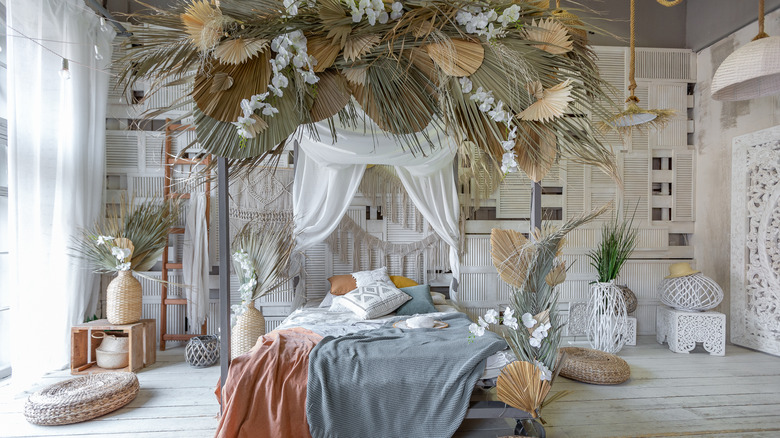 Pinkystock/Shutterstock
Transform your bedroom into a boho tropical resort with lots of pastel beach tones — salmon, gray-blue, beige, etc. Enhance it with dried palm, macrame, and, of course, a four-poster bed with dramatic draping canopy curtains.
8. Simple feminine style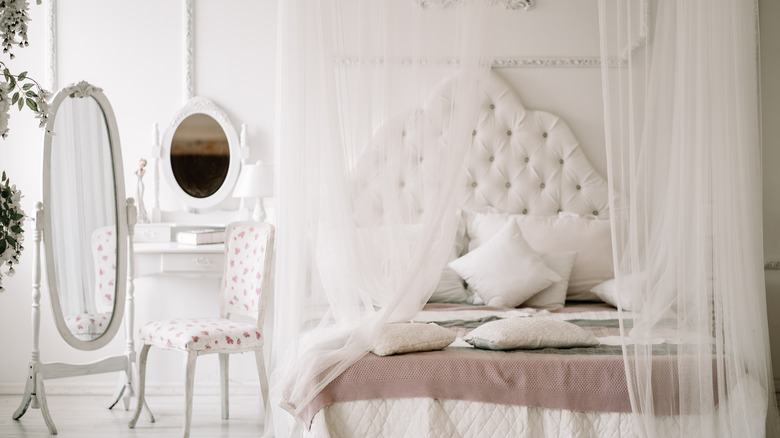 goldeneden/Shutterstock
Create a simple but effortlessly feminine bedroom with a white base but romantic furniture pieces — a tufted headboard, vanity, etc. Add in a few touches of rose and pink, and tie it all together with lovely, romantic draping canopy curtains surrounding your bed.
9. Zen style canopy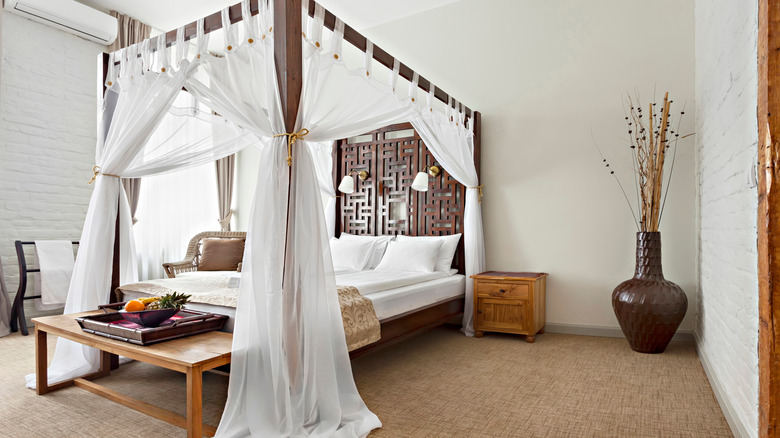 mirjana ristic damjanovic/Shutterstock
For a zen-style bedroom, look for warmer-toned dark wood pieces with low furniture profiles. Keep the rest of the room neutral in color and design, and add a slight flair with canopy curtains tied at each end of a four-poster bed.
10. Monochrome tropical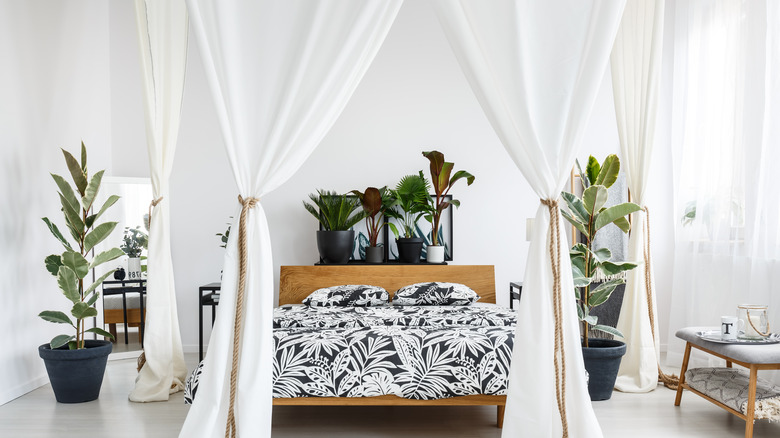 Ground Picture/Shutterstock
Instead of a super colorful tropical bedroom, opt for a monochrome, black-and-white style design. Add lots of plants in black or white pots, and throw in a black and white leaf-patterned duvet. Top it off with opaque canopy curtains suspended from the ceiling surrounding the bed.
11. DIY style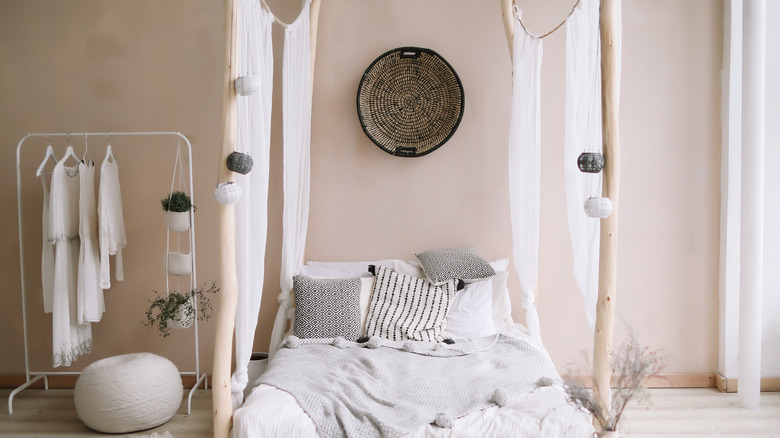 paralisart/Shutterstock
For a more rustic, DIY look, set up two posts on either side of your bed with canopy curtains instead of a traditional four-poster bed.
12. Regal luxury
IMG Stock Studio/Shutterstock
Instead of a clean and simple look, use a bed canopy to go over the top in a regal, antique French style. Look for dramatic furniture silhouettes, elegant pops of gold, and a traditional ring canopy suspended above your bed and mounted on either side.
13. Minimalist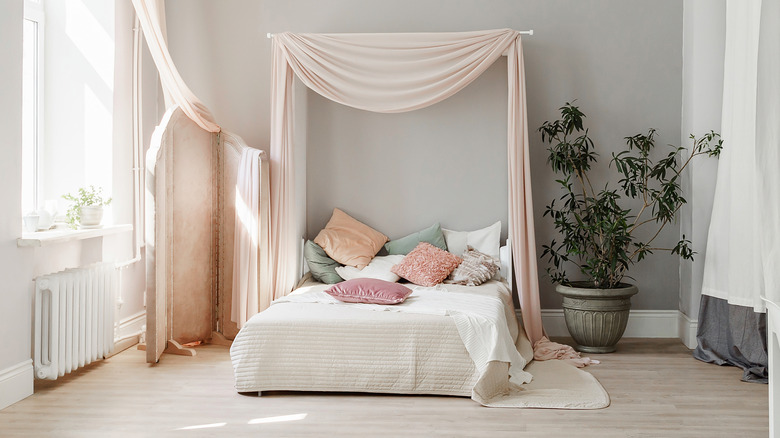 Anna LightAndAir/Shutterstock
On the other hand, you can go completely minimalist with a nearly flush-to-the-wall canopy. Add a simple, neutral pastel curtain to drape over the top edge of your bed.
14. Dramatic florals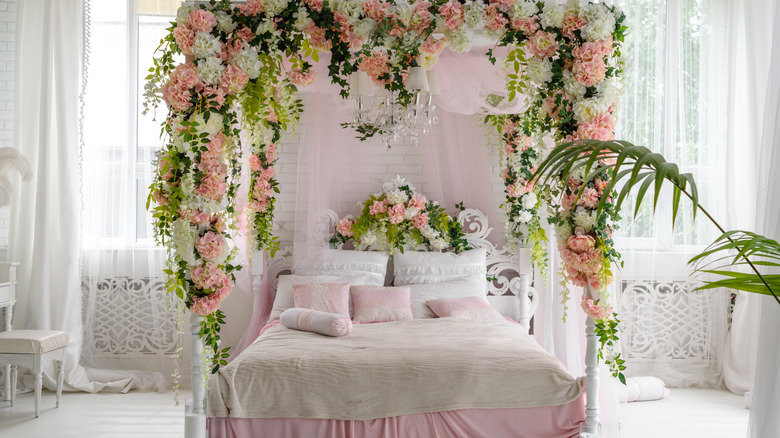 Mirage_studio/Shutterstock
Turn your bedroom into a floral fantasy escape with sheer curtains as the base of your canopy bed, adding faux flowers along the edge of the posters in a dramatic drape style. Go one step further and hang a chandelier in the center.
15. Bright rustic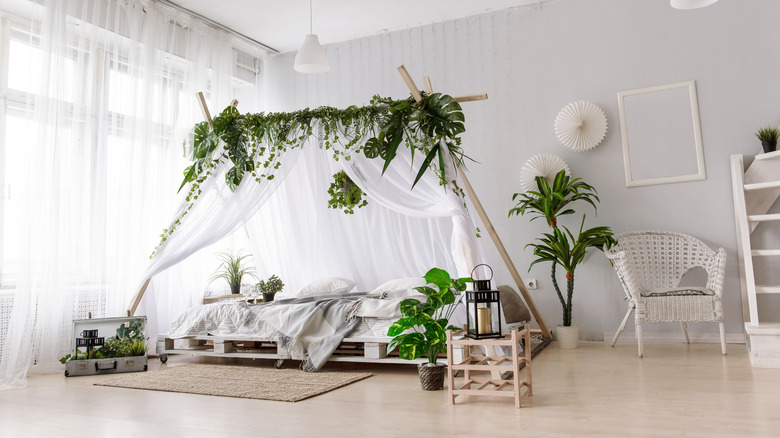 Radanasta/Shutterstock
While rustic bedrooms tend to be very beige and gray-heavy, they can also be designed in bright white shades, as long as they have the same rugged, natural feel. Emphasize those qualities with a raw wood bedframe and sheer white canopy panels.
16. Child's daybed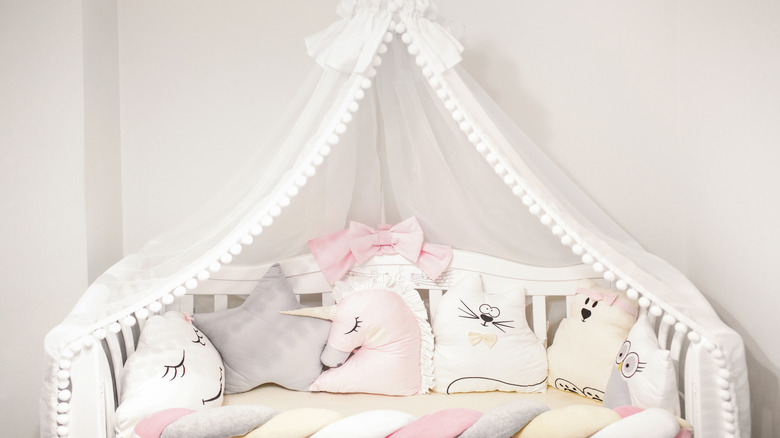 Liashenko Olga/Shutterstock
Dress up your child's daybed with a traditional canopy draped over the sides. Look for something fun with baubles or bows for a more youthful feel.
17. Simple and modern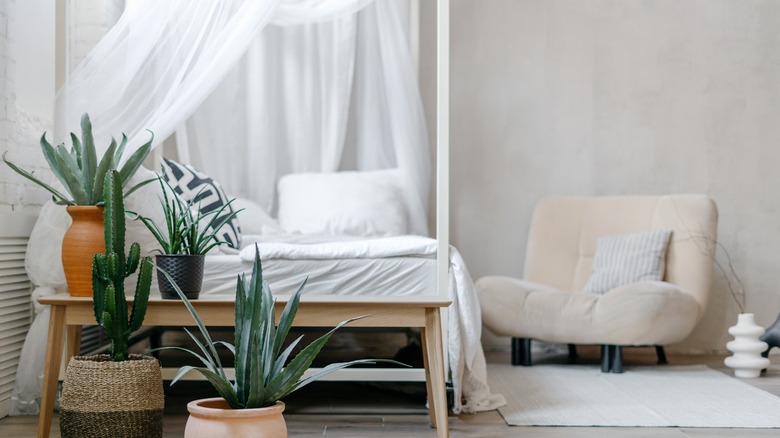 brizmaker/Shutterstock
Canopy beds can add an extra touch of decorative appeal to a simple, modern bedroom. Add sheer white panels to a room with already understated, low-lying furniture for a simple enhancement.
18. Boho style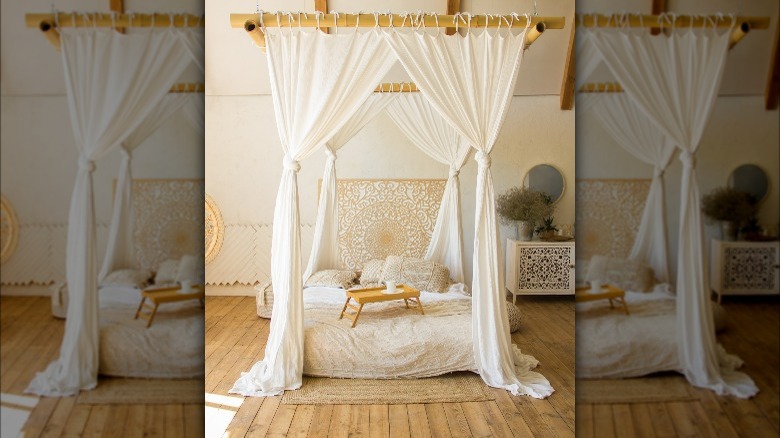 NASTYA PALEHINA/Shutterstock
Create a boho oasis with opaque canopy curtains suspended from bamboo posts hung from the ceiling. Pair with neutral beiges, wood tones, and creamy white shades for the full effect.
19. Romantic French blue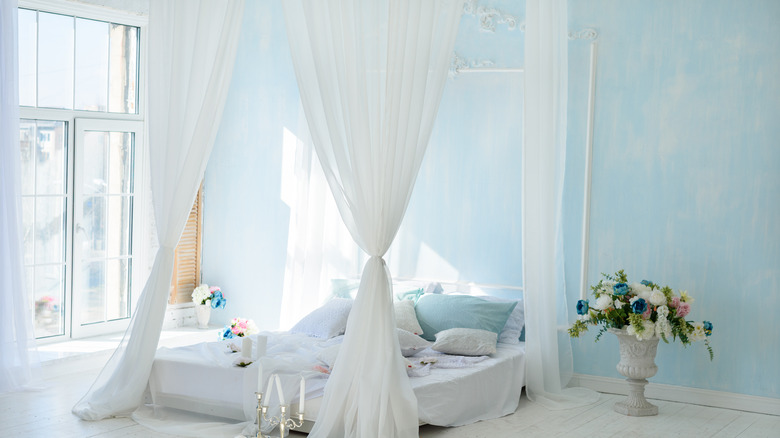 Yana Vydrenkova/Shutterstock
Canopy beds and bed curtains have a naturally romantic quality to them. Instead of enhancing that with a traditional pink or rose, opt for an equally romantic, slightly more sophisticated French blue. Keep the rest of the room light and white.
20. Stylish flair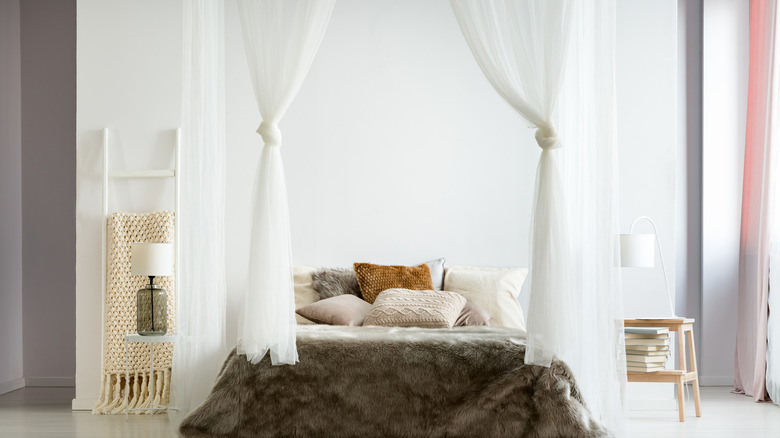 Ground Picture/Shutterstock
While bed canopies can have a youthful quality to them, they can also make a room feel quite sophisticated if set up correctly. Pair simple sheer curtains with a faux fur bedspread for a unique, stylish look.
21. Rugged bohemian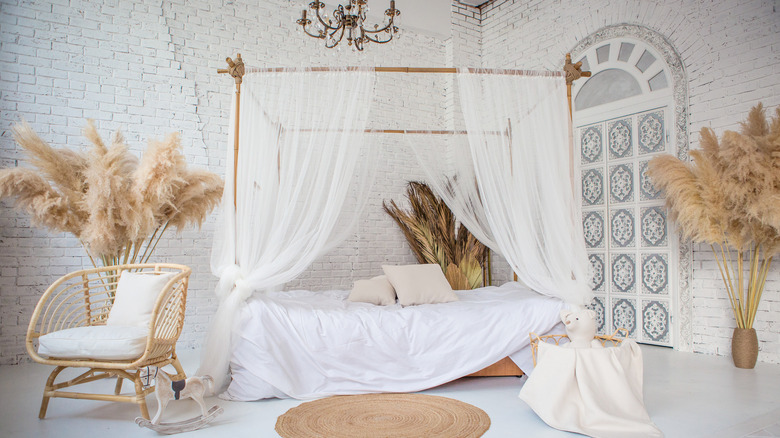 anastasiyaand/Shutterstock
Merge a rustic, rugged aesthetic with a boho chic one by adding a clean white duvet to your bed paired with a raw wood four-poster bed, adding touches of twine, bamboo, and other raw, natural materials. Drape some off-white sheer curtains from the posts to tie it together. 
22. Dramatic luxury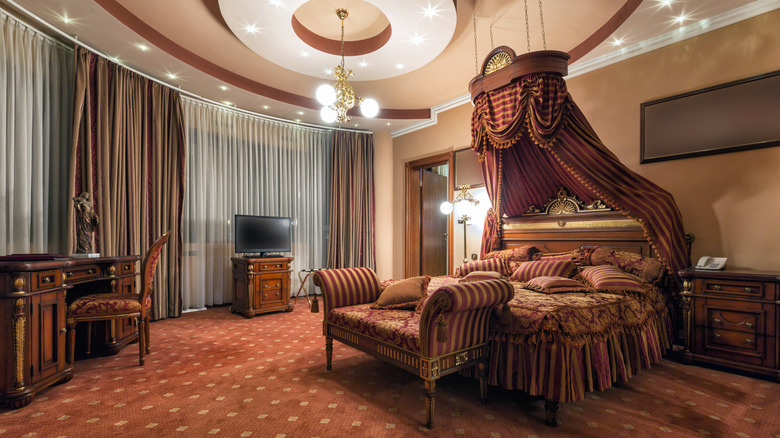 Edvard Nalbantjan/Shutterstock
Opt for a Victorian-style canopy with a thick, luxurious fabric draped over the edge of the bed. Look for a curtain and bedspread with rich and deep colors for the full effect.
23. Antique style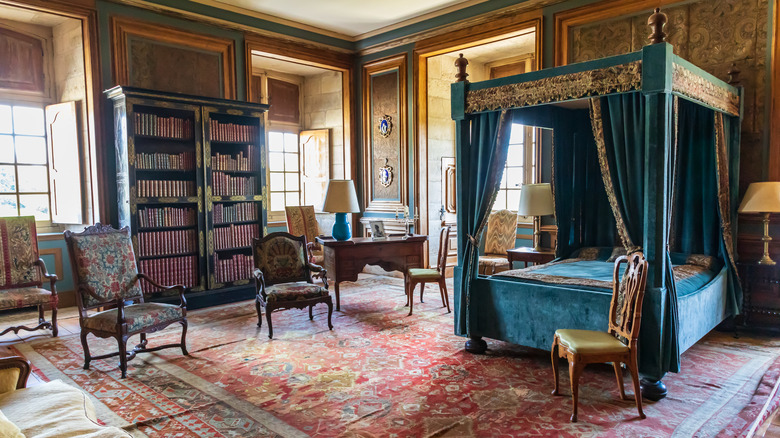 Emily Marie Wilson/Shutterstock
Traditional antique canopy beds have an undeniably magical quality and immense design appeal. Pair with rich, luxurious colors and textiles and other eye-catching antique pieces.
24. Victorian princess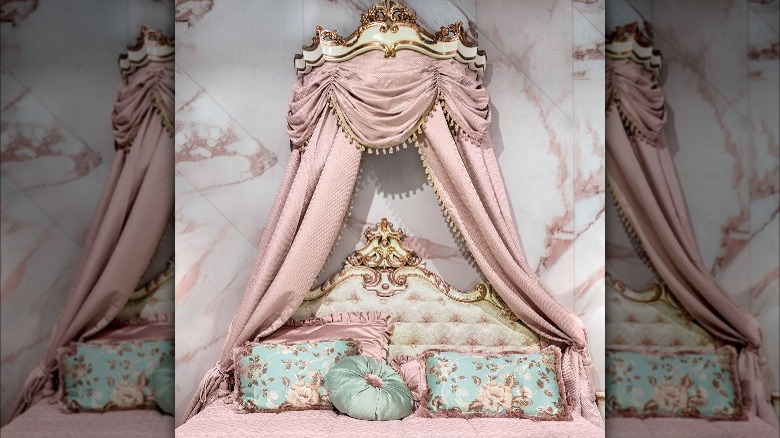 Fotiy_Svetlana/Shutterstock
Elevate a feminine room with a wall-mounted, Victorian-style canopy with thick and heavy pink curtains, integrating other luxurious, regal shades like gold and teal.
25. Double curtains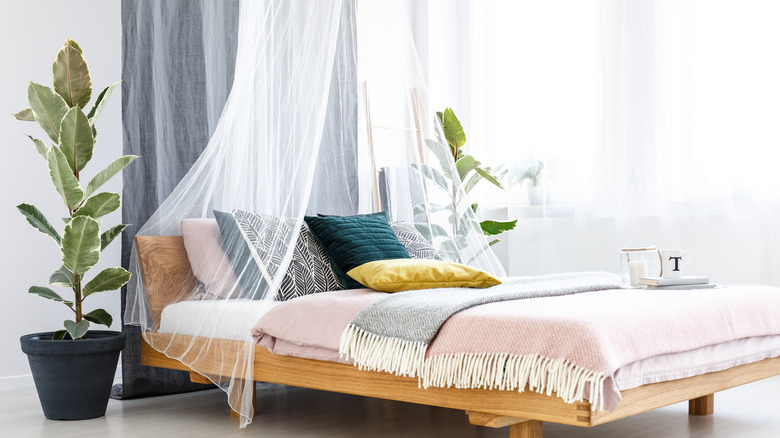 Ground Picture/Shutterstock
Play around with layering colors and textiles with two canopies. Have a base of a traditional princess-style canopy with sheer curtains, and then one hanging panel with a contrasting panel behind the bed.
26. Floral and feminine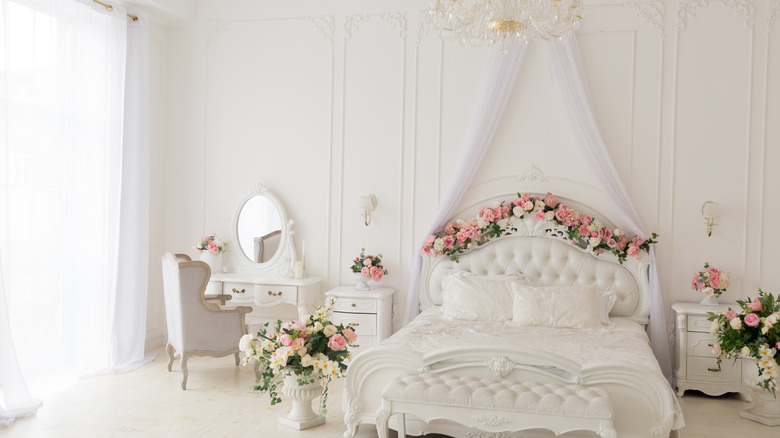 Svetlana Satsiuk/Shutterstock
Add a luxurious touch to an all-white and floral bedroom with a wall-mounted, princess-style canopy with sheer white curtains. Add a crystal chandelier, lots of dramatic flowers, and carved wood furniture pieces in white for the full effect.
27. Beach house style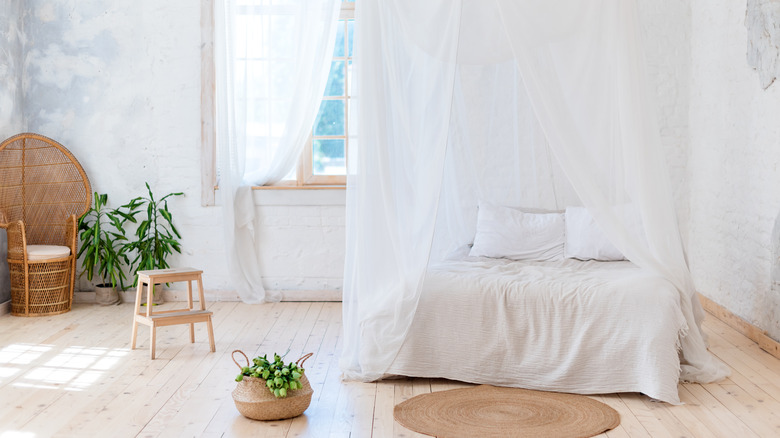 IMG Stock Studio/Shutterstock
Design a dreamy, airy-looking beach house bedroom with light wood, wide planked floors, white-washed brick walls, lots of wicker, and, of course, sheer curtains hanging canopy style around your bed.
28. Simple luxury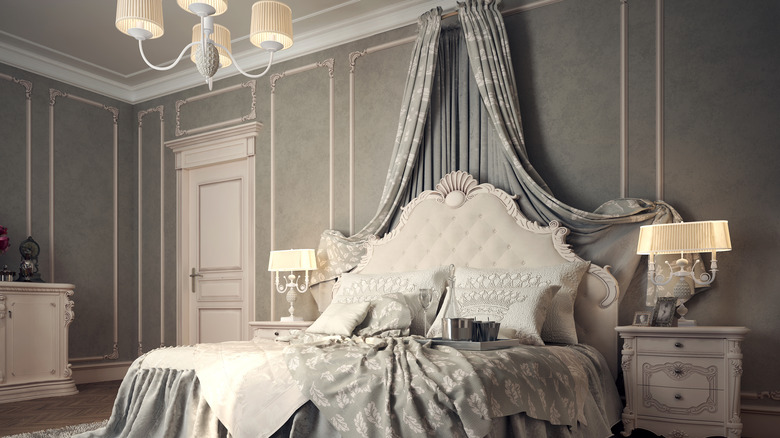 KUPRYNENKO ANDRII/Shutterstock
Add a luxurious touch to a simple bedroom without going overboard or being too gaudy by installing a simple crown canopy, matching the fabric to your bedspread.
29. Pretty in pink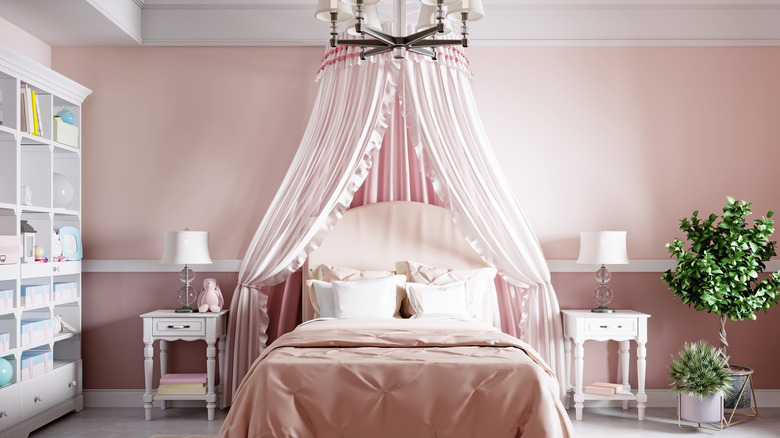 Peter_visual/Getty Images
Design an elevated, slightly grown-up, princess-style bedroom for your child with multiple refined shades of pink, topping it all off with a princess-style canopy draping over the top and sides of the bed.
30. Ceiling-mounted, four-poster canopy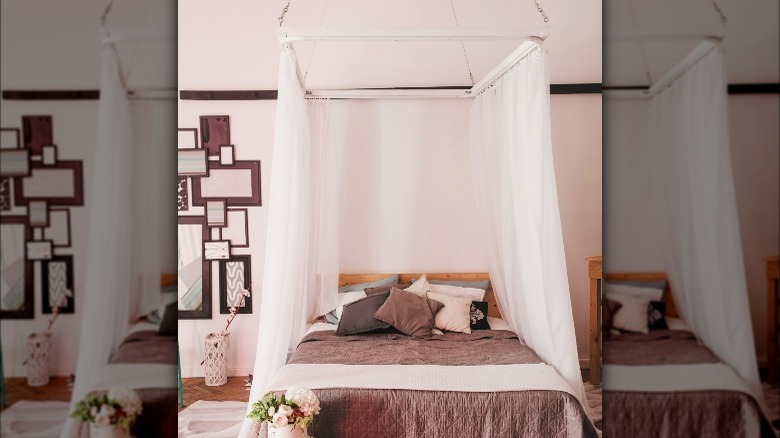 Jozzeppe/Getty Images
Instead of a traditional four-poster canopy bed or elegant ceiling-mounted, princess-style canopy, suspend the square frame from the ceiling. Leave it exposed for a truly industrial look.