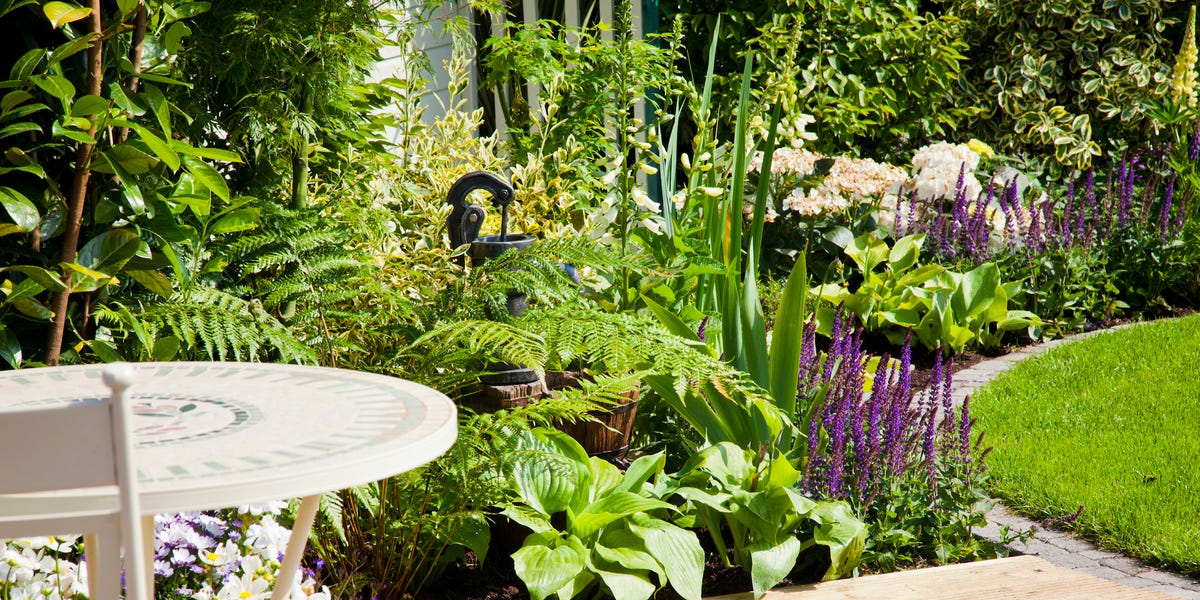 22 Cheap Garden Ideas – Best Garden Ideas On A Budget
Looking for some cheap garden ideas? It's easier than you think to give your garden a budget-friendly makeover. We've listed some quick fixes to help you save cash whilst making your outdoor space look fantastic, which in turn will enable you to spend more time enjoying your outdoor sanctuary.

Whether it's painting an old shelf, getting clever with how and what you plant, or repurposing old items, take a look at how you can save money without scrimping on style.
So, are you ready to give your garden a new lease of life? Try these easy garden ideas on a budget, perfect for patio areas, small gardens, or outdoor spaces of every shape and size…
Advertisement – Continue Reading Below
You'll be surprised by how much a lick of paint can transform an old fence and provide a striking backdrop for greenery and jewel-coloured plants. And the colour you should opt for? For a dramatic look, choose black.
'The depth this colour gives is magical for garden designers; paint a fence black and it disappears, a shed becomes less of an eyesore and that old bench suddenly becomes a chic focal point,' says Chelsea Flower Show garden designer Andrew Duff.
This is a great garden idea if you want instant impact. Don't forget, you can give your plant pots a new lease of life by painting them too.
• Head to Homebase, Wickes or B&Q for garden paint.
READ MORE: Garden paint: A guide to transforming exterior walls
A cost effective way to fill flowerbeds with great looking plants is to buy perennials that you can divide. This may sound like advanced level gardening but really it isn't. It will work with clump-forming perennials such as geums, astrantia and hardy geraniums.
Simply tip the plant out of its pot and pull it apart into two or three bits, each with some stalks and root. Dig a hole and plant each part in your flowerbed. Next year when they've grown and spread, you can dig them up and pull them apart again to gain even more plants.
You'll get a wonderful display in a couple of years for very little cash. Six geranium plants are usually enough to get going in an average sized garden.
Shop a wide selection of perennial plants at Crocus
'The cheapest way to get a thriving garden is by growing a lawn by seed, as turf isn't cheap and can be difficult to lay. With seeding, you've got much greater control over which species of seed are going into your new lawn,' advises Carlos Real, Lawn Care Expert and Managing Director of TotalLawn. 'For example, if you want an aesthetically pleasing lawn, you should be looking for slender fescues – this forms a close turf with bristle like, dark green, glossy leaves.
'Not only this, if you sow in the spring, you won't have to wait long for it to grow – it's a simple and cost-efficient way to renovate your outdoor space.'
A simple and cost-effective way to transform your garden is to cut the lawn into a clearly defined shape – something like a circle, a square or an oblong. Mark it out with string and use a spade (try this Stainless Digging Spade by Spear & Jackson) to cut away the excess grass. It's not a difficult job and should only take an afternoon.
6
Use containers for patios
No lawn? Container gardening is a really easy way to get your garden looking beautiful with blooming flowers. It's especially ideal for patios, balconies or other paved areas. Remember, containers can restrict root growth, so you need to ensure an even water supply and good drainage, and choose the right compost.

Pictured: Colleta, Set of 2 Splatter-Effect Planters, MADE
7
Get creative with storage
'Creating storage for your shed is the perfect time to reuse items or upcycle,' says Jack Sutcliffe, Co-Founder of Power Sheds. 'Items no longer needed in your home can all take on a new life in the shed. For instance, an old shoe rack can be used to store garden footwear or be hung onto the wall of your shed and provide great storage for things like paint cans or tools.'
As extensions of our homes, our outdoor spaces are becoming 'rooms', and so there's a need to bring that cosy feeling into the garden. An easy way to do this is to invest in an outdoor rug. Inject some personality into your space with a pop of colour or bold pattern – and it will help to zone your space, too. To accessorise, add some garden lanterns and outdoor cushions
Pictured: Antibes Outdoor Rug Blue White Linear, Land of Rugs
Want space for entertaining in your garden? If a garden bar is out of your budget, transform your area with a DIY cocktail bar.
'There's no need to invest in a pricey readymade bar when you can update a cheap and cheerful potting bench by day into a chic drinks station by night with a simple, purse-friendly lick of paint,' says Wayfair's Resident Style Advisor, Nadia McCowan Hill.
'A good quality primer & undercoat will remove the need for laborious sanding, so all you need to think about is selecting your go-to hue. Miami pink will add a retro flavour to your bar, whereas cornflower blue is the perfect tone for an English garden spritz and pistachio tones will blend seamlessly with spring foliage. Don't forget to seal your bar with a waterproof finishing wax to keep the sundowner sessions flowing summer after summer.'
And, of course, don't forget to style it: Add a drinks dispenser, coloured glassware and your favourite beverages – and finish off with succulents and greenery.
10
Start a vegetable patch
Grow Your Own, even in the smallest of spaces, and save lots of money in the process. Simply corner off a section of your garden, prepare the soil, and plant some vegetables. Not only will it be a great addition to your garden, but you'll have your own supply of tasty veg!
Chillies remain a popular choice owing to their ease of growing, colour and varieties, with names such as 'Etna' and 'Meek and Mild'. Beans, peas, chickpeas, lentils, soya and other legumes are also a staple of the vegetable plot, overtaking more traditional choices such as parsnips and calabrese.

READ MORE: Allotment ideas for beginners
11
Reuse old furniture as planters
One of the most cost-effective garden ideas is to simply upcycle! You can give old and tired furniture in your home a new lease of life in the garden. Old sinks and dressing tables can be turned into quirky planters, or you could use pallets to make planting tables, furniture and much more.
'Wooden pallets aren't just cheap and easy to get hold of, they're also incredibly versatile in your garden,' says Jack Sutcliffe of Power Sheds. 'Take a wooden pallet, fasten it upright on your shed wall and you've got yourself a space to store your garden tools. This type of solution may seem a little more rough and ready, but it's cheap and very effective.'
Want instant colour in your garden? A really easy and inexpensive way to do this is to plant up some hanging baskets. Choose plants such as fuchsias, verbena or petunias, or you can even grow vegetables like tomatoes.
READ MORE: The best hanging basket plants for a vibrant display
If you're looking for ideas to increase wildlife to your garden, install a bird feeder, bird bath or bird house. More birds attracted to your outdoor space will also mean more chances of listening to the sound of birds singing, which is great for your wellbeing. In fact, research shows that listening to the sound of birds can help lower stress and fatigue, as well as helping to combat anxiety.
You could buy one (shop a selection at the RSPB) or, if you're looking for a cheaper way, wash out old tin cans (from soup and baked beans), then paint, fill with bird seed, and hang in the garden for your own homemade bird feeder.
Pictured: Bird feeder in Moorland Green Wood Paint, Thorndown Paints
14
Transform your space with lights
It's all about the ambience! Outdoor lights offer a quick, simple and cheap way to bring a pretty glow to a patio and beyond – and there are so many styles available. Solar garden lights are popular, or you can opt for outdoor battery lights which include string lights and lanterns.
If you're using fairy lights or festoon lights, you can style them through trees or shrub branches, attach them to fences and furniture, or suspend them from canes stuck into the ground. Stringing fairy lights across a pergola or arch or even around a parasol, always looks wonderful and creates a perfect setting for alfresco dining.
Pictured: 80 LED Battery Operated Parasol Lights, Lights4Fun
15
Use stake lights to illuminate plants
Buy stake lights to scatter amongst shrubs, place on your lawn, or stick into window boxes for instant wow factor. These are pretty inexpensive and they add a wonderful decorative touch to your garden, however small it is.
With solar lights, just place it within a sunny spot in your garden to enable a full day's charge. As evening falls, the lights will automatically shine bright.
Pictured: Flower, Bee & Butterfly Solar Stake Lights, Lights4Fun
Another great way to attract wildlife to your garden is with a pond – and it won't cost much at all. Simply collect pebbles and stones, dig a hole in the garden, protect the bottom with a pond liner and hide it using the pebbles and rocks. Then fill with water to create a pond.
READ MORE: 8 steps to creating your own garden pond
One of the easiest ways to save money and garden on a budget is to make your own compost.
Jack Sutcliffe of Power Sheds explains: 'Get a compost bin and turn your kitchen and garden waste into organic matter that you can use to mulch garden borders and fill pots, boosting the growth of plants and vegetables. This idea isn't just cheap, it's also a great way to make your garden even 'greener'.
READ MORE: How to make compost
Create an outdoor cinema using materials from your home. Transform your space in an instant for movie night using a white sheet, pegs and some string. Then all you need to do is buy a projector (shop a range at Amazon to suit all price budgets).
Interior stylist Kel Harmer created this fabulous outdoor cinema in her garden. 'To create the DIY Movie Night we used string, pegs and a kingsize white sheet to create the screen and a projector which we placed on a garden table and ran the leads underneath the seating to prevent hazards,' she explains.
READ MORE: Kel Harmer's garden makeover
Plastic water bottles take an average of 1,000 years to biodegrade, so avoid throwing them away altogether and reuse them. They're ideal for the garden as they make great alternative planters. Just cut open one side, fill with compost and plant seedlings, then hang with heavy duty string.
21
Create a path with gravel or stone chippings
When it comes to paths and patios, gravel is a much more affordable surface than paving. To lay it in place; mark out the area, then scrape away loose soil or grass, pin down a permeable membrane to stop the weeds coming through and spread the gravel over it. Aim for a depth of 2.5cm. Honey stone chippings will contrast with your lawn and planting, creating a rustic look. A large bag will cover around 20 sq metres.
'We'd recommend going for 20-30mm size stones as they generally last longer than the smaller ones and feel sturdy underfoot,' Carlos Real of TotalLawn advises.
• Head to Homebase, B&Q or Wickes for all your gravel needs!

22
Use corks as plant markers
Upcycle your wine corks and reuse them as plant markers.
Jack Sutcliffe, Co-Founder of Power Sheds, explains: 'Carefully slice one fifth of the cork off to reveal a flat surface, then use a permanent marker to write each vegetable's name on. Then insert your wooden skewer into the bottom of the corks. Who would have guessed that sipping wine could help you save money?'
This content is created and maintained by a third party, and imported onto this page to help users provide their email addresses. You may be able to find more information about this and similar content at piano.io
Advertisement – Continue Reading Below