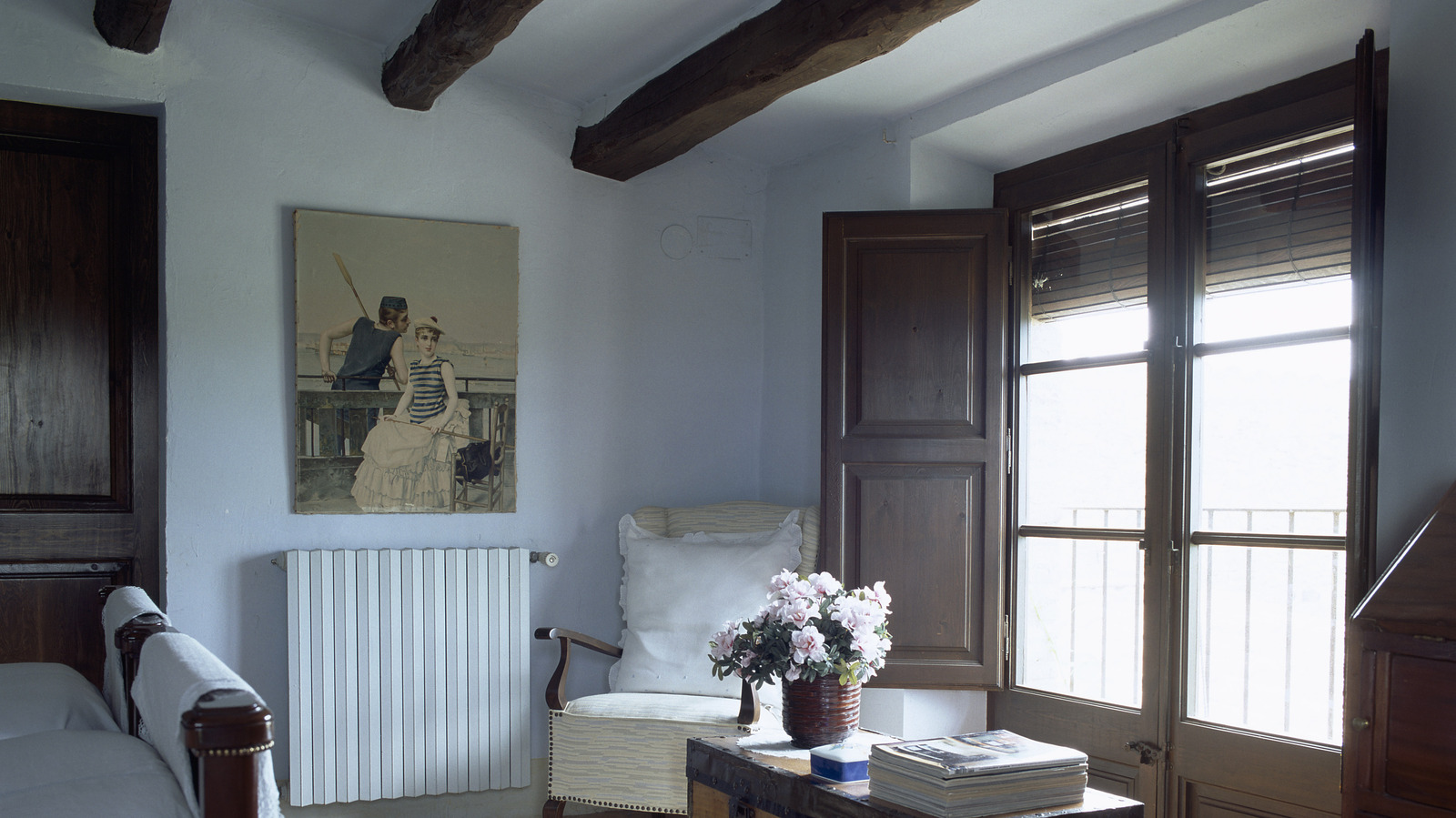 20 Craftsman-Inspired Bedrooms That You'll Want To Sleep In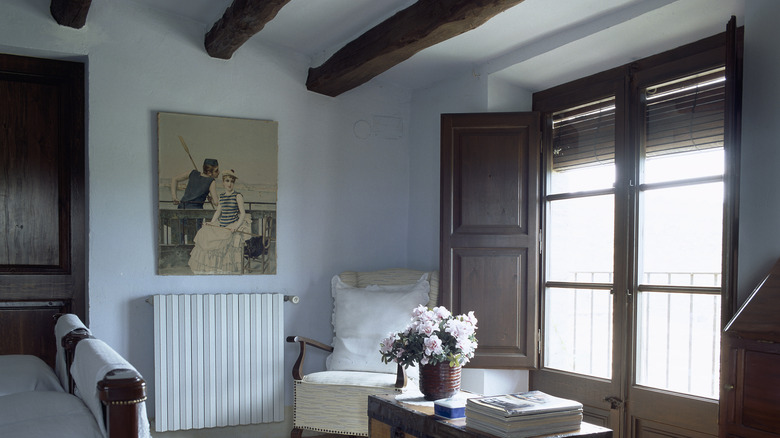 Construction Photography/avalon/Getty Images
Craftsman style, which stemmed from the popular Arts and Crafts movement of the late 19th and early 20th centuries, is a style known for its simple lines, nature-inspired details, and emphasis on artisan-created pieces. A reaction to the Victorian industrial age, Arts and Crafts pioneers like British designer William Morris and American furniture manufacturer Gustav Stickley longed for a return to simple, functional, yet beautiful interiors that befit Arts and Crafts style architecture. These homes, with their abundant wood, brick, and stone, as well as low-slung roof lines and open floor plans, dominated home construction in America in the early decades of the new century (via Simple Showing). From intimate bungalow-style homes to Frank Lloyd Wright's famous sprawling Prairie Style constructions, Arts and Crafts style had an enormous impact on American home design.
Craftsman décor was often simple yet elegant. Casting off the heaviness of many Victorian interiors, Arts and Crafts pieces had simpler, more geometric lines and graceful, yet minimal, ornamentation. They also abounded in natural materials and motifs, which appeared on textiles, objects, and furniture pieces. According to Hunker, if you are looking for a way to incorporate this elegant style in large or small doses, the bedroom is a perfect place to begin, offering ample opportunity to use many of its elements in fresh, modern ways.
1. Nature-inspired shades
stef brown/Shutterstock
Craftsmen interiors often revel in simple, natural shades like browns, beiges, and grays mixed with an abundance of shades of green. These colors compliment the style's floral and botanical motifs as well as its abundance of wood, stones, and brick. Dark forest green is a perfect and trendy shade that compliments the wood of this simple dresser.
2. Wood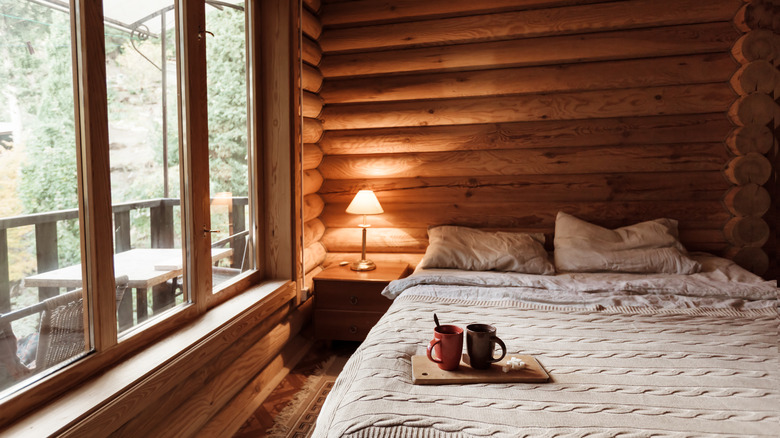 Alena Ozerova/Shutterstock
Wood, usually unfinished and unpainted, is one of the key elements of Craftsman-inspired design. This includes not only things like furniture and bedframes but also wood beams, planks, and other abundant woodwork. This log-cabin retreat, with its cozy textiles and wide windows to the outdoors, are perfect Arts and Crafts-style details to emulate. 
3. Clean lines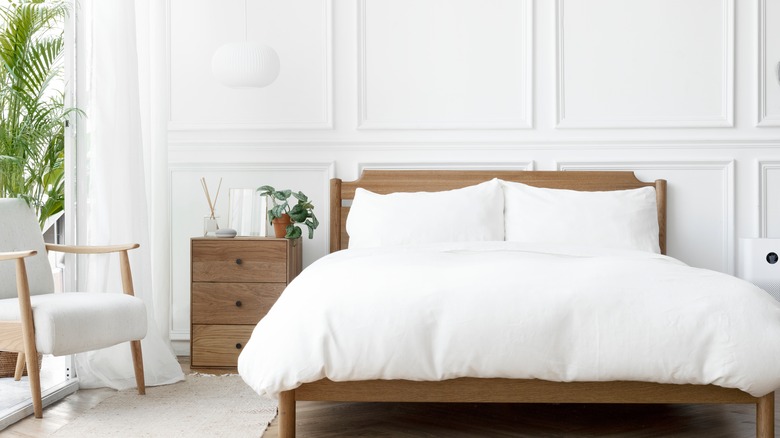 Rawpixel.com/Shutterstock
In Arts and Crafts design, less is more. Here, a simple natural wood bedframe pairs perfectly with a white duvet and greenery. The room feels contemporary and modern despite the antique wall moldings that speak to an earlier era.
4. Brick and stone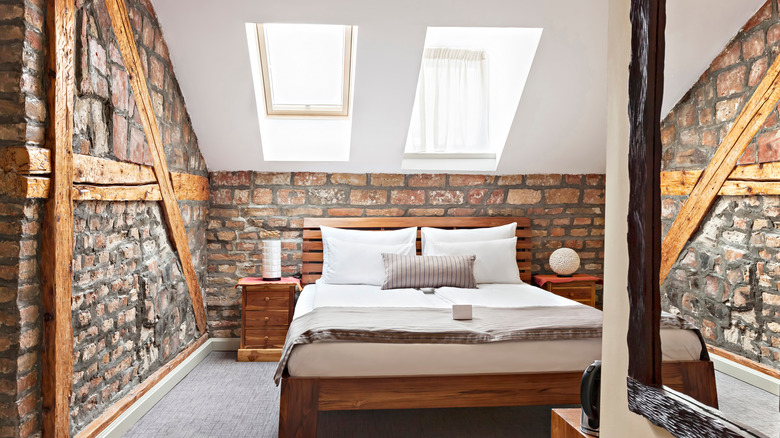 mirjana ristic damjanovic/Shutterstock
Natural materials like brick and stone are perfect for giving your bedroom an Arts and Crafts style makeover. Here wood beams criss-cross a rustic brick interior. A slatted wood bedframe and wooden nightstands remain airy and bright due to abundant skylight and simple bedding. 
5. Fireplaces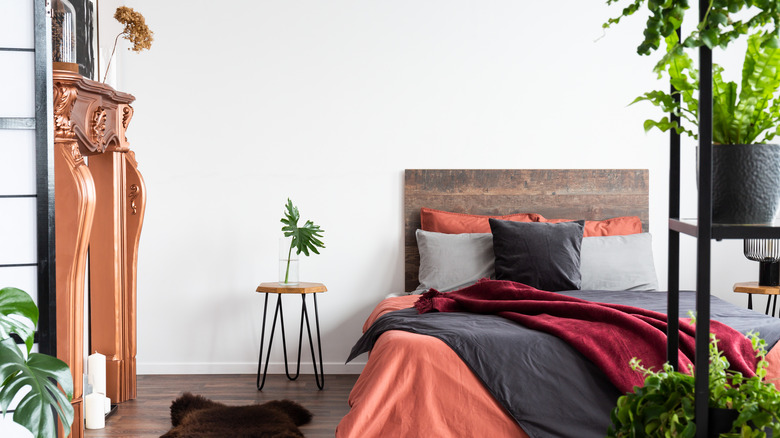 Photographee.eu/Shutterstock
Arts and Crafts style homes are known for their large, prominent fireplaces, with large surrounds created from wood, rustic stone, or carved wood. If your bedroom lacks a hearth, faux wooden mantles are a stylish way to bring a dynamic focal point into your space. The carved wood mantle complements a simple wood bed frame and richly colored bedding. 
6. Stained glass
Heritage Images/Getty Images
Stained glass is a key element in many Arts and Crafts style interiors, finding its way into light fixtures, window panes, and doors. Stained glass windows are perfect for private spaces, where they allow ample light but block prying eyes. Here, abundant wood pieces form a striking partnership with a full window of stained glass. 
7. Built-ins
Construction Photography/avalon/Getty Images
Craftsman-style homes are often known for their beautiful built-ins, which include both cabinetry and bookshelves. Here a beautiful wooden wardrobe takes center stage in a rich, dark wood among an otherwise light and bright interior. 
8. Mission style bedframes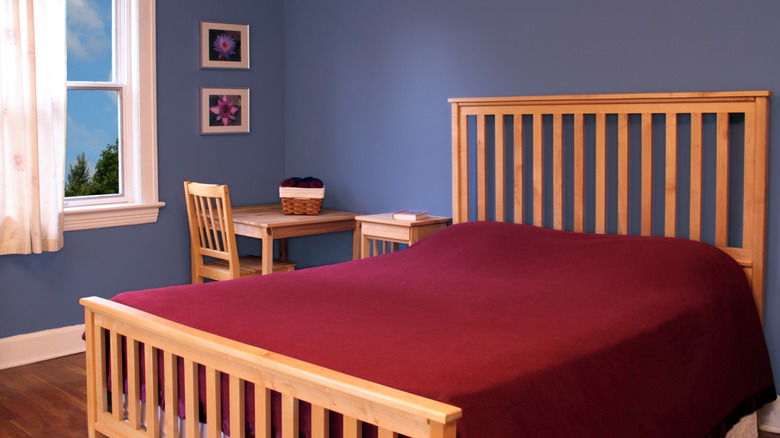 Varina C/Shutterstock
Mission-style furniture, which is another moniker for Craftsman pieces, is very popular, particularly among bed frames where you will recognize their multi-slatted design arranged vertically. This common and distinctive style of furniture complements a number of other design styles, ranging from contemporary to farmhouse.
9. Picture and chair rails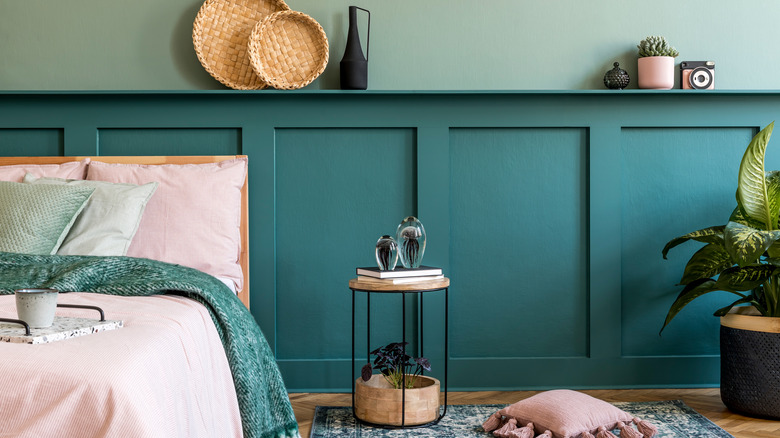 Followtheflow/Shutterstock
With an emphasis on natural materials like wood, it's no wonder that Arts and Crafts style incorporates more of it than other styles, including elements like wainscotting, wood paneling, and chair or picture rails. Here, a chair rail provides a slender shelf perfect for décor. An alternative to natural wood, a bold shade of teal keeps it looking modern and fresh.
10. Contrasting elements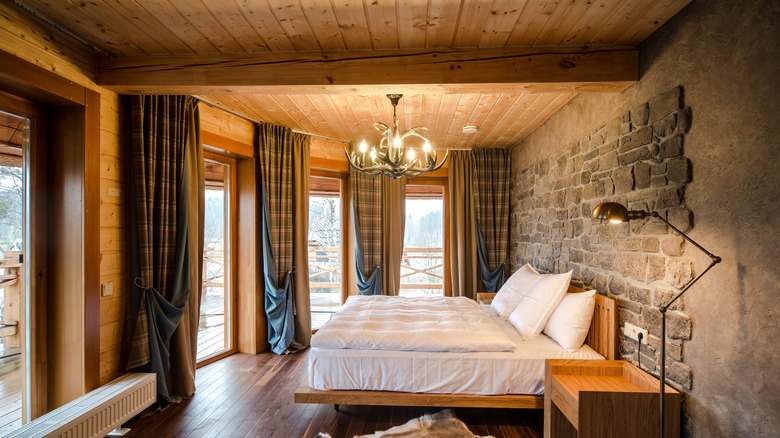 Alex Tihonovs/Shutterstock
Arts and Crafts style often combines a mix of texture and materials with dramatic results. Here, a rustic brick wall behind the bed forms a contrast to the light, airy bedding and panoramic windows. 
11. Botanical textiles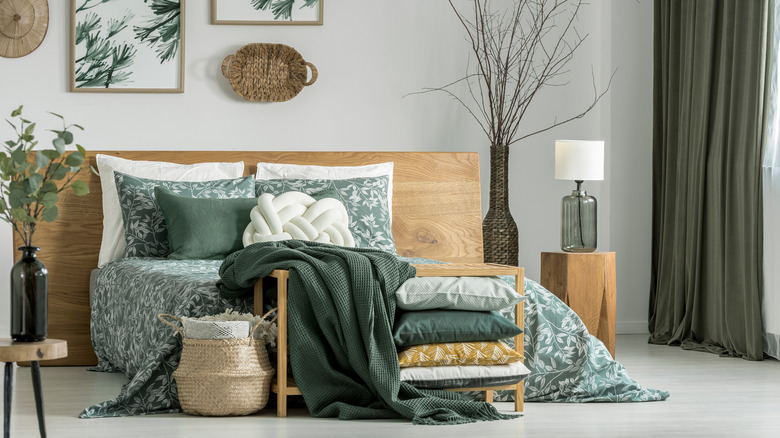 Photographee.eu/Shutterstock
William Morris's famed botanical patterns are legendary in Arts and Crafts design. Inspired by plants, flowers, and other floral and fauna, they appeared on wallpaper, tapestries, and other upholstered pieces. A great way to bring a bit of Craftsman-inspired style to your bedroom is to use similar botanical patterns in a bold way, such as drapery or bedding. 
12. Wallpaper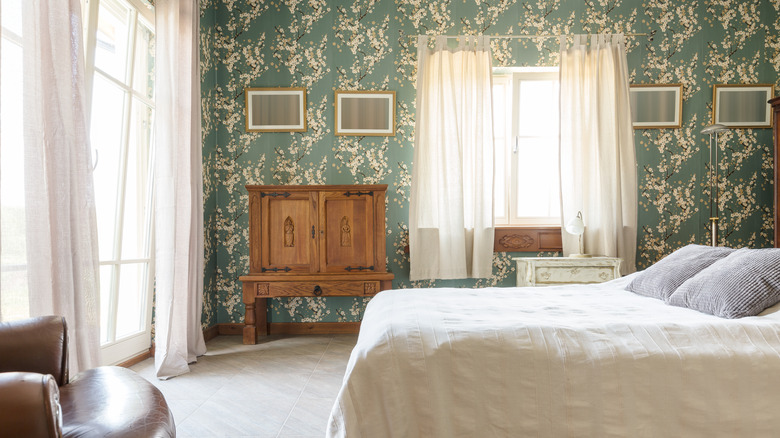 Photographee.eu/Shutterstock
Another great way to incorporate Arts and Crafts signature-inspired floral patterning is wallpaper. Designs that mimic William Morris' repeating floral patterns make a great addition to bedrooms, whether on all four walls or just one or two accent walls.
13. Handmade touches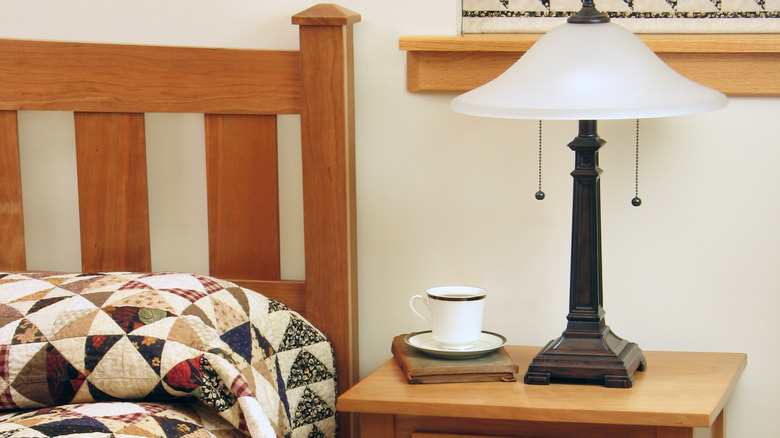 Christina Richards/Shutterstock
With its emphasis on individual artisans, Craftsman interiors often include handmade accents. These include handmade furniture and cabinetry, as well as woven and quilted textiles. Here a handmade quilt in nature-inspired shades works perfectly with a mission-style headboard and simple lamp.
14. Carved details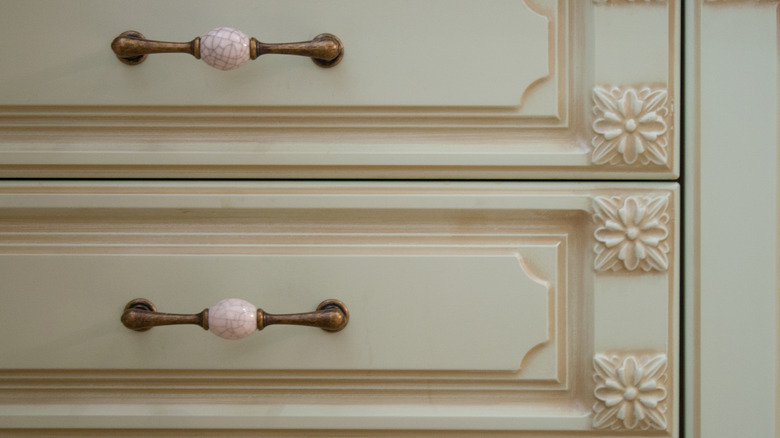 Creartion/Shutterstock
While Arts and Crafts furniture was typically less stuffy and ornate than Victorian furniture, it was not without any ornament at all. Many Craftsman-style wood pieces feature simple, carved floral and botanical motifs.
15. Textures
Followtheflow/Shutterstock
Because of their emphasis on nature, textiles and texture play an important role in any Arts and Crafts style interior. Here a neutral gray palette, sumptuous textured bedding, and a chic mission-style trunk are paired with a large window and lots of light. 
16. Simple peices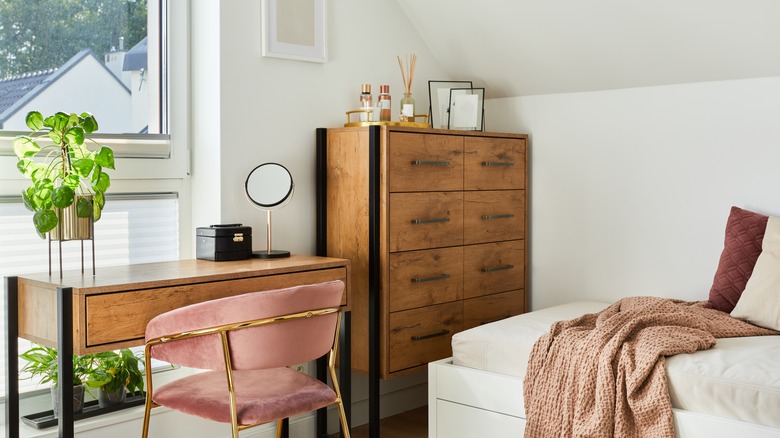 Followtheflow/Shutterstock
The majority of Arts and Crafts style pieces are very simply constructed with little ornamentation. Consider bringing in pieces that are simple but well constructed in a variety of wood finishes. Here, the straight utilitarian lines of the dresser and desk are a striking contrast to the pink velvet chair.
17. Abundant light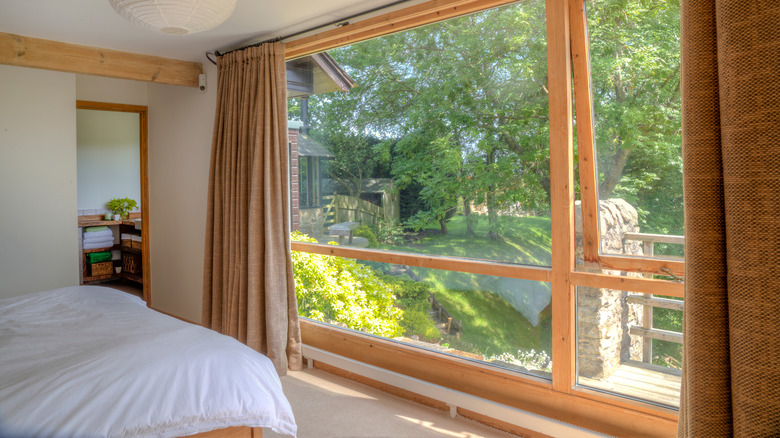 DGLimages/Shutterstock
One of the hallmarks of Arts and Crafts style homes is lots of light and large window expanses. Homes were often designed to take advantage of the landscape around them. These views of nature and the exterior landscape were just as important as what was inside the house.
18. Horizontal orientation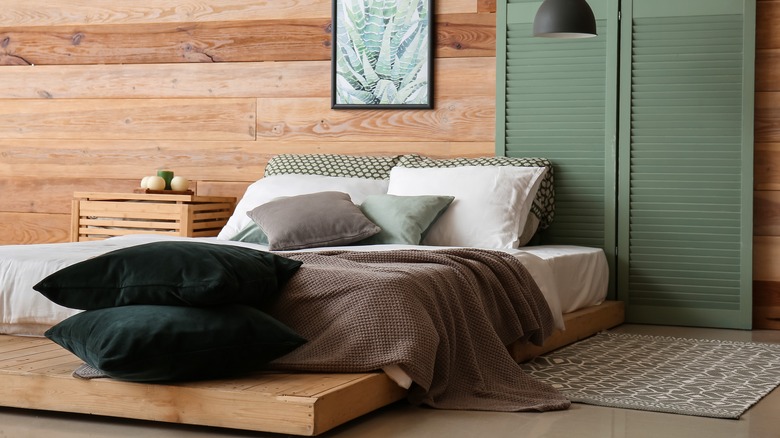 Pixel-Shot/Shutterstock
Both Craftsmen-style homes and Frank Lloyd Wright's Prairie-style constructions were often more horizontally focused than soaring. Instead of crown moldings and high ceilings that drew the eye up, emphasis was often on lower-slung furniture and pieces. Arts and Crafts style also had ample eastern influences from China and Japan, which are built around lower profiled interiors.
19. Lighting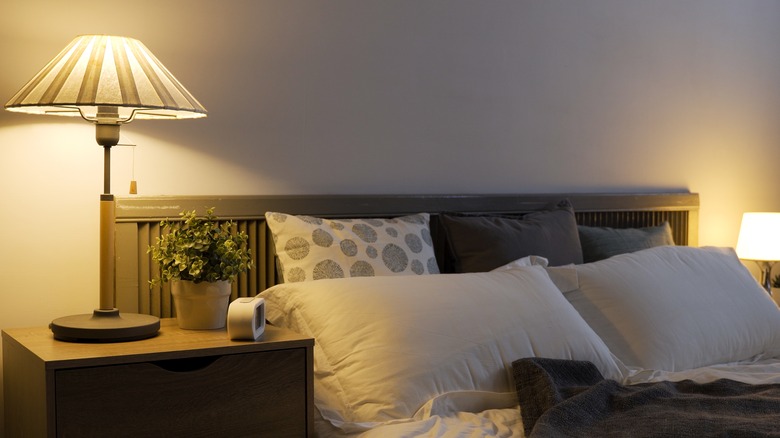 PRPicturesProduction/Shutterstock
Arts and Crafts lamps and light fixtures are some of the most beautiful and make a perfect addition to your bedside. Look for handmade glass designs and stained glass that offer soft but adaptable lighting for reading and relaxation.
20. Lighter variations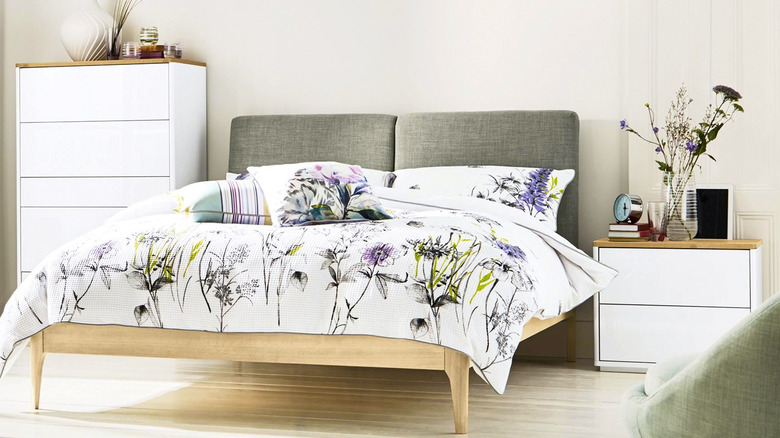 Gaf_Lila/Shutterstock
If you love the feel of Arts and Crafts style but want a more modern rendition with similar principles, consider lighter floral bedding and simple contemporary furniture. This light wood upholstered bedframe offers a brighter alternative while still retaining similar lines, giving it a modern twist.