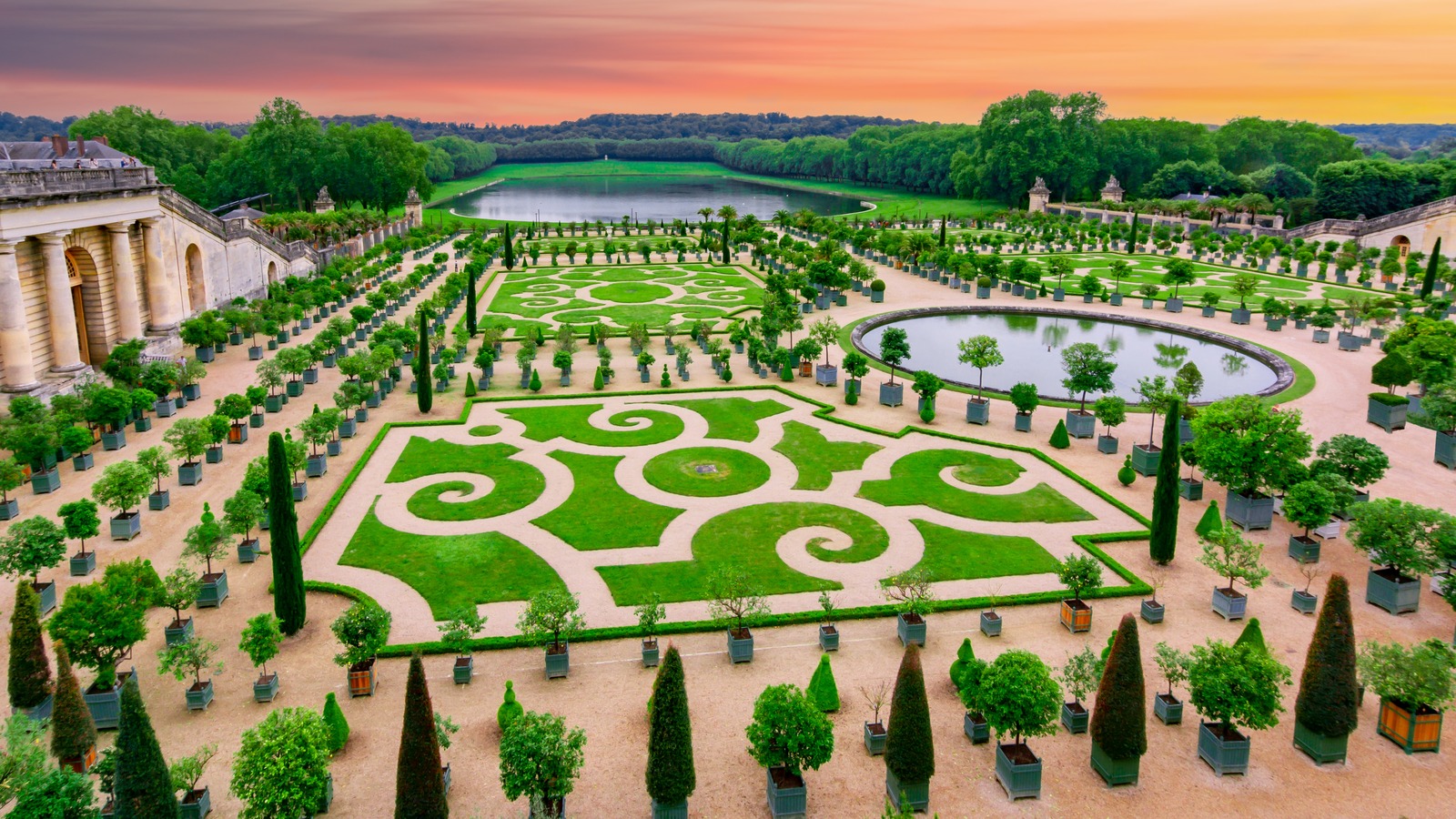 15 Ways To Incorporate Lush Ideas From The Castle Of Versailles Gardens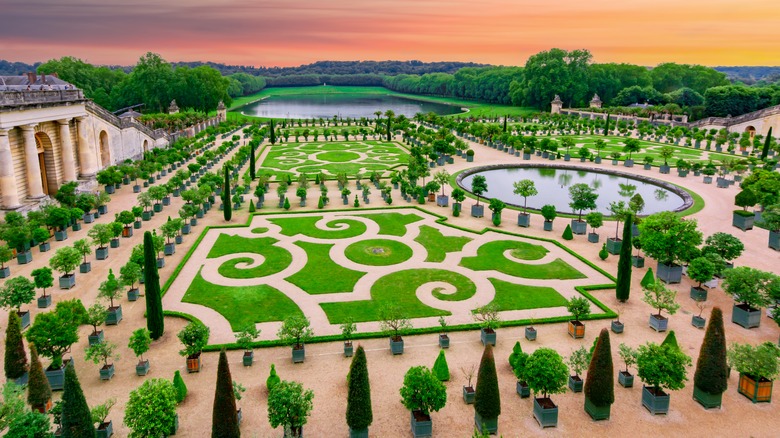 Mistervlad/Shutterstock
Visiting Versailles is an incredible experience. But some visitors are surprised that the truly majestic part of the tour doesn't take place in the many over-the-top, Rococo-style boudoirs or sitting rooms but in the gardens. Meticulously landscaped across 2,000 acres, the gardens of Versailles are home to towering hedges, tightly clustered forests, fruit trees, flowers, and dozens of stunning water fountains.
Few gardens in palaces the world over can compete with Versailles'; it's no wonder that people want to bring some inspiration from the gardens into their own backyards. And while the "Sun King" would be difficult to outdo, there are several ways to tap into the elegance and beauty of these pristine grounds in your home garden. To capture a piece of Versailles' gardens, find an almost even split balance between thriving, well-kept trees, shrubs, and flower beds, as well as architectural details such as arches, pathways, and water features. 
1. Embellish with a trellis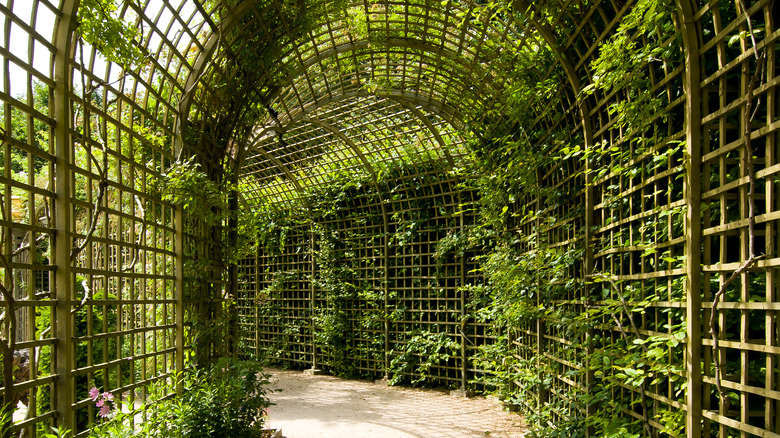 junjun/Shutterstock
Covered trellis walkways are a great showcase for lush, green vines, as seen in the ones here in Versailles' Enceladus Grove. Plus, trellises provide vertical garden growth, which makes your garden feel fuller and grander. 
2. Elongate your garden with a pool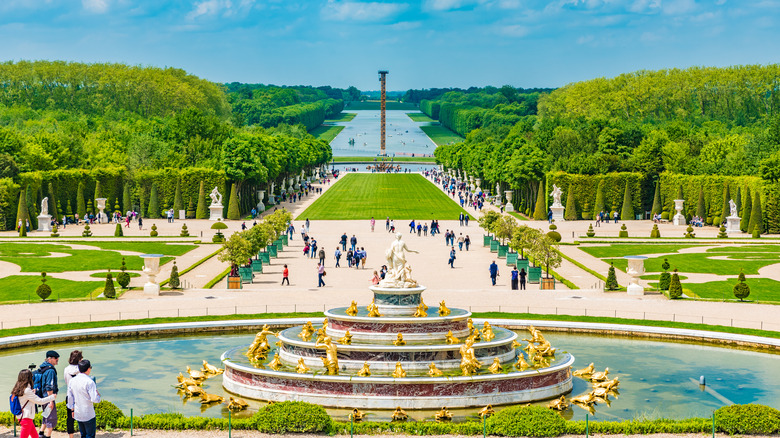 Takashi Images/Shutterstock
Okay, okay, we know this sounds far-fetched. But we aren't talking about a swimming pool, but more of a rectangular fountain. Versailles' gardens are certainly vast, but their elongated pools make them seem endless. Even a shallow, narrow pool can do the same for your garden with the help of forced perspective. 
3. Potted plants aren't just for the porch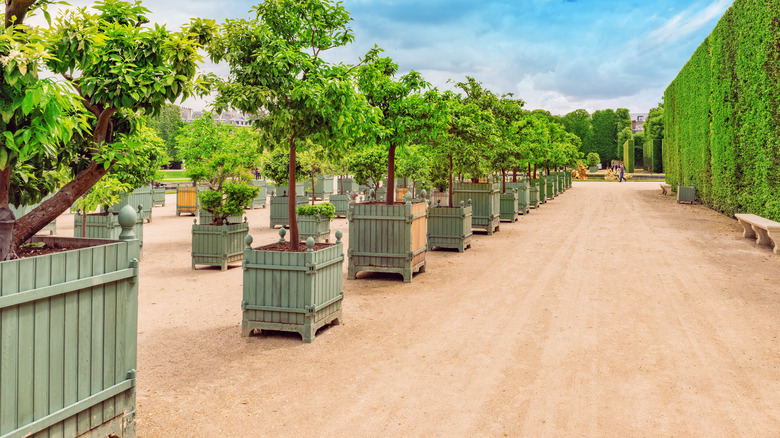 V_E/Shutterstock
Especially when you're working with a variety of species and root systems, it can actually be easier to plant your trees in individual pots. This way, each plant can be given special attention and care. This is also a great option if you live in an area with cold winters, as you can transport the pots under cover. 
4. Create structured pathways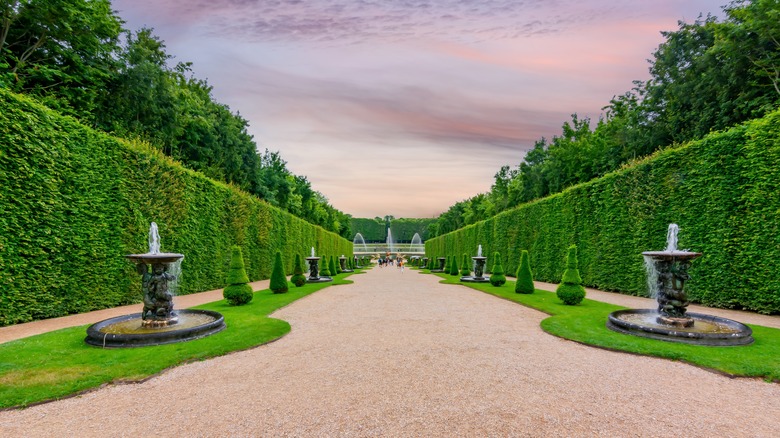 Mistervlad/Shutterstock
One of the highest impact features in a garden can have relatively little to do with the plants. Instead, use highly structured borders and paths that cut against the grasses and shrubs. 
5. Skip the cherubs, add a cascading water fall wall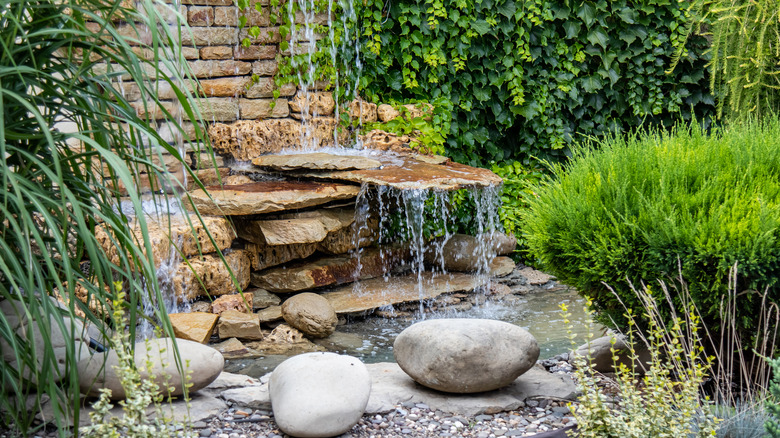 Kostiantyn Batylchuk/Shutterstock
One of the most stunning spaces in the Gardens of Versailles is the ballroom. This outdoor amphitheater area features cascading water over steps of millstones and seashells. Instead of building a clunky, marble Cupid statue, try a timeless waterfall feature. 
6. Take on an arial perspective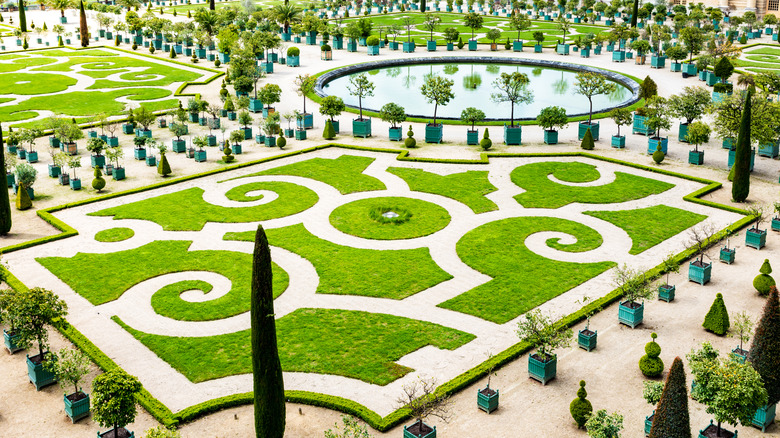 Takashi Images/Shutterstock
One of the things that makes the Gardens of Versailles so unforgettable is the way it looks from up above. Suddenly, hedges that may look like nothing more than regular hedges take on elaborate patterns. Try doing this on a smaller scale with grasses and stone-paved pathways. 
7. Don't forget to add seating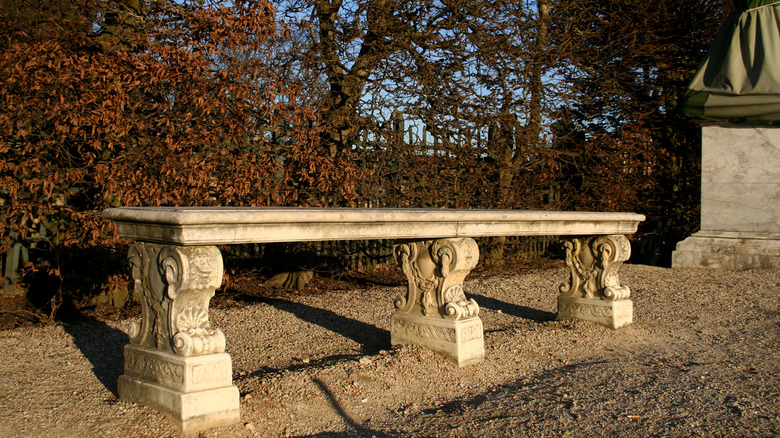 paul prescott/Shutterstock
If you want to feel like you can spend entire days lounging in your private oasis, you need to have somewhere to take a seat. Wooden or stone benches are classy, unobtrusive options. 
8. Choose a floral color palette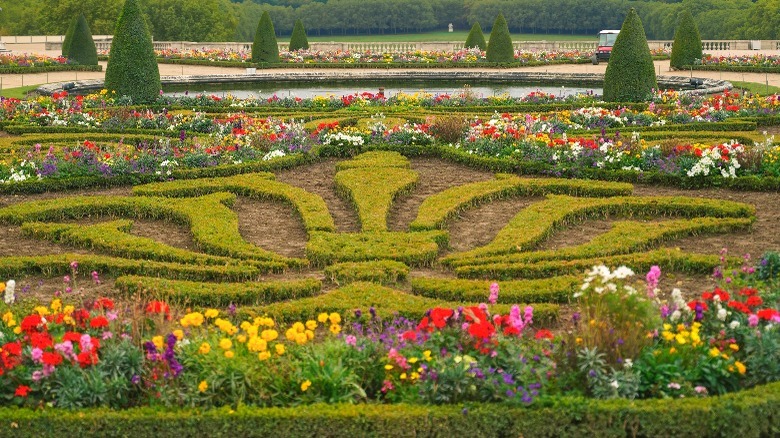 POC/Shutterstock
When you're creating an extravagant garden, it can be tempting to load as many flower varieties as physically possible. But for a more polished, refined look, choose three to four colors that complement one another. For a nod to Versailles, opt for yellow, white, pink, and purple blossoms. 
9. Shape it up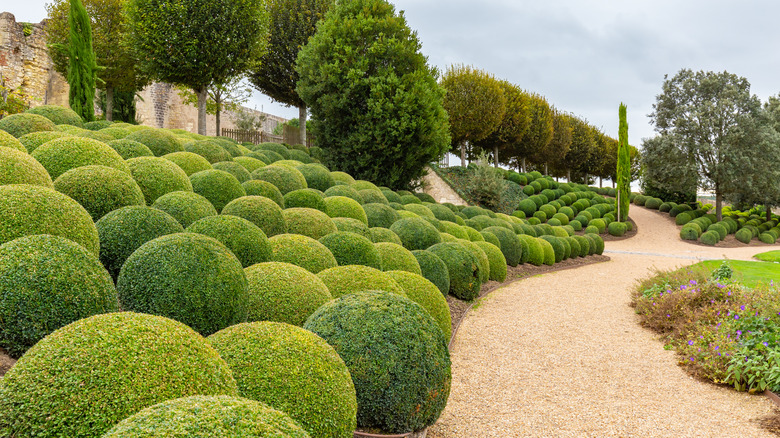 INTREEGUE Photography/Shutterstock
What is more quintessentially Versailles than ultra-groomed topiaries and shrubs? Grab your shears and get chopping. If you don't have a ton of experience or skill in this area, you can just go for a square, rectangle, or circle shape. And if that doesn't work out, call in a professional. 
10. Add an arch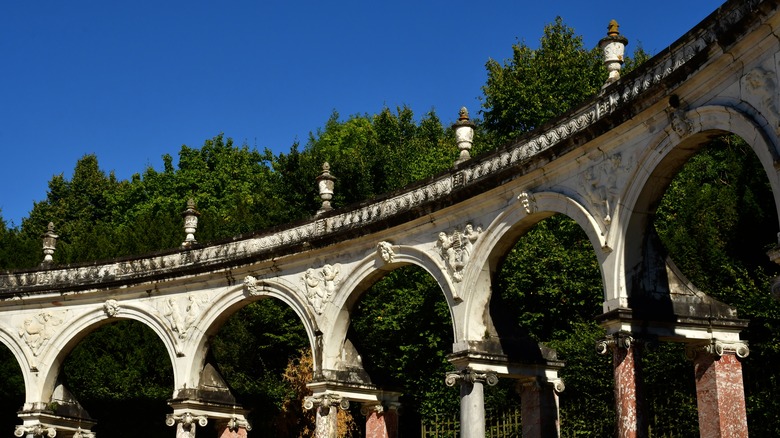 Pack-Shot/Shutterstock
The arch-covered perimeter of Colonnade Grove might be a little over the top even for the grandest of home gardens, but a single stone or even wooden arch at the entrance of the garden or along the pathway is stunning and luxe. 
11. Try your hand at citrus trees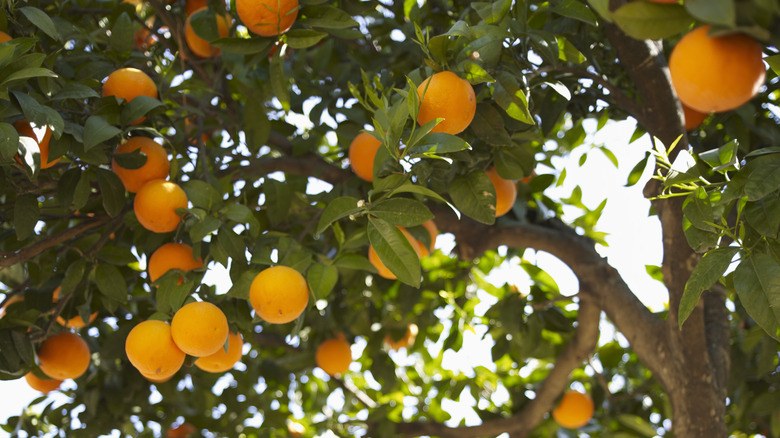 Nick White/Getty Images
What is more luxurious than a fruit-bearing citrus tree? Versailles' gardens have an entire section devoted to them, known as the Orangerie. While they can take time to cultivate and care for, they are gorgeous, not to mention delicious. 
12. Use symmetry to your advantage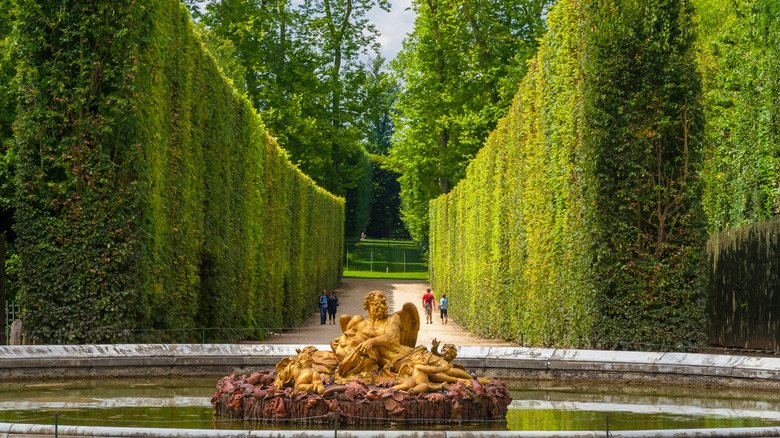 H-AB Photography/Shutterstock
Using completely even and symmetric lines in the garden is aesthetically pleasing and allows you to create stunning, framed vignettes. 
13. Build your garden in layers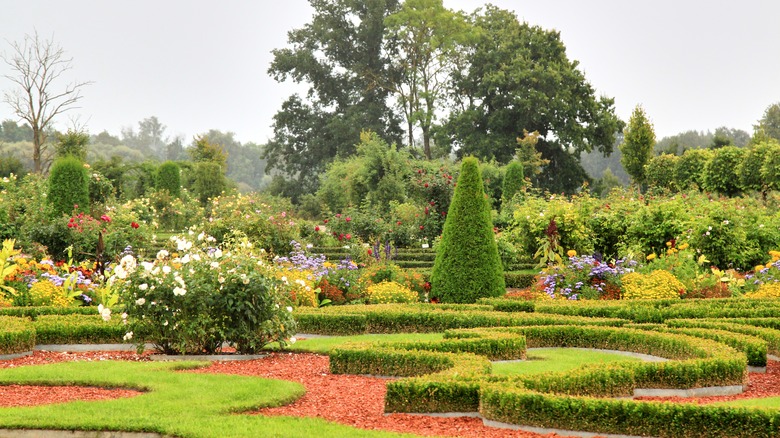 Anna-Nas/Shutterstock
One mistake home gardeners can make is planting everything at once and at exactly the same height. Instead, think of building your garden out in layers and tiers for more visual interest. 
14. Good as gold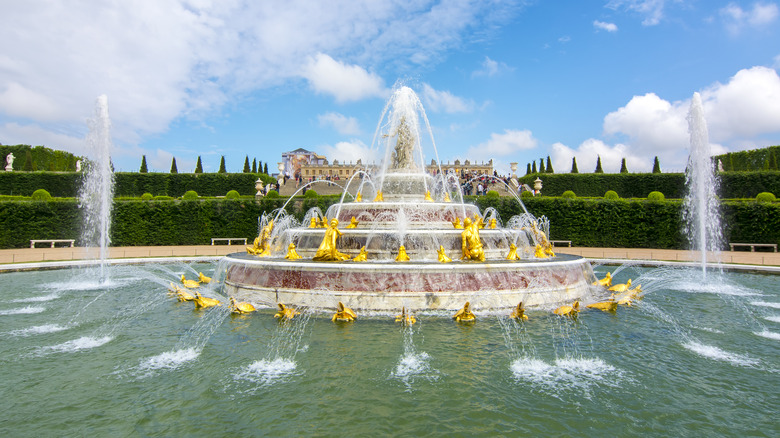 Mistervlad/Shutterstock
Gilded, plated, or solid, Louis the XIV loved gold. So bringing some gold bling into your garden is a great way to nod to Versailles' grounds. You might not have access to plated gold fountains of Roman gods, but a garden urn and a can or two of gold spray paint are all you need to achieve this look.
15. Embrace patina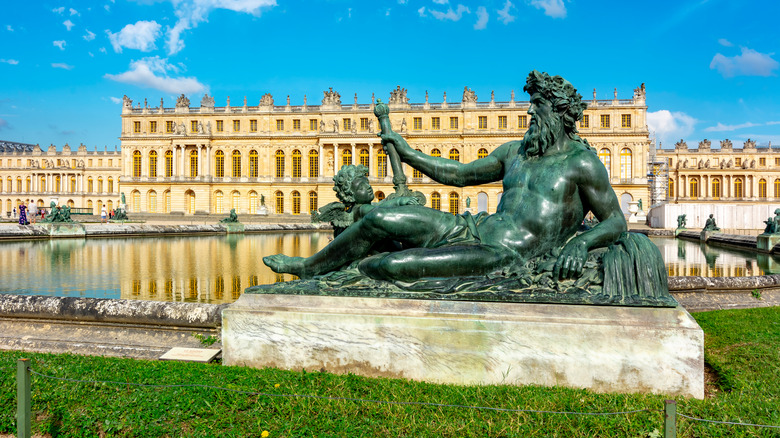 Mistervlad/Shutterstock
Patina is a natural chemical reaction that happens when metal and stone are exposed to air and time. And while we are quick to polish everything in our homes to look like new, letting the age of your garden décor is refined and elegant.