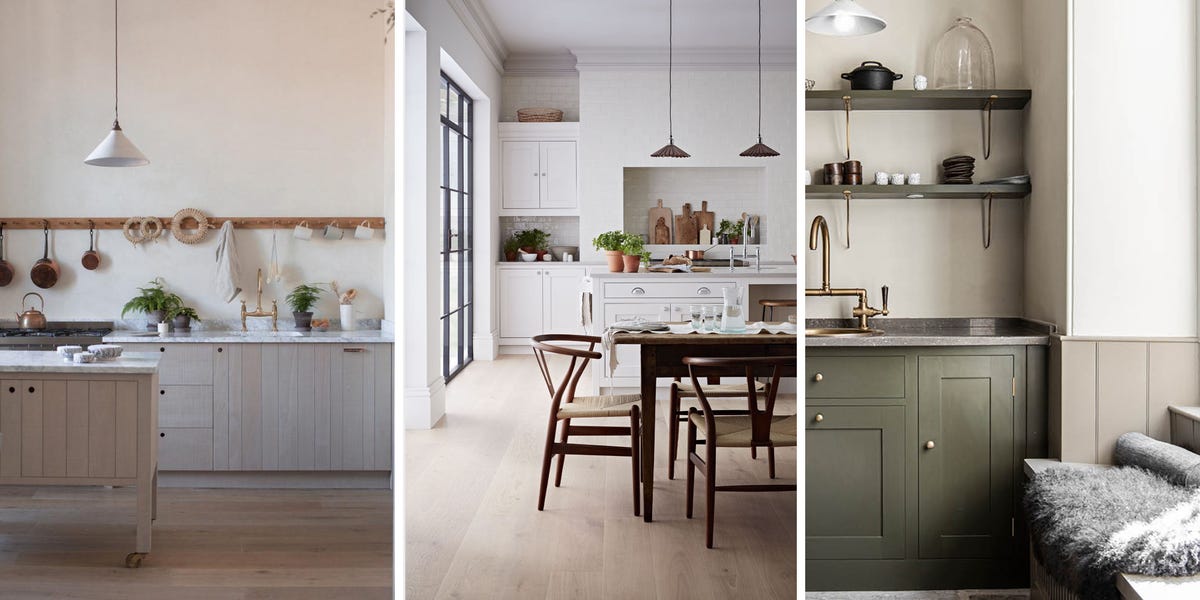 10 Scandinavian Kitchen Design Ideas For 2023
Scandinavian kitchen designs will be as sought-after as ever in 2023, according to design experts.
Chris Dance, head designer and director at InHouse Inspired Room Design thinks the Scandi look remains so popular because it provides such comfort from the outside world: "The Nordic winters are dark, so Scandinavian-inspired kitchens are a welcoming contrast to dreary days. They're minimalist with a warming touch, so detail is essential for ensuring that the space does not feel sterile or cold."
And those details are becoming ever more important, according to Marketa Rypacek, managing director at Industville Ltd. She believes that character is now very influential in Scandi-inspired design. She calls this trend 'New Nordic' – and we'll be seeing much more of it in 2023.
"While simplicity and minimalism are essential in Scandinavian kitchens and interiors, this shouldn't be mistaken for creating a sterile, lab-like room. Character is hugely important, now, and the best way to introduce this to a space is through textures. Textures come in all shapes and sizes, from hanging industrial lights to wooden and metallic furnishings, such as retro stools."
Purists may raise their eyebrows, but Marketa also believes that Scandi kitchens are evolving to reflect the passions of their owners: "Don't forget the personal stuff. Whether it's hanging a morning coffee mug or utensils on a wall, or simply arranging a selection of favourite family photos on a work surface, adding those touches will enhance the Nordic charm."
Here, we look at 10 design trends that will shape Scandinavian kitchen design in 2023.
1. Natural materials

This content is imported from Instagram. You may be able to find the same content in another format, or you may be able to find more information, at their web site.
Get the basics right and you're half way there. "Choosing natural materials such as stone for your kitchen countertop will help to create a relaxing and grounded energy," says Andy Briggs, interior designer at Optiplan Kitchens.
For accents, natural elements such as wood, rattan, and woven fabric will add depth and stop the space from feeling flat – "contrast these with touches of black or bronze on small details like door handles or fruit bowls" says interior designer, Rudolph Diesel.
Interior designer Sarah Jane Nielsen likes lighter woods such as beech, ash and European oak. "All native to Scandinavian forests and therefore widely available and relatively inexpensive, used in furniture and other finishes, the grain in these lighter woods really helps to create that typical Scandi look in a kitchen."
However, Lee Trethewey, interiors expert from Sustainable Furniture reminds us that metal is also an important element of Scandi design: "Coloured metals are often seen in Scandi kitchens, matte black metal taps, black metal chair legs or white metal hanging lights, for example. There is often just the one coloured metal involved, and in many cases this is used as the only contrasting colour in the design."
2. Deeply dramatic colour combos

A key shift this year is towards a darker and more dramatic colour palette, says Tom Rutt, founder of TR Studio: "A lot of people, when they imagine Scandi style, think a blanket of neutrals such as white and grey, but actually a lot of dark charcoals and inky blues are being used.
Also, Scandi style often mixes finishes, so don't be afraid to combine large stainless-steel appliances, with subtle brass detailing, sleek marble and mid-century lighting; these all work harmoniously in a modern, Scandi style."
If you're still erring towards under-stated, there are plenty of ways to add warmth to your home with the combination of neutral colours, natural materials and a pop of colour, says Lotte Fynboe, founder of OYOY Living Design: "Pair wood cabinetry and furniture with earthy tones and rustic colours and textures inspired by the earth's landscape – this creates a timeless design that won't date. Accessories and tableware, such as our Yuka series of tableware in rich browns, warm yellow, pink and off-white, are welcoming and contribute to warmth within the home, creating an uplifting and nourishing setting."
Gareth Coxall, creative director at textile and blinds company Terrys, recommends a soft pinkish palette: "For a modern take on Scandinavian-inspired interiors, pair delicate pinks with neutral tones of beige and off-white. Stick to neutrals for the structure of your kitchen, then incorporate pops of pastel pink through paint, appliances and decorative accessories to really nail the trend."
Or, go for a dramatic contrast says Rudolph Diesel: "To nail the perfect balance between sleek minimalist and natural materials, stick to a simple colour palette – restraint is key. Paint walls in neutral light tones such as white, light grey or very pale blue to promote a sense of calm – you can then contrast this with deep shades of navy blue or forest green in your cabinets or work surfaces."
3. Beautiful biophilia
Nature-inspired biophilic design has been seen throughout home interiors for the past 20 years or so but its organic origins can be found in Scandinavia. "Synonymous with sustainable materials and enlivened by plenty of natural light, Scandinavian design continues to incorporate the luscious green foliage of houseplants as integral design features," says Scott Thomas, managing director at homewares company Ivyline.
Keeping in mind that Scandi kitchens should be clutter-free, William Durrant, owner of Herringbone Kitchens loves the idea of floating shelves to display plants: "Floating shelves in either oak or stone are a huge trend for 2023, especially with a stone splash-back. These can be placed above the sink or perhaps in an alcove, and are beautiful, functional and add personality. These shelves open up the kitchen and create a lovely sense of space, especially if you have high units or upper cabinetry."
4. Focus on furniture

This content is imported from Instagram. You may be able to find the same content in another format, or you may be able to find more information, at their web site.
Inspired by nature and characterised by simplicity and function, the foundation of the Scandi look starts with just a few well-chosen pieces of furniture. So you might like to invest in a stand-out item such as a Hans Wegner Wishbone chair (try The Conran Shop.)
Creating a furniture focal point to anchor a Scandi-influenced scheme is a classic tactic says Nick Atkin, co-founder of furniture and homewares company Atkin & Thyme.
He suggests opting for a dining table with clean lines, crafted from pale or whitewashed wood: "Accessorise simply and practically, and choose an overhead light fitting with an exposed bulb to complete the look."
Keep in mind the overall picture. As a rule, lighter woods do well with warmer textiles and rich textures, whereas darker woods look best alongside cooler tones.
5. Warm welcome

Scandinavian homes are known for being friendly and sociable, with their kitchens just as much a place to hang out and chat as the living room.
"This year, emulate this by filling your kitchen with relaxed seat options that invite your guests to chill with you as you cook – this could be bar stools popped around islands or, if you have the space, banquette seating," says Rudolf. "This cosy seating option is becoming really popular and it's great for filling those awkward spaces in your kitchen, plus you can accessorise a banquette with sheepskin throws and embroidered cushions for a touch of hygge."
6. Let in light

This content is imported from Instagram. You may be able to find the same content in another format, or you may be able to find more information, at their web site.
Drop pendants, now found over so many breakfast bars and dining tables, originated in Scandinavia, points out Sarah Jane Nielsen, and show no sign of going out of fashion in 2023.
"With Scandinavian winters notoriously dark and gloomy a Nordic-inspired kitchen needs to have ample light, so pendant lights are perfect for hanging over dining areas or islands to cast a warm and cosy glow," agrees Rudolf Diesel, who adds that Scandinavian style is all about simple, clean lines while maximising light.
He still likes classic high-gloss white kitchen tiles to brighten up the space and reflect natural light around the room: "I'd recommend adding a subtle touch of style by using thin rectangle tiles in a chevron pattern. Coloured grout is trending for 2023, but with this look, use white grouting to keep the design from becoming too fussy."
7. Feel-good fabrics

Whether it's a colourful rug on a wooden floor, softly faded linen napkins or comforting knitted cushion covers in traditional Nordic patterns, textiles are ever-more important in Scandi-influenced kitchens.
"Using textiles brings warmth and a tactile nature to a scheme," says Sarah. "I also love to bring them in because they reflect something of the heritage of Scandinavian countries, where cotton and home-produced linens, for example, are widely available from artisan makers and cottage industries."
When it comes to fabrics in a Scandi kitchen, don't forget the window dressings, says Gareth Coxall: "You can really add an extra layer with luxurious quality fabrics. I would recommend choosing roman blinds in neutral linens."
8. Keep it grounded

Scandi kitchens are characterised by wooden flooring – "it's comfortable underfoot and compliments the simplistic décor," says Sarah Jane Nielsen, who also suggests sisal or tiles as a practical alternative. "And of course, there is the typical use of rugs – generally woven fabric or wool – to add colour and pattern to lift the scheme."
Carolina Hansson, head of design at Luxury Flooring & Furnishings believes that the 'less is more' philosophy still holds with flooring in Scandi-inspired kitchens. "With many natural elements incorporated into this design trend, wooden flooring is still best suited for Scandi design," she says. "Engineered wood flooring in warm oak tones, such as Elgin Magnolia Oak is practical and good for keeping the room light and airy. If you've got a small space it creates the illusion of volume, making a room look bigger."
Original straight plank flooring style remains a great choice, she adds, because it elongates the room and allows the natural knots in the wood to stand out, creating a natural feel without distracting the eye.
However, Tom Rutt reminds us that a classic Scandi look is the 'herringbone' pattern for wooden flooring: "In a larger kitchen especially, this will really add a richness to your space. In smaller kitchens, it can look a little too over-powering."
9. Character without clutter
This content is imported from Instagram. You may be able to find the same content in another format, or you may be able to find more information, at their web site.
Achieving effortless Nordic style in kitchen can be tricky. The busiest room of the house can often end up more chaotic mismatch than simple Scandi chic.
Every design choice in a Scandinavian kitchen should be intentional, so you really do need to think about storage, says Chris Dance: "Do you need a pantry or a larder? Or perhaps a wall-hung rack to keep spices, herbs, utensils and other smaller items close at hand?"
Nordic style is all about simplicity, so cluttered counters spoil the look. "Floor-to-ceiling cabinets have become a brilliant way to conceal items such as microwaves, coffee machines or kettles," says Rudolf Diesel. "If you have the budget these can even be specially designed to have pull-out shelves, spice storage or hidden worktops."
Obviously, you will want to keep certain ingredients and kitchen utensils handy. "Decant them into matching glass storage jars or stoneware pots," is Rudolf's tip. "Glass jars will help to reflect light and open up your space, whereas stoneware pots are a no-fuss option that will add gorgeous natural texture and pick up the organic 2023 trend."
10. Those little touches

For final touches, Chris Dance leans towards mood lighting: "warm under-shelf lighting to illuminate dark winter nights and bring a tasteful accent to your main lighting", to help to create the right ambience.
Rudolf Nielsen loves to add simple candles or small lamps placed strategically on shelves to "ensure every corner of your kitchen is well-lit but snug."
Sarah Jane Nielsen loves to use scent to add sensory atmosphere. "We especially like brands such as the Mint Velvet pine range and Zara Home do a lovely fresh scent, Absolute Linen," she says. "For an authentic Scandinavian room scent, towards the winter months look for warm welcoming aromas inspired by forests, such as Nordic pine and spiced fruits or fresh berry fragrances, so evocative of summer."
---